ZeSlots Casino Review
Ah, ZeSlots Casino, a site with a name that we… Probably shouldn't say all that much, lest we sound like we're making fun of the French! Instead, let's direct our attention to what lies beyond the name – the casino's features, games, bonuses, payment options and more!
Why? Well, because we're about to dive deep into all of those things, evaluate them and give you an honest opinion that will, hopefully, help you decide whether it's worth signing up for ZeSlots, or if you're better off looking for something else.
As always, the final decision will be yours – all we can do is present the facts after careful evaluation, with a nice sprinkle of the opinions of our resident casino experts if you need a little help making sense of it all!
Bonuses
Welcome Bonus – 200% Unlimited Match Bonus
When you join a new online casino, it's only natural that the first thing you'll want to do is make a deposit – and take advantage of its welcome bonus in the process! Right off the bat, ZeSlots leave a big impression by offering a 200% match without any kind of limit. That's right – any amount you can deposit, you'll get x2 the money in bonus funds. We dare an adventurous billionaire with money to burn to deposit a few million just to see what would happen!
All joking aside though, while it's true that there is no limit to how much you'll get, the barrier for entry is pretty high – you'll need to deposit at least €50 in order to take advantage of this offer. Furthermore, in order to withdraw it, you'll have to wager both your bonus or deposit x35 times – meaning that if you deposit €50, you'll need to wager €150 x 35 (or €5,250, assuming you're only betting on pokies) to withdraw… €50, the value of your initial deposit. Yeah, suddenly doesn't sound like such a great deal, does it?
What's even worse is that this is, currently, the only bonus available at ZeSlots Casino. There aren't any reload offers or any regular promotions, and once you use it up, that's it! Then again, if their requirements is as strict as the welcome bonus, perhaps not having any other bonuses is a blessing in disguise.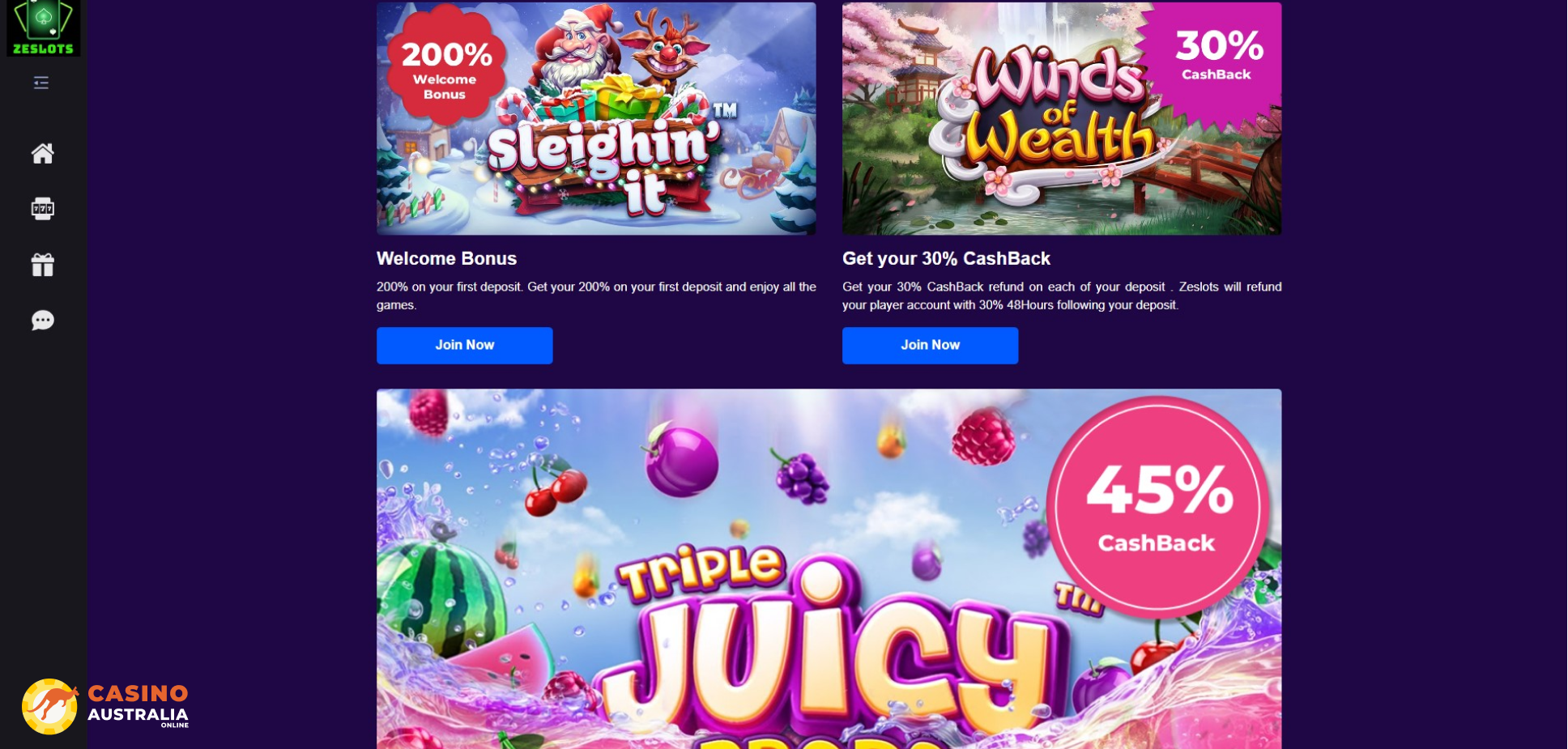 Games
The games selection of ZeSlots Casino is, overall, a very good one! Once you sign up, you'll be able to enjoy titles from literally dozens upon dozens of different providers. Whether you're looking for pokies, live casino games, table games or something completely different (like virtual sports or scratch cards), chances are you'll be able to find it without too much problem. The only big absence here is sports betting, which is rather understandable.
While the wide and diverse selection of games is absolutely ZeSlots Casino's best feature, it's not all rainbows and sunshine. It's definitely worth noting that we had a lot of issues exploring the games section for the purposes of our review, especially on desktop. For some reason, using the site with an ad blocker also blocks the majority of its interactive elements from working, which means that you'll have to disable it when playing – which can be a big security risk.
While this issue is mitigated on mobile (even on browsers with ad blocker like Firefox Nightly, which makes this even more baffling), there are still many problems with the interface, such as certain menu options not being part of the menu at all, and only being accessible through the footer. It's clear that the person who designed the site wasn't the most skilled and, sadly, this leaves a huge red mark on an otherwise excellent games section.
| | |
| --- | --- |
| Games | |
| Software providers | Tom Horn, Playson, EvoPlay, Booongo, Nolimit City, Blueprint Gaming, Betsoft, Mancala Gaming, Yggdrasil & More |
| Pokies | 2500+ |
| Live casino | Yes |
| Sports betting | No |
| Table Games | Yes |
Pokies
At a glance, it seems like the pokies section of ZeSlots Casino is a dream come true! It offers thousands of games from dozens of providers, such as Play'N GO, Booongo, EvoPlay, BGaming, Tom Horn and many more! Classic pokies like "Book of Dead", "Dragon's Tavern" and "Mental" are all readily available, only a click away!
But while the diversity of pokies is definitely notable, this section isn't without its flaws. For one, we didn't spot any jackpots anywhere in the casino – if they're present at all, they're rather well hidden, without their own section or any indication that they contain a progressive jackpot. In fact, all of the pokies are very poorly organized, and it's impossible to filter them based on anything other than provider – not even by "popular" or "top slots" or something like that!
This, in turn, can make the otherwise great selection kind of a chore to navigate, since you're going through hundreds of games looking for a few high quality ones. If you don't know what you're looking for it's like stumbling blind through a maze, and if you do, it's like looking for a needle in a haystack. Either way, not particularly fun!
Live casino
At first, we didn't even think ZeSlots Casino had any live games at all – they weren't featured on the side menu, and could only be accessed by clicking a button in the footer of the casino. Upon finally reaching them, we were pleasantly surprised to see that the games were provided by Evolution Gaming – which is a very good sign!
Evolution Gaming are considered by many to be the best live casino provider in the industry, and while they're not the only one at ZeSlots (eBet and SuperSpade Games, among a few others, are also available), they blow pretty much anything else out of the water. The amount of game diversity they provide is insane, especially their live game shows like "Monopoly Live" which have become almost a staple of their brand.
Unfortunately, the technical issues plaguing the site haven't spared its live casino section. Several times, when clicking on the "Live" button, we were either redirected to wrong parts of the casino, or were simply presented with an empty Live section. We can't really say why that happened, but it certainly did, and often enough for it to register as a problem.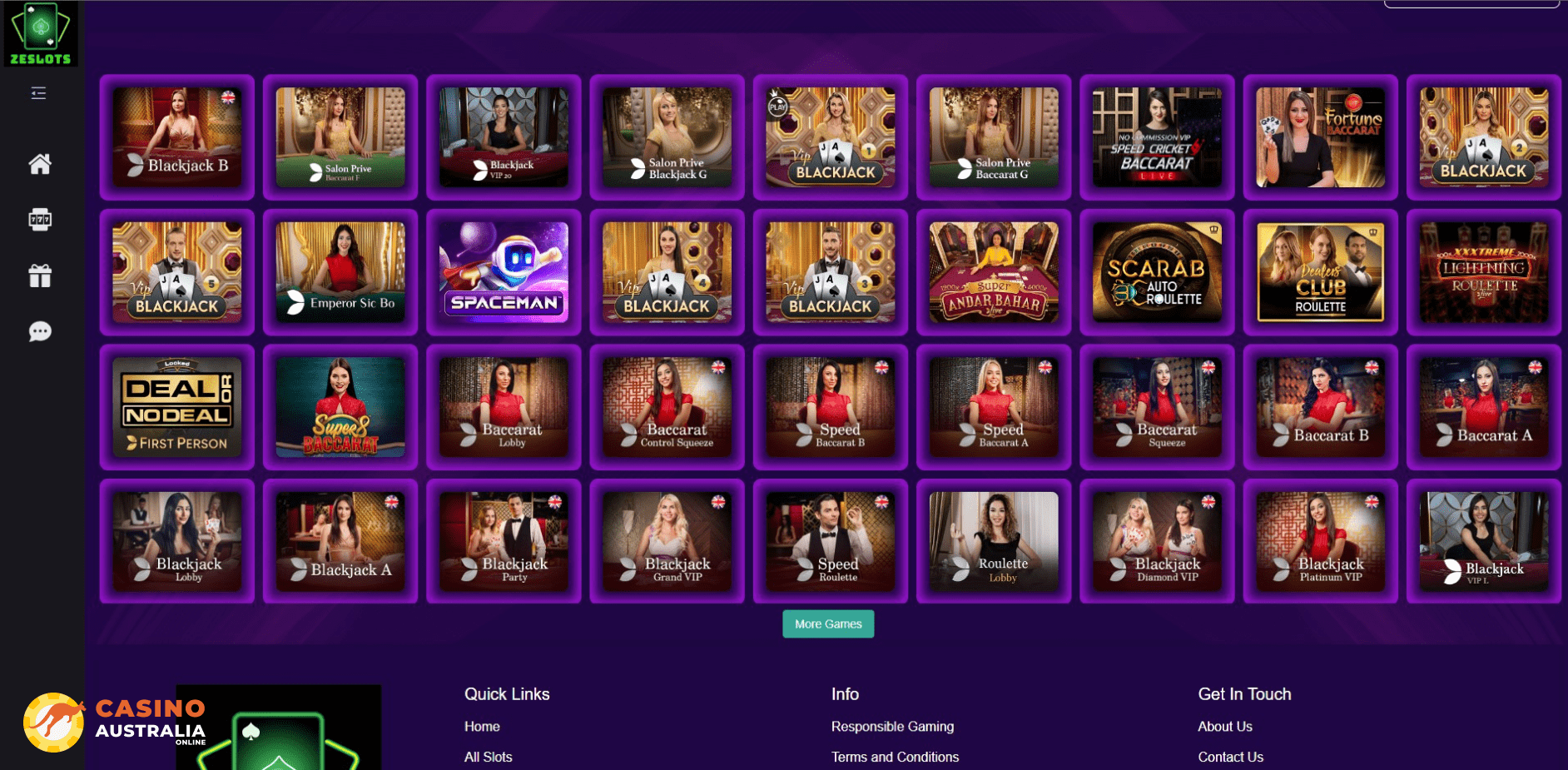 Deposits & Withdrawals
If you've made it this far into our review, you should know that our impressions of ZeSlots Casino are fairly negative – and that extends to the payment options (or lack thereof). You will only be able to deposit using bank transfer, credit card, two e-wallet solutions (Neteller and Skrill) and one single cryptocurrency (Bitcoin).
This may be enough for, say, buying a movie ticket online, but certainly not for something like making a deposit at a casino. When other sites accept dozens upon dozens of payment options (both with flat currency and crypto coins), ZeSlots Casino simply has no excuse for being so barren. Especially considering the fact that it also doesn't support many currencies in general, and its minimum deposit amount is very high.
| | |
| --- | --- |
| Payments | |
| Minimum deposit | €50 |
| Minimum withdrawal | €50 |
| Maximum withdrawal | No maximum publicly listed |
| Deposit methods | Visa, MasterCard, Neteller, Skrill, Bank Transfer |
| Crypto currencies accepted | BTC |
| Australian Dollars accepted | Yes |
| Welcome bonus package | Unlimited 200% match bonus |

Withdrawal time
The casino boasts that it has "fast withdrawals", but what does that really mean in practice? Well, it depends on the payment method that ZeSlots are using to dispatch your winnings. Granted, all of their withdrawals will take between 2 and 5 days to process on the casino's side, but after that, it's up to the payment providers!
Neteller and Skrill will be by far the fastest, hence why we strongly recommend using those for both deposit and withdrawal. Those transfers should be near-instant. Bitcoin is slower in comparison, but it still shouldn't take longer than 1-2 days for your money to appear in your e-wallet. Credit cards are even slower, taking 3-5 days, and if you chose a direct bank transfer, be prepared to be waiting for up to 15 days!
VIP Program
A VIP program is one of the best and most common ways in which online casino sites foster player loyalty. ZeSlots Casino is no different, but, unfortunately, their VIP program is extremely weak and not particularly worth joining.
Typically, such a program will have levels that you progress through over a period of time, with each level unlocking more and more perks. However, at ZeSlots, you'll instead need to deposit a certain amount every month in order to retain your VIP status. How much would that be? Oh, only AU$3,000. Per month. Every month. No biggie!
So, what do you get for this colossal investment? "Fast response time" by a dedicated VIP agent, and 45% of your lost deposits being returned as bonus funds (with wagering requirements attached). Honestly, this program is so useless it's not even worth considering!
Tournaments
Unfortunately, ZeSlots Casino doesn't currently provide its players with any kind of option to participate in tournaments. We know that this may not be what many want to hear, especially those who love to take part in pokie tournaments, but sadly, the best we can offer is to promise to keep an eye on the casino. If, in the future, the situation changes and they start offering tournaments, we'll be sure to update our review to reflect that!
Verification
All online casinos require their players to verify their identity in order to keep out bad actors who only want to use the site for malicious purposes. ZeSlots Casino is no different, which means that, before you're able to withdraw any money from your winnings, you'll have to go through the verification process to prove you are who you say you are.
Luckily, it's not a very involved or prolonged process. What you'll have to do is take photos of a few documents you probably already have around the house, such as:
Proof of ID (like a national ID card or passport);
Proof of current address (like a bank statement or delivery receipt);
Proof of payment method (like photos of your bank card);
Selfie holding your ID.
Once the verification process begins, the casino's support team will inform you of what documents you'll need to provide. After that, it's a simple matter of taking some pictures and e-mailing them to the casino. If all goes well, you'll be verified in no time, and if it doesn't, at worst, the support staff will simply request a few more documents.
Is ZeSlots Casino Legit & safe?
If you've been researching ZeSlots Casino, you might have come across some conflicting information about its license. As you know, while the presence of a license won't guarantee that you won't get scammed, its absence makes that possibility into a near certainty. As such, it can be very frustrating to read that ZeSlots doesn't have a license from some sites, and that it does from others. What's the truth?
Well, to find out, we decided to dive very deep into it and check things directly with the Curacao Gaming Authority – as we always do! And we can confirm that, drumroll, please… ZeSlots Casino is completely licensed and legal! Its license, 1668/JAZ, is a rarer one to be sure, but still perfectly valid – in fact, it's the first type of license that the Curacao Gaming Authority ever started offering, out of the four that are available today. So that's pretty cool!
Keep in mind that the casino is still very new, so there aren't a whole lot of opinions from players about its reputation. However, from a legal point of view, there's no need to worry, ZeSlots is fully legit, and it's not likely you'll encounter any major issues with safety while playing there.
| | |
| --- | --- |
| License | Curacao |
| License number | B2C-XHDWS8FR-1668JAZ |
| Company address | 7 Abraham Mendez Chumaceiro Boulevard, Willemstad, Curacao |
Customer support
Whether it's ZeSlots or any other casino, the customer support team is always one of the most important aspects. A good support team can help players feel safe and satisfied with their time there, while a bad one can make sure you'll never deposit at that casino again! And, sadly, ZeSlots in particular leans towards the latter category.
To start off, the casino doesn't actually appear to have a live chat feature. On the contacts page, it certainly claims that it does, but – as far as we can tell – that's not really the case at all. Instead, you can either write them via e-mail or submit a ticket directly through the site. Except, if you decide to e-mail them, you'll quickly discover that their address is a Gmail one.
Now, there's nothing inherently wrong with Gmail – it's very likely that you use it for your personal or maybe even business affairs! Except Gmail offers its users the opportunity to have a custom e-mail address specifically so that businesses can distinguish themselves. So, [email protected] (which is already a very clunky-sounding domain) could have easily been turned into, say, [email protected], with all mail arriving in the Gmail mailbox anyway. It's free and takes a few minutes to set up.
So the fact that the casino's owners didn't do this, and instead settled for a far less professional-looking Gmail domain, is a huge red flag. If they can't even be bothered to do this, what other corners are they cutting? Are they even taking customer support seriously, and, if not, is it truly a good idea to sign up for this casino?
| | |
| --- | --- |
| Live Chat support | No |
| Phone support | No |
| E-mail support | [email protected] |
| Ticketing system | Yes |

Mobile casino
It's practically suicidal to launch your site without a good mobile version in this mobile age, where far more people are browsing the web on their phones rather than on their desktop computers or laptops. And yet, that hasn't stopped ZeSlots Casino from doing exactly that, providing users with a broken, ugly mobile version.
For whatever reason, when you access the casino site through your phone, its menu will not work at all. We have tested this on multiple devices, and confirmed it to be true on all of them – so even if it's not a universal problem, it's a very common one, and it means that navigating around the site on your phone becomes a huge chore.
On top of that, even when it seems to work well, the interface is very ugly and sparse, and, depending on your device, it might take forever to find the thing that you need. When browsing pokies on phones with a smaller display, you'll be seeing just a single row of them, with maybe 3 pokies on the screen at once. Now imagine having to browse through hundreds with that interface before finding the one you want! Doesn't sound like a fun time, does it?
While, overall, the mobile version is a much better experience than the (fairly poor) desktop version, it's still deeply flawed and leagues behind other casinos.
| | |
| --- | --- |
| Interface | |
| Mobile version | YES |
| iOS App | No |
| Android APP | No |