WinLegends Casino Review
When you win enough, you stop being a winner and become a legend. This is true in a lot of spheres – business, art, law, and yes, even gambling. Trust us, we've seen more than enough movies about talented gamblers to know just how powerful the story of someone who overcomes the house can be!
WinLegends gives you the chance to become one such legend, while paying tribute to heroes of an entirely different type. But can your story stand side by side with theirs? Well, before you prove yourself worthy, you should probably figure out whether that story is worth telling at all, and that's why we're here! We've taken it upon ourselves to thoroughly examine the site and outline all details about it for you in this comprehensive review!
So, will your story at WinLegends be truly legendary, or is the only epic thing about this casino how much of a failure it is?
Bonuses
Before we get into the bonuses at WinLegends Casino, it's important to point out that you'll actually be given a choice between three separate welcome offers. All three are worthy in their own right, but you can only pick one, so please bear that in mind as you keep reading!
Another thing to point out is that while these bonuses are different, the "fine print" for all of them is the same. Regardless of which bonus offering you pick, you will always need to wager any match offers x40 times before you can withdraw them, and any free spin winnings – x25 times. To claim your selected bonus, you'll have to make a deposit of at least AU$35, and then you'll have 10 days to complete the wagering requirements.
Lara Welcome Bonus – 3 Match Bonuses up to AU$3,300
The first potential bonus on our plate is themed after none other than the iconic Tomb Raider herself, Lara Croft. Funnily enough, even though she has several pokies bearing her face and name, Lara's bonus is the only one that doesn't come with any free spins at all. Instead, you'll simply need to be content with three match bonuses.
In our opinion, this offering isn't particularly good. The match percentage is only 100%, which is the highest one you'll find at this casino, but it's still far worse than what you'd get at most competing sites. It's not even that good of an offer for high rollers, since the maximum bonus tops out at merely AU$900.
The other two bonuses don't fare any better, either! The second time you deposit, you'll bring home a mere 50% match up to AU$1,500, and the third time you buy chips, you'll snatch up a slightly better 75% up to AU$900. Obviously this is highly subjective, but to us, the bonus is just a disappointment. Lara deserves better!
Indy's Welcome Bonus – 80% Match up to AU$3,300 + 180 Free Spins
The second offer on display is themed after our favorite Nazi-punching archeologist Indiana Jones, as it should be! Indy continues to be an extremely popular character (the fact that 80 year old Harrison Ford still plays him should tell you a lot), so it's no wonder that WinLegends Casino selected him for what is probably the best bonus.
Don't get us wrong, though – just because it's the best doesn't mean it's very good. Your first deposit will net you only an 80% match up to AU$900, your second – a pathetic 40% up to AU$1,500, and your third – a 60% match up to AU$900. As you can tell, the maximum bonuses are all the same, and the only thing that makes up for the lower percentages is the fact that Indy will throw in an extra 60 free spins per deposit.
All in all, it's probably a better deal than the Lara bonus, especially if you're someone who only intends to put a few dollars into the casino, as if you're depositing just the minimum of AU$35, 60 free spins will give you a lot more bang for your buck than the AU$7 you lose.
Ben's Welcome Bonus – 450 Free Spins
Last, but not least, we've got the bonus of another famous archeologist, Ben from… Erm… Well, we're not quite sure, truly. Visually, he looks like Nathan Drake (the tomb raider from another popular videogame franchise, "Uncharted"), but with a hairstyle that suggests he's preparing to call for the manager instead of plundering graves. While we're not sure, we assume he must be the casino's original character.
As such, it's a wonder why they haven't given him a better offer. If you choose Ben as your patron, you'll merely get 200 free spins, without any kind of match bonus at all. For your second deposit, you'll get another 100 free spins, and for the third, your final 150. It's worth noting that each bonus will be associated with its own pokie, so at least there's a bit of variety.
Now, if you're the kind of person who would deposit just the bare minimum and is also fine with playing just one pokie for a very long time, then we can see why this would have some appeal. Everyone else would do well to just stick to Indy's bonus.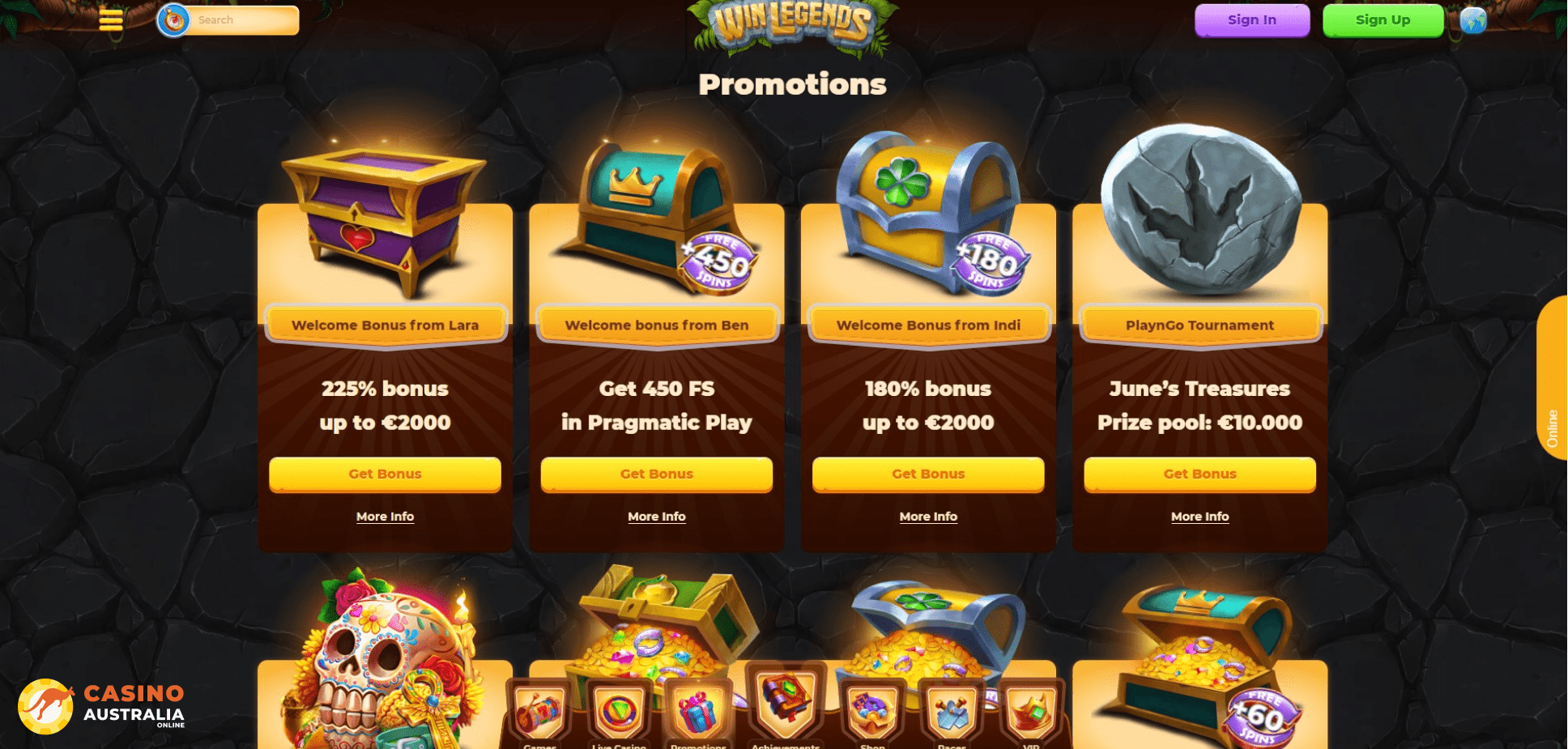 Games
Well, we have established that the bonuses of WinLegends Casino, while diverse, are hardly legendary… But what about their games? Well, you don't need to worry: they're much better than the bonuses were! Whether you're someone who prefers to spin reels, get dealt cards, yell at roulette wheels or do totally unrelated kinds of betting, we're willing to bet that you'll have quite the lovely time here.
Of course, WinLegends doesn't have everything, with its most glaring omission being sports betting. With that said, it's hard to hold that fact against the casino, given all of the different types of games that it does have. If you're someone who doesn't care much for sports, but loves pretty much any form of casino gambling, you're going to have a lovely time here.
| | |
| --- | --- |
| Games | |
| Software providers | Pragmatic Play, Yggdrasil, BGaming, Igrosoft, Mascot Gaming, Tom Horn, OnlyPlay & More |
| Pokies | 2,000+ |
| Live casino | Yes |
| Sports betting | No |
| Table Games | Yes |
Pokies
We fell in love with WinLegends' pokies section. We don't need to tell you that it hosts the games of some of the best developers out there, such as Pragmatic Play, BGaming and Tom Horn – that much is obvious even after a cursory glance. Quantity and quality combined in a beautiful package!
But no, what truly drew us to WinLegends was just how many different options there are to filter out the giant library of games on display. Sure, you can filter out by developer, just like at any other casino, but at WinLegends, you can also filter by feature. Do you want pokies with high volatility, or multipliers, or tumbling reels? Do you want pokies that are currently part of tournaments? Do you want just games with jackpots? They're only a click away!
With that said, there is actually one thing that we didn't like about this site, and it's, unfortunately, a problem that many of us Aussies are already well acquainted with: locked games. Not every pokie developer has made their games available here in Australia, which means that you'll often find yourself clicking on titles that you won't actually be able to play. And while the matter of availability isn't one that WinLegends Casino can solve easily, they could at least hide unavailable games from view.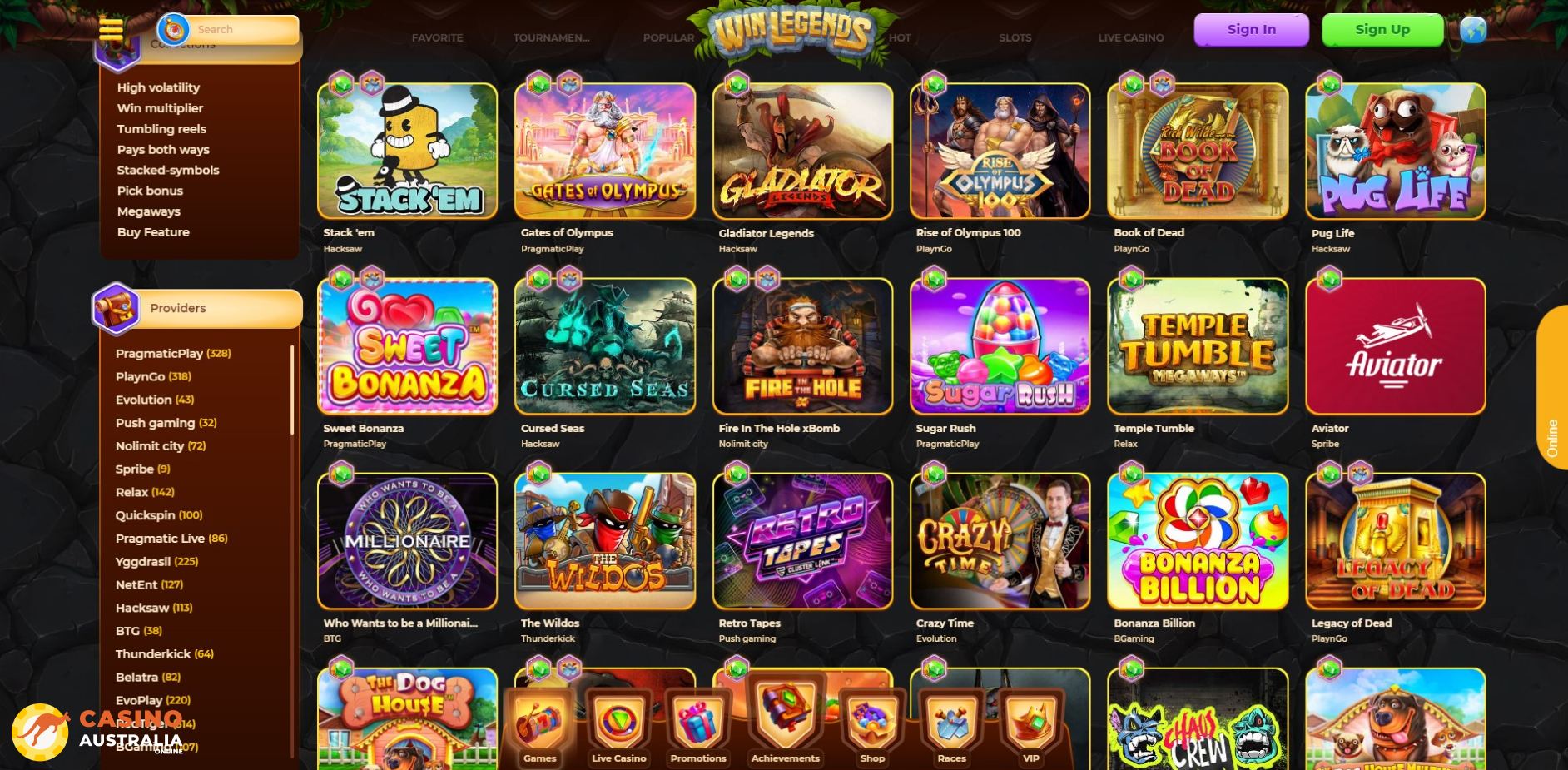 Live casino
Just like the pokies section, the live dealer portion of WinLegends Casino is really, really great. You're going to find a very wide diveristy of both games and providers, including not only the really big ones (like blackjack and roulette), but also skill-based titles, craps, baccarat, andar bahar, sic bo, lightning dice and so much more!
And that's not even the bulk of it! You'll also find a wide variety of live game shows from companies like Evolution Gaming and Pragmatic Live. If you've ever wanted to be on TV and compete in games like "Deal or No Deal", this is probably your best chance to do so! And if that's not legendary, we don't know what is!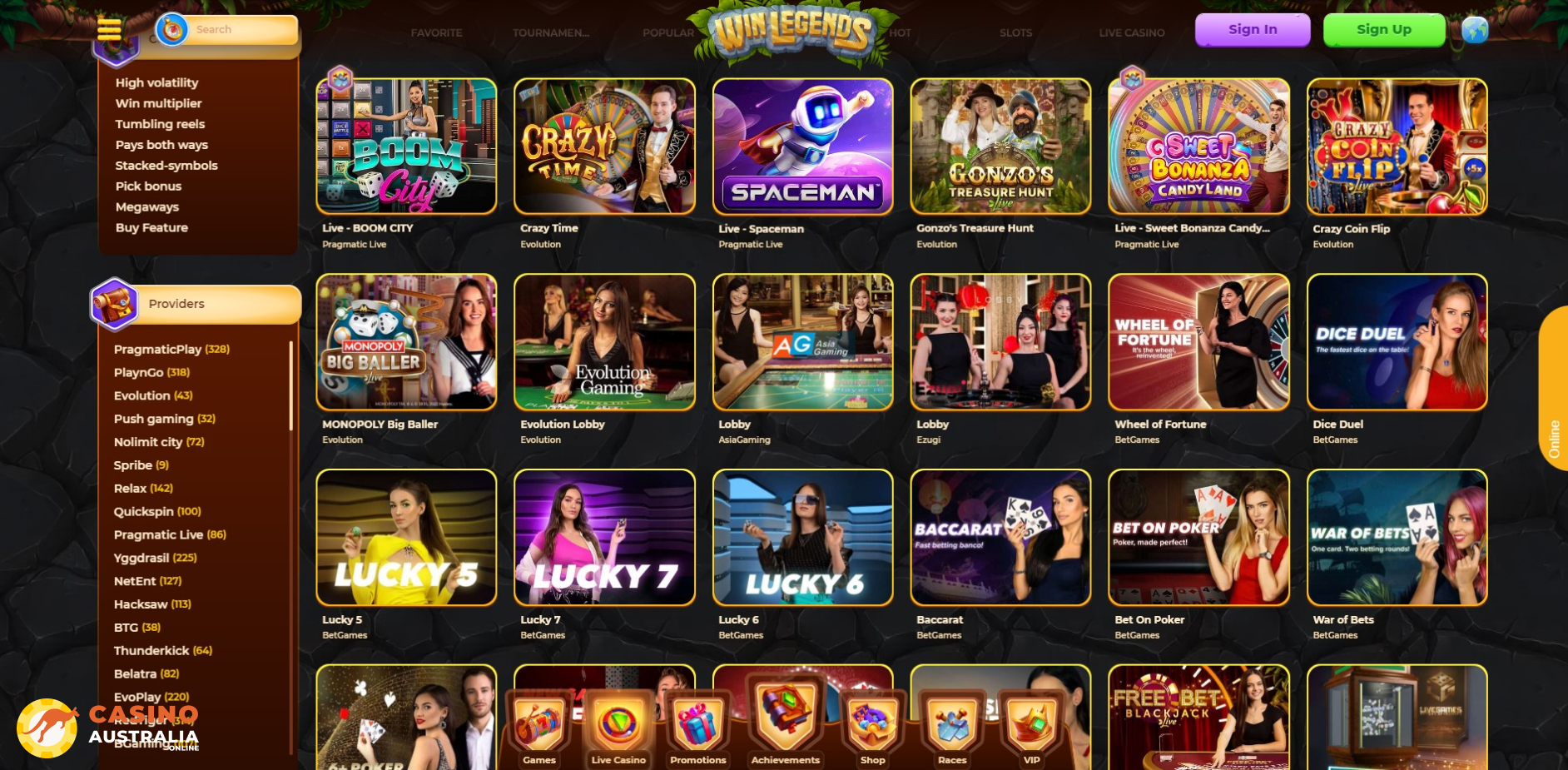 Deposits & Withdrawals
If you're worried that you won't be able to deposit at WinLegends Casino using your favorite payment method – don't be. The site accepts a very wide variety of different payments, including not only cards, but also several big e-wallets, and even a pre-paid solution (Paysafecard).
If you consider yourself trendier than your average casino gamer, then ou also probably have a crypto account. In that case, don't worry – you can also deposit (and withdraw!) using a decent number of cryptos, both mainstream and alt coins.
The only restriction is that you'll need to put down at least AU$30 before you can play, which some may consider a bit steep, but seems to be about average for casinos operating in Australia.
Payments

Minimum deposit

AU$30

Minimum withdrawal

AU$30

Maximum withdrawal

Per day – AU$1,500

Per month – AU$15,000

Deposit methods

Visa, MasterCard, Skrill, Neteller, Mifinity, Paysafecard

Crypto currencies accepted

BTC, ETH, DOGE, USDT, LTC, TRX

Australian Dollars accepted

Yes

Welcome bonus package

Several bonus packages can be selected
Withdrawal time
Remember that scene in Indiana Jones where Indy found the idol, but still had to escape the boulder? Well, you, too, will need to escape from a boulder before you can claim your treasure – but, luckily, yours is metaphorical and can be beaten by just waiting. For how long, though? That'll depend on what you're using for withdrawal.
Keep in mind that both crypto and e-wallet transactions can be very, very fast, as they don't go through the same verifications that banks perform on casino transactions. If speed is your main priority, we would certainly consider them as your prime options. With that said, most people find it much more convenient to deposit into their bank account (either directly or via card) and while this will take a few days longer, it can still have its benefits.
VIP Program
WinLegends Casino is already quite good at retaining player loyalty. We didn't have the chance to talk about them in the bonus section, but the site also has several reload promotions that you can take advantage of after your chosen welcome package runs out, thus making sure that you'll always have more bonuses to claim no matter how many times you deposit.
But did they stop it here? Of course not – that wouldn't be very legendary, would it? Wearing its videogame inspiration on its sleeve, the site also has a fantastic achievements system that will give you rewards for completing certain tasks, like unlocking certain milestones within particular pokies, or just spinning them enough times. Once you complete all achievements in a set, you'll unlock a cash prize for your efforts, and you'll move on to the next challenges.
If that was all there was, we would've been happy, but oh, no! WinLegends Casino also has a much more traditional VIP system, if that's more your style. By placing bets on various games just like you normally would, you'll accumulate EXP points and level up, thus unlocking new features. A personal VIP manager, a weekly cashback and exclusive bonuses are just some of the perks you'll gain as you move forward.
There's no mincing words here: WinLegends Casino has some of the best VIP initiatives we've ever seen. Its creators understand well that the trick to success isn't luring new players, but keeping existing ones happy, and boy did they throw everything and the kitchen sink towards making that happen!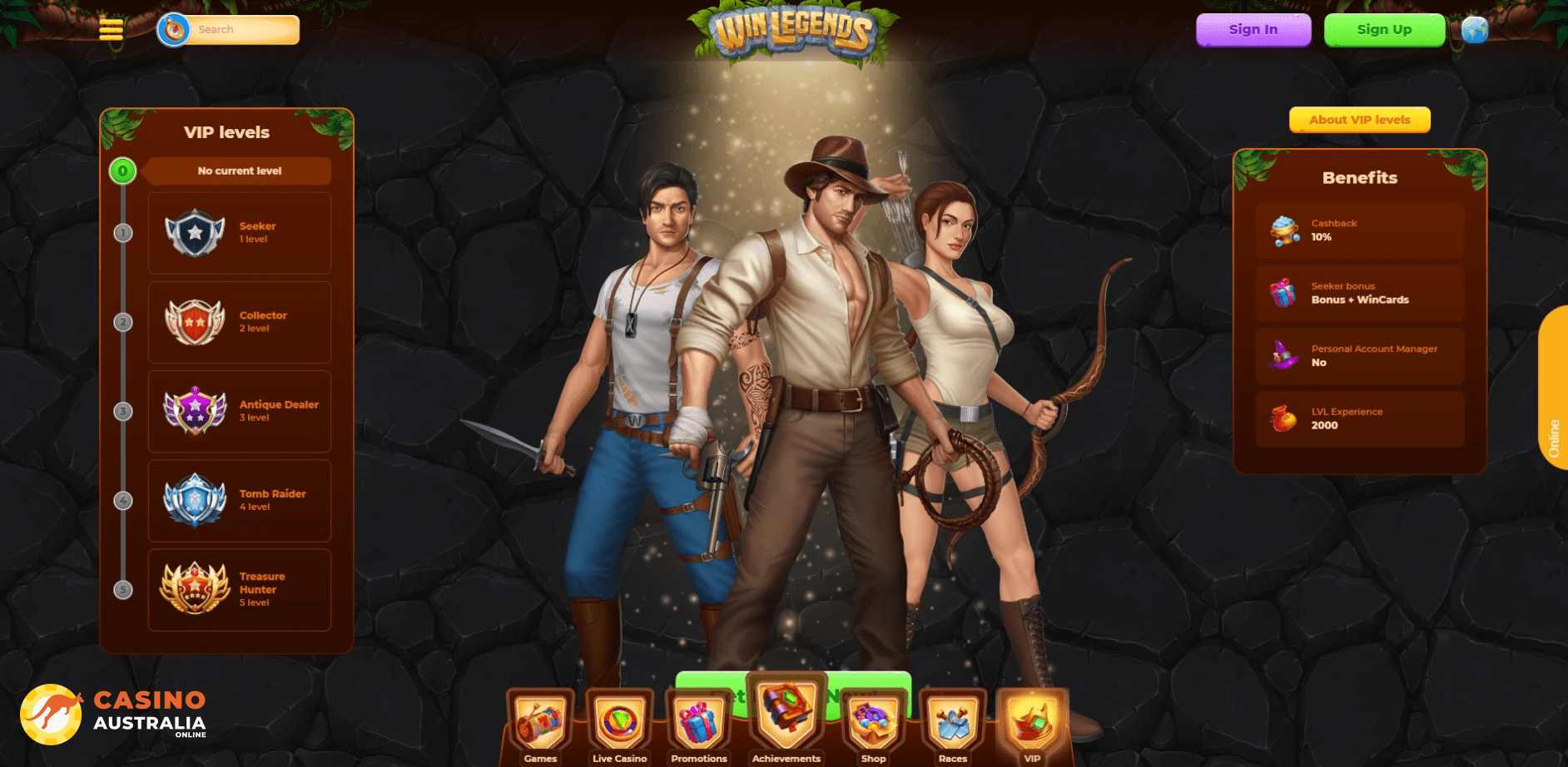 Tournaments
Was there any doubt that a casino as feature-rich as WinLegends wouldn't have pokie tournaments? Not only does it host them, but it also lets you very easily see what games are currently part of a tournament on the pokie page itself. Such a cool little extra that we honestly wish more casinos would adopt!
While the diversity of tournaments available here isn't huge, you can at least choose between two to three tourneys to join at any point. Their rewards are also quite nice, giving you both cash and rewards for the site's various VIP programs, which means that even if you don't place too high on the leaderboard you'll still end up with something worthwhile.
There's just one thing that we need to bring up – when we first started exploring the tournaments of WinLegends Casino, we experienced a bug where the page appeared empty. This isn't because there aren't any tournaments, it's just a visual glitch as far as we could tell. If the same happns to you, just refresh the page and be a bit patient, they'll pop up before too long!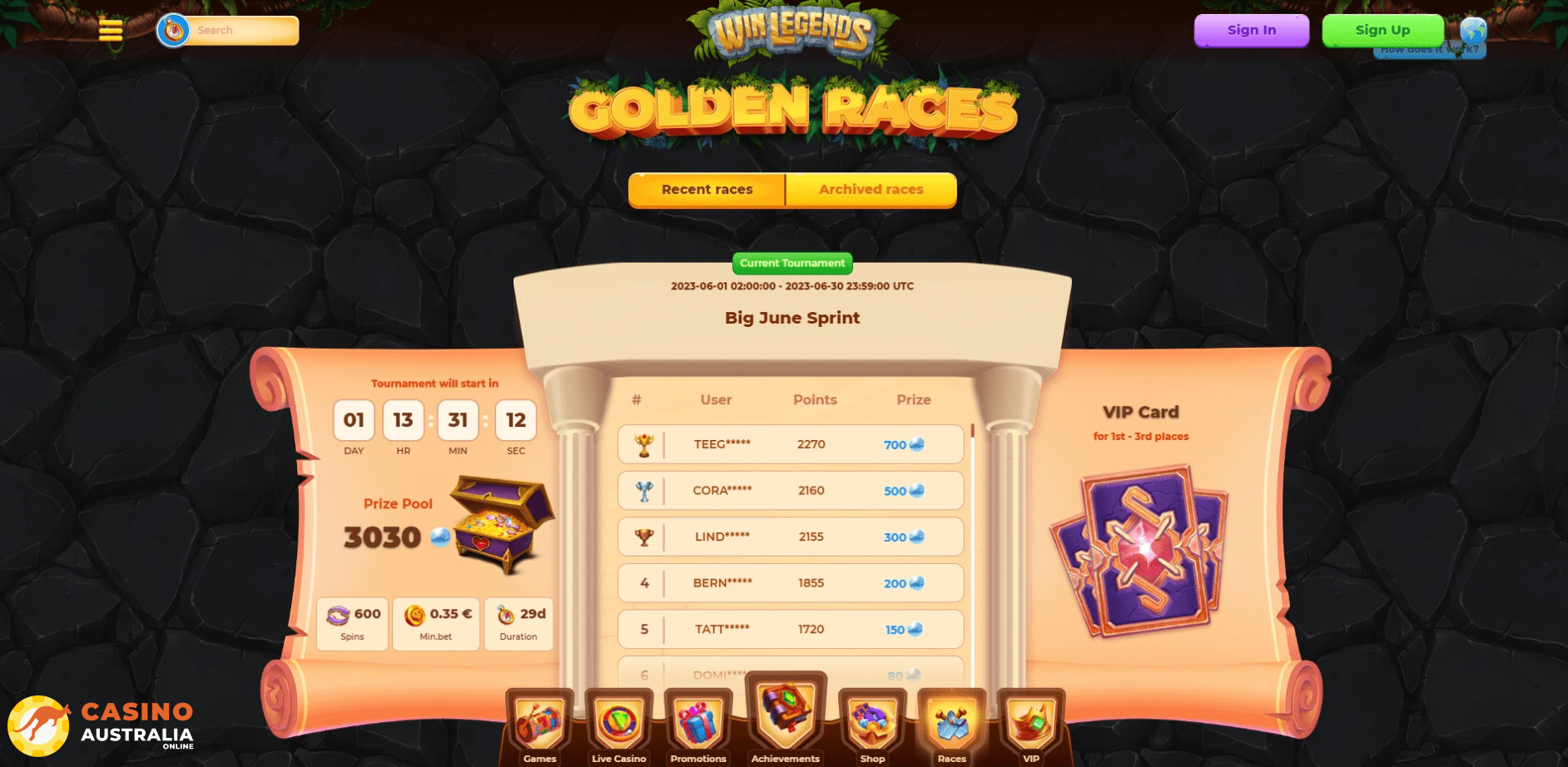 Verification
Oh, no! You just tried to make your first withdrawal from WinLegends Casino, but it got rejected, and a verification procedure was triggered! Did you do something wrong? No, don't worry – this is normal, and just part of money laundering regulations that every casino has to abide by. Even legends need to prove they're not bad guys before they can get their money!
Luckily, verifying yourself is no heroic feat. All you'll need is to procure a few documents: a proof of ID (any photo ID will do), a proof of address (a document with your name and address on it) and a proof of payment method (this will depend on the method that you used to deposit). When you trigger verification, the casino's staff will tell you precisely what you need.
Once you have everything, just take pictures with your phone and send them over to the verification team. It'll only take a day or two for your account to be confirmed, enabling you to finally enjoy your sweet, sweet treasure!
Is WinLegends Casino Legit & safe?
Everyone wants to make sure that the casino they're trusting not only with their money, but their personal details, is a safe and reliable one. Thankfully, it doesn't appear that there's much cause for concern in regards to WinLegends – the site is fully licensed by the Curacao Gaming Authority, so you can rest assured that it has at least some measure of oversight from a regulatory body.
But what about its reputation? We at casinoaustraliaonline.com always make sure to check closely what ordinary players have to say about the site we're reviewing, and while we did find a few complaints about WinLegends, most feedback seemed rather positive. It's important to keep in mind that while we can't 100% vouch for the casino's authenticity, some negative reviews are always expected no matter how good a site truly is.
| | |
| --- | --- |
| License | Curacao |
| License number | 8048/JAZ2019-049 |
| Company address | Dr. Henri Fergusonweg 1, Gaito, Curacao |
Customer support
What would a Legend do when they have questions or experience a problem they can't solve on their own? Why, they'd consult their "guy in the chair", of course! In your case, that would be the casino's support team, and you have multiple ways through which you can reach out, should you need to.
The easiest and most convenient one will be via the site's live chat function, which you can access from the yellow bar on the right-hand side of the user interface. This will put you into contact with a casino representative within 10 seconds, who can then chat with you in order to solve your issue in real time.
If speed isn't a concern, or you're just feeling a bit shy, no worries – we can be shy, ourselves! In that case, you can simply send an e-mail, which will typically be answered within 24 hours. You'll have to do so from your inbox, as there is no ticketing system, but that's hardly something worth being upset about.
| | |
| --- | --- |
| Live Chat support | 24/7 |
| Phone support | No |
| E-mail support | [email protected] |
| Ticketing system | No |

Mobile casino
The site's legends, like Lara Croft and Indiana Jones, would probably kill for a smartphone, given the trouble they get up to! You have what they usually don't, so it's only fair to put that to your advantage, if not to ask Siri for directions to the nearest ancient tomb, then at least to spin some pokies while waiting for the bus or something. Hey, who said all adventures have to be dangerous?
If you're an enjoyer of mobile gambling, you'd be happy to know that WinLegends has a fully functional site that fits in the palm of your hand. It not only looks and works great, but will also grant you access to all of the features of its "big brother" on desktop. Do you want to claim bonuses, unlock achievements or participate in tournaments, all while on the loo? Go for it!
To access the mobile site, you don't need to download any external apps – just open the domain through your mobile browser, like you would any other link. This helps you avoid downloading unnecessary apps while also helping you get into the casino from any device you need to.
| | |
| --- | --- |
| Interface | |
| Mobile version | YES |
| iOS App | No |
| Android APP | No |