Terra Casino Review
Crypto casinos are a dime a dozen – we've seen (and reviewed) oh so many online casinos that claim to be for crypto enthusiasts. In reality, however, most of them don't do anything all that different compared to regular online casinos except for the fact that some of them will only let you deposit using crypto. If you're lucky, you might find some unique crypto games, but that's it.
Terra Casino isn't quite like that. Instead, its very core is baked deep into the process of crypto investment in a, frankly, very unique and interesting way. The premise is that 0.2% of the value of all bets placed on the Terra platform will be spent to "burn" the cryptocurrency LUNC (meaning that it'll be sent to dead wallets to essentially remove it from circulation). This means that the value of LUNC will gradually increase the more bets are placed, so if you're an investor in LUNC, by playing at Terra Casino you'd be gradually making your coins more valuable.
While the idea is sound, it's the execution that we're concerned about. Because, ultimately, an online casino has to be fun and engaging, and not just a crypto scheme – that part is fine, but it needs to come as a bonus, not the main event. As such, we decided to closely examine Terra Casino, evaluating its games, bonuses, features and other aspects to determine whether this would be a good choice even for players who aren't interested in LUNC.
So, is this casino good enough to make you forget about burning crypto, or does it make you wish you could burn it instead?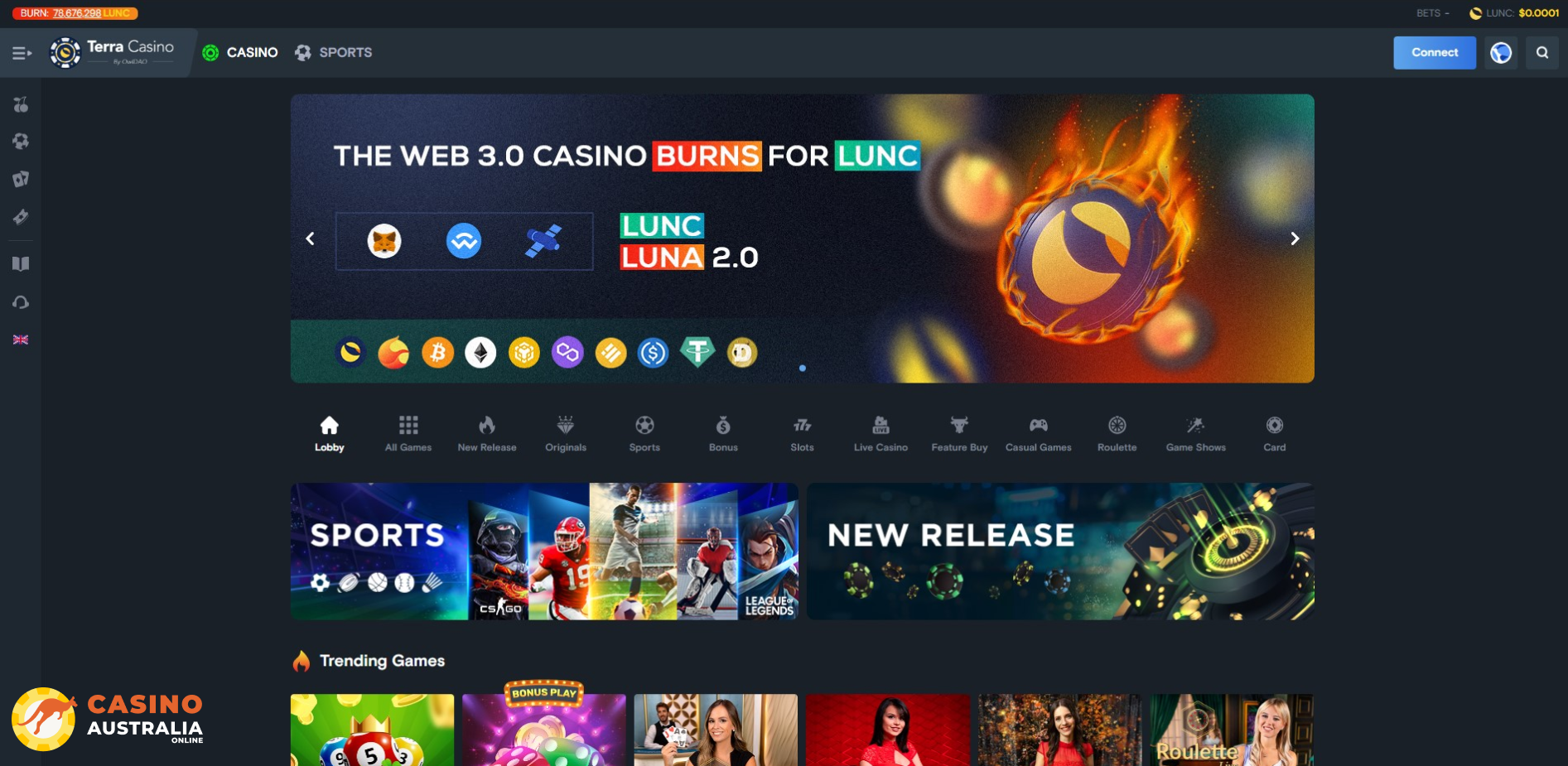 Bonuses
The welcome bonus is a staple of any online casino – and how can it not be? It's almost impossible to find a casino without them, you might as well go looking for a unicorn! Well, consider this your lucky day, because you just spotted one. Don't you just feel blessed?
Indeed, Terra Casino doesn't offer any kind of bonus to its players – not a welcome one, not a reload one, nothing at all. You will get nothing extra when depositing for the first, second or tenth time. And it's very important to point out that the sites we at casinoaustraliaonline.com have reviewed which neglect bonuses can be counted on the fingers of two hands.
When we reached out to Terra Casino's support team, we made sure to ask about the bonuses and were told that there are, indeed, plans to add some… Eventually. If you're reading this, though, that means "eventually" hasn't come yet, because we'll amend our review if it happens, and it clearly hasn't yet.
What a disappointing way to start off! Terra Casino are certainly not in the business of leaving good first impressions, huh?
Games
Well, bonuses aren't everything for an online casino, right? You still have the games, which are, you know, kind of the main thing when it comes to casinos. How does Terra handle this all-too-important aspect? We're sad to say, only slightly better than it handles its bonuses.
While at least there are some games here (unlike the bonuses), the selection isn't much. A big part of the problem stems from the fact that most of their offerings aren't available to Australian players. What's odd is that there is definitely some kind of GeoID system in place, because when we used a VPN to mask our location, we received a much higher selection of games than we did with our natural Australian IPs. However, most games that show up in Australia are also clearly listed in the terms and conditions as not being available to Australians. We have no idea what to think of this, and whether this is just a huge glitch in their system or if the casino is breaking its contract with the providers by offering their games in forbidden territories.
Either way, it's very clear that Terra Casino's priorities lie in the vast and expansive sports betting section, not with its casino games. As such, if you're someone who doesn't really care for sports and just wants to play cards and spin pokies, you'd do well to simply find another casino.
| | |
| --- | --- |
| Games | |
| Software providers | Atmosfera, Belatra, LuckyStreak, Mancala Gaming, Tom Horn & More |
| Pokies | 500+ |
| Live casino | Yes |
| Sports betting | Yes |
| Table Games | Yes |
Pokies
At first glance, the casino appears to offer a practically indefinite amount of pokies, their catalogue spanning as far as your eye can see, and your mouse wheel can scroll! However, don't be fooled by this: the overwhelming majority of those operators have not made their games available in Australia. This even includes some developers which typically have no issue sharing their games with Australians (like Nolimit City and Evolution Gaming), but which have banned Terra Casino in particular from offering them.
So, are we saying that most of the pokies available on the site are just not playable for Australians? Why, yes, that is precisely what we're saying. There are currently about 1500 pokies available at Terra Casino, and the vast majority of them are simply not playable by Australians. The worst part is that even after you're registered the casino won't hide them, so you're stuck clicking on pokies that aren't available to you until you find one that is.
That all begs the question, if most games aren't available, what is? Well, not much – you'll still be able to enjoy titles from Tom Horn ("Frozen Queen"), Mancala Gaming ("Wicked Heart"), and Belatra ("Big Wild Buffalo"). And if they're not exactly setting your pants on fire, don't worry, you're not alone.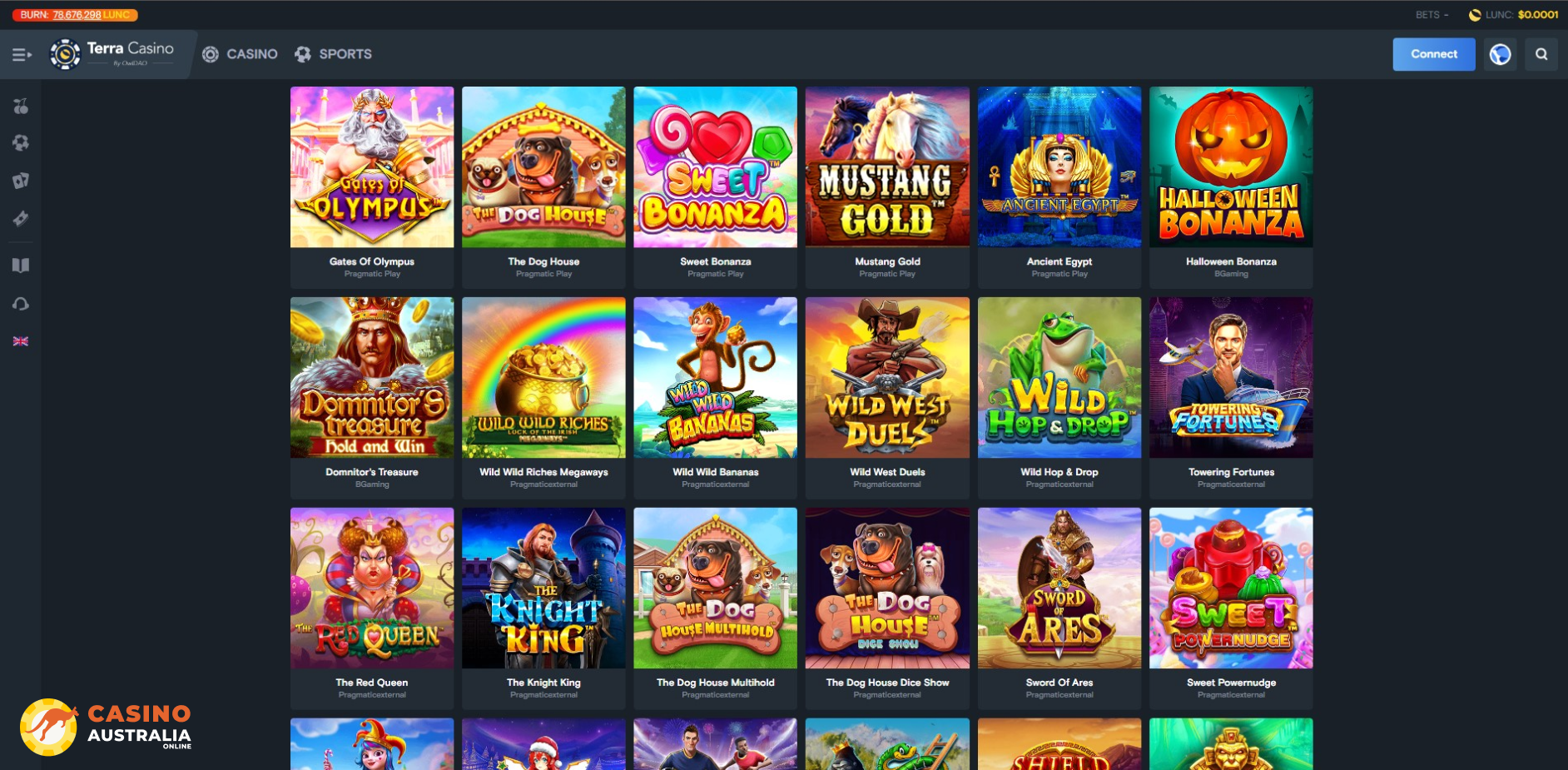 Live casino
The live dealer section of Terra Casino is just as messy as its pokies, and for much of the same reason: the casino never tells you what games are available to you until you actually start playing. Sometimes, like in the case of Evolution Gaming, it'll let you watch the stream, but stop you when you actually attempt to bet. What a tease!
For Aussies, the main two companies that will be providing their live casino experience are Atmosfera and LuckyStreak. They're not necessarily terrible, but their streams aren't exactly free of issues (like lag and low quality), and the number of games they offer isn't great. Basically, if you don't like playing the most popular games (like blackjack or roulette) and are instead looking for more obscure experiences, we're sorry to say, but Terra Casino will not be for you.
Deposits & Withdrawals
As you may have imagined, Terra Casino supports deposits and withdrawals using only cryptocurrencies, and it's not possible to make a deposit there using your credit card or some other traditional payment method. The option to buy coins with your card directly through the casino (which we've encountered on several sites) is also not available.
If you don't like cryptos… You probably wouldn't be reading this in the first place. However, if you're an enthusiast, you'll almost feel like a kid in a candy shop! Terra Casino supports more than a dozen different currencies, including all of the popular coins (like Bitcoin and Ethereum), as well as plenty of more obscure choices. Have you ever dreamed about depositing at an online casino using Avalanche? Well, then you're a little weird, but also, now you can make your dream come true!
Payments

Minimum deposit

Depends on the currency

Minimum withdrawal

Depends on the currency

Maximum withdrawal

Per day – $10,000

Per month – $300,000

Deposit methods

None

Crypto currencies accepted

BTC, ETH, BSC, BNB, DOGE, USDT, USC, UST, Polygon, Avalanche & More

Australian Dollars accepted

No

Welcome bonus package

None

Withdrawal time
The good news about Terra Casino being completely limited to just crypto deposits is that the subsequent withdrawals will be very, very fast. The casino themselves brag about how all withdrawal requests are processed and dispatched instantly, and while we can't confirm for a fact that this is true, there should be little doubt that the withdrawal process is almost seamless (at least in theory).
Most crypto coins end up in your wallet mere minutes after being sent, and there's little reason to suspect that the transactions issued by Terra Casino will behave any differently. Even the slowest coins, like BTC, shouldn't take more than a few hours to reach you, and that's the worst-case scenario.
VIP Program
Does Terra Casino offer a VIP program? That's a great question, actually! And the answer is… Maybe?
Okay, okay, let us explain. The fact of the matter is that, currently, there is no indication on the site itself that there are any bonuses or VIP programs available (something that we double-checked with customer support). So, if you were hoping for an initiative that lets you level up or collect comp points, we're sorry to disappoint, but you certainly won't find anything like that here.
However, the casino's FAQ section makes mention of a different type of loyalty program that will issue cashbacks to players who pass certain daily, weekly and monthly thresholds. This program is not described anywhere else on the site, and when we asked the support agent about it, they couldn't tell us anything. Yes, Terra support is a little clueless, but we'll get there soon enough.
While it is certainly possible that such a loyalty program exists, given how messy the whole situation is, it might just be best to presume that there isn't one. We wish we could give you more concrete info, but there's only so much we can do when even the customer support agents don't know!
Tournaments
Unfortunately for pokie enthusiasts, Terra Casino does not currently offer players the chance to participate in tournaments. While it's possible that this feature will be added in the future, as of the time of writing this review, there aren't any signs that you'll be able to play pokies in a competitive setting.
We understand that tournaments have become extremely popular over the last few years, and that there are undoubtedly many people reading this and feeling a tinge of disappointment. However, all we can promise is to keep an eye on Terra and update our review if they add tournaments to their repertoire of features.
Verification
Verification is an annoying, but necessary part of any online casino. Even though some crypto casinos claim to not verify the identity of their users, that (more often than not) ends up not being very true, and users are required to verify anyway when it's time to withdraw!
The process is no different at Terra Casino, where you'll still need to provide a few identifying documents to prove that you are who you say you are. The casino's support team will demand to see a form of photo ID (the easiest one to obtain would be your national ID card), as well as a proof of address which you can provide via a recent utility bill or delivery receipt.
Fortunately, the one thing that is usually verified at other casinos, but you'll get to skip at Terra, is the payment method. Given that it only accepts crypto transactions, you won't have to worry about taking screenshots or anything else to verify that you own your crypto wallet. However, the casino may still request additional documents from you that will vary from person to person, so keep that in mind.
Is Terra Casino Legit & safe?
Crypto casinos do not exactly have the best reputation, which is understandable considering the fact that they utilize a payment method that is completely impossible to get a refund on. While you can charge back fraudulent credit card transactions and most e-wallets easily enough, the same doesn't really hold true for crypto, which is gone as soon as you leave your wallet. You can imagine why so many scammers consider crypto to be practically a goldmine.
With that in mind, it's always a great idea to be careful, and one of the best ways to do that is by verifying whether or not the casino you're playing at has an active license. Licenses mean that the site is regulated by international gaming authorities that monitor it and may penalize it for scamming its players (sometimes via fines, other times by simply yanking the license away).
We wish we could tell you that Terra Casino completely checks out, and that it definitely isn't like those unlicensed scam casinos that we just spoke about! Unfortunately, this isn't the case, and while we're not saying it's a definite scam, the casino gives us plenty of reasons to be suspicious due to not having a license and having a very poor reputation among its players. Frankly, it ticks pretty much every box regarding whether a casino can be considered to be a scam or not. As such, we strongly advise potential players to be cautious of it and decide whether they want to risk not getting paid their winnings.
Customer support
If you're experiencing a problem with the casino, such as your withdrawal request not being approved or taking too long, your best choice is to say hi to the casino's staff directly. Naturally, we're talking about reaching to the support team – a good support agent can help you fix any situation, no matter how hopeless it may seem!
So, is the support of Terra Casino that good? No, not really! The best and quickest way to reach out to them is via live chat, which prides itself on answering in less than 10 minutes (which is a weird thing to brag about because most live chats at casinos we've tested connect you to a support agent immediately). Of course, it's not true, and we had to wait for nearly 30 minutes to connect to an agent whose answer to all of our questions was "I don't know".
In addition, you can shoot them an e-mail, or alternatively, you can leave your e-mail with a bot on the live chat service so that the staff can get back to you when they can. We did the latter, and then never heard of them again, so who knows if that even does anything. Terrible, terrible service overall. And if it was that bad when we just needed some information, we don't want to think about how awful things could be if you needed urgent assistance!
| | |
| --- | --- |
| Live Chat support | 24/7 |
| Phone support | NO |
| E-mail support | [email protected] |
| Ticketing system | None, but you can contact them via live chat and then leave your e-mail if they don't reply quickly enough |

Mobile casino
The mobile version of Terra Casino is nearly identical to its desktop counterpart, with a very similar design and layout so that you'll always know what is where even if you're switching between devices as you play. However, since the interface is already a little bit cluttered on desktop, the mobile version ends up hiding a lot of its options behind menus that can make navigation a bit more of a hassle than it needs to be.
Beyond that, most of the games and features available at Terra Casino work precisely as intended – at least, as far as we have tested. While we can't guarantee that each of the thousands of games available will work well, we can at least be sure that enough of them do so that you won't have much of an issue playing all of your favorites on the go. It's definitely a bit impressive, especially when you consider the fact that the casino is playable in your browser and doesn't require any additional downloads or installs.
| | |
| --- | --- |
| Interface | |
| Mobile version | YES |
| iOS App | No |
| Android APP | No |