Spinch Casino Review
Back in the day, if you wanted to make an online casino, you didn't need to come up with a cool, original name – just use a random number generator to mash an adjective and a noun together that sound vaguely casino-ish ("Golden", "Royal", "Spin", "Win", "Chip", etc). But nowadays, all of those names have been taken, leaving online casino creators with just one option: to press random keys on the keyboard and hope the resulting domain name is pronouncible!
We joke, but seriously, "Spinch Casino" is such a terrible name for a site! Could you imagine turning to a friend and saying "Yep, there's this really cool casino site called Spinch, you should check it out!" Well… Maybe if it had some really good casino games, great bonuses, lots of features and a great safety score, then yeah!
So now the question remains: does Spinch Casino thrive despite its awful name, or would it not have been saved even if it had an amazing title?
Bonuses
Welcome Bonus – 100% Match up to AU$9,000 + Free Spinch Wheel Spin
When you complete your registration and make your first deposit, it's time for one of the sweetest casino moments – claiming your first deposit bonus! Unfortunately, at Spinch Casino, this sweet moment is just a tiny bit sour.
What you'll be getting is a 100% match up to AU$9,000, which is a gigantic maximum, don't get us wrong! But it's just that: a maximum. Unless you're a particularly high roller, you really won't get much out of it, and most players will only get abour AU$30-100 bonus. Not exactly something to write home about.
To sweeten the deal, you'll also receive a free spin on the Spinch Wheel, a feature unique to this casino that will reward you with additional bonuses or free spins. While on paper this lets you get up to AU$1,000 or 40 free spins, in practice, you're much more likely to get a significantly lower sum, which will only lead to disappointment. And we aren't sure "disappointment" is the right emotion to start a casino journey with.
Reload Promotions
Unlike other casinos, Spinch doesn't have an entire welcome package. Instead, what you put in as your first deposit is all you'll get as far as the welcome bonus is concerned. If you want more, you'll need to rely on the reload bonuses, of which there are several.
Every Wednesday, if you make a qualifying deposit, you'll win a spin on the aforementioned Spinch Wheel, which can give you prizes of up to AU$1,000. Great, but as we mentioned already, the chance of getting such a reward is negligible.
A much better option would be to deposit on a Friday, which will also net you a Spinch Wheel spin. But in case that doesn't work out, you'll at least have the consolation prize of a 50% match up to AU$9,000. Again, we're looking at a gigantic maximum bonus, but considering the fact that you'd need to deposit AU$18,000 to claim it, we're willing to bet most people will only experience a tiny fraction of it.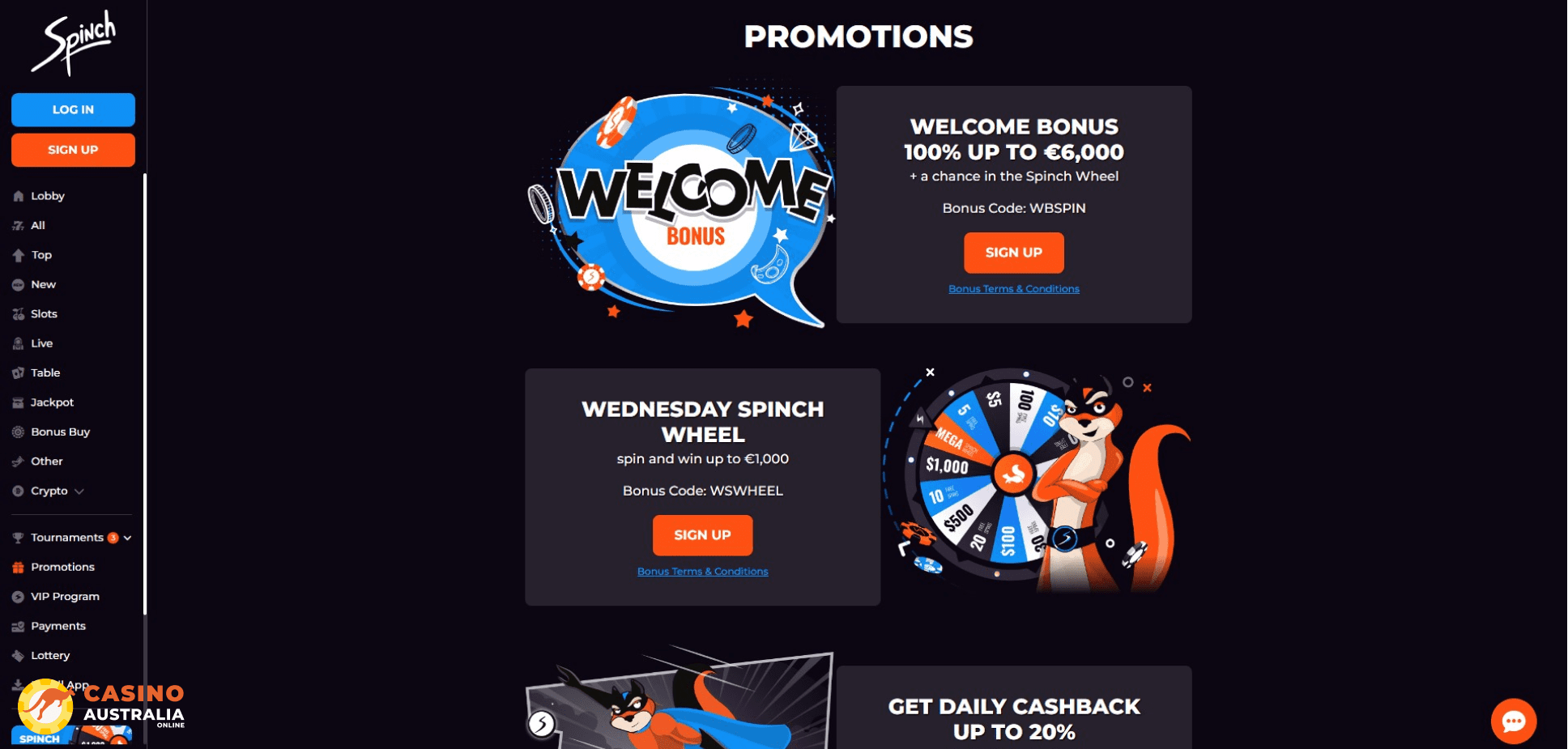 Games
Bonuses, shmonuses, whatever! Forget about all that, it's the games that matter, right? That's what we're here for, and we're happy to say that Spinch Casino certainly delivers on that front! Within its virtual walls you'll find a vast selection of pokies, table games, bonus buy titles, skill-based pokies and so much more. It's enough to make even the most hardened casino veteran start salivating!
With that said, though, Spinch Casino doesn't have everything. It has a lot, that much is just undeniable. But if you're looking for bingo, lotteries or sports betting, you really won't find much of that here. The site is focused mostly on casino games, and that's what you're going to find here. We're not saying this to disparage it in any way (it's not exactly advertising itself as anything other than what it is), just to set expectations.
| | |
| --- | --- |
| Games | |
| Software providers | BGaming, Zillion, GameBeat, Platipus, Belatra, Playson, Booming Games & More |
| Pokies | 3,000+ |
| Live casino | Yes |
| Sports betting | No |
| Table Games | Yes |
Pokies
The pokies section is very clearly the highlight of Spinch Casino, and where the majority of effort went when it came to the game selection. Once you sign up, you'll have access to an incredibly impressive array of games from more than 50 different providers. We're talking thousands upon thousands of titles, all of which available in Australia!
But don't let the impressive number give you the impression that we're just talking about shovelware here, quite the opposite: man of these games are at the top of the casino industry at the moment! The creators of Spinch Casino are no fools, they know that some games are better (not to mention more popular) than others, so once you open up the pokies menu, the best games will greet you first, making it very easy to see the best the site has to offer even at a glance.
Whether you're someone brand new to spinning reels or an experienced pokie veteran, this collection will not disappoint!
Live casino
Sadly, the live section is one of Spinch Casino's very few blunders… But it's certainly a big one. While five different live game providers have lent their rooms to the site, you'll only be able to participate in a few dozen rooms, mostly from Atmosfera and Luckystreak. While these developers aren't necessarily terrible, they also very much lack the variety and diversity that you'd find at other casinos.
If you're a fan of roulette and blackjack, you're in luck – that's what the overwhelming majority of rooms at this casino are dedicated to. But if you'd rather play more obscure games like keno, sic bo, craps or dragon tiger, you'll either find just one room (that rarely has open spots) or none at all. Safe to say, we expect this will turn off at least some players.
Deposits & Withdrawals
Some people prefer to deposit at online casinos using their credit cards – after all, we all have them already, and they're convenient, so why not? Others, however, use e-wallets instead, because it's none of your bank's business that you're responsibly enjoying casino sites. Others still will use pre-paid vouchers for safety reasons, or crypto for all of the above reasons, and because crypto is cool.
As such, it's important for online casinos to cater to each and every single one of these methods, so that users from all walks of life will be able to participate in the casino without issues. Does Spinch have what it takes? Oh, you bet it does! The site will let you deposit using not only your card, but also several popular e-wallets.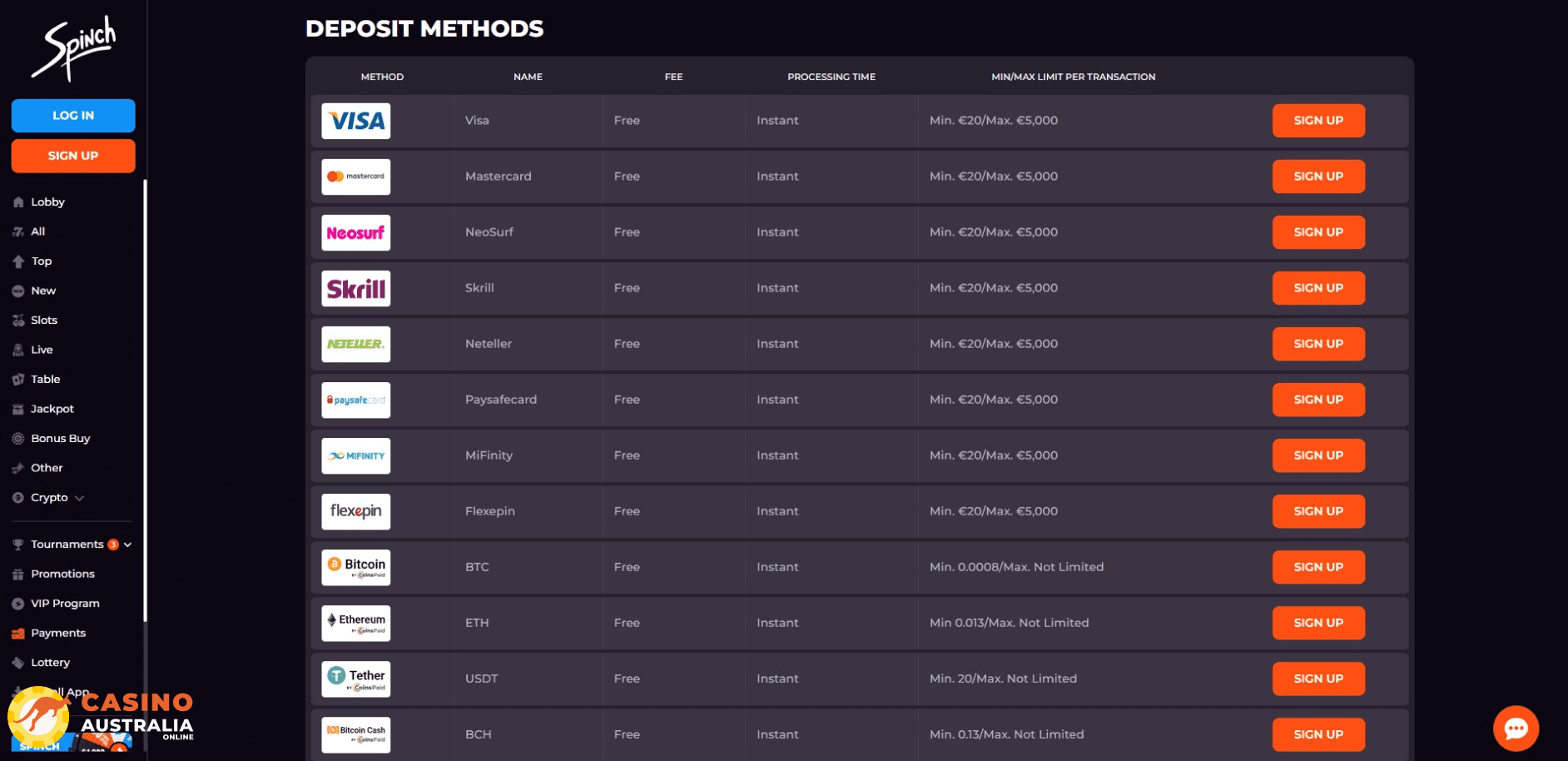 And if that's not enough, you'll also be able to use pre-paid solutions (like Neosurf) or half a dozen different cryptos. It's great! The only thing regarding Spinch Casino's payments that we're not wild about is its high minimum withdrawal, as you'll need to win at least AU$50 before you can even consider withdrawing.
Payments

Minimum deposit

AU$30

Minimum withdrawal

AU$50

Maximum withdrawal

Per day – AU$15,000

Per week – AU$30,000

Per month – AU$90,000

Deposit methods

Visa, MasterCard, Neosurf, Paysafecard, Skrill, Neteller, Mifinity

Crypto currencies accepted

BTC, ETH, DOGE, USDT, BCH, XRP

Australian Dollars accepted

Yes

Welcome bonus package

AU$9,000 + Free Spinch Wheel Spin
Withdrawal time
Finally, you've won the big pot! But withdrawal won't be quite as fast as you were probably hoping it would be. Spinch Casino, much like most other sites, will take a few days to process withdrawal requests before dispatching them. After that, how quickly your money gets to you will depend on the method you used to deposit with.
Crypto withdrawals and those made via e-wallets like Neteller will be by far the fastest, as they'll take mere hours (at the very most) to reach your account. However, that's not going to be everyone's cup of tea – as such, you'll also be able to withdraw into your bank card or bank account. If that's what you choose, keep in mind that these methods will be much slower and may take a few days to a week to arrive after being dispatched.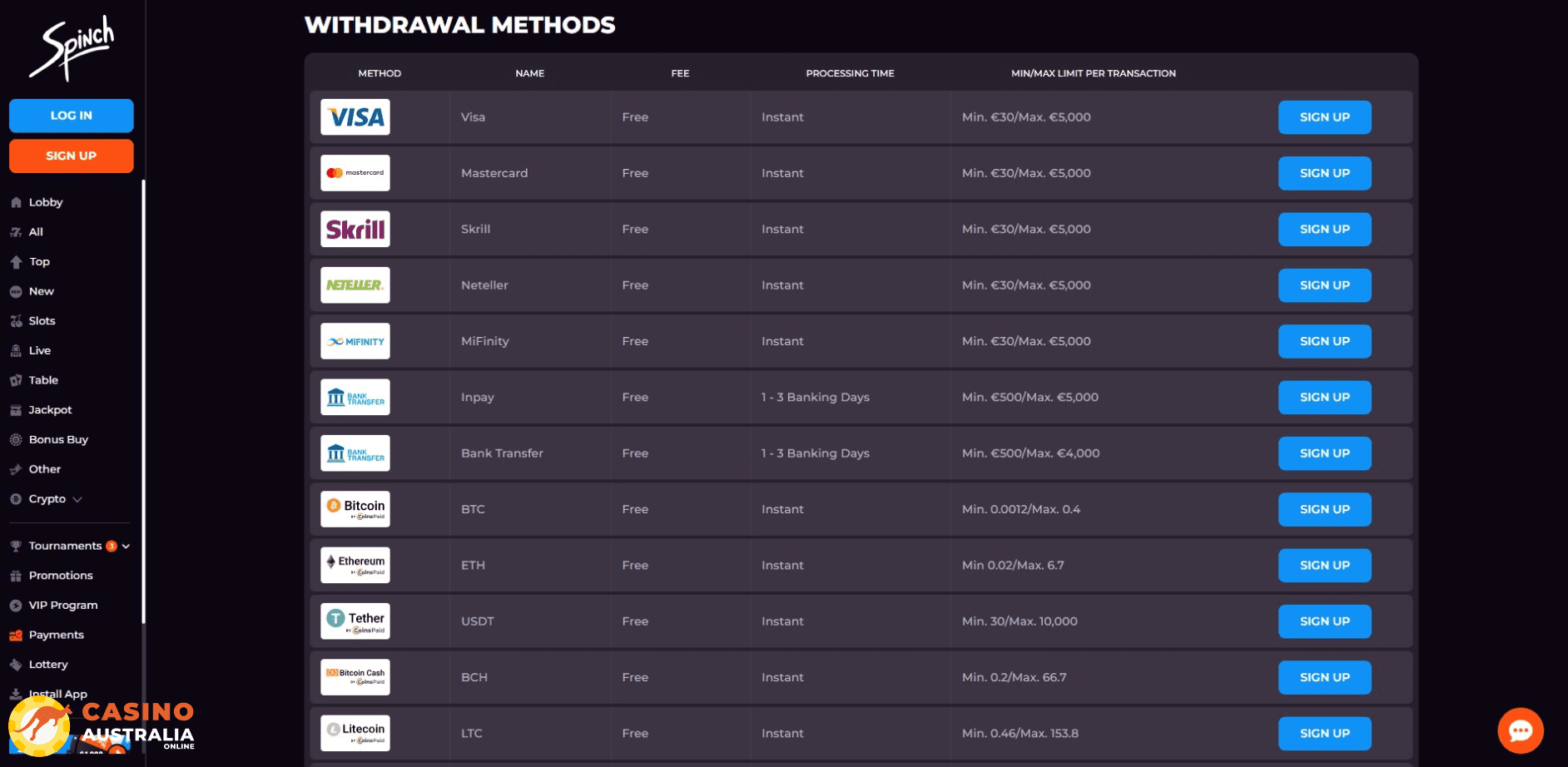 VIP Program
There are two types of casinos – those that value their existing players and try to maintain their loyalty, and those that go out of business very quickly. Spinch Casino agrees with us, as they've included not only several reload promotions for existing players, but also a VIP program that rewards those who choose to stick around for the long haul.
At its core, the VIP program isn't all that unique. It boils down to a leveling system that will give you new perks the higher your level gets. All players will start at level 1, which will give them a 15% weekly cashback on all of their losses throughout the week, and… Not much else, really! If you want to get the big perks, like up to 20% cashback, VIP tournaments and promotions, higher withdrawal limits and a VIP manager, you'll have to level up.
But how can you do that? By wagering, of course! For every AU$1.5 you put into pokies, you'll receive 1 point (whether you win or lose). Once your points pass certain thresholds, you'll unlock a new level and all of the perks associated with it. In order to make it to the final level (6) you'll need 90,000 points, which may sound like a lot, but trust us, it's really not that bad for dedicated players. Especially since we've seen casinos with similar programs that require millions of points for far worse rewards!
Tournaments
Every pokie aficionado out there can tell you just how fun pokie tournaments can be! While spinning reels is typically a solitary affair, doing it competitively and trying to reach the top of the leaderboard can bring an entirely new, social element to our favorite pastime. Spinch Casino understands this well, and they have provided their players with multiple different tournaments to choose from.
Typically, the tournaments on display will be themed after the company that provides the pokies included in it. For example, as of the time of writing, we're seeing tournaments for Yggdrasil, Betsoft and Boongo games, any of which can be entered and competed into. Besides the game, the major differences include the length of time the tournament will last and the prize pot that will be split between the top scorers of the leaderboard.
Even if you're reading this review years after it has been written, don't worry – you might not find these exact tournaments there, but we're willing to bet you'll be able to climb an entirely new leaderboard all the same!
Verification
Ah, the dreaded verification! Many new players (well, the ones who know what it is at all) fear it, even though it's really not that bad, especially at Spinch Casino. What it boils down to is that you'll need to submit a few documents that prove your identity, so that the site can safely dispense your winnings without concerns that you may be using it for nefarious purposes, like money laundering.
So, how is this done in practice? Well, Spinch Casino has a dedicated verification page you can access from your profile that will allow you to submit the necessary documents at any point. Keep in mind that you won't be able to withdraw anything until you complete the process, so there's every incentive to get it out of the way as soon as possible.
But what documents are required? We're glad you asked! There's nothing you don't already have on your person: your ID card (or another form of photo ID), a proof of address (a utility bill from the last 6 months will do), and evidence that you own the payment method you used to deposit. Usually, this can be a (censored) photo of your bank card or a screenshot of your Neteller/Skrill interface.
Is Spinch Casino Legit & safe?
It is practically impossible to say with 100% certainty whether Spinch Casino – or any other site, for that matter – is safe or not. However, what we can do is make an educated guess based on a few factors. For starters, is the casino licensed? Spinch Casino absolutely is, and it's very proud of that – you can check out its license from the Curacao Gaming Authority in the footer of the website via a link to the certificate.
Licensed casinos have undergone an evaluation and are under oversight by the gaming authority, which means that they're far less likely to scam players – although it's not unheard of. That's why we also made sure to look into the insight of other players who have tested the casino, because ultimately, the perspective of a real player can be different from the perspective of reviewers like us. It's important to get the facts from all possible sources!
Luckily, user reviews turned out to be overwhelmingly positive, as most players really valued their time with Spinch Casino. We weren't able to find nearly any complaints, which is certainly a great sign for anyone who was perhaps a bit concerned about the site's reliability.
| | |
| --- | --- |
| License | Curacao |
| License number | 365/JAZ. |
| Company address | Abraham de Veerstraat 9, Curacao |
Customer support
If you find yourself experiencing issues with the casino (like unavailable games or missing bonuses), or simply have some questions, it's best to reach out directly to the staff and ask for help straight from the source! The best way to do that is via live chat, which you can access in the bottom right corner of each page. Word of advice – if the live chat window doesn't open when you click on it, try disabling your ad blocker, as it may cause issues with the pop-up.
But what if turning off ad-block is a no-go, or you simply wish to reach them a bit more directly? In that case, calling them on the phone and conversing with a representative is another option, and Spinch Casino certainly deserves credit for offering it when most other casinos don't. But if you'd rather just send an e-mail instead, then that's also possible – you can either submit a ticket through the site or write them directly from your inbox, in the old-fashioned way!
We must say, it's certainly impressive for Finch Casino to offer its players so many options when it comes to contacting support. Usually it's the opposite, with sites barely even offering an e-mail to write them to. So, credit where credit is due!
| | |
| --- | --- |
| Live Chat support | 24/7 |
| Phone support | +442080898520 |
| E-mail support | [email protected] |
| Ticketing system | Yes |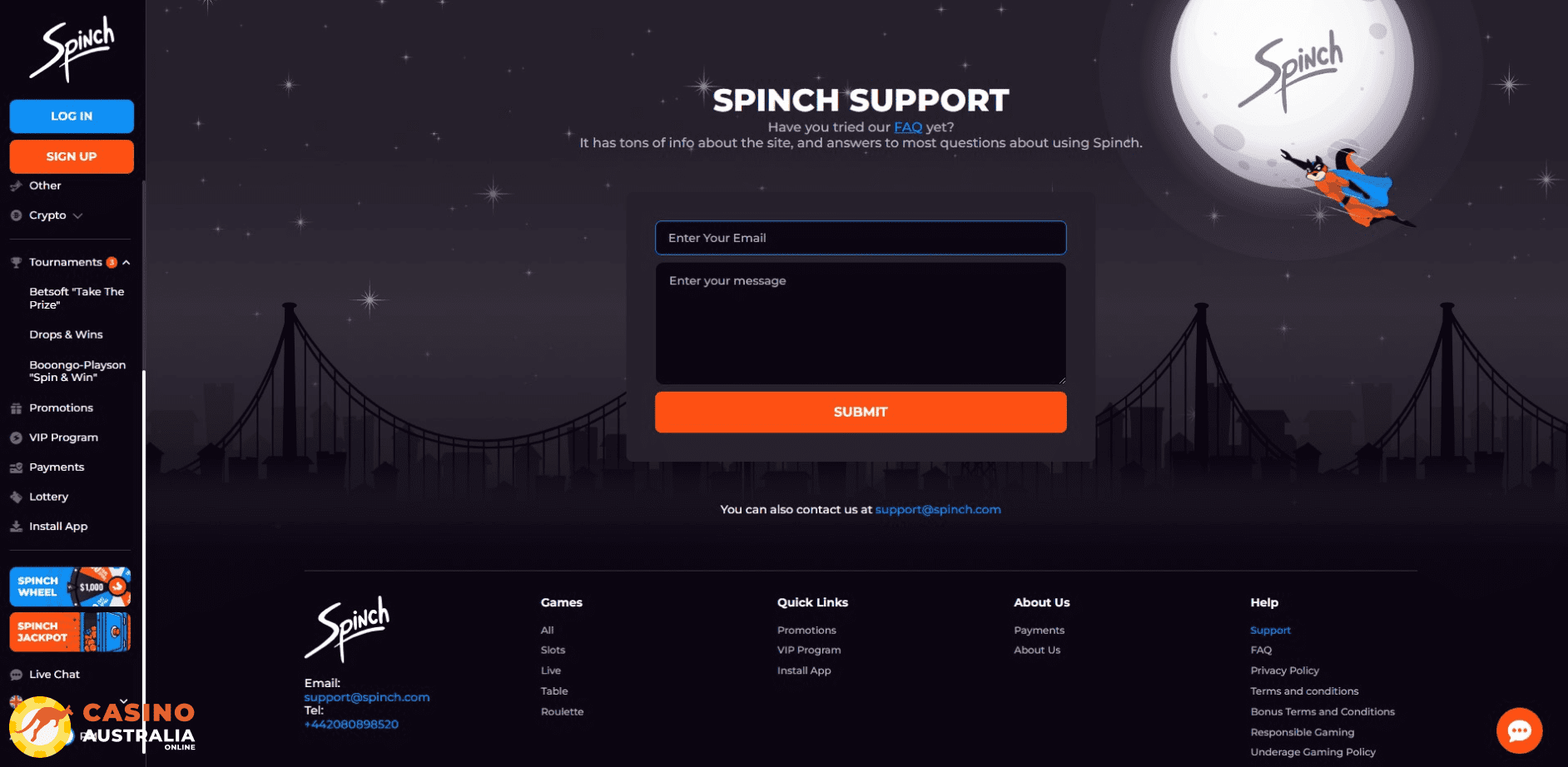 Mobile casino
Every single online casino we've reviewed here at casinoaustraliaonline.com has had a mobile version – and, usually, a pretty decent one! However, most of them are restricted to the confines of your mobile browser instead of being downloadable. While once upon a time dedicated mobile apps were the norm, this trend has long passed… Except, Spinch Casino didn't get the memo.
That's right – on Android devices (as well as on Windows and Mac for whatever reason), you'll be able to download and install a dedicated app that will let you access all of Spinch Casino's features and games! Don't get us wrong, you'll also be able to play it via your mobile browser like usual (in fact, that's the only way to play at Spinch on iOS devices). But the fact that there is still an option to download and install a standalone app is very rare and very much worth commending!
| | |
| --- | --- |
| Interface | |
| Mobile version | YES |
| iOS App | No |
| Android APP | Yes |