Slotonights Casino Review
Casinos have a long history of being associated with night – why, no one quite knows. Maybe it's because the bright Las Vegas billboards were far more visible and attractive at night than they were during the day. Or maybe it's because the game Sonic The Hedgehog 2 gave us the "Casino Nights" stage and everyone followed along, could be either or!
Whatever the case, a ton of casinos have started using the night time as their theme, and Slotonights Casino is just the latest in that long line. As such, it needs to do quite a lot in order to differentiate itself in terms of its bonuses, payment options, safety and, of course, games. As luck would have it, we've come across it and decided to evaluate all of those things!
So, should you spend all night at Slotanights Casino, or should you run away from these casino nights as quickly as Sonic?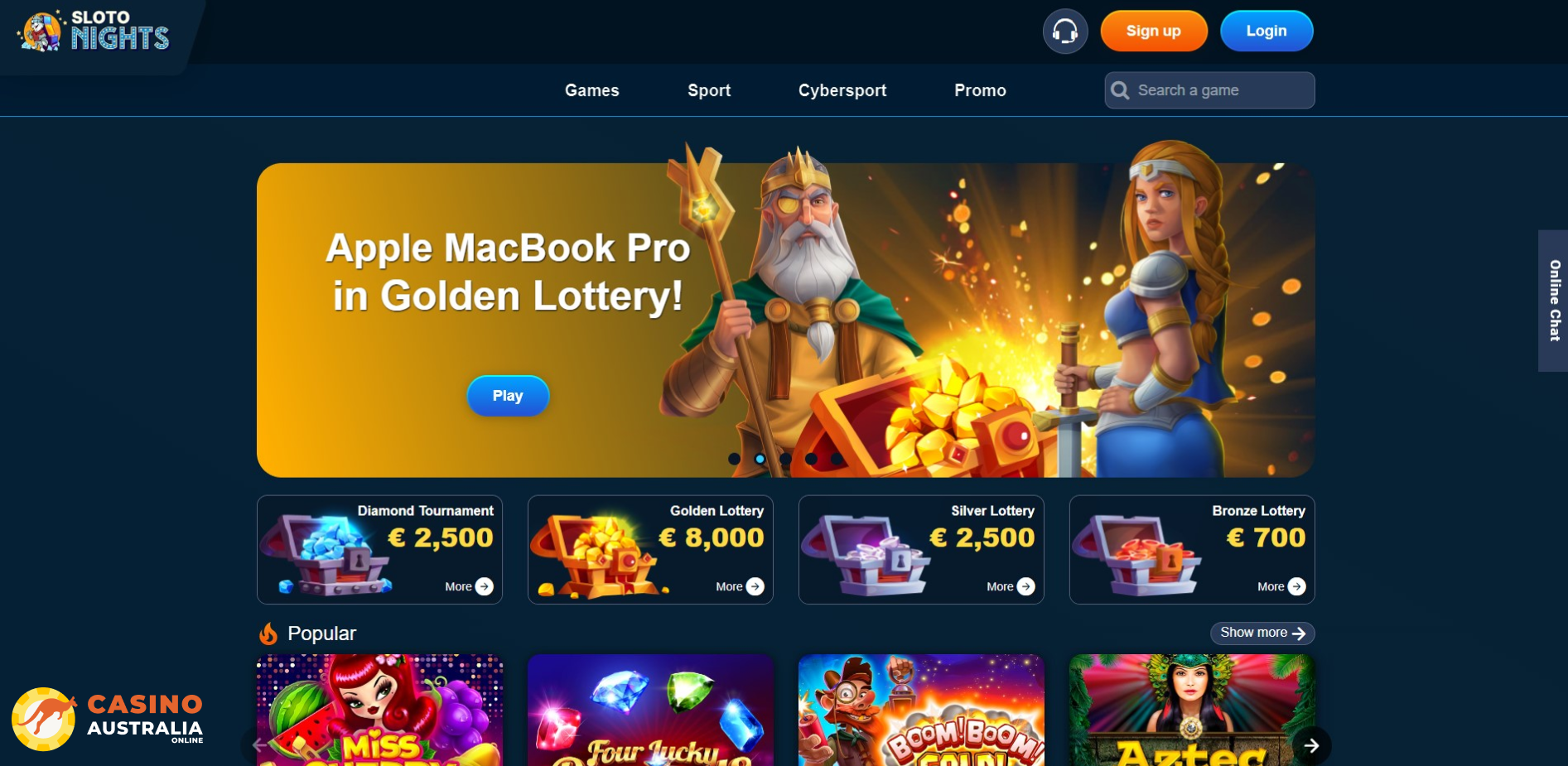 Bonuses
Welcome Bonus – 100% Match up to €1,000
If you want to hook potential players in, you need to have a really good deposit bonus. This isn't speculation or conjecture on our part, it's a well-proven fact, and it's why so many online casinos advertise their gigantic promotions. Slotonights Casino, however, don't seem to buy into it, as their welcome bonus is rather disappointing.
The good news is that at least if you're a high roller you'll be able to get a rather high ceiling for your bets – up to €1,000, to be precise. The bad news is that the bonus comes with only a 100% match, meaning that the deposit you put into it is what you're going to ultimately get as a bonus. At the end of the day, this limits most of us to pretty low bonuses.
Keep in mind that your minimum deposit in order to be eligible for the bonus will need to be at least €40 – while you can deposit as little as €10 at Slotonights Casino, smaller deposits will not be eligible. After receiving it, you'll have to wager it a total of x35 times if you want to withdraw – a rather standard requirement that will, regardless, hinder you if you were looking forward to claiming the bonus as cold, hard cash.
Additional Welcome Offers
Slotonights Casino will offer you three separate, consecutive bonuses once you complete your registration process. The first one we already discussed, but what about the other two? Well, they'll grant you better match bonuses, but that comes at the cost of significantly higher minimum deposits, to the point where a lot of you reading this won't even make it to the third bonus.
The second deposit bonus will net you a 125% match up to €1,000, with a minimum deposit of €100. The third will grant you 150% up to €1,000, but you'll need to put down a whopping €200 at the very least before you're even allowed to come within touching distance of the bonus. Both of these offers come with the same wagering requirements for withdrawal as the first one – x35 times.
The bad news is that, once you go through all three of these, you'll have no more bonuses left for you. No reload promotions, no limited-time offers, nothing to give you something a little bit extra alongside your deposit. We at casinoaustraliaonline.com strongly believe that reload promotions are one of the most important things when it comes to maintaining player loyalty, and it's truly unfortunate that doing so is clearly not a priority for Slotonights Casino.
Games
Overall, our impression of Slotonights Casino's game selection is very positive. The site offers a very big diversity of activities to partake in, including pokies, table games, live casino and even sports betting (including on cyber sports). Games such as plinko, bingo and other titles that are not strictly casino-related are also very common and easy to come across, which is bound to win over a lot of players despite how niche games like that tend to be.
Despite the site's overall clunky design, the game section is organized fairly well. Everything is very easily accessible, with plenty of filters built-in to help you navigate and find precisely the right game that you're looking for – or at least narrow down the choices. All things considered, it's a simple, but carefully considered layout that should be especially helpful to those who aren't too well-versed in online casinos and aren't too certain about their tastes quite yet.
| | |
| --- | --- |
| Games | |
| Software providers | Novomatic, BGaming, Betsoft, Zillion, Nucleus, Mancala Gaming, EvoPlay, Yggdrasil & More |
| Pokies | 3000+ |
| Live casino | Yes |
| Sports betting | Yes |
| Table Games | Yes |
Pokies
As mentioned, Slotonights Casino has a rather decent collection of pokies by a wide variety of game providers. While most of the pokies won't be the big, ever-popular names that we're used to seeing promoted on billboards, that doesn't mean that said names are entirely absent – for example, Novomatic's "Rich Wilde" pokie is one of the highlights of the casino.
Beyond that, you'll mostly get to enjoy much smaller titles from companies like Yggdrasil or Zillion, providers that aren't bad by any means, but just might not be enough to push most people toward signing up. What they lack in quality they make up in quantity, though, and you'll have all the time in the world to explore the thousands of available pokies, including BGaming's "Bonanza Billion" and Boongo's "Book of Wizard".
One thing that certainly had us a little concerned, though, is the presence of games that shouldn't normally be available to Australian players. For example, IGT do not provide games to the Australian region (they do so via IGTech), and yet, their games are fully playable by Aussies at Slotonights Casino. This means that either the site is providing them without permission, or they're fake and adjusted to pay out a lot less than they're supposed to. While we can't prove this one way or another, prospective players are advised to keep it in mind and exercise caution.
Live casino
Just like the pokies section, the live dealer options available at Slotonights Casino are diverse and plentiful. You'll primarily get to explore the games of Vivogaming there (which are a reputable and well-liked live games provider in their own right), but about half a dozen other companies have also lent Slotonights a few of their titles.
You'll mostly get to enjoy more traditional experiences, like blackjack, baccarat and roulette. The vast majority of live rooms available at the casino are based on these games, but more unusual and niche experiences are also present. The highlight for us was Atmosfera's "Music Wheel" live game show, which, while not as good as the similar shows provided by Evolution Gaming (which are sadly unavailable here), still makes for a fun and compelling experience whenever you need a break from cards and roulette wheels.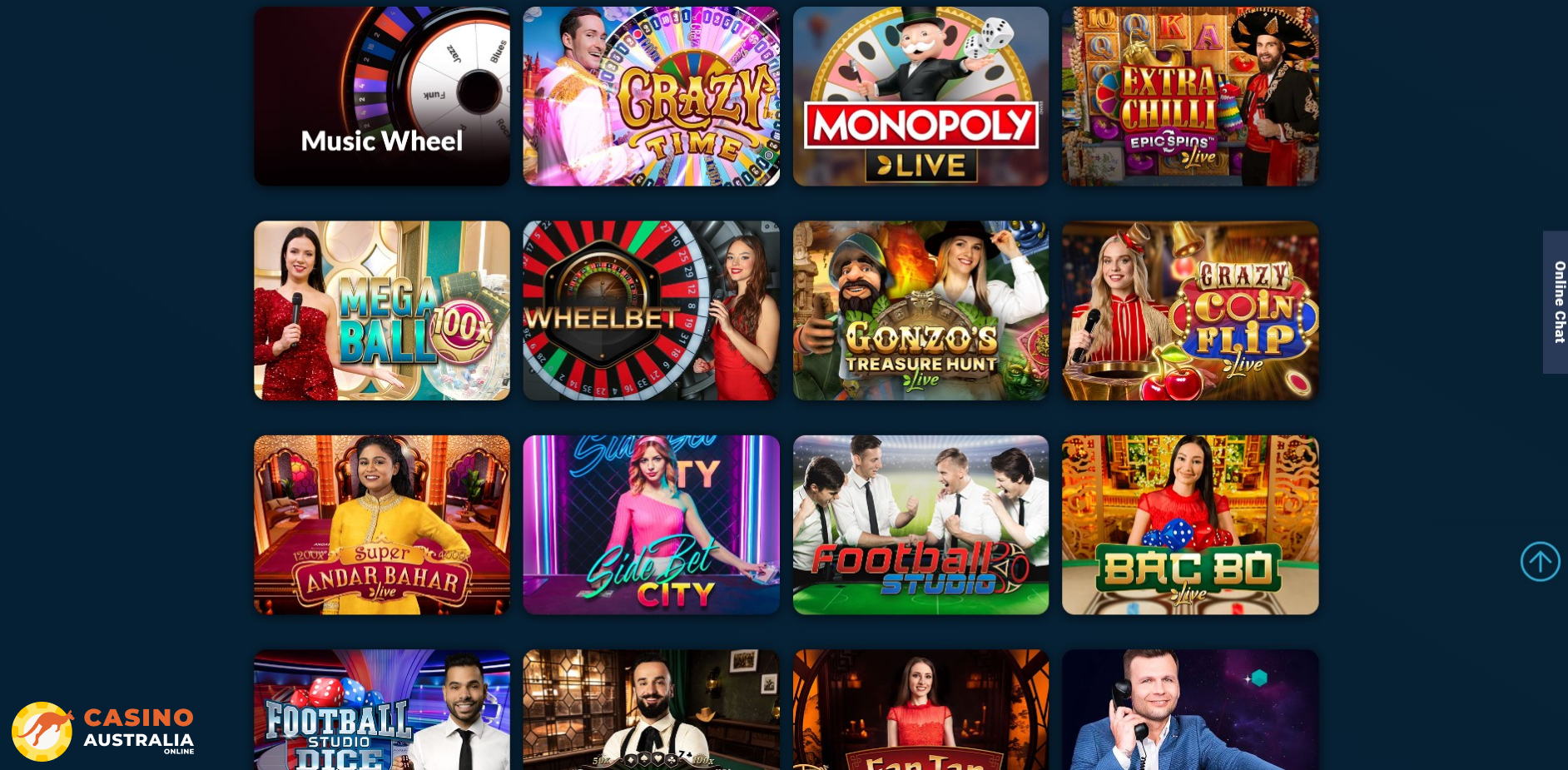 Deposits & Withdrawals
Despite our very positive impressions of Slotonights Casino's games section, their payments are a complete joke. To start off, you won't be able to deposit or withdraw any less than €40 – which can be a hefty investment if you're not used to putting down more than €10-15 per deposit (especially for your first one when you're still trying to get used to the site and see if it's worth further investment).
As you can imagine, Australian dollars are not currently accepted, which wouldn't be a huge problem in and of itself, if it didn't lead us into our next negative point: the fact that there are only a few ways you can deposit and withdraw. When it comes to flat currency, you can only use your bank card to load up your account with either euro or rubles. If that isn't good for you, your only alternative is using crypto – namely, Bitcoin or Tether. That's it!
The utter lack of not only a wide variety of cryptocurrencies, but also alternative flat currency deposit options (like e-wallets or pre-paid cards) is completely inexcusable, and it's hard to believe that a modern online casino truly launched with choices this limited.
Payments

Minimum deposit

€40

Minimum withdrawal

€40

Maximum withdrawal

Per day – €2,000

Per week – €10,000

Per month – €40,000

Deposit methods

Visa, MasterCard

Crypto currencies accepted

BTC, USDT

Australian Dollars accepted

NO

Welcome bonus package

€1,000

Withdrawal time
The speed of withdrawal will depend solely on the method you choose to withdraw into – but since the options are so limited, there isn't really much of a difference. If speed is your sole priority, then crypto is your friend – after a brief processing period where the casino itself prepares to send you the money, you should have those hard-earned winnings pretty much immediately. The downside is that you'll need to either keep them as crypto or sell them for AU$, which may incur fees and expenses depending on which crypto wallet service you're using.
The alternative is withdrawing to your bank card, which shouldn't have any such fees. The downside is that the process is a little slower: after that same processing period, you'll need to wait an additional 3-5 business days while the bank verifies the transaction before it's allowed into your account. That's why e-wallets are generally the best method to use, as they're both instant and incur no fees, but alas, we'll have to work with what we have at Slotonights Casino.
VIP Program
Few things are better at keeping players loyal to an online casino than a VIP program. At their best, these types of initiatives can give old-timer players something in return for sticking around, like some extra bonuses or bonus perks just to show them that they're valued and cared about.
However, it seems that Slotonights Casino doesn't really have much of a desire to respect its older players, because it doesn't currently offer the chance to participate in any such program. This is made particularly bad by the fact that the casino also doesn't have any bonuses past the welcome one, which is another incentive to keep older players engaged.
Basically, it doesn't seem like Slotonights Casino care one bit about whether existing players stay there or not, which is always very disappointing to see.
Tournaments
Just like their VIP program, Slotonights Casino's tournaments are also missing in action. This just feels like a huge missed opportunity to us, considering just how many games the casino has as its disposal – it feels like they could run daily tournaments if they want and still take years before they have to repeat the qualifying pokies!
Alas, it doesn't seem like this is much of a priority – much to the disappointment of tournament fans everywhere. We know that there are lots of players who don't really enjoy playing pokies normally, but like doing it in a competitive environment where they get to climb the leaderboards. And it's sad to say that, even with its vast selection of slot games, Slotonights Casino will not be the right choice for them.
Verification
When you first attempt to make a withdrawal from Slotonights Casino, your account will be locked and you'll be restricted from most site functionality until you complete the process. Don't worry – this is normal and happens at practically every casino. It has to do with international money laundering regulations that apply to all players, so it's nothing personal against you… And there's no way to dodge it, either.
Luckily, getting out of verification jail is pretty easy. All you'll need to do is provide the support team with photos of a few documents, such as:
A form of photo ID (such as your national ID card, passport or driver's license);
A proof of current address (like a bank statement or utility bill);
Censored photos of your bank card (if you deposited with that instead of crypto).
Once those photos have been examined and confirmed by support, your account will be unlocked and you'll be able to proceed with the withdrawal as planned. In rare cases, additional documentation is requested – but if that happens, the support will tell you what to do.
Is Slotonights Casino Legit & safe?
Online casinos don't really have the best reputation – and, let's be real here, it's not hard to see why. When you go to a real casino you know for a fact that the cards are legit, and that you'll be paid when you cash out. Online, it's anyone's guess – which is why a lot of casinos go the extra steps to get a license from a proper gaming authority that can help them prove their legitimacy.
It shouldn't come as much of a surprise that Slotonights Casino haven't taken even this simple step at reassuring their players. In fact, they've gone in the opposite direction (straight towards shadiness) by hiding their parent company. We spoke with their support team about what company owns and operates the site, and all we learned is that support had been instructed not to answer that question.
All we ask is that you think about this very carefully, and come to a conclusion on your own about what kind of company would want to hide from its customers.
Customer support
The best way we can describe the customer support feature of Slotonights Casino is "polite, yet ineffective". To start off, it's worth noting that there are actually several ways through which you can reach out to a support representative. The most convenient one is undoubtedly via live chat, but if that's not your thing, e-mail and phone support are both available.
However, once you do get a hold of a rep, don't expect much in the way of assistance. We asked them several questions about the casino, and while the rep was very polite and friendly, and using quite a few emojis in her messages, we didn't end up getting a single useful response out of her. So if push comes to shove and you end up really, truly needing their help, you might end up in a bind with no one in your corner.
| | |
| --- | --- |
| Live Chat support | 24/7 |
| Phone support | +442045793371 |
| E-mail support | [email protected] |
| Ticketing system | NO |

Mobile casino
It shouldn't come as much of a surprise that Slotonights Casino was designed for mobile first and desktop second. Its interface, with huge icons and large text, feels awkward and out of place on a computer monitor, but is right at home on a much smaller display that you'll be viewing in the palm of your hand.
This means that all of the features of the site, including its many games, are fully available on your mobile device. You don't even need to download any app, just opening the domain in your phone's browser is all it takes. So if you're the type of player who prefers to play while lounging on the couch, Slotonights Casino won't disappoint you.
| | |
| --- | --- |
| Interface | |
| Mobile version | YES |
| iOS App | No |
| Android APP | No |