Sahara Sands Casino Review
Sahara Sands will quickly win your sympathies upon entering its website, thanks to the desert-inspired theme and camel mascot, both of which bring about strong associations with well-known brands. Will the online casino established way back in 2014 manage to keep your positive first impression beyond the first few seconds, though? We're about to explore all of its features and attributes to find out – both the good ones and the bad ones. If you're curious to know if this Sahara-themed betting hub will turn out to be a desert or a treasure cave, make sure to keep on reading our comprehensive breakdown till the very last segment.
As we said, the first few moments at the casino are positive ones. What you'll discover further down the line is a rather underwhelming combination of a couple of bonuses, a small game library, an undisclosed owner, an offshore license, and a slightly outdated layout combined with scarce, but crypto-friendly payment options. Of course, we won't write this establishment off before closely examining its features and checking if our opinion changes, as the online betting world is full of surprises. So, get on board, and let's analyze how worthy of your time, money, and enthusiasm Sahara Sands Casino is.
Bonuses
It won't be a stretch if we claim that the 'Promotions' section of any online casino is crucial to its overall success. What you need to look for when checking the bonuses of a casino, is anywhere between 3 and 8 promotions with fair, reasonable conditions. More than that may be just a smokescreen, and less is simply negligence. A welcome bonus and a reload bonus are the bare minimum, a cashback offer is also among the classics. Always make sure to pay attention to the terms and conditions of the offers, not only their flashy presentation. You need to be able to fulfill the conditions within a plausible time frame. Let's see what we'll discover in Sahara Sands' promo section.
Sahara Sands' bonus selection is quite humble but more or less acceptable. You won't find huge, elaborate welcome bonus packages or reload bonuses for each day of the week here. What you'll have at your disposal includes a single deposit welcome bonus, a welcome cashback offer, a weekly cashback offer, and some raffles that you can participate in. While the slightly unconventional approach of the casino isn't necessarily a bad thing, the bonus conditions are somewhat vague. Nevertheless, we'll take a deep dive and provide you with all the available information regarding this betting hub's incentives and let you know which ones, if any, are worth it. Let's get right into it!
Sahara Sands Welcome Bonus – Grab a 400% Unlimited Bonus
Sahara Sands welcomes its new players with a one-time welcome bonus linked to their first deposit at the casino. If you deposit AU$ 25 or more, you'll have the chance to grab a 400% bonus that seems to be unlimited. Now, we say 'seems to be' because it's not specified exclusively if it actually is, but no limits are mentioned anywhere either. Overall, this promotion is presented in quite a lacking manner, as all terms and conditions are wishy-washy, and we were left to put the pieces together to make sense of the bonus.
What we can see for sure is that the bonus percentage is 400. To illustrate, this means that if you deposit AU$ 100, you'll get another AU$ 400 as bonus funds and end up with AU$ 500 in your account. However, the bonus funds in this casino are strictly non-withdrawable and serve only as a booster for your game time at the establishment. Moreover, no wagering requirement is specified anywhere on the website. The bonus terms and conditions say that special bonuses, like the welcome one, can be subject to a wagering requirement that is between 20x and 60x. Quite vague, if you ask us. With so little information, we couldn't possibly recommend this promotion, as it may result in potential losses to you. Being kept in the dark when it comes to the rules you need to follow when making the best out of your bonus is a no-go and it's best to be careful.
| | | | | |
| --- | --- | --- | --- | --- |
| Offer | Bonus | Free Spins | Wagering | Bonus code |
| 1st deposit | 400% Unlimited | n/a | unspecified | n/a |
Sahara Sands Welcome Cashback Offer – 100% Cashback Insurance
The casino has another offer for newcomers, and it's a 100% cashback on their first deposit. From the little information available in the bonus description and in the casino's bonus terms and conditions, this means that however much you decide to deposit upon your first transaction at the casino, the casino will 100% reimburse you after you lose it. The minimum deposit amount for this offer is AU$ 25, and it's tied to a 1x wagering requirement, which is quite generous. Unfortunately, just like with the regular welcome bonus, many questions are left unanswered thanks to the casino's messy presentation of promotions and especially their T&C.
Sahara Sands Cashtravaganza – 80% Cashback During Cashparty
If you become a regular player, the casino will make sure you're properly reimbursed for your losses with their weekly cashback offer. Sahara Sands states that you'll get an 80% cashback on all of your deposits made during the Cashparty period. However, to no one's surprise, we are not told what a 'Cashparty' is or when it starts and ends. No follow-up information is available on the website whatsoever, so, once again, we're left putting the puzzle pieces together to make out something of a big picture. There is a 10x withdrawal limit for this offer.
Sahara Sands Raffles – Grab a Raffle Ticket and Join in on the Fun
The casino seems to be big on raffles, as they claim to hold at least one each week. There are two ways to win tickets for said raffles – either by depositing real money, or wagering real money. With depositing, each AU$ 25 equals one raffle ticket. When it comes to wagering, each AU$ 1 that you wager equals 1 comp point. In case you, let's say, manage to earn 100,000 comp points, you can exchange them for AU$ 100, which can bring you 4 raffle tickets. Unsurprisingly, the terms and conditions here aren't too detailed either, so making sure that you're following the rules is beyond challenging, which in turn may result in their violation.
Games
Unless you're completely new to the iGaming world, you must be familiar with the fact that a good game library is among the most important features an online casino can have. Aussie players, as well as international betting aficionados, have an increasingly high standard when it comes to the game selection of their potential new favorite casino. It's only natural to seek out the best in terms of entertainment and quality, considering that you'll be investing time, money, and enthusiasm in the gambling site you decide to frequent. Especially now that each new online betting hub comes with a game selection better and richer than the last one, simply conforming with a small collection with limited genres seems beyond unlikely. While it can be argued that smaller game libraries have their charms, we at casinoaustraliaonline.com are fans of abundance and believe you'll certainly have a great time if you look out for the richest, most diverse game selection out there. After all, the longer you can explore without a trace of boredom, the longer you'll enjoy your stay at the casino. Now, let's see if Sahara Sands Casino can pleasantly surprise us with its games and game genres.
Sahara Sands has a humble game library with a little less than 500 titles in it. Here, you'll mainly have the chance to enjoy pokies, but there are also a couple of table games and a live lobby. Unarguably, this selection is far from the best ones we've tested, but the titles present here are high quality and come from a number of renowned providers. To put a positive twist to this casino's scarcity in terms of choice, you can use your playtime here to better your focus, attention span, and willingness to thrive with less. However we slice it, though, this small game library deserves to be properly explored and this is what we'll do in the next few paragraphs, so come join us by reading further.
| | |
| --- | --- |
| Games | |
| Software providers | BetSoft, Rival Gaming, Arrows Edge |
| Pokies | 490+ |
| Live Casino | Yes |
| Sports betting | No |
| Table Games | Yes |
Pokies and Providers
Pokies seem to captivate players around the world like no other genre. Aussie players, in particular, seem to enjoy pokies more and more each year, so it's no wonder that almost any online casino fills up its library mainly with them. Thanks to the easy gameplay, endless, diverse themes, and exciting graphics, this slot-based type of game takes the number one spot with ease. Whether you enjoy dark, scary, action, wholesome, funny, magical, cartoonish, classic, oriental, historical, or any other type of pokies, you're constantly subjected to pleasant surprises thanks to the constant new releases. With all of this being said, the more pokies a game library has in store, the longer you'll be able to enjoy it wholeheartedly. Curious to know how Sahara Sands Casino is doing in terms of its pokies selection? Let's check.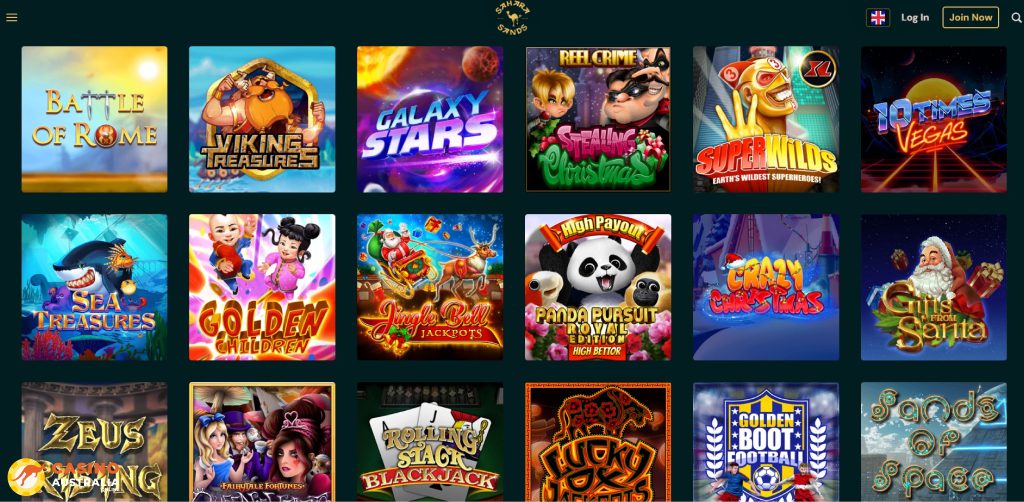 Sahara Sands has a small, but substantial selection of pokies, nearly 500 of them. We spent a few hours testing the games and managed to pick out some favorites. If you decide to play at this betting hub, we recommend Galaxy Stars, Caishen's Rival, Gemmed!, Irish Wishes, Mystic Hive, Viking Treasures, Battle of Rome, Viking Victory, Win Sanity, Diamond Dragon, Golden Gorilla, Win Mill, Viking Voyage, Parrot Party, The Angler, Safari Sam, Chilli Pop, Samba Spins, Daikoku Blessings, Shells N'Swells, Hot Hand, Sensational 6, Alien Spinvasion, Frogged, Catsino, Diamond Dazzle, Loco 7's, Cozy Camel Cash, Gushers Gold, Cream of the Crop, and Winter Wonders.
Providers are the ones who constantly create and release exciting pokies that we love. There are many gaming studios on the market, each with its distinct style and flair. For a quality game selection, casinos should aim to incorporate both big, famous names and indie creators in their portfolio. The more game suppliers join in on the curation of the game selection, the better and bigger it becomes, resulting in more happy players and longer playtime. Ideally, more than 10 providers should be present at any online casino's library, but some amazing collections consist of less than that, so there is no concrete rule. Let's check what's the situation with providers at Sahara Sands.
When it comes to game suppliers, Sahara Sands Casino doesn't really help to check which ones can be enjoyed at its premises, as there is no part of the menu where you can explore games by provider. Some of the names you can encounter here include BetSoft, Rival Gaming, Arrow's Edge, Radi8, Lumpy Pudding Productions, Parlay Gaming, and Genesis Gaming.
Live Casino
Live Casino games are beloved by Aussie players thanks to the comfortable but exciting nature of the game genre. Classic table games receive the best twist when being played in a live lobby where a real, professional dealer leads the game and other real players join in on the fun alongside you.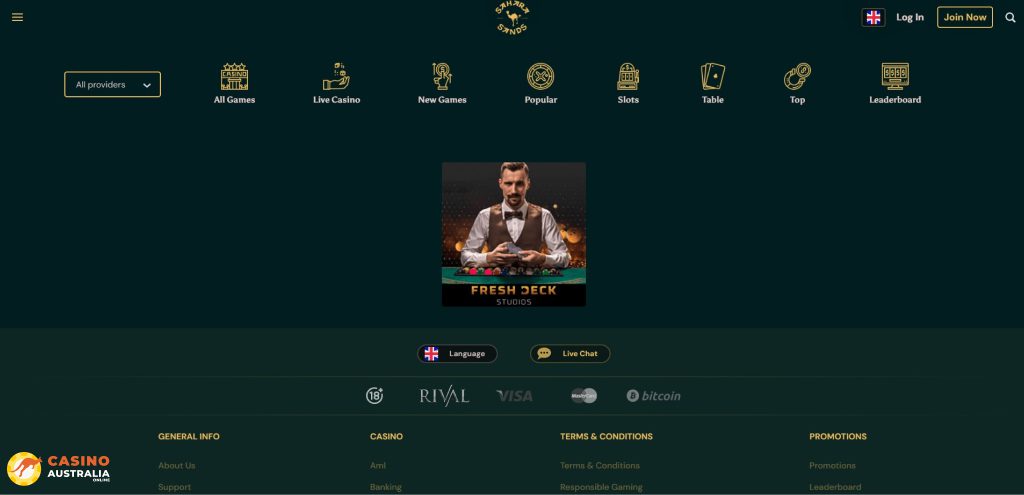 At Sahara Sands, you'll have the chance to enjoy just one live casino game lobby – that of Fresh Deck Studios. While this is nowhere near enough to truly enjoy the genre in its full glory, it's better than nothing and still means that you can experience the joys of live gaming at this online casino.
Deposits & Withdrawals
It's essential to be in the know when it comes to the financial side of each online casino you're considering playing at. To ensure the security of your funds, you must always carefully read all terms and conditions, do your own research, and make informed decisions based on it. We at casinoaustraliaonline.com are here to provide you with the best analysis of Sahara Sands' transaction policies, deposits, withdrawals, payment methods, possible hidden fees, and potential pitfalls. If you're giving all of your concentration to just one segment of our review, let it be this one. Without further ado, let's see what you can expect from this betting hub in terms of all things money.

Deposits
Depositing at Sahara Sands is limited in terms of payment options, but you can do it either with cryptocurrency or with fiat. The services available for players are Visa, Mastercard, Neteller, and Bitcoin. The casino accepts AUD, GBP, USD, and EUR. The minimal deposit amount is AU$ 25, which isn't too high and can be deemed fair enough.
Withdrawals
Withdrawals at Sahara Sands, just like almost anywhere else, can be done via the very same payment method you used when depositing, unless of course, your payment method doesn't accept incoming transactions.
All deposits up to AU$ 249 have a 10x withdrawal limit imposed. Keep in mind that all withdrawals are subject to an AU$ 10 to AU$ 40 withdrawal fee, which makes withdrawing smaller amounts impossible. Overall, we deem the deposit and withdrawal conditions of the casino vague and rather disadvantageous.
| | |
| --- | --- |
| Payments | |
| Minimum deposit | AU$ 25 |
| Minimum withdrawal | AU$ 100 |
| Deposit methods | Bitcoin, Visa, Mastercard, Neteller |
| Fiat currencies accepted | YES |
| Australian Dollars accepted  | YES |
| Cryptocurrencies accepted | YES |
Withdrawal time
Sahara Sands Casino has an outrageous withdrawal processing time frame, namely 15 to 18 banking days. It's undoubtedly among the highest we've seen and we find it so long that it is a red flag in and of itself.
VIP Program
The casino doesn't seem to have a VIP program per se, but wagering brings you comp points that can later be exchanged for real money to bet with. Apart from that, accumulating deposits will be rewarded with raffle tickets.
Tournaments
Sahara Sands isn't holding any tournaments at the moment of our review either. We find this quite disappointing, considering how much Aussie players enjoy the competitive nature of such events. Participating in a tournament is among the best ways to reignite your passion for the game, and this online casino is missing out on a great deal of players by not incorporating such a feature into its portfolio.
Verification
To verify that you're you when requesting a withdrawal, especially one for a larger amount, you may be asked to provide a valid, government-issued ID such as a driver's license, government ID, or a passport. On top of that, you must present proof of address most of the time. A utility bill no older than 3 months with your name on it is considered valid proof. Another document you may need is proof of ownership for your payment method.
Is Sahara Sands Legit?
Sahara Sands is an online casino that claims to operate under a Curacao license but doesn't disclose anything about its owner. While the presence of a valid license is somewhat reassuring, the lack of ownership raises a few questions. Combined with the very vague terms and conditions of the betting hub, we'd deem it a place you're better off not playing at.
| | |
| --- | --- |
| License | Curacao |
| License number | #8048/JAZ |
| Company address | Undisclosed |
Customer Support
The casino supports three communication channels – live chat, email, and phone support. None of them is specified as 24/7, so you may need to wait around before you receive a reply. Still, offering three phone numbers, two emails, and a live chat option is quite impressive, especially when you take into account how small of a casino this is.
| | |
| --- | --- |
| Live Chat Support | Yes  |
| Phone Support | Yes |
| E-mail Support | Yes |
| Ticketing System | No |

Mobile Casino
Sahara Sands is one of the many online casinos that don't have a designated app, but support a well-optimized mobile browser version of their website. You can access it anytime, anywhere, as long as you have sufficient mobile data of good quality.
| | |
| --- | --- |
| Interface | |
| Mobile version | YES |
| iOS App | NO |
| Android APP | NO |