Pokizino Casino Review
If you've been keeping up with our wonderful little site for a while, then you probably know that the casinos we review fall neatly into two categories: international sites that happen to accept players from Australia, and sites that are squarely intended for Australians. You'd also know that the latter category almost always consists of scam casinos trying to take advantage of Australian players.
Pokizino is yet another site that seems to focus more on Aussies (as you can tell by the title – only we have the common sense to call slot machines "pokies", which sounds way better). But hey, we at casinoaustraliaonline.com aren't prejudiced! We'll approach every casino that comes our way from the same neutral viewpoint… Even if we have to swallow our dread before doing so.
With that said, will Pokizino finally break the Australian casino curse, or will it join the pile of sites you shouldn't be touching with a 10-foot pole?
Bonuses
No Deposit Bonus – AU$10
Well, we're certainly off to an… Interesting start, to say the least. See, most online casinos have a welcome bonus – usually they'll match whatever you deposited and double, sometimes even triple the amount of funds that are available to you. This will not only encourage you to put money down, but also reward you for doing so with more funds to explore the games.
Pokizino doesn't have a welcome bonus. Instead, it just has a single no-deposit bonus, which you'll receive as a pop-up the first time (and only the first time) you open their website.
This bonus will give you AU$10 without requiring a deposit from you… Kind of. You'll receive it when you complete your verification procedure, which is usually done after you have not only deposited, but have played enough to be able to withdraw. We must say that we have never seen a bonus quite like it before.
If you decide to take advantage of it, keep in mind that you'll need to wager it x30 times before you can withdraw it, and your maximum withdrawal is AU$200 (not like you'll get anywhere near that amount).
Daily Deposit Bonus
Well, Pokizino may not have a welcome bonus, but at least you'll be able to claim a daily reload promotion. These bonuses aren't great in and of themselves, but at least you can claim them as many times as you need, even every day if you're so inclined. Go nuts!
As the name suggests, every day of the week will give you a different bonus when you deposit. Here's what you'll be snagging depending on when you choose to deposit:
| | | |
| --- | --- | --- |
| Day | Bonus | Minimum Deposit |
| Monday | 50% up to AU$250 | AU$50 |
| Tuesday | 60% up to AU$500 | AU$50 |
| Wednesday | 60% up to AU$250 | AU$50 |
| Thursday | 50% up to AU$500 | AU$50 |
| Friday | 75% up to AU$500 | AU$50 |
| Saturday | 40% up to AU$500 | AU$150 |
| Sunday | 40% up to AU$500 | AU$250 |
Much like the free spins, all of these bonuses will come with an x30 wagering requirement. As for why the bonuses are the way they are, with the best one being on Friday and the rest not even coming close… Well, we can't say. Just one of the many mysteries plaguing Pokizino!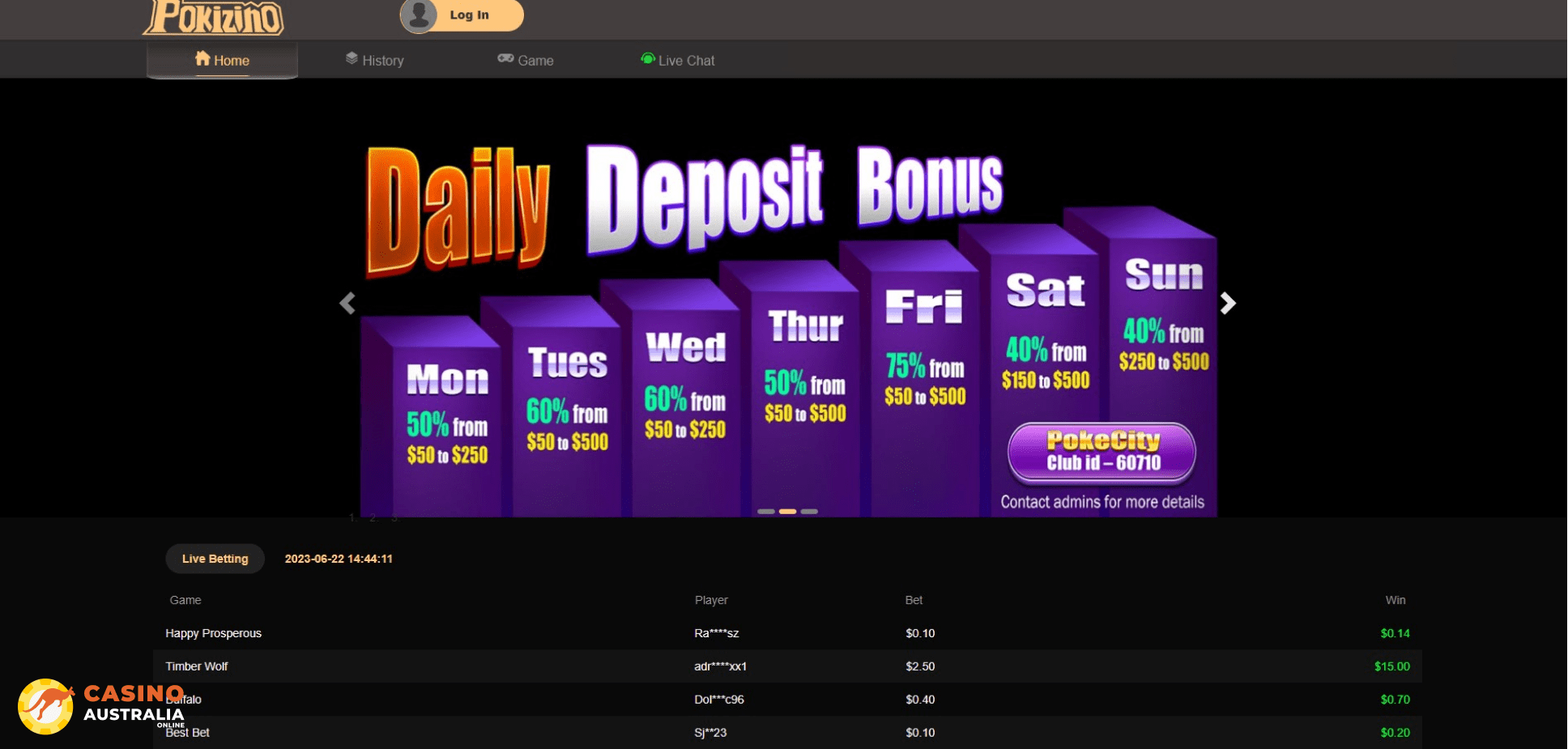 Games
Now, it's true that the bonuses of Pokizino are weird and not particularly great, but who cares about that? The reason why anyone signs up for an online casino is the games, not random bonuses, right? Many would say that the games are the most important part of an online casino, and those people… Are going to be very, very disappointed in Pokizino.
Why? Well, at the moment, the casino only offers pokies. That's it. No table games, live casino, sports betting, scratch cards, bingo, virtual sports, skill-based gaming, nothing at all. Just pokies. And there aren't even that many pokies at all! It's honestly astounding how anyone from the casino team thought this site offered a complete casino experience!
And if that wasn't bad enough, just wait until we get into the actual pokies…
| | |
| --- | --- |
| Games | |
| Software providers | Aristocrat, Ainsworth, BGaming, Boongo, Nolimit City, Microgaming, Playson, Pragmatic Play, Quickspin, Wazdan, Relax Gaming, Hacksaw, Yggdrasil, Play'N GO |
| Pokies | 500+ |
| Live casino | No |
| Sports betting | No |
| Table Games | No |
Pokies
At a glance, it seems like the selection of pokie providers available at Pokizino Casino is actually pretty decent! While the number of available games isn't big, it certainly seems like a "quality over quantity" type of situation… Until you look at the providers that have offered these games.
Two names in particular stuck out to us – Aristocrat and Microgaming. What's peculiar about them is that neither of those companies has made its games available to Australians. After some research, we discovered why: many of the games available on Pokizino are fake. The company behind the casino, Dama N.V., even got fined over it!
So, what's the difference between real and fake games? Real games have their RTPs (return to player percentage – how much players would win) set by the developer, and that number is fairly universal across casinos. Meanwhile, fake games have their RTPs set by the casino, and these numbers are unverifiable. If a regular pokie is set to pay out 98% of the money deposited into it, a fake version could be set to only pay out 30%, and there's no way to know that the payout isn't what it's supposed to be until you lose money.
Needless to say, this is a red flag the size of Jupiter, and it should make everyone deeply reconsider joining this casino.
Live casino
As of the time of this review, Pokizino Casino does not have any live games available at all. As mentioned previously, the only games available on this site are pokies, and you can't even play non-live casino games! This is bound to come as a huge disappointment to many, even those who primarily play pokies, but still like to diversify their casino experience with a hand of blackjack every once in a while.
While we wish we could say that there's a chance live casino games will come in the future, this doesn't appear to be the case. As such, if you're someone who has prioritized playing in the company of a live dealer, this casino will not be for you.
Deposits & Withdrawals
So far, we have been very unhappy with Pokizino Casino… And, sadly, this trend just continues with their payment options, which are very much worth criticizing. For starters, the casino will only let you deposit using your bank card, and nothing else. No e-wallets, no pre-paid vouchers, not even crypto! Granted, bank cards are convenient, but not everyone wants to use those for online casinos.
In addition, the minimum withdrawal you'll need to abide by is quite steep – you'll have to earn at least AU$50 before you can even consider withdrawing your funds. The only thing we can praise here is that the maximum withdrawal limit is generous (AU$20,000 per month), but it's very tepid praise given that most players won't even come anywhere near that.
| | |
| --- | --- |
| Payments | |
| Minimum deposit | AU$20 |
| Minimum withdrawal | AU$50 |
| Maximum withdrawal | Per month – AU$20,000 |
| Deposit methods | MasterCard, Visa |
| Crypto currencies accepted | None |
| Australian Dollars accepted | Yes |
| Welcome bonus package | None |
Withdrawal time
Given the fact that the only payment methods available at Pokizino are bank cards, it's really not that difficult to predict how quickly you'll be able to withdraw your winnings. The casino has stated that its processing time is up to 5 business days (kind of long, but hey, this is one of the least suspicious things here), and after that, it's up to the bank.
Typically, card companies (namely Visa and MasterCard) will take between 3 and 5 days to verify the transaction, so you'll have nothing to do but wait for that to wrap up as well. This means that, all in all, you'll be waiting between one and two weeks after your withdrawal request has been approved to receive your money… If it gets approved at all.
VIP Program
While it would be a grand overstatement to claim that Pokizino has anything resembling a VIP program, it does offer… Something along those lines. Every time you wager AU$1,000, you'll get AU$1 in a separate "cashback" account. When that amount reaches $10, you'll be able to claim it and add it to your regular deposit.
So, to put it simply, every time you wager AU$10,000, you'll receive a $10 freebie that you'll still need to wager through before you can withdraw it. This is honestly so insulting that we would have preferred not to have any kind of VIP initiative at all. Who would even think this is a good idea? If you're rich enough to wager AU$10,000, would you be happy you got $10 back?
Tournaments
Pokizino Casino doesn't have any tournaments available. What did you expect? The site is already barely holding together with tape and willpower, do you think they could even support tournaments if they wanted to? We don't need to tell you that, but if you were actually interested in climbing pokie leaderboards, you should certainly look elsewhere.
Verification
Before you can withdraw from Pokizino, you'll first need to verify your identity. This can be a process, especially since you'll need to deal with Pokizino's… Less than ideal customer support team. Unfortunately, there is no other way – if you don't get verified, you won't even be able to withdraw.
The process will involve sending several documents via e-mail, either through photos or scans. First and foremost will be a proof of identity, some kind of photo ID like your passport or ID card. After that, you'll need a proof of current address, such as a delivery recepit or utility bill from the last six months. Last, but not least, you'll need a photo of your bank card that shows your name on it, with the middle digits on the front and the security number on the back censored.
Once you have all of this, you'll need to e-mail it to the casino's staff, and they'll verify your account. If your verification is successful, you'll be granted a bonus of AU$10, which is nice, even if a bit unusual – we've never seen a casino give players a bonus for verifying.
Is Pokizino Casino Legit & safe?
When we first set about writing this review, we were convinced that Pokizino must be unlicensed. How could it not be, given how many red flags are strewn all over it? So imagine our surrprise when we discovered (by digging through its terms and conditions rather than on its main page like any other site) that not only does it have a license, it's actually owned by Dama NV, a company that we have given many positive reviews to in the past.
So, this creates two questions: first, what in the world happened here? And second, if the casino is licensed, and comes from a reputable company, does that make it safe? Unfortuantely, we can't answer the first question, and as for the second, we wouldn't risk it. Whatever happened, it's clear that Dama NV aren't prioritizing Australian players here, and we wouldn't count on their safety being particularly valued.
| | |
| --- | --- |
| License | Curacao |
| License number | 8058/JAZ2020-029 |
| Company address | Scharlooweg 39, Willemstad |
Customer support
The support feature is one of the most essential parts of any online casino, and it's not even particularly close. You may disagree, but we bet you'll see our side when you find yourself locked out of your account and the support team refuses to let you change your password without going through 37 needless verifications!
So, with that in mind, how does the Pokizino team fare? Frankly… Not that great. The live chat support is completely inaccessible to anyone except for players who have verified accounts, which means that many users, even those who have been registered, will not be able to use it. Instead, the casino encourages you to e-mail them, which we did… And have yet to hear back from them.
While it wouldn't surprise us if we got a response from them eventually, you can bet that when you need them, their help won't come quickly enough.
| | |
| --- | --- |
| Live Chat support | Yes (verified users only) |
| Phone support | No |
| E-mail support | [email protected] |
| Ticketing system | No |
Mobile casino
Well, everything else at Pokizino Casino has been strange and unusual – why not the mobile version, too? When you open up the site, you'll quickly see a banner promoting a mobile app, with a big "Download" button. However… The button doesn't actually lead to a link. Try as we might, we couldn't find any app on the site. Is it hidden? Does it even exist? The world may never know.
What's even stranger is that the base site is clearly built with mobile integration in mind even without any apps. All of the bonuses, games and features are still available if you open it through your browser, and you can even sign in with just your mobile number if you don't want to remember e-mails and passwords.
| | |
| --- | --- |
| Interface | |
| Mobile version | YES |
| iOS App | No |
| Android APP | No |