Lucky Green Casino Review
Many online casinos that are primarily intended for international audiences will still accept Australian players. The legality behind this is a bit of a gray area, and a few of the casinos we've reviews are absolutely not permitted to do so (which we've always been pointing out in our reviews), but it still happens very often.
However, from time to time, we also see some casinos that specialize exclusively in the Australian market. Unfortunately, those casinos are often very low-effort affairs intending to capitalize on an otherwise under-represented market. As such, when we decided to explore and review Lucky Green Casino, we approached it with trepidation, not sure whether this will be just another barely put-together casino intended to exploit Australians.
So, was this our long-awaited Lucky discovery, or were you Lucky to encounter this review before signing up?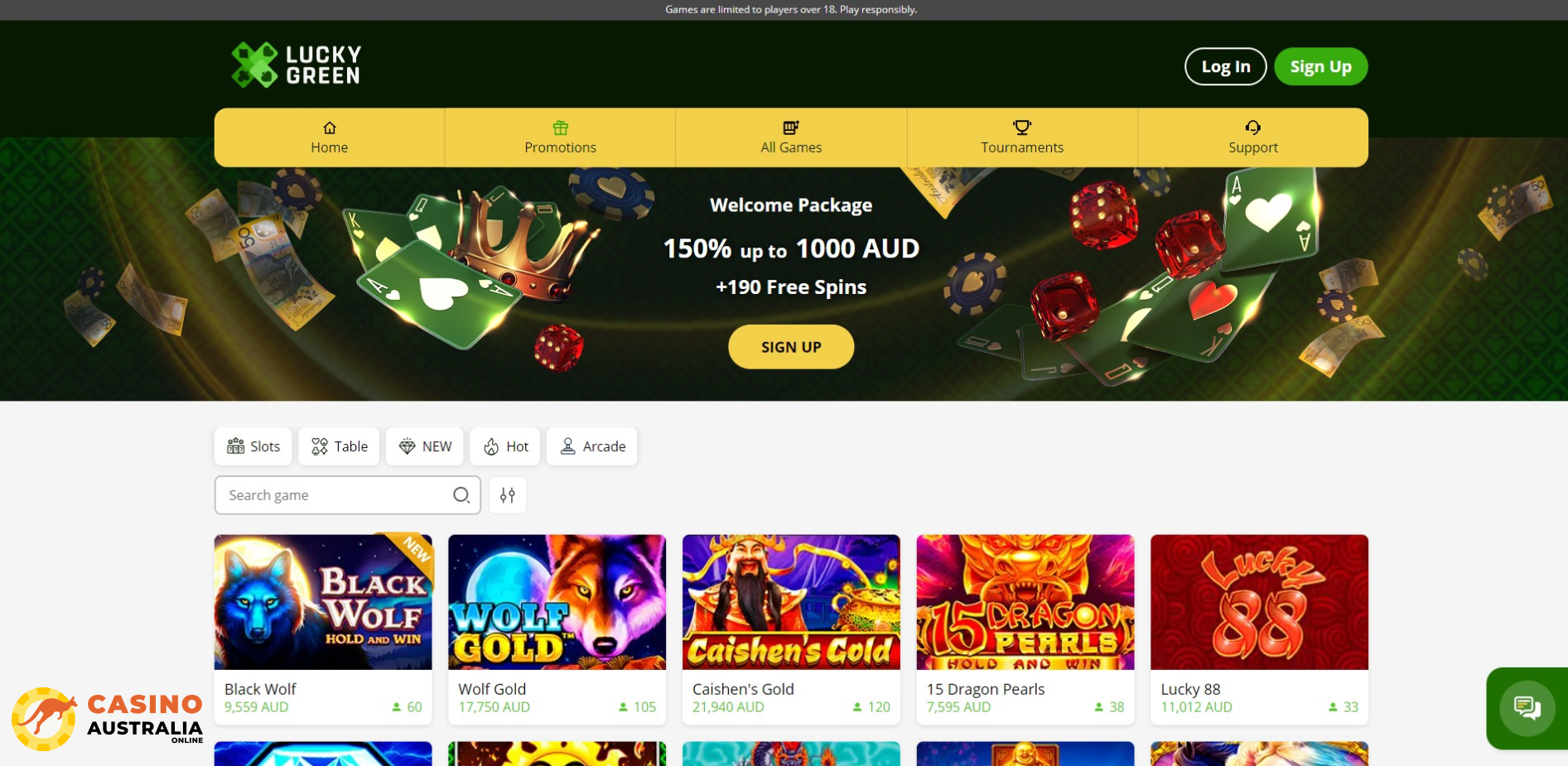 Bonuses
Welcome Bonus – 175% up to AU$1,000 + 50 Free Spins
What's the first thing you do after signing up not just for Lucky Green Casino, but for any gambling site? That's right – make a deposit and, potentially, grab the welcome bonus! That's why it's important for all casinos to have truly spectacular bonuses in order to leave a great first impression, and, to their credit, Lucky Green don't disappoint.
Their welcome bonus will net you a 150% match on your first deposit up to a rather large AU$1,000. That's a rather decent package, all things considered – especially since many other casinos will only throw in a 100% match bonus with a far lower maximum. As an added bonus (to the bonus), you'll also get 50 free spins in two batches of 25 over 2 days.
It's important to note that some players have been presented with an alternate bonus – 150% match and only 25 free spins. We aren't currently sure why this happens, but if you have signed up for the casino and only see the smaller offer in the promotions page, you should reach out to the staff and see if they can help you out.
The wagering requirements are x45 (for the amount, bonus and free spins wins), which is rather hefty. Most casino bonuses hover around x20 to x30, and while x40 is already excessive, x45 means there's a very small chance you'll be able to withdraw your bonus.
Additional Welcome Bonuses
Once you've made good use out of your welcome bonus, there's not much left but to enjoy the games using only your own, hard-earned money, right? Well, not quite. Lucky Green Casino will offer you 4 additional welcome bonuses that you can claim after your first one has been received and used up.
Here are all of the details about the 2nd through 5th deposit bonuses that you need to know:
| | | | | |
| --- | --- | --- | --- | --- |
| Bonus | Maximum Bonus Match | Maximum Amount | Free Spins | Game |
| Second | 150% | AU$1,000 | 35 | Gonzo's Quest |
| Third | 125% | AU$1,000 | 25 | Cashien's Gold |
| Fourth | 175% | AU$1,000 | 75 | Starburst |
| Fifth | 100% | AU$1,000 | 25 | Diamond Strike |
The "gimmick" that you need to keep in mind when it comes to these bonuses is that, when it comes to at least a few of them, your match percentage and/or the number of free spins will decrease alongside the size of your deposit. While all of them require a minimum of AU$25 in order to trigger the bonus at all, for some you may need to put at least AU$75 on the table in order to enjoy their full benefits. Beyond that, their conditions are the same as the first deposit bonus, most notably that you'll need to wager each of them x45 times in order to claim them.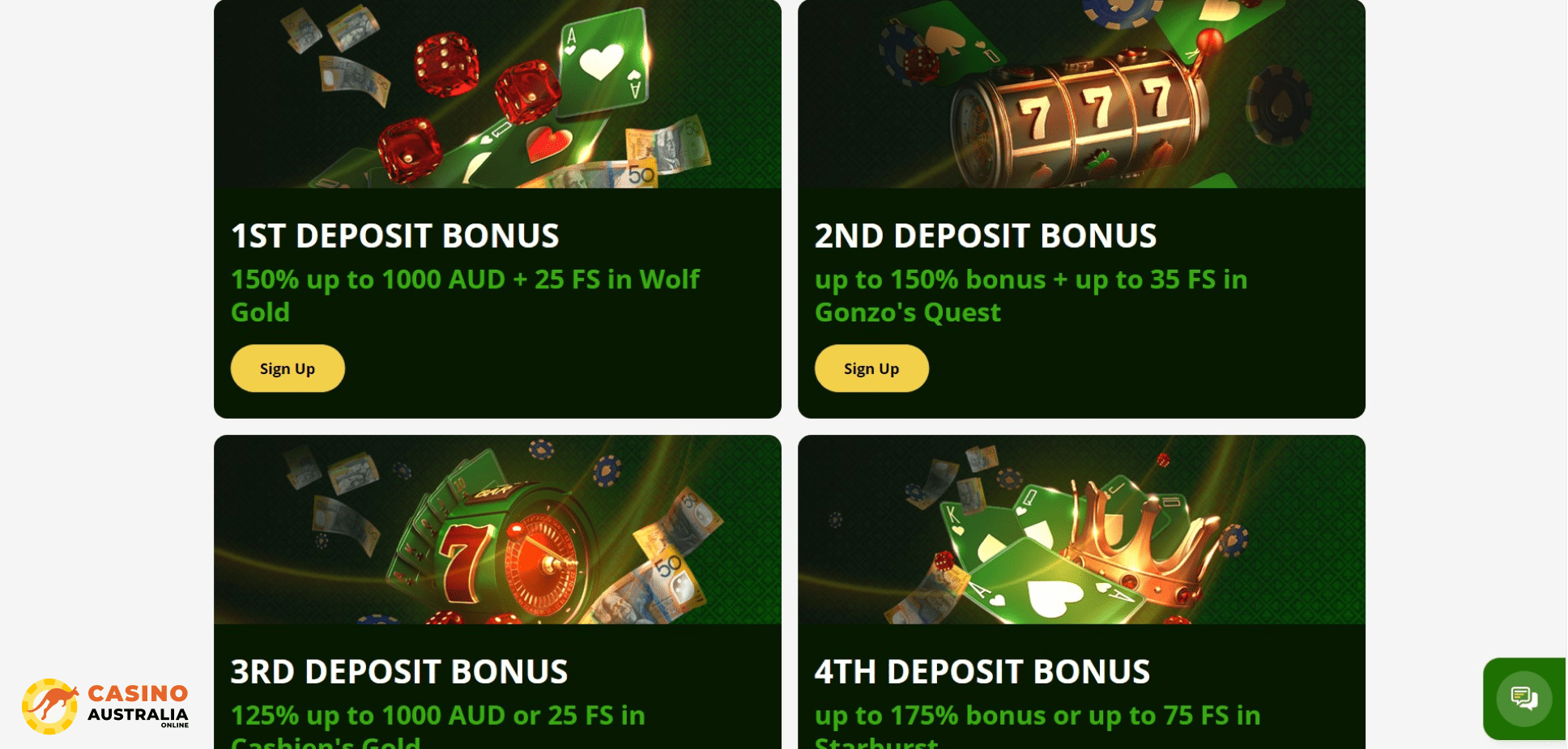 Games
There's no mincing words here: the game selection of Lucky Green Casino is a mess and a half. If you're new to the world of online casinos, you might not have even noticed this, but trust our experience. There are many features that should be there, and aren't, and some that shouldn't be there, but are.
To start off with the missing features, it's important to point out that Lucky Green Casino doesn't have any live casino games, and only offers a few table ones. In addition, there isn't any sports betting, or bingo, or any other things that are sometimes found in casino sites. All you'll find is a small handful of arcade skill-based games that probably won't appeal to most casino gamers.
| | |
| --- | --- |
| Games | |
| Software providers | Betsoft, Boongo, IGT, Konami, Merkur, Microgaming, Netent, Play'N GO, Playson, Playtech, Pragmatic Play & More |
| Pokies | 1500+ |
| Live casino | No |
| Sports betting | No |
| Table Games | Yes |
Pokies
The selection of pokies available at Lucky Green Casino is good… Maybe even a little too good. How could that be? Well, if you've examined as many online casinos as we have, you have probably noticed that many software providers, such as NetEnt, Konami or Playtech, simply do not offer their games to Australian audiences. Some of them work through intermediaries in order to serve the Australian market (like IGT through IGTech), while others simply require casinos to geolock their games for Aussies. It sucks, but it's just a fact of life.
However, examining the pokies section of Lucky Green Casino will quickly reveal the rather confusing presence of many of these companies. Under normal circumstances, we would have assumed that the geolock feature that is supposed to hide these games from Australians is broken, but this is a casino that's just intended for players from the land down under. So, what's going on?
Our assumption is that Lucky Green Casino have obtained these games illegally. Either they've breached their contract with the game providers or, more likely, have obtained illegitimate versions of the games. While you might be thinking "Well, what do I care? I just want to play, I don't care about the legal details", keep in mind that these illegitimate versions often come with skewed RTP percentages that make it so that you'd win a lot less often than you would playing the legitimate version. So you can probably imagine where the issues stem from.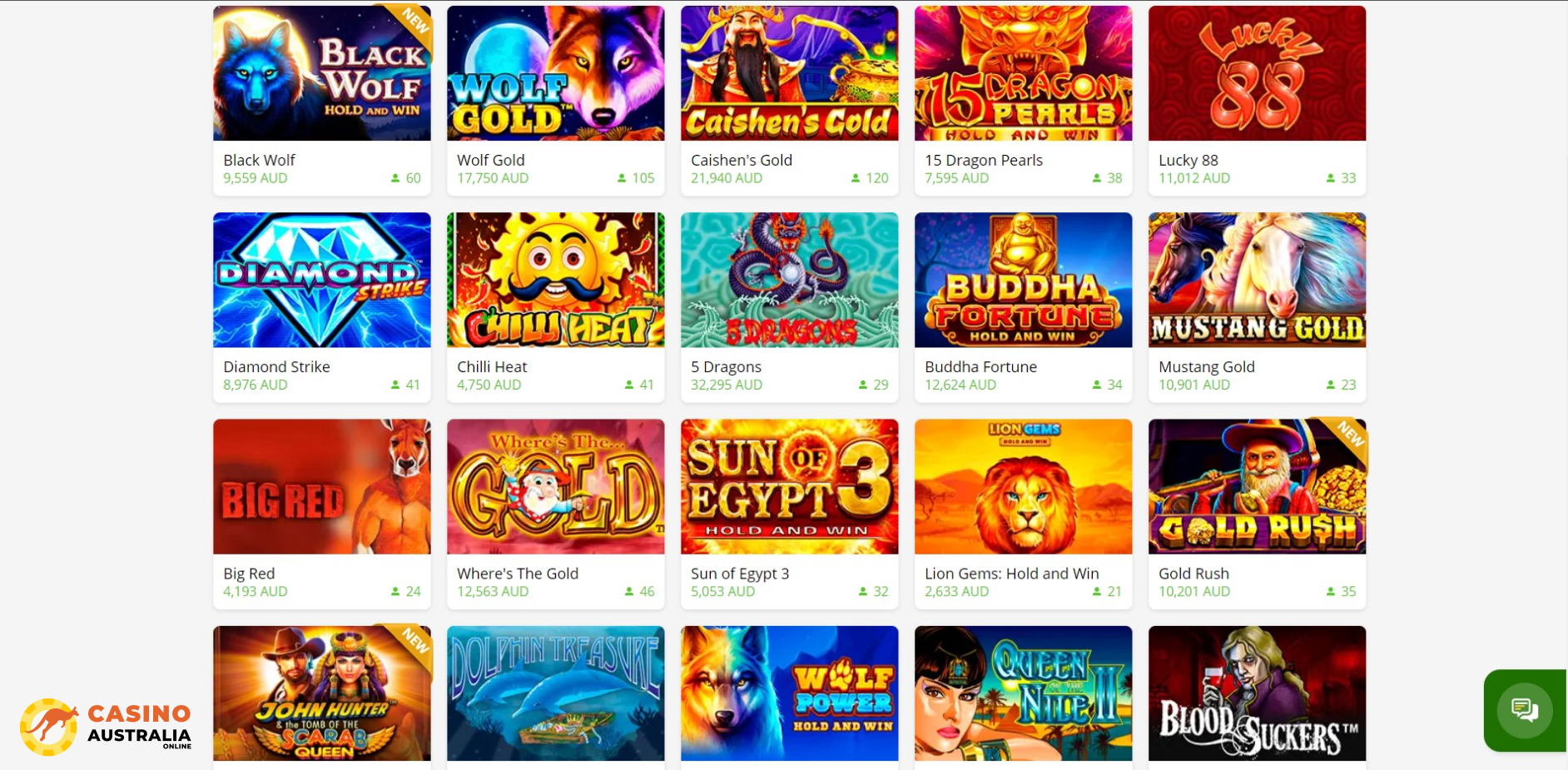 Live casino
Unfortunately, as of the time of writing, Lucky Green Casino does not offer any live casino games at all. If you're the type of player who prefers to spin roulette wheels rather than pokies, or line up cards rather than symbols, then we're afraid you're going to be rather disappointed with the selection.
While there are a small handful of table games available, it's worth noting that these games are not live, and they're played against the computer rather than a real-life dealer. This omission is baffling, and we can't help but feel that it'll make or break the casino for many people.
Deposits & Withdrawals
On the front page of Lucky Green Casino, you will encounter quite a lot of text below the fold – which is very unusual for an online casino, where the only text you'll find near the bottom of the site is some legal information about its owner, licenses and more. And while you won't find that here, you'll see hundreds of words vaguely describing all aspects of Lucky Green Casino, including its payment methods.
This text proudly proclaims that you can use not only your bank card, but also, and we quote:
E-wallets;
Prepaid cards;
Bank transfers (withdrawals only);
Cryptocurrencies.
Wow! Quite the selection, isn't it? Taken at face value, all this sounds wonderful! Except, when we dug deeper, we realized that this is yet another bald-faced lie. In reality, you can only deposit and withdraw using your bank card. To be more precise, you can use a Visa or MasterCard credit card or a MasterCard debit card. That's it. Those are your options.
We already aren't fans of this scarce selection, but when you throw in literal lying to the list, well… We take even more offense to it.
Payments

Minimum deposit

AU$20

Minimum withdrawal

AU$50

Maximum withdrawal

Per day – AU$500

Per week – AU$3,000

Per month – AU$10,000

Deposit methods

MasterCard, Visa

Crypto currencies accepted

None

Australian Dollars accepted

Yes

Welcome bonus package

AU$1,000 + 25 Free Spins

Withdrawal time
Lucky Green Casino advertises that it will dispatch all winnings within 48 hours, but external circumstances may result in delays of up to 5 business days. On top of that, once your money has been dispatched, it'll take a little bit of time for it to make your way over to you due to the bank processing method. For bank card transactions, the average time is 3-5 work days, which means that, at most, you're looking at a 10 work day timeline between your withdrawal request being approved and your money being usable in your bank account.
Unfortunately, all of this is purely theoretical. After all, we have no evidence that the casino will actually dispatch anything after you make a withdrawal request. There are quite a lot of red flags surrounding the payments system, including some outright lies and discrepancies. As such, you should exercise extreme caution when considering using this casino.
VIP Program
While many casinos tend to offer their players a VIP program as one of their features, the same can't be said for Lucky Green Casino. This is especially discouraging to see here because the casino doesn't have any recurring or reload promotions. Once they've all been used up, then you basically get no access to any other bonuses at all.
It would have been nice to have some sort of program where you can gain new features for sticking around, or perhaps collect comp points you can exchange for additional bonuses or even cash prizes while you wager. But as it stands, there really is no reason at all to stick around Lucky Green Casino once your welcome bonuses are gone. A brand-new player will always get more perks than you will.
Tournaments
Unlike the VIP program, at least Lucky Green Casino's tournaments are quite decent. The casino offers multiple different tournaments at once, usually about 2 at a time, each of which with different games and prizes to compete for. It's important to note that there won't always be a tournament available, and sometimes, you might end up entering the casino during a period in between two tournaments.
When you manage to enter one, though, you'll be competing for some decent prizes. Of course, it's important to note that tournaments at most casinos don't exactly have lavish rewards, they're mostly just for fun. But at Lucky Green Casino, you can compete for up to AU$350 for first place. Again, not amazing or life-changing, but a decent bonus on top of whatever you'd earn from the pokies themselves.
Verification
When you attempt to withdraw from Lucky Green Casino for the very first time, your account will be temporarily suspended until you provide some necessary documents. Don't worry, this is completely normal and happens to everyone at every casino. The verification process shouldn't take long, and you'll be able to withdraw in only a few days.
So, how does it work, exactly? Well, you'll need to provide several different documents that prove your identity, including:
Proof of ID (any form of official photo ID will do);
Proof of current address (any official document that proves where you live);
Proof of payment method (a picture of your bank card on both sides with the security number and middle digits censored).
Just round up all your documents, take their mugshots, then send them over to the casino's staff for examination. Once they've been looked at, the staff will let you know whether you've been approved and verified. In rare cases, additional documents will be needed in order to confirm your identity, but again, this isn't something that should happen very often.
Is Lucky Green Casino Legit & safe?
We at casinoaustraliaonline.com are firm believers of safety – that's why you'll see so many negative reviews on our site. Do we just hate online casinos? No, of course not – we love them! But we also want to make sure our players will be safe in the ones we recommend, otherwise, it's all on our conscience! And we're sorry to say that Lucky Green Casino just isn't one that we can recommend.
There are many reasons for our concern. To start off, Lucky Green Casino is completely unlicensed. While there are some scam casinos that end up with a license, there are no unlicensed casinos that we have ever determined to be safe. This goes double for casinos whose parent company is unknown… Which, as you can imagine, is the case with Lucky Green.
And if that wasn't enough, we've found many red flags with the casino itself, the first of which being its long wall of text concealed on the front page containing generic and often inaccurate information. This is a clear sign that the casino is trying to attract players from Google who may be looking up completely unrelated casino terms rather than searching for relevant casinos. There is no legitimate reason why a casino would want to do something like that.
Customer support
Having a well-functional support feature is absolutely essential for any online casino, from Australia or otherwise. Imagine what would happen if you couldn't withdraw your winnings and there was no one you could turn to for help – suddenly, your entire casino experience has been rendered meaningless!
Unfortunately, we didn't really find Lucky Green Casino's support team to be on an acceptable level. To start off – the casino is literally lying about certain aspects of their support service. They claim that their live chat works between 4PM and 10AM (GMT+11), which is a rather weird time zone, but it makes sense if the support team hired to handle it isn't actually located in Australia.
However, this isn't quite true. We attempted to reach out to them around 10PM, well within their operating hours, and only got an automated "we will reach back to you within the next 12 hours" message. Subsequent attempts at communication resulted in similar outcomes, which leads us to believe that the casino actually doesn't have a live chat feature, and is simply using its chat window as a deceitful way to receive ticket requests. Which, as you can imagine, can become a huge problem if you're looking to a quick response to a particular problem.
| | |
| --- | --- |
| Live Chat support | NO |
| Phone support | NO |
| E-mail support | [email protected] |
| Ticketing system | Yes |

Mobile casino
Much like the rest of it, Lucky Green Casino's mobile version isn't particularly impressive. The casino already has a rather simple and outdated design which doesn't look great on desktop, but when you squish it into the small screen of a phone, it somehow looks even less impressive. Especially considering that not enough changes have been made to the design to make sure everything looks and functions well on mobile.
Looks aside, we do have to admit that the most important bits (the games) mostly do work okay. Of course, this has less to do with the casino's efforts and more with the game developers', but we have to give credit where it is due. But if you're someone who's used to playing games on their phone, we simply don't think you'll find a lot here for you.
| | |
| --- | --- |
| Interface | |
| Mobile version | YES |
| iOS App | No |
| Android APP | No |