Let's Go Casino Review
What do you say when you come across a new online casino? Well, we don't know about you, but as for us, we tend to say "LET'S GO!" Well, perhaps Dama NV, the company behind a number of very successful online casinos, overheard our enthusiasm and used it as inspiration for their latest casino's name!
But now the big question remains – does Let's Go Casino justify said enthusiasm, or will we simply leave disappointed? Well, the only way to find out is by diving straight into it, exploring its games, bonuses, features, payment options, safety, and many more things! Come on, join us for this fun trip, and hope alongside us that at the end of it, we'll all be shouting "LET'S GO!"
Bonuses
Welcome Bonus – 100% Match up to C$300
Now, before we begin, we need to specify that – unfortunately – Let's Go Casino doesn't support Australian dollars as of the time of writing. Its default currency for Australian players is the Canadian dollar, which is close enough to the Australian dollar to give you a good idea of the values without needing to do a lot of math in your head.
With that disclaimer out of the way, let's look at the actual bonus, which is… Not all that impressive, really! When you make a deposit at Let's Go Casino for the first time, all you'll receive is a 100% match up to C$300, which is pretty weak. Most online casinos operating in Australia will give you either a much higher percentage (like 150% or even 200%), or a higher maximum bonus (like AU$1,000 or higher). This offer feels more like a reload bonus, and while it is redeemed somewhat by the fact that you'll continue to receive bonuses for your first 5 deposits, that doesn't change the fact that said bonuses aren't amazing.
But if you thought that the bonus being too low was the worst thing about it, boy do we have some fun news for you! If you're even thinking of withdrawing it, you'll have to wager it a staggering x70 times! This means that, if you're betting exclusively on pokies, and you got a bonus of C$100, you'll need to wager a total of C$7,000 in only 7 days before you can withdraw C$100 from your winnings. That is absurd, and completely impossible.
We don't really understand why you would want it at this point, but if the bonus sounds good to you, you can claim it by using the bonus code "FirstDep"
Additional Welcome Bonuses
As mentioned previously, you will receive a total of 5 different offers over the first 5 times you deposit at Let's Go Casino. Granted, the first deposit bonus was quite bad, but maybe the rest will be much better? Yeah, don't bet on that.
The second deposit bonus will reward you with an even weaker bonus, only a 50% match up to C$300. From then on, that 50% will stick for the remainder of the welcome package, but each subsequent bonus will give a slightly higher maximum bonus – up to C$400 for the third deposit bonus and up to C$500 for the fourth and fifth.
However, it's almost pointless to discuss these bonuses because they all come with the same absurd x70 wagering requirement as the first deposit bonus. Which means that your bonus amount is much more likely to go poof at the end of your 7-day bonus period than it is to be withdrawn by you, or even properly used. It's one of the most worthless bonuses we at casinoaustraliaonline.com have ever seen.
Still, if you wish to give it a shot anyway, we can't judge you. Just remember to use the appropriate bonus code, which is the number of the deposit followed by the word Dep – so, "SecondDep" for the 2nd deposit bonus, "ThirdDep" for the 3rd, and so on.
Games
There's no mincing words here – the games section of Let's Go Casino is a complete mess. At least it is for players from Australia – our research has shown that things work a little bit better in other regions, but since it's Aussie players we're concerned with, we can't really take that into consideration, and will need to talk about the casino as we see it.
And what we see is a barren skeleton of a gambling site that struggles to justify its own existence. There are barely any games, and the games that are there are exclusively pokies. There is no live casino, and we didn't find any table games. So if there are any at all (which is doubtful), chances are they're also out of reach to the average gambler.
So if you don't like pokies, well… Enjoy not having anything to do at this casino! While there are a small handful of Crash games available, those are similar enough to pokies, and beyond that, the place is quite barren. No bingo, no sports betting, no scratch cards or anything else that can even slightly offset the lack of traditional casino games.
| | |
| --- | --- |
| Games | |
| Software providers | BGaming, Wazdan, 1spin4win, Betsoft |
| Pokies | 600+ |
| Live casino | No |
| Sports betting | No |
| Table Games | No |
Pokies
As of the time of writing, Let's Go Casino offers a total of about 600 pokies that are available to Aussies. While this selection is significantly expanded (thousands of titles from about a dozen different providers), we appear to have gotten the short end of the stick here with just a few hundred games from four providers.
At least, we were only able to confirm the presence of 4 providers – it's extremely difficult to know for sure, because there is no way to filter the games by provider, the search functionality is broken, and the games don't list which provider they were made by. However, even in the unlikely scenario that we have missed a 5th provider in there, we certainly haven't missed a 6th. Bottom line is, there simply isn't a lot of content or diversity here.
Does that mean that there aren't any good pokies that are worth playing? Well, no, not necessarily. There are some interesting games here like BGaming's "Elvis Frog" series, or Betsoft's repertoire (including titles like "A Night in Paris" and "Doctor Jekyll & Mr Hyde"), all of which are fairly decent. But they're far too few to really leave much of an impression, and it's not like they're particularly rare, either.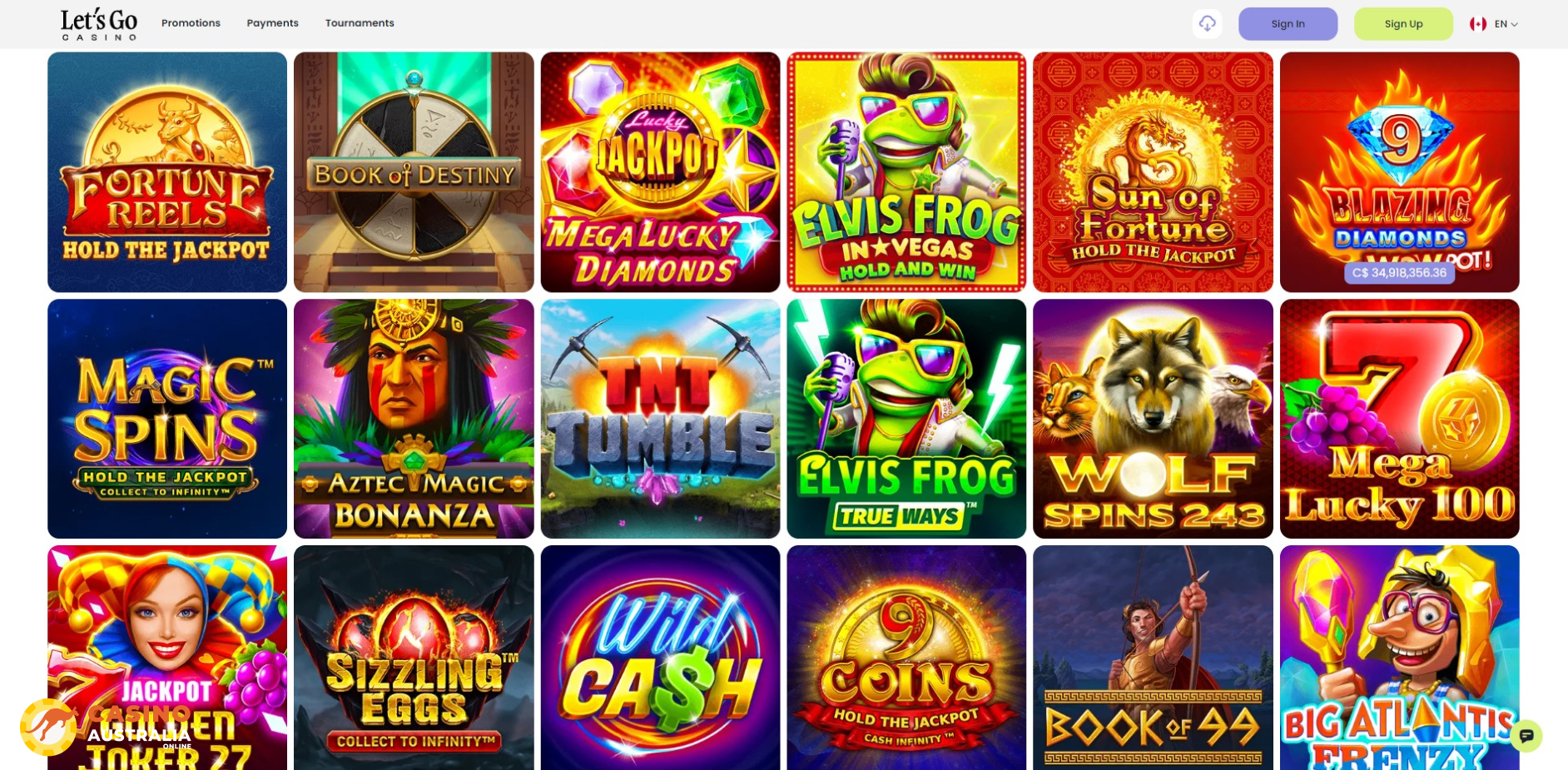 Live casino
As mentioned previously, Let's Go Casino doesn't actually offer any live dealer games to its players. Since we also weren't able to find any non-live table games available in Australia, this also means that casino fans who want to play games such as blackjack or roulette will have nothing to do here.
This will undoubtedly come as a major disappointment to many potential players, as it does to us. It's bad enough when a live casino section doesn't have enough games to keep things fresh and fun long-term, but when such a section is missing entirely, we can't help but feel very negatively about the casino in general.
Deposits & Withdrawals
Well, we weren't exactly favorable towards Let's Go Casino's games and bonuses, but even a broken clock is right twice a day. For this casino, one of those two times is certainly in its payment options, which are plentiful and diverse, with low minimums and fairly high maximum limits.
You'll be able to both deposit and withdraw using a wide variety of methods, such as your bank card, bank account (via direct transfer using multiple services), a few e-wallets (like MuchBetter and EcoPayz) and even a pre-paid voucher (Neosurf). Generally, the casino will use the same method you used to deposit in order to pay out your winnings, which gives you some options to help you decide your optimal method for all transactions.
On the crypto front, things aren't looking too bad, either! You'll be able to use any of the most popular currencies, like Bitcoin, Litecoin, Ethereum or Dogecoin, to name a few. While there are some options which we certainly miss, like Ripple, it's not the end of the world, and there are plenty of alternatives to pick from.
Payments

Minimum deposit

C$20

Minimum withdrawal

C$20

Maximum withdrawal

Per day – C$5,000

Per week – C$10,000

Per month – C$30,000

Deposit methods

Visa, MasterCard, MiFinity, Bank Transfer, iDebit, MuchBetter, EcoPayz, Neosurf

Crypto currencies accepted

BTC, BCH, LTC, ETH, DOGE, USDT

Australian Dollars accepted

NO

Welcome bonus package

C$300

Withdrawal time
The good news is that there are actually plenty of ways you can withdraw your funds from Let's Go Casino – in fact, you can use nearly any deposit method! The bad news, if you consider it bad, is that some of those are significantly slower than others.
If speed is your preference, then we definitely recommend using an e-wallet or crypto, since those should deliver your hard-earned winnings in a matter of hours. However, you'll also be able to withdraw directly into your bank card – and while that's a tad slower (around 3-5 business days), it could also be more convenient, depending on your needs.
If possible, we would advise you to avoid withdrawing via bank transfer, as that method can take up to 10 working days – and, in rare cases (which we've still encountered), up to 15. Keep in mind that if you deposit using Neosurf, your withdrawal method will default to bank transfer, so keep that in mind before you choose how you want to deposit.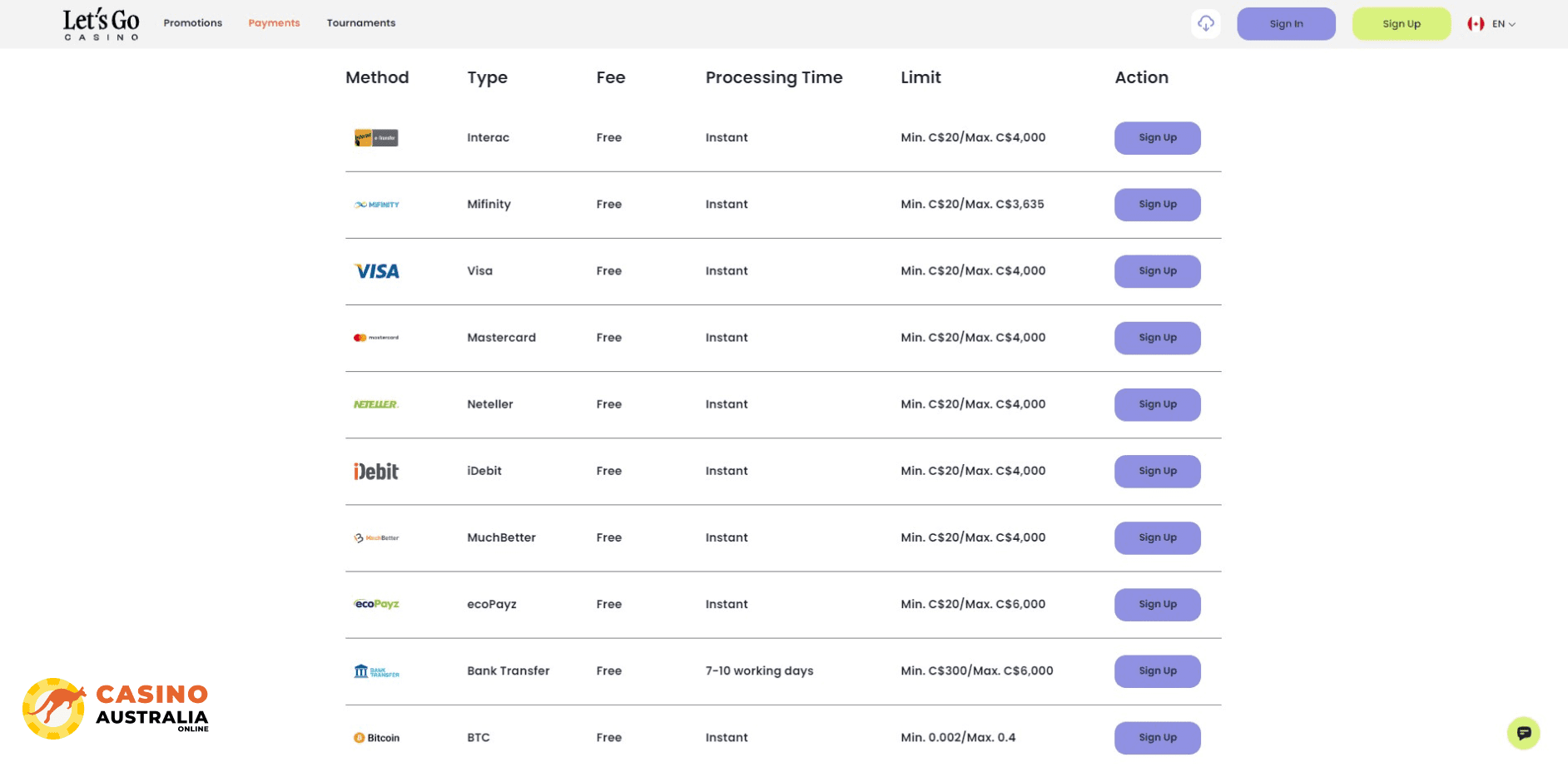 VIP Program
Just like many other casinos that are interested in keeping their players loyal and active, Let's Go Casino offers a VIP program that can help you earn points the more you play, and then exchanging them for perks and prizes.
You'll be able to receive these points (known as Comp Points, or CP) in two different ways. The first one is that the first 5 bonuses at Let's Go Casino will each give you a set amount of CP – 300 for the first two bonuses, 400 for the third and then 500 for the fourth and fifth each. This gets you started with 2,000 points if you took advantage of all bonuses, which actually is great news because it only takes 1,000 points to receive a prize.
The second method is much slower, but it's the only one you'll have at your disposal after the bonuses dry up. For every C$1 you wager, you'll be able to receive 1 point, and for every deposit of C$20, you'll get 20 points. As you can imagine, wagering C$1,000 is going to take you a while. So, is it worth the effort?
Haha, this is Let's Go Casino, so of course not. For every 1,000 points, you'll be able to choose one of two spectacular prizes. One of them is 20 whole free spins, with a C$1 bet for each and x35 wagering requirements attached to it. And if that just seems way too generous for your tastes, don't worry, you can also choose C$0.70 in cash. Don't spend it all in one place!
Tournaments
Let's Go Casino isn't exactly overflowing with tournaments, but it does provide enough to its players to keep at least some fans of this niche happy. To be more precise, the casino has one tournament which resets every week automatically, meaning that if you missed out, or simply didn't feel like you could compete on the leaderboard, you can always wait and give it another shot next week.
Of course, anyone with real casino experience can tell you that having just one tournament available comes with an unfortunate side effect. In pokie tournaments, the more you spin particular pokies, the higher you rank on the leaderboard. So, as you can imagine, with just one tournament everyone can enter, high rollers will always occupy the top 15 spots, which are the only ones that offer prizes.
Don't worry too much about it, though – the prizes aren't exactly something to write home about. You'll receive a maximum of C$50 as a reward for first place, with the prizes becoming considerably worse the lower you go in placement (#15 only gets a meager C$5). Considering the fact that it'll cost you a lot more than C$50 in bets to be competitive, you might start to wonder whether participating in the tournament is worth it at all, and we can't blame you.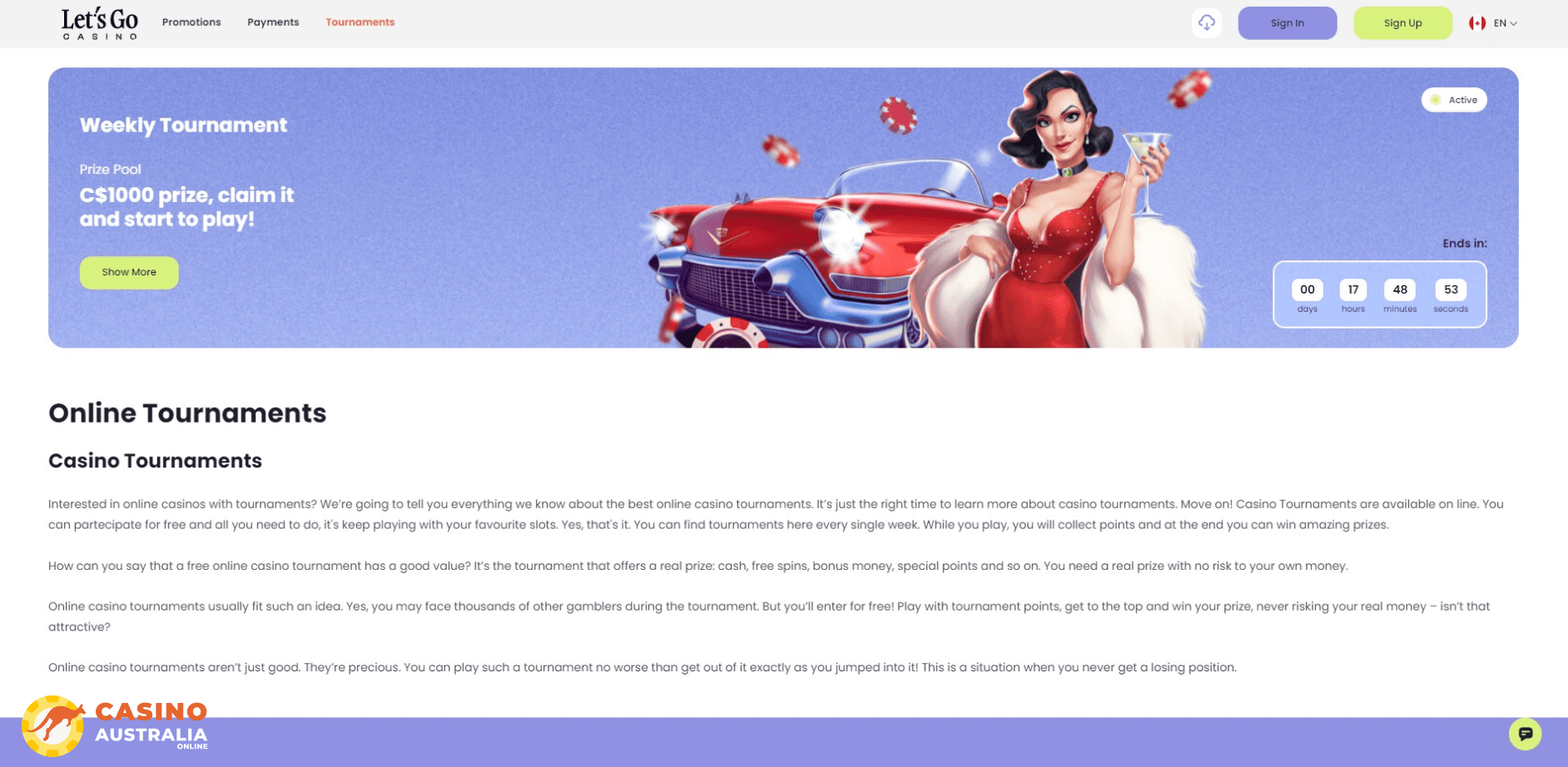 Verification
Just like any other casino site under the sun, Let's Go Casino will require you to verify your identity before you'll be able to actually complete any of your withdrawal requests. While many consider this to be a massive headache, the fact of the matter is that it's really not that big of a deal, and it usually takes no more than a day or two.
The casino will require you to send photos of several documents that prove your identity. The first will be a form of photo ID (such as your driver's license, or national ID card, or passport, any official document that proves your identity). The second one will be a proof of address, like a delivery receipt or utility bill.
Last, but not least, you'll need to verify your payment method, usually via a photo of your card or a screenshot of your e-wallet/crypto wallet interface which shows your name and the transaction via which you deposited. While additional documents may be requested, those would be the main ones that everyone will have to submit.
Is Let's Go Casino Legit & safe?
If you're concerned about being scammed by an untrustworthy online casino – good, you should be! While we can't say that every or even most online casinos are dangerous, there are certainly enough that should make you very cautious. So, how can you tell the good casinos from the scary ones? While there is no 100% guaranteed way to do so, a casino having a valid license from a certified gaming authority is a huge sign that it's legitimate and safe.
So, how does Let's Go Casino fare? Luckily, there's not much need to worry about being scammed here, as all signs point to this being a trustworthy casino. For one, it's completely licensed by the Curacao Gaming Authority, with its number and certificate clearly displayed and verifiable. That's already a great sign that the casino is willing to go through the necessary processes to hold itself accountable.
On top of that, the company that owns and operates it – Dama NV – owns many other casinos, all of which have a good reputation for paying out their players on time. So while Let's Go Casino isn't perfect by any stretch of the imagination, it's at the very least safe.
| | |
| --- | --- |
| License | Curacao |
| License number | 8048/JAZ2020-13 |
| Company address | Scharlooweg 39, Willemstad, Curaçao |
Customer support
Do you have a question related to your deposit, or profile? Or perhaps something went wrong, like your deposit failed to produce the desired bonus? That's when your best option is to reach out to the Let's Go Casino support team and speak with a representative of the site directly.
There are several ways by which you can manage that. Perhaps the easiest, fastest and most convenient is via live chat, which you can access from the little green bubble in the bottom right of any page (on both desktop and mobile. That'll put you in touch with an agent who can help you directly.
If you'd rather just send an e-mail (like, for example, if your problem/question isn't too urgent), you can do so in two ways. You can submit a ticket via the site, or you can just message their inbox directly. Either way, you'll receive a response within 24 hours, and from there you can initiate a conversation to reach to the bottom of the issue.
| | |
| --- | --- |
| Live Chat support | 24/7 |
| Phone support | NO |
| E-mail support | [email protected] |
| Ticketing system | Yes |

Mobile casino
Interested in mobile gambling? We can't blame you, given that it's often much more convenient than gambling on desktop! Luckily, Let's Go Casino offers a fully functional mobile app which will give you access to your account, as well as your games and features. Anything you can do on desktop, you can also do on mobile.
The app doesn't need to be downloaded, and is instead accessible via your phone's browser. This means you can reach the casino any time without needing to download some kind of external app. While the designs of both the mobile and desktop versions are very similar, the mobile one is more compact and allows for easier browsing and scrolling on a smaller screen.
| | |
| --- | --- |
| Interface | |
| Mobile version | YES |
| iOS App | No |
| Android APP | No |