Kaktuz Casino Review
Kaktuz Casino is a freshly debuted, fun-themed online casino from Latvia that is available for Aussie players, so we will be reviewing it today to see what it can bring to the table. We appreciate casinos that go the creative route when it comes to design, and Kaktuz's overall look deserves some praise. Apart from its attractive design, what else can this betting hub offer us that we haven't seen? Is it a good place to invest your time and money? We'll answer these questions and more in today's review.
To summarize our first impression of Kaktuz Casino, it's a relatively small establishment with a great game library and an interesting approach to bonuses. A couple of red flags demand our attention and the brightest one is the casino's lack of licensing and ownership information. Combined with low-quality customer support and too few payment options, the betting spot isn't starting in a promising manner. Nevertheless, we'll give Kaktuz Casino a fighting chance and explore all of its features and attributes hoping for the best, but expecting the worst. Let's get started with our assessment.
Bonuses
Each player out there wants to get the most out of their initial few bonuses at any given online casino, as we all know this is where casinos focus their creativity and generosity in order to win you over as a customer. Most establishments either decide on impressive bonus percentages, or shower players with various promotional offers to create a feeling of abundance. Both strategies have their fair share of success, but there are other, rarely used and oddly creative approaches that we sometimes encounter and the one applied by Kaktuz certainly falls in this category.
The deal with bonuses at Kaktuz is, well, they're not bonuses in the traditional form of the word, or at least not what we're used to seeing. You'll be greeted with three no-deposit bonuses, which is quite refreshing, but there isn't a welcome package. There are no reload bonuses or weekly incentives either. Let's see what the mysterious approach of Kaktuz entails, shall we?

Free Spins Bonuses – Choose From 23 FS Bonuses
You might think you're getting a whopping 23 distinct bonuses at Kaktuz, but when you look up close, you'll see that they're simply variations of the very same incentive. Nevertheless, this is an impressive number of opportunities to grab some free spins, so let's see how to best take advantage of the promotions at the establishment.
Overall, each promo allows you to claim some free spins tailor-made for a specific game. Each bonus comes with a different wagering requirement, minimum bet, and minimum deposit amount. As odd of an approach to incentives as this might be, it will inevitably appeal to players who love pokies and wish to go on a wild pokie-betting adventure. The number of free spins is more or less generous, some playthrough requirements are great, but others are a little too steep. Most importantly, if you decide to play at Kaktuz, you won't ever feel short of opportunities to enjoy a new pokie and use a boost that can give you a head start at the game of your choice.
Since the information on all possible options is a whole lot, but at the same time quite similar, we've broken it down in the form of a table:
| | | | | |
| --- | --- | --- | --- | --- |
| Game | Min. deposit | Min. bet | Free spins | Wager |
| Starburst XXXtreme | n/a | AU$ 0.40 | 222 | 50x |
| Gates of Olympus | n/a | AU$ 2 | 50 | 50x |
| Sweet Bonanza | n/a | AU$ 0.80 | 125 | 50x |
| | | | | |
| --- | --- | --- | --- | --- |
| Dazzle Me | AU$ 50 | AU$ 1 | 100 | 40x |
| Fire Strike 2  | AU$ 25 | AU$ 0.50 | 100 | 40x |
| John Hunter | AU$ 25  | AU$ 0.50 | 100 | 40x |
| Space Wars | AU$ 50 | AU$ 2 | 50 | 40x |
| Invisible Man | AU$ 25 | AU$ 1 | 100 | 40x |
| Parthenon | AU$ 25 | AU$ 1 | 50 | 40x |
| Santa's Wonderland | AU$ 25 | AU$ 1 | 100 | 40x |
| Starburst XXXtreme | AU$ 50 | AU$ 0.50 | 200 | 40x |
| Fire Strike 2 | AU$ 25 | AU$ 0.50 | 100 | 40x |
| Piggy Riches | AU$ 25 | AU$ 0.50 | 100 | 40x |
| Big Bass Bonanza | AU$ 50 | AU$ 1 | 100 | 40x |
| Invisible Man | AU$ 25 | AU$ 1 | 100 | 40x |
| Gonzo's Quest | AU$ 250 | AU$ 5 | 100 | 40x |
| Sweet Bonanza | AU$ 50 | AU$ 1 | 100 | 40x |
| Book of Dead | AU$ 500 | AU$ 10 | 100 | 40x |
| Wild West Gold | AU$ 25 | AU$ 1 | 100 | 40x |
| Love Joker | AU$ 25 | AU$ 0.50 | 100 | 40x |
| Elemental Gems | AU$ 25 | AU$ 1 | 50 | 40x |
| Wild Hop & Drop  | AU$ 25 | AU$ 1 | 50 | 40x |
| Dazzle Me | AU$ 150 | AU$ 5 | 60 | 40x |
Games
The success of an online casino heavily relies on its game selection. A diverse and engaging selection of games can effectively sustain an establishment, while a game collection that goes beyond anyone's expectations can catapult it to even higher levels of popularity. This undeniable truth is well-known to all those who aspire to create their own online betting hub. No matter the trends in the industry, what remains evident is that a captivating, opulent game library serves as a decisive factor in the success and survival of an online casino.
Kaktuz has quite the game library, nearing 2000 titles from 13 providers. At this casino, you'll be able to enjoy tons of quirky, fun pokies, jackpot games, video poker, classic table games, live casino, lotteries, tournaments, and much more. Such a rich selection ensures that players won't get bored anytime soon, but it can also be a bit overwhelming in the beginning. Having so many titles to explore might stop some newbie players in their tracks if they don't know where to start. This is where we come in to save the day and provide you with a detailed breakdown of Kaktuz's game library and even recommend you some exciting titles to try out. We know you probably can't wait, so let's get right into it!
| | |
| --- | --- |
| Games | |
| Software providers | Yggdrasil, Playtech, Amatic, etc.; |
| Pokies | 1800+ |
| Live Casino | Yes |
| Sports betting | No |
| Table Games | Yes |
Pokies and Providers
Pokies are a game genre that holds a prominent position in every casino's game library due to their undeniable charms. As we're listing the reasons behind its popularity throughout the iGaming community, providing an explanation for new players who may be curious might be a good idea. While classic table games exude a traditional and put-together atmosphere, pokies offer a refreshing level of fun. These games allow players to embark on time-traveling adventures, immerse themselves in action-packed or chaotic scenarios, unwind amidst visually stunning graphics, or find amusement in light-hearted and comedic themes. Such a wide range of options inevitably contributes to their popularity which is always through the roof. With that being said, the inclusion of popular pokies in a casino's game library significantly influences the number of visitors the establishment attracts. Tldr, the allure, and versatility of pokies make them a highly sought-after category, driving the success and appeal of casinos.
In case you're wondering where to start, we can recommend you some of our favorite titles. We had a ton of fun playing Butterfly STAXX, Admiral Nelson, Dolphin's Pearl Deluxe, Big Bass Bonanza Keeping It Reel, Diamond Cats, Book Of Fortune, Copy Cats, Scruffy Duck, Wild Water, Space Wars, Dazzle Me, Charlie Chance, and Wings Of Riches. After playing for a while, you too will surely have a list of favorite games, but until now, we hope you enjoy some of the ones recommended here.
Not only is an excellent game library the path to any casino's irresistible allure, but the providers who make these games possible have a role so important that none of our fun would be possible without them. As with any other industry, bigger game studios have bigger budgets and get to create flashier games, but smaller, indie studios aren't to be underestimated either. Overall, the best strategy for any online casino is to have a good mix of both to curate a balanced and diverse game selection.
At Kaktuz Casino, you will find such a mix, but not on any mind-blowing level. The establishment is home to the creations of 13 different providers, big names, and lesser-known ones. Here, you can enjoy games from Amatic, Yggdrasil, Pragmatic Play, NetEnt, Push Gaming, Play'N Go, Greentube, Relax, Red Tiger, Megajack, Igrosoft, Belatra, and Playtech.
Live Casino
Live casino games are the bridge between the real casino gambling experience and the virtual one that we so love enjoying from the comfort of our homes or on the go. The combination of a live dealer who skilfully guides the game and radiates their charms from the screen directly into your personal experience along with thrilling gameplay guarantees an elevated experience. This is why most players prefer betting hubs where live casino games are present. The more the merrier, needless to say.
Kaktuz has understood the assignment when it comes to live casino games, as the establishment boasts an excellently curated collection of over 300 titles you can choose from. You can play blackjack, poker, roulette, keno, and many fun game shows to your heart's content.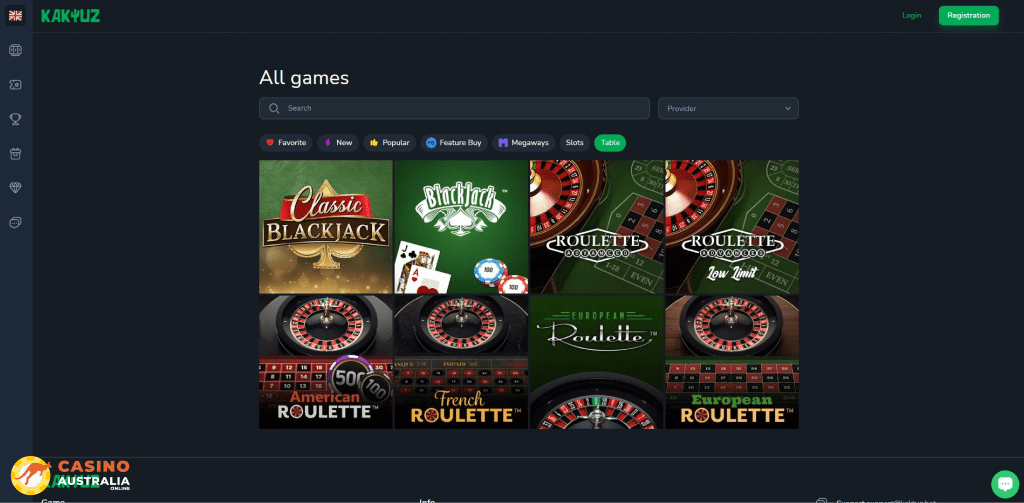 Deposits & Withdrawals
Ensuring the safety and reliability of financial transactions within your chosen online casino is not merely important, but a critical factor to consider. The stakes involved extend far beyond the excitement of the game, as your actual finances are at risk. Recognizing the gravity of this matter, our goal at casinoaustraliaonline.com is to guide you toward trustworthy betting platforms where your funds are secure, allowing you to engage in controlled risk and enjoy betting to the fullest extent.
We have to say, caution is advised when dealing with Kaktuz Casino, as the ownership and licensing details of the establishment are yet to be disclosed. This lack of transparency raises concerns about the security of your deposited funds. It becomes imperative to approach transactions at Kaktuz Casino with reasonable doubt, as there is no guarantee of your funds being returned. Before proceeding further, it is crucial to thoroughly examine the various aspects of transactions within Kaktuz Casino.
Deposits
Most online casinos nowadays aim to offer as many payment options as possible to their players, both fiat and crypto, to ensure the seamlessness of the deposit process. After all, it's in the casino's best interest to help visitors become loyal players who pour a ton of money in as quickly as possible.
This isn't, however, the case with Kaktuz Casino where you'll be surprised to find merely 3 payment options, all of which are fiat. Such a lack of diversity may very likely result in frustrations for players who don't feel comfortable using the listed payment methods for one reason or the other. Your options to make a deposit at Kaktuz are via a bank transfer, Visa, or Mastercard.
On the flip side, the casino accepts a satisfactory amount of currencies, namely EUR, USD, RUB, KZT, UAH, and PLN. No AUD, unfortunately, but all transactions are automatically converted in the process, so no need to fret. The minimum deposit at the casino is AU$ 5, which is a relievingly fair amount.
Withdrawals
When engaging with a casino of questionable reputation, there is a common feeling of uncertainty surrounding the smooth processing of withdrawal requests. To ensure peace of mind and financial security, it is crucial for players to carefully review all terms and conditions and make well-informed decisions. Now, let's assess the withdrawal process at Kaktuz and examine its reliability and efficiency. By understanding the specific procedures and policies, players can get a feel of the trustworthiness level and evaluate the potential impact on their overall betting experience.
When withdrawing funds from this platform, the money will be returned through the same deposit method, provided that the method allows incoming transactions. In cases where the selected method does not support this, the funds will be transferred via a bank transfer. It is worth noting that the minimum withdrawal amount is AU$ 50, a reasonable threshold that is not excessively high. While it would be ideal for the minimum to be lower, the current requirement remains within acceptable limits for most players.
| | |
| --- | --- |
| Payments | |
| Minimum deposit | AU$ 5  |
| Minimum withdrawal | AU$ 50 |
| Deposit methods | Bank transfer, Mastercard, Visa |
| Fiat currencies accepted | YES |
| Australian Dollars accepted  | NO (conversion upon transaction) |
| Cryptocurrencies accepted | NO |
| Welcome Bonus | 3 no-deposit bonuses |
Withdrawal time
Kaktuz Casino isn't too different than most online betting hubs in terms of the time frame in which it processes withdrawal requests. The golden industry standard is up to 3 days, and this is what the casino's website states as well. This is an acceptable time frame, just as long as the withdrawal actually goes through and isn't held in its tracks by a pesky additional verification.
We will speak about additional verifications in greater detail just a few paragraphs below this one, but we need to give you a heads-up that if such a process is triggered, it may be for two reasons. The first and better one would be that the casino wants to confirm you're you before handing you your juicy winnings. The second one might happen at scammy, unlicensed casinos and the reality of such a situation would be that the casino simply doesn't want to pay and is coming up with all sorts of reasons not to until you get tired and drop your hopes and the money in your account. Since Kaktuz is a casino with undisclosed licensing information, we can only hope that such an incident won't occur.
VIP Program
Kaktuz Casio has an elaborate VIP program that consists of 6 levels and is based on points accumulation. Here, points are generated with each real money bet you make at the casino.
The perks you're in for with the loyalty program are huge no-deposit bonuses, increasing cashback, gratis days to fulfill wagering requirements when you claim a bonus, increased withdrawal limits, and decreased playthrough. If these sound exciting to you, the VIP program is waiting for you and your bets!
Tournaments
Kaktuz Casino aims to have at least one ongoing tournament for its players at all times. We're sure that many appreciate it highly, as there is no better way for a betting aficionado to reinvigorate their passion than a little healthy competition. To give you an idea of what tournaments at Kaktuz look like, the prize pool of the current event is AU$ 10,000.
Verification
Verification nowadays is pretty much standardized across the industry as it almost always asks for a valid, government-issued ID, proof of address (a utility bill with your name no older than 3 months), and proof of ownership for your payment method (usually a photo of the card with sensitive information covered). The same requirements are valid for Kaktuz Casino as well. It's best to always have your documents in order and at hand to expedite any checks.
Is Kaktuz Legit?
Kaktuz Casino lacks any licensing or ownership info, which immediately puts it at the bottom of the barrel when it comes to casinos we would recommend to our readers. While it is true that many unlicensed casinos manage to treat their visitors well and not raise any major complaints, the rule of thumb is to avoid such establishments and be on the lookout for more secure places.
| | |
| --- | --- |
| License | Undisclosed |
| License number | Undisclosed |
| Company address | Undisclosed |
Customer support
The casino has 24/7 live chat and email support, but none of the two channels seems to be working properly, as we didn't receive a response for hours. This is alarming and speaks for the casino's overall care for its customers.
| | |
| --- | --- |
| Live Chat Support | Yes |
| Phone Support | No |
| E-mail Support | Yes |
| Ticketing System | No |

Mobile Casino
Kaktuz Casino is fully accessible via a mobile browser, so you can enjoy your favorite games and play wherever you are. Just make sure to have sufficient mobile data of a good quality to avoid unexpected connectivity problems and lose a wager.
| | |
| --- | --- |
| Interface | |
| Mobile version | YES |
| iOS App | NO |
| Android APP | NO |