Golden Lion Casino Review
When you look up "Golden Lion Casino" on Google, you'll find a plethora of glowing reviews and raving recommendations – you probably know this, since that's likely how you found our own review! When doing our own research, we were curious to see what users had to say about this casino, which is why we did the same, and the results were… Perplexing.
A lot of the information provided in both user accounts and other reviews simply didn't match reality – wrong bonuses, wrong games, wrong claims… Which means that either everyone is lying (which seems highly unlikely) or, most probably, the Golden Lion Casino that is operating today is not the same one that so many players were enamored with back in the day. And the fact that there's absolutely no information about its current ownership only strengthens this hypothesis.
If you're anything like us, then you're already seeing a lot of red flags. But despite this, we decided to give this new and "improved" Golden Lion Casino its fair shake, evaluating its bonuses, games, features and other aspects to determine whether it's worth playing at.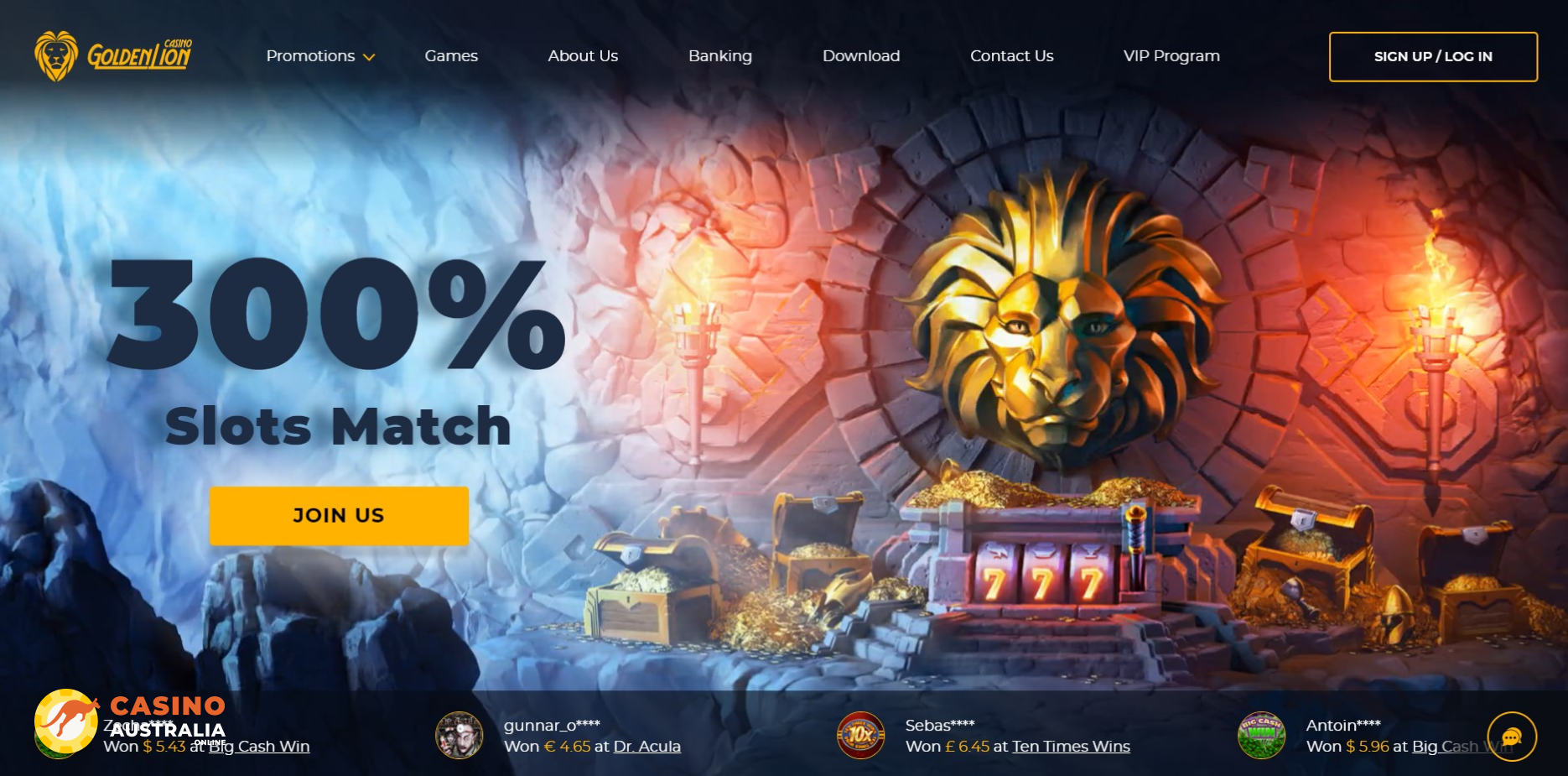 Bonuses
Golden Lion Casino does its bonuses a little bit differently compared to traditional online casinos. Usually, you'd have just one bonus that all new players get, or a series of bonuses you claim in order. Other times, you might get to choose one bonus among several depending on your needs and preferences.
At Golden Lion Casino, however, you'll still get a choice of 4 bonuses, but you can actually claim all of them in (almost) any order you want. Depending on what types of games you'd like to focus on at the casino, you can even choose not to claim certain bonuses, or claim them all.
The only constant between them is that withdrawable winnings from those bonuses are capped to x5 the bonus amount, and they all require a minimum deposit of AU$25 in order to be claimed.
250% and 300% Match Bonus for Pokies
If you're a fan of spinning reels and winning jackpots, you'd be happy to know that Golden Lion Casino is offering not one, but two jackpots for your enjoyment. Both of them can be used only on slots, but will increase your initial deposit by quite a lot.
Use the bonus code "SPELL250" with your first deposit in order to receive a 250% match bonus that you can use on any of the casino's pokies – a pretty sweet deal that definitely beats free spins locked to a particular game. After you've used up this bonus (or completed the wagering requirements and withdrawn it), you'll be able to claim an even bigger offer – 300% match bonus using the bonus code "SPELL300".
The two bonuses are the same, the only differences are the bonus amounts and that they need to be claimed sequentially (first the 250%, then the 300% bonus). They also both have the same wagering requirements, which are x40.
125% Match Bonus for Cards
If you're not a fan of pokies – we can't relate, but we get it! And in that case, you'll be happy to learn about the 125% match bonus that can be used on card games like blackjack and baccarat. While not as big as the pokies bonus (which is twice as big), it's still worth considering – especially when you can claim both bonuses and get the best of both worlds.
To take advantage of this offering, you have to use the bonus code "AMULET125" during your deposit process. After claiming the bonus, you'll have to wager it x45 times before you're able to withdraw it.
75% Match Bonus for Roulette
If you're a big fan of roulette, or simply used the other bonuses already and are looking for more, you can also claim a 75% match bonus that can be used on roulette games. This is far smaller than any of the other bonuses, and as such we can't help but be a little disappointed in it.
To claim it, you'll have to use the code "TALISMAN75" during your deposit process. Once that's done, you'll have to wager it a staggering x60 times before you can claim it, which will be practically impossible.
Games
Games are an essential part of every online casino – that's why we're here, after all! So it's quite disappointing to find out that Golden Lion Casino have pretty much dropped the ball on this one.
The focus of the casino seem to be its table games, which is, admittedly, a unique and interesting approach. We would have loved to see a casino that truly dedicates itself to poker, baccarat and keno, but Golden Lion just doesn't go far enough. Despite bombarding you with its table games (and having bonuses tied to them), there just aren't enough there to truly leave an impact.
| | |
| --- | --- |
| Games | |
| Software providers | Rival Gaming |
| Pokies | 100+ |
| Live casino | No |
| Sports betting | No |
| Table Games | Yes |
Pokies
While the focus of Golden Lion Casino is very clearly the table games, that doesn't mean pokies should be neglected – and sadly, they kind of have been. There are less than a hundred slot games available, and most of them are from the same provider – Rival Gaming. Usually, it's not a great sign when every available game comes from the same provider, as that means there really isn't any variety or diversity among them.
Furthermore, the games just… Aren't very good. A lot of them are simply rip-offs of much more popular slots (like for example, "Pistols & Roses" meant to imitate "Guns n Roses", or "Money Magic" meant to imitate "Magic Money"), and they're not particularly fun to play. We doubt that they'd be able to satisfy anyone but the most casual of pokie fans.

Live casino
The live dealer games are typically the best way to get a genuine casino experience from the comfort of your own home. Unfortunately, that doesn't seem to be the case here, as Golden Lion Casino doesn't have any live casino offerings as of the time of writing this review.
While the casino provides players with plenty of options to bet on traditional casino games (like cards and roulette), those aren't live, and that can be a big turn-off for many players. We'll continue to monitor the casino and update our review if they add this highly popular feature.
Deposits & Withdrawals
Every successful business will tell you that the most important part is giving the customer a convenient way to give you their money! After all, you could have the greatest product ever made, and you'll still go bankrupt if you don't let your clients pay however they want, right?
That's what makes Golden Lion Casino so strange… Because, compared to other online casinos, they barely give you any options when it comes to completing your first deposit! If you're not comfortable depositing using a bank card, like MasterCard or Visa, then your options are bank transfer, bitcoin, and… Well, that's about it, really.
You're not able to deposit using e-wallets (such as Skrill, Neteller and AstroPay), you're not able to deposit using pre-paid vouchers (like Paysafecard or Neosurf), hell, you're not even able to deposit using alternate crypto besides bitcoin (like Ripple or Ethereum). It's pure insanity! This one move right here would alienate a large majority of players who, understandably, wouldn't wish to give out their card information to a random site they don't trust yet!
| | |
| --- | --- |
| Payments | |
| Minimum deposit | AU$25 |
| Minimum withdrawal | AU$100 |
| Maximum withdrawal | Per week – AU$2,000 |
| Deposit methods | Bank transfer, Visa, MasterCard, American Express, Discover |
| Crypto currencies accepted | BTC |
| Australian Dollars accepted | Yes |
| Welcome bonus package | |

Withdrawal time
If you decide to withdraw your winnings, we have to warn you that it won't be an easy or quick process. The casino only offers three different methods of withdrawal – bank transfer, MasterCard and Visa. That's it. It wouldn't have been so bad if those weren't some of the slowest withdrawal methods in the casino industry.
Withdrawing via a bank card (MasterCard or Visa) will take around 5 business days, but that's nothing compared to withdrawing via bank transfer, which will take up to 15 days and will incur hefty fees. Neither of those estimates includes the processing time from the casino before they even dispatch the money, which can be up to seven days.
However you choose to withdraw, be aware that you're not going to be seeing a cent of your winnings for weeks.

VIP Program
Few methods are more effective at keeping players loyal to a casino than a VIP program. Sure, most players will stay naturally if there are games and frequent promotions to keep them invested, but it always helps to be a little bit appreciated, right?
As such, Golden Lion Casino have prepared a VIP program that will enable you to earn both cash and various perks permanently added to your account. For every AU$1 you wager, you'll immediately earn 1 Comp Point (or CP). Those points can then be exchanged for real money, at a rate of 1,000 CP per AU$1. Not a great deal at face value, but the more CP you earn, the higher your VIP level will get, and the more perks you'll unlock.
These are some of the perks you'll receive as you level up:
| | | | | | | |
| --- | --- | --- | --- | --- | --- | --- |
| | Soaring Hawk | Astute Raven | Mystic Wolf | Stealthy Panther | Invisible Tiger | Majestic Lion |
| Daily Cashback Offers | Yes | Yes | Yes | Yes | Yes | Yes |
| Birthday Bonus | Yes | Personalized Offer | Personalized Offer | Personalized Offer | Unique Offer | Unique Offer |
| Comp Points | Yes | Yes | Yes | Higher Rate | Higher Rate | Higher Rate |
| Personalized Deal from Account Manager | No | Yes | Yes | Yes | Yes | Yes |
| Status Recognition Chip | No | AU$100 | AU$250 | AU$500 | AU$750 | AU$1,000 |
| Weekly Cashback Insurance Bonus | No | Up to 20% | Up to 20% | Up to 20% | Up to 20% | Up to 20% |
| No Max Cashout Bonuses | No | No | Yes | Yes | Yes | Yes |
| Faster Withdrawal Process | No | No | Yes | Yes | Yes | Yes |
| Monthly Cashback Deal | No | No | No | 6% | 8% | 10% |
| Personal Account Manager 24/7 | No | No | No | No | Yes | Yes |
| Real Cash Deals | No | No | No | No | Yes | Yes |
There are definitely some very interesting promotions that you can claim by remaining a loyal player at Golden Lion Casino… But the program isn't without room for improvement. Chief among our criticisms is the vagueness and lack of information. How many points do you need to level up? What does 'real cash deals' even meet? What is the 'higher rate' at which you earn CP on the higher levels? The casino will never explain any of that upfront, and that gives them just enough wiggle room to pretty much make up whatever rules they want. And we don't need to tell you what issues that could cause!

Tournaments
Only a few years ago, when pokie tournaments were first introduced to casinos around the world, no one could have predicted that they would become so big and popular! Nowadays, tens of thousands of people are competing against each other as they try to score the top spot on the leaderboard by spinning as many pokies as possible. Some claim it's just a trend, but as far as trends go, it's a pretty fun one!
Which is why it's so disappointing that Golden Lion Casino do not appear to be holding any kind of tournaments on their site. This includes not only the aforementioned pokie tournaments, but also live casino tournaments or games such as Texas Hold'Em. If this is something that you greatly enjoy doing (and we know that it is for many of our readers), there is simply nothing here for you.
We will continue to monitor this situation and update our review in case tournaments are added… But given what we know about this casino, that seems unlikely.
Verification
If you've ever looked around online casinos' terms of service, you've probably come across the word "KYC" and wondered what that was. Well, it's not some fancy winning strategy or a secret organization for casino elitists (trust us, we'd know) – it stands for "Know Your Customer", and it refers to a set of laws, rules and regulations that require casinos to verify the identity of players before they're permitted to withdraw any funds.
Golden Lion Casino is similarly beholden to KYC laws, although its conditions and requirements are a bit more complicated due to their confusingly written and vague terms of service. However, we can practically guarantee you that when you make a withdrawal request, it'll be immediately rejected until you complete the verification procedure.
To do this, you'll have to submit at least three different documents:
Proof of identity (for example, a photo of your personal ID or passport)
Proof of address (like a recent delivery receipt or utility bill with your name and address)
Proof of payment method ownership (usually, a photo of your bank card with some sensitive information blacked out)
While additional documents may be requested afterwards, unfortunately Golden Lion Casino have not provided us (or players in general) with details about what they may be. As such, if you're determined to complete the KYC procedure, you'll simply have to be ready to present whatever documents customer support requests of you.
Is Golden Lion Casino Legit & safe?
Many other reviews online will claim that Golden Lion Casino is fully licensed – hell, the site itself claims so in its terms of service. But the thing is… We couldn't find any evidence of that, at all. The casino never lists its license number anywhere, and when we attempted to verify this claim through Curacao themselves, we came up empty-handed.
Well, when you don't know something, you ask, right? That's why we decided to hear it straight from the horse's mouth, and we decided to contact support and ask for the license information. The response we got was that this is "private information reserved for upper management", which is… Well, let's not mince words here, it's nonsense. Licenses are public information, they're usually listed in the footer of the page, and even if they aren't, you can usually look them up online through their respective gaming authority.
But Golden Lion Casino not only decided to hide their license number from us, but they also refused to disclose what company operates this casino, or even when it was founded. This is unbelievably sketchy, because there is literally no reason why they would hide any of that. If they were operated by Skyline Media NV (the company that is listed as the owner in many public places), why not just say that? The whole thing is perplexing.
While we can't 100% deny that Golden Lion Casino has a license, we certainly wouldn't bet on them. And if they're lying about something so basic, what else are they lying about? And would you trust them with your money?
Customer support
When things go wrong at your online casino of choice, it is incredibly important for you to have a customer support system that you can absolutely rely on. After all, we're talking about your money here – if your deposit doesn't go through, or your withdrawal requests keep being denied, you'd want to know why, right?
Well, if you're hoping for an experienced, knowledgeable and polite support team at Golden Lion Casino, prepare to be disappointed. Our experiences with their customer support were extremely negative, and it didn't seem like their agents even knew very basic things about it. They couldn't even tell us when it was founded! If they don't know that, how can we expect them to know how to solve major issues regarding your money?
True, there are a lot of methods to reach the support team – through live chat, e-mail and over the phone. This is something that we would usually praise, but not when all three of these methods will be equally useless at solving pretty much any issue you might be having.
| | |
| --- | --- |
| Live Chat support | 24/7 |
| Phone support | +1 888 959 44 28 |
| E-mail support | [email protected] |
| Ticketing system | No |
Mobile casino
Having a well-functional, feature-rich mobile casino is one of the most important things for any gambling site. Why? Well… You're probably reading this very review from your phone, and if so, you know exactly why! Most casino players today simply prefer to use their phone to spin pokies rather than lean over their computer monitors.
As such, it is rather baffling to us that Golden Lion Casino doesn't even have a dedicated mobile version. Most online casinos will display different versions of the site depending on what device you use it on – for example, the PC version will have a lot of colors and interactive elements on a larger screen, while the mobile version has larger buttons and less flashy stuff for faster loading.
Golden Lion Casino doesn't really do that, and it presents the exact same desktop version on mobile. This means that, as it's not properly optimized for mobile, loading times will be long and some games will not even be playable – and there is no indication which ones those are until you try them from your phone. It is beyond frustrating, and frankly, an incredibly glaring oversight.
| | |
| --- | --- |
| Interface | |
| Mobile version | YES |
| iOS App | No |
| Android APP | No |