FairGO Casino Review
We've always taken great care to review as many casinos available to Aussies as possible – and so, when we spotted a casino that is aimed solely at those living down under, we knew we had to pounce on it quickly! Indeed, FairGO Casino has enjoyed a fair bit of popularity, given its cute koala motif and the fact that it appears to only be open to Australian players. Which is quite rare!
As such, we decided to investigate and see if it's worth the attention it's been getting. In this thorough and comprehensive review, we're going to explain its bonuses, games, extra features, payment methods and more in order to give you a full picture of the casino, warts and all.
So, should this koala get your hard-earned eucalyptus leaves, or does it deserve to be locked up in a zoo and never see the light of day?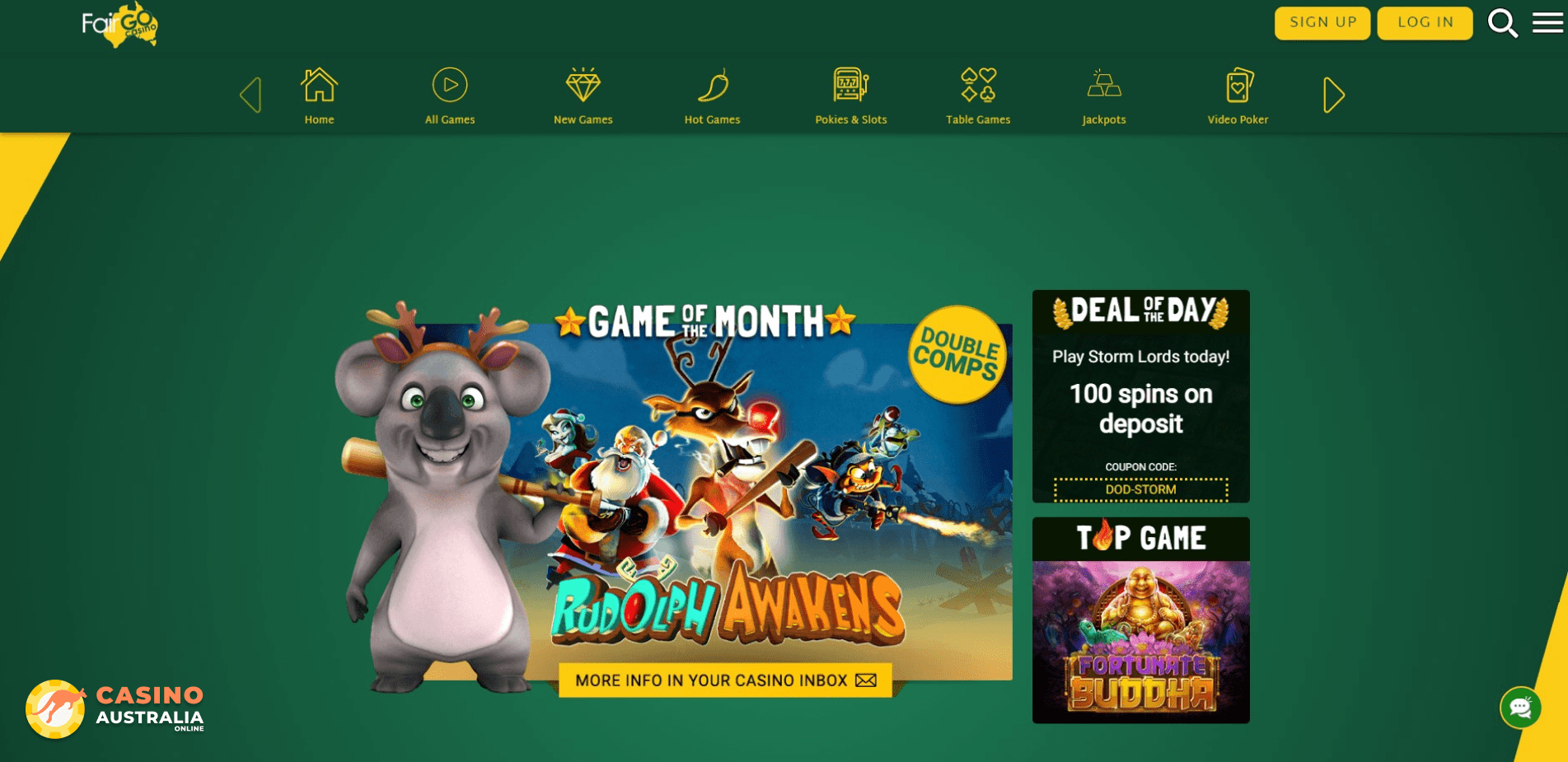 Bonuses
Welcome Bonus – 100% Match up to AU$1,000
At first glance, this actually doesn't seem like a bad deal at all! While it's a bit of a bummer that the casino doesn't offer any free spins on pokies, the amount you get with the match bonus is plentiful enough to let you enjoy whatever games you want.
Alas, there are a few major caveats. The first is that you won't be getting the entire bonus at once – instead, it'll be spread across your first 5 deposits, each netting you a 100% match up to AU$200. This, in turn, requires you to remain loyal to the casino and keep depositing over and over again to claim the full amount.
While the minimum deposit required to claim the bonus is very low (only AU$20), the same can't be said about its wagering requirements, which are a staggering x60 – pretty much guaranteeing you'll never be able to withdraw. Still, if you decide to give it a show, remember to use the bonus code "WELCOME" when making your deposit.
Fun Monday – 25 Free Spins on The Mariachi 5
If you're missing some free spins from the welcome offer, you don't need to worry – this special reload promotion will let you net some every week, at least for a while.
By depositing at least AU$20 on Monday using the bonus code "MARI-25", you'll automatically be credited with 25 free spins to use on the game "The Mariachi 5" by Real Time Gaming. Of course, all winnings will have to be wagered x60 times before they can be withdrawn, but that doesn't mean you can't have a little fun with a decent pokie every Monday!
Deposit With Neosurf & Claim 200% Bonus
It appears that FairGO really wants you to deposit with Neosurf – enough to reward you with a fat deposit for doing so! The first time you deposit using Neosurf, be sure to use the bonus code "200-NEO", which will net you a 200% bonus up to AU$1,000. That's way better than even the welcome bonus!
Of course, just like with all other bonuses, you'll need to wager your bonus amount x60 times before you can withdraw it. But since this is the same wagering requirement as the welcome bonus, it makes more sense to just claim this bonus as a high roller rather than the welcome bonus.
Fair Draw – Deposit on the Weekend for Giveaway Chance
Bonuses aren't always about free spins and percentage matches. Sometimes, they're as simple as giving you a chance to win a reward or two! And what reward is better than cold, hard cash?
By placing a deposit of at least AU$20 between Friday and Sunday, you'll automatically be placed in a raffle, becoming eligible to win between AU$50 and AU$500 every single week. Whether these rewards are bonuses (that need to be wagered x60 times) or cash prizes (which only need to be wagered once) is, sadly, unknown.
But, if you're going to deposit anyway, it's worth a shot – what have you got to lose? Especially since there's no bonus code or any other requirement in order to enter!

Games
The games at FairGO Casino can be described in 3 words – pokies, pokies, pokies! Yep, hopefully you're a big fan of slots, because that's the vast majority of what you'll be finding at this casino. It doesn't have a live betting section, and only offers a grand total of 8 table games. The rest of that is just pokies.
While we understand that slot games have a huge following, it's admittedly a little disappointing to see such a profound lack of anything else on the site. We can only hope that additional table games will be added eventually.
| | |
| --- | --- |
| Games | |
| Software providers | Real Time Gaming |
| Pokies | 150+ |
| Live casino | No |
| Sports betting | No |
| Table Games | Yes |
Pokies
As of the time of this writing, every single one of FairGO's pokies has been provided by a single company, namely Real Time Gaming (RTG). The casino hosts about 150 different pokies, each one developed by the same company. Missing are beloved developers like Play'N GO or Nolimit City, or more common ones like Yggdrasil or IGTech, or even just completely obscure ones.
To the casino's credit, there is a bit of variety in style, and some of the pokies offer progressive jackpots, which is always nice to see. But ultimately, there's only so much diversity you can enjoy when all of your games have been made by the same people – especially when the games aren't really that many. Provided you try out just 5 slots per day (which can be done in maybe 30-40 minutes), it'll take you about a month to see everything the casino has to offer, and that's a terrible look no matter how we spin it.
Live casino
Unfortunately, FairGO Casino does not currently offer any kind of live game offerings. We understand that this will be a big deal breaker for many players, given the popularity of games like live blackjack and roulette. However, the best we can do is keep a close eye on FairGO Casino and update our review if the situation ever changes.
Deposits & Withdrawals
Let's not mince words here – the deposit and withdrawal options at FairGO Casino leave a lot to be desired. For starters, there really aren't a lot of them. You can only deposit through a handful of methods, namely credit cards, pre-paid vouchers (namely NeoSurf and CashtoCode) and one, single e-wallet service, eZee Wallet.
On the crypto front, things are somehow even worse, with a mere two cryptos available – Bitcoin and Litecoin. If you're a crypto enthusiast who prefers to deposit using Ripple, Tether or Ethereum (and we know there's plenty of reasons to prefer them over Bitcoin), well, you're fresh out of luck.
But the worst part is the lack of withdrawal methods. You can only withdraw using three – count them, THREE – methods: eZee Wallet, Bitcoin and bank transfer. And even that wouldn't be so bad if you didn't have a minimum withdrawal of AU$100, which is rather outrageous.
| | |
| --- | --- |
| Payments | |
| Minimum deposit | AU$10 |
| Minimum withdrawal | AU$100 |
| Maximum withdrawal | Per week – AU$7,500 |
| Deposit methods | MasterCard, Visa, eZee Wallet, NeoSurf, CashtoCode |
| Crypto currencies accepted | BTC, LITE |
| Australian Dollars accepted | Yes |
| Welcome bonus package | AU$1,000 |
Withdrawal time
How long it would take you to withdraw your winnings will depend entirely on which of the three withdrawal methods you select. While the casino states that it would take 2 business days to process any and all withdrawals, we've found that this isn't usually the case, especially when using bank transfer, which can take up to 15 days.
Similarly, withdrawals using Bitcoin can be rather slow, as the blockchain for this crypto can't process too many transactions at once and gets 'congested' easily. eZee Wallet will probably be the fastest, but even then, we'd give it a few days before you reach out to support to ask where your money is.
It is very important for us to warn players that choose to participate at FairGO Casino NOT to claim any bonuses while they have winnings on their account – even ones they're in the process of withdrawing! The casino will forfeit ALL winnings (even those you've withdrawn and are currently being processed) if you claim any kind of bonus. This is a common issue that several players have already encountered, and FairGO Casino has refused to budge on this stance.

VIP Program
A loyalty program is one of the best and easiest ways for a casino to rewards its most persistent players, ones who stuck by it for a long time (years in many cases) and have wagered hundreds, if not thousands of dollars there. In regards to FairGO's VIP program, we've got good news and bad news.
The good news is that, apparently, there is one. The promotions page advertises it, claiming that you can receive up to 40% cashback in exclusive bonuses as part of the VIP program. The bad news? We really can't tell you much more about it, as that information is missing from the site. The promotions page only asks you to "contact us for more information".
So we did! We reached out to customer support to ask for more details about the VIP program, and at first, support denied that one exists, and then directed us to sections of the site that don't exist that supposedly contain more information. During our research, we discovered that the VIP program isn't too different from what other casinos offer (where you collect "comp points" by placing bets on various games and level up your rank as you accumulate them), but without anything more concrete listed on the actual site, we have no way of knowing whether the promotion is even current.
Much like the classic question of whether a tree falling in the forest makes any sound if there's no one to hear it, we have to wonder if a VIP program truly exists if there's no concrete information about it.
Tournaments
Many fans of pokies enjoy taking part in tournaments – by placing as many spins as possible on select slots, you'll climb up the leaderboards and earn wonderful prizes! While tournaments aren't a big focus at FairGO Casino (while there is a dedicated tournaments section, it doesn't appear to be functional as of the time of this writing), there are some that can be found as temporary promotions.
Players who live and breathe for tournaments won't really find much to love here, but those who only see them as more casual entertainment should be satisfied with both their frequency and the rewards. There is a themed tournament once every few months that lasts for a good while, with rewards that actually get fairly high (up to AU$10,000 in prize pool). While the long length of the tournaments mean that dedicated high rollers will stand an almost insurmountable edge over more casual players, we can't deny the fun said high rollers will get from their participation, or the prizes they stand to gain.
Verification
Before you're able to withdraw your winnings from FairGO Casino, you'll have to go through a process of verification. This is done in every online casino, whether targeted at Australian players or those of any other nationality, and it's done in compliance with international money laundering regulations.
As such, when you make a withdrawal request at FairGO Casino, you'll have to submit several documents to their support team. The ones all players will have to submit are proof of identity (such as photos of your ID card from the front and back) and proof of address (like a utility bill with your name and address) to confirm you are indeed a citizen of Australia.
Furthermore, if you've chosen to deposit using a credit card, you'll also have to fill out a special form (available on the site) and submit photos of your card from the front and back, alongside authorization documents from your bank proving that you are the owner of this payment method or authorized to use it.
Is FairGO Casino Legit & safe?
According to Australian law, it is strictly illegal for players physically located in Australia to participate in casinos that don't have at least an offshore license. As such, it is vitally important that any casino servicing Aussies to have a license from Curacao, Malta or another gaming authority. This goes double for casinos that are expressly targeting players from Australia.
As such, it is profoundly disappointing that we failed to verify that FairGO has a legitimate license. While the casino claims it's licensed by the Curacao Gaming Authority, its license number (or a link to its certificate) isn't provided anywhere on the casino's pages. Furthermore, attempts to confirm the license with the support team proved completely inefficient. We've double-checked with other players, who have confirmed for us that they were not able to find any proof that FairGO Casino is licensed.
As such, players from Australia are advised to very strongly consider whether they wish to participate in this casino or not, as doing so may pose a considerable legal liability.
Customer support
When you experience a serious issue with the online casino, such as your withdrawal requests not going through, or your bonuses not appearing in your account, you'll have no choice but to turn to the customer support. That's why it's very important for the support team to be reliable, knowledgeable and trustworthy – they're the mates you're supposed to have in your corner when you're backed against the ropes!
Sadly, our impression of FairGO Casino's support team was far from positive. Our conversation with them lasted for over 30 minutes due to severely delayed responses and circling around questions rather than answering them. To be blunt, it appeared to us that the support representative we spoke with didn't even know which site they were supposed to be supporting, as their instructions on where we could find various features didn't match reality at all, and several of the things they told us were not factual.
Could it have been bad luck, just us stumbling upon an inept representative when everyone else is highly qualified? Possibly! But if it happened to us, it could happen to you too, and it wouldn't be honest of us if we didn't say exactly what our experiences were. Even though they were far from positive.
| | |
| --- | --- |
| Live Chat support | 24/7 |
| Phone support | NO |
| E-mail support | [email protected] |
| Ticketing system | NO |

Mobile casino
The mobile version of FairGO is functional, albeit not without many flaws. For one, it loads rather slowly, even with a quick connection and a decent device. It was our impression that the mobile version wasn't particularly well optimized for most devices, which is a shame considering the fact that the majority of gamblers prefer to play on mobile rather than on desktop.
What adds to our impression is that a lot of pages would open as new tabs rather than on the same one, which creates further strain on the device and shouldn't really be the case with most mobile casinos. Of course, the biggest offender of all is that there are certain features missing from the mobile version which are available on desktop, like the ability to test out games in demo mode without an account.
It is honestly rather baffling how little care and effort appears to have gone in FairGO Casino's mobile version, especially given its popularity.
| | |
| --- | --- |
| Interface | |
| Mobile version | YES |
| iOS App | No |
| Android APP | No |