DogsFortune Casino Review
The next year of the dog may be all the way in 2030, but that doesn't mean you can't get the dog's fortune right now… Or so DogsFortune Casino advertises, anyway! But we at casinoaustraliaonline.com have always been bigger fans of raw facts over astrology, so when we remove the luck element from it, how well does DogsFortune Casino stack up against its contemporaries?
To find out, we decided to thoroughly examine every aspect of it, including its games, promotions, payment features, safety measures and other things that players just like you would be highly interested of! After that, we compiled all of our thoughts into a very long and very detailed review! Wanna read it? Well, okay, but only because we love you!
Bonuses
Welcome Bonus – 150% Match up to €2,000 or 1 BTC
It's no secret that most online casinos mostly attract players via their welcome bonuses – that's why many of them are so big! DogsFortune is certainly no slouch in that department, as they're offering any new players a staggering 150% match up to €2,000 (or 1 BTC if you're depositing in that currency. Granted, 150% isn't the highest we've ever seen for an online casino (especially one specializing in crypto), but it's still a very decent amount that you won't hear us complain about!
To claim this lovely little bonus, you'll need to make a deposit of at least €20 the first time you're buying chips at DogsFortune Casino. This means that, with this minimum amount, you'll have a total of €50 to play with, which isn't a bad sum at all. What's more, you'll have 30 days to wager it x25 times, which may sound like a lot, but it's actually below average for most casinos (usually you'll see wagering requirements of x30-35).
So, to sum up, you have a bonus with a good match percentage, a high maximum amount, and low wagering requirements. Sounds a lot like the perfect bonus to us!
Additional Welcome Bonuses – Up to €6,000
You didn't think you'd get away with just one measly welcome bonus, did you? No way! DogsFortune Casino will let you grab three additional welcome bonuses, one each for your second, third and fourth time depositing. On top of that, the bonuses are actually really great! Here's what each of them will net you:
| | |
| --- | --- |
| Deposit | Bonus |
| Second | 50% Match up to €2,000 or 1 BTC |
| Third | 75% Match up to €2,000 or 1 BTC |
| Fourth | 50% Match up to €2,000 or 1 BTC |
As you can see, the maximum bonus you can receive is the same across all four bonuses – the only thing that changes is what the percentage match will be. Another thing that will remain the same are the conditions for claiming and cashing out the bonus: just like with the welcome offer, you'll need to deposit at least €20 to claim each of these offers, and you'll need to wager the bonus x25 times to withdraw it.
Reload Promotions at DogsFortune Casino
The worst part about welcome packages is that once they run out, you can't get them anymore! Or… Can you? DogsFortune says yes, and they're providing you with multiple opportunities to get bonuses long after you've exhausted your welcome ones. While we won't be covering all of them (especially since they might change in the future), it's worth mentioning at least a few so that you can get a good idea of what you can expect.
If you deposit on a Monday, you'll receive a 40% match up to €2,000. A Wednesday will bring that down to a meager 25%, but don't worry, on the weekends you'll be able to receive a staggering 75% match up to €2,000! Considering the fact that the minimum requirements for all bonuses are set to x25, it is absolute insanity to have reload promotions that are literally better than some of the welcome offers… And we're crazy about it!
Games
While we certainly have a few issues with DogsFortune Casino's games selection (which we'll get into a little bit later), we can't help but commend the diversity of content on display here. You'll be able to enjoy casino games at this online casino (big shocker, we know), but also a plethora of other features – skill based games, sports betting, virtual betting, even horse racing!
One thing to note is that while there are indeed a lot of types of games, the games within those categories are rather few in number. For example, once you open up the skill-based pokies (referred to as "mini games" here), you'll only find 8 different titles available. While it's enough for the average gambler who just wants to dip their toes, the hardcorecrowd looking for a comprehensive all-in-one site might be disappointed.
| | |
| --- | --- |
| Games | |
| Software providers | BetSoft, Felix Gaming, MrSlotty, Tom Horn, Wazdan, Yggdrasil & More |
| Pokies | 2,000+ |
| Live casino | Yes |
| Sports betting | Yes |
| Table Games | Yes |
Pokies
At a glance, it appears that DogsFortune Casino is positively brimming with pokies! You'll see thousands upon thousands of games from dozens of different providers, an absolute treat that's enough to give choice paralysis to even the most decisive players! However, when you actually try to play them, most will not work. They won't even tell you why, they'll just give an error pop-up. What's going on?
Well, the fact of the matter is that most of these games aren't available in Australia – the providers that created them have not permitted Aussies to play them. This is completely normal, nearly every casino we've reviewed has had its share of 'blocked' pokies, but most casinos tend to hide them from view to avoid confusing players with meaningless options. DogsFortune Casino not only doesn't do that, but will also not even tell you why you can't play many of the games. The error message will either be blank or will say "This game is not available at your casino", which is rather humorous.
Not like what's here is bad, mind you – you'll find titles from seasoned providers like Yggdrasil, Tom Horn and Betsoft. But, as it stands, we simply can't give any praise to this mess of a section. If you're a new player who doesn't want to think about the law and just enjoy some pokies, chances are you'll be more annoyed than entertained.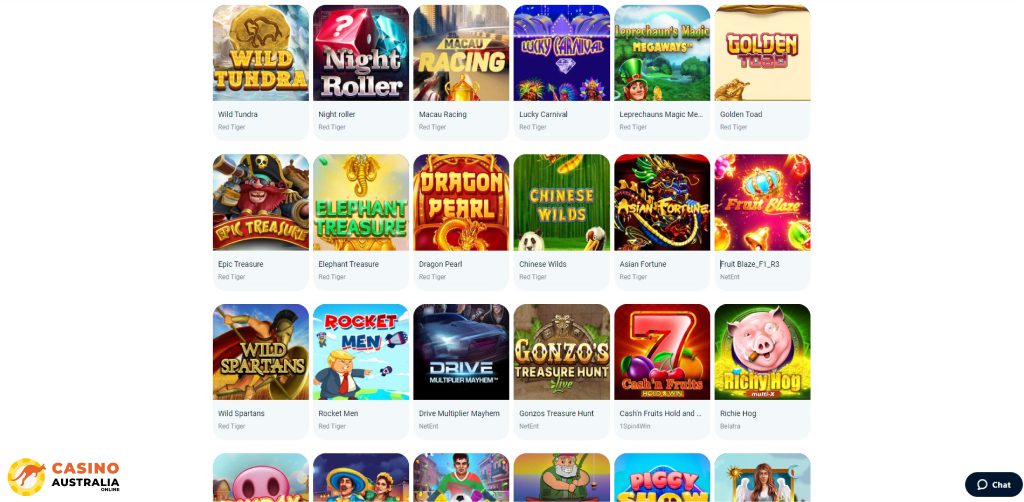 Live casino
Unlike the pokies section, at least the live dealer one is actually fairly decent. You'll find a very good diversity of options, both in terms of the available games and in terms of the rooms and dealers you can pick from each one. For ease of use, you'll be able to filter them out by game in order to, say, only display the blackjack rooms, or ones for live game shows.
If we had to pick something that we were unhappy with, though, we'd certainly point to the way smaller games (like andar bahar or sic bo) are presented. While they're available, they don't really have their own category – they don't even have an "other games" category that groups them all together! This makes it very hard to find them, especially if you're not specifically looking for them and are just browsing around.
Deposits & Withdrawals
Our impressions of DogsFortune Casino's bonuses and games have been, overall, positive. Sadly, we can't say the same about its payment options, which are profoundly disappointing. To start off, the minimum withdrawal limit is set to a whopping €100! Meanwhile, the minimum deposit is only €20, which means that you'll need to win x5 times your initial deposit to withdraw if you've bought the minimum amount of chips required. It's ridiculous!
We're also unhappy with the site's payment methods… Or lack thereof. While this isn't strictly a crypto casino, the only non-crypto methods available for deposits and withdrawals are going to be your card and direct bank transfer. If you're someone who hoped to deposit via an e-wallet, like Neteller or Astropay, or a pre-paid solution like Neosurf – forget about it!

Things are much better on the crypto front, but it's still nothing to write home about. You'll be able to deposit using a number of alt coins, including the most popular ones like Bitcoin or Ethereum, If you're looking for currencies that are less than popular, though, prepare to be disappointed.
Payments

Minimum deposit

€20

Minimum withdrawal

€100

Maximum withdrawal

Per week – €20,000

Per month – €50,000

Deposit methods

Visa, MasterCard, Bank Transfer

Crypto currencies accepted

BTC, ETH, BCH, LTC, USDT, DOGE

Australian Dollars accepted

No

Welcome bonus package

€8,000
Withdrawal time
Let's be real here – even though DogsFortune Casino technically gives you the option to deposit via card or bank transfer, it would very much prefer it if you deposit via crypto. The process is much faster and easier for both parties that way, and chances are if you choose to deposit and withdraw via bitcoin, you'll only need to wait a few days for your transaction, tops.
But crypto isn't for everyone (which is the reason why the flat currency options are there in the first place). However, if you choose to withdraw into your card after all, be ready to wait for up to a week! That period is even longer when you're withdrawing via bank transfer, up to 10 days. While we're sure this wouldn't be a problem for some, for others it'll be an undisputed deal breaker.
VIP Program
As of the time of writing, DogsFortune Casino doesn't actually provide its players with any form of VIP program. If you were looking forward to collecting experience points to level up, or perhaps comp points to exchange for prizes, or even just a regular cashback that you can claim every week, well… Sorry to disappoint you, but you won't find anything like that here.
However, it's hard to hold that against DogsFortune Casino considering just how many bonuses it offers to regular players – hell, you can get a bonus that is literally better than half of the welcome package every weekend! Would it have been better if those bonuses were instead locked into some kind of VIP program that you needed to progress through to unlock them? We really aren't so sure.
Tournaments
Technically, DogsFortune Casino has tournaments, just like how a fish restaurant by the sea technically offers steak: just because it's there doesn't mean you can actually order it. Indeed, the "Tournaments" section of this site is almost completely empty, safe for a single, solitary tournament that, as of the time of writing, took place nearly 8 months ago.
While it's technically possible that between us committing these words to paper and you actually signing up for the casino the situation has significantly improved, we wouldn't really place any bets on it. If you're a big tournaments fan and prefer to climb leaderboards instead of playing pokies by yourself, this isn't the site for you.
Verification
Despite primarily accepting crypto, DogsFortune Casino still requires its players to undergo a verification process. This procedure, commonly known as KYC (know your customer), is required by law to both financial institutions and the companies that work with them, and the gist of it is that if a site allows private citizens to withdraw money from it, they need to have their identity verified to ensure that they're not criminals using the site for nefarious purposes.
Luckily, the verification procedure is rather simple. You'll need to have the following documents on hand:
Proof of ID – Any form of photo ID will do, like your driver's license;
Proof of address – Any official document with your name and address, like a bank statement;
Proof of payment method – This is only done if you deposited with a bank account or a debit card, and you'll need a document from the bank proving the account belongs to you or a photo of your card, respectively.
Once you have all that, then congratulations, the hard part is over! Now send them over to the support team and wait for them to reach back, hopefully with the good news that your account is now verified.
Is DogsFortune Casino Legit & safe?
Unfortunately, after thorough investigation, we have come to the conclusion that DogsFortune Casino is not a reliable or safe site – especially for Australians. For starters, the casino is completely unlicensed, meaning that it isn't regulated by any gambling authority. Even "weak" licenses, like Curacao (that will generally not step in to protect players) will at least pull the license of fraudulent casino. Obviously, that can't happen if a site doesn't have a license in the first place. It has nothing to lose.
On top of that, the casino has a very poor reputation with players, with plenty of players reporting that withdrawals were delayed or sometimes canceled without explanation. Granted, when it comes to user reviews there is always a chance that they can be unreliable (because angry players will always leave a bad review even if the casino isn't at fault), but here we've found a rather unfortunate amount of them – far too many to ignore.
Last, but not least, it's worth noting that DogsFortune proudly labels itself as a "Non-GamCare Casino", straight in its footer. GamCare is a self-exclusion program for people suffering from gambling addiction that allows them to, essentially, ban themselves from all online casinos for a period of time in the hopes that they can overcome their addiction. As such, non-GamCare casinos will deliberately not ban you even if you're registered with GamCare. Their existence is already a huge morally gray area, but there's nothing morally gray about advertising yourself as willing to exploit those suffering from gambling addiction.
Customer support
Got a question about DogsFortune Casino that we didn't cover in our review? You can always reach out to them via one of several ways built directly into the site! The most convenient one will, of course, be the live chat. In the bottom right corner you'll find a small "Chat" button which, upon being selected, will open up a small window. Type up your message and you'll be connected to an agent right away.
Alternatively, if your message isn't urgent, you can go to the Contacts page and submit a ticket through there by filling out a simple form. You can also just pretend we're still in the Interner revolution and send them an e-mail via your favorite client – either way, you'll receive a response in your inbox within 24 hours.
| | |
| --- | --- |
| Live Chat support | 24/7 |
| Phone support | NO |
| E-mail support | [email protected] |
| Ticketing system | Yes |
Mobile casino
We're guessing that you're currently reading this on your phone, aren't you? Did we get it right? Don't worry, we took a stab in the dark, although we simply could have created two versions of this review that change the wording depending on whether you view the site from your phone or desktop browser. In fact, that's exactly what DogsFortune Casino did – if you open their site from your phone you'll get a very different experience.
Admittedly, the biggest differences here are going to be the interface and layout. Mobile phones have a horizontal display (aka portrait), so the familiar website will be layered a bit differently. Make no mistake, though: all the games and bonuses will be right where you left them, and anything you could do on desktop you can also do on mobile.
| | |
| --- | --- |
| Interface | |
| Mobile version | YES |
| iOS App | No |
| Android APP | No |