Digits7 Casino Review
Many factors come into play when a new online casino is created, but players will always gravitate towards the ones that check the most boxes in terms of quality experience. Digits7 is a freshly emerged betting hub that Aussie players can enjoy since the beginning of this year. But is there much to be enjoyed?
At first glance, this casino gives off somewhat run-of-the-mill small establishment vibes, mainly thanks to its simple, dark layout. Further on, our observation is supported by a small game library, but some great promotions come close to compensating for that. A worrisome detail here is the lack of licensing information, but we won't hurry and write off this new betting hub without doing a proper check. We'll take a deep dive and explore all prominent features and key details about Digits7 to determine if it can redeem itself from a not-so-stellar first impression.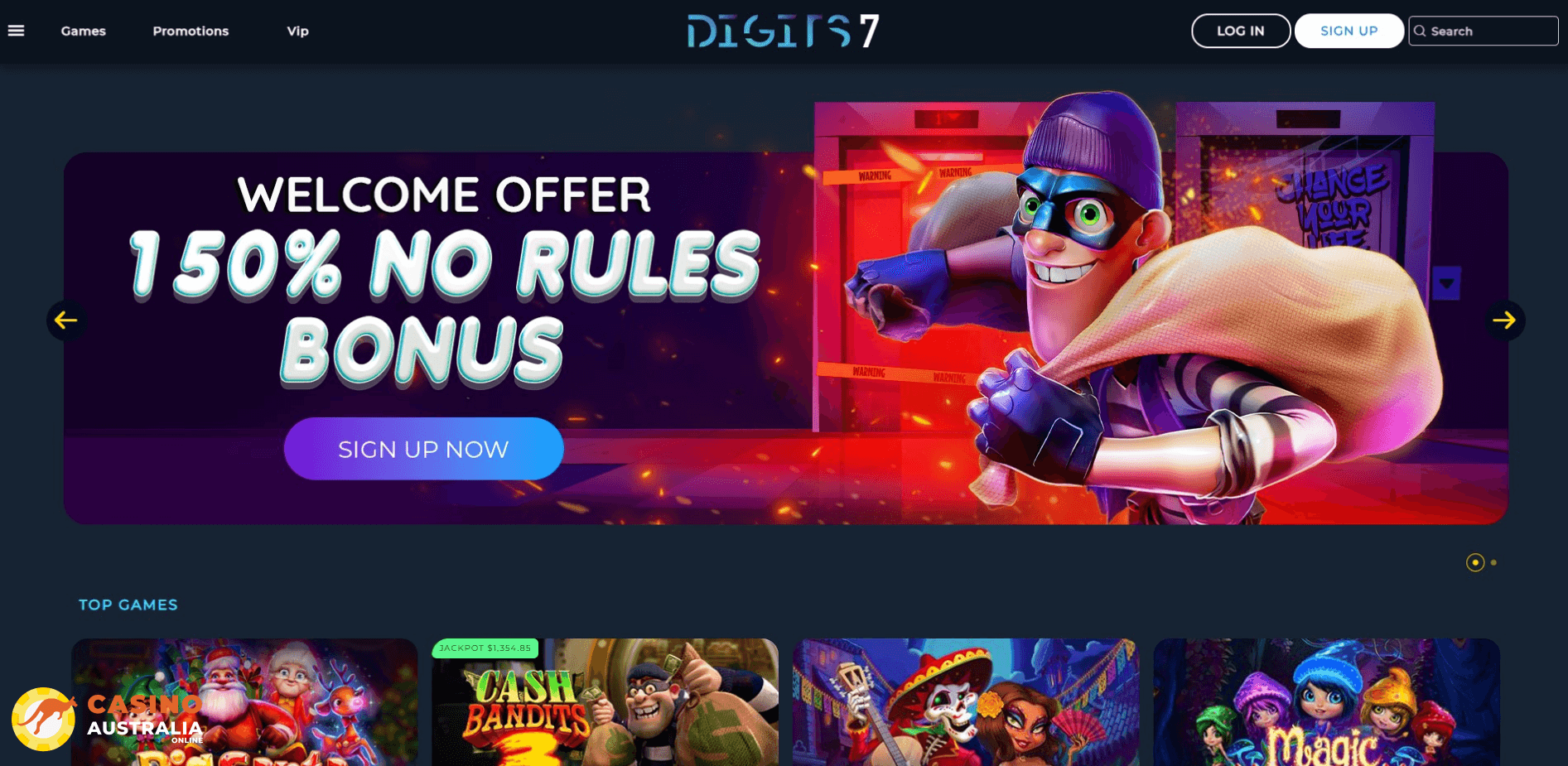 Bonuses
Bonus offers are often the difference between players stopping by to check out a casino and staying long-term to bet their hearts away. The competition for your attention nowadays is getting fiercer by the hour and establishments pour in all their creativity to come up with tempting, memorable incentives. It's rare to see an online betting hub offering just one or two bonuses, as the aim is to have a little something prepared for each step of your gambling journey. Digits7 is one of the creative casinos that has an excellent bonus selection.
Here, you will be surprised to see that an unconventional approach has been implemented – no welcome bonus is listed on the promotions page. Instead, what awaits you is the longest list of reload and match bonuses we've encountered. Most of them are redeemable during a specific time of the day or the week, and let us tell you, the percentages you'll see are off the charts! Apart from them, there's also a free spins bonus you can grab if you're a fan of this type of promotion.
Perpetual Match Bonus – 170% Unlimited All-Day Match Bonus
Starting with the first of many bonuses at Digits7 that seem to aim for as many deposits from you as possible in a day, there's the 170% Unlimited Match Bonus you can claim every day, just as long as you deposit at least AU$ 20. Bonuses with no limit like this one are usually not all sunshine and rainbows either, as they tend to be backed by the max cashout limit, which is AU$ 50,000 for this one.
The playthrough requirement here is 30x, a little lower than the industry standard of 40x. You can fulfill it by playing pokies and keno. Don't forget to use the corresponding promo code to claim the promotion, which in this case is RELOAD.
Midnight Match Bonus – 190% Unlimited Daily Midnight Bonus
For all the night owls out there, Digits7 has a tailor-made bonus offer to put on the table. Every night, you can claim a 190% unlimited match bonus in exchange for a deposit of at least AU$ 40.
The max cashout for this one is AU$ 30, 000, and the wagering requirement is 8x, which is quite advantageous. You can snatch the promotion between 00:00 am to 05:59 am each night. Simply make sure to use promo code MIDNIGHT for it to work. As the previous match bonus, you can fulfill your wagering requirements by playing pokies and keno.
Daytime Match Bonus – 220% Unlimited Daily Bonus
Early birds are also backed by Digits7, and not only this but if you are one, you can enjoy an even higher match percentage than night owls. The early bird eats the worm, right?
By depositing at least AU$ 30 between 06:00 am and 10:29 am, you'll be able to enjoy a 220% unlimited match bonus. Of course, there is a max cashout set as a limit, and for this promotion, it's AU$ 50,000. This amount sounds astronomical anyways, so it doesn't feel all that restrictive. There's a 30x playthrough, which isn't too bad, and to claim the bonus you need to use promo code DAILY. Again, meeting the wagering requirements is only possible by playing pokies and keno.
Midday Match Bonus – 250% Unlimited Weekday Midday Bonus
We did say that the early bird eats the worm, but it seems that Digits7 rewards sleeping in even better! Each weekday between 10:00 am and 01:29 pm, depositing at least AU$ 38 will get you a 250% unlimited match bonus. You can redeem this one only 10 times in your betting journey at the establishment, but 10 is light years ahead of 'none'.
The max cashout for this one is AU$ 50,000 as well, and the promo code you need to enter at the cashier to claim the promo is MIDDAY. It's important to remember which games contribute to meeting your wagering requirements – in this case, it's all pokies and keno. Said wagering requirements for the Midday bonus are the standard 30x.
Golden Hour Bonus – 280% Daily Limited Time Bonus
The Golden Hour isn't just a thing for good selfies anymore – Digits7 provides the opportunity to snatch its highest match percentage bonus between 04:00 pm and 05:59 pm. We're talking 280% unlimited match bonus that you can claim daily!
A golden hour might be a phenomenon that happens just in two hours each day, but you can claim this bonus inspired by it a whopping 10 times in the same time frame. The minimum deposit amount is AU$ 50, and the wagering requirement tied to the bonus is 18x. The maximum you can cash out is 20x and, like with all other match bonuses at Digits7, you can meet playthrough conditions by playing pokies and keno. Don't forget to use promo code 2HOURS at the cashier to hop in on the promotion.
Free Spins Bonus – 25 Free Spins Daily Bonus
If you've deposited Digits7 in the last 7 days, you'll automatically receive 25 free spins, and the chance to do so is available every day. What a way to feel compelled to keep depositing, right?
The max cashout for this one is AU$ 100, and the playthrough requirement is 20x – not too bad. You can only redeem the bonus once a day, which is completely understandable, given that it's free.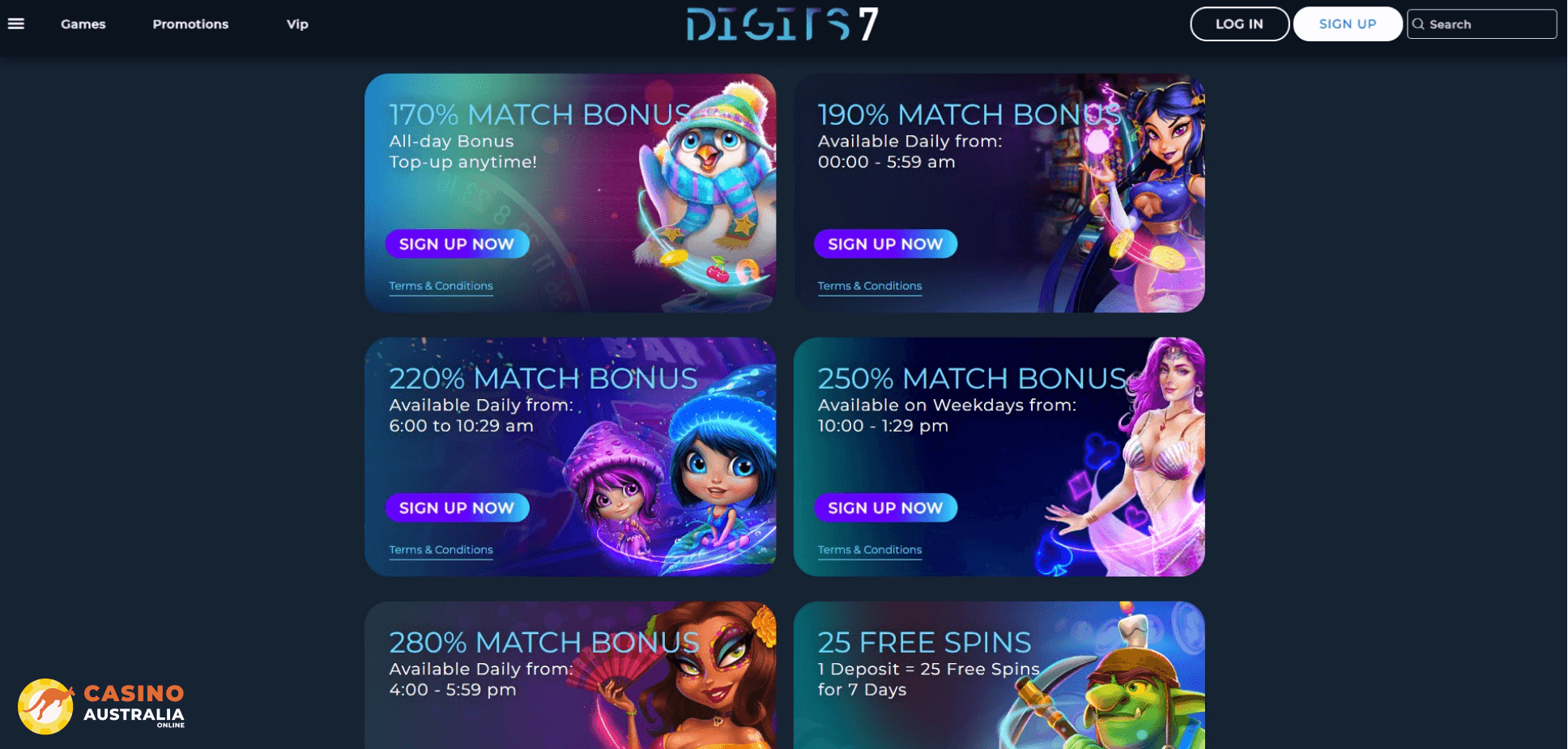 Games
When we mentioned online casinos having a harder and harder time with competition and needing to come up with more creative ways to get your attention, we had games in mind, too. Many betting hubs aim to curate the biggest possible game library, offer as many genres as they can, and to wow players with an ocean of options. We need to keep in mind that all these efforts' aim is providing an unforgettable gaming experience, so when some casinos go a different route to provide the same result, their approach is commendable, too.
Digits7 is one of the few casinos out there that has signed an exclusivity deal with one sole game provider, namely – Real Time Gaming (RTG). This is a brave step with questionable results, as what you'll get in the end is an extremely small game library of fewer than 200 titles, which is exactly the case here as well. On the flip side, this is an innovative approach that is set on delivering a consistent gaming ambiance and allows the concentrated exploration of one game provider with no distractions.
Here, you'll be able to enjoy fun pokies, blackjack, roulette, video pokies, card games, and some more exciting titles by RTG.
| | |
| --- | --- |
| Games | |
| Software providers | Real Time Gaming (RTG) |
| Pokies | 180+ |
| Live Casino | No |
| Sports betting | No |
| Table Games | Yes |
Pokies and Providers
Pokies have proven to be the centerpiece of almost any online casino game library we've encountered in the thousands of reviews we've written. This is so for a good reason, as no other genre can compare to the immersive, diverse universe of pokies where themes never end, innovation is constant, and the gameplay is easy-breezy.
While there aren't thousands of pokies in Digits7's library, the ones that are at your disposal are all brilliant, exciting, and quite varied! The titles we enjoyed the most are Great Temple, Fortunes of Olympus, Cash Bandits Museum Heist, Thai Emerald, Gem Strike, Fortunate Buddha, Count Cashtacular, Meerkat Misfits, Mardi Gras Magic, Ceasar's Empire, Builder Beaver, and Clear Waters.
Talking about providers, as previously mentioned, Digits7 has an exclusivity deal with Real Time Gaming (RTG). The reasons for such a deal may vary – low finances, decreasing operational costs, consistent brand image, or strategic marketing.
The end result of an exclusivity deal is questionable and often disputed in the iGaming community. Some see the benefits of small game libraries with consistent quality, while others prefer having as many options as possible. Needless to say, the second type of player may find Digits7's game selection severely lacking.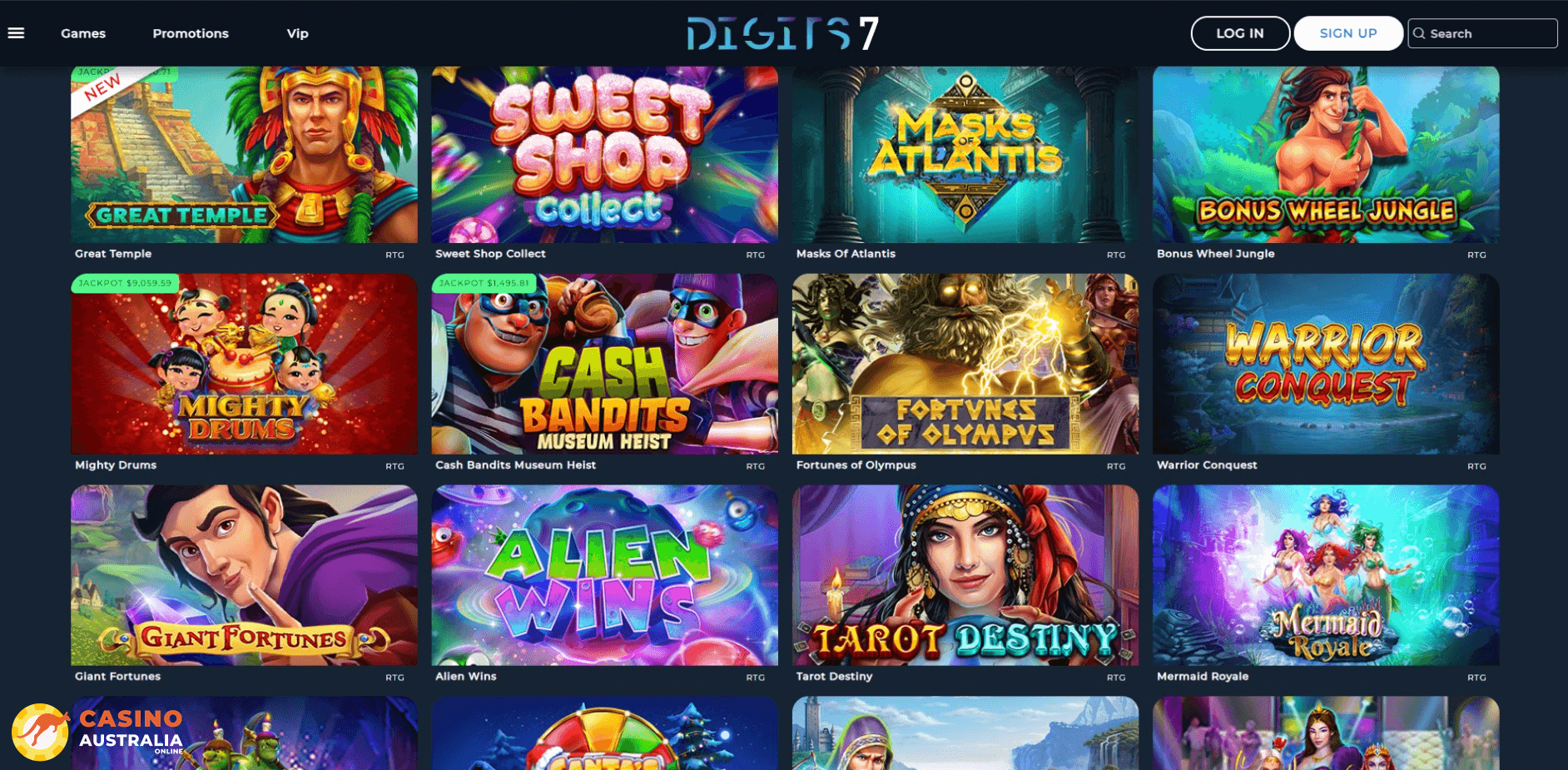 Live Casino
Digits7 is a betting hub where you'll mainly find pokies and table games, so the live equivalent of the second option we just mentioned is either put on the back burner or not considered as a future plan by the casino at all.
Live casino games are one of the most alluring features of any online betting establishment, and their absence may come as an unpleasant surprise to many players. Human interaction from the comfort of your own home, charming and oftentimes good-looking company, professionalism, and an interactive thrill are among the many benefits that you won't be able to find at Digits7 due to its lack of live casino games.
Deposits & Withdrawals
Every player steps into the iGaming scene with the hope of some financial gains, apart from the exciting thrill that comes with betting. This is why, naturally, the way that transactions are handled by a given online casino is key to its overall dependability and reputation. What seasoned players look for in the financial aspect of betting hubs is a wide range of payment options, reasonable withdrawal time, and most of all, fair withdrawal policies.
We at casinoaustraliaonline.com aim to always provide you with an accurate picture of what our review subjects can offer in terms of financial security, range of options, and fairness. If you want to know whether Digits7 is a reliable place to deposit and play to your heart's content, look no further as we'll give you the inside scoop.
Deposits
Depositing at Digits7 is as easy as it gets. This is oftentimes the case, as casinos want you to invest real money in their system as soon as possible. Still, an easy transactional process is a plus for both sides.
The payment options at Digits7 are too few compared to most casinos that debut nowadays, but at least there are both crypto and fiat variants to choose from. Fiat fans can deposit using Visa, Mastercard, or Neosurf, while crypto users can do so with Bitcoin or eZeeWallet.
The only accepted currency at the casino is AUD, which is perfect for all of us, Aussie players. The minimum deposit here is AU$ 20, which is more or less the standard for the industry and isn't too daunting at all.
Withdrawals
It's easy to pour your money into an online casino account, but where it gets tricky is when you decide you wish to withdraw some of your winnings. Many casinos are lined with pitfalls, small prints, and frustrating conditions, so it's extremely important to always be well-informed on the specifics beforehand. No matter how many reviews you read, it's crucial to always read the terms and conditions line by line and use your best judgment when making financial decisions.
With that being said, withdrawals at Digits7 don't seem immediately alarming in any way. You can receive your money the same way you deposited them, unless there are some special circumstances involved. The minimum withdrawal amount is AU$ 100, which is quite steep and may deter some players.
The maximum deposit and withdrawal limits are identical and depend on the payment method. For Visa and Mastercard users, said limits are AU$ 100 per transaction, and AU$ 10,000 daily. Using NeoSurf allows you to deposit or withdraw AU$ 500 per transaction, and there's no daily limit. Depositing with eZee Wallet limits you to AU$ 100 per transaction as well, but the daily limit is a whopping AU$ 100,000. Last but not least, with Bitcoin, you can deposit or withdraw AU$ 1000 per transaction, and no daily limit is imposed.
| | |
| --- | --- |
| Payments | |
| Minimum deposit | AU$ 20 |
| Minimum withdrawal | AU$ 100 |
| Deposit methods | Visa, Mastercard, Bitcoin, etc.; |
| Fiat currencies accepted | YES |
| Australian Dollars accepted  | YES |
| Cryptocurrencies accepted | YES |
| Welcome bonus package | NO |
Withdrawal time
Digits7 states that it processes withdrawal requests within 48 hours. This is considered quite quick for the industry and many players would be delighted to hear the time frame. That is if all is in order with your account activity and documentation.
In case you request a substantial withdrawal that goes beyond three digits, you wil most likely be asked to prove your identity with an ID, proof of address, and potentially some other documents.
VIP Program
Digits7 may be a small online casino, but big rewards await you once you enter its VIP program. There are 6 tiers you can ascend, and each brings more exciting benefits than the last one. The program rewards you with points for your real money deposits. The more you deposit, the higher your VIP level is.
Some of the perks include a VIP manager, reel chips, free spins, exclusive promotions, cashback, gifts and much more!
Tournaments
Digits7 is on the fence about tournaments – it holds some from time to time, and only registered players can see details about the events. It's great to see that the establishment being new and small doesn't stop it from providing opportunities for the most competitive of players among their regulars.
Verification
Verification at Digits7 is pretty much the same as anywhere else. Some minor details like confirming your email address or phone number will be step one, and step two would come later, once you request a withdrawal. Then, you'll need to provide a valid, government-issued ID such as gov. ID or driver's license, proof of address, and proof of ownership over the payment method you're using on the casino's premises.
Is Digits7 Legit?
Digits7 doesn't inspire a lot of trust with it's undisclosed ownership and licensing information. If you choose to play at such an online casino, you're practically left at the mercy of the unknown owner. You deposit money, play, and then, when it comes to paying out, the only thing you can do is keep your fingers crossed. If you're not a fan of this particular type of adrenaline rush, we'd suggest you skip Digits7.
| | |
| --- | --- |
| License | Undisclosed |
| License number | Undisclosed |
| Company address | Undisclosed |
Customer support
Digits7 offers customer support in a wide array of languages via 24/7 live chat and email channels. We wouldn't score our experience too high, as the representatives we managed to contact were rather cold and procedural, with lacking soft skills.
| | |
| --- | --- |
| Live Chat Support | Yes |
| Phone Support | No |
| E-mail Support | Yes |
| Ticketing System | No |

Mobile Casino
Digits7 makes no exception to the rule that nowadays, every online casino should have an optimized mobile browser version for players who want to bet on the go. We didn't stumble upon any issues while checking out the mobile version of the website, so you can go ahead and play to your heart's content.
| | |
| --- | --- |
| Interface | |
| Mobile version | YES |
| iOS App | NO |
| Android APP | NO |