CrystalSpin Casino Review
CrystalSpin is a recently founded online betting hub that easily scores on the lower spectrum of our scale. While we always aim to provide an unbiased picture of the casinos we review, some simply manage to disappoint on most fronts from the get-go. Still, there is a small section of players who are so adventurous that they're willing to try every casino out there just for the sake of the experiment. They might be the main demographic of our article, but if you too are interested in exploring all aspects of CrystalSpin's below-averageness, keep on reading.
The main issue with this casino comes from the fact that it has no bonuses whatsoever. No incentives to welcome you, no promotions at all. Combine this with an offshore license, wonky design, and a poor game library, and you're in for a wild goose chase if you wish to discover this betting hub's positive attributes. Nevertheless, we at casinoaustraliaonline.com are set on providing you with a comprehensive breakdown of all the important aspects of CrystalSpin Casino, so let's get right into it!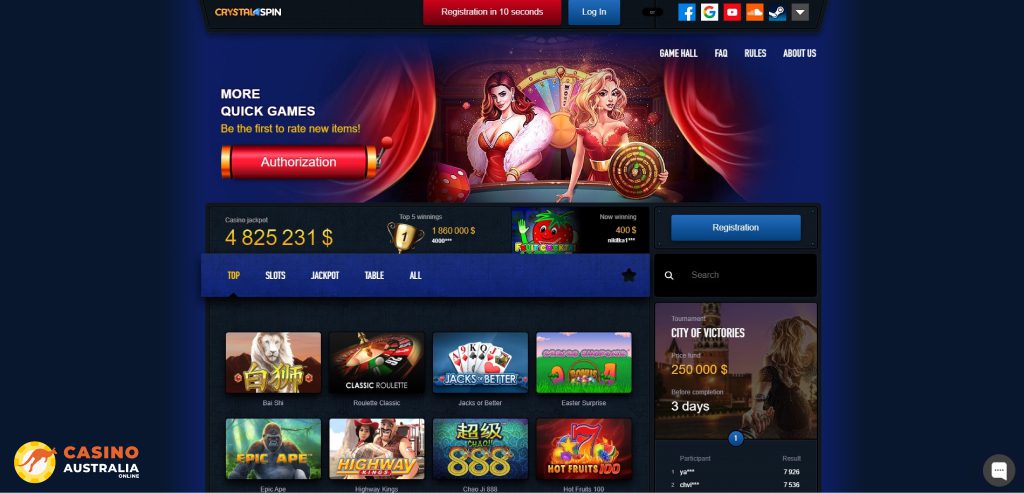 Bonuses
If you've been into online betting for longer than a couple of minutes, you either already know, or you've instinctively felt the gravity of a good list of promotions. When making a choice where to play, quality offers always contribute to the final pick. No one can hold your interest in the best of the best you can get against you, as any player would go for the casino that matches their expectations best and stick to it. Considering this tendency, there's no surprise in the fact that online casinos have been putting immense effort into curating the best incentives. To attract betting aficionados and encourage their loyalty, establishments harness all their creativity into coming up with more and more flashy offers. And then there's CrystalSpin.
If CrystalSpin was a person, it would be one who thinks that the best way to impress a girl is by not paying her any attention at all. As if we could perceive the lack of promotions in a positive way and read it like an attempt at originality, this online betting spot seems to have randomly chosen a way to royally flop. Not one welcome bonus, not one regular player incentive, not even a couple of free spins await you here. Now you can't wait to jump in and experience the thrill, right?
Games
Just like with bonuses, a good game library is a staple for any ambitious online casino that wishes to garner a base of regular players. The more means of entertainment you provide your visitors with, the more likely it is that they'll stay and explore the seemingly endless abundance of choices you've curated for them. An ideal game selection would have a lot of everything, as maximalist as this may sound. A combination of tons of pokies from as many providers as possible, classic table games, live casino games, mini-games, instant games, sports games, and sports betting would be perfect, and it's not like this is even a pipe dream. There are many casinos out there with game libraries that consist of all the listed genres and more. By now, you must be wondering how CrystalBet's game selection holds up to our standards, so the next paragraph is just for you.
CrystalSpin's game library is almost an antidote to what we just described in the previous few sentences. While one can have tons of fun with just a couple of hundred games, a huge selection will almost always beat a humble one. In this case, the casino's collection of games includes mainly pokies, but also some table games. There aren't even live casino games, but the 400 titles that are there, are quite enjoyable. Let's see what they're all about.
| | |
| --- | --- |
| Games | |
| Software providers | Novomatic, Igrosoft, Megajack, etc.; |
| Pokies | 400+ |
| Live Casino | No |
| Sports betting | No |
| Table Games | Yes |
Pokies and Providers
Pokies are usually the centerpiece of every game library nowadays. It is thanks to their endless versatility, fun graphics, and quirky themes. Based on the same slot principle, they're still as different from one another as they can be, which helps create a much-appreciated sense of novelty and excitement. If you want to know whether you're at a quality online casino, take a look at the pokies selection – the more there are, the better for your entertainment. After all, no matter how determined you are to play and win, if you feel like you're going in circles playing the same game over and over again, longevity will be out of the question. So, make sure to pick a spot with a stellar game library, unless you don't mind minimalism in this regard.
CrystalSpin is far from having a diverse game selection, but at least the 400 pokies that you can choose from are alright. The ones we loved the most turned out to be Age of Privateers, American Gangster, Admiral Nelson, Book of Fortune, Casinova, Caribbean Holidays, Dolphin's Pearl Deluxe, Elven Princess, Highway Kings, Vacation Station, Sakura Fruits, Diamond Cats, SiXiang, Great Blue, Anaconda Wild, Enchanted Cleopatra, Zhao Cai Jin Bao, and Bermuda Triangle.
Finding an incredible game library full of thousands of pokies and other intriguing games means that many gaming studios have invested their efforts into creating all the titles we enjoy. If you're a betting hub, having as many game suppliers back up your portfolio with their creations is the quickest, best path to a quality collection that players would enjoy. Not that it's impossible to curate an excellent player experience without having nearly 100 providers in your list, but their presence definitely helps.
Slightly disappointingly, but to no surprise, CrystalBet Casino's providers list is rather humble. There are four game suppliers in total that work with this establishment – Novomatic, Evople Entertainment, Megajack, and Igrosoft. Although coming from different studios, the games are mostly similar to one another, and all of them have a rather old-school vibe, but not in the coolest way. Still, there are some enjoyable titles.
Live Casino
Live Casino games are considered the second most beloved game genre after pokies by many, and especially by Aussie players. If there's a type of game that can immerse you in the closest possible variation of a real casino experience, this would be it. Moreover, the added benefit of comfort and location flexibility combined with the element of socialization delivered thanks to the professional live dealer and the presence of other real players always make live casino games an experience to remember. Most casinos nowadays aim to add at least a small selection of live casino games to appease players who simply don't want to go without them, but let's see if that's the case with CrystalBet.
CrystalBet, disappointingly, does not have a live casino section. This comes as a slight surprise, but at this point, maybe, we must accept that this betting hub simply doesn't want to do well.
Deposits & Withdrawals
Knowing how a casino conducts its financial transactions is of utmost importance, and even that is an understatement. To ensure the security of your funds and your peace of mind while playing, you need to always prepare yourself beforehand by getting closely acquainted with all terms and conditions, as well as using your best judgment to determine if the establishment is trustworthy enough. Ideally, you need to be looking for a betting hub where there are none to very low withdrawal fees, many deposit methods and accepted currencies, no pesky hidden conditions, a reasonable withdrawal time frame, and an adequate verification process.
We at casinoaustraliaonline.com always aim to provide you with the best breakdowns of all things money, so that you can feel secure and well-prepared before stepping in. If you're interested in knowing how CrystalSpin conducts its financial matters, and if it's yet another department where the betting hub disappoints, let's roll up our sleeves, get right into it, and see for ourselves.
Deposits
Even the shadiest of casinos make sure that their deposit process is seamless and comfortable for players. After all, your hard-earned money is the object of their desire and if it's too complicated to make a transaction, you might drop it mid-way. At CrystalSpin, though, even that process is somewhat disappointing.
The casino offers just a couple of payment methods, most of which are fiat, and a few crypto ones. You can make a transaction with Bank transfer, Bitcoin, Ethereum, Litecoin, MasterCard, PayPal, or Visa.
The accepted currencies are AUD, EUR, GBP, USD, and ZAR. The minimum deposit amount is AU$ 30, which is just around the industry standard.
Withdrawals
If there's one dreaded part of online betting, it must be the anxious wait after you make a first withdrawal request at a casino. The uncertainty of whether you'll actually get your winnings or be faced with some hassle is never completely out of the way, so it's important to prevent such situations way in advance. Making sure that the casino you'll potentially request a withdrawal from is trustworthy should happen before even making a deposit.
With that warning out of the way, let's see how withdrawals are conducted at CrystalSpin. The casino has the highest minimum withdrawal amount we've ever seen, set at AU$ 1500 – this alone is a red flag bigger than any of the ones your ex has had. Such a limit ensures that pretty much no one can even request a withdrawal, so it's best to avoid playing here in the first place.
| | |
| --- | --- |
| Payments | |
| Minimum deposit | AU$ 20 |
| Minimum withdrawal | AU$ 1500 |
| Deposit methods | Bank transfer, Bitcoin, Ethereum, etc.; |
| Fiat currencies accepted | YES |
| Australian Dollars accepted  | YES |
| Cryptocurrencies accepted | YES |
Withdrawal time
CrystalSpin promises almost instant payouts, with a stated time of 10 to 40 minutes. While this sounds great, we need to take the overall quality of the casino into account when deciding whether to trust this information. Many times withdrawals are said to be super quick but are slowed down by additional checks imposed by the casino. Sometimes these checks are reasonable, but other times their only aim is to make you give up on your money by putting too many obstacles between you and the funds.
VIP Program
VIP programs are an interesting feature that can range anywhere from a fictitious, attention-grabbing front to one of the best ways to incentivize regular players and encourage them to stick around for much longer. After the initial excitement wears off, it's crucial for players to receive enough perks to keep coming back. VIP programs are usually tier-based, and each level brings new, better perks like increased transaction limits, better cashback, exclusive offers, free spins, and even a personal VIP manager.
Sadly, but not surprisingly, however, CrystalSpin does not have a VIP program in place. We would normally say that we find the lack of one disappointing since such a feature is highly appreciated by players, but at this point, it's hard to expect anything from this establishment as the bar is already on the floor.
Tournaments
Tournaments are another amazing way to excite players and keep them coming back. You'll rarely find a betting aficionado who wouldn't hop in on the opportunity to compete against other players and win some attractive prizes. Usually, tournaments boast amazing prize pools that don't leave anyone indifferent.
The presence of an ongoing tournament at CrystalSpin comes as a pleasant surprise after assessing so many lacking aspects of the experience here. At the moment of our review, the casino is holding a fun tournament with a prize pool of a whopping AU$ 250,000.
Verification
The final boss at each online casino is the verification process. This much-needed security procedure has been created with the purest intentions of making sure that no money is going to the wrong person, but with time it has also turned into a tedious process with ever-emerging new rules that can make you quit on your rightfully earned winnings. To make sure you're avoiding the second scenario to the best of your abilities, determining whether the casino is trustworthy or not before even depositing at it is a must.
Usually, what will be requested during the check starts with a valid, government-issued ID such as an ID, passport, or driver's license. Apart from your identity document, you will most probably also be asked for proof of residence, which is, in most cases, a utility bill with your name on it, no older than 3 months. Another thing you may be requested to present is proof that you own the payment method you're using on the casino's premises. To prove your ownership, you'll need to either make a back and front photo of your card and cover all sensitive information, or provide screenshots for the virtual payment methods. To ensure the verification process is as smooth as possible, always keep your documents at hand.
Is CrystalSpin Legit?
Albeit a licensed casino, CrystalSpin gives us many reasons to stray away. The establishment operates under a Curacao license, which is the only one available for crypto-friendly casinos as of now, and the main con of this permit is that the regulatory body does not intervene in potential disputes between you and the casino in times of need. Considering this, one must weigh in on the associated risks before deciding to play at an offshore-licensed casino.
| | |
| --- | --- |
| License | Curacao |
| License number | 1668/JAZ |
| Company address | Perseusweg 27 A, Willemstad, Curaçao |
Customer Support
Customer support is a great indicator of any casino's overall quality. If you're feeling like you're in a ghost town when trying to reach out and have a query of yours resolved, this is a serious red flag. Considering that the more you play at an establishment, the more you may need assistance at some point, there needs to be a team of highly responsive reps always available for you.
Some of the potential pitfalls of bad customer service include 'live chat' that turns out to never contact you with a real representative so you're stuck with an unhelpful bot, actual unresourceful support, and lack of any response across the channels. It's always best to test the customer support experience even before making an account, if possible.
At CrystalSpin, you will be able to reach customer support 24/7 via live chat and email. If you're in a hurry, it's better to opt for the live chat option.
| | |
| --- | --- |
| Live Chat Support | Yes  |
| Phone Support | No |
| E-mail Support | Yes |
| Ticketing System | No |

Mobile Casino
In our current landscape of constant mobility and multitasking, online casinos need a mobile version to meet players halfway in their need for flexibility. While playing from a desktop is the most comfortable for most, you need to be sure that in case you have to move around, you still have an option to keep playing. After all, imagine being in the middle of wagering a bonus and being faced with a short fulfillment period. If you don't have the opportunity to play from a mobile device, you may lose your bonus. This example isn't ideal when speaking of CrystalSpin Casino with its complete lack of promotions, but you get what we mean.
This betting hub, like most other casinos nowadays, has an optimized mobile browser version that you can access anywhere, anytime. Considering that even the desktop version of the website isn't all that easy to navigate and seamless, be prepared for a mobile experience that is a tad bit wonkier than usual. If you wish to play from your mobile device, make sure to have sufficient mobile data beforehand.
| | |
| --- | --- |
| Interface | |
| Mobile version | YES |
| iOS App | NO |
| Android APP | NO |