Casino Galaxy Review
Right off the bat, Casino Galaxy doesn't make a particularly good impression at all. In its tab description, the site calls itself the "Best Online Casino", which is already a boast worthy of Baron Munchausen. But as you scroll down to the footer, you'll see that it also claims to be "among the first multi-currency online casino to offer play in major Cryptocurrencies", which is about as ridiculous as claiming that it's among the first online casinos to offer pokies.
If that wasn't enough, the site is also loaded with copyrighted images, such as a render of King Dice from the popular videogame "Cuphead", which only gives the impression that the site's creators didn't have the budget to create their own characters. At this point, our opinion of Casino Galaxy could only go up… Right?
Well, not being ones to judge a book by its cover, we decided to investigate the casino even more closely by examining its features, bonuses, games and safety. In the end, we compiled our findings into this very review in order to tell you plain and simple whether our first impressions were right on the money, or if there's more to Casino Galaxy than meets the eye.
Bonuses
No Deposit Bonus – 100 Free Spins
Right off the bat, we have to point out that it's extremely difficult to talk about Casino Galaxy's bonuses. The site doesn't have a dedicated bonus page or anything that accurately explains exactly what you'd get for depositing. The closest you'd find is a page titled "Win Multiplier" which only gives the barest of information regarding what's available, and even that's very contradictory.
With that said, though, we were able to determine that the site does, indeed, feature a no-deposit bonus that you'll be able to claim immediately upon completing your registration. That bonus will net you 100 free spins on select pokies, 25 per pokie. Not a bad deal, though keep in mind that you'll need to complete the wagering requirements (x50) within 24 hours, and even if you do, your max win will be capped at AU$167.
There is, however, a little trick here. As always, you can choose to just claim your no-deposit bonus as is, without any additional fuss. But if you choose to make your first deposit before claiming it, you'll receive an x10 multiplier on your winnings and the wagering requirements will be lowered to x25. You can still only withdraw up to AU$167, but still, pretty cool to have the option to play however you want!
Welcome Bonus – 200% Match up to AU$835 + 200 Free Spins
By now, you might haven oticed that Casino Galaxy works with some pretty weird numbers, and that's because instead of having set values for Australian dollars, it just does a direct conversion based on the set values in euro. This means that, depending on the value of our currency compared to the euro, the exact amount you'll be able to receive will vary. Please keep that in mind and don't be too mad at us if the max bonus is a little bit different when you visit the casino!
With that said, the bonus itself is pretty nice, as you'll be able to snatch up a 200% match up to AU$835 – a very solid first impression! On top of that, you'll receive 200 free spins in addition to the 100 you already got as part of your welcome bonus. While there is some conflicting information (more on that in a second) and some banners claim you only get 125 spins, we were able to confirm that Australian players will, indeed, receive 200 spins.
On top of that, if you make a deposit before claiming your no deposit bonus, that bonus will also be enhanced and made part of the welcome offer (more on that in its section just above). With that said, we were not able to find any information about the wagering requirements of this bonus, and while the casino's staff clarified a few things for us that were not explained very well, they didn't provide us with this particular information.
Which brings us to our main complaint regarding the Casino Galaxy welcome bonus: it's just too confusing and poorly explained. The site is full of exaggerated language and contradictions (such as providing conflicting values), but is scarce in actual, useful information. It really sours what should have otherwise been an amazing bonus!
Games
Frankly, we thought that the choice of casino games available at Casino Galaxy is… Okay. Nothing spectacular, to be sure, but also nothing terrible. Whether you're interested in pokies or live casino games, the selection you'll find here is adequate and nothing more than that. Hey, not everything can be the best or worst thing in the world, right?
Granted, you won't encounter any sports betting here, which was a minor disappointment to us. With that said, we did find plenty of alternate titles, such as plinko, coin flip and scratch dice. Those won't be listed in their own, dedicated section, so it takes a bit of searching to find them… But they're there, and are bound to provide weary players with an acceptable distraction.
| | |
| --- | --- |
| Games | |
| Software providers | BSG, Platipus, Wazdan, Tom Horn Gaming, Groove Gaming, Booming Games, SoftSwiss, IGTech, Belatra, MrSlotty, LuckyStreak |
| Pokies | 500+ |
| Live casino | Yes |
| Sports betting | No |
| Table Games | Yes |
Pokies
While Casino Galaxy doesn't boast thousands upon thousands of pokies like other sites, what is here will still get the job done, especially if you're a newer player. You'll be able to enjoy the titles of some really decent providers like Booming Games, Tom Horn and MrSlotty, and while these games are hardly uncommon, it's still nice to see them collected and curated here. If you're a new player who isn't sure where to start, this is a great place!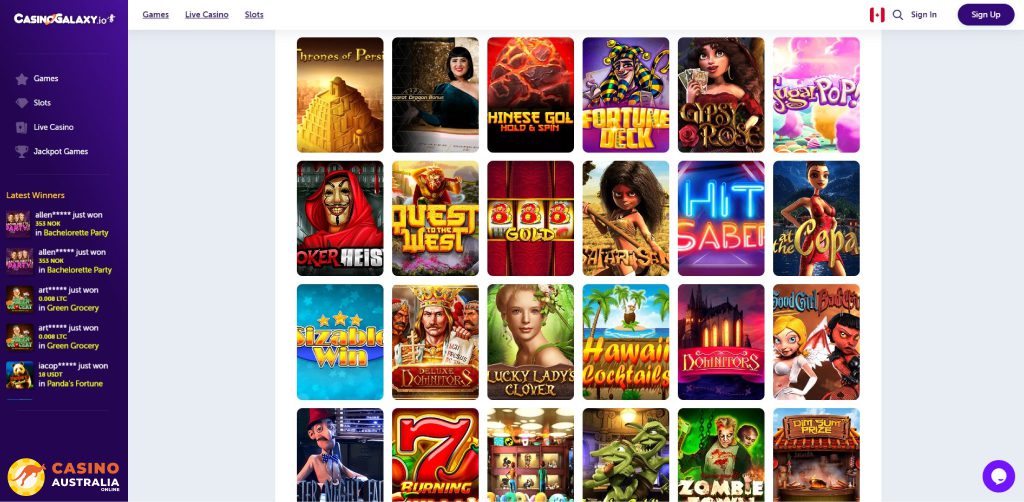 We especially liked that Casino Galaxy has a dedicated jackpot section that you can access from the main menu. This will only list pokies that have a jackpot attached to them (be it fixed or progressive). Many players only play pokies for the thrill of winning that big sum, and if that describes you, then you'll find this feature to be incredibly useful!
Live casino
The live dealer offerings of Casino Galaxy are provided primarily by LuckyStreak, although you will also encounter a few games by smaller companies like Wazdan and BSG. With that said, though, don't expect some kind of amazing diversity of titles. You'll be able to enjoy blackjack, roulette, baccarat, as well as a very limited section of smaller titles like deuces or super 7.
Granted, this isn't the worst selection we've ever seen, far from it – even though it's nothing to write home about, you should still be able to find at least one or two rooms that will hold your attention. Unfortunately, it's nearly ruined by a glitch we experienced (and could successfully replicate on both desktop and mobile) that let non-live games, such as pokies, "bleed" into the live section. This made it much harder to narrow down the list of available rooms and find the one that we were looking for, and we imagine many players will experience similar issues.
Deposits & Withdrawals
It's impossible to mince words here: the deposit options of Casino Galaxy suck. Yep, you heard right, they're not "disappointing", or "a little lacking", or anything of the sort, no. They suck! You'll only be able to deposit using two methods, at least if you're an Australian! Honestly, it feels low-key insulting!
You'll only be able to make both your deposit and your withdrawal via your credit card or Bitcoin. That's it. No e-wallets, no pre-paid vouchers, no bank transfer, not even any alternate cryptos like Ethereum or Tether. If you don't use Bitcoin and also prefer not to link your credit card to a site you don't yet trust… Well, too bad. Might as well just move on to something else. This is extremely disappointing and bound to alienate many players right from the get-go.
Payments

Minimum deposit

AU$17

Minimum withdrawal

AU$50

Maximum withdrawal

Per day – AU$4,200

Per month – AU$25,000

Deposit methods

Visa, MasterCard

Crypto currencies accepted

BTC

Australian Dollars accepted

Yes

Welcome bonus package

AU$835 + 200 Free Spins
Withdrawal time
While Casino Galaxy may have just two payment methods available to Australians, the silver lining is that it's very easy to estimate how long it'd take to withdraw using each of them. If you choose to withdraw with Bitcoin, then the process will be very quick, taking no more than a few hours (at the very most) from the moment you request your withdrawal.
As for credit cards, you'll need to wait just a little longer for that – up to 5 business days. The reason is because, unlike crypto (which is unregulated), any transfers that involve banks are subject to many verifications that need to be performed by human staff before they can be approved. It's also important to keep in mind that both of those times are estimated after the winnings have been dispatched, which will happen within a few days of your withdrawal request's approval.
VIP Program
Sadly, as of the time of writing, Casino Galaxy does not offer players the chance to participate in a VIP program. In fact, you won't even be able to claim any reload promotions once your welcome bonus has been all used up. Granted, Casino Galaxy's bonus schemes are very convoluted, so it's possible that there is an element here that we're not aware of, but as far as we can tell, there is nothing to sweeten your subsequent deposits or bets.
VIP programs are usually an essential part of online casinos due to promoting player loyalty. A site's welcome bonus will always be its most enticing feature when it comes to its bonuses, so having a steady stream of special offers and unlockables as part of a VIP initiative is a great way to retain players instead of having them jump to a rival. Unfortunately, the latter option is very likely at Casino Galaxy – after all, why wouldn't you jump ship when there are no bonuses left?
Tournaments
Just like with the VIP program, we're afraid to say that Casino Galaxy does not currently offer any tournaments. While there is a little trophy icon in the left-hand menu, that icon will only take you to pokies that have jackpots, not to any actual tournaments. Those lands are very much unexplored at this site.
This is extremely bad news for people who have grown very used to competing against other players while spinning their favorite pokies. Under normal circumstances, having tournaments would give players a new way to appreciate the pokies that are already on display on the site, especially the ones that aren't very popular. Maybe this feature will be added in the future, but alas, we wouldn't hold our breath.
Verification
Despite being a primarily crypto casino, Casino Galaxy will still need to verify your identity before you can withdraw (presumably because it still performs withdrawals with credit cards, and anyone receiving money from an online site must have their identity verified by law). Luckily, this isn't any more difficult than it is at most other casinos.
What you'll need to do is provide the site with two different documents: a proof of identity (like your passport, your ID card, or your driver's license) and a proof of current address (a bank statement or utility bill will do). One interesting quirk of the casino is that you aren't allowed to scan them, you'll have to take photos of them and send them over. If the photos are unclear, the casino may require you to verify via video call.
If you made your deposit via credit card, that, too, will have to be verified – usually with a photo with the middle digits (as well as the security number on the back) censored for your safety. If you deposited via Bitcoin, then rest easy: you dodged this additional step in your verification!
Is Casino Galaxy Legit & safe?
Sometimes, determining whether an online casino is legitimate or not is an extremely simple task – and other times, it can take us hours of research and the results could still be inconclusive. Unfortunately, Casino Galaxy belongs to the latter category, and we were unable to fully determine whether it's a legitimate site or not.
But how could that be? Well, for starters, the casino itself has absolutely no information about its license or even parent company. These details, usually reserved for the footer of the casino or its "about us" section, are conspicuously missing here. We needed to do some good, old-fashioned detective work in order to find out Casino Galaxy's parent company (Placebo NV), as well as its license information.
Unfortunately, we were not able to verify whether the actual license is legitimate or not. The 365/JAZ license, issued by Curacao Gaming NV, can't be verified by simply inputting the casino's name in a database – instead, the casino themselves must place their license link in the footer of their site. Obviously, this wasn't done on Casino Galaxy at all, and on other casinos operated by Placebo NV, all we could find was a simple static image with an alt text saying "verified", but no actual link. Anyone can make such an image even without a license.
As such, while on paper it appears that Casino Galaxy is legitimate, we have some serious suspicions about the legitimacy of its claims. As always, the final decision is yours, but we at casinoaustraliaonline.com would not trust it with out money.
| | |
| --- | --- |
| License | Curacao |
| License number | 365/JAZ |
| Company address | Zuikertuintjeweg Z/N, Zuikertuin Tower, Curacao |
Customer support
If you're experiencing any issues with your Casino Galaxy account, or simply have questions that we haven't given an answer to in our review, then you should waste no time in reaching out to the casino's customer support team. As of the time of writing, you can do so in two ways: via live chat or e-mail.
Using the live chat feature is typically recommended due to the immediate connection and faster response speed. However, during out testing we determined that the level of support you'd get via this method isn't very good, and it's obvious that the support team wasn't trained to answer more in-depth questions.
We had better luck testing the e-mail support, and the replies were more detailed and generally useful. However, they also took a lot longer than the live chat ones did, so ultimately you'll need to decide for yourself which option works better for you.
| | |
| --- | --- |
| Live Chat support | 24/7 |
| Phone support | NO |
| E-mail support | [email protected] |
| Ticketing system | NO |

Mobile casino
It might surprise you a little bit that we actually really like the mobile interface of Casino Galaxy. It's clear that the site was first built with mobile in mind and then adapted to fit a bigger screen rather than the other way around (as is the case with too many casinos). This means that the site works great on mobile, it loads quickly and has a very intuitive interface.
If you're the type of person who doesn't like to download unnecessary apps in order to enjoy their favorite sites, then rest assured that you won't need to do that here. All the features of Casino Galaxy are accessible through your phone, including making deposits (and claiming bonuses), playing the games and enjoying the jackpots. Granted, we haven't been very positive about the casino overall, but this is one of its aspects that is genuinely good.
| | |
| --- | --- |
| Interface | |
| Mobile version | YES |
| iOS App | No |
| Android APP | No |