Bit4Win Casino Review
Crypto casinos aren't exactly something new and exciting anymore. Sure, they were a fun novelty back when they first started cropping up – the idea of a site that didn't deal with credit cards at all, but instead let you bet with virtual currency, sounded exciting and fresh. But by now, we've reviewed more crypto casinos than there are Bollywood movies, or at least it feels like it!
As such, we need quite a lot in order to be impressed by one. Will Bit4Win Casino manage to do it? Will it break the pattern? Only one way to find out! We took a deep dive into the casino and examined its features, games, available crypto options, bonuses and more, then compiled our thoughts into this comprehensive review!
So, is Bit4Win Casino worth a few Dogecoins, or are you better off just losing your crypto wallet passcode?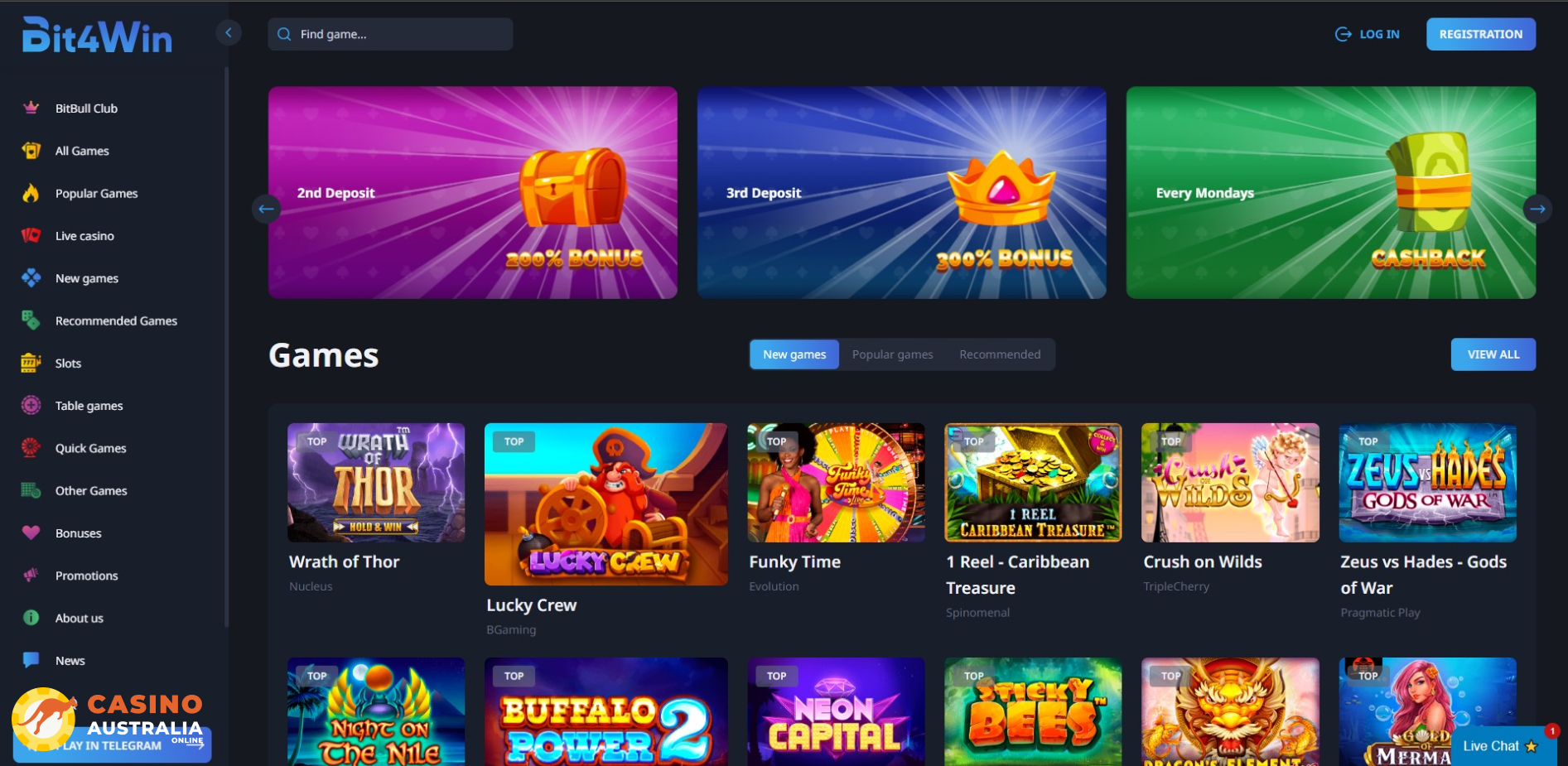 Bonuses
No Deposit Bonus – 30 Free Spins on Riches of Caliph
The art of the no deposit bonus is, sadly, a long-lost one. Back in the day, it was quite difficult to find an online casino that didn't feature them quite prominently, to entice people to at least sign up even if they don't have an intention to deposit right away. However, today it's almost impossible to find a site that actually offers them.
As such, we have to give kudos to Bit4Win Casino, where you can still claim a little something even before you buy any chips. Just by signing up, you'll be able to claim 30 free spins on the Riches of Caliph pokie. After you play through the spins, you'll need to wager them x35 times in order to withdraw them – but the catch is that you can only perform said withdrawal after you've already deposited.
Welcome Bonus – 400% Match up to 1,000 USDT
One thing you may have noticed about Bit4Win Casino is that it only accepts cryptocurrencies, for both deposits and for wagering. As such, all of the bonus amounts listed from here on out will be in Tether, which is the primary currency on Bit4Win. It's not possible to deposit in Australian dollars, so please bear with us on this one!
With that out of the way, the welcome bonus is also quite decent. When you're ready to put money down, you'll receive a 400% match up to 1,000 USDT. That's actually an insanely good percentage that, while standard for crypto casinos, is overall quite rare in the online casino world. But there's no such thing as free lunch, and you'll need to put in a lot of work if you want to withdraw them.
To be more specific, you'll have 7 days to wager the bonus x40 times on pokies before you're able to withdraw. Quite frankly, despite how generous both the match percentage and the amount are, this right here is the big spanner in the works that kind of ruins the whole thing for us. It's great if you just want to try out a few games, not so much if you're actually trying to withdraw anything, so keep that in mind before you commit.
Additional Welcome Bonuses – Up to 2,000 USDT
But you won't just be claiming bonuses on your first deposit, oh no – the second and third time you deposit you'll also bring home a little bit extra! However, keep in mind that in order to claim these subsequent welcome bonuses, you have to do your second and third deposits in the same currency as the first!
But what do they entail, exactly? Well, both will net you up to 1,000 USDT, and the only difference is the bonus amount. You'll receive a 200% match for your second deposit and a 300% match for your third – and while neither are as good as the 400% match you'll get on your first deposit, they're still leagues and miles ahead of most bonuses we've reviewed.
But, just like the amounts, the requirements are also quite lofty. Just like that first welcome bonus, you'll have 7 days to spin through your bonus x40 times. It's quite disappointing to see such fantastic bonuses ruined by the fine text, but at the same time, we can't exactly act surprised about any of it. It happens quite often at crypto casinos.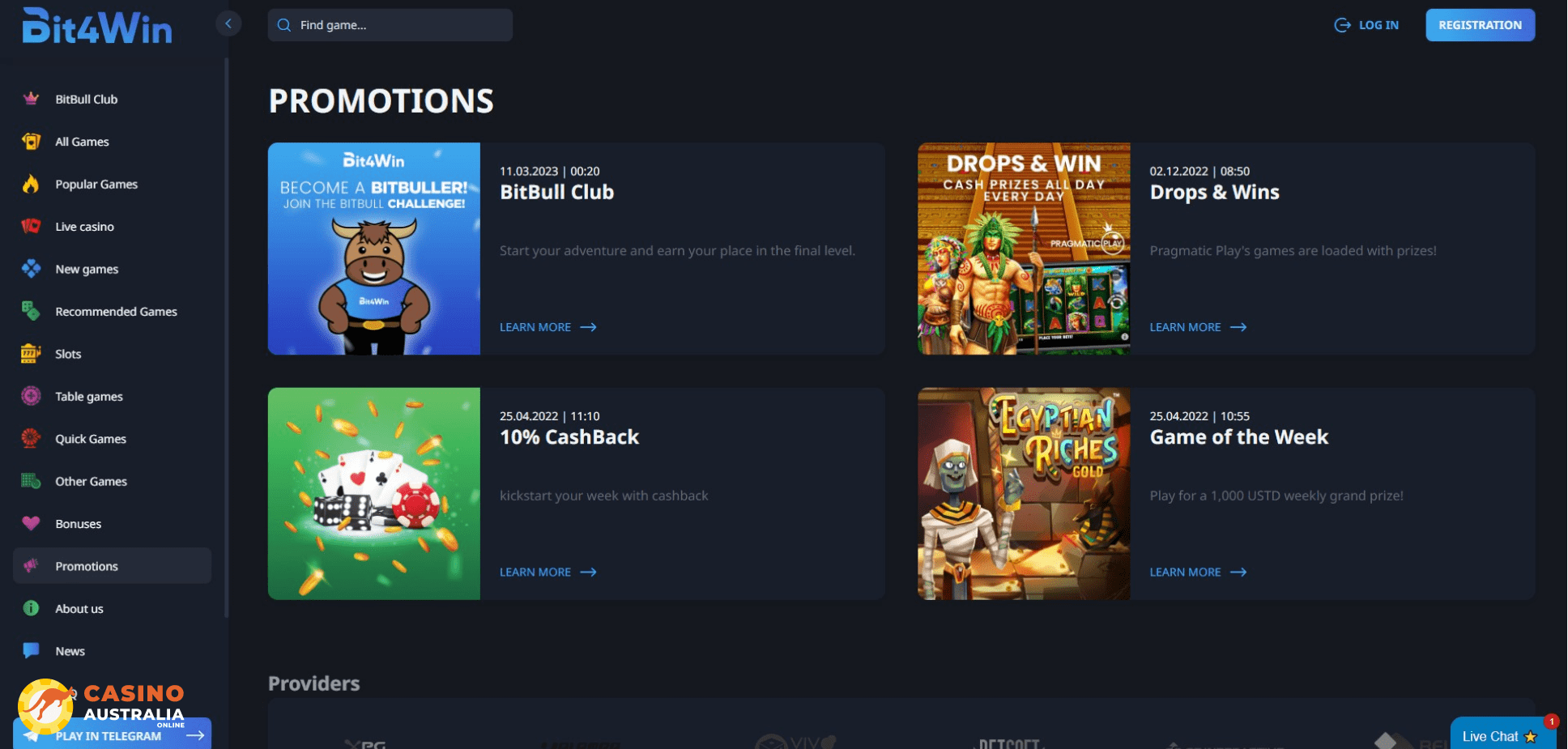 Games
Well, you've signed up and claimed your first deposit bonus – what's next? Wagering it on some fun games, of course! In that regard, we're actually pretty happy with Bit4Win Casino – their titles, both in terms of pokies and live casino, are numerous and quite excellent.
One thing that left a good impression is the amount and diversity of non-live titles that the casino provides. You will not only find a pretty decent number of table games here (unrelated to the live casino section), but also stuff like skill-based games or crypto games. One thing that's missing is sports betting (except for virtual sports), but that can be easily overlooked considering how much content there is otherwise.
| | |
| --- | --- |
| Games | |
| Software providers | Betsoft, BGaming, Nucleus, Mascot, Igrosoft, Endorphina & More |
| Pokies | 2,500+ |
| Live casino | Yes |
| Sports betting | Virtual sports only |
| Table Games | Yes |
Pokies
You'll find a very decent selection of pokies at Bit4Win Casino – well over 2,500 by our count, and probably more by the time you sign up. The site offers dozens of providers, most of which not particularly big or famous, but still with at least a few games worth checking out.
To make the process of selecting a game as simple as it can be, Bit4Win Casino have allowed you to sort them in many different ways, such as by popularity, alphabetically, or by provider. Looking at the most played pokies on the site, it's easy to recognize titles like BGaming's "Elvis Frog in Vegas", Endorphina's "Dynamite Miner" and Booming's "Howling Wolves Megaways".
The only negative thing that we can note about this section is that the jackpot pokies aren't identified in any way. Many games, like Betsoft's "A Night in Paris", do in fact offer a progressive jackpot, but the casino will not let you know this – not even with a special marker on the pokie's icon on the main page! Why they've chosen to obscure a feature that will draw players to the casino, we aren't quite sure.
Live casino
There are no two ways about it – the live dealer section of Bit4Win Casino is fantastic! It's full of games that are diverse in both types and developers, ensuring that you'll be able to find something just for you no matter what you're into!
The stars of the show are, of course, Evolution Gaming and Pragmatic Live, two of the best live game providers of all time. While they're not the only live developers at the casino (with Vivo Gaming, BetGames and others helping to fill out their gaps), you'll probably find yourself drawn to their offerings the most.
They have a very wide selection of different titles, including not only the very popular ones, like blackjack and roulette, but also much more niche games like sic bo, craps and tiger dragon. Special mention is warranted for the live game shows they offer, like Deal or No Deal and Dreamcatcher, which will provide you with a unique, yet engaging and fun live casino experience.
Deposits & Withdrawals
As you may have imagined for a crypto casino, Bit4Win Casino does not allow players to deposit using any kind of flat currency, like dollars or euro. Yep, that also includes Australian dollars, obviously! While some casinos will allow players to use their credit card to purchase crypto that they can then wager, this isn't the case at Bit4Win. You need to already have a crypto wallet full of coins.
This would normally be completely fine – after all, we can't fault a crypto casino for dealing exclusively in crypto, right? However, we can absolutely fault it for only having six different currencies. That's just not enough, especially since most other casinos like this accept over a dozen different coins. Even some popular options, like Ripple, seem to be missing in action!
| | |
| --- | --- |
| Payments | |
| Minimum deposit | 10 USDT |
| Minimum withdrawal | No minimum |
| Maximum withdrawal | No limit |
| Deposit methods | None |
| Crypto currencies accepted | BCH, BTC, ETH, LTC, USDT, DOGE |
| Australian Dollars accepted | No |
| Welcome bonus package | 1,000 USDT |

Withdrawal time
One firm benefit of withdrawing via crypto is that withdrawals are usually quite fast. Theoretically, they'd only depend on the speed of the network, and the vast majority of cryptos are so fast that all transactions are basically instant. Even much slower coins, like Bitcoin and Dogecoin, don't often make you wait over an hour to see the transaction reflected.
So, does that mean that you'll get your money as soon as you click that Withdrawal button? No, not really. Bit4Win Casino, much like most casino sites, will take a few days to process your transaction on their end. However, that shouldn't take more than 2-3 days at the very most, so if you don't get your winnings within the week you requested them, it's time to reach out to support.
VIP Program
What would an online casino be without its most loyal players? Quite poor, that's what! As such, it's important to take care of the people who have already signed up, and Bit4Win Casino have chosen to do so via their BitBull Club loyalty program.
The premise is simple – you play as BitBull himself, the site mascot. Every time you place a wager, you'll earn some points and increase BitBull's strength. Once he's strong enough, you'll be able to defeat one of his nine animal rivals, claiming the treasure they're guarding for yourself – usually a one-time bonus.
While the premise is extremely cute and creative, once you strip that away, we're sad to say that the VIP program is quite barebones. Its point requirements are very high, and the rewards you claim for completing the various milestones just aren't big enough to justify this massive investment. Overall, a neat idea that could, and should, have been done a lot better.
Tournaments
Unfortunately, as of the time of writing, Bit4Win Casino does not offer its players the chance to participate in any tournaments on their site. We at casinoaustraliaonline.com recognize just how important tournaments can be in fostering a proper community and turning an otherwise solitary activity (like playing pokies) into a community-driven one, and so it's definitely a bummer to see them just completely missing.
With that said, it's not all doom and gloom. While tournaments aren't available as a permanent fixture, temporary promotions that will reward you with various goodies for playing pokies (like Drops & Wins) are still available. So perhaps they may be able to scratch the same itch for you… And if they can't, it might be time to look for another online casino.
Verification
Every online casino requires its players to get their identity verified before any winnings are dispensed – including crypto casinos! Yep, while the money laundering regulations that make verifications necessary are tied to flat currencies (and the companies that process transactions using them), casinos that deal with crypto still abide by them just to be safe. And Bit4Win is no exception.
So, what does that mean, in practice? Well, before you're able to withdraw (or your deposits surpass $2,500, whichever comes first), you'll need to send a few documents to the casino's support team in order to confirm your identity. Luckily, those documents are simple: you'd need a form of photo ID (like your passport or driver's license) and a proof of current address, like a utility bill.
The casino's staff may request additional documents from you in order to complete the verificaiton process, but don't worry – most people really won't need to submit much before they're verified. And after that's done you'll be able to withdraw to your heart's content!
Is Bit4Win Casino Legit & safe?
While there is no concrete way to 100% be sure whether a casino is safe or not, the presence of a license is a big step towards ensuring, if nothing else, then accountability. Many countries, such as Curacao, Malta and the UK, will issue a license to casinos that permit them to operate in a variety of territories as long as they abide by a set of rules.
If those rules are broken, then the casino's license will be revoked: therefore, if a site has retained its license, it's very likely trustworthy. Bit4Win Casino, too, claims to have a license, one issued by Costa Rica, and if you're new to the online casino scene, you won't even think twice about it.
But do you know what the Costa Rican casino license has in common with the Costa Rican army? That's right – they don't actually exist. You can register a casino in Costa Rica, just like you can any business, but they will in no way monitor or regulate any casino activities. So, in other words, Bit4Win Casino lied and are actually completely unlicensed.
Just fills you with trust for these guys, doesn't it?
Customer support
If you ever experience an issue while playing at Bit4Win Casino, you'll probably want to turn to someone working for the site who can help you out. That's why it's so important for the casino to provide players with easy access to their support representatives, and unfortunately, that hasn't quite happened here.
While on paper Bit4Win Casino has a live chat function, we weren't able to access it, and received an "Our superstars are currently at rest" error message every time. Maybe it's only available on certain days of the week, or perhaps at certain hours, but no matter when we tried to reach out, we failed to do so, and as such can't confirm that this function is, well, functional.
Beyond that, you'll be able to send an e-mail, which you can do in two ways. You can either send them a mail through your inbox, or submit a ticket by selecting the Help Center link in the footer of the site. Either way, you should (theoretically) receive a response within 24 hours.
| | |
| --- | --- |
| Live Chat support | NO |
| Phone support | NO |
| E-mail support | [email protected] |
| Ticketing system | Yes |

Mobile casino
If you've been reading our review from start to finish, then you probably know that we've had our issues with Bit4Win Casino. Its mobile version, however, is not one of them. Quite the opposite – we're actually really happy with it! If you open the site in your mobile browser, you'll find a fast, clean interface that instantly leads you to what you came here for: the games.
The layout is a little bit different, but only in the interest of fitting a desktop interface into the palm of your hand. Nothing has been lost, but a few design elements have been streamlined or concealed. Whether you're used to the desktop version or are just now accessing the site for the first time through your phone, we don't expect you'd have any issues finding what you're looking for!
| | |
| --- | --- |
| Interface | |
| Mobile version | YES |
| iOS App | No |
| Android APP | No |