Binobi Casino Review
At this point, we've reviewed more crypto casinos than there are grains of sands in the ocean… At least, it certainly feels like it! Just like Hercules fighting the Hydra, it feels like every time we write a review for a crypto casino, another two show up, ready to be examined. Binobi Casino is the latest among the Hydra's heads, but will it fare better than its predecessors?
Indeed, many crypto casinos come across as very lazy, missing many features, bonuses or ways to deposit, which ultimately leads to a negative review. But, as always, we're determined to be objective in our evaluation of the casino's games, safety, bonuses and overall quality. We spent hours researching all of those things and more and have compiled all of our results in this thorough, comprehensive review.
So, is Binobi Casino yet another crypto casino worth ignoring, or is there truly something special about this one hiding just beneath the surface?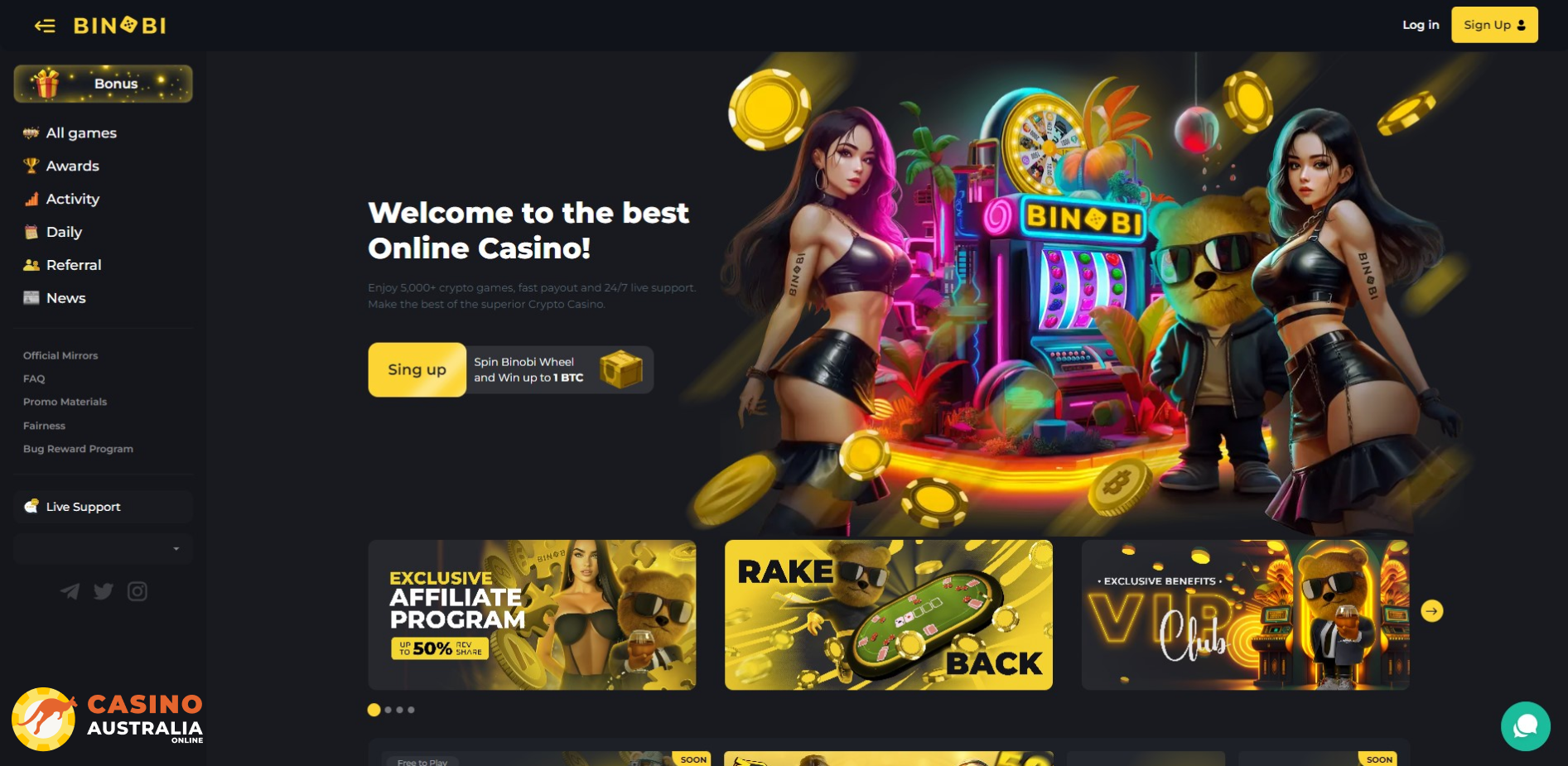 Bonuses
No Deposit Bonus – 300 Free Spins
It has become incredibly rare to see online casinos offer any sort of no deposit bonus, and that goes double for crypto casinos. They're very much products of a new era, one where welcome bonuses and VIP programs hold precedence over rewards you get without placing your first deposit. Despite this, Binobi Casino seems to buck trends as it not only has a no deposit bonus, but it's an extremely generous one to boot!
Just by signing up and confirming your account, you'll receive a staggering 300 free spins that you'll be able to use on the games "Lucky Streak 3" and "Sweet Bonanza Mobile". This is more generous than even many first deposit bonuses that we've reviewed! But, of course, with every generous bonus comes the fine text.
To start off, once you claim and use your free spins, you'll need to wager your winnings x40 times before you can withdraw them. On top of that, even if you complete these requirements, the most you'll be able to withdraw is $300. Still, this isn't too bad for a bonus that you can literally get for free.
Welcome Bonus – 150% Match up to $750
In stark contrast with the no deposit bonus, Binobi Casino's first deposit offering isn't actually all that great. It's not terrible, exactly, but it also won't blow your socks off. Once you're ready to buy some chips, you'll be able to claim a 150% match up to $750. No extra spins, no additional bonuses as some kind of big package, nothing. What you see is what you get.
On top of that, the wagering requirements are much more strict than those of the no deposit bonus, now requiring you to play through your bonus chips x50 times before you can withdraw them. While there is no maximum bonus that you can withdraw, it'll still be exceedingly difficult to withdraw anything at all.
Another thing that we need to point out is that Binobi Casino lacks any sort of reload or recurring promotions. Many other casinos will give you the chance to claim weekly bonuses or participate in limited-time promos, but at Binobi, once you're done with your welcome bonus, you won't be able to claim any more. Which is certainly unfortunate.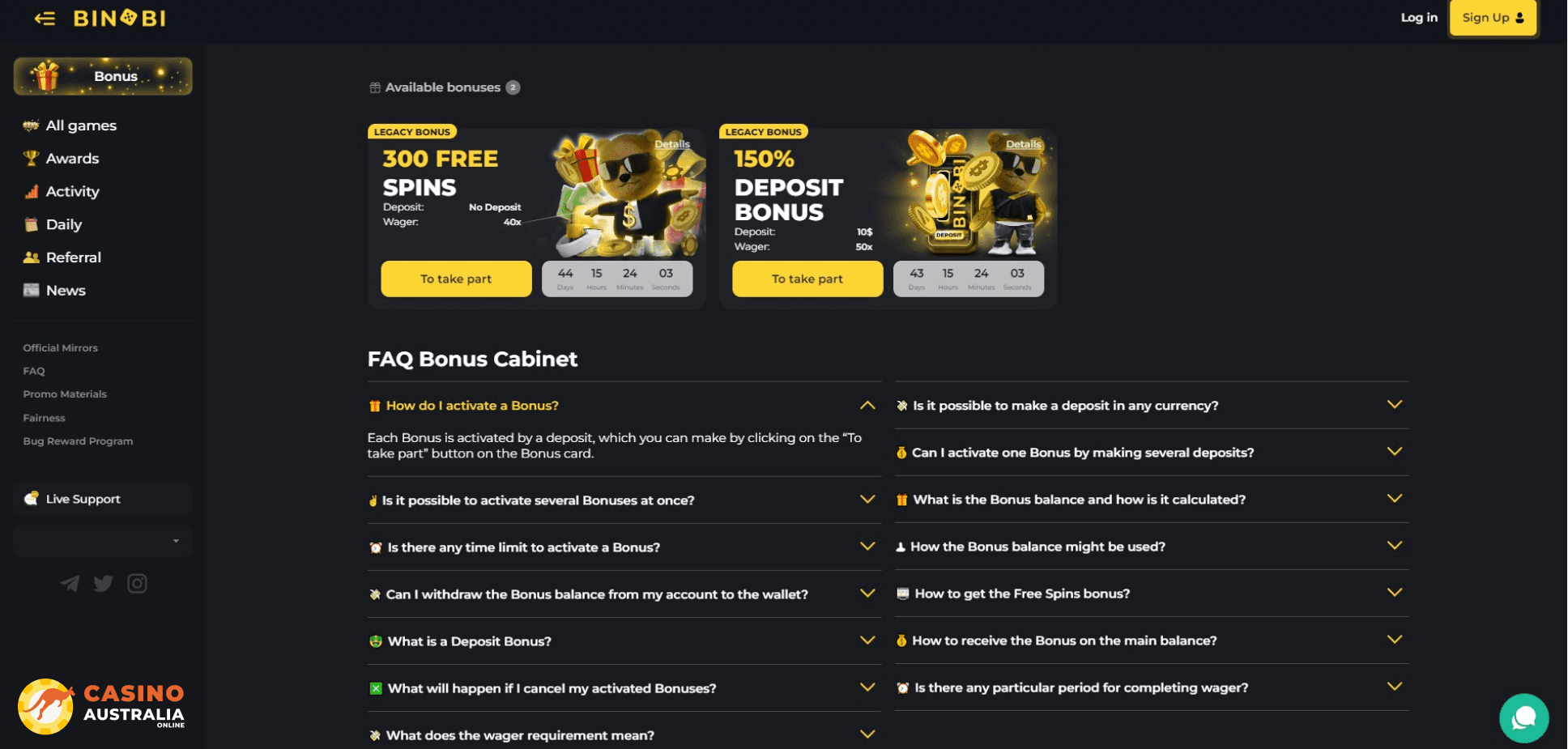 Games
It's very clear upon entering the Binobi Casino games section that the casino's main focus has fallen on pokies. This isn't particularly unusual in the world of online casinos, where pokies have always reigned supreme, but it's also a little odd just how much of an emphasis Binobi has placed on them at the expense of everything else.
You won't find much here that is unrelated to pokies, like sports betting for instance. Even more regular casino fixtures, like live casino and table games, are extremely limited, with maybe a few dozen games between them. They'll get the job done if your primary interest falls on pokies and you're only interested in the rest from time to time, but if you're primarily here for blackjack, you'll grow bored very quickly.
Another thing to note is that plenty of game providers here have not made their games available to Australian players – which is very normal and even downright expected. However, since the casino has no verification procedure, you can actually still access them via VPN without getting in trouble. With that said, this approach – while possible – is a bit gray both morally and legally, and so we will only be discussing games that are available to Australians through legitimate means.
| | |
| --- | --- |
| Games | |
| Software providers | Belatra, KAGaming, Mascot Gaming, Platipus, Igrosoft, GameBeat, Bgaming, Nucleus, NetGame & More |
| Pokies | 1,000+ |
| Live casino | Yes |
| Sports betting | No |
| Table Games | Yes |
Pokies
While Binobi Casino may have quite a few pokies, there's something to be said about their quality. Don't get us wrong – we're absolutely not saying that all of them are bad! In fact, there are several developers whose games we consider to be of very high quality, such as BGaming ("Lady Wolf Moon") and Belatra ("Big Wild Buffalo").
But those providers are in the minority. The majority are just there for the sake of building numbers, like Igrosoft and NetGame. They're not there because their games have a ton of fans or anything, they're there so that Binobi Casino can say 'We have over 1,000 pokies!" Which makes browsing through the list of games a very annoying and time-consuming task, doubly so because the casino doesn't allow you to filter them in any way. Not even by provider!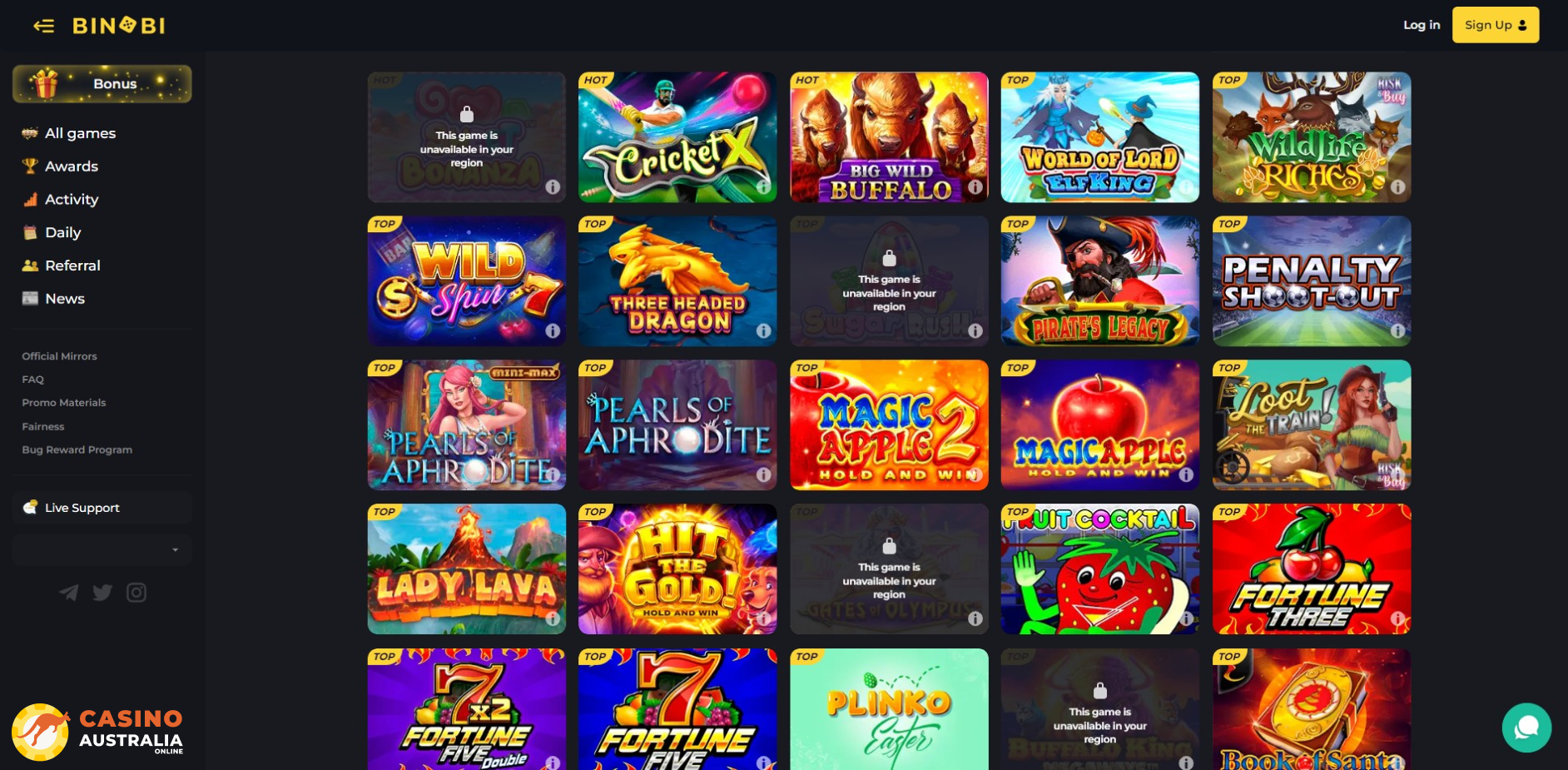 Live casino
The live dealer section of Binobi Casino isn't anything overly spectacular, but it will get the job done if all you're looking for is a small distraction from spinning pokies. The site has a few dozen games, mostly from smaller providers like BetGames, SuperSpadeGaming and Belatra – not exactly household names like, say, Evolution Gaming, but they'll do in a pinch.
In terms of game diversity, just like at most other casinos, you'll primarily find versions of blackjack, baccarat, and roulette here. However, beyond those, you'll still find a few more obscure games like sic bo and jacks or better. They're only a small handful, sure, but they're there, and that's certainly worth noting.
Deposits & Withdrawals
There should be no surprises by now that Binobi Casino deals only in crypto. This means that you can not deposit using Australian dollars, or any other flat currency, for that matter. While the casino displays many values in US$ (and many others in USDT, which makes things very confusing at times), this currency is only used for betting. You'll be depositing in crypto and withdrawing in crypto, and that's that.
With that said, though, the crypto options aren't actually that bad. As the casino's name implies, Binance is one of them, as is Tether, which is often referred to throughout the site. But if those two don't exactly light your world on fire, you can still deposit with far more popular coins, such as Bitcoin, Ethereum, Dogecoin, Litecoin and many others. The selection is quite decent, and we can only commend the casino for that!
Payments

Minimum deposit

$10

Minimum withdrawal

$30

Maximum withdrawal

Per week – 100,000 USDT

Per month – 400,000 USDT

Deposit methods

None

Crypto currencies accepted

BTC, ETH, USDT, DOGE, XRP, LTC, BNB, TON

Australian Dollars accepted

No

Welcome bonus package

$750

Withdrawal time
One of the benefits of Binobi Casino dealing exclusively in crypto is that withdrawals will be lightning-fast, at least in theory. After all, many cryptos (including Tether) process transactions pretty much instantly, and even slower coins like BTC don't take more than a few hours to fully reach your wallet.
However, this comes with the caveat that the transaction is instant from the moment it is sent. Binobi Casino may take a few days to process and approve your withdrawal request, so you should be prepared to wait a little bit after you have requested a cash-out.
VIP Program
Since Binobi Casino doesn't really have any reload or recurring bonuses, the presence of a VIP program is pretty much mandatory as a way to reward existing players for their continued loyalty to the site. Naturally, after you receive your welcome bonus, you'll still need to get some kind of bonus for your loyalty… But how does it work?
Well, at its core, the system isn't really anything extraordinary. The more you bet, the higher your level will be, and thus you'll gain access to different bonuses. All players start at level 1, but the moment you wager 3,000 USDT or more, you'll achieve level 2 and gain daily tasks that can help you level up even more. At level 20, granted to those who wager an impossible 1 billion USDT, you'll get access to the VIP club, exclusive promotions and more.
Perhaps at the core of this program lies the weekly cashback feature that you'll be able to claim on your losses. All players, even those who are still level 1, can claim a tiny cashback every week… But if you haven't progressed through the program, you'll only receive a meager 1%. The higher you climb, the bigger the percentage will get, capping at 25%.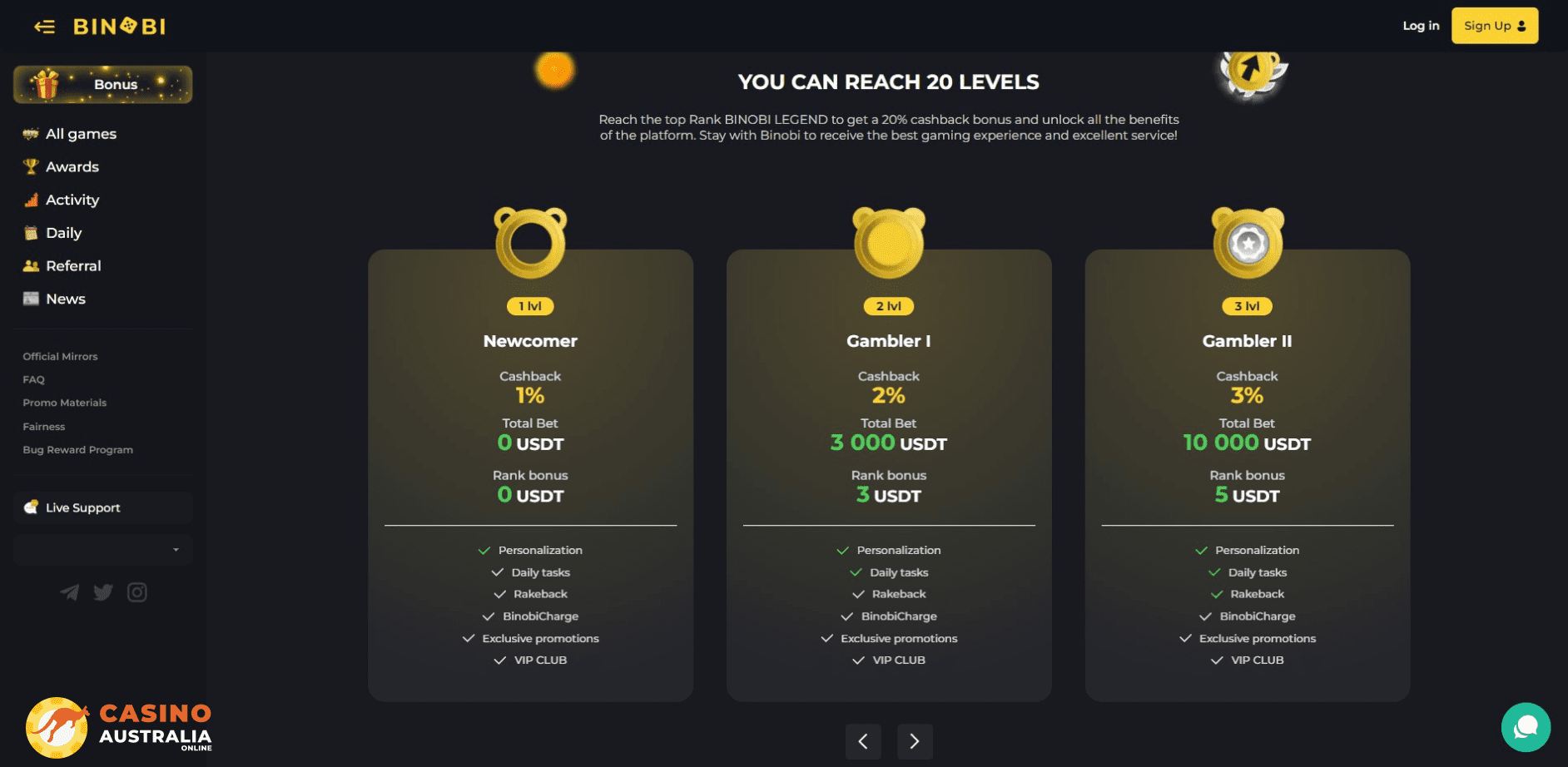 Tournaments
Sadly, unlike a VIP program, it appears that Binobi Casino very much lacks anything that could be considered a tournament. Most commonly, the term is used to refer to pokie tournaments where players compete for points on a leaderboard in order to receive exclusive prizes. However, Binobi Casino doesn't have anything of the sort, despite its decent collection of pokies.
This means that, if you're someone who has become a big fan of pokie tournaments, or is simply looking to play cards in a more competitive setting, you're out of luck with this casino in particular. While this is very unfortunate, it would be best to look for your next casino of choice elsewhere.
Verification
At legal online casinos, the verification procedure is a very common one that usually happens when you withdraw money for the first time. This process is quite common, as it's done in compliance with money laundering regulations that all payment providers (and, by extension, the companies working with them, i.e., the casinos) must adhere to.
Binobi Casino, however, doesn't work with any such companies – it only accepts crypto currencies, which aren't regulated by any government or authority. And while some crypto casinos will still verify their players for the sake of being thorough, Binobi Casino doesn't really do that. This makes it one of the few gambling sites that will not verify your identity when you attempt to withdraw.
Does that mean that it will never require you to verify? Not really – if suspicious activity is detected on your profile, you'll still need to provide documents proving that you are who you say you are. However, it's fair to say that most players will end up dodging verification entirely. Whether this is a good thing or not is for you to decide.
Is Binobi Casino Legit & safe?
Most, if not all legitimate online casinos will sport a license from a certified gambling authority that permits them to operate in a number of territories, including Australia. When you go to the footer of a legal casino, you might even find a link to their certificate that proves they're legit and have at least a little oversight to ensure they're not scamming players.
However, most crypto casinos have instead chosen to go unlicensed, not seeing this as a particularly big issue with their players. Sadly, Binobi Casino is no exception, as they currently lack any sort of license to operate in Australia or otherwise. What's worse is that they actively try to deceive players into thinking they're licensed by displaying the same logo in their footer that licensed casinos often do – so, at a glance, you might think that it's legit.
It's only upon clicking it that you'll realize it doesn't actually take you to a license at all, just to the front page of the Curacao Gaming Authority website. Anyone can put this on their website, license or not! It's supposed to go to a dedicated page that displays the casino name and license number, but it doesn't, because Binobi is unlicensed. Being unlicensed is one thing, and trying to deceive your users into thinking you have a license is another thing entirely.
Customer support
If you ever get in trouble at Binobi Casino (like, your bonus wasn't added to your account, or your withdrawal request keeps getting rejected), you'll need to get in touch with a support agent and ask them for a little help. We at casinoaustraliaonline.com always reach out to the support team of any casino we review in order to test what the experience would be like for a regular player, and we're happy to say that the outcome was quite decent!
Granted, Binobi Casino in general has a lot of red flags, but its support agent (whom we contacted via live chat) didn't really try to skirt around or ignore that fact, like we've seen many other casinos do. Instead, he acknowledged our concerns and provided explanations, some of which we've included in this very article. Whether you've chosen to reach out via live chat as well or via e-mail, we have no reason to believe that your experience will be any worse.
| | |
| --- | --- |
| Live Chat support | Yes – limited availability |
| Phone support | No |
| E-mail support | [email protected] |
| Ticketing system | No |

Mobile casino
Let's face it – nobody wants to play casinos from their dumb, boring computers anymore, right? We've all moved on to spinning pokies from our phones, and why wouldn't we? It's quicker and more convenient, especially since Binobi Casino has a great mobile version that maybe even works a little better than its desktop counterpart.
The good news is that you won't need to download any external apps in order to access this feature of the site. All you'll need to do is open it in your mobile browser, just like you would any other site. The web app will load from there and will present you with all that you've come to expect, including all the games, features and bonuses that we've described in the review above.
| | |
| --- | --- |
| Interface | |
| Mobile version | YES |
| iOS App | No |
| Android APP | No |