Ardente Casino Review
Ah, Italy! The old heart of the Roman Empire, the origin of the Renaissance and the birthplace of spaghetti westerns! Whoever could have suspected that one day we'd also be reviewing an Italian casino, especially one that accepts Australian players? Certainly not us, but that was precisely why we had to do it! How often do we get a chance like that, right?
As such, we took our time and thoroughly investigated Ardente Casino, inspecting its bonus offerings, games, features, payment options and more! Finally, we compiled all of our results into this comprehensive review that will, hopefully, help you make an informed choice on whether you should join it or not.
So, is this casino tasty like fresh pasta on a cold day, or should you avoid it like pineapple on pizza?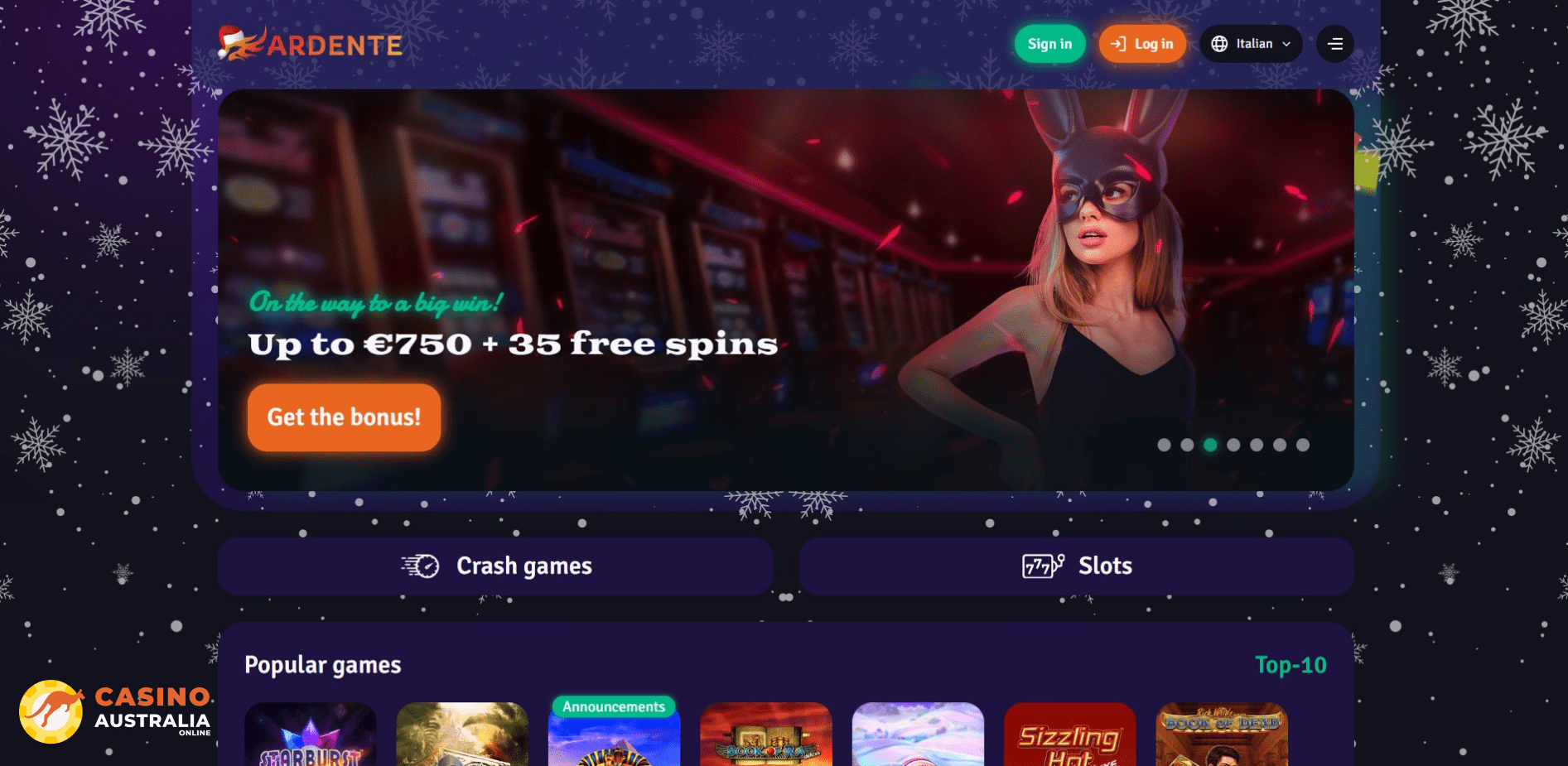 Bonuses
Welcome Bonus – 200% Match up to €1,000 + 50 Free Spins
There's no better way to catch new players' eye than with a great welcome bonus – after all, that's usually the first thing that a player will interact with after signing up, before they even play any games! As such, it is vitally important for the bonus to make a great first impression, and Ardente Casino do not disappoint in that regard.
There are actually three different bonuses you can choose from, depending on your needs and the size of the deposit you wish to make. If you deposit €25, you'll only get a 125% match and 40 free spins. If you deposit slightly more, €30, you'll get a 150% match and 45 free spins – we suspect this would be the most popular choice. And if you fancy yourself a high roller, for a deposit of €50 or more, you'll snag the maximum of 200% match and 50 free spins.
Unfortunately, it is not known what game you'll be able to play your free spins on. The default one is NetEnt's "Starburst", but since NetEnt games are not available in Australia, an alternative will be selected for you by the casino once you make your deposit. Either way, you'll have to wager through your free spins winnings x40 times. Your match bonus carries lower wagering requirements, namely x35 times.
Overall, this is a pretty good bonus that allows for a lot of flexibility depending on your tastes and preferences!
Second, Third and Fourth Deposit Bonuses
Even if you ended up picking a much smaller first deposit bonus, no worries! You can still end up getting some bang for your buck, as the casino also offers its players bonuses for their second, third and fourth deposits there! Before we describe them, though, we'll have to preface by saying that Ardente Casino tend to change their welcome bonuses from time to time, and that there may be some slight discrepancies between this and their most up to date offer, depending on when you read our review.
Unlike the first deposit bonus, which changes depending on your bonus amount, the remaining bonuses are all static. If your second deposit is at least €25, you'll be able to claim a 150% match bonus up to €750. You'll also get 35 free spins, which isn't bad for a second deposit bonus.
Your third deposit has to be at least €30, but it'll net you a 175% match up to €500, alongside 30 free spins. Fewer spins this time, but the increased match percentage makes it worthwhile! Finally, if your fourth deposit is €35 or more, you'll receive a 200% match up to €500 and 25 free spins. Just like with the first deposit, all free spins are for NetEnt games, meaning a new pokie will be selected for you to play them on.
The wagering requirements are also the same between all four bonuses: x35 for the match bonus and x40 for the free spins. You'll also have 7 days to use them from the date on which they're delivered, which makes it unlikely you'll be able to withdraw them, but at least you'll be able to use them to test out the various games and features Ardente Casino offers.

Games
Whether you think the games selection of Ardente Casino is good or not will depend entirely on your personal preferences. Of course, the same could be said for pretty much every online casino out there, but it goes double for Ardente for the small reason that they've decided to go all in on pokies.
Yep – there is no live casino section, and the number of non-pokie table games can be counted on the fingers of one hand. If you adore pokies, and that's pretty much all you were going to play at the casino, then you'd probably be pretty satisfied, overall. But if you were looking for a more balanced experience, or even worse, hate pokies and just want to play card games, you're better off running away from Ardente Casino very quickly.
| | |
| --- | --- |
| Games | |
| Software providers | Pragmatic Play, Play'N GO, Quickspin, Boongo, Playson, Microgaming, Merkur, IGTech, Nolimit City & More |
| Pokies | 1000+ |
| Live casino | No |
| Sports betting | No |
| Table Games | Yes |
Pokies
When we said that the casino has gone full in on pokies, we truly mean it – you'll find over 1,000 games waiting for you from over 30 different pokie providers. Unfortunately, some of them will not be available in Australia, such as NetEnt (which is always a shame because their games are amazing), but the ones that you can play are still pretty impressive.
Some notable names that you'll probably recognize if you're experienced with pokies include Pragmatic Play, IGTech, Microgaming and Play'N GO, and we're happy to report that a lot of their iconic games are very much available! Classics like Play'N GO's iconic "Book of Dead", Microgaming's "Phantom of the Opera" and Nolimit City's "Mental" are all present and accounted for!
But while these are some very good news for pokie enthusiasts, we also have some bad news, especially if you're a fan of jackpots. Unfortunately, the number of jackpot slots available at the casino is very limited, and even if it wasn't, looking them up is impossible, as there are no filters or categories that display them. We didn't encounter even a single pokie with a progressive jackpot, and while we didn't search through every game available, it wouldn't surprise us if we learned there weren't any at all.

Live casino
As impressive as the pokies section of Ardente Casino is, it came at a cost: the casino does not currently have any kind of live dealer games. We at casinoaustraliaonline.com consider the live casino section to be one of the most important ones, as that's the closest experience you can get to actually being a real casino, so the lack of one is a major red flag as far as we're concerned.
We'll continue to monitor the casino and will be sure to update our review if the situation changes. However, for the time being, if you were primarily interested in live casino and table games, it's recommended that you sign up for a different casino.
Deposits & Withdrawals
The payment options available at online casinos are very frequently overlooked, despite being one of the most important parts! After all, if you can't deposit, you can't play any games or get any bonuses, which means that those aspects become meaningless! That's why we always pay close attention to this aspect of casinos and are very critical of it.
So, are Ardente Casino's methods sufficient? Well… That will depend entirely on your preferences. One glance at them quickly reveals that the casino primarily deals in crypto currencies rather than traditional ones. While it doesn't exactly label itself as a "crypto casino", you're still very limited if you'd rather deposit using flat currency. Not only can you do that only in Euro, but also you'd have to use your bank card, as e-wallets are not supported.
With that said, there's a few decent options when it comes to crypto. Those include Bitcoin, of course, as well as other famous coins like Ethereum and Litecoin. But, on top of that, you can also use slightly less popular currencies, like Tron and Tether. They're not obscure by any means, but they're also less frequently used compared to their 'big brothers', so it was nice to see them available as options.
Payments

Minimum deposit

€20

Minimum withdrawal

No minimum

Maximum withdrawal

Per day – €500

Per week – €3,500

Per month – €15,000

Deposit methods

MasterCard, Visa

Crypto currencies accepted

BTC, ETH, DOGE, LITE, USDT, TRON

Australian Dollars accepted

NO

Welcome bonus package

€1,000 + 50 Free Spins

Withdrawal time
Given that the casino doesn't appear to be having any kind of minimum withdrawal requirement, you might be excited to withdraw your winnings as soon as you manage to earn a decent amount of them. But if you were looking forward to using them right away, prepare to be disappointed: it can take up to 10 days for your withdrawal request to be processed by the casino.
This is incredibly slow by most standards, especially since crypto deposits should be instant. Most crypto coins, such as Litecoin and Tether, are considered to be fairly fast, and it (theoretically) shouldn't take longer than a day, at most, for your deposit to be added to your account. The fact that it's taking this long should be a major red flag.
And speaking of red flags, if you withdraw more than €5,000 at once, the casino will pay it out in installments rather than all at once. Furthermore, any withdrawal of €2,000 and more will carry with it a hefty commission fee – 5% for withdrawals under €12,000, 10% for withdrawals over that amount. This is completely ridiculous, and should make anyone think twice about signing up at the casino.
VIP Program
It's not at all uncommon for online casinos to feature some sort of VIP or loyalty program – after all, what better way to reward players who choose to stick with it? Most such initiatives will grant players points when placing bets, while others will allow them to 'level up' once they've played enough games. For the most part, though, these perks are a permanent upgrade to your account.
Ardente Casino does things a little bit differently… And we're not really sure it's for the best. Here, you need to place deposits rather than play games in order to 'level up', which is already not a great sign because it means the casino values people who pay more than those who play. But the worst part is that you need to keep depositing every single week, or else you lose your VIP status. We can't lie – that's extremely predatory, and practically defeats the entire purpose. What's the point of a VIP program if it's essentially a paid subscription service?
Still, if that hasn't (somehow) completely turned you off, here are the perks you'll receive depending on how big your weekly deposits are:
| | | | | | |
| --- | --- | --- | --- | --- | --- |
| Level | Weekly Deposits | Weekly Cashback | Birthday Gift | Exclusive Bonuses | VIP Club |
| 1 – Invited | €0-250 | 3% | Yes | No | No |
| 2 – Celebrity | €251-€500 | 5% | Yes | Yes | No |
| 3 – Billionaire | €501-€1,000 | 7% | Yes | Yes | Yes |
| 4 – Superstar | €1,001+ | 10% | Yes | Yes | Yes |
While the weekly cashback is very much welcome, overall, the price you'd have to pay for it is just too much. By making their players deposit weekly, Ardente Casino are basically facilitating a gambling addiction in them, and that's not something we could ever support or encourage.
Tournaments
Quite a few players have recently started discovering pokie tournaments – we know because we get asked about them quite often! For those of you who are unaware, these types of tournaments revolve around all players of the casino competing against each other while playing a predetermined selection of pokies. The more you win, the more points you get, and the higher you climb in the public leaderboard – which carries additional prizes.
If that sounded interesting to you, or if you're already a hardcore pokie fan, you'd be glad to now that Ardente Casino actually offers quite a few tournaments. No matter when you decide to take a peek at their tournaments section, you'll usually find at least 2-3 tourneys already undergoing, with several more about to launch once they wrap up. While their rewards are nothing special (prizes for first place tend to hover between €50 and €250), it's still a great way to play games a bit more socially than you otherwise would.

Verification
Before you're able to make any kind of withdrawal from your online casino of choice, you'll have to go through the verification process in order to confirm your identity. Obviously, this also applies to Ardente Casino – after all, the procedure stems from international money laundering regulations, and while the casino deals primarily with crypto deposits, it's still beholden to financial laws. There's just no going around it!
So, what does the verification entail, exactly? Well, when you make your first withdrawal request, it'll most certainly be rejected, and the verification system will trigger. You'll soon receive an e-mail asking you for a few documents that confirm your identity and the details you inputted when signing up for the casino. Those documents may include:
Photo ID (such as a national ID card, a passport or a driver's license);
Proof of current address (such as a utility bill or delivery receipt showing your name and address);
Proof of payment method (most likely, photos of the debit card you used to deposit with your name visible and the number blanked out).
After you've submitted all the relevant documentation and the casino's staff has had a chance to evaluate it, your account will be verified and you'll be able to send another withdrawal request. However, in rare cases, it is also possible that more documents may be requested from you.
Is Ardente Casino Legit & safe?
Australian law tends to be a little vague when it comes to gambling, but one thing it's pretty clear on is its stance on unlicensed, 'illegal' casinos. No Australians are legally permitted to play at a casino site that isn't licensed by a certified gaming authority. That's why we always take great care to verify whether the casino we're reviewing holds a valid license – for many, the lack of one would be an instant deal breaker, and understandably so.
Unfortunately, this is the case with Ardente Casino. The casino does not currently appear to be licensed by Curacao, Malta or any other gaming authority. Perhaps this has to do with Italian laws being different from Australian ones, or maybe the casino's owners simply didn't see much of a point in getting licensed. But either waive can't currently advise Aussies to sign up.
Customer support
The support structure of Ardente Casino is… A little odd, to say the least. Nearly every casino we've ever reviewed has had some form of live chat feature built directly into the site. However, Ardente does not, and instead urges players to contact their representatives through Telegram and WhatsApp. This isn't inherently a problem, but it's also highly unusual, and if you don't use these services, you may need to sign up for an account just to get help with your issue.
Beyond that, the only way to reach out to them is via e-mail. You can do so directly by e-mailing their address through your mail client (such as Gmail), or you can submit a ticket directly through their site by filling out your information in the appropriate fields. However, e-mail is (naturally) a far slower method of communication, and it's not always suitable.
| | |
| --- | --- |
| Live Chat support | Telegram and WhatsApp only |
| Phone support | No |
| E-mail support | [email protected] |
| Ticketing system | Yes |

Mobile casino
The mobile market is incredibly important for any tech industry, but especially for casino sites, given just how many players prefer to play on their phone than on their computer! Ardente Casino have taken this to heart, as they're actually one of the few modern online casinos to provide users with a dedicated mobile app instead of simply letting them play in their browser.
Granted, there are a few caveats – the app is only available for Android, and you'll have to install it manually (which isn't exactly a complicated process, but may be a turn-off for more casual users). After that, though, it works pretty well. And if you're not interested in downloading anything, you can still enjoy the casino through your browser without losing anything substantial compared to the app.
| | |
| --- | --- |
| Interface | |
| Mobile version | YES |
| iOS App | No |
| Android APP | Yes |