ZenCasino Review
Some people play casino games for profit – to hit that big jackpot, to outsmart the dealer, to leave the building or site with more chips than they had going in. Others, however, play for an entirely different reason: to relax. There is something undeniably calming about seeing the rhythmic movements of pokie reels, or a gentle-voiced dealer quietly placing cards on the table. While winning is certainly a perk, it's not the main goal for those players.
As the name would suggest, ZenCasino seeks to cater to precisely these types of players, with its white background and plentiful selection of pokies. But just because it's relaxing doesn't mean it's good, and we're here to examine far more than its name and appearance! Over the course of this review, we'll thoroughly inspect its bonuses, features and reliability, all so we can help you make an informed choice!
So, will ZenCasino, indeed, make you feel zen, or will it bring about entirely different emotions?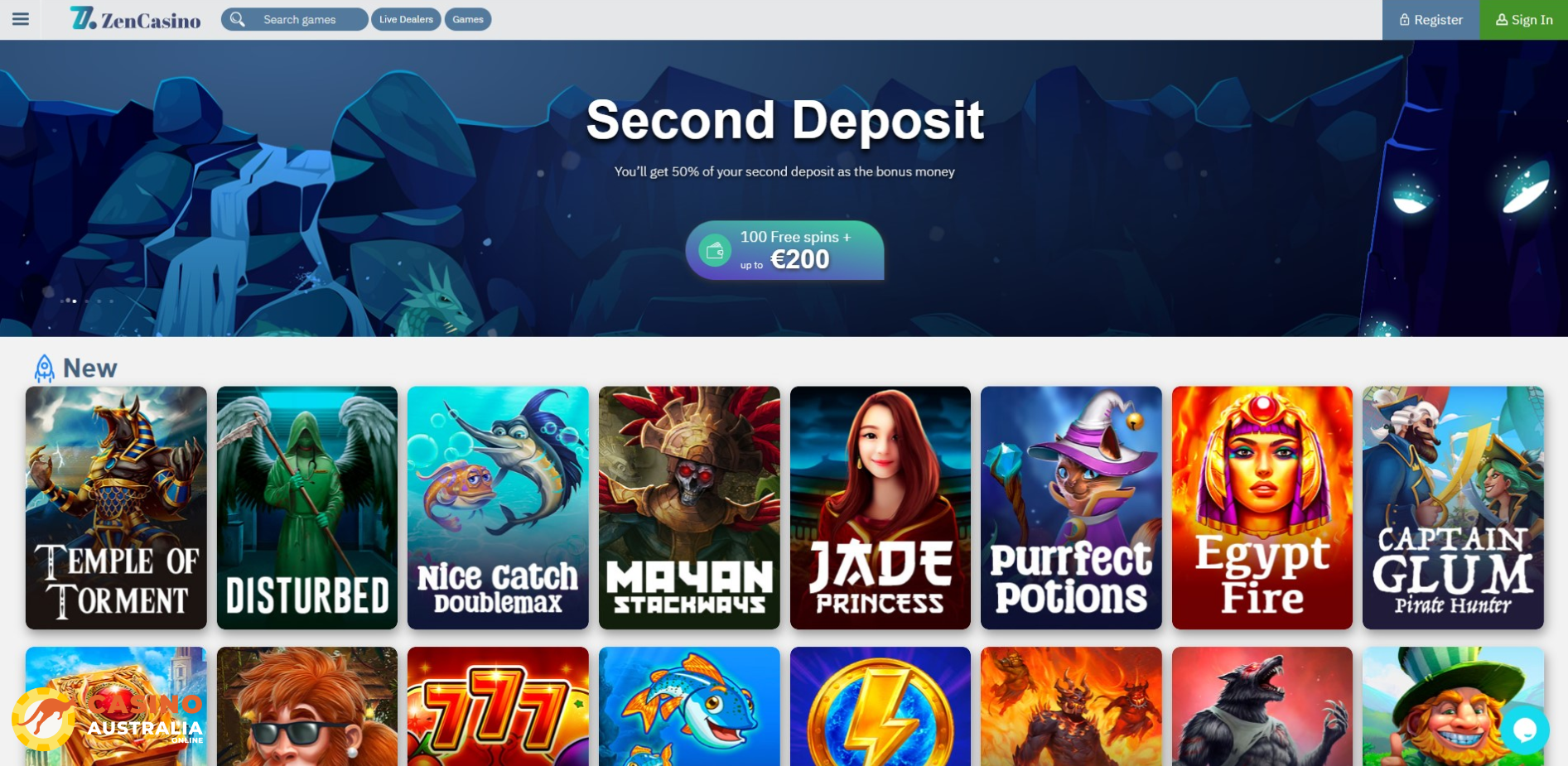 Bonuses
Welcome Bonus – 100% Match up to AU$300 + 100 Free Spins
A lot of people make the mistake of jumping onto the biggest welcome bonuses – even we at casinoaustraliaonline.com have often chastised online casinos for not offering big enough welcome packages. However, what's more important than numbers is a bonus that truly lets you experience what the casino has to offer. And we believe ZenCasino offers just that.
At first glance, its bonus is quite timid – a mere 100% match up to AU$300. It's not something that will particularly excite the kind of high-rollers who care about high bonuses, is it? However, in addition to that, you'll also receive 100 free spins – a rather generous amount that's perfect for an online casino which has clearly prioritized pokies over anything else.
Of course, casino bonuses aren't just free money – you'll need to play through them in order to withdraw anything. You'll need to wager your complete amount (deposit + bonus + free spins winnings) a total of x35 times before you can withdraw them. While pretty standard for the industry, this requirement is also quite steep, which means that you're better off thinking of this bonus as a chance to try out some games without risking your own money rather than as tangible funds.
Additional Welcome Bonuses
One of the absolute best things about ZenCasino is that they're chock-full of all kinds of different bonuses and promotions! While other casinos might just leave you hanging after a mere one bonus, ZenCasino will treat you to a cornucopia of treats starting with the welcome package itself. After claiming your first bonus, you'll actually be able to receive 3 more, one for each subsequent deposit.
The second deposit bonus will net you a 50% match up to AU$300, alongside another 100 free spins (making for a total of 200 alongside your first deposit bonus). The third and fourth deposits will not give you any spins, but they'll still each net you that 50% match, so it's certainly better than nothing.
For the most part, the conditions for claiming and withdrawing the bonus are the same as with the welcome bonus – you'll need to wager the full amount x35 times. The sole exception is the 4th deposit bonus, which generously has only an x30 requirement. However, keep in mind that you'll need to deposit at least AU$30 in order to claim these bonuses – a higher requirement than the one tied to the first deposit bonus.
Reload & Limited Promotions
As previously mentioned, ZenCasino is like an all-you-can-eat buffet of various bonuses and features. While we're writing this, we were exposed to nearly 20 different reload and limited-time promotions that you can claim, which is just absurd! Most casinos that we've reviewed here on the site will only offer a few bonuses, and even the most generous ones tend to call it quits after the first 10 or so.
For the most part, these bonuses will only be available on certain days of the week – for example, every Tuesday you'll be able to choose between a 50% match or 20 free spins, every Friday you'll get 50 free spins and a 50% match (both doubled for crypto deposits) and so on and so forth. While there are some days of the week without bonuses, most have at least one – usually more.
Given the sheer amount of promotions that you can find at ZenCasino, it's pointless to really get into each one of them individually here – especially since some of them might change by the time you're reading this. We're quite good at reviewing online casinos, but precognition isn't one of our strong suits just yet! As such, we recommend that you check out the bonuses for yourself if you decide that the casino is for you.
Games
It should be fairly obvious with even a cursory glance at the landing page of ZenCasino that its main priority is pokies. As such, there really won't be much else here besides them – and it's not something that we can particularly fault the site for. It never tries to falsely advertise itself as something that it's not, and as such we need to review it as what it is.
But if you thought this means that there are only pokies here, you'd be surprisingly wrong. Granted, the non-pokie options are extremely limited: you won't find any table games, sports betting, bingo or any other betting activities that are common in modern online casinos. However, ZenCasino still hosts a modest amount of live games. Don't get us wrong – these titles are more like appetizers than a main course, but their presence should be acknowledged nonetheless.
| | |
| --- | --- |
| Games | |
| Software providers | Apollo Games, Betsoft, Booming Games, EvoPlay, Platipus, Wazdan, Yggdrasil & More |
| Pokies | 2000+ |
| Live casino | Yes |
| Sports betting | No |
| Table Games | No |
Pokies
Before we get into discussing the ZenCasino pokies section in more detail, it's worth noting that (much like most casinos) it has quite a few providers whose games are simply not available to us Aussies. Most casinos will simply hide these games by default, and you'd never know that they aren't available for you. Others will not hide them at all, which sounds great until you actually try to play them and end up with an error message instead.
What ZenCasino does is something in the middle – it'll still show you games from unavailable providers (for example, in the Most Popular section), but will also let you filter them out through the in-site filtering menu. This will let you customize the selection of pokies that you wish to partake in, and even completely eliminate providers that are available, but you have no interest in.
But what about the main event, the slot games themselves? Well, admittedly the available selection isn't great – you'll have access to games from Evoplay ("Book of the Priestess"), Yggdrasil ("Gold Fever"), Platipus ("Hallowin") and, of course, Betsoft ("Charms & Treasures"). Are any of these titles must-play classics? No, not really. But they're fun, entertaining, and relaxing – so if you're feeling open-minded, you might find a few new favorites.
Live casino
If spinning pokies isn't quite your thing, then perhaps ZenCasino isn't for you – however, if it's just not your only thing, then you might be in luck, as the site has a fully functional live section! Us Aussies will get access to about 40 different rooms, mostly from Lucky Streak, with a few live tables by other providers sprinkled in for spice.
Most of the available games should be unsurprisingly common – baccarat, blackjack and roulette dominate ZenCasino's live section. With that said, you'll still encounter a few more niche titles, such as Kilic, Tombala and Over/Under. While they won't exactly set the gambling world on fire, they're a great distraction for those of you who are feeling a touch more experimental.
Deposits & Withdrawals
Our overall impressions of ZenCasino's payment methods are quite good. To start off, you'll only need a very modest deposit in order to start playing – just AU$15. While this won't be enough to actually trigger any bonuses, it's still a very low minimum for those who just want to try the casino out without committing to anything.
As for how you can deposit, well, ZenCasino offers a pretty decent variety of methods. You'll be able to deposit using your card, as well as a number of e-wallets (like Neteller or Skrill). If you'd rather not tie a particular payment method to your account just yet, you can also use Paysafecard.
With that said, it's worth noting that the most prominent deposit and withdrawal methods at ZenCasino are certainly the various crypto options. You'll be able to buy chips using a wide variety of alt coins, such as Bitcoin, Ethereum, Ripple and Tether – so if this is something that you're interested in, then the casino should leave you pretty happy!
Payments

Minimum deposit

AU$15

Minimum withdrawal

AU$15

Maximum withdrawal

Per day – AU$3,000

Per week – AU$7,500

Per month – AU$15,000

Deposit methods

MasterCard, Visa, Neteller, Skrill, AstroPay, Jeton, Paysafecard

Crypto currencies accepted

BTC, LTC, TRX, USDT, ETH, BNB, XRP, BCH, DAI, SOL

Australian Dollars accepted

Yes

Welcome bonus package

AU$300 + 100 Free Spins

Withdrawal time
It's impossible to give an exact estimate on when your withdrawal will actually make it in your wallet, as it'll depend on a variety of factors – chief among which being the method you use in order to commence the withdrawal. Sure, ZenCasino will always take a few days to process your payment no matter what you pick (even though they claim it only takes 6 hours), but what about after that?
Well, the undisputed speed champion is crypto, as that transfer will be nearly instant after your request has finished processing. Crypto transfers are limited to the speed of the blockchain, for most of them, this means transfer speeds of between several seconds and half an hour. Even if you're generous and say a few hours, that's still not so bad.
But if you're not particularly interested in crypto, then e-wallets, such as Skrill, Neteller and AstroPay, will be a good enough substitute with very fast speeds. If promptness is your sole concern, then we would avoid using bank cards for withdrawals – while it's convenient to have your money go straight to a card, it'll also take 3-5 business days to fully happen.
VIP Program
Given their gajillion bonuses, it really shouldn't surprise you that ZenCasino also have a loyalty program. Unlike the bonuses, however, this one is a bit of a dud, and for most players, it might as well not exist at all.
To start off with the positives – the program has 8 different levels through which you can advance as a player. You start off at VIP 1, but eventually can progress through VIP 2, 3 and so on, until you finally hit VIP 8, the final and most elite level. On the way, you'll unlock faster processing times, cashback bonuses to cover your losses, even some exclusive wager-free promotions.
So, what's the problem? Well, in order to reach VIP 2, you'll need to wager a staggering 10,000 euro! The overwhelming majority of players will not even come close to this over the course of years – which is fine for the higher levels, but for essentially the first level-up, it's outrageous. But what's even more outrageous is that if you make it to levels 7 or 8 (requiring bet turnover of 70,000 and 100,000 euro respectively), you'll lose your status if you don't place a bet for a month. That's insane! Why have a VIP program at all if it'll be so inaccessible?
Tournaments
Unfortunately, as of the time of writing, ZenCasino does not offer any tournaments whatsoever. It seems like an obvious match for the casino, given its strong emphasis on pokies – after all, pokie tournaments have been picking up steam over the last few years, and implementing them into your repertoire seems like a fairly easy way for an online casino to get some new players.
Much to the disappointment of pokie tournament enthusiasts throughout Australia (and the world in general, we imagine), ZenCasino don't appear to share our view! It's a shame, but all we can do is keep an eye on the site and update this section if the situation changes.
Verification
When you first attempt to withdraw from any online casino (be it ZenCasino or any other), you'll first have to go through a verification procedure. This process, known also as KYC (know your customer) is universal, but luckily, easy enough to pass – all you have to do is send the casino's support team copies of a few simple documents to prove your identity.
The most important document is a form of ID, such as a passport or a driver's license. After that, you'll need to prove your current address via a document that contains it alongside your name (such as a recent utility bill). Finally, depending on the payment method you used, you might need to also verify that. For example, you'd need to take a photo of the bank card you used to deposit, or a screenshot of your e-wallet interface showing your name and deposit transaction.
Is ZenCasino Legit & safe?
Sadly, there is no easy and universal way to determine whether an online casino is legit and safe – all we can do is a bit of detective work in order to make an educated assumption. One of the biggest clue that we as detectives can uncover in this way is the casino's license, which has been issued to it by a gaming authority that regulates and oversees various casinos' activities.
While the presence of a license isn't a guarantee that the casino is legit, it's certainly an optimistic sign – and luckily, ZenCasino has been licensed by the Curacao Gaming Authority. While there are a few things about it and its terms of service which have left us scratching our heads (like, for example, how it slowly drains inactive players' accounts of their deposits), overall, we believe that the casino is fairly trustworthy.
| | |
| --- | --- |
| License | Curacao |
| License number | 8048/JAZ2015-046 |
| Company address | DR. H.FERGUSONWEG 1 WILLEMSTAD CURACAO |
Customer support
ZenCasino's support also left a bit of a negative impression on us when we researched it. For starters, while the casino has a live chat support, it's only accessible to registered players who have logged into their accounts. This, in turn, means that you won't be able to use it if you're unable to log in – a situation in which you'd presumably really need it.
Your only other alternative is to send an e-mail, but in our experience, this was a slow and not very reliable process. It took quite a long time for us to receive a response to our questions, and said response boiled down to "log into your account and contact support through the on-site menu". Why even have e-mail support if they're unable to, you know, support?
| | |
| --- | --- |
| Live Chat support | For logged-in users only |
| Phone support | No |
| E-mail support | [email protected] |
| Ticketing system | No |
Mobile casino
On the other hand, the casino's mobile version is incredibly good. Even if you just barely glance at the site's layout, it'll quickly become obvious just how well those big, bright icons are going to translate onto a phone's smaller screen. And they do! Browsing the site's pages on a phone is a joy, and playing its games both looks and feels good on the handheld device.
Pretty much anything you can do on the site's desktop mode (such as place bets, deposit or advance through the VIP program if you're persistent enough) can also be done on mobile. That is because the site is identical, and accessed the same way: through a browser. This means that you can play the casino's games at any point from any device without having to download any unnecessary apps.
| | |
| --- | --- |
| Interface | |
| Mobile version | YES |
| iOS App | No |
| Android APP | No |