Wild Tornado Casino Review
Even though we're certified casino experts, we can't claim to know every single online casino company out there – there are just too many of them! However, we do recognize ones that keep popping up over and over again, companies with dozens of casinos under their belt which we always follow with great interest.
Dama NV is one such casino company, and we've written many reviews about their projects. Some were awful, while others were genuinely really great, so in a way, it's sort of like a box of chocolates. As such, when we spotted their Wild Tornado casino, we couldn't help but wonder what it tasted like! To find out, we thoroughly examined not only its games and features but also its promotions, safety, and customer support.
So, in this box of chocolates, will Wild Tornado be the hazelnut cream filling or the tasteless marzipan?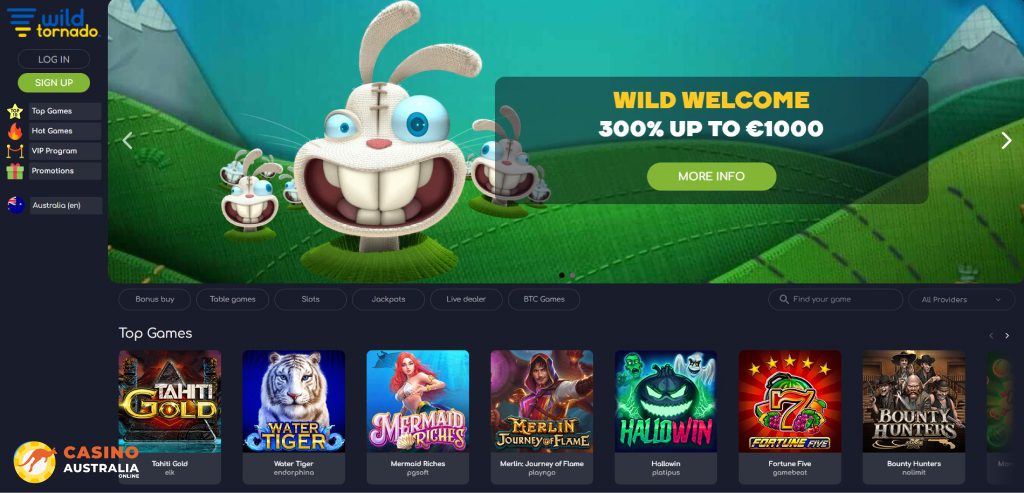 Bonuses
Welcome Bonus – 100% Match up to AU$300
Right off the bat, we're met with a rather disappointing first deposit bonus. While the main page of Wild Tornado Casino will boast a "300% match up to AU$1,000", the truth is that this is an accumulation of your first 4 deposits, not just the very first one. When you're actually buying chips for the first time, you'll receive a mere 100% match up to AU$300, which isn't great no matter how you look at it – regular players will be disappointed by the low match percentage, and high rollers by the low maximum bonus amount.
But if you think that's bad, you haven't seen the conditions yet! To get the bonus in the first place you'll need to deposit at least AU$20, which isn't too bad at all – but to withdraw it, you'll have to wager it x40 times within just 3 days. This is absurd. Even if you just deposited the minimum amount, you'd need to make AU$800 worth of bets within 72 hours to withdraw AU$20. It's absolutely ridiculous.
Additional Welcome Bonuses – Up to AU$700
As previously mentioned, you'll be receiving bonuses the first 4 times you deposit at Wild Tornado Casino. We already went over the first deposit bonus, but what about the rest of them? Are they any good? No, of course not. If anything, they're even worse. Here's what you'll be receiving for each of them:
| | | |
| --- | --- | --- |
| Deposit | Match Percentage | Bonus |
| Second | 50% | AU$200 |
| Third | 50% | AU$200 |
| Fourth | 100% | AU$300 |
As you can plainly see, all of these bonuses are either exactly the same as the already disappointing first deposit bonus or way worse. But if you thought that they must come with lighter wagering requirements due to being smaller, forget about it. You'll still have only 3 days to wager each one x40 times. Honestly, we don't know what they were thinking – this is awful.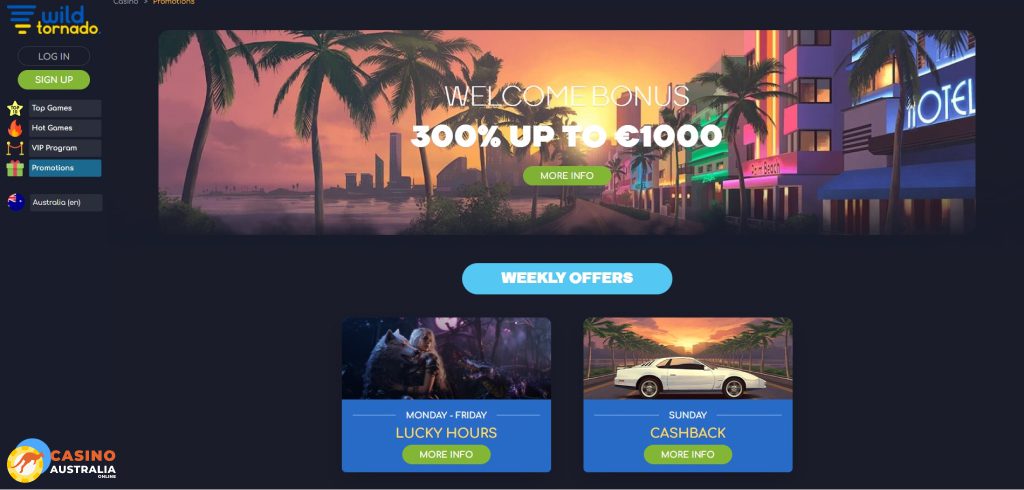 Reload Promotions at Wild Tornado Casino
To (at least somewhat) make up for its disappointing welcome package, Wild Tornado Casino has offered its players several reload promotions that can be claimed repeatedly, even after you've already made use of the welcome promotions. As of the time of writing, there are two different promos – Happy Hour and Cashback.
Cashback is precisely what it says on the tin – every Sunday you can get a cashback on a percentage of your losses over the last 6 days… If you have deposited and lost at least AU$200 during that time, of course. Even then, your cashback won't be given as real money, but as a bonus that you'll need to wager x10 times in 3 days. Not exactly a great cashback program here
As for happy hours, by depositing at least AU$60 during the work week you'll be able to snatch up some free spins to go alongside your bonus. The more you deposit, the more spins you'll gain, like so:
| | | |
| --- | --- | --- |
| Deposit | Spins | Bonus Code |
| AU$60 | 30 | LUCKY |
| AU$100 | 50 | LUCKY50 |
| AU$200 | 100 | LUCKY100 |
And if you thought getting 30 free spins for an AU$60 deposit was a good deal, don't forget that you'll need to wager your winnings x40 times within just 1 day in order to claim them, basically rendering the entire bonus meaningless. Do you see now why we have so much grief with Wild Tornado's bonuses?
Games
Well, the bonuses of Wild Tornado were a bust, but even the worst bonuses can't erase the appeal of a really good games section, right? Alas, there is no such appeal here, as the selection is incredibly limited, downright insultingly so. If you signed up hoping for a wild diversity of game types that stays true to the casino's name, prepare to be disappointed.
All you'll find here are pokies and a number of table games. That's it. You won't find any sports betting, you'll barely find any live games (more on that later), you won't encounter crash games, mini-games, nothing particularly interesting. Even the category "BTC Games" was a profound disappointment, as it didn't actually have any crypto titles, just regular pokies that you could (optionally) wager at using BTC.
| | |
| --- | --- |
| Games | |
| Software providers | OnlyPlay, Platipus, Mascot Gaming, Bgaming, Gamebeat, Truelab, Zillion, Fugaso & More |
| Pokies | 2,000+ |
| Live casino | Yes |
| Sports betting | No |
| Table Games | Yes |
Pokies
Its selection of pokies is undoubtedly one of Wild Tornado Casino's strongest features, but that's not really saying much, is it? Once you open it, you'll gain access to thousands of games from a number of different pokie providers, and anything you see will be playable for you as an Australian player. Great first impression!
However, we do have two major problems with this section. First and foremost is the selection of providers. While some of them are very high-quality and offer fantastic games (like BGaming or Gamebeat), most of them do not do that at all. There is so much filler here from providers not even we have heard of that it makes it very difficult for players to find games they're actually interested in.
And that leads us to our second issue: the profound lack of organization. There are next to no ways to filter out this huge selection of pokies. You can filter them out by jackpot, by provider, or by whether or not they accept BTC for wagers, and that's it! Imagine you're a brand new online casino gamer who is only just now getting into pokies – you'd be immediately confused and turned off by this pokie section!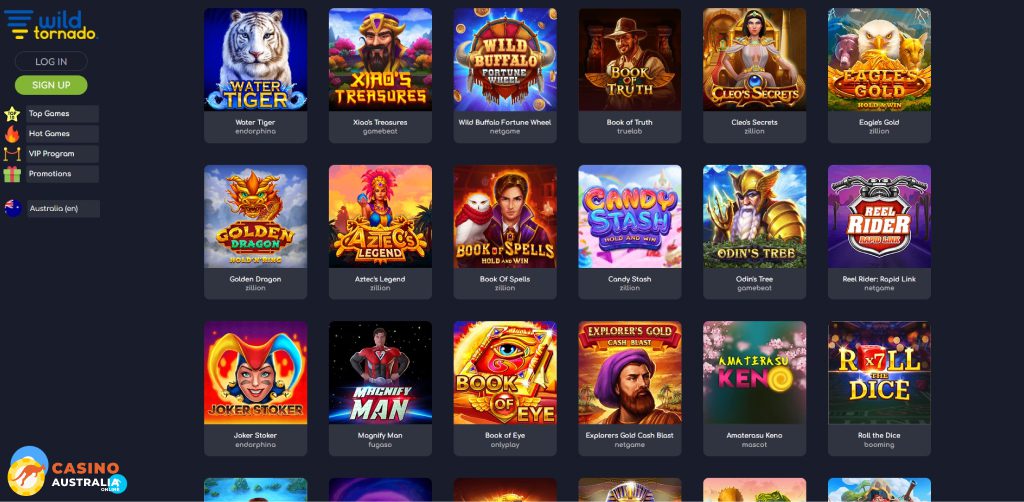 Live casino
It is low-key hilarious just how few games Wild Tornado Casino has in its dedicated "live dealer section". To give you a frame of reference, most online casinos will offer you about 100-200 different rooms – granted, most dedicated to blackjack, roulette and baccarat, with the rest spread between among a number of different game types, but still, it's a solid number! Want to take a guess at how many live rooms Wild Tornado Casino offers?
Is it 50? 25? 10? 5?! Nope! It's 3. 3 rooms! And to add insult to injury, they're all for roulette! We have pretty much never reviewed an online casino that didn't at least offer a blackjack table or two! The fact that Dama NV saw this scarce selection and thought "Mhm, this is good enough" is absurd. Not having a live dealer section at all would have honestly been better at this point.
Deposits & Withdrawals
While we weren't awfully enamored with Wild Tornado Casino's bonuses and games, we actually quite like the diversity and variety of payment methods available. When you choose to deposit, you'll be able to pick between using your card, an e-wallet solution (such as Neteller or Mifinity), even a pre-paid solution (like Neosurf).
If you consider yourself more of a "crypto bro", then you'll be happy to learn that the casino also accepts a very wide variety of crypto coins. They include not only the very popular ones (like Bitcoin, Ethereum and Tether), but also some significantly smaller, like Tron, Ripple or Binance Coin. We at casinoaustraliaonline.com have reviewed dedicated crypto casinos with less variety in crypto deposit options than Wild Tornado offers!

With that said, we do have a criticism. The site also has a minimum withdrawal limit of AU$75, which is absolutely absurd. Even something like AU$50 would be considered quite high, but AU$75? Most online casinos require you to have about AU$30-35 in your winnings account before they'll authorize a withdrawal!
Payments

Minimum deposit

AU$20

Minimum withdrawal

AU$75

Maximum withdrawal

Per day – AU$5,000

Per week – AU$10,000

Per month – AU$30,000

Deposit methods

Visa, MasterCard, Neteller, Skrill, Mifinity, EcoPayz, Paysafecard, Neosurf

Crypto currencies accepted

BTC, ETH, DOGE, USDT, LTC, BCH, XRP, TRX, BNB, ADA

Australian Dollars accepted

Yes

Welcome bonus package

AU$1,000
Withdrawal time
Yes, yes, we get it – you want to withdraw as quickly as possible. Who doesn't? But sometimes you have to make a choice between speed and convenience, and objectively, withdrawing into your bank card is the best way to get your casino winnings. Granted, it'll take about 3-5 days due to bank verifications, but after that, you'll have much more freedom on how to use your winnings. A direct bank transfer is also possible, but since it'll take much longer (up to 10 days), it's not recommended over card withdrawal.
But what if you really want to get your money as soon as possible, perhaps to pay off the ransom of evildoers holding your beloved pet hostage? In that case, crypto and e-wallets will be your best friends, as they can process transactions much faster than banks, often within a matter of hours or even minutes. The downside is that you'll be locked into that ecosystem (be it Bitcoin or your Neteller wallet) until you transfer the cash to your bank account.
VIP Program
We were quite surprised to find out that Wild Tornado Casino has its own, dedicated VIP program – after all, the casino has been rather disappointing, and it's rare for subpar sites to have such "advanced" features. Don't worry, though: we weren't at all surprised to discover that the program is really bad.
At its core, it's nothing we haven't seen before a million times: by playing at Wild Tornado Casino you'll gradually "level up", and with each new level you'll unlock more and more bonuses and features. You may receive a bigger weekly cashback or access to unique features and promotions. Granted, none of these things are truly groundbreaking, you won't rediscover the casino through a new lens once you can get a slightly bigger cashback, but they're nice to have. So, what's the problem?
Well, the truth is, we said an itsy-bitsy lie earlier. We told you that you'll advance at Wild Tornado Casino by playing, and that is actually not true. Indeed, while at other casinos you advance through their program by making wagers, here you do so by making deposits. Theoretically, you could immediately get to the final stage of the program by making a €25,000 deposit. Fantastic for high rollers, but not so much for the actually loyal players.
Tournaments
As far as we can tell, Wild Tornado Casino doesn't have a tournaments feature as of the time of writing. Here we'd like to say something like "if you're a fan of tournaments, don't despair, chances are the site will add a tournament function soon", but the truth of the matter is that Wild Tornado has been around for a bit and has shown absolutely no signs of even considering adding this essential function.
If you're someone who likes pokies, but prefers to play them in a competitive setting and ascend leaderboards, then this casino isn't for you. There are many more out there with not only tournaments, but also far better pokies in general.
Verification
In order to comply with international money laundering legislature, Wild Tornado Casino will need to verify the identity of anyone it dispenses money to. While this may be annoying, it's ultimately done in the interest of safety, to avoid accidentally (or even deliberately) funding illegal activity, like terrorism.
So, how does that impact you? When you're ready to withdraw, you'll need to verify your identity by submitting a number of documents to the casino's staff that prove you are who you initially said you were when you signed up. Those documents will include:
Proof of ID (like your ID card or passport);
Proof of address (like a bank statement or delivery receipt);
Proof of payment method (depends on the payment method you used for your first deposit).
Once you attempt to withdraw for the first time, your account will be temporarily locked and you'll receive an e-mail with instructions on what to do to verify yourself (similar to what we outlined above). Follow the steps and you'll be able to withdraw in no time!
Is Wild Tornado Casino Legit & safe?
For all its many, many flaws, at least Wild Tornado Casino is a legitimate casino, and we can feel rather confident in saying that. Partially, it's because the site is licensed by the Curacao Gambling Authority, who will hold it accountable in case it ends up scamming players (if by nothing else, then by stripping its license from the site and any others owned by the same company).
But even beside that, Dama NV has been around the block, so to speak. They're an old and extremely experienced company that has rarely if ever been involved with anything that could be considered untoward. True, we don't consider Wild Tornado Casino to be a particularly good one, and we have hardly made that a secret in our review – but not because it is unsafe. Quite the opposite, we wish the site was better, because if it was, coupled with Dama NV's great reputation, it would've been such an easy recommendation!
| | |
| --- | --- |
| License | Curacao |
| License number | Scharlooweg 39, Willemstad, Curaçao |
| Company address | 8048/JAZ2020-13 |
Customer support
Many players don't consider customer support to be all that important in the grand scheme of things, but trust us, it is. The last thing you'd want is to end up with a big sum in your winnings account that you won't be able to withdraw because of some stupid glitch or limitation that you didn't know about. That's what customer support is for, if anything, to give you the peace of mind that you won't end up in this situation.
Again, to their credit, Dama NV have made sure that Wild Tornado Casino's customer support will do what it's supposed to. You can reach out to them in two ways, via live chat or e-mail, as there is no phone support available. Live chat is generally recommended for faster communication and easier questions and issues, while e-mail is the go-to option if you're experiencing more complex problems or simply can't commit to chatting.
| | |
| --- | --- |
| Live Chat support | 24/7 |
| Phone support | NO |
| E-mail support | [email protected] |
| Ticketing system | No |
Mobile casino
We know that there are plenty of people who wouldn't touch an online casino unless they can wager through their phones, and to them, we have some good news – Wild Tornado Casino has a great mobile version! Much like many other online casinos, you'll be able to play it directly through your browser without having to download any other apps.
The mobile site is perfectly suited for the specifications of a mobile device, including not only the orientation of its pages, but also how much information gets cached into its memory. As such, the site (albeit slightly simplified) loads very quickly, not to mention is extremely easy to navigate even if you're fairly new to mobile casinos. No complaints here – the mobile version of Wild Tornado Casino is one of its highlights!
| | |
| --- | --- |
| Interface | |
| Mobile version | YES |
| iOS App | No |
| Android APP | No |