Wild Joker Casino Review
The classic show "Batman: The Animated Series" has a wonderful episode called "Joker's Wild", about an unscrupulous businessman who decides to create a casino themed after the supervillain Joker (voiced by the legendary Mark Hamill). Of course, the casino is a complete scam, and only created in order to trick the Joker into destroying it in revenge so that its owner can claim the insurance money without having to pay a cent to any winners.
As we look into the suspiciously similarly named Wild Joker Casino, we can't help but wonder if a similar scheme is taking place. Something just seems off. The design is subpar, to say the least, with a simplistic UI, many elements failing to load and straight up stolen assets (the owners aren't stupid enough to actually use the Joker, but see no issues using the image of a similarly copyrighted clown – Kefka from Final Fantasy).
And yet despite that, the casino offers crazy promotions like free cars, 333% match bonus up to thousands of dollars and other crazy promotions. Naturally, we had to investigate thoroughly and determine whether this casino can put its money where its mouth is, or if it's simply a fraudulent target intended to be burned to the ground by a crazy clown.

Bonuses
No Deposit Bonus – 25 Free Spins on Cash Bandits 3
The art of the no deposit bonus, where you'll receive a little something extra just for signing up at the casino, is sadly a forgotten one – most online casinos will require you to make a deposit before you receive even the smallest bonus. As such, we definitely have to commend Wild Joker for giving players 25 spins on Cash Bandits 3 just for signing up.
To claim the bonus, you must use the code "WILDER25" at sign-up – and you'll definitely want to, because up to AU$200 from your free spin winnings will be credited as cash in your account. This means that, just like a regular deposit, you'll only have to wager them once to withdraw them. This is undoubtedly the best bonus at the whole casino, but things only go downhill from here.
Welcome Bonus – 333% Match up to AU$3,333 + 77 Free Spins
If you were a little taken aback by the size of this bonus, don't worry – while this may seem like a deal that's just too good to be true, the reality is far less flattering. On the surface, the bonus does exactly what it says on the tin – if you deposit at least AU$15, you'll be eligible for a staggering 333% match and 77 free spins on the pokie Plentiful Treasure.
Why is this a bad deal? Because of our old pal, the wagering requirements! In order to withdraw a single cent from your amount, you'll have to wager it a total of x60 times! The free spins aren't much better, with x50 wagering requirements. On top of that, both limit how much you can actually withdraw from them – up to 10 times your deposit amount and up to AU$100 for your free spins winnings.
While the "fine text" makes this bonus practically worthless, if you still decide to give it a shot, be sure to use the code "WILDWELCOME" when you're making your first deposit.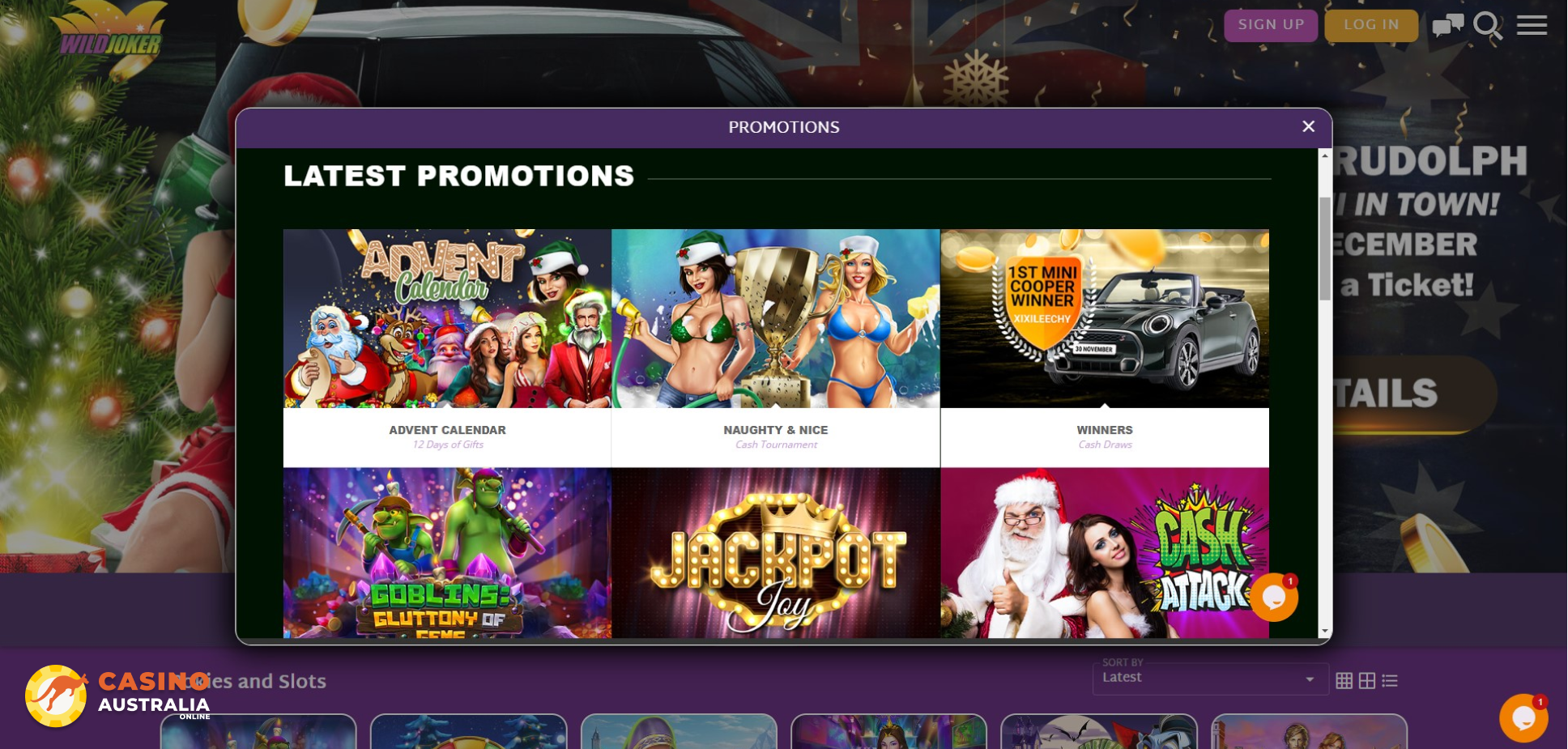 Games
A casino is nothing without its games – and even the best bonuses in the world can't change that! So, how does Wild Joker fare in the games department? Unfortunately, not particularly well. The gaming section is extremely limited, with many popular offerings (we're talking entire sections, not just particular games) completely missing.
Hell, even navigating the menu to get to the pokies was a chore in and of itself. It took far too many clicks to get a complete list of games, almost as if the casino was trying to hide just how few offerings there really are.
| | |
| --- | --- |
| Games | |
| Software providers | Real Time Gaming |
| Pokies | 140+ |
| Live casino | No |
| Sports betting | No |
| Table Games | Yes |
Pokies
Brace yourself for this one: Wild Joker Casino offers a grand total of… 144 pokies. Trust us, we counted, and it wasn't even particularly difficult. If you're wondering why there's so few of them, the answer is that they all come from a single provider: Real Time Gaming (RTG). And don't get us wrong, we aren't complaining about RTG's quality, they've made some pretty good games, like Merlin's Riches, Vegas Lux, Cleopatra's Gold and I, Zombie. But when they're the only provider there, they don't seem so appealing anymore.
If you're a fan or progressive jackpots, we've got even more bad news for you. First of all, there aren't actually that many games which have a jackpot – seven pokies, by our count. But even if you happen to win at one of them, here's bad news No. 2: Wild Joker Casino won't pay. At least not all of it. We don't entirely understand the reasoning behind this baffling decision, but it just makes it pointless to play any progressives at the casino.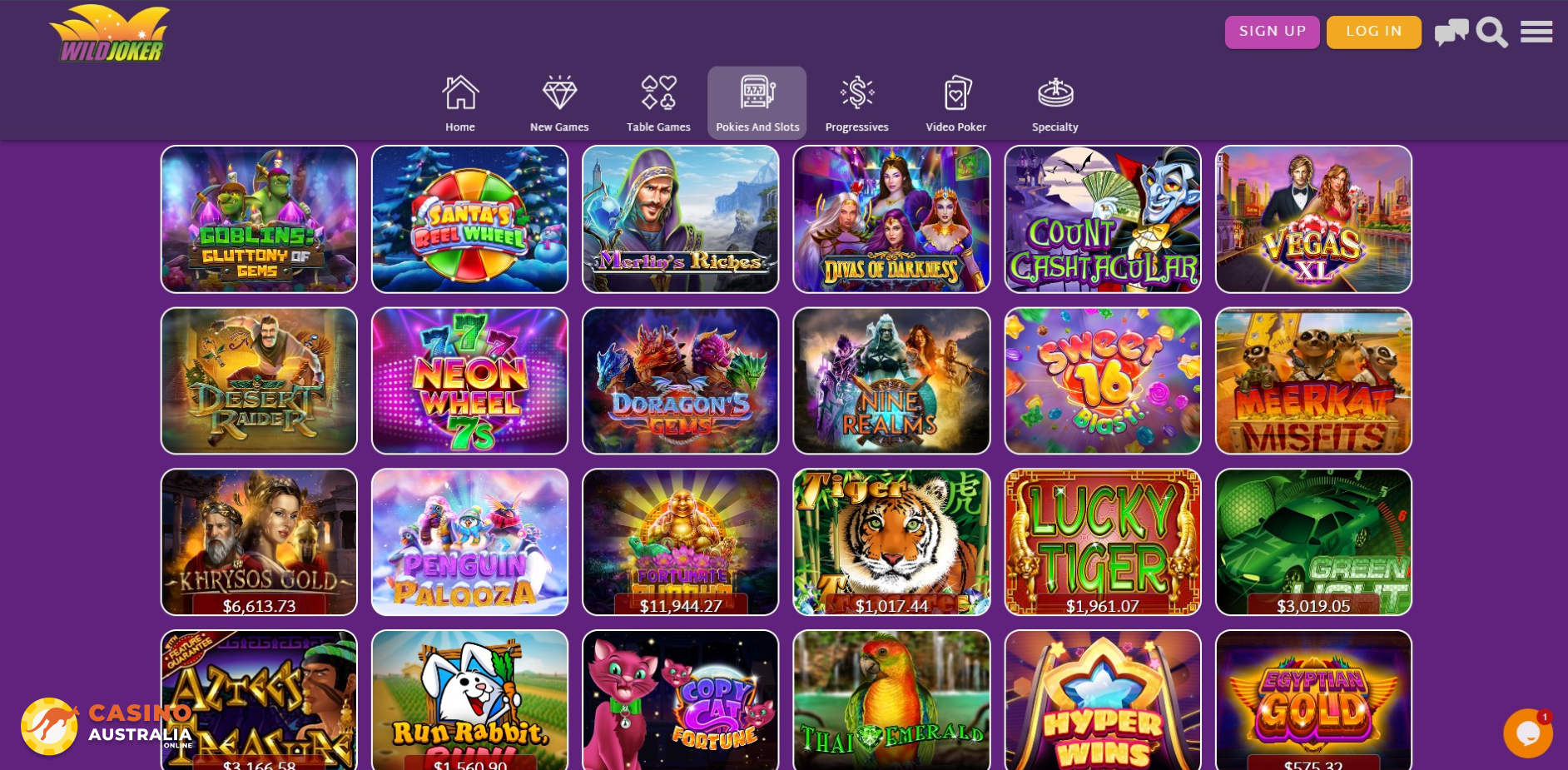 Live casino
If you're a fan of live dealer games looking to enjoy some roulette, blackjack or baccarat, we're sorry to disappoint, but that won't be possible at Wild Joker Casino. The casino doesn't actually offer any kind of live casino section, at least not as of the time of this writing. Its non-live table games are almost as poor, with only European Roulette, Keno and a few versions of blackjack and poker available.
We will keep a close eye on the casino and update our review if anything changes, but as of right now, if you're not a hardcore fan of pokies, there's just not much for you here.
Deposits & Withdrawals
If you're the type of player who enjoys depositing with a particular payment method, be it your favorite e-wallet solution or a particular cryptocurrency… Prepare to be immensely disappointed. Wild Joker Casino currently offers only three payment methods that can be used to complete your deposit: MasterCard, Visa and Neosurf.
There is no way to use popular crypto solutions like Neteller, Skrill or AstroPay, and you can just forget about using Bitcoin or Ethereum. This is honestly one of the most poor selections of payment methods we've ever seen, and barely even covers the absolute barest minimum for the casino to even function.
Payments

Minimum deposit

AU$20

Minimum withdrawal

AU$100

Maximum withdrawal

Per week – AU$10,000

Per month – AU$40,000

Deposit methods

MasterCard, Visa, Neosurf

Crypto currencies accepted

None

Australian Dollars accepted

Yes

Welcome bonus package

AU$3,333 + 77 Free Spins
Withdrawal time
The only payment method you can use to withdraw your funds from Wild Joker Casino is a wire transfer directly to your bank account… Which isn't ideal, for many reasons. Those include the very high minimum withdrawal requirement (AU$100, yeesh!), as well as fees and taxes associated with it. But chief among them is the length of time in which the withdrawal is processed.
While the casino will claim that it'll only take 3 days for your withdrawal request to be processed (which is technically true), this doesn't take into account how long it'll take for banks to complete it after the casino has dispatched it. In our experience, this can take up to 15 business days, and sometimes longer if the transaction is being investigated. If you somehow manage to withdraw anything at all from Wild Joker Casino, you'll be waiting for it for a long time.
VIP Program
Hooking new players with grand bonuses and big promises is one thing. Keeping them playing is another entirely – and this is where you'll have to do some work! Wild Joker Casino have chosen to do this not with a dedicated loyalty program (like many casinos do), but rather through the use of several promotions aimed at the most loyal players.
Those include the mysterious Cash Vault, which is not only locked to peasants, but we also don't get a hint about how it works! All we know is that, if you deposit for at least 7 consecutive days, you might be invited to open the vault. Which… Honestly, smells to us a little bit like a get rich quick scheme. We all have that one friend on Facebook who asks for a lot of money because you MIGHT hit it big, "trust me, bro!"
Another loyalty promotion is the Bonus Drops, which rewards players who deposit at least AU$1,000 between Sunday and Tuesday – quite the hefty task! If you manage to complete it, you'll qualify for a giveaway of over 2,000 rewards. If that seems like a bit too much for your wallet, depositing at least AU$250 will reward you with a smaller giveaway, one of 500 rewards. No, we don't quite understand how this is supposed to work either. You either win a reward or you don't, the number of rewards in total shouldn't matter, right? Not like it matters either way, because once again we don't even get a clue about what the rewards may be.
It's also worth noting that the casino offers a cashback program to its loyal customers. These types of promotions usually involve getting a certain percentage of all your losses back after a period of time, but Wild Joker Casino doesn't actually give us any more details than that. Starting to see a pattern here?
Tournaments
Tournaments have gotten surprisingly popular among pokie fans who wish to show off their luck and dedication publicly while also winning prizes by doing so. When a tournament begins, all players at the casino who wish to participate in it must start spinning the same collection of slots, and every spin will give them points. The more points they earn, the higher they climb up on the leaderboard, and the bigger the reward will be!
All things considered, it's really not hard to see how tournaments have become as popular as they are! But if you're getting excited, we're sorry to let you down: Wild Joker Casino doesn't currently offer any pokie tournaments. Not even as regular promotions! This is, of course, subject to change, and if it does, we'll be sure to update our review. We're not holding our breath, though.
Verification
Every online casino requires you to verify your identity before you're allowed to withdraw even a cent of your winnings. Why? Well, in the casino's defense, it's not up to them – they're merely complying with international money laundering regulations. Since it'd be quite easy for bad actors to take advantage of the casino's systems for money laundering and other nefarious purposes, everyone has to confirm they are who they say they are in the interest of safety.
Practically, what this means is that, the moment you attempt a withdrawal, it'll be immediately canceled and a verification procedure will begin. Following that, you'll have to present a number of documents to the casino to confirm your identity. Those may include:
A form of ID (like a passport, national ID card or driver's license)
Proof of current address (like a utility bill or delivery receipt, both of which need to have your name on them and must be from the last 3 months)
Proof of payment method (for example, banking records or screenshots from your e-wallet interface)
Proof of source of funds (such as your bank transactions or employment contract)
Photos of you holding the necessary documents to ensure they're legitimate
While only a few documents (namely, the ID and proof of address) will be mandatory for all, chances are most players will be asked for at least one of the remaining documents, if not all of them. And if you think that's a hassle, get a load of this: at Wild Joker Casino, if you fail to complete your verification process within 14 days, you automatically lose all of your money, including deposit and winnings!
Way to make an already stressful and annoying process even worse!
Is Wild Joker Casino Legit & safe?
Australian law tends to be a little bit gray when it comes to online casinos, unfortunately – but one thing it's absolutely not gray on is its stance on unlicensed casinos. It is strictly illegal for any Aussies to engage in gambling behavior at casinos that don't have a proper license by an offshore authority (for example, Malta or Curacao).
As such, we always take great measures to not only check whether the casino we're reviewing has a license, but to also verify its authenticity. Unfortunately, there was no license to verify at Wild Joker Casino, as the casino operates without one. This is a huge red flag that should immediately turn off most reasonable players.
Even if you don't care much about the law, you should consider the fact that a casino operating without a license isn't accountable to anyone. They can't be reported to any authority if they scam their players, which means playing there is a huge risk. Would you want to risk that by signing up, especially when there are legal, licensed alternatives?
Customer support
A great support team is an incredibly important part of any casino. After all, when the chips are down (no pun intended), you want to make sure that everything will go smoothly, as it's supposed to – and in the case it doesn't, you'll want the assurance that any problem will be fixed. Without that, the casino is next to worthless – what good is winning AU$1m if you can't even withdraw it?
The bad news is that our experience with the customer support team of Wild Joker Casino is quite poor. To their credit (if you can even give them that much), this is less of an issue with the people on this team, and more of an issue with the way the site functions. For example, there are three different buttons (count them, three!) that will connect you to a chat function… And two of them don't work. At least, we couldn't manage to make it work. As for the third one, it only connected us to a chat bot.
But okay, there are other methods to contact support besides chat, right? Well, you could e-mail them, but their e-mail address isn't actually visible anywhere on the site, we ended up finding it through a 3rd party, so we can't guarantee you anyone will even reply to any e-mails you send them. That leaves you with their phone number, and while under normal circumstances we would praise the inclusion of support over the phone, we can't help but disapprove of it when it's literally the only reliable way to reach out when you need help.
| | |
| --- | --- |
| Live Chat support | 24/7 |
| Phone support | 1800834497 |
| E-mail support | [email protected] |
| Ticketing system | No |

Mobile casino
Let's be honest here – you're probably reading this review from your phone, right? Don't worry, we're not wizards or mind readers, we just know that most players prefer to enjoy casino content through their mobile devices than on the computer. This is why every online casino worth its salt is going to want to make sure that its mobile version is fast, responsive and full of features – that's how most players will experience their site!
And if you had a gut feeling that Wild Joker Casino screwed up here as well, you'd be completely right. First off, the casino's mobile version is slow. Very, very slow. You know you're in trouble when it takes about 10-15 seconds just to load the terms and conditions page, which doesn't even have any images on it, let alone games. All we can say is, good luck to you if you actually hope to play something there!
And you'll truly need a lot of luck, given that a lot of games don't even work on mobile – even some that are listed as functional will simply not launch. If you were hoping to test them out and play around before signing up, you can forget all about it, because it's not possible to play any games in demo mode (even though it is possible to test them when on desktop. At this point, it's difficult to even say whether the casino is in this condition due to inept coding, bad ideas on the management's part, or both!
| | |
| --- | --- |
| Interface | |
| Mobile version | YES |
| iOS App | No |
| Android APP | No |