Valor Casino Review
Valor Casino, also known as ValorBet, is a brand-new platform by Bettor IO NV, a company that has a long and nuanced history of betting sites – but not so much with online casinos. Naturally, we were intrigued! Can the people who have cut their teeth on sports betting and acca wagers know how to put together a good site for pokies and live casino?
To find out, we decided to thoroughly investigate Valor Casino top to bottom, inspecting each element of it in thorough detail – starting with its bonuses and games, and then concluding with its safety, customer support and mobile features, all in the interest of giving you a complete picture. By the end of this long and very in-depth review, you'll become just as much of an expert on Valor Casino as we are, and will be able to make an informed choice on whether to sign up or not.
So, can this old dog learn new tricks, or should its creators have stuck on the online betting side?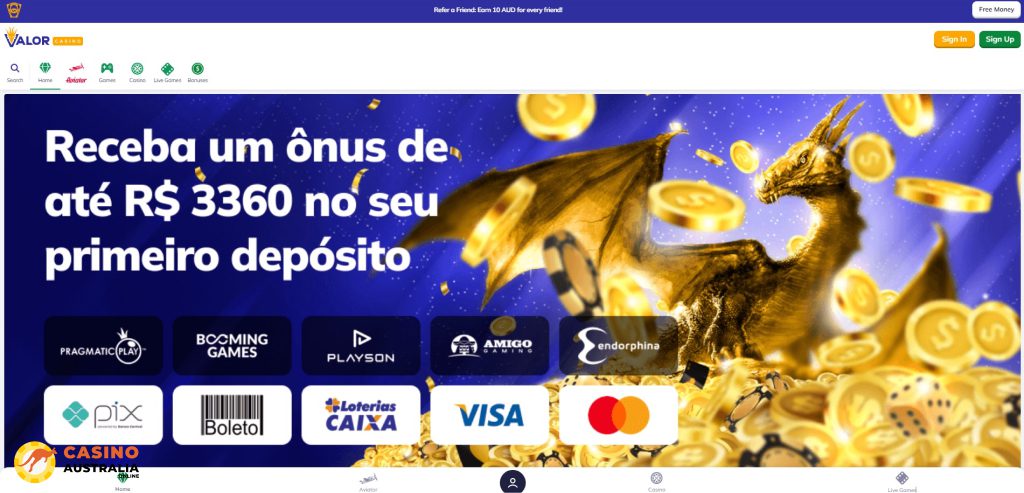 Bonuses
Welcome Bonus – 125% Match up + 250 Free Spins
Before we dive into the welcome bonus of Valor Casino, we have to make one thing abundantly clear: their website is a complete mess. And we're not talking about the "haha they used a silly color and pages load a bit slowly" kind of mess, we're referring to the "banners show up in the wrong language and pages display contradicting information" kind.
To top it all off, the casino also doesn't have a dedicated promotions page (the "Bonuses" page only lets you input codes and doesn't display any information), which makes finding out more concrete information all the more difficult.
As such, there are several bonuses on various banners and in different currencies strewn about the site's main page. The one we ultimately chose to showcase comes from its terms of service, so it seemed the most legitimate. However, keep in mind that the promotion may be different by the time you sign up, especially as the site keeps developing. So, after all that, what bonus would you get, pray tell?
Just a 125% match bonus.
Granted, we're being a little unfair – 125% is still better than the 100% some casinos try to sneak into their welcome promos, and on top of that, you'll receive 250 free spins on a pokie selected by the casino. Unfortunately, due to the aforementioned issues, we can't really share any other details with you about the bonus, such as its wagering requirements or maximum bonus amount.
The only interesting tidbit we can tell you is that, once you claim the bonus, you'll receive a unique bonus code. If a friend of yours uses that code to claim the bonus for themselves, you'll instantly claim AU$10 for yourself, sort of like a free no-deposit bonus. Neat! We'd settle for a consistent website and a dedicated promotions page, though.
Games
Much to our surprise, despite being created by a company whose bread and butter are sports betting sites, Valor Casino doesn't actually offer players the chance to place bets on any sports. As such, if you were hoping for some kind of hybrid site where you can do both equally, look elsewhere. With that said, the casino still offers a pretty decent diversity of games.
You've got pokies (obviously), but also table games, live casino, even poker games, bingo, lotteries and crypto games! Granted, except for the pokies, all of these titles are in rather limited quantities, making Valor Casino more of a sampler platter rather than an all-in-one stop. It's a good idea to give it a shot if you're very new to online casinos and want to try a little bit of everything, but if you're looking for something very particular, this may or may not be the casino for you.
| | |
| --- | --- |
| Games | |
| Software providers | Pragmatic Play, Booming Games, BGaming, Habanero, Tom Horn, Belatra, BG Soft & More |
| Pokies | 2,000+ |
| Live casino | Yes |
| Sports betting | No |
| Table Games | Yes |
Pokies
Overall, we quite liked the selection of pokies available at Valor Casino – in fact, we dare say it's our favorite feature of the site! The collection has a little over 2,000 different games, many of which from some of the biggest names in the online pokie industry, such as Tom Horn, BGaming or Belatra. And regardless of whether you're a brand new player or someone who lives and breathes pokies, it's impossible to say no to Pragmatic Play!
One particular thing about Valor Casino's implementation of pokies that we really liked is that there are quite a few ways to sort and segregate the pokies, such as by type, feature, developer or popularity. Sadly, a few of those methods don't really work all that way due to the site holding together with duct tape and prayer, but when it does work, it makes finding your next favorite pokie really, really easy!
Live casino
Sadly, the live casino section isn't as good as its pokies – as we mentioned earlier, most of the offerings at Valor Casino are very limited in their number, and that applies to the live dealer titles. At least in Australia, you'll only have access to about 20 different rooms, most of which for blackjack, roulette and baccarat – as is the case at most online casinos. They are the most popular live games, after all.
In addition, at Valor Casino you'll be able to try Dragon Tiger, Sic Bo, Teen Patti and a few Lucky Ball/Mega Ball studio games. A few titles that we would've liked to see, like keno or andar bahar, aren't present (not for us Aussies, anyway), but it's really not the end of the world. While nothing spectacular, the selection of live dealer offerings is okay.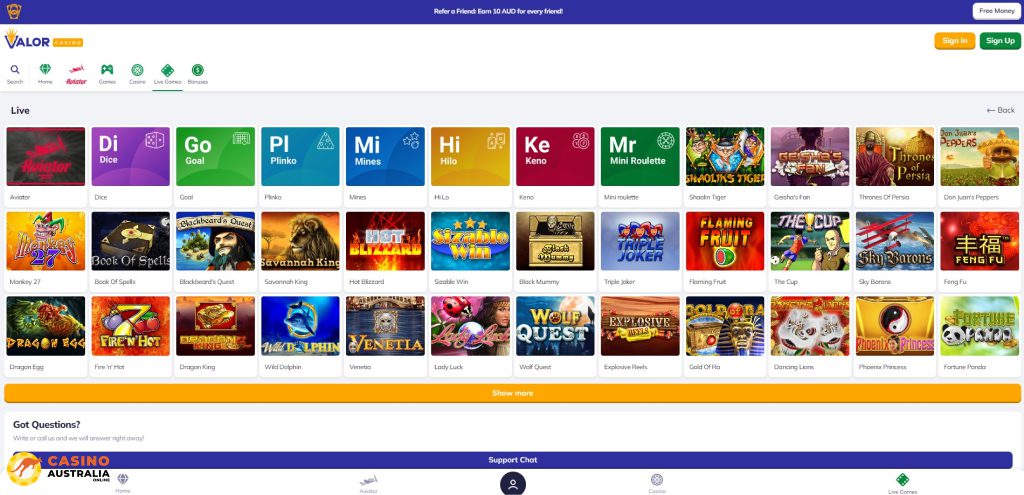 Deposits & Withdrawals
We were relatively positive about Valor Casino's games – but fear not, that's about to change very quickly, since there's nothing to be positive about regarding their half-baked payment options. To start off, there is no set minimum deposit or withdrawal, nor any maximums, either – instead, all transactions appear to be judged on a case by case basis. This, of course, leaves the casino with enough wiggle room to deny withdrawals that are "too small" or "too big" without having an actual, concrete reason.
Oh, don't worry, it gets worse. Aussies will also be able to deposit at the casino with only two payment methods – Visa or MasterCard. If you wanted to deposit using an e-wallet, such as Jeton or MuchBetter, or with a pre-paid voucher like Neosurf, or hell, even with crypto… Then sorry, you're fresh out of luck. We've almost never seen an online casino that offers so few deposit and withdrawal options to its players!
| | |
| --- | --- |
| Payments | |
| Minimum deposit | None |
| Minimum withdrawal | None |
| Maximum withdrawal | None |
| Deposit methods | Visa, MasterCard |
| Crypto currencies accepted | None |
| Australian Dollars accepted | Yes |
| Welcome bonus package | 125% Match + 250 Free Spins |
Withdrawal time
Given the fact that you can only withdraw via your credit card, it's actually very easy to estimate the approximate withdrawal time – Valor Casino has promised to process withdrawal requests within 48 hours, and once that happens and your withdrawal has been dispatched, you'll need to wait another 3-5 days.
In total, this would place the estimated wait time for your withdrawal at about a week. Granted, this is just the maximum amount of time you'll be waiting for, and it is entirely possible that you'll get your money within just 2-3 days… However, it is unlikely. It is also unlikely to wait more than a week to see the transaction reflected in your bank statement, so if that's the case, you should certainly reach out to support and ask what's up.
VIP Program
Valor Casino isn't exactly brimming with promotions, so, as you can imagine, a VIP program isn't in the cards here. Under normal circumstances, casinos will implement these types of programs in order to retain player loyalty and keep them playing for longer, even as they get tempted by grand welcome bonuses from other casinos.
However, for one reason or another (either because the site is still unfinished or because its owners aren't awfully concerned about loyalty), Valor Casino will not provide you with a program like that. As far as we can tell, outside of their referral initiative, they don't even have any reload or recurring bonuses for existing players, which truly shows the level of dedication that you'd enjoy as a loyal Valor Casino user.
Tournaments
Valor Casino's site is very clearly unfinished (or at least we hope so – it'd be rather awkward if it's supposed to be this broken), so it shouldn't come as much of a surprise that it doesn't presently offer any tournaments. Pokie tournaments have become an integral feature of many online casinos and have given new life to older pokies, so it's quite disappointing not to find them here, especially given Valor Casino's rather impressive collection of games.
It is very possible that sometime in the future Valor Casino's site will be updated and tournaments will be added. However, this doesn't appear to be planned as of the time of writing, so we wouldn't hold our breaths – nor would we be considering signing up at this casino if tournaments are something we valued greatly.
Verification
Much like at most other online casinos, you'll need to go through a brief verification process before you can withdraw any of your Valor Casino winnings. Once you initiate your first withdrawal, your account will be temporarily put on hold (preventing you from depositing or wagering) until you submit a few documents that will be used to confirm the data you inputted when you first signed up.
So, what documents are those? Well, you'll need:
A form of photo ID – Your passport would be ideal, but you can use any official document with your name, picture and personal details on it;
A proof of address – Anything with your name and current address on it, like a utility bill, bank statement or delivery receipt;
Proof of payment method – A photo of the credit card (front and back, signed) that you used to deposit at the casino, with the middle digits on the front and the security number on the back censored by you.
Once you send all three of these documents to Valor Casino's support team, they'll be evaluated by the staff and, if all checks out, your account will be unlocked, allowing you to issue your withdrawal request again – this time without any hold-ups. If there is a problem discovered, then you might need to submit additional documents, but this is very rare.
Is Valor Casino Legit & safe?
Verifying an online casino's legitimacy is (or at least, should be) one of the first things you'd do as a casino gamer – this time, though, we've got your back and did the work for you! Aren't we just the best? While the casino's unfinished nature left a lot of information off the table, we ended up doing a little bit of research on our own and learned a lot about the casino's parent company.
As far as we can tell, there's no reason to believe that the site isn't legitimate. Its parent company, Bettor IO NV, has multiple betting sites (and a handful of casinos) aimed at certain markets, and, as far as we can tell, most players are fairly happy with them. On top of that, the company (and, by extension, the casino) has a license to operate issued by the Curacao Gambling Authority, which places it a step ahead of unlicensed sites.
Last, but not least, it's worth pointing out that Valor Casino is (or claims to be) open to working with third party casino arbitration services in order to resolve potential issues. What this means is that, if you get scammed by them, you can enlist the help of a non-profit organization that protects the rights of gamblers, and Valor Casino pledge to work with them to reach an amicable solution.
| | |
| --- | --- |
| License | Curacao |
| License number | 365/JAZ |
| Company address | Curacao, Abraham de Veerstraat 9 |
Customer support
Despite how important the casino support feature often is, not enough players pay it enough heed – and trust us, you'd want to! What if you win a jackpot in a pokie, but it doesn't reflect in your account at all? If you report this to a support team and they don't do anything about it, you've lost your jackpot! And, sadly, we can see this happening at Valor Casino, as the level of their support team isn't very high.
For starters, you can reach out to them only via live chat or e-mail – however, as far as we can tell, the live chat seems to be either automated or staffed by people who do not speak English as a first language. Try as we might, we could not pull off a successful communication with them. As for the e-mail support, the casino's site lists several different e-mail addresses – including "contact@valor" and "[email protected]". The only one that worked for us was "[email protected]", as in, the mail was actually delivered, but we didn't receive a response to it.
| | |
| --- | --- |
| Live Chat support | 24/7 |
| Phone support | NO |
| E-mail support | [email protected] |
| Ticketing system | NO |

Mobile casino
Throughout this review, we've made it no secret that the Valor Casino website is, at best, unfinished, and, at worst, broken. Is it truly a surprise that it also doesn't work very well on mobile? Indeed – during our testing, the mobile site interface was slow and glitchy, with banners and buttons often appearing non-functional or in the wrong resolution.
The thing is, if you want to play on your phone or tablet at all, then you'd have no choice but to use the mobile site, since the casino does not have a dedicated mobile app. What's strange here is that the creators of Valor Casino clearly put a lot of pride into their mobile version, as you can optionally switch to it from the site's interface (rather than your browser's settings) even on desktop. So if they clearly care for it so much, why couldn't they improve it enough to make it worth using?
| | |
| --- | --- |
| Interface | |
| Mobile version | YES |
| iOS App | No |
| Android APP | No |