UA8Bet Casino Review
UA8Bet is an online casino established relatively recently and it's one of the many newcomers that aim to grab the attention of Aussie players. We all know this isn't an easy task, especially considering the sheer amount of websites that debut each day. Nevertheless, each betting hub has a shot, as long as it's well-curated, trustworthy, and provides an overall quality experience to the players who decide to try it out.
The establishment we will be reviewing in this article doesn't give off the best first impression – the security of the casino is rather questionable, many details are omitted from their terms and conditions, there's no license in sight, and top it all off, the game library is underwhelming. Still, we try our best not to write off gambling spaces too quickly, and as always, we will provide you with a comprehensive breakdown of all the important features and attributes of UA8Bet. This way, you can determine if it sounds like a place worth checking out. Let's get into it!
Bonuses
Good bonuses can sometimes be the only redeeming quality of an otherwise subpar to an outright disappointing online casino. This is definitely the case when it comes to UA8Bet Casino – the bonus selection is probably the sole department where the establishment excels, and that too might be too generous to say. When a betting hub looks fishy in many regards but has enticing promotions, it isn't even necessarily something to applaud. Many times alluring incentives combined with a shady environment equal potential trouble.
At UA8Bet, you'll be offered a welcome bonus, daily bonus, unlimited bonus, daily rebate, a referral incentive, as well as rescue, VIP, and birthday offers. These indeed sound exciting and the selection seems abundant enough to always have your back throughout your betting journey, We, however, are here to take a close look at all promo offers and make sure they're actually beneficial for players and not just too good to be true. Let's explore all bonuses that UA8Bet has in store.
Welcome Bonus Package – 130% Unlimited Bonus in Two Steps
The first offer UA8Bet Casino greets its players with is its welcome bonus package – with it, you can snatch 130% with no limits divided between your first two deposits. Your first deposit will bring you a 50% match bonus, and your second – 80%. This means that if you put AU$ 100 in your account with your first transaction, you'll end up with AU$ 150, and if you deposit the same amount a second time, you'll get AU$ 180. Sounds like a sweet deal, doesn't it?
What sounds even better is the wagering requirement, which is merely 5 times. Compared to the standard playthrough which verges between 35x and 40x, this offer comes off as almost too good to be true. The promotion only applies to playing pokies, so keep this in mind while fulfilling the wager. The minimum deposit is AU$ 30.
| | | | | |
| --- | --- | --- | --- | --- |
| Offer | Bonus | Free Spins | Wagering | Bonus code |
| 1st deposit | 50% Unlimited | 30 | 5x | n/a |
| 2nd deposit | 80% Unlimited | n/a | 5x | n/a |
Daily First Deposit – 30% Unlimited Bonus
Once you've been properly welcomed by the casino and it's time to move past your first two deposits, you can lean back on another nice offer. Each first deposit you make in the span of a day will bring you a 30% match bonus amount. To illustrate, a deposit of AU$ 100 would result in a total amount of AU$ 130. While this might not sound like an amazingly generous offer, it surely makes a difference over time.
The wagering requirement for this one is 3x on pokies and 5x on live casino games. The minimum amount you need to deposit to be eligible for this promotion is AU$ 30.
Unlimited Bonus – Get a 10% Unlimited Bonus on All Transactions
After you've made your first deposit for the day, you might want to deposit a couple more times throughout your betting session. For instances like this, UA8Bet offers a 10% match bonus for each deposit and what's best is there's no limit for the amount. This means that if you put AU$ 100 into your account, you'd have AU$ 110 in the end. If you deposit AU$ 1000, AU$ 1100 will be your final balance after the transaction. The playthrough for this offer is 2x if you play live casino games and 4x for any other games.
Other Bonuses
UA8Bet has a plethora of other promotions for you to explore. We'll go over each of them to give you an idea of what you can expect, but we also strongly suggest always checking all terms and conditions before making a financial commitment by depositing.
Each day, you can get back 8% of what you've lost playing pokies by using the casino's Rebate offer. This is a good way to recuperate from a not-so-lucky betting session and if you've lost, let's say, AU$ 30, you'll get back AU$ 2.40. It might sound measly compared to your original balance, but anything is better than nothing, right?
If you refer a friend who decides to become a member of the casino, you're in for a treat, too. They'd need to deposit at least AU$ 30, and you'll get a 30% bonus of up to AU$ 300. Just keep in mind that this promotion is tied to a 3x pokies playthrough and a 6x live casino playthrough.
There are also three distinct VIP bonuses that await all who climb up the ranks – a rescue bonus, a VIP bonus, and a birthday bonus. There are privately discussed with loyal members, but we must say, the amounts are quite exciting.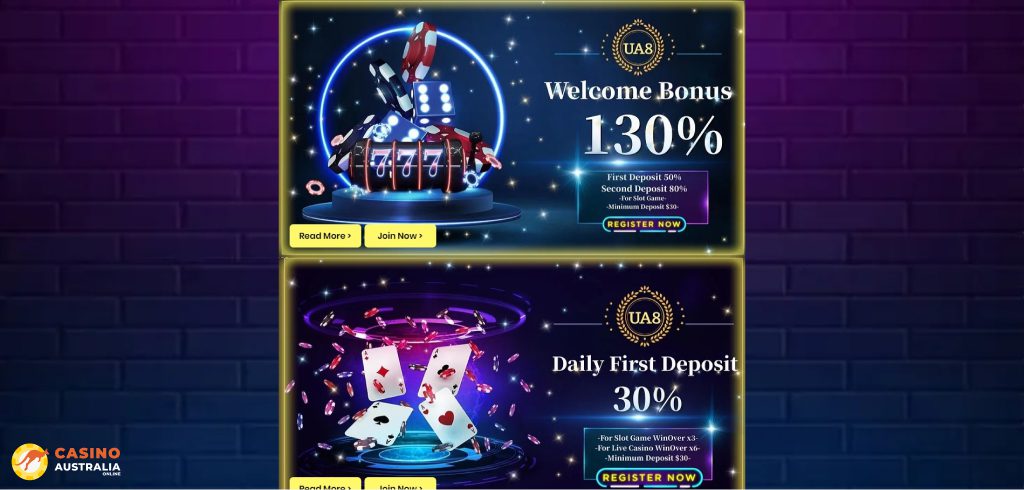 Games
If you've been interested in online betting for longer than a day, you've surely realized the immense importance of diverse game libraries when it comes to a given casino's popularity. The more games an establishment can deliver to its players, the longer they'd be able to explore excitedly without a trace of boredom. This is why most ambitious betting hubs invest in large game selections from as many providers as possible. There are, however, betting hubs that sign exclusivity deals with one sole provider, which most of the time results in a very humble, but consistent game library.
UA8Bet is an establishment that has signed an exclusivity deal with one provider and, as it happens almost always, the result is an underwhelming game library consisting of not too many pokies and even fewer live casino games. Still, what's there is of good quality and we can't deny that. At least for a while, players can definitely have fun with UA8Bet's games. Let's take a closer look at this casino's options for fun.
| | |
| --- | --- |
| Games | |
| Software providers | 918 Kiss Malaysia |
| Pokies | 8 |
| Live Casino | Yes |
| Sports betting | No |
| Table Games | No |
Pokies and Providers
Pokies don't seem to budge from their number-one spot as the most-beloved genre in the realm of gambling, and we can't help but enjoy all that they have to offer to players around the world. Many try to invent the next best thing, but pokies have proven to be endlessly fruitful grounds for innovation and experimentation while keeping simple gameplay at their core. This is the gold mine of betting games, and online casinos stock up on diverse titles to provide players with as much of an exciting experience as possible.
UA8Bet has the smallest pokies selection we've ever seen in a casino – merely 8 games. We're uncertain how can an establishment decide to debut with so little to offer, but we also can't deny that all 8 titles were fun to explore. Our top 3 from the selection of less than 10 games are Jin Qian Wa, Great Blue, and Geisha Story. Not that the rest wasn't fun, but for obvious reasons, picking favorites here is easier than at most casinos.
Normally, huge game libraries are home to the creations of as many game providers as possible. Each supplier brings something a little different to the table in terms of graphics, themes, controls, and style, so the more names live under the same roof, the more a player can enjoy and explore. While there are casinos that sign exclusivity deals with one sole provider, we at casinoaustraliaonline.com believe in diversity and love seeing libraries with tens of studios involved.
We won't be seeing many studios involved here as UA8Bet is a betting hub that has an exclusivity deal with a provider we've never heard of – 918 Kiss Malaysia. Overall, we find the casino's approach to games rather weird and definitely unusual, but becoming a witness to experiments in the industry isn't something we shy away from. You as a player, though, might want more diversity when you're choosing where to play.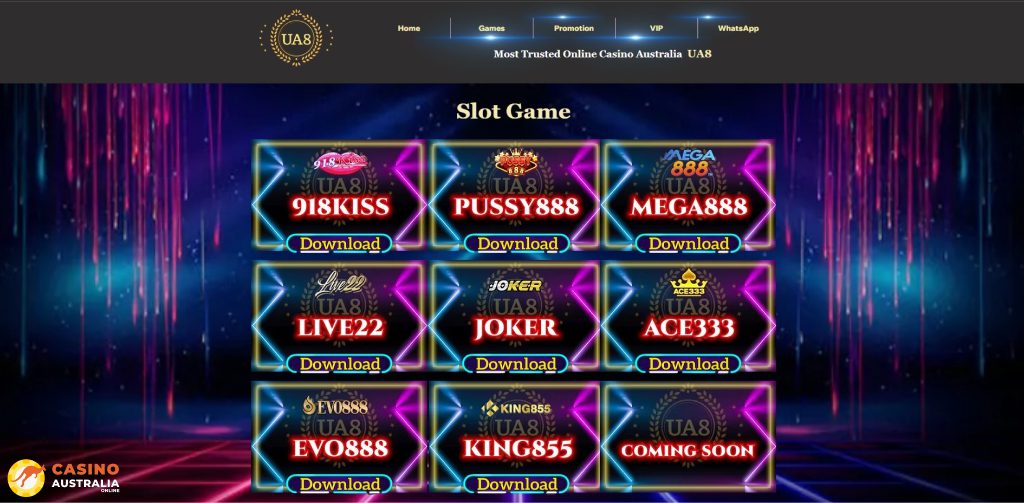 Live Casino
Usually, Live casino games enhance the overall variety of games available, providing a connection between the individual nature of online gambling and the exciting atmosphere of playing traditional table games in a live setting with fellow players. With the presence of a skilled and charismatic dealer leading the games, players can truly immerse themselves and enjoy their time in the casino lobby. While not all casinos offer live sections, those that do often feature a limited selection of games. However, it goes without saying that the more live games a casino offers, the more appealing it becomes to players.
UA8Bet won't blow your mind with tons of live casino games, but hey, at least a couple of titles are there. To be precise, there are 6 games you can choose from in the live section. Just like with pokies, we can't help but confusedly admire this casino for the gutsy decision to debut with barely any games. We wonder if it will ever work out for them, but we're in serious doubt.
Deposits & Withdrawals
The way a casino conducts its transactions is usually the biggest tell when you're trying to determine if you're near a scam or if you can relax and freely bet to your heart's content. Many times shady online casinos just aim to lock in whatever amount you decide to deposit and then disappear into thin air. This is the biggest reason to always be especially vigilant when it comes to financial matters. We always strongly suggest reading through all terms and conditions before jumping in and playing at any online betting hub.
When reviewing a given establishment, we at casinoaustraliaonline.com aim to present you with the gist of all transaction policies a casino has, so that you can in your turn make an informed decision and apply a level-headed approach when playing. Today we'll go over all things money at UA8Bet to determine whether it's a good place for you and your money or not. Let's get to work.
Deposits
Depositing at UA8Bet is a mystery. We've never thought we'd start a paragraph with this sentence, but here we are. This casino's website offers no information whatsoever on available payment methods or minimum deposit among other key facts.
Usually, even the shadiest casinos have a list of the payment methods they support and they're rarely less than 10, including both crypto and fiat options. None of this is present at UA8Bet. Moreover, a minimum deposit amount isn't specified anywhere, but the bonus section leads us to believe that it must be AU$ 30, as it's the lowest sum mentioned on the website.
We know one thing from the site and it's that the casino accepts AUD. If that's all they're willing to share when it comes to transactions, we aren't too sure they deserve to come in contact with our funds in the first place.
Withdrawals
Another mystery at UA8Bet is withdrawals. This is detrimental and should be taken into consideration as an establishment that gives you no information or guarantee what would happen with your money once you deposit is not to be trusted.
Most of the time, casinos disclose their minimum withdrawal amounts, as well as the maximum that can be withdrawn in certain periods of time. On top of that, info like rollover requirements and available withdrawal methods are easily accessible. Not at UA8Bet, though – the casino has none of this written down anywhere.
There's just one little fact that is known and it's that the casino promises to process your withdrawals within 10 minutes. This is hard to believe as a betting spot that doesn't provide any information at all isn't to be trusted. We strongly suggest avoiding UA8Bet and choosing a more reputable casino for your next lucky runs.
| | |
| --- | --- |
| Payments | |
| Minimum deposit | Undisclosed  |
| Minimum withdrawal | Undisclosed |
| Deposit methods | Undisclosed |
| Fiat currencies accepted | YES |
| Australian Dollars accepted  | YES |
| Cryptocurrencies accepted | Undisclosed |
| Welcome Bonus | 130% Unlimited |
Withdrawal time
The casino states a 10-minute time frame for processing withdrawal requests, but we highly doubt you'd ever get your money back if you decide to play here. It's advisable to steer clear of establishments that provide little to no information and seem made to only lure you in and kick you out quickly after they've taken everything they can from you.
VIP Program
While UA8Bet might not have any Terms and Conditions written down and fails to deliver in countless categories, it does have a VIP program. It's a 6-level loyalty program that promises exclusive bonuses with increasing value, and better withdrawal conditions. The way you'd potentially be picked out for participation is said to be determined by an algorithm that keeps track of your deposits.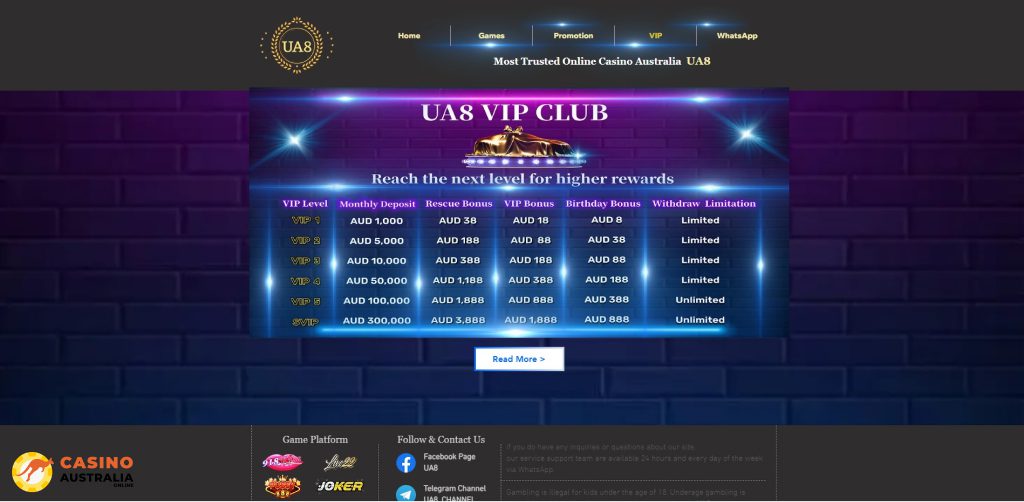 Tournaments
UA8Bet isn't a traditional online casino in any sense, so it's no surprise that there are no ongoing tournaments on its premises and no indications for future events either. We would normally say how we deep the lack of tournaments a loss considering how much players love to compete with other betting aficionados for juicy rewards, but there's no point when it comes to UA8Bet Casino.
Verification
Usually, even online casinos that don't seem all that trustworthy have elaborate rules when it comes to verifying their players to allegedly determine if they deserve to get their money. Here, though, there's absolutely no info on verification. For once, you don't need to keep your documents nearby because registering here would be a financial hazard in the first place.
Is UA8Bet Legit?
No matter what mental gymnastics we may do, we won't be able to deem UA8Bet anything more than outright unreliable. Not only does the casino lack licensing and ownership information, but it doesn't have any terms and conditions at all and doesn't mention anything about encrypting your data. Not only this, but you can't directly register through the website – it must be done via WhatsApp. The red flags here are so many they look like a poppy field. We strongly advise you to keep your distance from online casinos that can't fool even a gambling newbie.
| | |
| --- | --- |
| License | Undisclosed |
| License number | Undisclosed |
| Company address | Undisclosed |
Customer support
Most casinos support 24/7 live chat and email channels as a default, but (are we surprised) UA8Bet takes a different route. Here' customer support can only be reached via WhatsApp, which needless to say, is highly unprofessional. Having to go out of your way to find a representative seems tedious and is yet another thing the casino could've done way better. At least it's stated that you can reach a rep on WhatsApp 24/7
| | |
| --- | --- |
| Live Chat Support | Yes (WhatsApp) |
| Phone Support | No |
| E-mail Support | No |
| Ticketing System | No |
Mobile Casino
UA8Bet may barely have anything, but a functioning web browser version is one of the few positives about the establishment. As long as you have sufficient mobile data, you'd be able to access this casino's website on the go with no problem. What will you do once you open it is another question, the answer to which is 'not much'.
| | |
| --- | --- |
| Interface | |
| Mobile version | YES |
| iOS App | NO |
| Android APP | NO |