The Pokies Casino Review
We're Australians, and we love casino – that much is beyond doubt! But alas, one thing we don't love are Australian casinos, ones started by and intended exclusively for Aussies (and New Zealanders sometimes). More often than not, those casinos end up being nothing but scams preying on our country's odd gambling laws in order to literally steal money from players who don't know that there are much safer, non-native alternatives for them to play at.
So, naturally, when we learned about another Australian-only casino (The Pokies), we knew we had to investigate it very, very closely! As such, we spent days looking into every little thing about it, from the standard stuff like games and bonuses all through the much more in-depth aspects, like legality and safety. All so we can help you make an informed choice about whether it's worth making an account here!
So, is The Pokies finally the site that will break the Aussie casino curse, or is it just another scam?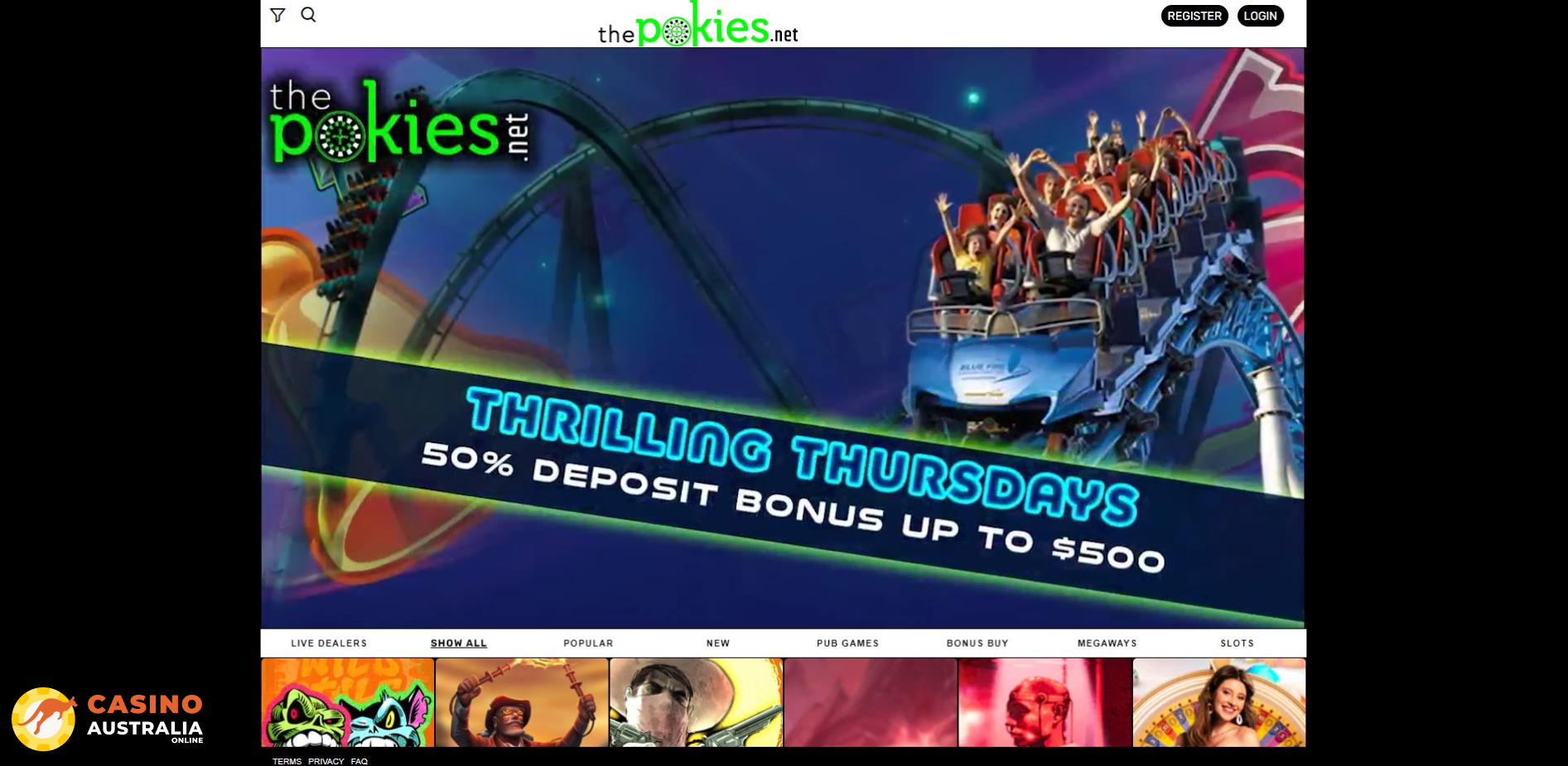 Bonuses
It is very difficult to discuss the bonuses of The Pokies Casino in a lot of detail due to there simply not being a lot of information about them on the site – not even once you register and are able to claim them! There is no dedicated promotions page on the site, and no support team that we can contact to ask for more details (more on that later). As such, the only information we have about these bonuses stems from banners we've seen on the main page, which don't offer information about wagering requirements, eligible games, withdrawal limits, maximum bonus amounts, etc. So please keep this in mind.
The welcome bonus that all players will (supposedly) receive upon completing their first deposit is a 200% match with free spins included. 200% match up to how many dollars? How many free spins, and on what games? Well, The Pokies Casino have chosen to remain mum on that front. The only thing we know is that you can claim the bonus with the minimum deposit you can make in the casino (which is AU$20).
Once you have collected and played through this offer, you'll be able to take advantage of the recurring promotions available at the casino. Depending on the day of the week, you'll be able to claim a different bonus:
| | |
| --- | --- |
| Day of the Week | Bonus |
| Monday | 50% match up to AU$250 |
| Tuesday | 60% match up to AU$250 |
| Wednesday | 75% match up to AU$375 |
| Thursday | 50% match up to AU$500 |
| Friday | 75% match up to AU$1,000 |
| Saturday | 100% match up to AU$1,000 |
| Sunday | 40% to 200% match depending on amount |
Unfortunately, while there is a bit more detail here, we're still missing a lot of important information about bonus eligibility, wagering requirements and more – details which are absolutely essential to know before and especially after claiming the bonus.
Games
It's very clear that The Pokies Casino has put a ton of effort into its selection of pokies – after all, the games section is basically the main page! While at other casinos you need to do boring, complicated things like clicking on the button that says "Games", here you're spared such misery and instead get to jump straight to the gaming as soon as you put in the URL!
In terms of game variety, don't expect too much. Unsurprisingly, the focus of The Pokies Casino are the pokies, to the detriment of nearly anything else. While there is a live casino section available, there are no table games to be found anywhere at the casino, nor can you do any other activities, such as play scratch cards or bet on sports. While what's available should be enough for most, it can still alienate many players, and it's worth bringing up.
| | |
| --- | --- |
| Games | |
| Software providers | Belatra Games, Booming, Evoplay, Hacksaw, NetEnt, Nolimit City, Play'N GO, Playson, Playtech, Pragmatic Play, Relax Gaming, Yggdrasil & More |
| Pokies | 1000+ |
| Live casino | Yes |
| Sports betting | No |
| Table Games | Yes |
Pokies
Now there's a headline that doesn't make much sense out of context! In all seriousness, though, given its name, it's only natural that The Pokies Casino would put the most amount of effort into its slot games. And, truth be told, they're good! … But maybe a little too good.
At first glance, this casino appears to be a dream come true! Pretty much every single one of the best pokie providers in the world is represented, including Pragmatic Play, Play'N GO, Nolimit City and many more! In the pokies section, you'll quickly encounter beloved games like "Mental", "Money Train", "Buffalo Power", "Book of Dead" and so many more.
Well, that sounds quite lovely, doesn't it? Well, it gets better, or worse depending on how you look at it, as providers like NetEnt and Playtech are also available. Normally, these would be great additions, but here's the thing: they're not available in Australia. Doesn't matter what casino you go to, NetEnt games will always – ALWAYS – be unplayable if you're playing from Australia.
So, what does this mean? Well, it's very likely that The Pokies Casino is either using fake games (ones that only resemble popular titles, but are made by third party providers and have significantly lower payouts), or it is literally breaching its contract with NetEnt. Either way, not a particularly good outlook at all, to say the least!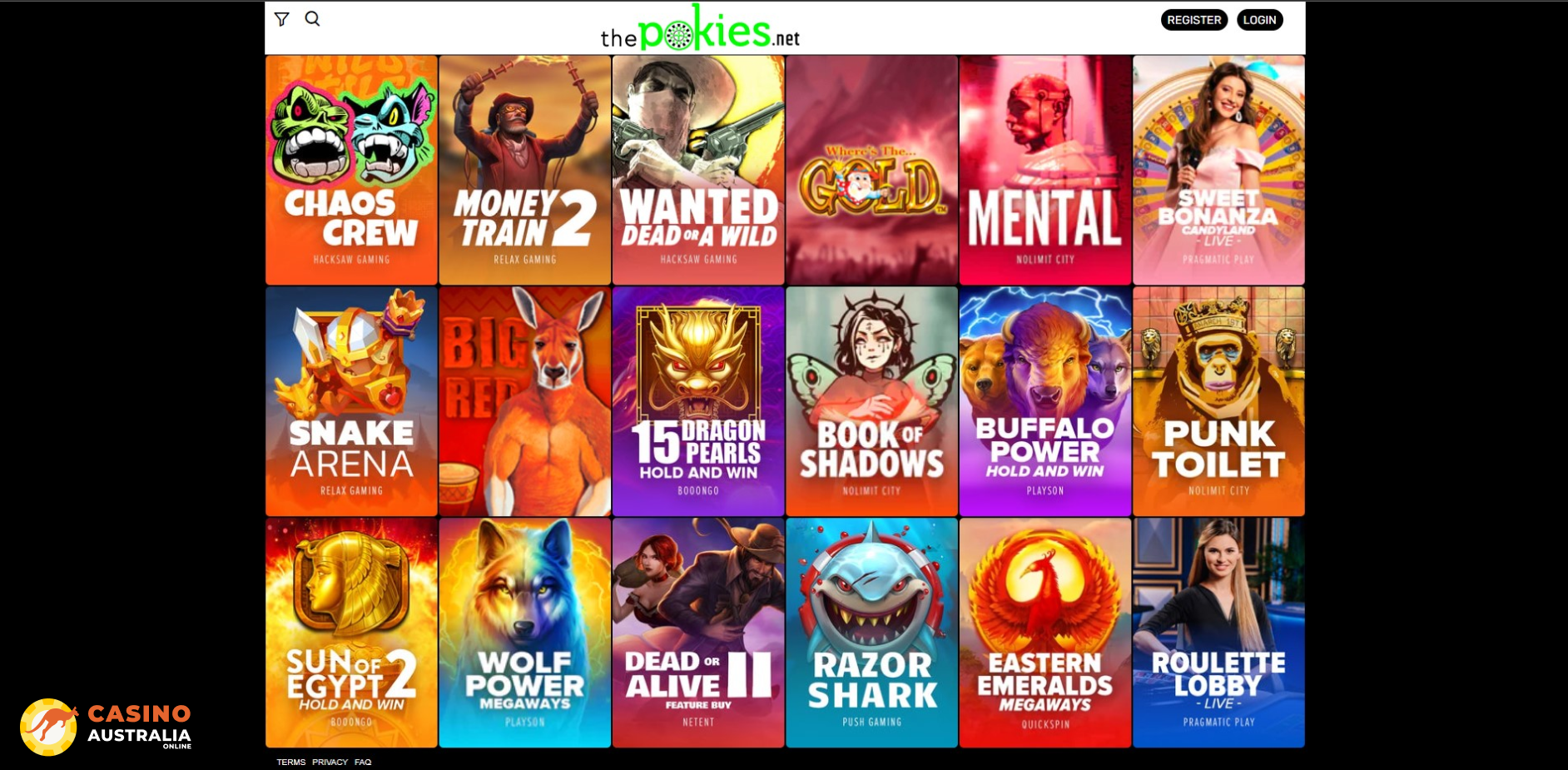 Live casino
As previously mentioned, while the focus of the casino is certainly on pokies, it still features a live section that's actually not too terrible. Its provider is none other than Evolution Gaming, who we consider to be among the best live casino developers on the market. And while the amount of rooms available here isn't anything to write home about, you won't exactly be leaving the site disappointed if live dealers are to your liking.
Besides the ever-popular blackjack, baccarat and roulette, you'll also be able to enjoy more obscure titles here, such as sic bo, dragon tiger and mega ball. In addition, several of Evolution's game shows are present – namely Deal or No Deal, Crazy Time and Dream Catcher. So if you grow tired of cards and reels and prefer something a little bit different, you'll certainly be able to find it.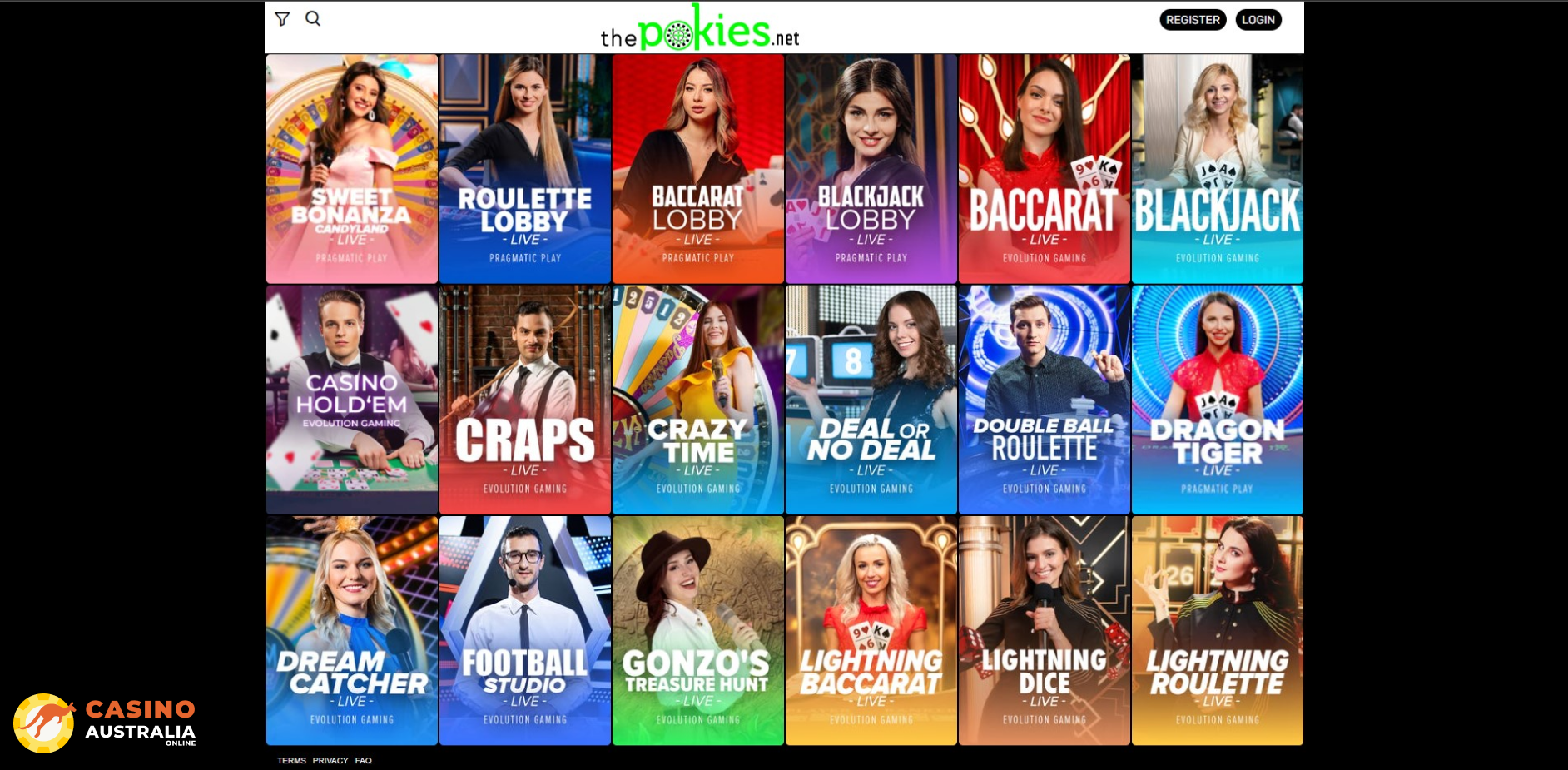 Deposits & Withdrawals
Actually, forget about the games and bonuses – the most important thing about an online casino is its accepted payment methods! Don't believe us? Try playing at a casino that you can't even deposit at! And if you don't think there is one, well, you haven't seen The Pokies yet.
The unfortunate truth is that – as far as we were able to determine – the casino only accepts two deposit methods: Visa and MasterCard. Yep, that's right: if you wish to deposit using a pre-paid voucher, or an e-wallet, or even just crypto, those options are currently not supported. Which is quite insane when you think about it! Even if (hypothetically) your casino is a total scam, there's no reason not to take crypto coins!
And yet, currently you can only deposit at The Pokies using a card, which (for many reasons) may not be ideal as far as many players are concerned.
Payments

Minimum deposit

AU$20

Minimum withdrawal

Not listed

Maximum withdrawal

Per day – AU$9,000

Per month – AU$270,000

Deposit methods

Visa, MasterCard

Crypto currencies accepted

None

Australian Dollars accepted

Yes

Welcome bonus package

200% Match + Free Spins
Withdrawal time
While you may only deposit using a card, The Pokies Casino will only let you withdraw using bank transfer. They claim that all transfers are processed within the same day, and that (since it's just local banks authenticating the transfer) it won't take more than an additional day for your money to reach your account.
However, we have no way of authenticating such claims, and find them dubious, to say the least. Have you ever received a refund back to your card? Do you remember how long it took? We're willing to bet it was more than one day – because banks, international or not, take time to do their thing. Promising you a bank transfer within a day is so far within the realm of fiction that they might as well be promising you a free unicorn alongside your withdrawal.
And if your transfer (inevitably) takes more than a day, the worst part is that you can't even complain to anyone, since the casino has no customer support available. Classic!
VIP Program
Many online casinos will feature a VIP program in order to retain player loyalty. However, The Pokies Casino clearly don't expect players to remain loyal one way or another, and as such haven't provided them with anything of the sort. While we have found some vague mentions of a loyalty program while researching the casino, it doesn't appear that the casino has one anymore (if it ever actually did).
Tournaments
There are plenty of people who don't enjoy playing pokies by themselves, but love doing so in the competitive setting that pokie tournaments provide. We at casinoaustraliaonline.com have heard from many such players, which is why we always take the time to mention the availability of tournaments on any site we review!
Unfortunately, those people will be very disappointed, as The Pokies Casino doesn't offer any kind of tournament play. This sounds like a huge missed opportunity to us, given the casino's name and focus, but alas! The only thing we can currently do is keep an eye on it and update our review in the unlikely event that tournaments are implemented in the future.
Verification
Every casino has to verify the identity of its players before allowing them to withdraw money. This isn't by choice, of course – they're simply adhering to international money laundering regulations that all big financial institutions (for example, Visa and MasterCard) follow. Even the majority of casinos that only deal with crypto will request a verification just to be on the safe side with the gambling authority that holds their license, even though they don't technically need to.
The Pokies Casino, however, will tell you right in its FAQ page that they feel it's "just a hindrance to keep you from getting access to your money". This is not true, provably so. KYC laws have been in place for well over a decade, and their requirements are very clearly outlined. The fun thing about laws is that they're mandatory and apply to everyone. They're not suggestions that you can simply disregard because you think they're a "hindrance".
And yet, The Pokies Casino accepts deposits using MasterCard and Visa, but without requiring the verification process that both of those companies adhere to when it comes to casino withdrawals. Can you take a wild guess about why that is? Yep – the most likely, logical explanation is that the casino will simply never let you withdraw, therefore eliminating the need for a KYC verification, and also any chance of you making actual money while playing there.
Is The Pokies Casino Legit & safe?
Staying safe online has become an exceedingly thing to do in recent years, especially with scammers becoming more and more clever about stealing your money. Luckily, there are still plenty of scams that remain obvious to all but the most gullible, and The Pokies Casino are one of them! Isn't it just great that we get so many warnings and red flags on the site itself?
Of course, if you've been reading up until that point, you probably already assumed the casino is unlicensed – and you're right, of course. But what may surprise you is that it claims otherwise. On its FAQ page, the casino claims to hold a license from Curacao with the number #365/JAZ. This corresponds to a license issued by the Gambling Commission of Gaming Curacao, one of the four independent bodies issuing licenses in the country.
It's also one of the easiest ones to verify, with a website that will inform you if a certain casino is licensed or not. As you may have suspected, we weren't able to verify The Pokies Casino's claims at all. What conclusion can we draw from this? We'll leave that up to you.
Customer support
If you've ever faced a huge problem, especially related to money (like, for example, a payment not going through, or an item you purchased not arriving), you'd know just how essential a good customer support team can be! They can pretty much single handedly resolve your issue, or make it ten times worse. And, apparently, The Pokies Casino have decided not to take the risk of the latter option, and they don't have a customer support team at all.
While there are several mentions among the casino's terms and FAQs along the lines of "e-mail us about this", there is never an actual e-mail stated. Furthermore, the site doesn't have a live chat or ticketing system, and (obviously) no phone listed, either. Which means that you don't actually have a way to reach out to the staff and get what you need. Can you guess the real reason why that is? We'll give you three guesses, and the first two don't count!
Mobile casino
Even a broken clock is right twice a day, and, to its credit, The Pokies Casino has a fairly decent mobile version. Granted, that is because the website itself was built from the grounds up for mobile (and as such has plenty of weird formatting and broken features on desktop, but that's another topic entirely). But it still doesn't detract from the fact that, when viewed on a mobile device, the casino is mostly functional.
Granted, it's a bit slow (even on newer phones with fast speeds), and its interface leaves a whole lot to be desired. But hey, it works! It's more than we can say about some of the casino's other features.
| | |
| --- | --- |
| Interface | |
| Mobile version | YES |
| iOS App | No |
| Android APP | No |