Slots Muse Casino Review
In Greek mythology, the Nine Muses served as inspirational goddesses of various disciplines, such as science, art, and literature. It was said that, if a Muse fell in love with a man (or a woman, this was ancient Greece after all), she would bless them with exceptional talent in her discipline. So, with that in mind, maybe visiting this casino can act as a lucky charm and help you attract the Muse of Luck to your side.
That was probably the thought process behind Slots Muse Casino, a site that doesn't look very eye-catching at first glance, but may be hiding the secrets of the Muses deep within! To find out whether that's true, we decided to closely examine the casino and research its bonuses, games, and other features, all so we can give you a full and comprehensive look at its mythologically-inspired innards!
So, is this Muse worthy of your love, or are you best off swearing a pact of celibacy?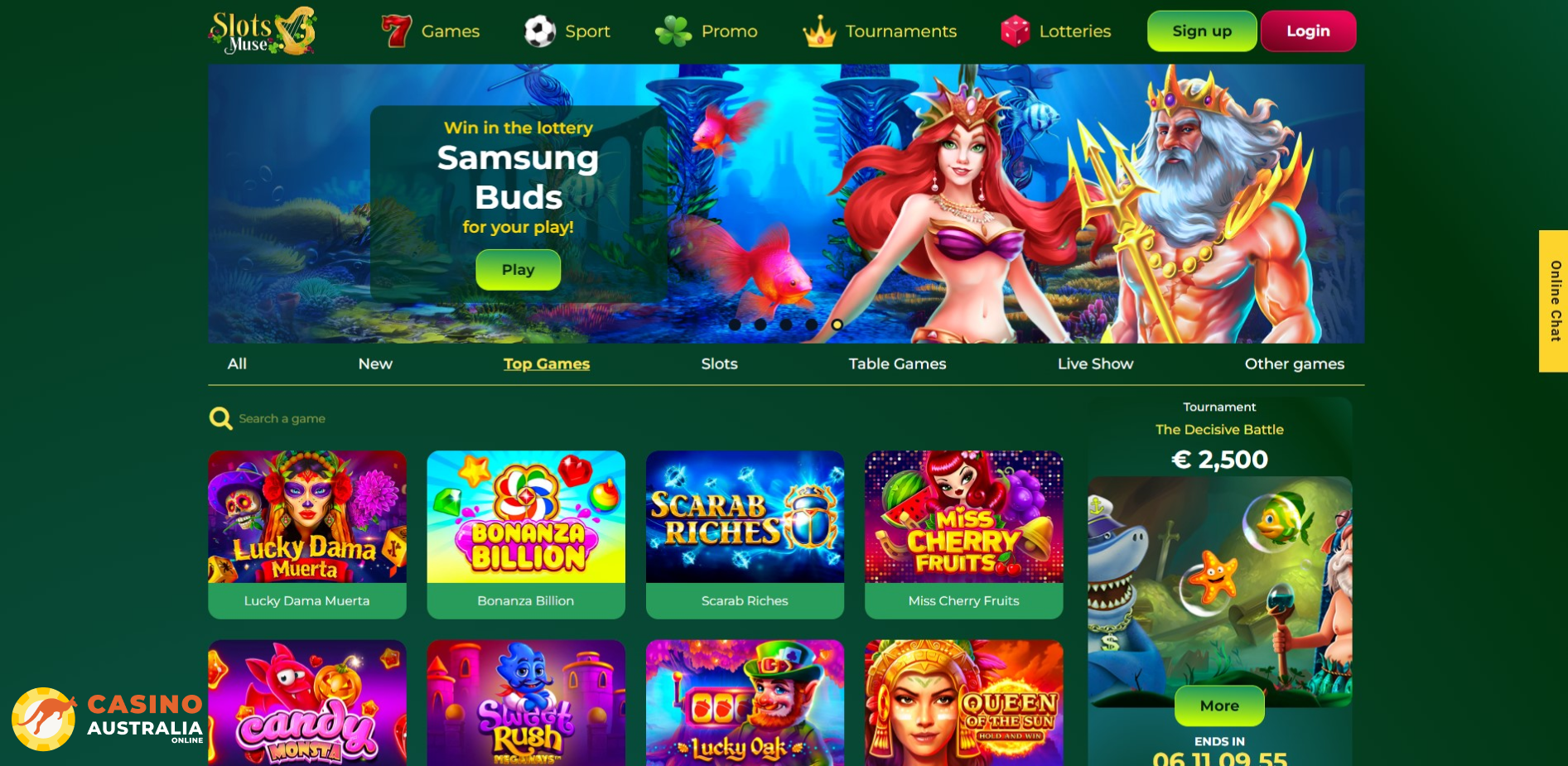 Bonuses
Welcome Bonus – Free Spins
The way Slots Muse Casino's bonuses work is… Honestly, a little bit weird. To start off, you won't receive any match bonuses, so if you were hoping to get some extra cash to play around with, just forget about it. Instead, each of the first 5 deposit bonuses will bring with it a certain number of free spins for a certain game… But there are a few catches.
You see, the moment you complete your registration at Slots Muse Casino, a timer starts to tick down. Once that timer hits 7 days, you lose any opportunity to get a Welcome Bonus, even for your very first deposit. However, within those 7 days, you'll be able to claim up to 5 different bonuses, with each subsequent one requiring a higher and higher deposit.
To make things a little simpler, here's a handy-dandy table we compiled for you:
| | | | |
| --- | --- | --- | --- |
| BONUS | MINIMUM DEPOSIT | FREE SPINS | BONUS GAME |
| First | €40 | 100 | Lucky Dama Muerta |
| Second | €80 | 125 | Cherryfiesta |
| Third | €100 | 150 | Desert Treasure |
| Fourth | €150 | 150 | Cherry Fruits |
| Fifth | €200 | 200 | Avalon |
Basically, if you want to get the fifth deposit bonus, you must also claim the first through fourth ones, covering their minimum deposit each time, and you must do all of that within 7 days of completing your registration. Confused? Don't blame us, blame Slots Muse for making things so complicated when most other casinos have a considerably more simplified version of the same concept!
Games
The one thing that Slots Muse can truly take pride in is its vast and impressive collection of games. You can find nearly anything here – pokies from well over a hundred providers, tons of table games and live games, and even a full sports section with its own bonuses! Wow, is there anything that this casino can't do?!
Yes, and that is to let us know what content is or isn't available to Aussies. We at casinoaustraliaonline are Australian (which should be the least shocking fact in this review), and as such, we play our games while in the land down under. This means that, when we enter a casino to sign up and examine it, we will (typically) only get access to the games that are available to Australians. Some casinos don't have a GeoID system that filters their sites based on your country, but they do have a big list of games that are restricted in certain categories that we can reference.
Slots Muse Casino doesn't have any of that. Your guess about what's available to Australians and what isn't is as good as ours, and the only way to make sure is to open each individual game and see if you'll get an error message or not. Some operators have made this even more confusing because a portion of their games will be available in AU while another portion will not be. It's all so confusing, and frankly, it left us with far more frustration than joy.
| | |
| --- | --- |
| Games | |
| Software providers | BGaming, Betsoft, Mascot Gaming, Zillion, Yggdrasil, Belatra & More |
| Pokies | 3000+ |
| Live casino | Yes |
| Sports betting | Yes |
| Table Games | Yes |
Pokies
As mentioned earlier, while Slots Muse boasts an incredibly impressive array of games from a very large number of providers, many of them are not available to Aussies – and the only way to find out whether you can play something or not is to try it. It's a miserable experience that made testing hell, and we imagine can suck out the fun out of even the most casual play sessions.
We're not trying to imply that there aren't any good games here, because that's not what this is about. Indeed, you'll be able to play pokies like "Avalon", "Lucky Dama Muerta", "Black Wolf", "Sunlight Princess", "Book of Wizard" and more. But many other games, like Novomatic's "Book of Ra Deluxe" will not be available to you, despite being advertised.
Ultimately, even an impressive collection of pokies like this can be ruined by sheer frustration. We would have certainly preferred it if the casino filtered things for us (even if that resulted in a more meager collection), because right now, our entire impression of the pokies section has been tainted.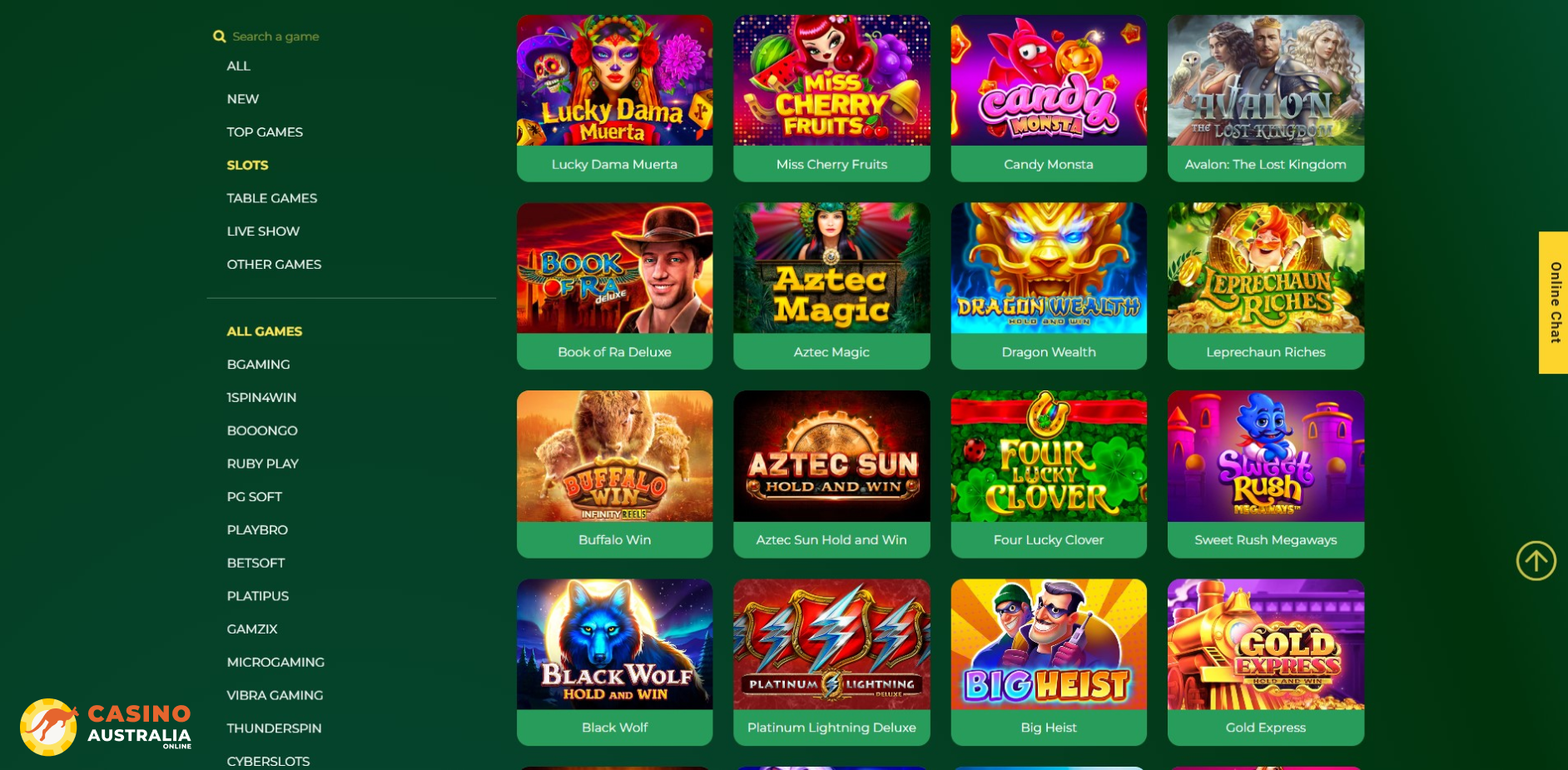 Live casino
While the live dealer section of Slots Muse is great at first glance, it suffers from the same issue that's plaguing the pokies: namely, it's not made immediately clear which games are available in Australia and which aren't unless you click on them. Just as a practical example, the live section (or, as it's called in the casino interface, "Live Show") contains games by Asia Gaming and Oriental Game, both of which are intended for the Asian market and do not accept Australian visitors.
With that in mind, it's very hard to give an objective measurement of the quality and quantity of the available games… Especially because it's very difficult to filter them. Let's say, all you care about is playing baccarat – well, you'll have to scroll down the big list of live games until you find a Baccarat room that will accept your bets. And that simply doesn't sound like fun no matter how you look at it.
Deposits & Withdrawals
What's the first thing you do when you join a new casino? Claim the bonus? Wrong! You'd make a deposit first, and if you can't do that, no deposit, no bonuses, and no games! This is why every site needs to afford you multiple ways to deposit… And that's a lesson Slots Muse neglected.
You will only be able to deposit using two different payment methods: one is your bank card, and the other is crypto. That's it. You can't use any e-wallets at all, nor any pre-paid vouchers such as Neosurf. And it's not like there's some kind of big abundance of crypto options, either!
Slots Muse will only let you bet using two different coins, Bitcoin and Tether. Ethereum, Ripple, Dogecoin, Litecoin, and many others can not be used, which is just astounding. We have no clue why the casino seems so determined to provide the least amount of options possible, but if this is something that doesn't sound great to you and you'd rather 'peace out' before your first deposit, well, we can't exactly blame you.
Payments

Minimum deposit

€20

Minimum withdrawal

€20

Maximum withdrawal

Per day – €2,000

Per week – €10,000

Per month – €40,000

Deposit methods

Visa, MasterCard

Crypto currencies accepted

BTC, USDT

Australian Dollars accepted

No

Welcome bonus package

100 Free Spins

Withdrawal time
The casino will only allow you to withdraw using two different methods: bank transfer or crypto transfer. Even if you made your deposit using a debit card, you won't be able to withdraw directly via said card, you'll have to use the bank account that it's linked to. This can be a pain because bank-to-bank transfers (especially casino-related ones) often go through numerous verification procedures which take a long time. It's not uncommon to wait for 10, or even 15 business days to see the amount in your bank account.
Crypto transfers don't go through any such verifications – the only thing you'll need to wait for is for the network to register the transaction as completed, which can happen fairly quickly. Worst case scenario, you'll be waiting for a few hours, but usually, they're pretty quick, even the notoriously slow Bitcoin won't take more than an hour unless something has gone wrong. While crypto isn't for everyone, it's worth considering if you're interested in gaining access to your winnings quickly.
VIP Program
Unfortunately, it doesn't appear that Slots Muse Casino has a dedicated VIP program. Usually, some kind of loyalty initiative that will let you level up (and unlock extra perks as a result) or collect points you can exchange for real money as you bet can be used as an incentive to keep long-time players and prevent them from just jumping ship and going to a competitor's casino once the bonuses dry up.
Some casinos don't believe in VIP programs and instead utilize various reload promotions to promote player loyalty. However, Slot Muse Casino doesn't seem to believe in either of those things, because when you run out of welcome offers, then that's that. You're now almost like a second-class citizen who gets an inferior experience compared to a new player, and that's just… Not a great way to keep people from sticking around.
While usually the absence of a VIP program by itself wouldn't be enough to leave a bad impression on us, in this case, we can't help but feel like it's a symptom of a much bigger problem.
Tournaments
Tournaments have become a staple of the modern online casino, with plenty of sites getting in on the action and providing their players with the opportunity to compete against each other while spinning their favorite pokies! Once you join, you'll start racking up points with each win on the qualifying pokies, and the more points you have, the higher you'll climb up the leaderboards – and the more impressive prizes you'll win!
Now, Slots Muse Casino haven't exactly done anything mindblowing with their tournaments. They're fairly standard affairs, with relatively low prizes (the winners will usually get to bring home about €90). To some, that might be a deal-breaker, but for others, a low-stakes tournament might be just what they need. Especially since there are often several different tournaments running concurrently with each other and focusing on different games, thus allowing the player base to spread more or less evenly.
True, there isn't anything very impressive here, but at the same time, there doesn't need to be. The tournaments are there, and they're fun. Sometimes, that's all it takes.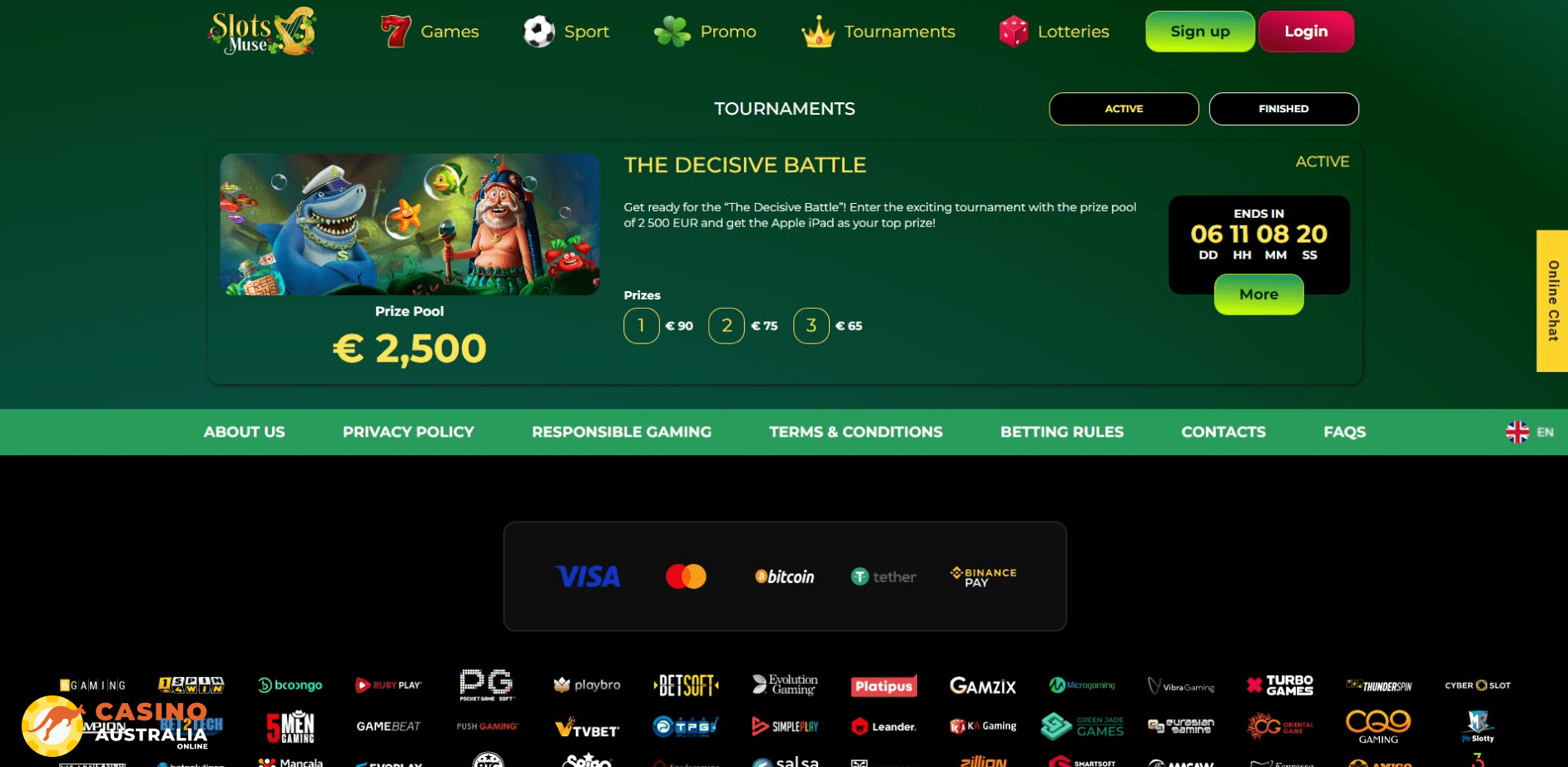 Verification
Only one thing is true for all online casinos: You'll have to get verified sooner or later! To comply with international money-laundering regulations, Slots Muse Casino (as well as all of its brethren) will need to double-check your identity the first time you choose to withdraw your winnings, just to make sure that it's not accidentally paying money to bad guys who will misuse it.
So, what do you need to do to confirm your identity? Luckily, not much! All you'll need to do is present photos of several documents, such as:
Proof of identity – This can be any form of photo ID, such as a driver's license or national ID card;
Proof of current address – This needs to be an official document from the last 6 months with your name and address, like a utility bill (or receipt) or a statement from your bank;
Proof of payment method – If you deposited via your card, you'll need to take photos of it from both sides, with your signature and name visible, but any sensitive information (like the security number) censored.
After that, you'll need to send the photos of these documents to the casino's support staff, who will review them and verify your identity, lifting the restrictions on your account and allowing you to withdraw at long last! In rare cases, you might need to provide additional documents, but this is only done if the support staff isn't able to verify your identity from what they have on hand.
Is Slots Muse Casino Legit & safe?
The most essential thing in online casinos is staying safe. Yep, that's right – this is more important than having great games, huge bonuses, or even winning a lot! Because when you end up at an unsafe casino, best case scenario, you won't be paid a cent of your winnings. Worst case, your credit card information and personal details (including photos of some very sensitive documents) are now in the hands of some very unpleasant people.
One of the easiest ways you can tell whether a casino is safe is to check whether it has been licensed by a certified authority. While having a license isn't a concrete guarantee the casino won't scam you, it certainly helps a lot, since now there's a third-party organization that can hold it accountable for any potential wrongdoings.
Sadly, Slots Muse doesn't appear to be licensed by any gambling authority (such as Curacao, Malta, or UK). This means that, if the casino's owners decide to scam you and not pay out your winnings, there's no one you can report to, and no one will be punished for it. So, with that in mind, it's important to ask yourself whether the risk is worth it.
Customer support
To their credit, Slots Muse Casino will permit you to contact them using a variety of different methods. Should you ever need their advice or technical help, you'll always be able to reach out using the live chat function. It can be accessed on any page of their site by clicking or tapping on the yellow "Online Chat" button on the right.
While chatting with a representative is the most convenient way to reach them, it's not always the best. Sometimes, an issue requires more extensive back-and-forth communication that would simply go too slowly in writing. Thankfully, you can call them over the phone – a rarity in modern casinos, and one well worth praising.
Last, but not least, you'll be able to pretend like it's the late 90s and send them a good, old-fashioned e-mail! This option is great for non-urgent questions that don't require immediate attention. While it's impossible to submit a ticket directly through their site, sending a mail is functionally identical, so this isn't something worth upsetting.
| | |
| --- | --- |
| Live Chat support | 24/7 |
| Phone support | +442045792963 |
| E-mail support | [email protected] |
| Ticketing system | No |

Mobile casino
Have you ever wanted to just spend the whole day sitting on the couch or in your comfy chair on the porch and just play games on your phone? If so, good – so have we! That's why we always make sure to evaluate the mobile capabilities of the casinos we've reviewed, and when it comes to Slots Muse, its phone version passes with flying colors!
A big part of this is that the site itself (whether viewed on desktop or mobile) is quite simple – it has a very clean, straightforward interface with big buttons and without any kind of complex, unnecessary menus. This has translated exceptionally well to the smaller screen of a mobile phone, making it very easy to navigate the site and find your favorite games.
While this is hardly uncommon, it's also worth noting that Slots Muse Casino doesn't require you to download a specialized app to enjoy it. Instead, you just need to access it through your phone's browser. Simple and clean – that's how we like it!
| | |
| --- | --- |
| Interface | |
| Mobile version | YES |
| iOS App | No |
| Android APP | No |