Slotilda World Casino Review
Most online casino sites seem to be targeted at men – just as most bingo sites are targeted at women. This isn't (or at least shouldn't be) some kind of grand statement on gender roles, it's just marketing. You'll often see darker colors (seriously, you don't know how many online casinos we've reviewed with a black and gold aesthetic), men in suits on banners and an emphasis on cute, female dealers at the live casino section.
Stotilda World Casino is a bit different from that, as it appears to be aimed a little bit more towards women than it is towards men, with an emphasis on pokies, a purple aesthetic and a lady mascot. Honestly, it's a novel idea for sure – and one that we were eager to investigate! As such, we thoroughly examined and detailed every single aspect of the site, including its games, bonuses, features and, most importantly, safety and reliability.
So, does Slotilda World manage to appeal to women as well as men, or has it failed to capture either demographic?
Bonuses
Welcome Bonus – 100% Match up to €300
On its front page, Stotilda World Casino advertises a massive bonus of up to €1,000 – which is technically true, but practically, things aren't quite as simple as they appear. The truth is that this amount is actually spread between your first three bonuses, and you'll only get a fraction of it the first time.
While this means that you won't need to deposit an absurd amount of money the first time you're buying chips, it also means that you'll have to deposit multiple times to get a decent bonus. The first deposit bonus in particular is a mere 100% match up to €300, which should be plenty for more casual players, but high rollers are going to undoubtedly find it disappointing.
You'll need to put down at least €20 to take advantage of the bonus, and the wagering requirement is a staggering x40 for the full amount (deposit + bonus). Overall, we aren't too happy with this bonus for not only these harsh requirements, but also because it's not particularly big, nor does it make up for that by having extras such as free spins.
Additional Welcome Bonuses – Up to €700
As previously mentioned, you'll be able to gain bonuses for your first three deposits at Slotilda World Casino. While the first one we already discussed, you'll be able to gain two more bonuses for your second and third deposit totaling up to €700 in rewards.
Frankly, the second deposit bonus is quire weak, as it's only a 75% match up to €300. It's the same as the already mediocre first deposit bonus, but with an even weaker match percentage! However, the final deposit bonus is well worth claiming – 200% match up to €400. If only all 3 bonuses were this good, we would've been a lot more positive!
Sadly, both of those bonuses have the same strict wagering requirements of x40.This makes it very unlikely that you'll be able to withdraw your bonus, especially the third one where the generous match percentage acts as a double-edged sword that gives you more money to play around with, but also increases the amount you'll have to play through.
First Deposit Insurance
What if you're not a big fan of welcome bonusesi n general? Well, in that case, Slotilda World Casino has an alternative suggestion for you – deposit insurance. For your first 3 deposits, you'll be able to get a certain amount of your winnings back if you end up losing them. And you won't get them as a bonus or anything, you'll get them as real money, as if you never lost them at all!
The caveat is that you'll need to deposit at least €50 by selecting the Insurance option in the cashier menu. If you lose your deposit, just contact support and request the insurance – you'll get a 20% return on your first deposit and a 15% return on your second and third, up to €500.
The only catch is that this promotion is only valid if you end up losing your deposit, so if you happen to win big, you'd essentially be forfeiting any sort of bonus. However, that's not necessarily a bad thing – since the insurance money doesn't have any wagering requirements, you'll be able to withdraw your winnings much more easily than if you picked the standard welcome bonus.
Reload & Limited Time Promotions
Whether you pick the welcome bonus or the insurance, the facts remain: you'll only have the perks for your first 3 deposits! But what happens next? Well, that's one of our favorite things about Slotilda World Casino – the bonuses just never end!
Once your welcome package is dry, you'll be able to enjoy a ton more bonuses. Some of them are known as "reload promotions", since they "reload" after being used and can essentially be claimed as many times as you'd like. Some examples of those include getting up to 100 wager-free spins by depositing on a Friday, or a 10% wager-free "no rules" cashback by depositing on a Sunday.
Those are fairly decent promotions in and of themselves, but if they aren't enough, you'll also be able to take advantage of limited-time bonuses. As the name suggests, those promos are very temporary, and once they're gone, they're gone. These promotions help you add a little bit of spice to your casino life and keep things fresh and interesting no matter when you choose to deposit!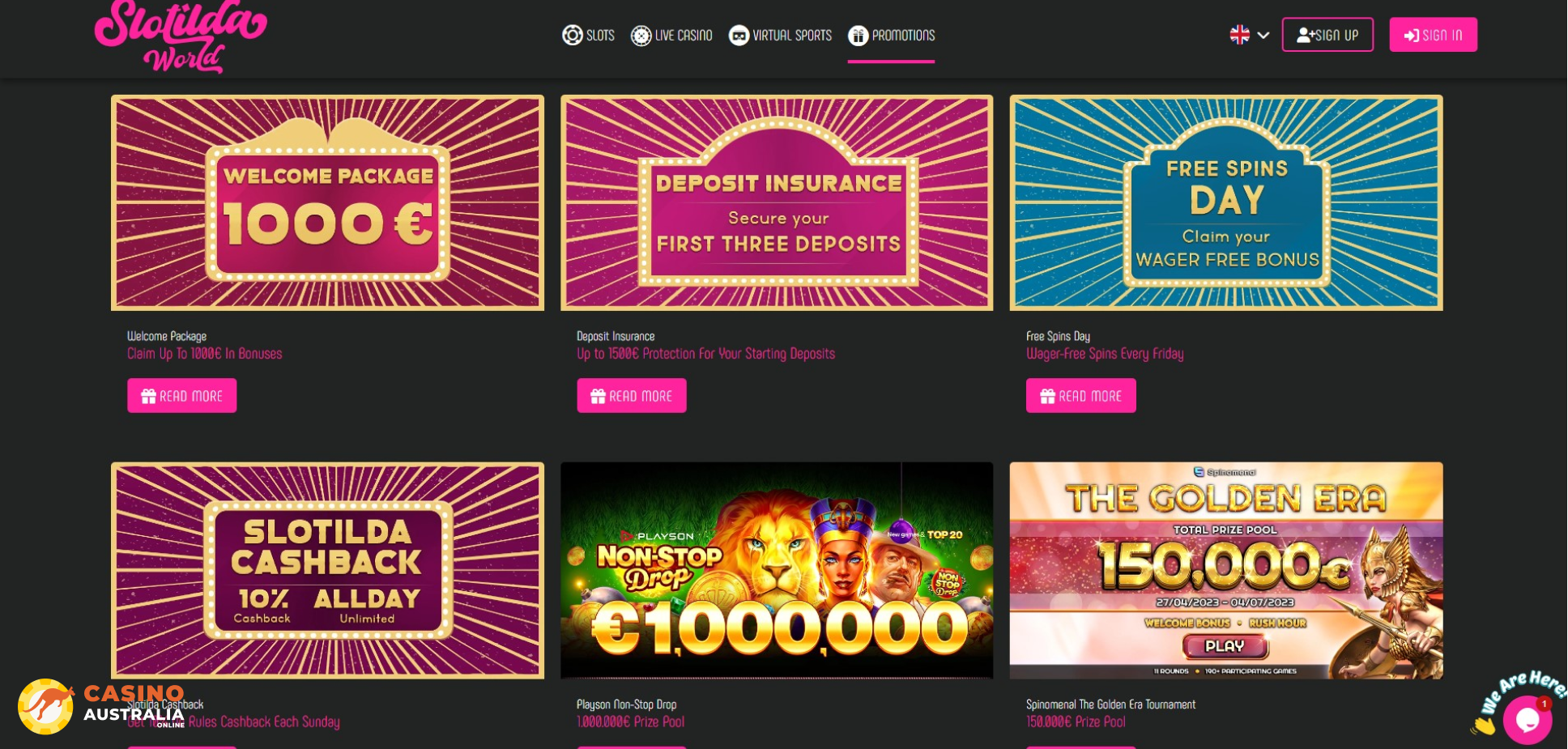 Games
There's no two ways about this – Slotilda World Casino has a ton of games. We're talking more games than there are coins in Uncle Scrooge's vault, and that's by no means an exaggeration. The site lists over 8,000 games available from dozens upon dozens of software providers! "Wow", you might be thinking, "that's so many! Amazing! There can't possibly be any downsides!"
Well… There are, at least for us Aussies. Unfortunately, not every games provider has made their games available here in the land down under – some don't allow us to play them at all. Which is unfortunate, but also understandable, because there are a lot of factors to our particular casino market which make various providers feel that catering to Aussies just isn't worth it.
The problem is that most of the games available at Slotilda World Casino come from these "blocked" providers, meaning that if you tried to play one, you'd be met with a "Sorry, this game isn't available in your region" message. The casino doesn't make any attempt to hide unavailable titles from you, so if you sign up, prepare for a lot of frustrations as you navigate your way through this expansive collection!
| | |
| --- | --- |
| Games | |
| Software providers | Betsoft, Evolution Gaming, Yggdrasil, Big Time Gaming, Pragmatic Play & More |
| Pokies | 3000+ |
| Live casino | Yes |
| Sports betting | No |
| Table Games | Yes |
Pokies
As mentioned earlier, most of Slotilda World Casino's pokies come from providers that have blocked them from being played in Australia. As a result, out of the 8,000 pokies the casino boasts, only about 3,000 are available here – but an exact estimate is very difficult to make due to the nature of the issue.
Still, what we've got access to isn't bad at all. The star of the show is Pragmatic Play, with pokies such as "Big Bass Bonanza" and "Sugar Rush". If that doesn't quite scratch your itch, though, there's always Quickspin ("Big Bad Wolf Megaways"), Yggdrasil ("Cannonande)", Play'N GO ("Legacy of Dead") and a few other big name providers that should keep you plenty satisfied.
The casino also has a decent selection of jackpot pokies available, but unfortunately, there's a catch: it imposes withdrawal limits on wins. This is actually quite odd, because jackpots are typically paid out by the pokie provider rather than the casino, and we at casinoaustraliaonline.com have almost never seen a casino artificially chokehold that.
Live casino
Just like the pokies section, the live section of Stoltilda World Casino is quite decent, but not without its flaws. To start off with the positives, most of its games and rooms are provided by Evolution Gaming, which are commonly known as one of the best providers of live casino games… Basically, ever. So, off to a great start!
However, you'll still only have a fraction of the listed games actually available. What makes this more confusing than even the pokies section is that, this time, you'll have access to some games from a particular provider and not others – so it's literally just trial and error until you find the rooms that work seemingly at random.
With that said, there's no denying the variety of games, including more orthodox experiences (like blackjack and roulette) and less popular selections (like teen patti). One of the highlights is certainly Evolution Gaming's live shows, which are quite diverse and very entertaining even for players who don't often enjoy casino games.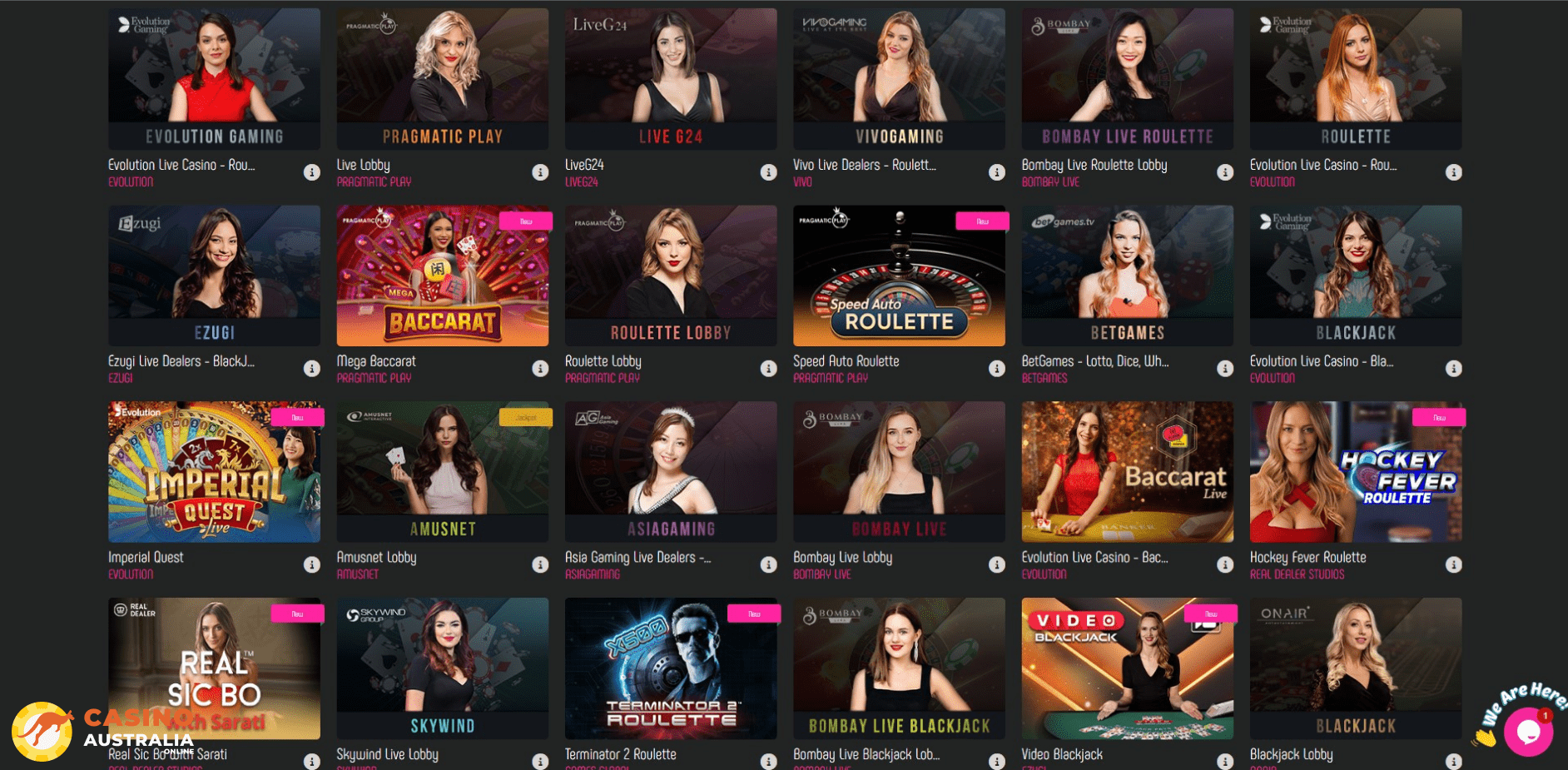 Deposits & Withdrawals
Stotilda World's games section can be rather accurately described as "flawed, but good enough" – and, funnily enough, that's exactly how we would also describe their payment options. To start off with the positives, the casino offers quite a few variants for crypto enthusiasts… A bit of a weird flex, considering its overall female-centric aesthetic, but maybe there are a lot more female cryptobros than we suspected.
Well, if you consider yourself a cryptogal, you'll be able to both deposit and withdraw using a number of alt coins, including not just the big ones (like Bitcoin and Ethereum), but also much smaller ones like Ripple, Monero and Tron. No complaints regarding that selection!
However, if you prefer using traditional methods, then sadly, we must inform you that most are not available in Australia. All we get besides credit cards are a single e-wallet (eZeeWallet) and bank transfer, neither of which are particularly enticing options. Quite unfortunate!
Payments

Minimum deposit

€10

Minimum withdrawal

€30

Maximum withdrawal

Per week – €5,000

Per month – €20,000

Deposit methods

Visa, MasterCard, eZeeWallet, Bank Transfer

Crypto currencies accepted

BTC, ETH, XRP, USDT, LTC, XMR, TRON, ZCH

Australian Dollars accepted

NO

Welcome bonus package

€300

Withdrawal time
Since Slotilda World Casino primarily offers crypto deposits, it only stands to reason that its crypto withdrawals will be the fastest. Once your withdrawal request is approved, you might need to wait for a day or two in order to get it processed (which will happen for any currency), but after that, you'll receive your hard-earned winnings immediately. However, be advised that a few coins have small withdrawal fees associated with them.
On the other hand, if you'd rather withdraw using traditional means, prepare to be disappointed. Australians, for whatever reason, can't withdraw via e-wallet, so your only options are credit cards and bank transfer, both of which are quite slow (3-5 days for cards, 10-15 days for bank transfer). As such, it might be a good idea to consider very carefully whether you shouldn't just use crypto in the first place.
VIP Program
Unfortunately, Slotilda World Casino does not offer any kind of VIP program as of the time of writing. These types of programs are commonly used to foster long-term loyalty in players, so the lack of one here isn't necessarily ideal.
With that said, it's not the end of the world either, as there are lots of other ways to gain perks as a player. For instance, the casino provides a ton of different bonuses, such as cashbacks and free spins, which aren't artificially kept away from other players based on their ranking in some kind of specific program.
 Tournaments
Just like with the VIP program, unfortunately, the casino currently does not support any kind of tournaments function, for neither pokies nor table games (such as poker). However, once again, this isn't necessarily a negative.
Many of the limited-time promotions that Slotilda World Casino utilizes (for example, their Daily Drops & Wins), still have an element of tournaments in them. As such, if you're a big fan of tournaments, you won't exactly starve here. Even if we do wish that they were added as a more permanent fixture on the site.
Verification
Every single online casino (at least, among the ones that consider themselves remotely legitimate) has a procedure known as "Know Your Customer". Of course, this procedure isn't limited to just casino, and any financial institution needs to adhere to it before dispensing money to customers.
But what does it mean in practice, at least in the world of online casinos? Well, it means that you'll have to present a few fun documents to the casino's support team to confirm your identity before you're allowed to withdraw a single cent.
Luckily, these documents are very easy to obtain, and typically include a form of photo ID (like your driver's license) and a proof of current address (which can be a utility bill). If you deposited via credit card, you might need to prove your ownership of it with a photo, but if you deposited using crypto, rest easy: those do not carry any additional verification procedures.
Is Slotilda World Casino Legit & safe?
Safety is, or at least should be, the number one concern for most online casino players. We've heard no shortage of horror stories of people who completely lost their deposits (and sometimes more) by trusting an unreliable casino! So, how does Slotilda World rank in that department?
For the most part, quite well, actually! The casino is fully licensed by the Curacao Gaming Authority, which means that it's considered trustworthy enough to hold such a license. Curacao are known for pulling the licenses of any casinos that are reported for scams too many times, so the presence of an active, valid license is a great sign.
With that said, it's not all sunshine and rainbows. The casino places strict withdrawal limits on winnings (even on jackpots, which is very unusual), and we've heard reports from players stating that the withdrawal process can at times be more difficult than it should be. While this could be nothing, we believe it's important for you to have all the information before making a choice.
| | |
| --- | --- |
| License | Curacao |
| License number | 8048/JAZ2021-033 |
| Company address | Fransche Bioemweg 4, Wimmestad, Curacao |
Customer support
If you ever need to reach out to the support team of Slotilda World Casino, you're in luck – there are actually several ways in which you can do so. The most convenient one is the live chat, and trust us, the casino definitely insists that you use this one, given the constant messages and notifications you'll receive through it even when you're casually browsing!
If live chat isn't quite for you, then no worries, you can also reach out over e-mail. There are two ways to do this: first, by clicking on the Contact button at the bottom of any page, you'll be able to submit a ticket directly through the site. Second, you can just send them a good, old-fashioned mail via your e-mail services, such as Gmail or Outlook.
| | |
| --- | --- |
| Live Chat support | 24/7 |
| Phone support | NO |
| E-mail support | [email protected] |
| Ticketing system | Yes |

Mobile casino
Like many modern online casinos, Slotilda World Casino has been built and designed for mobile first and desktop second. This means that you'll actually enjoy a slightly better and more intuitive layout when playing on a small screen rather than on a computer monitor – which isn't to say that desktop performance is bad, just that mobile will be a little bit better.
Despite the compact size, everything is very easy to access, and practically all of the games (well, the ones that aren't already geo-blocked, anyway) will work whether you play them on mobile or desktop. One thing that we noticed which left a poor impression is that sometimes mobile has some pretty nasty load times, which can be a bit of a bummer if you're only looking to spend a few minutes playing a pokie while waiting for the bus or something.
| | |
| --- | --- |
| Interface | |
| Mobile version | YES |
| iOS App | No |
| Android APP | No |