SimpleDice Casino Review
We at casinoaustraliaonline.com consider ourselves experts in the realm of online casinos – but did you know that we're experts in all sorts of games? Oh, yes: betting sites, skill-based pokie sites, even videogames! One day we'll convince our editors to let us create a site purely dedicated to obscure classics from the PS2 era, but for now, we're dedicating ourselves to bring you obscure and lesser-known gambling sites instead.
One of those is SimpleDice Casino, a site that, in stark contrast with its name, actually doesn't have anything to do with a casino. Instead, it simply offers its own variation of a dice game for you to enjoy. However, it does have everything else you might want out of an online casino, including bonuses, and so we decided to expand our horizons just a little bit and evaluate this cute, little site as well!
So, will SimpleDice Casino prove to be the respite from the monotony of reels and cards, or will it makes us wish for their comfort instead?
Bonuses
Welcome Bonus – Unlimited 270% Bonus
Oh, yes – we're starting off with a bang! All of the welcome bonuses at SimpleDIce Casino don't appear to have any kind of upper limit that you can reach, and on top of that, their percentages are insane. This means that if you deposit $30 and take advantage of the first deposit bonus, you'll receive an extra $80 to your name to play with. Absolutely crazy!
But don't rub your hands imagining the insane bonus you'll be claiming quite yet – while the bonus is technically unlimited, there are good reasons not to go overboard with it. You see, SimpleDice Casino doesn't really do its wagering requirements like a normal casino – instead of having to wager your bonus, say, x30 times, there's a somewhat different system in place.
Every time you wager the full amount you have deposited, 2% of that full amount will be converted from "BDK" (bonus currency) to USD/real money. So, if you have made a deposit of $30 and gotten a bonus of $80, every time you place $80's worth of wagers with that bonus amount, you'll get $1.6 added to your real money account.
Why this system is like that is anyone's guess. But basically, it amounts to x50 wagering requirements with extra steps. Certainly puts you off of depositing huge amounts, doesn't it?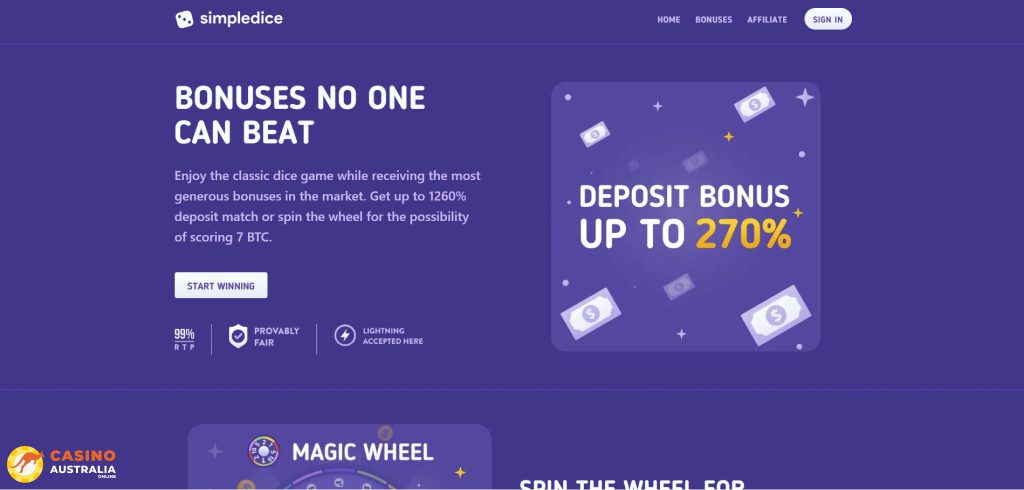 Additional Welcome Bonuses
If you were thinking something along the lines of "Well, SimpleDice Casino have only put up such a big welcome bonus because that's just the whole welcome package, and they're making up for the lack of additional bonuses" – trust us, we get it, but also, you're wrong! The site has three more bonuses as part of its initial package, and they only get bigger and bigger.
The second time you make a deposit at this casino, you'll enjoy a 300% match bonus. The third – 330%. And finally, the fourth, a staggering 360%. This means that, using our example above where you deposit $30, you'd come away with nearly $110 in bonuses alone! On top of that, just like the first deposit bonus, all of these bonuses are unlimited and have no maximum amount.
However, justl ike before, you'll want to keep things more grounded, as the same wagering requirements scheme applies here. Every time you wager the full sum of your bonus, 2% of that will be added to your real money account – which means that the progressively higher and higher bonus percentages are both a blessing and a curse. Still, that's certainly a very unique way of handling bonuses, and one well worth applauding.
Games
SimpleDice Casino only has a single game, and it has nothing to do with dice at all! The basic premise behind it is similar to the game "over/under", where one player has to think of a number and the other has to guess it by asking whether it's over or under certain numbers. Except in this case, the computer will think of a number, and you'll only have one shot to guess whether it's under or over two particular numbers. If you guess correctly, you win! If you don't, you lose.
So, what numbers are those? Well, that's where the element of interactivity comes in. You can actually alter the probabilities of how likely you are to win, and in turn, how much you would win if you get it right. For example, you can set the numbers to Over 13 or Under 86, which (out of 99 numbers) will give you a very decent chance of winning no matter which one you pick, but will also give you only x1.1 your bet – meaning that just one loss will immediately undo the progress from 10 wins in a row.
You can move a bit closer to the center, by selecting Under 40 or Over 60, which will give you an x2.3 return of investment, but will make things a lot more fair, basically 40/40 with a 20% chance of losing no matter what you pick (the house edge). And if you're feeling really, really ballsy, you can dial it up all the way to getting Under 0.02 or Over 99.8 – the odds of winning are astronomically low, but your bet will be aplified by a staggering x9,500 if you win. So, could be worth a shot? That's the beauty of it – it's up to you!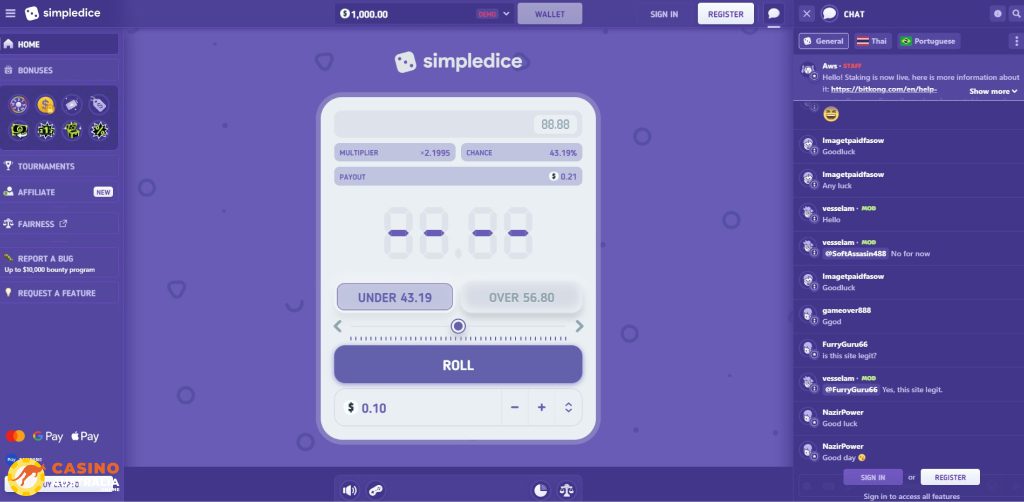 Deposits & Withdrawals
As expected, SImpleDice Casino only accepts crypto deposits and withdrawals. This shouldn't be awfully surprising, given that the site is a part of the Crypto Gambling Foundation, but it can still be somewhat disappointing to players who had hoped to at least deposit using a debit card, or have the ability to purchase crypto via a service directly linked to the site. Sadly, these options are not available, and you'll need to already have an open wallet before you play.

On the bright side, at least you'll be able to choose between a very wide variety of coins! Obviously, the big ones (like Bitcoin, Ethereum and Tether) are all here, as are the slightly smaller ones that we're still used to seeing a lot (Doge, Ripple and Binance). But on top of that, you'll also find many coins that are barely used on crypto casinos, like Polygon and Shiba. Overall, not bad at all!
| | |
| --- | --- |
| Payments | |
| Minimum deposit | Depends on the crypto |
| Minimum withdrawal | Depends on the crypto |
| Maximum withdrawal | No maximum |
| Deposit methods | None |
| Crypto currencies accepted | BTC, ETH, DOGE, XRP, LTC, BNB, DAI, USDT & More |
| Australian Dollars accepted | No |
| Welcome bonus package | Unlimited 270% Bonus |
Withdrawal time
While SimpleDice Casino only accepting crypto payments comes with several downsides, it also comes with an undeniable benefit: lightning-quick withdrawals! Granted, we're exaggerating just a little bit, as SimpleDice Casino claims it'll still take up to 48 hours for them to dispatch your winnings, so that wait time is unavoidable.
However, once the transaction has been made, your money should be in your crypto wallet very quickly! How quickly exactly would depend on the currency you're using, but even the slowest ones (like Bitcoin and Dogecoin) won't really take more than an hour at the absolute most. The faster cryptos, like Ripple, should be in your wallet within minutes.
VIP Program
Usually, the question of "Does this casino have a VIP program" can be answered very quickly, with a simple "yes" or "no. At SimpleDice Casino, however, things aren't so simple. While there isn't a traditional VIP initiative (such as, for example, collecting points and then spending them on various perks and bonuses), there are a few things that come close.
First off is the Magic Wheel initiative, which will (naturally) let you spin a wheel and claim the prize you land on. By placing wagers at SimpleDice, you'll gradually level up, and with each level-up you'll get the chance to spin the wheel. However, what makes this particular initiative so cool is that the wheel itself will change with your level: at level 20 you'll unlock the "Super Magic Wheel", and at 40, "VIP Magic Wheel", with bigger and better prizes within. How's that for a VIP program?
In addition, the casino also has a form of a cashback initiative, albeit a rather non-traditional one (as if anything here has been traditional). Usually, casinos will give you a cashback on all of your losses if you end up losing everything, so that you don't feel like a complete loser (don't worry, it's not an insult, we've all been casino losers at one point or another). SimpleDice Casino, however, will instead collect 2% of your wagers and put them aside, allowing you to claim them once the amount has gotten big enough to receive. A pretty cool spin on the cashback feature!
Tournaments
SimpleDice Casino does have a tournaments feature implemented on the site, but, as far as we've been able to tell, no tournaments have actually taken place, and none are scheduled for the future… Which really shouldn't surprise anyone. While in the past we have seen casinos get creative with their tournaments (such as dedicated tourneys for live casino or sports betting), this isn't the case here, and that is okay. We don't think a feature like that was generally expected here, so its absence is hardly a negative.
Verification
The term "verification" refers to a process that all financial institutions, like Visa and MasterCard (and, by extension, the casinos that work with them) must abide by. It stems from anti-money laundering regulations that require sites dispensing money to verify the identity of the people they're paying out to in order to make sure they're not actually laundering money for criminal individuals.
With that said, crypto casinos that don't work with these financial institutions (like SimpleDice Casino) will sometimes choose to avoid following the verification procedure, and, unfortunately, this seems to be the case here. The only 'verification' described in the site's TOS refers to verifying your e-mail upon registration, so we're led to assume that you will not need to verify your identity.
While this may seem at first like they've simply removed a big hurdle that inconveniences regular players, the truth is that the lack of verification will simply attract unsavory individuals and make the site less safe for ordinary people like you. There's a reason why many crypto casinos will still verify their players even though they don't have to.
Is SimpleDice Casino Legit & safe?
Sadly, our investigation into SimpleDice Casino's safety has failed to confirm that it is a legitimate one. While we can't draw any conclusions for certain, what we're seeing from the evidence does not paint a good picture of the site.
For starters, the casino is completely unlicensed, and doesn't seem particularly interested in playing by the rules (as seen from the fact that it lacks a verification procedure and only deals with crypto). This means that there is nothing to stop it from scamming you and refusing to pay out your hard-earned winnings.
On top of that, the terms of service repeatedly claim that the site is "provably fair", but don't really explain who has proven it, when and how (the "Fairness" button doesn't actually lead anywhere). Anyone can say anything they want, especially without the oversight of a regulator – doesn't make it true. However, given the fact that the TOS have explicitly stated that alleging the site is unfair in the casino's chat will result in your account being terminated, we're somehow not inclined to believe the SimpleDice's claims of provable fairness.
Customer support
We were extremely disappointed by what we discovered about the site's customer support features. While it brags about having plenty of ways to reach out to its support agents if you need to, this is far from the truth. For example, its "live chat" feature isn't the same as the one found in other casinos, where you click a button and get connected to an agent. No, instead it's more of a chat room for all the players currently rolling dice, where all interactions are public.
The same goes for the site's Twitter and Telegram profiles – it's easy to make the assumption that you can just DM them there (it's not an ideal solution but it's better than nothing), but no, both acounts are just for announcements and will not actually respond to any queries. The only way to reach out and receive a reply, as far as we have been able to tell, is via e-mail, which isn't ideal for everyone.
While it is entirely possible that there are ways to contact them more directly (like a special on-site live chat that we have missed), this information has not been made easily accessible to players, and if we were confused about, chances are so will you. And either way, SimpleDice Casino deserve criticism for it.
| | |
| --- | --- |
| Live Chat support | No |
| Phone support | NO |
| E-mail support | [email protected] |
| Ticketing system | No |
Mobile casino
Want to keep rolling dice while idling in bed, or waiting for the bus, or just lying on the roof overlooking the stars? Well, the good news is that SimpleDice Casino actually has a really decent mobile app which will let you do just that! Much like most modern online casinos, SimpleDice was built from the grounds up for mobile and will look and play even better on your phone than it does on your computer.
The site's single game, and its overall simplistic interface, actually do it a lot of favors when it comes to its mobile site. It's also worth noting that you won't need to download a dedicated app in order to play there, the site will work just fine straight from your mobile browser. No need to fill your phone with junk even though you're only planning to play occasionally!
| | |
| --- | --- |
| Interface | |
| Mobile version | YES |
| iOS App | No |
| Android APP | No |