Respin Casino Review
Just from a brief glance, Respin Casino looks like a hot mess. We've seen sites like this plenty of times: a cacophony of buttons, graphics, and hovering ads without anything resembling a cohesive interface. Most of the time, these types of sites are just quickly put-together scams that are intended to part the few suckers who would believe in their legitimacy from their money.
But we aren't ones to judge a book by its cover, nor to write off a site as a scam just because it looks like one! In fact, we're nothing if not thorough, and as such, we're going to give Respin Casino the benefit of the doubt and do what we've always done – give it a thorough, comprehensive review, examining its bonuses, features, games and safety, and then come to a final conclusion not based on gut feelings, but on facts.
So, is Respin Casino living proof that you shouldn't judge a book by its cover, or is it yet another example of how so often your gut instinct leads you in the right direction?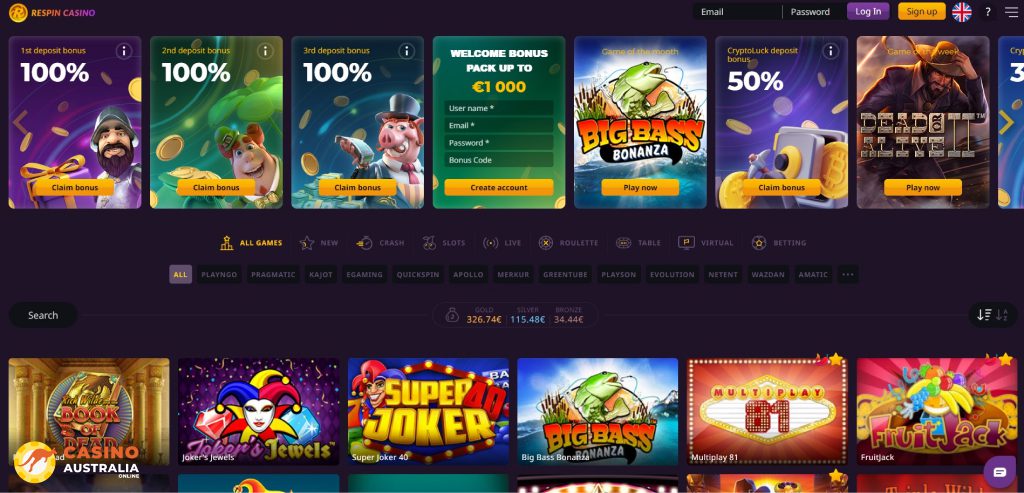 Bonuses
Welcome Bonus – 100% Match up to €300
In several places on its main page, Respin Casino advertises "welcome bonus pack up to €1,000" – and either we're really bad at math, or the casino is counting that you are, because the true amount is only half that. In fact, it's even less when you consider that you'd only receive a maximum of €300 during your first deposit at the casino.
That's right: the first deposit bonus here, perhaps THE most important bonus on the entire site, is a meager 100% match up to €300. This might just be one of the smallest welcome offers we at casinoaustraliaonline.com have ever reviewed on our site, it's just downright pathetic! If you're a regular player, then you really won't get much out of this bonus with a mere 100% match, and if you're a high roller, the €300 upper limit might not be enough.
Regardless, if you decide to take advantage of this pathetic bonus, be prepared to wager it x35 times within 7 days in order to withdraw them.
Additional Welcome Bonuses – 100% Match up to €100
Besides the first deposit bonus, you will also be able to grab two additional welcome promos during your second and third deposits. Both of those bonuses are completely identical: 100% match up to €100. There aren't any bonuses for your fourth deposit and onward, so, as you can see, the total maximum amount you can claim is actually just €500, not €1,000 as Respin Casino claims.
Beyond that, the conditions of these additional bonuses are the same: you'll need to wager them x35 times in 7 days in order to withdraw them. It's a fairly average requirement as far as online casinos are concerned, so if you decide to take advantage of them even though they're not that good, at least you won't be smacking your head against completely unreasonable wagering requirements. That's something, right?
Reload Promotions at Respin Casino
Besides the underwhelming welcome bonus, the site also offers a handful of promotions that you can claim regularly, and which aren't strictly tied to your first few deposits. For example, every weekend you'll be able to a 50% match up to €100 – as its name suggests, this offer will "reload" every week so you can claim it as many times as you want.
If you're up for making a few crypto deposits, you'll be able to claim bonuses on them as well. They include a 30% daily deposit bonus, as well as a 50% weekly bonus, both of which with a maximum of €100. All three aforementioned deposits will come with a wagering requirement of x30, and while it's certainly a bit odd for a reload promotion to have lower wagering requirements than a welcome bonus (it's usually the other way around), we certainly won't criticize it.
Games
Okay, granted, the bonuses of Respin Casino aren't exactly great – but who cares, right? People go to play at online casinos to, you know, play at them! The bonuses may attract someone here or there, but they probably won't be enough to keep you if the games are bad! And if you think that, then you probably won't spend much time at Respin Casino.
These games are a disappointment, there's no other way to put it. The site is laser-focused on casino experiences, like pokies and table games, and excludes anything else, like sports betting or crypto games. Despite having a dedicated "betting" section, for example, that section will only lead you to virtual sports, not to real ones. And this wouldn't have been so bad if both the pokies and the live games weren't incredibly underwhelming.
| | |
| --- | --- |
| Games | |
| Software providers | Play'N GO, Pragmatic Play, Quickspin, Apollo, Merkur, Playson, Amatic, Wazdan & More |
| Pokies | 2,000+ |
| Live casino | Yes |
| Sports betting | No |
| Table Games | Yes |
Pokies
At a glance, one would be forgiven for believing that Respin Casino actually offers a really great collection of pokies! After all, you have thousands of titles from huge names like Play'N GO, Pragmatic Play, NetEnt, and other classic providers – what more could you really ask for? However, if you're a more experienced gambler, you'd quickly discover a few issues with this line-up.
Most of these providers have actually made their games unavailable to play in Australia, but that hasn't stopped Respin Casino from offering them anyway, without the providers' knowledge or consent. You can see this is the case because the big jackpots on these games are disabled – they're usually paid off by the provider and not the casino, so it only makes sense that they're unavailable if the provider hasn't given the casino permission to host the games.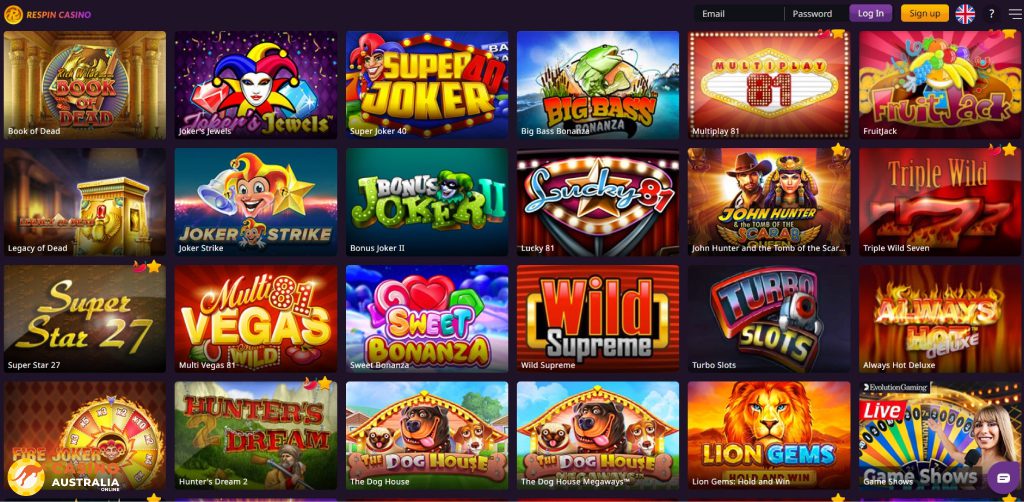 Instead, you'll get three jackpots unique to Respin Casino to replace them: a Bronze, Silver and Gold. However, as of the time of writing, the Gold jackpot is just over €300, so it's not exactly something worth getting excited about. Overall, these jackpots are just like the casino in general: they sound great at a glance, but when you dig into them, there really isn't much here to be excited about.
Live casino
If the pokies section seemed great at first, but then lost a lot of its appeal as you dig into it, then the live dealer section doesn't even have the decency to start out great. There are so few games here that when you press the "Show More" button twice in order to reveal them all the casino will just glitch out and start showing you pokies instead of live games, either in a technical failure or a vain attempt to hide just how meager the offerings are.
Indeed, in total you'll get about 30 rooms available, practically all of them centered around blackjack, baccarat and roulette. What's more, most of the variants are completely useless for us Aussies – ever wanted to play Turkish blackjack or Bulgarian roulette? Yeah, we didn't think so. Overall, while you might be able to experience some modicum of fun from one or two of these rooms, we doubt they'll be able to keep you entertained for long.
Deposits & Withdrawals
There really shouldn't be any surprises about Respin being a crypto casino – a single look at its design should be enough to reveal that much. Much to our surprise, though, we quickly learned that crypto isn't the only way to deposit: you can also just use your bank card, which we found to be a welcome addition for those who don't trust crypto wallets quite yet. Definitely a point in Respin Casino's favor, if a small one.

But despite this, it's very clear that the site wants you to use crypto – not just because of the many crypto-only reload bonuses it offers, but also because of the variety of supported currencies. You can deposit using not only the big coins, like Bitcoin, but also many smaller ones, like Tether or Dogecoin. While the more niche coins (like Ripple or Solara) aren't available, we feel that what is here should be enough to satisfy your average crypto enthusiast.
| | |
| --- | --- |
| Payments | |
| Minimum deposit | €10 |
| Minimum withdrawal | €20 |
| Maximum withdrawal | No limits stated |
| Deposit methods | Visa, MasterCard |
| Crypto currencies accepted | BTC, ETH, LTC, USDT, BCH, DOGE |
| Australian Dollars accepted | No |
| Welcome bonus package | €500 |
Withdrawal time
The biggest positive of crypto withdrawals is that, theoretically, they can be extremely fast. While withdrawing via your bank card can be much more convenient, ultimately they go through numerous verifications by multiple financial institutions (at the very least, your bank and Visa or MasterCard), which is why it'll take at least a few days for any bank card withdrawals to reach you.
On the other hand, cryptocurrencies aren't subject to such requirements – there are no banks involved in crypto, that's kind of the point. As such, you'll be getting your withdrawal between a few minutes and a few hours, at the absolute most – from the moment the casino sends it, of course. That is, assuming it's sent at all. With Respin Casino, it could go either way.
VIP Program
Unfortunately, Respin Casino does not currently have аny kind of VIP program. The only feature it has that may provide its long-term players with some kind of extra boon is it reload promotions (most of which are focused on crypto, and are available to all players that have already used up their first deposit package). And we just don't feel like this is enough.
Many other sites will have elaborate loyalty programs that let you collect points to exchange for prizes, or gain levels that will unlock different perks, or will at least give you a cashback on your losses that gets progressively bigger the longer you've played for. Respin Casino doesn't have anything like that, and it ultimately only serves to hurt both it and the players.
Tournaments
Much like its VIP program, unfortunately Respin Casino doesn't currently offer any tournaments to its players. Pokie tournaments, where players can compete over the top spots of a leaderboard by playing and winning at particular slot games, have become a staple of the modern online casino landscape. Respin Casino, however, sees its own landscape better without them.
It is, frankly, quite baffling that the site wouldn't include anything that lets players compete directly with each other, but it may have something to do with Respin's dubious legal situation when it comes to its pokies. Whatever the case may be, if you're interested in spinning pokies competitively, then this isn't the site for you.
Verification
Respin may be a crypto casino, but since it also accepts traditional deposits via bank cards, it is also bound to the same regulations as other financial institutions. And one of the most important requirements is the so-called "KYC", or know-your-customer. Basically, online companies that give money to people (including casinos, with their withdrawal features) need to verify the identity of the people they're giving money away to in order to make sure they're not funding money laundering or terrorism. Certainly would be a big whoopsie if it turned out a bad guy used your site to launder thousands of dollars, right?
So, how can you prove that you're one of the good ones? It's simple: when you attempt to withdraw for the very first time, you're going to receive a request for verification over e-mail, and your account will be temporarily locked. To comply and lift the lock, you'll need to send photos or scans of a document proving your identity (like your ID card) and your current address (like a utility bill or delivery receipt). If you deposited via bank card, you'll also need to send a picture of that to prove you physically own it (albeit with some of the numbers censored).
Once all necessary documents have been sent over and confirmed to match the data you provided upon sign-up, the lock will be lifted and your account will be verified.
Is Respin Casino Legit & safe?
Evaluating whether an online casino is legitimate and safe is more of an art than a science – and yet, some casinos are practically "paint-by-pictures". Respin Casino is one of them, it has so many red flags that even a cursory glance could instantly tell you that it's not to be trusted. For starters – it doesn't have a license, and its owner is unknown.
While licenses (issued by a third party gambling regulator, like Curacao) aren't mandatory, they prove that the site is at least willing to let another party keep it accountable, as the license would be stripped from it if it's deemed to be a scam. Respin Casino doesn't have that, and so it will face absolutely no consequences for scamming players.
Last, but certainly not least, Respin Casino's owner is completely unknown, which is extremely shady. There is no reason why a company should keep its involvement private. If you're drinking a coke, you know it was made by the Coca-Cola Company, but would you drink a beverage that comes from a company that is deliberately concealed from you? If so, then you shouldn't play at casinos that come from unknown companies, either – it's the same principle.
Customer support
One of Respin Casino's biggest missteps is undoubtedly its poor customer support feature… Or, that is to say, its non-existent one. The casino, as far as we can tell, doesn't actually have a customer support page, as the link they have on their main navigation menu is broken. Try as we might, we could not get that link to work, or reaching the page through other means. We've read that other people have had better luck, but alas, we were stumped.
As such, the only way that we can confirm works (as in, we managed to test it out ourselves) is the support e-mail listed in the site's terms and conditions. However, writing it has left us without a response for over 48 hours, so it's unknown whether that e-mail is correct, or, if it is, whether anyone is even monitoring it. So if you ever end up in a situation where you need the casino staff's assistance, well… Sucks to be you.
| | |
| --- | --- |
| Live Chat support | No |
| Phone support | No |
| E-mail support | [email protected] |
| Ticketing system | No |

Mobile casino
At least Respin Casino has a mobile app – although we would have been surprised if it didn't. Considering how many players prefer to engage with online casinos via their phones instead of computers, it's really no wonder that even the worst casinos we've reviewed would have a somewhat stable mobile counterpart.
Once you visit the Respin Casino site through your phone, you'll automatically gain access to its mobile version without having to download any additional apps. This will give you the opportunity to engage in games, make deposits and claim bonuses – basically anything you could do on desktop. However, we found the site to be a bit heavy and clunky due to its over-reliance on graphical elements, so it may not run great on your device, especially if it's older.
| | |
| --- | --- |
| Interface | |
| Mobile version | YES |
| iOS App | No |
| Android APP | No |