On9AUD Casino Review
The iGaming scene is united by the aim to provide a thrilling gaming experience for players while generating profits, and the perfect online casino is one where the second goal doesn't completely overpower the first. Today we will be taking a closer look at On9AUD – a new establishment up and running for less than a year at the moment of our review. At first glance, the goal of generating profits is the sole reason for its existence, but let's see if any redeeming qualities can convince us otherwise.
Starting with its atrocious design, Оn9AUD overwhelms potential players both visually, and with pop-up bonus offers. Frankly, the whole thing looks like a giant pop-up ad on steroids. Combine that with the fact that neither ownership nor legitimate licensing information is anywhere to be found, things aren't looking too good for today's casino we're about to review.
Still, we at casinoaustraliaonline.com are set on providing you with the details of each aspect that makes an online casino a betting spot up for consideration, so let's start exploring everything that On9AUD has to offer!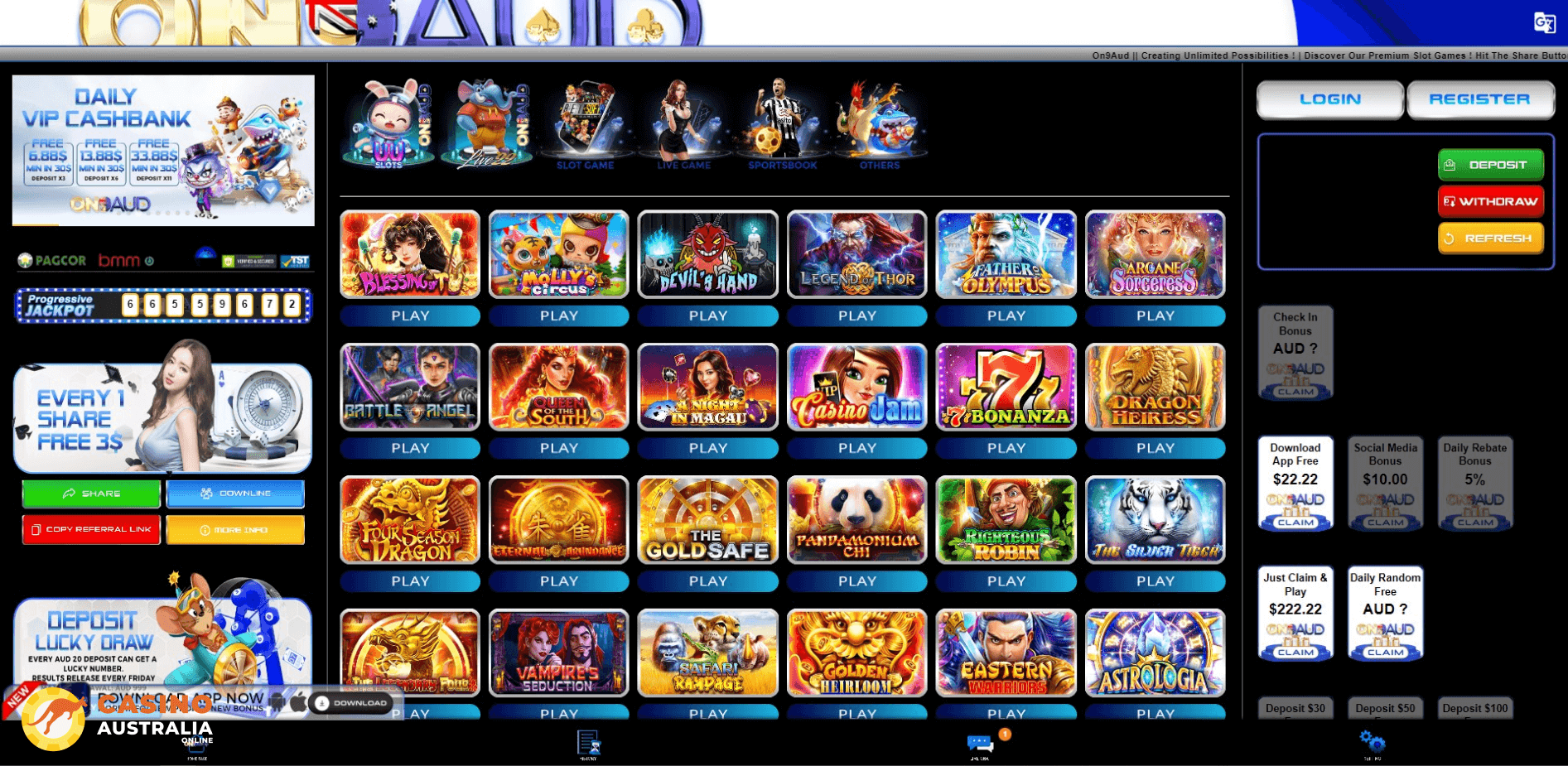 Bonuses
Bonuses are the main attraction that lures players to a specific casino. We are all familiar with trying to choose between two online casinos when suddenly you open the bonus page and see an offer you simply can't resist – the choice suddenly becomes clear as day. New casinos know this and try hard to come up with more and more attractive offers, but another crucial aspect is being able to deliver what is promised. Does On9AUD have quality bonus offers for you or are they just empty promises? Let's see!
Upon entering, the casino bombards its visitors with pop-up bonus offers, which is incredibly annoying but has proven to be effective with people who use the internet for the first time in their life. Here, you're promised daily deposit bonuses, lucky draws, check-in bonuses, pokies-exclusive offers, as well as weekly incentives among many others.
To be sure that you'll be able to make the best of your bonus at any online casino, you need to always thoroughly check the terms and conditions tied to it beforehand. This proves to be impossible here, as there are no terms and conditions to read through. This should say enough about the establishment on its own, but let's take a closer look at the offers.
Download App Bonus
For such a blatant red flag of a casino, On9AUD impresses us with a mobile app from the get-go. Not only this but there's a bonus tied to downloading it. If you're curious, you need to download the app, and this is all it takes to receive the incentive.
Keep in mind that some rules apply, and they state that the max cashout for this one is AU$ 22.22. Moreover, your balance must be at least AU$ 222.222 to be eligible for a withdrawal request. Even putting the ominous 2s aside, the conditions are sketchy.
This bonus is only available for playing Live22 pokies and to claim it, you need to have less than AU$ 0.50 in your balance. If you allow us this freedom, it's a bonus for when the going gets tough as it will require a lot of desperation to trust this or any other offer here.
New Member Bonus – Free AU$ 122 Chip
This one plays the role of a welcome bonus in a vast sea of unconventional offers. There are no minimum deposit requirements, and the wagering requirement is only 5x, but the max cashout allowed is AU$ 20. The promotion is only valid for playing pokies and it's stated that you can't combine it with any other bonus.
Limited Free Package – Get up to AU$ 228.88
On9AUD offers a 4-step bonus package consisting of gradually increasing amounts you can claim to boost your betting power.
To unlock the first installment, namely the AU$ 32.22 Deposit Bonus, simply deposit a minimum of AU$ 30. Keep in mind that there's a 5 times play-through requirement before you can cash out, and the maximum limit for withdrawals is $30 – as much as you've deposited. You can claim this bonus once daily and use it on pokies, but you can't combine it with No-Deposit Bonuses.
Moving on to the second part of the package, we have the AU$ 42.22 Deposit Bonus. To be eligible, you need to make a minimum deposit of AU$ 40. Again, this bonus is exclusively for pokies, and you'll need to wager it 5 times before you can withdraw any winnings. The maximum cashout limit for this one is AU$ 40, and just like before, it cannot be combined with other bonuses. You can activate this offer once per day.
In comes the third component, the AU$ 52.22 Deposit Bonus. If you wish to claim it, you should deposit at least AU$ 50. Like the previous ones, this bonus comes with a 5 times play-through requirement and has a maximum cashout limit of… you guessed it – AU$ 50. It's only valid for pokies and can be claimed once per day as well.
Last but not least, we have the highest, AU$ 102.22 Deposit Bonus. To get your hands on this one, you must deposit a minimum of AU$ 100. Keep in mind that you'll need to meet the 5x wagering requirement before requesting a withdrawal. The maximum amount you can withdraw is just as much as you've deposited – AU$ 100. This bonus is exclusively for pokies, can be claimed once a day, and cannot be combined with other bonuses just like all the rest of the package.
This offer, frankly doesn't sound all that enticing as you can only withdraw as much as you've initially deposited, so this would result in a net positive for the casino and a pure 0 for you.
Daily Bonus – 5% Daily Rebate Bonus
By depositing at least AU$ 5 on a given day, you become eligible for the 5% Daily Rebate Bonus. This is a little something extra to add a pep in your step as you play and the wagering requirements tied to the offer are 3x. The maximum amount that you can cash out is 10x your bonus size and you'll need to be quick on your feet, as the offer is only available at 1 pm each day.
Keep in mind that your eligibility is determined by you having accumulated no less than AU$ 100 in losses on the day you wish to claim this promotion.
Weekly Free Bonus Package – Get up to AU$ 236.64
Another Bonus package from the seemingly endless selection of On9AUD is the Weekly Free Bonus Package which is distributed between three distinct offers and totals AU$ 236.64.
There's nothing free about this incentive as in order to claim it, you have to have deposited at least AU$ 1000 in the last week. We sincerely hope that for a person who would deposit this much in a casino this scammy doesn't exist, but if they do, what they'll get from this bonus offer is AU$ 68.88. To receive AU$ 78.88, your previous week's deposits need to exceed AU$ 1500, and to receive AU$ 88.88… your weekly deposits need to be over AU$ 2000.
To top it all off, as with other bonuses here, you can only withdraw as much as you've received in bonus funds. The wagering requirement tied to this bonus is 5x, and like all other incentives, it cannot be used in any combinations.
Other Bonuses
The list of bonuses On9AUD offers is as long as it is dubious. Apart from all the listed promotions, there are also incentives for sharing on social media, referral links, daily bonuses, and more, more, more… until you get completely overwhelmed. It would be a miracle if even one of the promotions brought any actual benefit to you as a player.
Games
Betting undoubtedly provides a thrilling experience, but would get old quickly if it weren't for the endlessly innovative ways games can carry you through it. In the iGaming world, many games mean many hours of engaged, focused players having the time of their lives. The smaller the selection, the quicker the initial enchantment can wither away. On9AUD is seemingly set to deliver a good gaming experience with its over 1000 game titles.
While the website is hard to navigate through, frustratingly flashy, and positively annoying, the games themselves are of good quality. Here, you can enjoy a varied selection of genres such as pokies, table games, live casinos, and even sports betting! If there is one redeeming quality about On9AUD, it's the game library – it may not be too large, but it's perfectly enjoyable.
One noteworthy drawback is the fact that none of the games are playable in demo mode. On9AUD encourages you to take the plunge and learn on the go, which might be considered a lack of care for the end client by some.
| | |
| --- | --- |
| Games | |
| Software providers | Pragmatic Play, Big Gaming, Red Tiger Gaming |
| Pokies | 1000+ |
| Live Casino | Yes |
| Sports betting | Yes |
| Table Games | Yes |
Pokies and Providers
Even the most stoic of players will crack a smile here and there while playing some fun pokies. Not only is this genre a worldwide favorite, but its imaginative, whimsical, and sometimes even funny graphics can boost the mood like nothing else in an online casino.
All of the above is a good enough reason for most casinos to offer a wide selection of pokies if nothing else.
On9AUD has a fair library of around 1000 titles you can choose from. The ones we enjoyed playing over and over again are B.P. Metaverse, Night in Macau, Queen of the South, Devil's Hand, Molly's Circus, Arcane Sorceress, The Enchantress, Lady Valkyrie, Aqua Reef, Around the Globe, and Mother Goddess Nuwa.
The impact of innovative, brilliant providers isn't to be underestimated when it comes to any online casino's success, as all games come from studios that deserve a round of applause. Usually, the more providers a casino can secure, the better since diversity is the best way to go when curating a game library.
At On9AUD, you won't find too many big names, or many names at all, but the ones available are all quality studios. The biggest name you'll encounter is Pragmatic Play, while the rest are EBet, Asia Gaming, Red Tiger Gaming, and Big Gaming.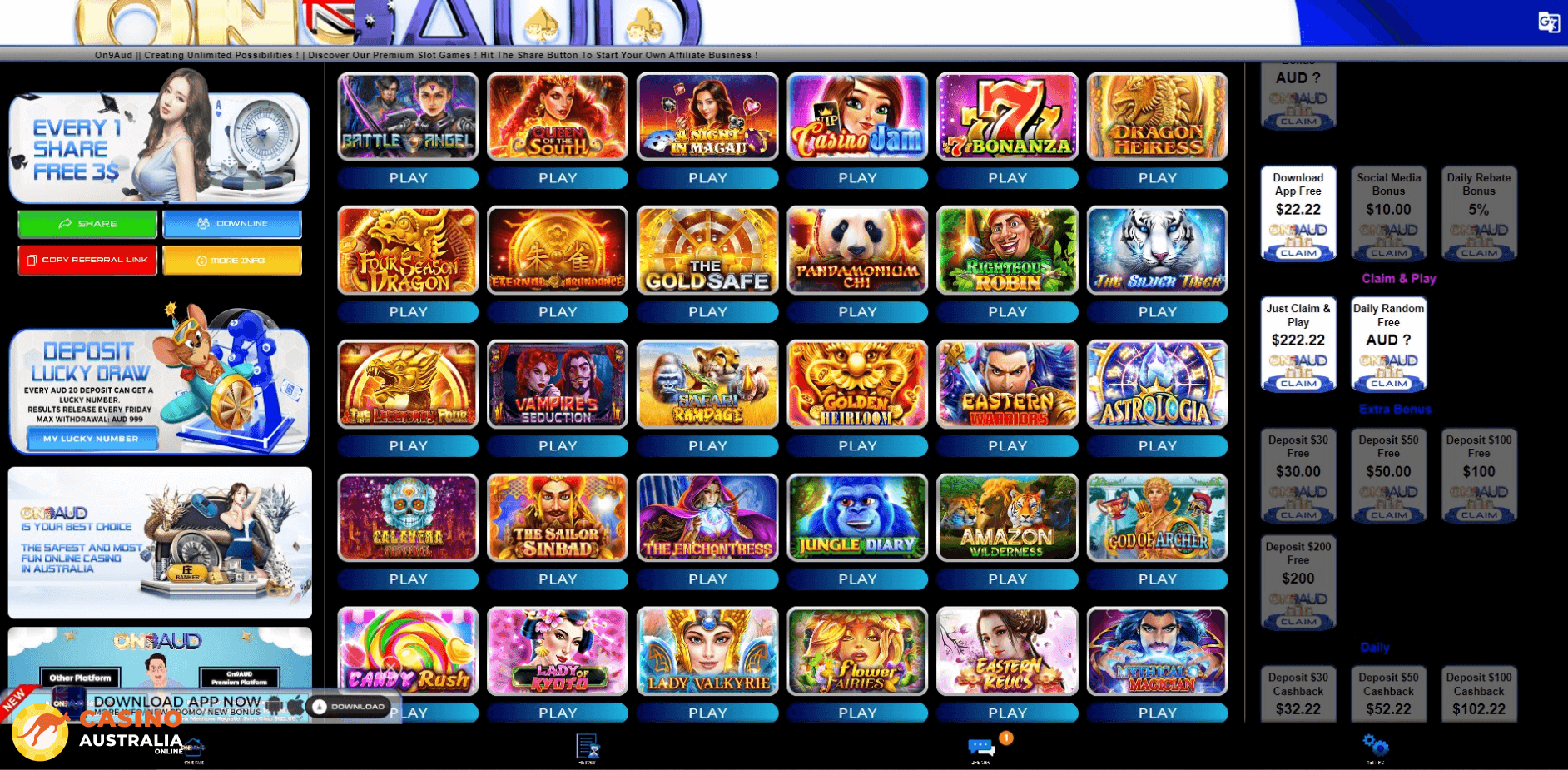 Live Casino
Live casino games are the closest one can get to the real casino experience from the comfort of their own home. Not only that, but the thrill of playing world-renowned classics like Blackjack, Roulette, Baccarat, Keno and many more is insurmountable when shared with other players in the lobby. Top it off with professional, charming dealers that elevate the ambiance and you'll get why the live casino is such a beloved genre.
At On9AUD, you can enjoy 10 live games with top-notch dealers and exciting wins awaiting you in the lobby. This might not be much, but it's a guaranteed positive experience for betting aficionados.
Deposits & Withdrawals
When players enter the world of online gambling, they have two main goals in mind: the thrill of betting and the potential for financial gains. Naturally, the way an online casino handles transactions plays a crucial role in its trustworthiness. When looking for a quality casino, we must prioritize a diverse selection of payment options, reasonable withdrawal times, and fair withdrawal policies.
Here at casinoaustraliaonline.com, we are committed to providing you with accurate and comprehensive insights into the financial security, range of options, and fairness offered by the online casinos we review. If you're curious about whether On9AUD is a reliable destination for depositing your funds and enjoying an exciting gaming experience, look no further as we'll dive right into it.
Deposits
Depositing at On9AUD is certainly what they want you to do, so it's an easy-breezy process overall. Once you pick your preferred payment method, you simply need to press 'deposit' and follow the steps.
On9AUD provides a fairly satisfactory list of payment options, both crypto, and fiat. Fiat-preferring players can opt for Astropay, MasterCard, MiFinity, MuchBetter, Neteller, Skrill, Visa, and eZeeWallet. The last one can also be used for crypto alongside Bitcoin and Ethereum.
The minimum deposit is AU$ 10, which is fair and even beginner-friendly. We would love to tell you about the minimum rollover requirement, or some additional terms and conditions, but there's no trace of a page where we can read about them.
Withdrawals
Withdrawal policies are always something you want to be as closely acquainted with as possible before being left at their mercy. Even then, some complications may arise, but when the casino doesn't even have Terms & Conditions you can read through, the risk for your money is more likely a certainty. We would strongly advise against entrusting On9AUD with your money.
All we could gather about withdrawals with the little information available is that the minimum withdrawal amount is AU$ 50 – quite steep for a casino that doesn't inspire any trust in players. Nothing is said about playthrough, either. Our main advice when it comes to transactions at On9AUD is 'If you deposit there, keep your fingers crossed to get some money out'.
| | |
| --- | --- |
| Payments | |
| Minimum deposit | AU$ 10 |
| Minimum withdrawal | AU$ 50 |
| Deposit methods | Visa, Mastercard, Bitcoin, etc.; |
| Fiat currencies accepted | YES |
| Australian Dollars accepted  | NO (conversion upon transaction) |
| Cryptocurrencies accepted | YES |
| Welcome bonus package | NO |
Withdrawal time
On9AUD doesn't provide any viable information on how long their withdrawal requests processing time is. Since no Terms & Conditions can be found anywhere, we are left guessing how long withdrawals take at this casino. We believe it's a safe bet that the time frame is 'never'.
VIP Program
On9AUD mentions many VIP bonuses and programs, but we couldn't find conditions or instructions on eligibility anywhere on the website.
Tournaments
On9AUD is all about the individual experience, hence, there are no ongoing tournaments at the casino. Here, the gaming philosophy seems to be 'take what we're giving you and don't ask for more'. Fierce competitors will need to look elsewhere.
Verification
We can assume that verification at On9AUD entails the same documents as anywhere else – a government-issued ID, proof of address, and proof of payment method ownership. However, we cannot guarantee the information as it's not available on the website.
Is On9AUD Legit?
On9AUD is the furthest from 'legit' we've encountered lately. The casino doesn't have any ownership or licensing information listed and on top of that – no terms and conditions anywhere on the website! Combined with some visual and copy red flags, we can firmly conclude that this establishment is shady.
| | |
| --- | --- |
| License | Undisclosed |
| License number | Undisclosed |
| Company address | Undisclosed |
Customer support
On9AUD has live chat support and that's that on customer support. Considering that the casino does not have an FAQ section or Terms & Conditions, reaching out to customer support is the only way to get any answers.
Not even this is a guarantee, though, as we tried contacting the live chat and there's still no reply nor is there an indication that my question will be acknowledged.
| | |
| --- | --- |
| Live Chat Support | Yes |
| Phone Support | No |
| E-mail Support | No |
| Ticketing System | No |
Mobile Casino
Surprisingly, On9AUD has a mobile app! They've probably poured all their money into its creation because everything else is a mess. Apart from a mobile app, the casino has an optimized web browser version as well. Both are a breeze, as much of a breeze as such an archaic website can function properly nowadays.
| | |
| --- | --- |
| Interface | |
| Mobile version | YES |
| iOS App | YES |
| Android APP | YES |