MajestySlots Review
You might not believe us, but when we say "we at casinoaustraliaonline.com" in our reviews, we don't actually refer to our team – instead, we simply use the royal "we", as we're actual, legitimate royalty! Don't let anyone tell you Australia doesn't have its own royal head, that's clearly anti-monarchist propaganda that deeply offends us!
As proper royals, we, of course, feel a certain attraction towards any and all casino sites that fit this most majestic theme! However, make no mistake: that doesn't mean we'd go easy on them! If anything, we're even more strict on sites like MajestySlots Casino as we evaluate their promotions, games, safety and features!
So, does this royal offering please us, or are we not amused?
Bonuses
Welcome Bonus – 400% Match up to €800 + 50 Free Spins
When it comes to welcome bonuses, numbers – while not everything – are still quite important. The bigger the numbers for the bonuses (and the lower they are for the requirements), the better the bonus will be! By that logic, MajestySlots Casino has a pretty amazing bonus, given the fact that it's offering a staggering 400% match to new players!
This means that, with a deposit of only €200, you'll be able to claim the full bonus amount. While €200 may not sound like a small sum to some of you, to put it in perspective, most casinos will not put you anywhere near their max bonus with that amount, even if said maximum is much lower. Even if you deposit a lower amount, you'll still come out ahead, especially when you consider the fact that you're also getting 50 spins on the house.
However, just because you claimed the bonus doesn't mean you'll be able to withdraw it easily. You'll need to wager the full amount (including the winnings from your free spins) a total of x33 times before you can withdraw them. While this is fairly standard for online casinos, it's also a tall order that will truly make you sweat if you make bonus withdrawal your goal!
Additional Welcome Bonuses
But the bonuses don't stop here! You'll also be able to claim two additional promotions as part of your welcome package – you can opt into those from the deposit menu while making your second and third deposits without needing to use any kind of bonus code or anything complex like that.
Your second deposit will bring with it a 300% match up to €600, and your third – only a 200% match up to €400. The amount of free spins you'll receive from each bonus also decreases: 40 for the second and just 30 for the third. While these smaller numbers are undoubtedly disappointing, at least they're still high enough to make the bonuses worth claiming.
It's worth noting that the bonus games that you'll be able to use your free spins on will change with each bonus, so if the first deposit game wasn't to your liking, at least you'll be able to change it up a little. As for the wagering requirements, they're the same across all bonuses, x33 times.
Reload & Limited Time Promotions
One thing we really like about MajestySlots Casino is just how many additional bonuses there are besides the welcome package. Once you open up the promotions page, you'll be greeted to dozens of offers, some of which are there to stay, while others will shift with time and will be replaced by new ones.
Given their ever-changing nature, not to mention their sheer amount, it's not worth it to discuss the bonuses in detail – they'll probably be changed by the time you check out the casino. However, it's worth noting that while none of them are quite as good as the first bonus, many of them are still worth claiming, providing you with free spins, match deposits, and cashbacks.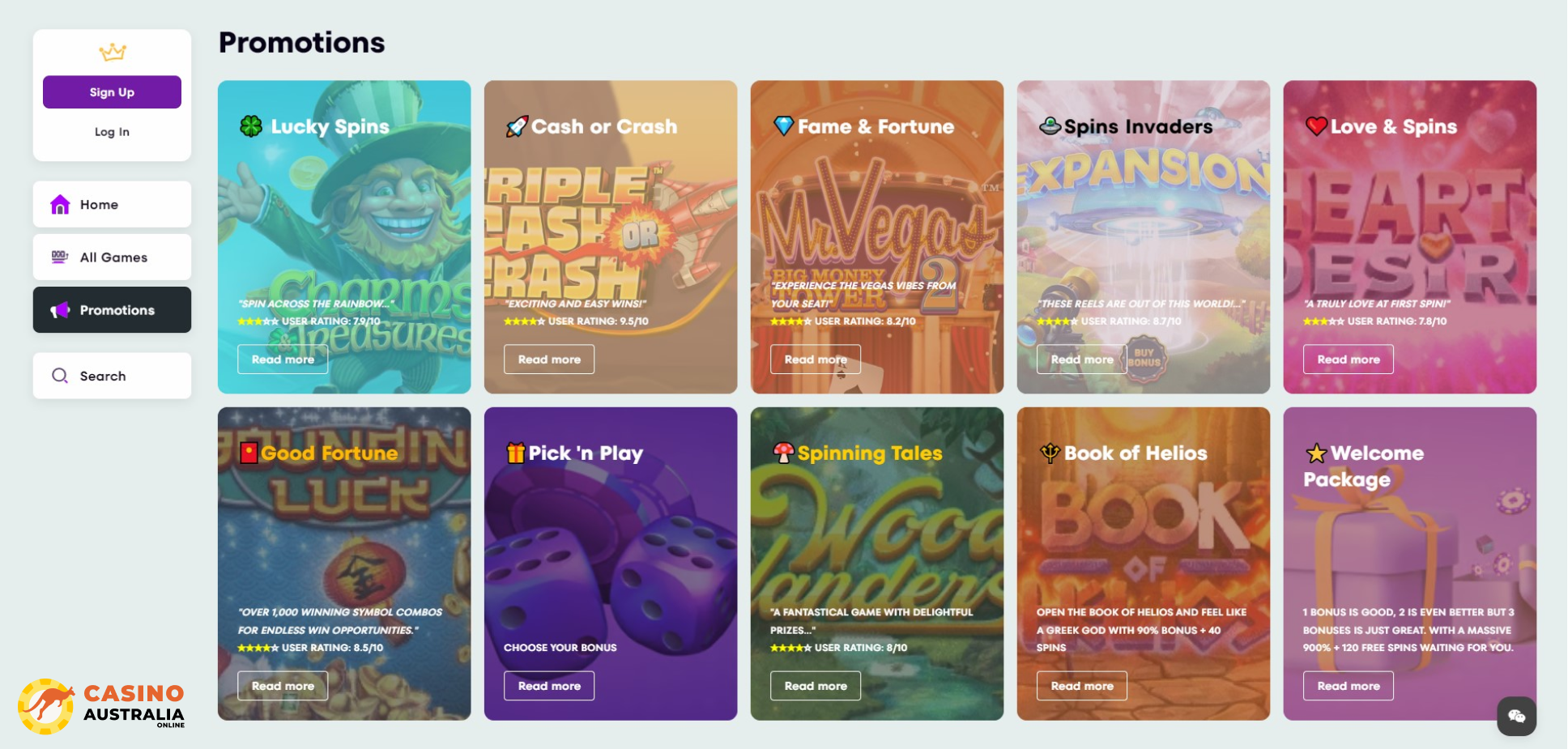 Games
Regardless of how good a casino's bonuses may be, we all know that the true appeal lies in its games! So, how does MajestySlots Casino fare in that regard? Well, believe it or not, actually pretty good! As its name suggests, the focus is on pokies, and it does offer a lot of them from a variety of software providers.
However, on top of that, you'll also be able to enjoy a variety of table games and live games. While these are intended to serve more as palette cleansers rather than the main course, their presence is still welcome all the same. Pretty much the only major omission when it comes to game diversity at MajestySlots Casino is sports betting, and it's one that's rather forgivable.
| | |
| --- | --- |
| Games | |
| Software providers | Betsoft, BGaming, Booming, EvoPlay, Felix Gaming, Mr Slotty, Nucleus, Playson, Swintt, Yggdrasil & More |
| Pokies | 2000+ |
| Live casino | Yes |
| Sports betting | No |
| Table Games | Yes |
Pokies
While the pokies section of MajestySlots didn't really blow us away, our overall impressions of it were still positive. Once you access it, you'll be greeted to thousands of games by over 40 different providers, all of which available in Australia. That's pretty rare – usually casinos with this many software providers will only offer a small handful of their games to Aussies!
Some of those companies include Betsoft ("Charms Treasures"), EvoPlay ("Neon Capital") and Playson ("Wolf Power") – decently big players whose games are bound to appeal to a good variety of players. However, while we quite liked the overall selection, there is one flaw that we need to bring up: the casino has made it quite difficult to filter out games as you wish to see them, and some of their built-in filter options tend to break. This may not sound like a big issue, but believe us, you'll feel it once you find yourself fighting against the interface in order to find the right game for you!
Live casino
Contrary to the casino's name, it doesn't just offer slot games – you'll also find a fairly decent selection of live games here. Of course, said selection is nothing to write home about, but there's still a decent amount of providers and game types to pick from when you're taking a break from spinning pokies.
Most of the games are provided by LuckyStreak and VivoGaming, with a few smaller developers also throwing their hats in the ring. Between them, you'll be able to enjoy not only the biggest games (like roulette and blackjack), but also much smaller titles, such as lottos, keno, Teen Patti, Lucky 6, Dragon Tiger, and many other options.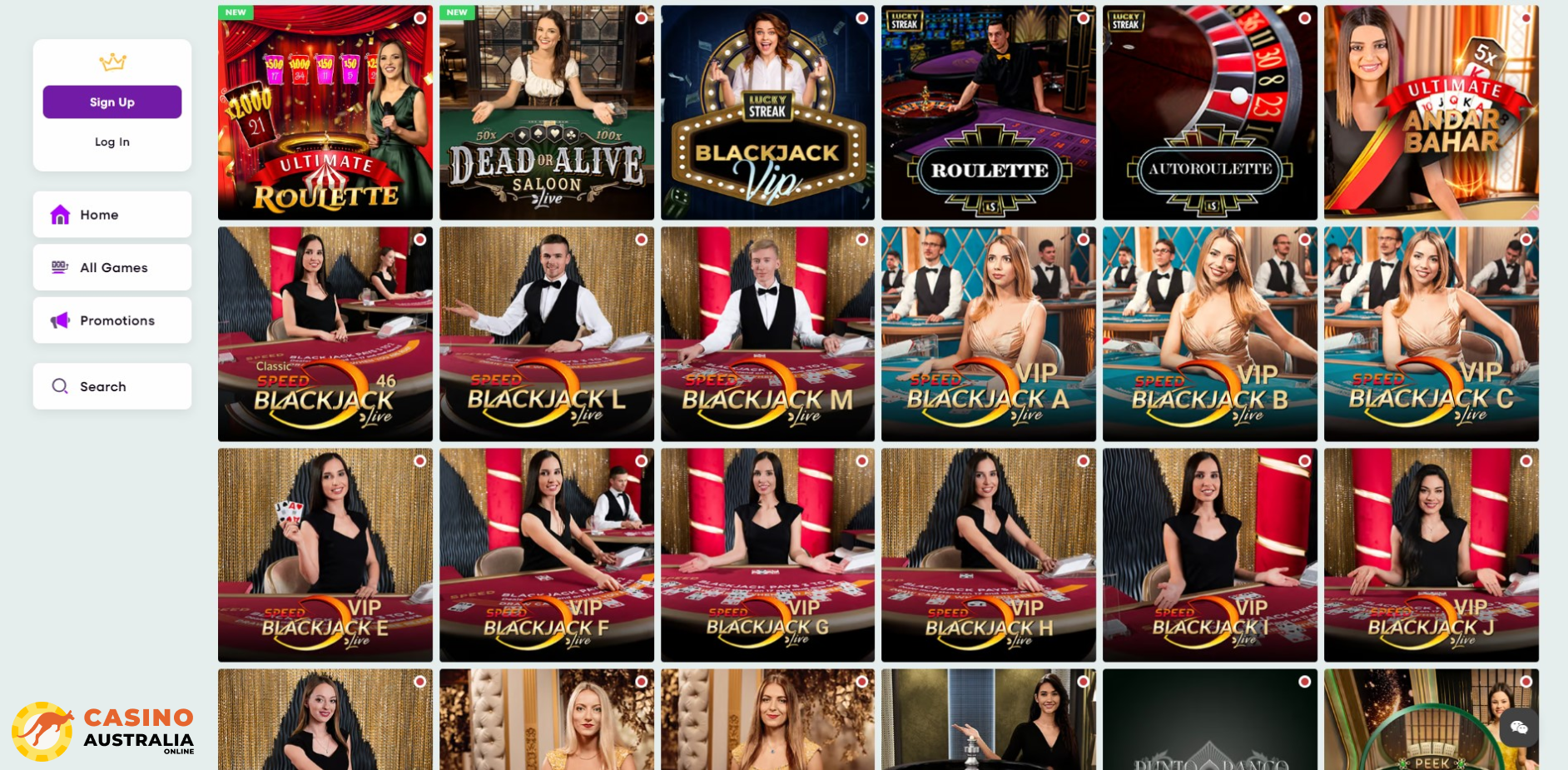 Deposits & Withdrawals
There's no two ways about it – MajestySlots Casino's payment options are weird. At first glance, there doesn't seem to be much out of the ordinary here: you can deposit and withdraw using a variety of payment methods (such as credit cards or e-wallets), as well as using Bitcoin. While the lack of alternative crypto is a bit unfortunate, it's also not the end of the world.
However, the closer you look, the weirder things get. For starters, you'll need a whopping €100 in your winnings account before you can initiate a withdrawal, which is just crazy! Most casinos will let you withdraw with just €20 to €50, so it's insane for any casino to ask you to deposit as little as €20, but not let you withdraw until you've won 5 times that.
But it only gets weirder the more you dig. You see, when you withdraw, your money will not be sent to you as a transfer: it'll be sent as a refund to the same payment method you used to make your deposit, with any excess sent to you via bank transfer. This is incredibly shady, and it basically means that the casino is cheating on its taxes and skirting player protection rights.
| | |
| --- | --- |
| Payments | |
| Minimum deposit | €20 |
| Minimum withdrawal | €100 |
| Maximum withdrawal | Per month – €5,000 |
| Deposit methods | Visa, MasterCard, Neteller, Skrill, Ecopayz, AstroPay, Paysafecard |
| Crypto currencies accepted | BTC |
| Australian Dollars accepted | No |
| Welcome bonus package | €800 + 50 Free Spins |
Withdrawal time
Most casinos play coy with the amount of time it would take you to complete your withdrawal, but MajestySlots is quite upfront with their numbers, for better or worse. To start off, they claim that it would take up to 5 days for your withdrawal request to be processed, which is, quite frankly, a bit on the high side. Most casinos only take about 48 hours (or less) to process a withdrawal.
But the real weirdness comes when you look at the withdrawal times for each method. E-wallets take 1 day, even though usually, the transaction should be instant. But far stranger are cards and bank transfers – MajestySlots claims that it takes up to 5 days to process bank transfers and up to 10 days to process transfers via credit card, but, in our experience, these numbers are reversed.
We aren't quite sure what is happening and why these withdrawal times are so off, and as such would advise our readers to exercise caution when considering making a deposit at this site.
VIP Program
Unfortunately, as of the time of writing, MajestySlots Casino does not offer any kind of VIP or loyalty program to its players. To the casino's credit, though, it doesn't necessarily need one. The site already offers a lot of bonuses and promotions to all players, whether they've just completed their welcome package or have been around for years.
Typically, the purpose of VIP programs is to keep players engaged with the site for a long time, but – at least in terms of perks and bonuses – MajestySlots can already do that without the gatekeeping that comes naturally with "leveling up". Therefore, we can't judge it too harshly on this.
Tournaments
Much like its VIP program, MajestySlots Casino's tournaments are entirely absent – but this time, we can't exactly overlook it. Tournaments are a very easy way for a casino to get players to engage with pokies that they may have otherwise overlooked. By pitting players against each other in a leaderboard, they can siphon off the load that is placed on the biggest and most popular pokies and direct it towards more obscure ones.
They're great for both the casino and the players, and as such, their absence is not one that we can consider lightly. If you're a big fan of pokie tournaments (or other tourneys, like for example live casino ones), this will probably not be the right site for you.
Verification
If you're new to online casinos, you probably don't know what it means to go through the verification process – and if you're not, then you probably loathe the very idea! This word refers to the process of proving your identity when you withdraw for the first time in a procedure that's similar across all financial institutions, not just casinos.
MajestySlots Casino is no different – to withdraw, you'll need to present a few documents that prove you are who you say you are. Chief among them is a form of photo ID, such as your ID card or driver's license. You'll also need a document that shows your name and current address (such as a utility bill). Last, but not least, your payment method will have to be verified so that the casino knows it belongs to you. This is done differently depending on each method.
Unlike most casinos, however, MajestySlots Casino will also feature a phone verification where a representative will call you over the phone to confirm further details. This step isn't very common, but may still get your entire verification failed if something goes awry, so be wary of it.
Is MajestySlots Casino Legit & safe?
Let's be honest here – money is valuable, even when you have a lot of it. As such, it always stings when you end up losing it to a scam casino, especially when you should have won instead. That's exactly why it's important to thoroughly evaluate every online casino's safety and reputation so that you can at least have some confidence that you're not playing with fire.
Sadly, if a scam casino is a fire, then MajestySlots Casino is a raging inferno. This site ticks every single box you can imagine for being completely shady. To start off, its owner is completely unknown – we scoured the entire website and there isn't a single mention of an owner in sight. We love to ask customer support about this when we spot it, and got the expected response, preserved verbatim: "There is specific information that is not allowed to be given out in chat, your question was one of them".
But if this strange behavior doesn't turn you off, the fact that the casino doesn't have a license certainly should. Every legitimate gambling site is licensed by at least one gaming authority as proof that there is at least some oversight on their activities, but this is clearly something that MajestySlots didn't want to do. Why? Well, we leave the interpretation to you.
Customer support
Few people suspect just how essential a good customer support service is… Until they happen to need it, of course. Suddenly, that slow or unreliable support team that they dismissed as not a big deal when signing up starts to seem like a rather big deal, indeed! So, how does MajestySlots fare in this department?
Sadly, not too well! When we contacted the live chat with a few simple questions, none of them were answered – we were told that the purpose of the chat is to solely convey information that is already available on the website, and not to assist with any problems or answer questions whose answers aren't already listed. One has to wonder what the point of the live chat even is.
During our conversation, we were told that the e-mail support was the primary one, which would evaluate whether players are entitled to receive a response or not (as explained to us by the live chat support agent). Well, it doesn't appear that we were very worthy, because we never got a response to our e-mail at all. Disappointing, but hardly unexpected.
| | |
| --- | --- |
| Live Chat support | 2PM – 10AM Sydney time |
| Phone support | No |
| E-mail support | [email protected] |
| Ticketing system | No |

Mobile casino
If you're someone who prefers to play pokies while relaxing or on the go, then you're in luck – MajestySlots fully supports mobile play without the need for any additional downloads besides your regular mobile browser. Granted, this is how most online casinos operate, but with MajestySlots doing so many things wrong, even this small achievement feels like a major victory.
Most of the games that you'll be able to play on desktop are also playable on mobile, and the same goes for any features (such as making deposits or withdrawal requests). The mobile interface, while a bit slow at times, tends to do its business well, allowing you to easily access most of the site's functions without cluttering the interface. As they say, even a broken clock is right twice a day, if only ever so slightly.
| | |
| --- | --- |
| Interface | |
| Mobile version | YES |
| iOS App | No |
| Android APP | No |