Magic Win Casino Review
When people win big at an online casino and are recommending it to their friends, they'll often use phrases like "It's magical!" Well, in naming their online casino, perhaps the creators of Magic Win Casino were hoping to capture this exact sentiment, and make everyone see just how magical and wonderful their online casino is.
Well, we refuse to fall for such tricks! What we're interested in isn't the name on the cover, but the contents within! As such, we decided to thoroughly explore the site and evaluate all of its aspects objectively, including its payment options, games, bonuses, safety and more!
So, is Magic Win Casino truly magic, or should you just magic yourself far away from it?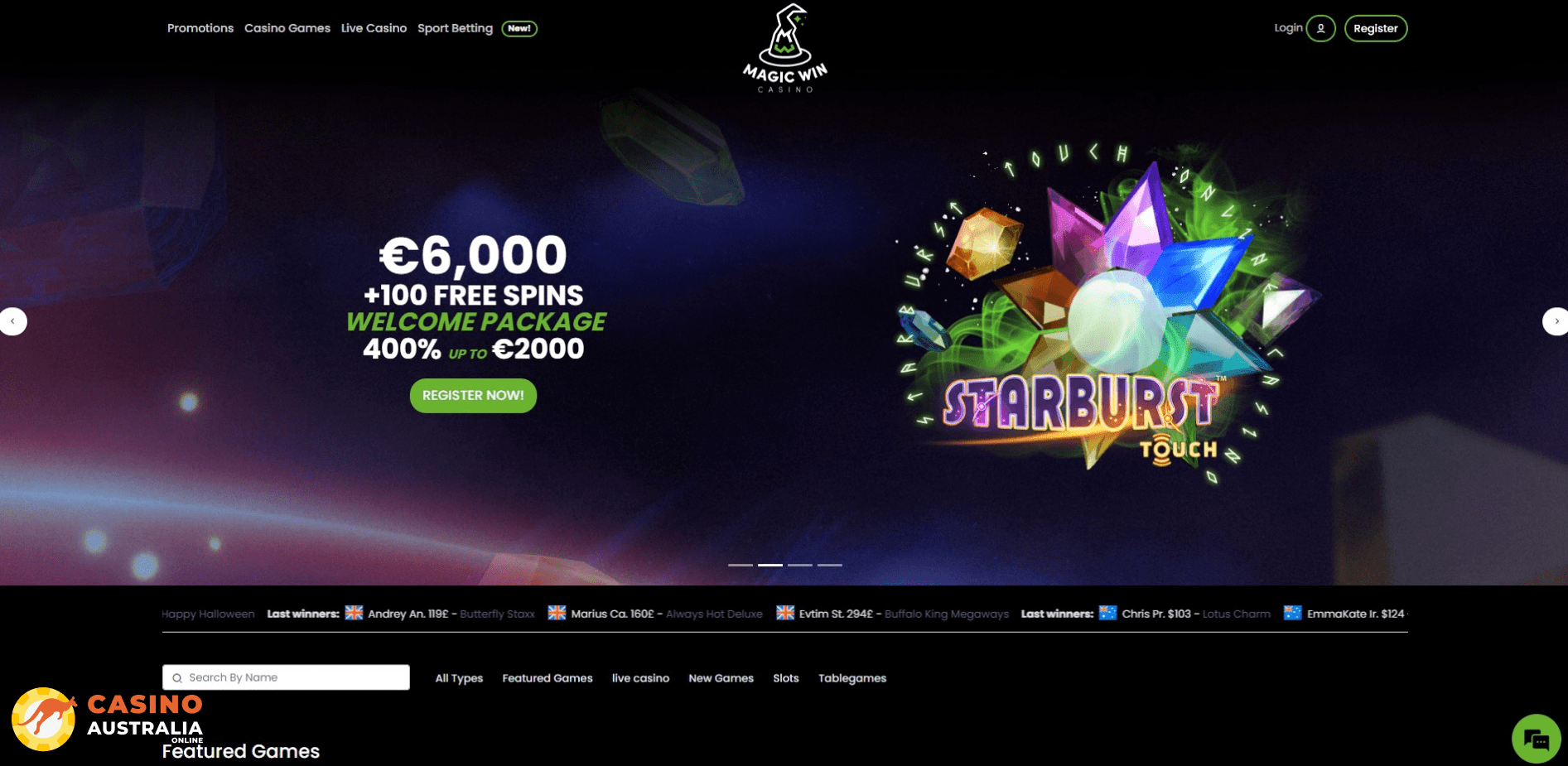 Bonuses
Welcome Bonus – 400% up to AU$2,000 + 100 Free Spins
We all know just how competitive the world of online casinos can be, and one of the main ways through which they compete against each other for the limited number of players is through their first deposit bonus. Common sense should tell you that the bigger the bonus, the better it will be, and the more likely someone is to be attracted to it… Right?
Well, Magic Win Casino took this advice to heart by offering a positively spectacular bonus – 400% match up to AU$2,000. That's a rather crazy bonus, especially considering the fact that most welcome bonuses we've reviewed are around 100-150% match up to a 3-digit number. And if that wasn't crazy enough, you'll also get 100 free spins on top of it. Wow! Sounds crazy! There can't possibly be a catch, right?
Well, there is, and this is one of the rare cases where having a huge bonus makes it less likely you'll actually withdraw anything. You see, the casino requires you to complete wagering requirements of x50 if you want to withdraw anything, which is just insane and significantly higher than what most other casinos will request of you. This means that, if you deposit a mere AU$50 (far cry from the maximum of AU$500), you'll need to make wagers totaling AU$12,500 before you're allowed to withdraw what's left!
Additional Welcome Bonuses
Once you're all done with your first deposit bonus, Magic Win Casino will also grant you a few additional bonuses that you may claim as part of your overall welcome package, totaling 5 all in all. While the remainder aren't as high in rewards as the first deposit bonus, rest assured that their wagering requirements are just as brutal.
Here's what you'll get for each of your subsequent deposits:
| | | |
| --- | --- | --- |
| Deposit | Bonus | Free Spins |
| Second | 200% up to AU$1,000 | 50 |
| Third | 150% up to AU$1,000 | 25 |
| Fourth | 100% up to AU$1,000 | None |
| Fifth | 100% up to AU$1,000 | None |
As mentioned, all of these bonuses come with a wagering requirement of x50, which practically guarantees that you'll never be able to withdraw a cent out of any of them. And given the fact that they get progressively worse as time goes on, it's hard to imagine why anyone would even want to bother with the fourth or fifth deposit bonuses.
As if to add insult to injury, Magic Win Casino doesn't actually offer any additional bonuses past the welcome package – no reload promotions or limited-time offers, nothing at all. Once you're all done with the welcome bonus, you're essentially considered worthless by the casino, which is never a great feeling.
Games
Despite our negative impressions of Magic Win Casino's bonuses, our feelings about their game selection is a bit more mixed. There are aspects that we like, aspects that we don't, and aspects that, quite frankly, just confound us.
To start off with the positives, there is actually quite a lot to do here once you sign up – no one can accuse Magic Win of not having enough games! We're talking thousands of pokies from well over a dozen providers, a very feature-complete sports betting section, table games and, of course, a live casino section. What's not to love?
Well, a lot of those places are either very incomplete (like the table games one, which has a grand total of 4 games in it), or features a lot ot games that are inaccessible to Australian audiences. In many ways, it feels like Magic Win Casino are desperately trying to make it seem like they offer far more than they truly do.
| | |
| --- | --- |
| Games | |
| Software providers | Betsoft, Boongo, Hacksaw, Nolimit City, Play'N GO, Playson, Quickspin, Yggdrasil & More |
| Pokies | 1000+ |
| Live casino | Yes |
| Sports betting | Yes |
| Table Games | Yes |
Pokies
As mentioned earlier, the big problem with the pokies section of Magic Win Casino is the fact that it doesn't appear to hide unavailable pokies from players who can't legally play them. For example, us Aussies can't legally have access to any game by NetEnt, and if you try to play it, you'll get a "This title is not available in your region" error. But it's still displayed in your list and has bonuses tied to it, just to tease you and make your browsing that much more frustrating.
What is still available isn't too bad all on its own. You'll still be able to enjoy titles from developers such as Betsoft ("A Night in Paris"), Yggdrasil ("Valley of the Gods") and, of course, Play'N GO ("Book of Dead"), among many others. Gun to our head, we can't say that this is a bad selection of games. We just wish that all of it was available to Aussies, or at least we weren't taunted with all of the games that we didn't even know we can't play until we tried to.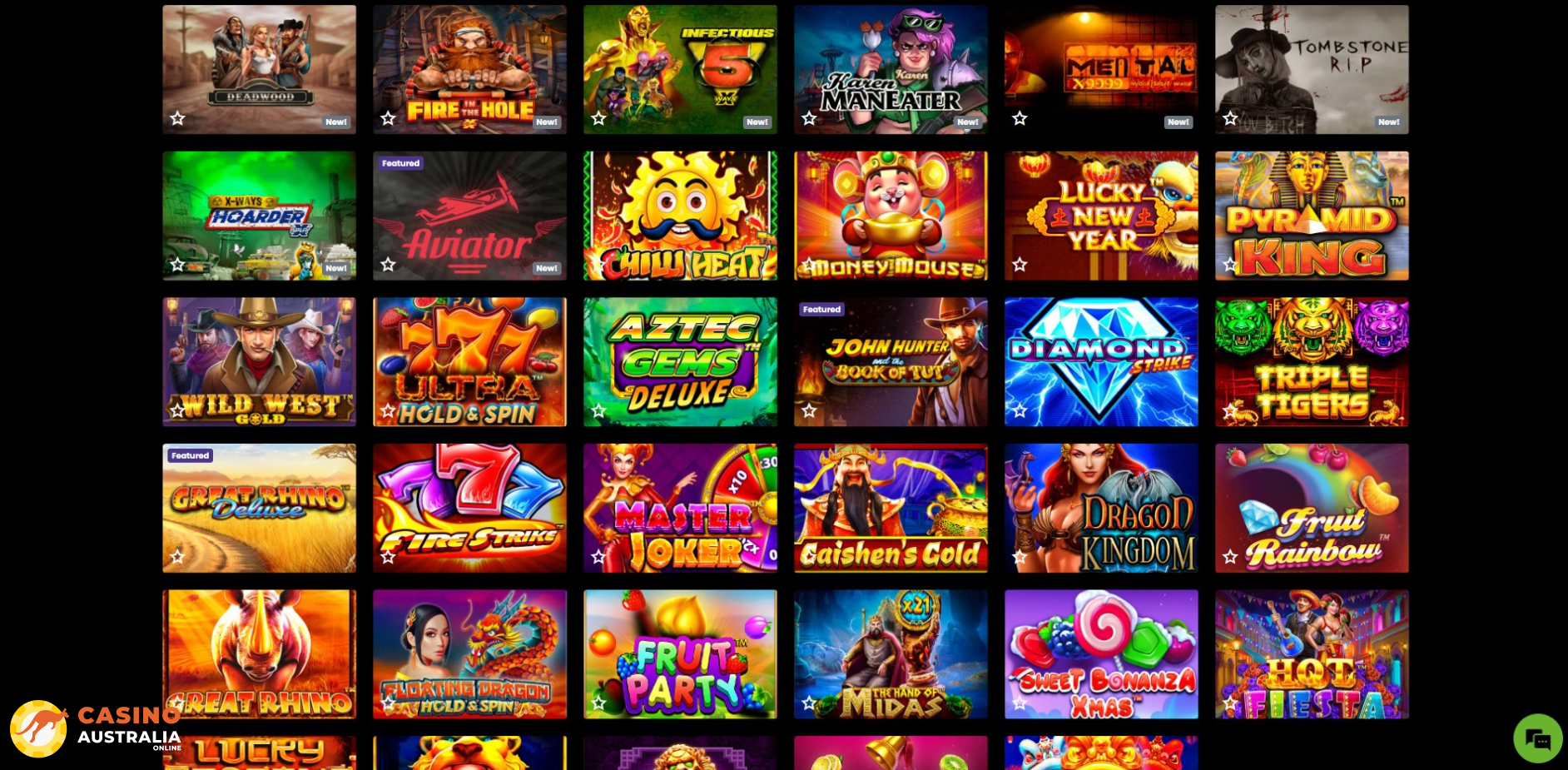 Live casino
While the pokies section of Magic Win was flawed, but ultimately acceptable, the same can't be said about its live dealer titles, which are simply not satisfactory on any level. Most of the live games are provided by two provifers, Vivo Gaming and Betsoft, and while VIvo Gaming has a decent enough reputation, Betsoft are known to be rather hit or miss.
In addition, a few more providers (like Tom Horn or Platipus) will provide one or two titles to the selection, but overall, if Vivo and Betsoft don't speak to you, then you simply won't find much here to enjoy. Sadly, this lack of diversity extends to the games as well, which are mostly limited to the "big three" – blackjack, baccarat and roulette. The only game we could find on the entire casino which wasn't a variant of those three is Tom Horn's "Wheel of Luck".
While we understand that there will be some players who'll be delighted with this limited selection, we also know that most will not be. Games like craps, sic bo and tiger dragon, while undoubtedly niche, are a big part of the live casino appeal, and they're just nowhere to be found at Magic Win Casino.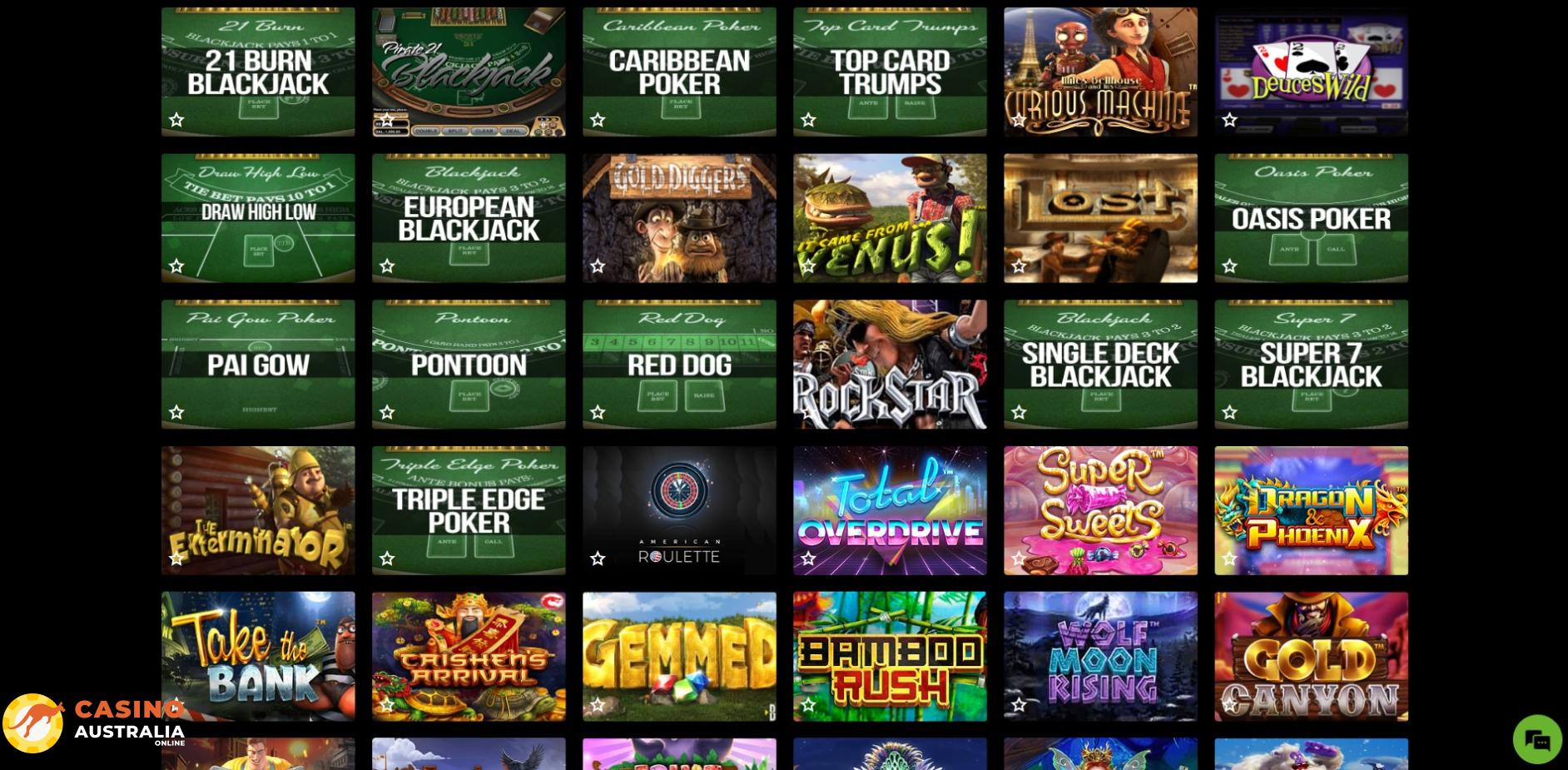 Deposits & Withdrawals
There's nothing we can say about the payment methods of Magic Win Casino that doesn't make it sound like we're pulling a prank on you. Would you believe us if we said that the casino accepts MasterCard, but not Visa? Or that it accepts Neosurf, but no e-wallets? You probably would if you assumed that this was just a crypto casino, but it isn't really, it only supports 4 different currencies for deposits.
All of those things are true, and they're, frankly, perplexing. Why not support at least the bare minimum of e-wallets, like Skrill and Neteller? Why not add more crypto coins, since those don't need to go through any sort of approval process? The entire thing is so weird and reeks of low-effort at best and scam at worst.
Payments

Minimum deposit

AU$20

Minimum withdrawal

AU$20

Maximum withdrawal

Per week – AU$5,000

Per month – AU$20,000

Deposit methods

MasterCard, Neosurf

Crypto currencies accepted

BTC, ETH, USDT, LTC

Australian Dollars accepted

Yes

Welcome bonus package

AU$2,000 + 100 Free Spins

Withdrawal time
If you thought that there weren't enough payment methods available for deposit at Magic Win Casino, wait until you learn how many of them are available for withdrawal! Yep, you'll only be able to withdraw your winnings using two methods: bank transfer or a crypto withdrawal using bitcoin only. Rather ridiculous, isn't it?
The good news is that at least BTC withdrawals are relatively quick – slow by crypto standards, sure, but quick in the real world, taking no more than an hour or so. If you instead choose the bank transfer option, get ready to wait about 10 business days, though. While the casino lists a 24-48 hour processing time for each of its methods, this actually only signifies the time in between your withdrawal request and your withdrawal being sent. Then you'll need to wait even further to receive it.
VIP Program
Unfortunately, as of the time of writing, Magic Win Casino does not offer its players any form of a VIP or loyalty program. This is particularly unfortunate because the casino has no reload promotions whatsoever, meaning that, without a VIP program, you'll get nothing extra out of making bets and deposits there.
The reason behind the existence of a VIP program in most casinos is to encourage player loyalty, and to keep them playing when they're tempted to jump over to another casino with a big bonus. Sadly, loyalty doesn't seem to be something that Magic Win Casino are particularly concerned with.
Tournaments
Just like with a VIP program, currently Magic Win Casino do not provide their players with any tournaments in which to particpate, neither for pokies nor for card games like poker. Pokie tournaments in particular have become rather popular in recent years, and so it's very odd to see Magic Win Casino eschew such a simple addition.
Magic Win certainly have quite a few pokies at their disposal, more than enough to guarantee a decent rotation of tournaments. Alas, this doesn't seem to be a priority for them at the moment, and we can only hope things will change in the near future.
Verification
Every single online casino in the world, whether open to Australians or not, is required by law to verify the identity of its players before dispensing any money. This doesn't just apply to casinos, of course – other sites that pay out, like e-wallets or crypto processing sites for instance, have similar requirements, and it's all done to prevent money laundering. With that said, there are some ill-intentioned casinos that will intentionally neglect this process.
So, is Magic Win Casino one of them? Honestly, we don't know. The site itself makes no mention of a verification procedure (beyond verifying your e-mail address and phone upon registration), and when we reached out to the support team, we received no response. It could go either way, but the fact that the casino itself is playing coy about it is very concerning.
While some of you may be excited by the prospect of a casino that doesn't require verification, the fact of the matter is that this is done in the interest of player safety. As such, any casino that doesn't have this process should be considered fundamentally unsafe and is best avoided.
Is Magic Win Casino Legit & safe?
As most of you already well know, having a license is one of the most important things a casino can do in order to guarantee the safety of its players. A certified gambling authority (for example, Curacao, Malta or UK, among many others) can essentially vouch that the casino is legitimate and adheres to some basic principles, and said license can be taken away if this trust is violated.
Now imagine that you're a casino that doesn't want to adhere to pesky things like "being honest" and "paying out winnings", but you still want the trust that players are willing to place in licensed sites. What do you do? Well, you can just… Lie about it and hope for the best! And while we have no proof that Magic Win Casino has done this, we're very certain that they have.
They claim to have a license from the Curacao Gaming Authority with the number "34389464EU". The problem is… This number doesn't correspond to the patterns of any of the 4 licenses issued by Curacao. Antillephone, E-Gaming, Curacao Gaming and Curacao Interactive Licensing all have massively different license numbers from what Magic Win Casino is presenting.
While this isn't exactly a "smoking gun", we also can't help but feel like the casino's creators just typed in a random number and hoped no one would notice. It's like if we wrote "We at casinoaustraliaonline.com won Best Casino Site at the prestigious Cassy Awards" – there is no such as the "Cassy Awards", but you wouldn't know it if you're just a casual player. Such attempts at deception are inexcusable.
Customer support
Nobody wants to be speaking with customer support, but we all need to do it every once in a while, for a variety of reasons. That's why it's important for all sites (but especially online casinos) to provide players with quick, easy to access and, most importantly, reliable support.
Unfortunately, the same can not be said for Magic Win Casino. Technically, they offer players two ways to contact their support team: via live chat or e-mail. Of course, live chat sounds like the better deal, but alas, we never actually got a response no matter how many times we tried. So much for 24/7, right?
As for e-mail, we also haven't received a reply there, and while that's understandable given its slower nature, we somehow doubt we'll ever get a response to our message. So, is this a "zombie casino" that doesn't respond no matter what you do, or were we just unlucky when trying? The world may never know, but the message is loud and clear either way.
| | |
| --- | --- |
| Live Chat support | 24/7 |
| Phone support | NO |
| E-mail support | [email protected] |
| Ticketing system | NO |

Mobile casino
You may be a little bit shocked to discover that we were actually quite fond of Magic Win Casino's mobile version. It's fast, very response and rather well structured to the form factor of a phone, with enlarged text and a slightly different layout to make up for both the smaller surface area and the vertical display.
As with most mobile casinos nowadays, you don't need to download an app in order to access it, simply visiting the casino's domain through your mobile browser will be enough. Once there, you'll still be able to log in with your regular username and password, and then enjoy the vast majority of the games available. Not bad, Magic Win! If only the rest of you was as good!
| | |
| --- | --- |
| Interface | |
| Mobile version | YES |
| iOS App | No |
| Android APP | No |