Love Casino Review
It may not be February 14th right now, but love still lingers in the air! … Unless, of course, it is February 14th and you're spending the day here with us instead of on a date. Either way, we're quite happy to play matchmaker and to introduce you to a new casino that you might want to get to know!
Dates can be a wonderful thing that helps you meet someone you'll love for the rest of your life, or they can be an utter disaster that leads to nothing but heartbreak and lost money. To spare you from the latter fate, allow us to be your wingmen and tag along on this date so that we can grill Love Casino for those ever-important answers about its games, bonuses, safety and more!
So, is Love Casino truly your Valentine, or are you going to "get an important phone call" midway through the date?
Bonuses
Welcome Bonus – 400% Match up to AU$6,000 + 100 Free Spins
Both in love and in the world of online casinos, first impressions are very important – and Love Casino is certainly intending to make an extremely positive one! When you make a deposit at the casino for the first time, you're going to get a spectacular 400% match up to AU$6,000 – certainly in the upper range of bonuses that we've reviewed!
Even if you don't get the full amount, you're still getting x4 times your invest to play around with. For a practical example, if you deposit AU$50, you'll get a bonus of AU$200 for a total of AU$250 to play with. And if that wasn't good enough, you'll also receive 100 free spins on the Wolf Gold pokie by Pragmatic Games. It sounds too good to be true!
And that's kind of because it is. Many unbelievably huge bonuses come with fine print that brings you right back down to Earth, and this is no exception. In order to withdraw your bonus, you'll need to wager it a total of x50 times, including your free spins winnings. This is way higher than the average (which hovers at around x30) and pretty much guarantees that you won't be able to withdraw even a cent from that huge bonus.
Still, if you're not intending to do that and just want to use it to test out some pokies, then the large amount will be more than welcome to you! Just don't forget to use the bonus code "LOVE1" when making your first deposit in order to claim it.
Additional Welcome Bonuses – Up to AU$9,000 + 400 Free Spins
If you've used up your welcome bonus and are hungry for more, we've got some good news and some bad news. The bad news is that, past the welcome bonus, you won't really be able to obtain much in the way of promotions – there aren't any reload bonuses or limited-time promos available for players from Australia.
The good news, however, is that the welcome bonus extends toward your first 5 deposits. That's right – you will receive a fat bonus the first 5 times you deposit at Love Casino! But what exactly will you get? We already discussed the first deposit bonus, so here's what you'll be getting for the third through fifth ones:
| | | | | | |
| --- | --- | --- | --- | --- | --- |
| Bonus | Match Percentage | Maximum Amount | Free Spins | Free Spins Game | Bonus Code |
| Second | 200% | AU$3,000 | 100 | Hansel and Gretel | LOVE2 |
| Third | 200% | AU$3,000 | 100 | Koi Princess | LOVE3 |
| Fourth | 100% | AU$1,500 | 100 | Vikings | LOVE4 |
| Fifth | 100% | AU$1,500 | 100 | Sparks | LOVE5 |
As you can see, Love Casino still retains its rather high match bonuses and amounts throughout the fifth bonus, and each one also comes with 100 free spins, courtesy of the house.
But we've got a little extra heaping of bad news: all of these bonuses come with the same hefty wagering requirements as the first. That means you'll have to wager them x50 times (for the total amount of bonus + free spins winnings) if you want to initiate a withdrawal.
Games
The game selection of Love Casino is… Weird. Weird, how? We'll get to it once we get to the pokies section, but for now, let's examine what is available. To put it simply: you'll be able to play pokies, live casino games and even a good variety of table games. That last part was a particularly big surprise for us – we at casinoaustraliaonline.com are quite big fans of traditional table games, but it's so rare to see a casino with a decent selection of them!
What you won't find here is anything besides what we just listed. This means no live betting, no sports games (even virtual sports), no lotteries, bingo or anything else of that nature. Given the fact that Love Casino is, well, a casino, we can't exactly fault it for lacking these features, but it's still very important to keep in mind this fact when choosing whether to sign up or not.
| | |
| --- | --- |
| Games | |
| Software providers | Betsoft, IGTech, Wazdan, Yggdrasil, Nolimit City, Platipus, Nucleus, Tom Horn & More |
| Pokies | 1,000+ |
| Live casino | Yes |
| Sports betting | No |
| Table Games | Yes |
Pokies
Earlier we mentioned that there's something quite odd about Love Casino's games – and that's the selection of pokies it has available for Australian players. You'll quickly find all of the familiar faces that you'd certainly recognize if you already have experience with spinning reels – Betsoft, Tom Horn, Yggdrasil, etc. They're all here, and they're great!
However, besides them, you'll also find quite a few games from companies like NetEnt, Microgaming and Playtech – in fact, four of the five welcome bonuses available at Love Casino will give you free spins on NetEnt pokies. Why is this weird, you ask? Well, that's because none of these providers typically make their games available in Australia.
We tried to reach out to support to ask what the deal is, but unfortunately found ourselves rather heavily stonewalled. So, what IS the deal, really? It's hard to say, but it's possible that the games at Love Casino are fake, meaning that they're meant to approximate NetEnt titles while not actually being provided by NetEnt themselves (thus getting around any restrictions, at the cost of having significantly less reliable payouts).
Another option is that the casino simply haven't bothered to place the required geo-restrictions on these games, which would probably place them in breach of contract with the companies. It's important to point out that this is all just speculation on our part, as it's truly impossible to know the truth without a response from the casino (which we don't seem to be getting any time soon). So, for now, just keep what we have explained in mind when deciding whether to sign up or not.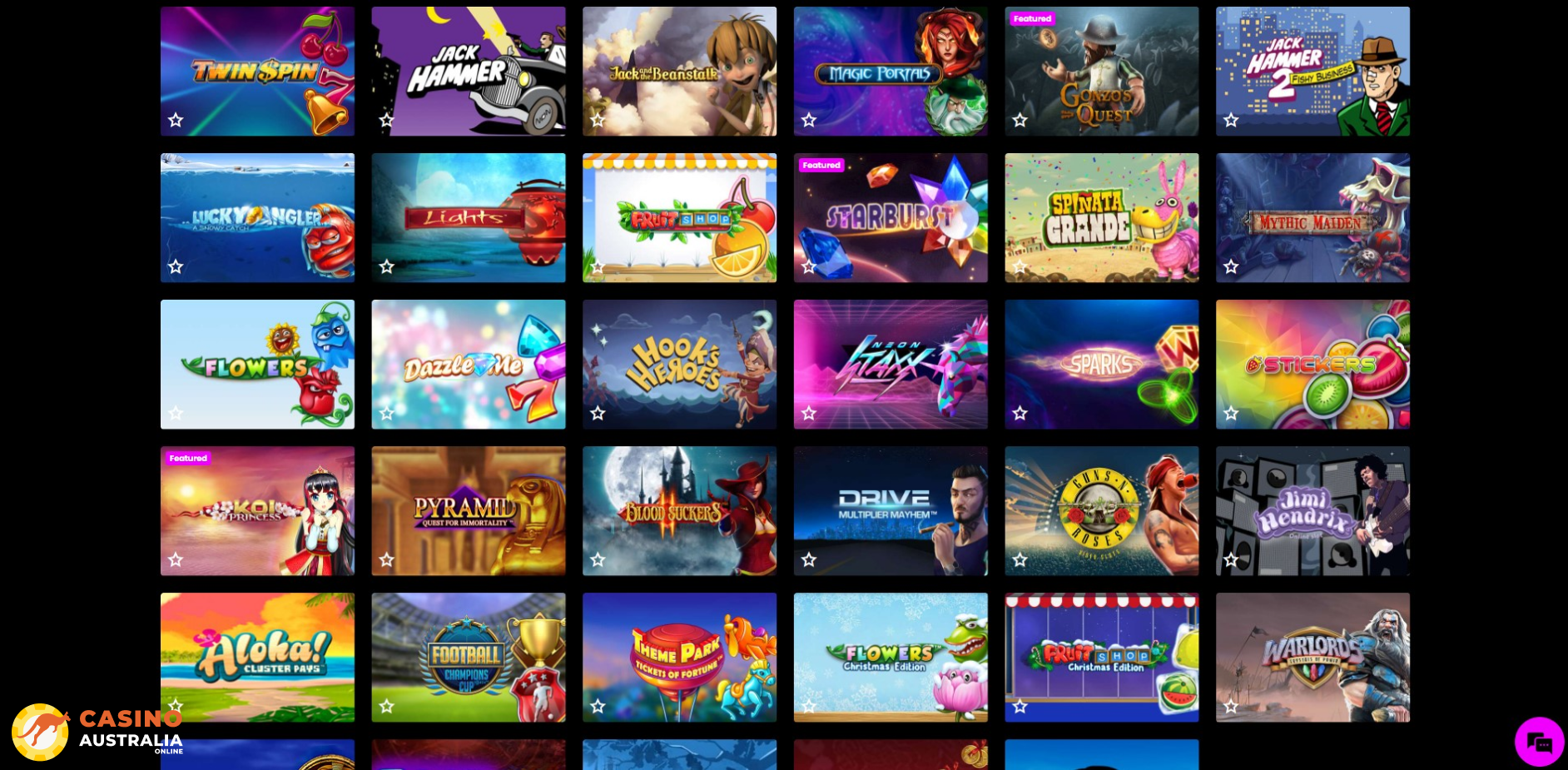 Live casino
Unlike the rich (if dubious) pokies section, the live dealer section of Love Casino is rather dull and uninteresting. The vast majority of its games are provided by VivoGaming, which aren't a particularly exciting developer – they get the job done, sure, but don't expect anything more than that.
This lack of excitement extends in no small part to the game variety. At Love Casino, you will only be able to play baccarat, blackjack, roulette and one, single room of blackjack (at least, as far as live dealer rooms are concerned). Not exactly the most exciting selection, especially when other casinos have a lot more to offer in terms of niche or innovative titles.
Deposits & Withdrawals
The payment options available at Love Casino are a complete disappointment. To start off, you might already be noticing a big absence in the payment options. That's right – the casino doesn't accept any e-wallets whatsoever. You'll only be able to deposit using a bank card, a pre-paid solution (like Neosurf) or crypto. That's honestly quite weird, not to mention very disappointing to people who are used to depositing via Neteller or eZeeWallet.
On top of that, if you want to withdraw, the casino won't make it easy on you, as you'll need at least AU$100 in your winnings before you can request a cash-out. What's worse, if your total deposits don't amount to at least AU$300, your withdrawal amount will be limited to just x10 your last deposit, with the rest being forfeit – which is such a shady rule!
| | |
| --- | --- |
| Payments | |
| Minimum deposit | AU$15 |
| Minimum withdrawal | AU$100 |
| Maximum withdrawal | Per week – AU$7,500 |
| Deposit methods | Visa, MasterCard, CashtoCode, Neosurf |
| Crypto currencies accepted | BTC, ETH, USDT, LTC |
| Australian Dollars accepted | Yes |
| Welcome bonus package | AU$6,000 + 100 Free Spins |

Withdrawal time
As of the time of writing, Love Casino will only permit withdrawals using two ways: via bank transfer or via crypto. This makes sense, since they don't have any e-wallet payment options in general, and it's not like you can withdraw via pre-paid methods, but it still limits your options quite a bit.
If speed is what you're looking for, then withdrawing via crypto is the obvious choice – theoretically, crypto withdrawals are quite fast and should take less than an hour from the time of being dispatched to arrive in your wallet. However, this isn't the best option for many players who don't really trust or like crypto.
Those players will have to rely on bank transfers, but be warned: this method can take up to 15 business days to fully process, and may incur additional fees and charges.
VIP Program
Love Casino doesn't have any reload bonuses or limited promotions – the only bonuses it offers are to the new players who have just joined the casino. "But what will the existing players get as a reward for their loyalty," you may be asking. Great question! That's typically why many casinos will have a VIP program to reward the people who stuck with them.
Unfortunately, Love Casino seem to very much disagree with this need, as they don't offer any kind loyalty initiative to their players. This sends the rather clear message that they don't appear to care at all about their existing players, and instead just want to keep attracting new ones with their big welcome package. What conclusions can be drawn from this?
Well, we're going to leave that part to you.
Tournaments
Just like with the VIP program, Love Casino doesn't currently have any tournaments on the site – be it for pokies or for table games. Tournaments have become a huge part of many online casinos over the last few years, in no small part thanks to helping players rediscover old games and experience them in a new, more competitive way.
Despite the ever-growing fanbase of tournaments, Love Casino doesn't seem particularly interested in catering to it. If this is a deal breaker for you, then we totally get it, but you'd also need to look for a different online casino.
Verification
Under normal circumstances, you would need to verify your identity with the casino before you're able to withdraw anything out of your winnings. This is done in compliance with intenrational regulations intended to combat money laundering, and holds true for every single financial institution that disperses money to users. It's why you had to show proof of identity before opening your bank account!
However, try as we might, we couldn't find any information at all about how the verification process works at Love Casino, or if there is one at all. Logic, and the law, both dictate that there should be, but this hasn't stopped certain shady casinos in the past from simply skipping the procedure altogether, knowing that they'll never have to pay out a penny.
The only mention of verification that we found is that the casino will require you to verify your phone number via SMS upon completing your registration. After that, you'd need to rely on the casino's support team for instructions, and that's bound to be a bundle of fun for you.
Is Love Casino Legit & safe?
It is generally understood that casinos holding a license from a certified gaming authority (be it Curacao, Malta, UK, etc) are a lot more trustworthy than unlicensed casino. That is because casino sites without a license have absolutely no oversight, and as such can get away with basically anything – up to and including scamming their players – with no consequences whatsoever.
While they're not exactly judge, jury and executioner, at least gaming authorities hold some oversight over the casinos they license, and can (and will) pull their license if foul play is discovered. So, let's imagine that you're a casino that is up to no good. How can you win the trust of prospective players without actually submitting yourself to any oversight?
Simple – you lie about having a license, of course. We're not saying that this is certainly what Love Casino did, but… It's looking very likely when the license number they have provided (from the Curacao Gaming Authority) doesn't actually match the format of any of the five types of licenses issued by Curacao. We always try to give the benefit of the doubt, but sometimes, the simplest explanation feels like the most accurate one.
Customer support
We can't really mince words here – interacting with the Love Casino support team was a frustrating, excruciating experience that left us mentally and, to an extent, physically exhausting. We usually test each casino's support team by asking a few very simple questions, things that really shouldn't challenge anyone remotely competent.
Boy, did it challenge our friends at Love Casino, alright. When we contacted them via live chat, they either completely misunderstood or straight-up refused to answer any of our questions and concerns. At one point, mere minutes into the conversation, the representative appeared to grow bored of us, sent us a generic "Is there anything else I can help you with?" message and then immediately ended the conversation.
Having a well-functional customer support team is one of the most important things that an online casino can offer to its players. These are the people you will be interacting with if something breaks, or when you need to verify your account – and so their competency is very, very desirable. Alas, here we met the exact opposite of competency, and it soured us on the entire casino.
| | |
| --- | --- |
| Live Chat support | 24/7 |
| Phone support | NO |
| E-mail support | [email protected] |
| Ticketing system | Yes/NO |

Mobile casino
Love Casino's design – even on desktop – is quite simplistic, without any heavy elements or extreinous banners. This makes it practically ideal for the small screen – by simply loading the site into your phone's browser, you'll be able to enjoy all of its features on the go, including not just its games, but also the option to deposit, initiate withdrawals or contact support (for what little that's worth).
Of course, don't expect any miracles. While the site is fairly fast, it can still feel a little bit clunky on the smaller display. If you grew accustomed to using it on a computer monitor or laptop, it might take some getting used to before you can truly get into it on your phone or tablet.
| | |
| --- | --- |
| Interface | |
| Mobile version | YES |
| iOS App | No |
| Android APP | No |