HoldNSpin Casino Review
HoldNSpin Casino (also spelled as Hold'N'Spin) is a fairly new online casino site, but it has already been making a bit of a splash in the online casino community. Naturally, that made it absolutely perfect for a review from us, and we made it our mission to determine whether it lives up to the hype or is just another empty promise.
As part of executing said mission, we set out to examine every aspect of HoldNSpin Casino, including its games, promotions, reliability, and any additional features. After that, we compiled all of our findings into a detailed, thorough review for your enjoyment! Where is this review, you may ask? You're in luck – you're already reading it!
So, should you spin a few pokies at HoldNSpin, or would you do better holding off of this one?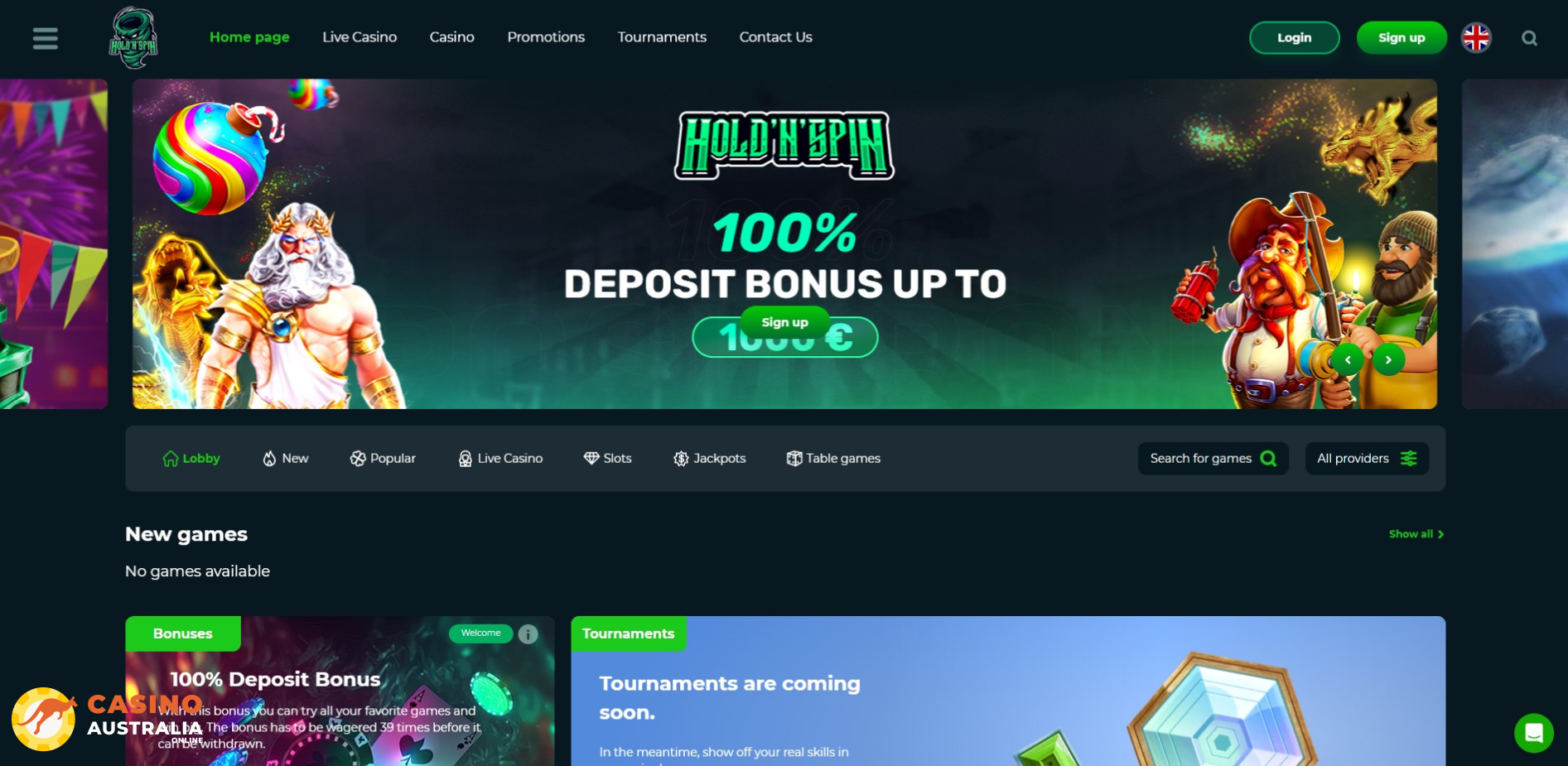 Bonuses
Welcome Bonus – 100% Match up to AU$1,000 + 50 Free Spins
Now, before we go into dissecting the HoldNSpin Casino welcome bonus, it's extremely important to make it clear that this is the only one you'll be receiving during your tenure here. That's right – no reload promotions, no limited-time offers, just this! While there's some extras as part of the VIP program, this is the only bonus that most people will be able to claim.
So, how good is it, really? Well… It's not great, unfortunately. The bulk of the welcome offer is a 100% match up to AU$1,000, which is a rather high maximum bonus that we doubt most people would even approach. But even if you did, it'd be a waste of money because you'd only have 24 hours to wager it x40 times, a frankly impossible requirement.
The only saving grace of this bonus is that the 50 free spins you get will earn you funds that are completely wager-free, meaning that they'll be added to your cash reserve, not your bonus funds. But while that's pretty good, it isn't nearly good enough to be HoldNSpin Casino's only bonus!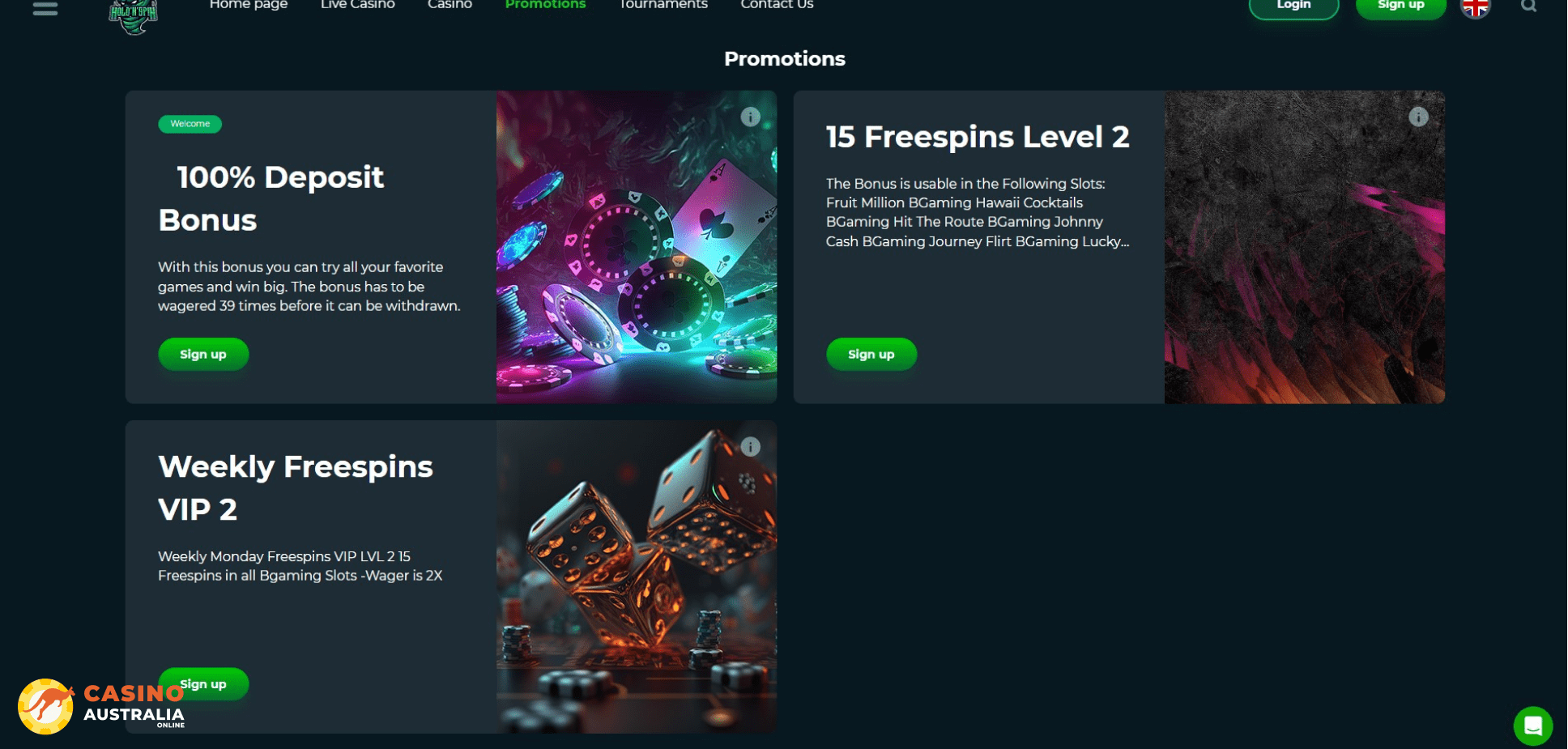 Games
Granted, the welcome bonus of HoldNSpin Casino isn't particularly great, but who cares about that! What matters are the games, that's why you're coming to online casinos in the first place, right? Well, we're sorry to say that, much like the welcome package, the games are a bit of a mixed bag.
To start off with the positives: there are a ton of games. Thousands upon thousands of them, all available to Australian players – none of that "We've got 5,000 games but 4,000 of them aren't accessible in Australia" thing that some casinos pull. What you see is what you get, and what you get is a lot, including not only pokies and live casino, but also table games, which was a fantastic surprise.
On the other hand, having a ton of games can be a double-edged sword when many of them aren't worth playing, or when your filtering options aren't up to snuff. Sadly, both are true of HoldNSpin Casino, which makes finding the best games for you into an ordeal when it really should've been as simple as a click or a tap.
| | |
| --- | --- |
| Games | |
| Software providers | Apollo, Betsoft, ConceptGaming, EvoPlay, Igrosoft, Mascot Gaming, OnlyPlay, Platipus, Tom Horn, Wazdan |
| Pokies | 3000+ |
| Live casino | Yes |
| Sports betting | No |
| Table Games | Yes |
Pokies
The pokies of HoldNSpin Casino are the epitome of "quantity over quality". You really won't find any of the big slot game brands here, such as Pragmatic Play or Play'N GO for instance. Instead, what you'll need to entertain yourself with are a number of games from much smaller and less popular providers, such as OnlyPlay, Platypus, and Wazdan. If you've never heard of them, don't worry, you're not alone.
While that doesn't mean that there aren't any great pokies available at the casino, it still means that you'll need to dig a little deeper in order to find them. On its front page, the casino will primarily recommend you games from OnlyPlay, such as "Book of Eye" and "Lucky Punch". If this provider isn't for you, you'll need to manually search for titles like Tom Horn's "Inca's Treasure", Betsoft's "Kensei Blades" and Apollo's "Gladorius".
It is also worth noting that HoldNSpin Casino also features about 50 different jackpot pokies from a number of developers, all neatly arranged into their own category. While neither the games nor the jackpots are particularly impressive (with titles like BGaming's "King Elvis" being the standouts), at least fans of jackpots will be able to very easily find the games that excite them most.
Live casino
Much like with the pokies section, the live casino section of HoldNSpin Casino relies more on quantity over quality. You'll be able to enjoy about 250 different rooms from roughly a dozen different providers, including LuckyStreak, TVBet and VivoGaming. Of course, the biggest live providers and their games (such as Evolution and Pragmatic) are missing, which once again reinforces this feeling that we're just getting scraps rather than a proper meal.
Those scraps, however, can still be delicious, depending on what you're looking for out of an online casino. If all you want to do is play the popular games, like blackjack or roulette, then you'll be able to do that without any issues whatsoever. However, once you try to dig a little deeper, things get murkier. Some smaller games, like Sic Bo and Bullfight, are well represented, while others are missing in action or have rooms that are barely ever live.
Deposits & Withdrawals
Have you noticed anything interesting about the payment options available at HoldNSpin Casino? Look at the cheat sheet we've provided below, take a very close glance, pull out your magnifying glass, and play your "Sherlock" playlist. Spotted it yet? That's right – the casino doesn't accept either credit cards or bank transfers for deposits and withdrawals!
We must admit that this is rather rare – we've almost never come across a casino that accepts flat currencies (and isn't exclusively tied to crypto), but doesn't accept any traditional banking solutions. Instead, if you wish to deposit, you'll need to use an e-wallet or a pre-paid voucher. Luckily, the selection among those methods is plentiful.
Alternatively, you can use crypto to deposit and withdraw from the casino, and, once again, the selection of available currencies is nothing to scoff at. You'll be able to deposit with the big ones everyone knows, like Bitcoin and Ethereum, as well as smaller ones like Tether or Tron that are more geared toward enthusiasts.
| | |
| --- | --- |
| Payments | |
| Minimum deposit | AU$10 |
| Minimum withdrawal | AU$20 |
| Maximum withdrawal | No limits |
| Deposit methods | Neteller, Skrill, AstroPay, eZeeWallet, Jeton, Neosurf, Paysafecard |
| Crypto currencies accepted | BTC, BCH, USDT, ETH, LTC, TRX |
| Australian Dollars accepted | Yes |
| Welcome bonus package | AU$1,000 + 50 Free Spins |

Withdrawal time
While we can't entirely understand HoldNSpin Casino's decision to eschew traditional payment methods, we can totally understand why they did it – withdrawal via e-wallet or crypto is significantly faster and easier than it is via bank card or bank transfer. Keep in mind that, regardless of the method, you'll still need to wait up to 72 hours for the casino to process your request on their end before they're able to dispatch the money.
Once those winnings have been sent out, you should receive them almost immediately regardless of whether you're withdrawing with Neteller or Litecoin. Some cryptos, such as BTC, can be a bit slow, but even then it won't take you more than a few hours to see the transaction. The only thing worth keeping in mind is that if you used Neosurf or Paysafecard to deposit, you'll need to switch to a different method for your withdrawal.
VIP Program
As mentioned earlier, HoldNSpin Casino reserves most of its bonuses outside of the welcome offer for players who advance in the VIP program. The more wagers you make, the higher your level within the loyalty program will rise, and thus you'll unlock additional perks and offers.
Here's what you'll be getting at every level of the program:
| | | |
| --- | --- | --- |
| Level | Required Wagers | Bonuses |
| 1 – Beginner | €0 | 6% Daily Cashback + 3% Monthly Cashback |
| 2 – Amateur | €5,000 | 10% Daily Cashback + 3.5% Monthly Cashback; 15 Free Spins every Monday |
| 3 – Gambler | €18,500 | 12% Daily Cashback + 4% Monthly Cashback; 20 Free Spins every Monday |
| 4 – Professional | €50,000 | 14% Daily Cashback + 4.5% Monthly Cashback; 25 Free Spins every Monday |
| 5 – Elite | €350,000 | 16% Daily Cashback + 5% Monthly Cashback; 35 Free Spins every Monday |
Keep in mind that the daily and monthly cashbacks aren't automatic – you'll need to fulfill certain conditions and then reach out to the support team in order to receive them. For example, to qualify for the daily cashback, you'll need to both deposit and lose said deposit within a 24-hour period, after which, by writing to support, you'll get between 6 and 16 percent back.
The only issue with this program is just how long it takes to make any kind of real progress within it. You'll need to make €5,000 worth of wagers before you level up, which is absolutely ridiculous as a first-step requirement. And €350,000 for the final level is similarly absurd. You could buy a very decent house in Sydney with that kind of cash!
Tournaments
We know that many players – even some who aren't particularly interested in pokies as they are – love to participate in pokie tournaments and compete against other players! For those who don't know, tournaments involve playing a pre-selected group of pokies and then moving up or down in a leaderboard depending on how much you win. The top spots of that leaderboard earn additional prizes on top of their winnings.
For those of you who are hardcore fans of tournaments, we have some bad news and some good news. Starting with the bad, we're sad to say that, as of the time of writing, HoldNSpin Casino doesn't offer any tournaments at all – not even as limited-time promotions. The good news is that the key phrase in the last sentence was "as of the time of writing".
Indeed, HoldNSpin Casino are currently working on a dedicated tournaments section which is set to launch any day now! So while we'd never recommend signing up for a casino on a promise (as opposed to concrete facts), maybe it's worth to keep an eye out on this one.
Verification
If you want to withdraw from HoldNSpin Casino – or any other – you'll have to get verified! That's just how it goes not just with online casinos, but with any site that dispenses money (for example, financial sites – you probably had to get verified when you signed up for your crypto wallet, too). Luckily, the verification process isn't difficult at all.
What you'll need to do is provide a few simple documents to the HoldNSpin Casino support team that will prove your identity. Those documents will include:
A photo of any form of official photo ID, like your ID card or driver's license;
A photo or scan of any document that confirms your address, such as a utility bill;
If you deposited via e-wallet, you'll need a screenshot of your homepage while logged in which shows your real name and e-mail address.
Once you have all of these documents (and, as you can see, they're not exactly hard to find), you'll be able to get verified by a customer support representative and withdraw those hard-earned winnings!
Is HoldNSpin Casino Legit & safe?
We've all heard horror stories of unreliable online casinos scamming unsuspecting players – which is why it's so important to always double-check the reputation and validity of any site that you're considering joining. One of the most reliable ways to do so is to make sure that the casino is licensed by a proper gaming authority, such as Malta, Curacao or the UK.
These authorities aren't exactly omnipotent, so it's not like they'll automatically know if a scam is perpetuated. However, they have a reputation for pulling licenses away from casinos that are reported for scams enough times, and as such, if a casino still holds a license from them, that's a good sign that it's legitimate and reliable. So, where does HoldNSpin Casino fare?
Well, luckily, it seems to hold up pretty well to scrutiny, since it's fully licensed and regulated by the Curacao Gambling Commission. However, one thing that concerned us is that there aren't a lot of player reviews to give us a more subjective look at the casino's inner workings.
| | |
| --- | --- |
| License | Curacao |
| License number | 8048/JAZZ2015-035 |
| Company address | Dr. M.J. Hugenholtzweg 25 Unit 11, Curacao |
Customer support
As you can imagine, having a reliable customer support is one of the most important things that an online casino can have. They'll be the ones who will verify your account, assist you with withdrawals, and resolve any issues you may be having with the casino (such as potentially serious matters like missing funds). So you can understand why a fantastic and knowledgeable support team is not some kind of fun perk, but an absolute necessity.
So, how does the HoldNSpin Casino team stack up? Well, allow us to answer that with an anecdote from our own experiences at the casino. Frankly, the design of the site isn't the best, so for a while, we couldn't find the VIP program. We contacted the live chat support (which, allegedly, answers in under 1 minute), and while we waited – which took nearly 15 minutes – we found the VIP program on our own. Immediately afterward, we were told that the site does not have a VIP program… While we were looking at it.
We brought up this contradiction with the support team representative, and he asked us to send an e-mail to the "senior support" because he clearly didn't know even the most basic facts about the site. So, we did… And have yet to hear from them, days later. As amusing as this whole situation was, it also paints an incredibly unflattering picture of what should be a vital aspect of the casino.
| | |
| --- | --- |
| Live Chat support | 3 PM – Midnight Australian time |
| Phone support | NO |
| E-mail support | [email protected] |
| Ticketing system | Yes/NO |

Mobile casino
Interested in playing some pokies while lounging in bed, or during smoke breaks at work? We can't blame you – who knows when the big jackpot will drop? Luckily, HoldNSpin Casino allows you to do just that thanks to its proprietary mobile version, which will work on nearly any mobile device with an Internet browser.
As you may have guessed, you don't need to download any external apps in order to play at the HoldNSpin mobile casino. Simply opening the domain in your browser will give you access to the site's full functionality, including not only the games, but also the withdrawal and deposit options, as well as anything else you can find on its desktop counterpart.
| | |
| --- | --- |
| Interface | |
| Mobile version | YES |
| iOS App | No |
| Android APP | No |