GramBets Casino Review
Today we will be reviewing GramBets Casino, a brand new player in the online gambling scene that mainly caters to the East Asian market, but is also extending its reach to us, Aussie players. This intriguing casino aims to offer a unique gaming experience but said uniqueness comes with some eyebrow-raising elements.
GramBets introduces games that venture into controversial territory, most notably cockfights. While this might be an attention-grabbing feature for some, we can't close our eyes to the ethical concerns associated with such activities.
Furthermore, GramBets Casino raises additional points of concern with its lack of a disclosed license and ownership. Transparency is key when it comes to establishing trust and confidence in an online casino, and this one in particular, is yet to lead with it.
If you're still curious to learn more about GramBets and its offerings regardless, you're at the right place! We took a deep dive into the realms of this establishment to bring you all the necessary information you need. Stay tuned as we assess the highs, lows, and everything in between, giving you a comprehensive review you can rely on.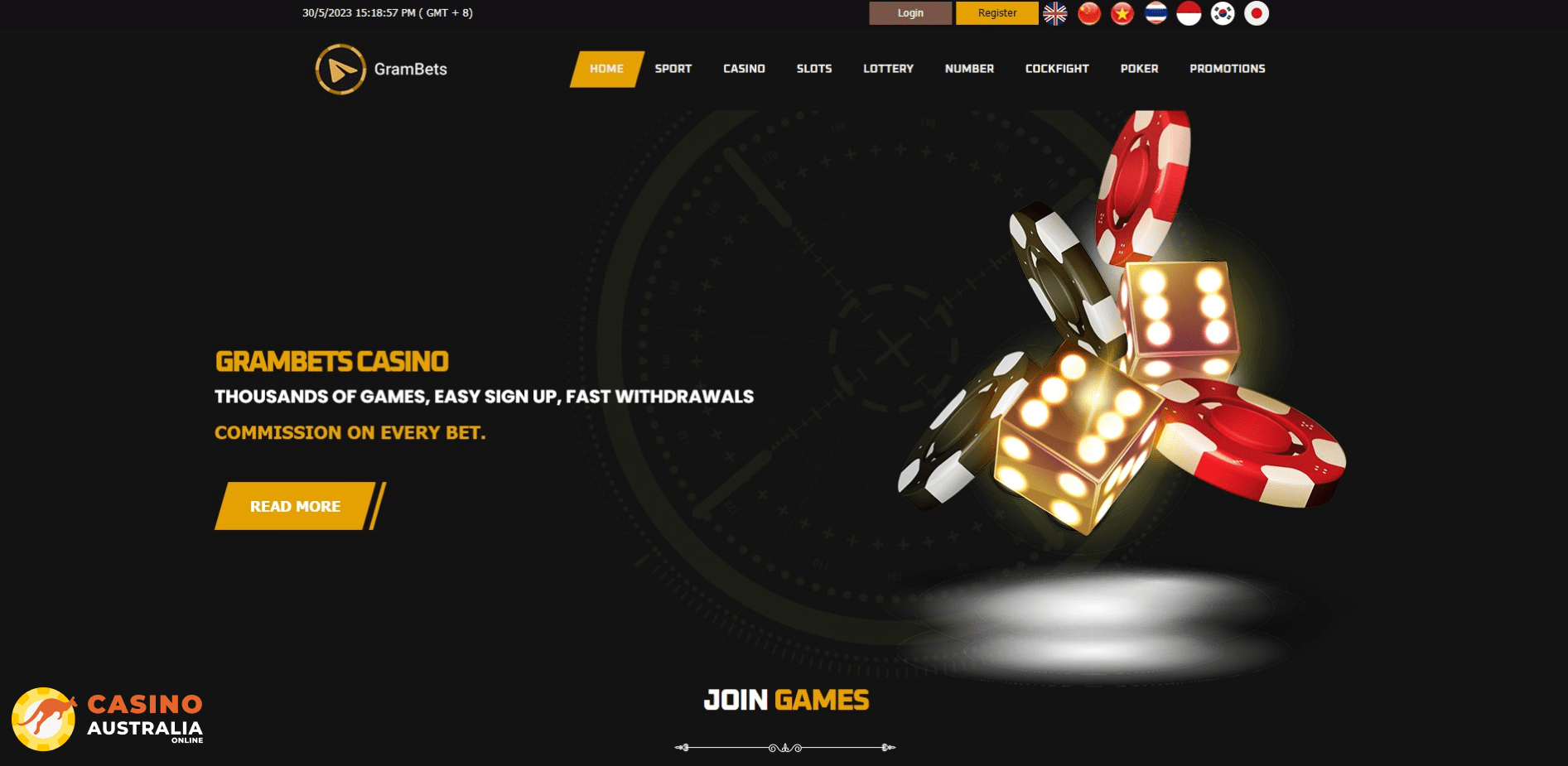 Bonuses
When it comes to bonuses, GramBets Casino takes a rather minimalist approach, offering just two options. Now, while some casinos shower players with a plethora of bonuses to keep them engaged, GramBets seems to be holding back. We can't help but wonder if this limited selection will be enough to entice players to stick around for the long haul.
Having a variety of bonuses can be a big deal for players, as they add excitement and boost your betting power. On the contrary, a lack of bonuses may leave some feeling a bit disappointed, missing out on the potential perks that come with regular promotions.
At GramBets, you'll find a welcome bonus and daily commission payouts. Now, don't get us wrong, it's something, but it does come across as a tad stingy in comparison to other casinos. If you're curious about these two offerings, we'll dig deeper and give you all the necessary details so that you can make the best out of them.
Welcome Bonus – 100% up to AU$ 200
| | | | | |
| --- | --- | --- | --- | --- |
| Deposit | Bonus | Free Spins | Wagering | Bonus code |
| 1st deposit | 100% up to AU$ 200 | n/a | 25x | n/a |
Let's explore what GramBets's welcome bonus has in store. It's a nice enough offer, but don't expect it to blow you away. What they're putting on the table is a 100% bonus, matching your first deposit up to AU$ 200. We can't help but compare this to what some other casinos out there provide to their players. Sometimes, a welcome bonus offer can go as high as a 300% bonus of up to AU$ 3000, but in case you decide to play at GramBets, you'll need to embrace a much more humble initial incentive.
Still, GramBets's welcome bonus does have a couple of redeeming qualities. First, the minimum deposit to activate the bonus is just AU$ 5. It's nice to know you don't need to be a high roller to get in on the action. Another silver lining: the wagering requirement is set at 25x, which is lower than the typical 40x found at most betting hubs. So, there's a slightly better chance of turning that bonus into some real money.
As always, to make the best out of any welcome Bonus package, including this one, it is of utmost importance to check all terms and conditions as thoroughly as possible.
Turnover Commission – Earn 0.6% on Every Bet
Next up, we're looking at GramBets's turnover commission offer. There's some number crunching to be done here, so get ready. This promotion is open to all active members, and guess what? There's no limit.
Any bet you place on GramBets's platform makes you eligible for a 0.6% rebate. It's basically a little cashback treat to brighten your day.
Not surprisingly, there's a catch—well, sort of. You can only claim the rebate the day after, starting from 00:00:00 (GMT +8), and it's only valid for 24 hours. So, set your alarm clocks if you don't want to let this opportunity slip away.
GramBets state that they're not responsible in case you forget to claim your bonus. This is completely normal, but it's good to pay attention if this offer tickles your fancy. As always, the general terms and conditions of promotions apply because, well, rules are rules.
If you're a regular player at GramBets, this turnover commission offer can give your account a slight boost. Just as long as you remember to claim it within the time frame. Happy betting and cashback collecting!
Games
GramBets casino boasts an impressive game library of over 2000 titles, making sure that players never get bored. With classics like table games, pokies, sports games, live casino, and poker, the casino covers all the traditional favorites. What sets GramBets apart, however, are its unique options such as numbers games, fun lotteries, and even controversial choices like horse racing or cockfights.
While some may argue that cockfights and horse racing aren't ethically sound, they undeniably have fans who find them thrilling and intriguing. GramBets undeniably stirs up some controversy with these activities but many consider them a refreshing addition to any game library.
For players seeking variety and excitement, GramBets hits the spot by providing many options to suit different tastes. Whether you're a fan of classic casino games or seeking something more unconventional, GramBets aims to deliver a fun experience. With their impressive game selection, there's always something new to explore and enjoy.
| | |
| --- | --- |
| Games | |
| Software providers | Microgaming, NetEnt, Betsoft, etc; |
| Pokies | 2000+ |
| Live Casino | Yes |
| Sports betting | No |
| Table Games | Yes |
Pokies and Providers
Pokies are a significant part of GramBets casino's extensive library, and having so many of them makes sense when we take into account the undeniable popularity of this casino game genre worldwide. With a vast selection of fun, immersive, and diversely themed pokies, players at GramBets can enjoy seemingly endless options. Whether you prefer classic fruit machines or cutting-edge video slots, GramBets ensures a varied pokies experience that captures the essence of this beloved casino favorite.
If you're in for some fun with the chance of winning, we at casinoaustraliaonline.com recommend giving a try to these pokies at GramBets: Starburst, Mega Moolah, Gonzo's Quest, Book of Ra, Immortal Romance, Thunderstruck II, Cleopatra, Wolf Gold, Bonanza, Mega Fortune, Dead or Alive, Twin Spin, Rainbow Riches. Who knows, some of them may become your favorites!
Game providers play a huge role in the success of online casinos. They are the creatives behind the thrilling games that players immerse themselves in. Quality game providers ensure engaging gameplay, stunning graphics, and fair mechanics. They bring diversity to any casino's library, attracting and retaining players for the long run.
With games from over 30 software developers, the casino doesn't disappoint in this regard. Among the suppliers, you'll encounter names such as Microgaming, Platypus, NextGen Gaming, Pragmatic Play, Playtech, PG, Dragoon, Spadegaming, Playstar, NetEnt, BetSoft, KA Gaming, AAF Games, Habanero, and more. While some of them are established names, others are emerging talents, contributing to the variety of the casino's library.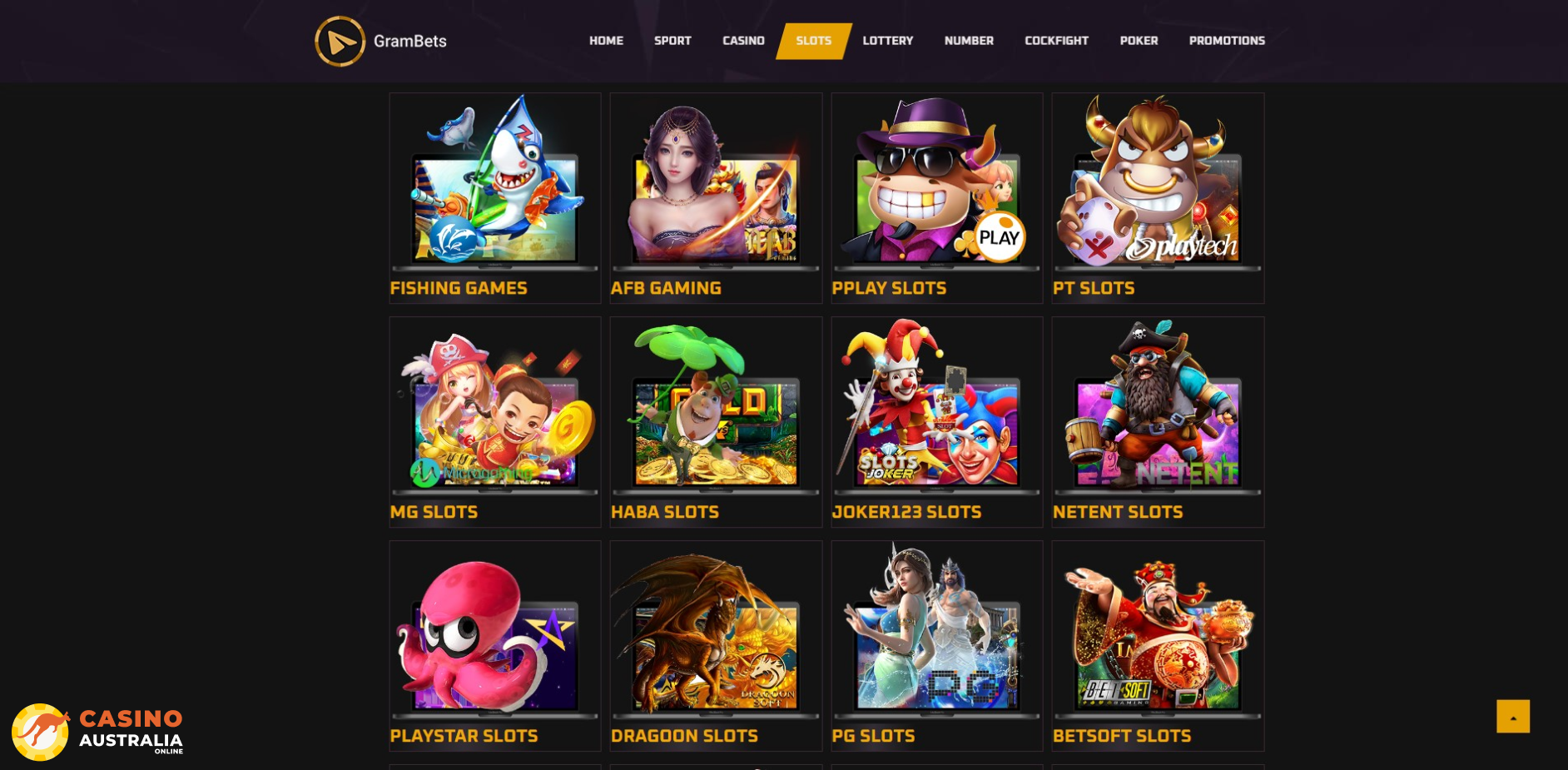 Live casino
GramBets casino offers a fair collection of over 200 thrilling live casino games. What makes these games truly captivating are the charming and elegant ladies who act as dealers, adding an extra touch of class. With a professional approach, these games provide an unforgettable experience. Whether you're a seasoned player or new to live casinos, GramBets ensures that lovers of live casino games won't be disappointed.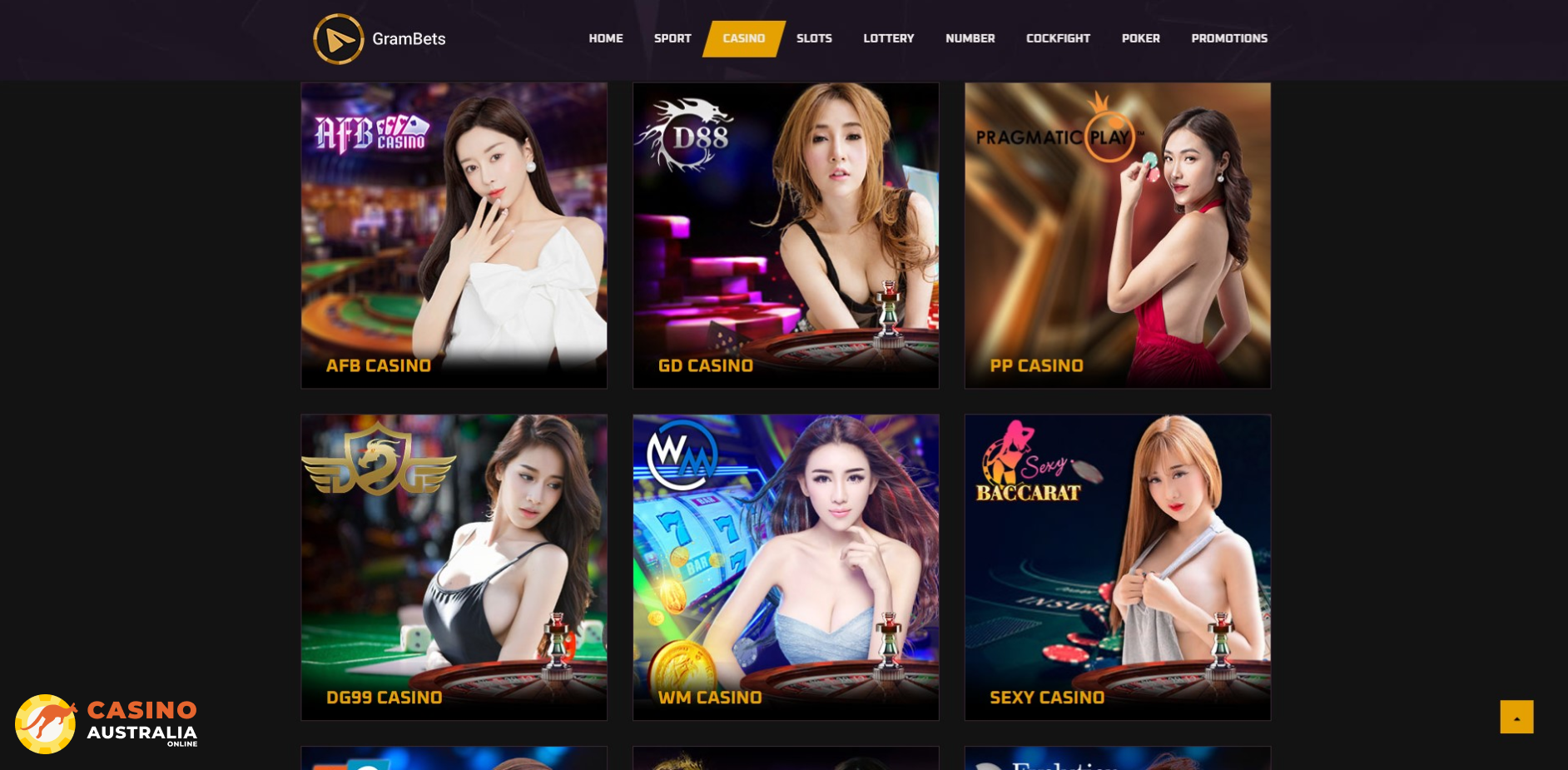 Deposits & Withdrawals
Deposits and withdrawals are the cornerstones of any casino experience. After all, no player wants to toss their hard-earned money into a digital void without a fair shot at getting it back.
At GramBets, deposits and withdrawals have a rather curious flair to them. On one hand, there are enticing and rarely found features that make transactions sound amazing. However, some concerning aspects accompany the otherwise attractively looking pros of depositing at GramBets.
For example, terms and conditions surrounding deposits and withdrawals are concerningly vague, which leaves room for potential issues and misunderstandings in your future as a player at this casino. There is more to look into and we will go over all key aspects of transactions in this betting space, so let's get into it.
Deposits
When it comes to deposits, we all crave a seamless experience in order to immerse ourselves in the captivating world of casino games as quickly as possible.
At GramBets, depositing funds is as easy as can be. With a minimum deposit amount of just AU$ 5, it's a budget-friendly start that doesn't feel like too big of a commitment.
As far as payment options go, they don't really go that far at all. The sole payment option available is Tether. While this might be considered limiting by some, it can't be denied that it gives off niche vibes. Perhaps GramBets is secretly tailored for enthusiastic Tether users or cunningly designed to recruit new Tether users. Who knows? Either way, it is what it is and anyone wanting to play at GramBets will need to start using Tether.
Withdrawals 
Being able to withdraw your money easily and without unnecessary hassle is a make-it-or-break-it aspect of any casino experience. After all, money matters are serious business for most players worldwide.
At GramBets, withdrawals come with a surprising twist: there's no minimum or maximum withdrawal amount—withdrawals are unlimited. It sounds almost too good to be true, and it's natural to be skeptical.
The catch, if any, lies in the strangely vague terms and conditions. The lack of information about minimum rollovers or specific requirements before fulfilling a withdrawal request is rather alarming. As the saying goes, things that seem too good to be true often turn out not to be.
It's crucial to proceed with caution in such situations and ensure you have a clear understanding of the terms before making any deposit or withdrawal decisions.
| | |
| --- | --- |
| Payments | |
| Minimum deposit | AU$ 5 |
| Minimum withdrawal | Unlimited |
| Maximum withdrawal | Unlimited |
| Deposit methods | Tether |
| Fiat currencies accepted | EUR, USDT |
| Australian Dollars accepted  | NO (conversion upon transaction) |
| Cryptocurrencies accepted | YES |
| Welcome bonus package | 100% up to AU$ 200 |
Withdrawal time
GramBets promises a withdrawal request processing time frame and payouts of 24 hours. However, it's important to mention that in certain special circumstances or if additional verification is required, the process might take longer.
It is advisable to have your valid identification documents readily available in case they are needed. If you find yourself growing impatient or have any concerns about the status of your withdrawal, you can always reach out to the customer support team for updates and assistance. They will, hopefully, be able to provide you with the necessary information and help address any queries you may have.
VIP Program
VIP programs in casinos can be substantially rewarding and fun for players. They often offer exclusive perks, such as personalized customer support, higher withdrawal limits, special bonuses, and access to exclusive events.
Disappointingly enough, GramBets does not have a VIP program in motion as of the moment of our review. While this may be disappointing for players seeking that extra level of recognition and some cool perks, we can hope that in the future, GramBets will consider implementing a VIP program. That is if they are truly committed to catering to their players' needs and providing an environment that people gravitate to.
Tournaments
Tournaments are often considered one of the most fun activities at online casinos. They ignite players' competitive spirit, create a sense of competition, and sometimes even foster friendships among participants.
At the moment, GramBets does not seem to have any plans to incorporate tournaments into their gaming experience. However, one can hope that in the future, they will recognize the value of introducing tournaments to their platform.
Adding this thrilling element would enhance overall player engagement and provide an avenue for players to showcase their skills while enjoying some healthy competition. Let's remain hopeful that GramBets will embrace tournaments in the future.
Verification
At GramBets, verification is the same 'ol, standard procedure that involves confirming general information during the registration process. Like all other establishments, they may request additional documents at a later stage.
It's crucial to have your documents in order and readily available to provide them promptly, as this helps to shorten tedious waiting times.
GramBets does not commit to a specific time frame for resolving identity verifications, so the duration may vary. Being prepared and responsive with the necessary documents will help facilitate the process and ensure a smoother experience.
Is GramBets Legit?
GramBets is giving off the impression of a shady online casino with more red flags than pokies in its game library. While there are some positive attributes like the diverse game selection and low minimum deposit limits, these factors alone do not outweigh the lack of licensing and ownership information.
Moreover, the promise of unlimited withdrawals seems too good to be true, especially when accompanied by vague terms and conditions. It appears that there is little intention of ensuring the return of your money once deposited.
While some ultra-adventurous players may be tempted to test their wits against such an establishment, it is not advisable to do so. Caution should be exercised when considering engaging with GramBets.
| | |
| --- | --- |
| License | Undisclosed |
| License number | Undisclosed |
| Company address | Undisclosed |
Customer support
Having friendly and helpful customer service at your disposal is always central to a comfortable casino experience.
At GramBets, customer service seems to have embraced Telegram as their primary communication channel, with chat support located on the platform rather than being incorporated into the website. It's worth noting that Telegram itself has garnered a reputation for its association with shady activities.
Additionally, while email support is available, there are no specified time frames for receiving a reply. Overall, the level of customer service at GramBets appears to align with the overall shadiness of the casino. This may leave players questioning the reliability and trustworthiness of the support they may receive.
| | |
| --- | --- |
| Live Chat Support | Telegram |
| Phone support | No |
| E-mail support | Yes |
| Ticketing system | No |

Mobile Casino
Having a mobile browser version is important for every casino, as it allows players to access their favorite games on the go. However, there's a question of whether being constantly connected to the casino is always beneficial for a player's performance, as it may hinder the ability to rest and recharge. Nevertheless, some players are unfazed by this and thrive in mobile gaming environments.
GramBets' mobile casino version generally functions well, providing a convenient gaming experience. However, it's worth noting that a few games may be exclusive to the desktop version, limiting the full range of options available on mobile devices. Despite this limitation, GramBets manages to offer a satisfying mobile casino experience for players who prefer gaming on the move.
| | |
| --- | --- |
| Interface | |
| Mobile version | YES |
| iOS App | NO |
| Android APP | NO |