Fountain Casino Review
Fountain Casino (or Fontan, as it calls itself at times, like in its URL) has been around for only three years, and yet has gone through two separate owners in that short time – at least, as far as we've been able to tell. This is generally considered a really big red flag, because it means that the first owner drove the casino into the ground, and then the second one bought up the site and domain to take advantage of existing users instead of building its own community.
But we at casinoaustraliaonline.com never judge a book by its cover! True, things do not look good, but we're also open-minded enough to give Fountain Casino an objective, impartial look. Maybe it'll prove our initial suspicions, or maybe it'll prove that looks don't matter – it's the games on the inside that count!
Bonuses
Non-Deposit Bonus – $15
We've been reviewing online casinos for a very long time – both on this site and on others. And while back in the day it was very common for online casinos to offer players a no-deposit bonus (one that didn't require any investment to claim), this has since turned into nothing more than a lost art.
Well, it appears that Fountain Casino is pulling a sort of Renaissance, as they're going to give you $15 to spend on pokies just for signing up at the casino, filling out your profile and confirming your e-mail address! That's actually really cool and creates a wonderful first impression for people who may not want to deposit right away. One thing that's worth noting is that the bonus page says $15 while the main page says $20, but presumably the real amount for Australian members is $15 and the $20 on the front page is just a bug.
But this isn't free money – you'll need to put in a bit of work if you want to withdraw them. The wagering requirements for this bonus is a staggering x50, and even if you complete it, you'll only be able to withdraw up to $15 from it. Still, no deposit bonuses aren't about being withdrawn, but about giving you the opportunity to test out the casino before putting down any real money for chips.
Welcome Bonus – Up to 300% Match and 100 Free Spins
Once you're ready to actually buy chips, you're going to be eligible for a proper first deposit bonus that does not appear to have a limit. Instead, the match percentage and free spins you receive will depend on the amount that you deposit: the more you put down, the more you'll benefit, simple as that.
If you deposit a minimum of $5, you'll receive the standard bonus, which is a 200% match and 50 free spins (meaning that, if you deposit $5, you'll have a total of $15 to play with alongside your spins). If you put down $10 instead, you'll double your free spins from 50 to 100. And if you deposit $45 or more, you'll receive a 300% match instead of a 200% match.
While the bonus doesn't appear to have an upper limit, be mindful that the wagering requirements will be rather strict: x50 for the full amount (deposit + bonus + free spins winnings). This means that while depositing a huge sum and getting a really big bonus will net you more cash to play with, it'll also increase the difficulty of withdrawing it.
Additional Bonuses at Fountain Casino
Once you have completed your first deposit bonus, you'll also receive two additional ones as part of your welcome package. The second and third times you deposit, you'll get a 200% match bonus and 50 free spins if you deposit at least $10. While not as good as the first deposit offer, it's still a rather decent offering – however, keep in mind that it'll still come with the same x50 wagering requirement that you should be well acquainted with by now.
But what about reload bonuses? Well, there aren't many, but there are two that are worth mentioning. The first will give you a bonus of up to $700 on your birthday – although you'd need to contact the casino's support team on the day in order to get an individualized bonus that's just for you. As such, we're not able to discuss many of the details at this stage.
If you're looking for something a bit more frequent than "once a year", then you'll be able to receive a weekly cashback. Once you activate the cashback and make a deposit, you'll receive 15% of your losses the following Sunday. Keep in mind that there aren't any reload deposit bonuses, so once you're used up your entire welcome package, then that's it!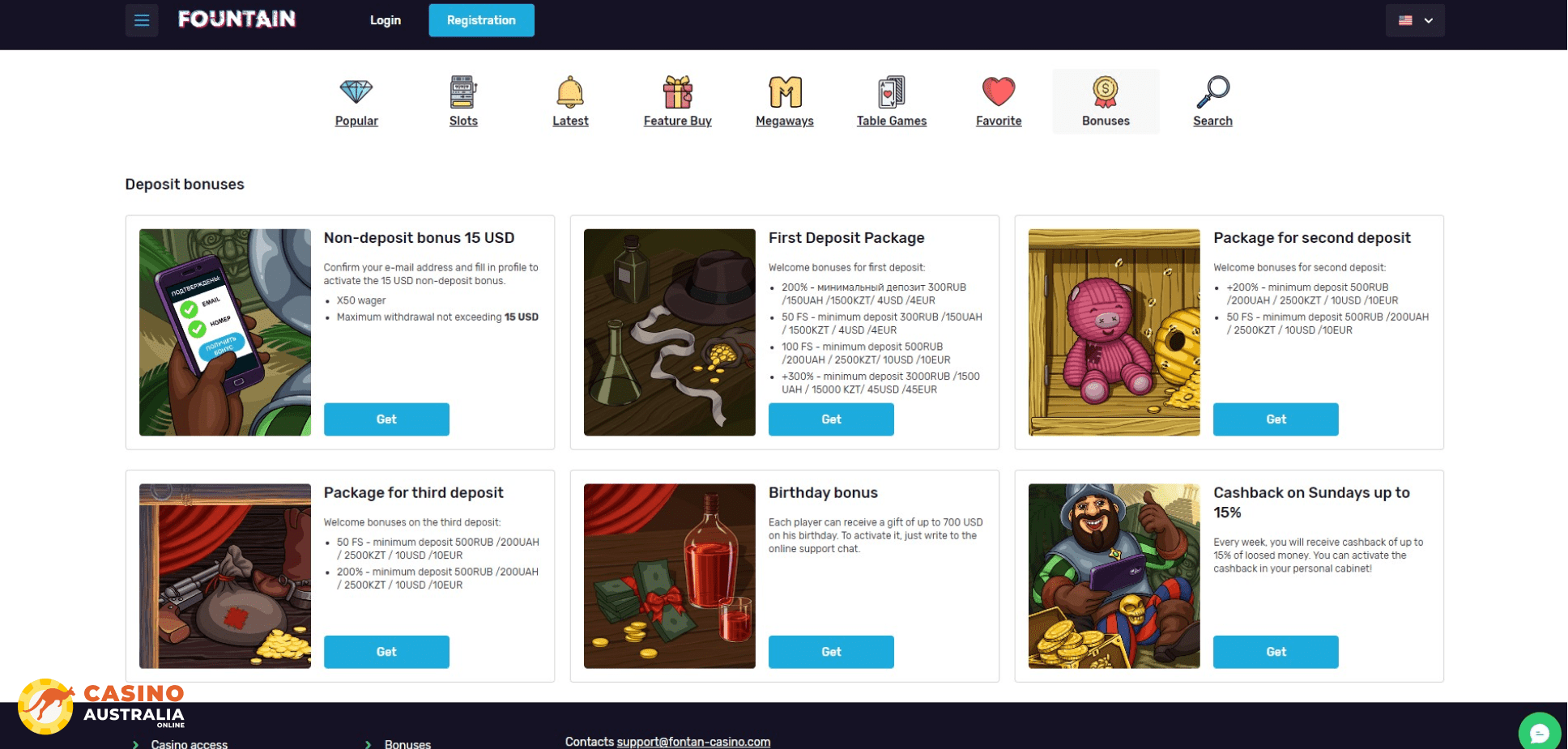 Games
For the most part, this casino manages to deliver on the bonuses… But how does it fare in the gaming department? Well, not too great, if we're being honest. Its main feature is clearly its very vast and impressive collection of pokies, which we would normally be praising. This time, though, we've got our fair share of issues with them that we'll elaborate upon when we discuss the pokies below.
Besides that, Fountain Casino has almost nothing to offer. A handful of non-live table games is all you'll find here, as any other features (including sports betting, live casino, lotteries, skill-based pokies, etc) are not available. It's no exaggeration to say that this is one of the more barren casinos that we've reviewed.
| | |
| --- | --- |
| Games | |
| Software providers | NetEnt, Push Gaming, Pragmatic Play, Play'N Go, Relax Gaming, Microgaming, Yggdrasil & More |
| Pokies | 2000+ |
| Live casino | No |
| Sports betting | No |
| Table Games | Yes |
Pokies
If this is your first-ever online casino, then you probably haven't noticed anything wrong about Fountain Casino's pokies – in fact, you might even be impressed by the selection! Thousands of games, and by some of the best pokie developers in the world, too! Wow!
But we've gone through our fair share of online casinos, and the first thing that we noticed is that Fountain Casino offers games that it shouldn't. Companies such as NetEnt and Microgaming (among others) have not made their games available on the Australian market, which is why you'll never find them at legitimate sites.
We assumed that maybe the games are visible, but unplayable (which is also common by casinos whose geo-locking system doesn't work properly), but no, you can actually place bets on these games with real money. So, what gives? Well, there are two explanations. The first is that Fountain Casino are in breach of their contracts with the developers and giving access to players who shouldn't have it.
The second, and the one that seems more likely, is that these games are fake. They look and play completely identically to the real versions (at their core, they are the exact same games), but they've been illegally hosted by the casino. Think of them as fakes in an art gallery, indistinguishable from the originals, but with none of the value. While these fakes are all good when you're playing for fun, their RTPs are usually significantly lower than their real counterparts, meaning you'll be losing a lot more money than you should – and that money will go straight into the pockets of Fountain Casino, with none going to the ones who made the game.
Live casino
As mentioned earlier, as of the time of writing, live casino games are not available at Fountain Casino. While players may access a small number of table games, these titles are not played against a live dealer, and are instead played against the "computer" in a simulated environment – which isn't ideal.
While we would normally say something like "it's possible that Fountain Casino will add a live casino section in the future", given the fact that this casino has been around for three years now, that seems a little unlikely. As such, live casino fans should consider carefully whether this is the right site for them.
Deposits & Withdrawals
Just like its games, Fountain Casino's payments are an immense disappointment in pretty much every way. We don't even know where to start! How about with the fact that Australian players can only deposit using a credit card? That's right – while international players have a slightly bigger choice (including some e-wallets), us Aussies are treated as second-classs citizens and only allowed to deposit and withdraw using our cards.
And speaking of withdrawal, the withdrawal limits are extremely limited – sometimes twice as low as they are in other casinos, which really dampens how much you'll be able to withdraw. But you shouldn't be worrying about that anyway because every deposit at Fountain Casino will come with an x3 wagering requirement. This means that you'll need to place bets equal to your deposit times three before you can withdraw!
For the record, most casinos accepting players from Australia will only have an x1 wagering requirement, which is done to prevent money laundering and make sure that you actually play with the chips you bought. But x3 doesn't do that, it's just a greedy way to keep you separated from your winnings. It's downright infuriating.
Payments

Minimum deposit

$5

Minimum withdrawal

$50

Maximum withdrawal

Per day – $450

Per week – $1,300

Per month – $8,500

Deposit methods

Visa, MasterCard

Crypto currencies accepted

None

Australian Dollars accepted

No

Welcome bonus package

300% Match
Withdrawal time
The only way you'll be able to withdraw from Fountain Casino is using a credit card… And, sadly, those aren't particularly quick. While withdrawals using, say, crypto or e-wallets are instant, trying to withdraw using your card can take up to 5 business days. This isn't dependent on the casino and has to do with the card companies investigating and approving the transaction.
But that doesn't mean you'll only need to wait a week. After you perform your withdrawal request, you'll have to wait for it to be approved, and then wait again for it to be processed, and then wait another week for the reasons we explained above. Overall, don't count on getting your winnings early… If you get them at all, that is.
VIP Program
Fountain Casino has a few ways to reward its veteran players. The most common is its birthday bonus – every year on your birthday you'll receive a bonus that will grow the longer you are on the site. This means that you're actively encouraged to stick around and rewarded for it, which is kind of cool.
However, the casino doesn't really have a proper VIP initiative. You're not able to "level up", or collect points, or even ger reload promotions! This means that a brand new player who has yet to claim the welcome bonus will have more rewards ahead of them than someone who has already been around for years, which isn't exactly the best motivator for players to stick around.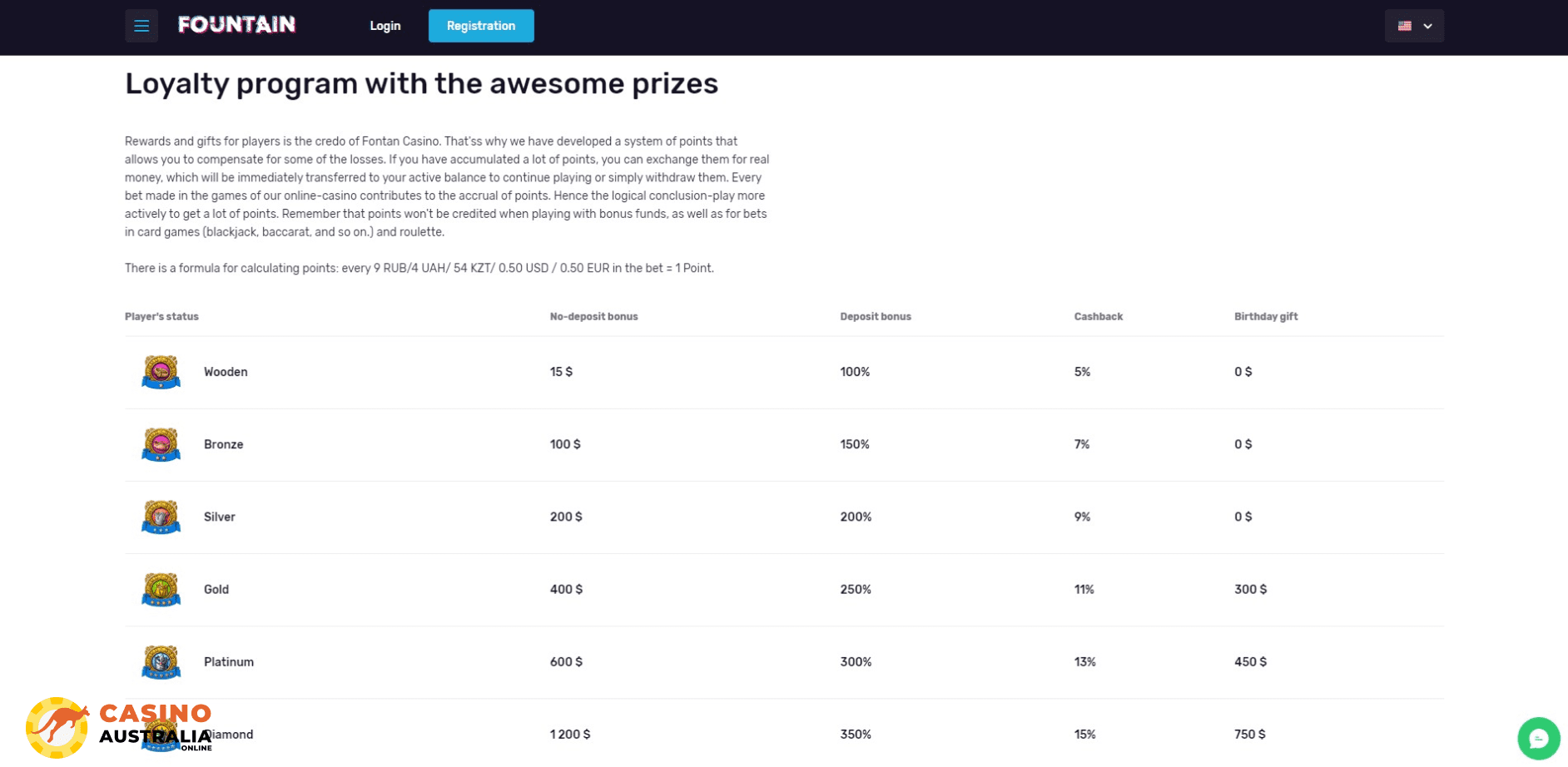 Tournaments
While Fountain Casino doesn't have a dedicated VIP program, you can make the argument that it has other features that make up for this absence. The same argument can't be made for its tournaments, which are entirely missing with no substitute in sight.
Many players have fallen in love with pokie tournaments over the last few years due to them providing a fun and unique way to experience pokies that may have started to feel a little stale. However, such a "privilege" is nowhere to be found at this casino, and we're rather confused about the reasoning behind this small, yet meaningful absence.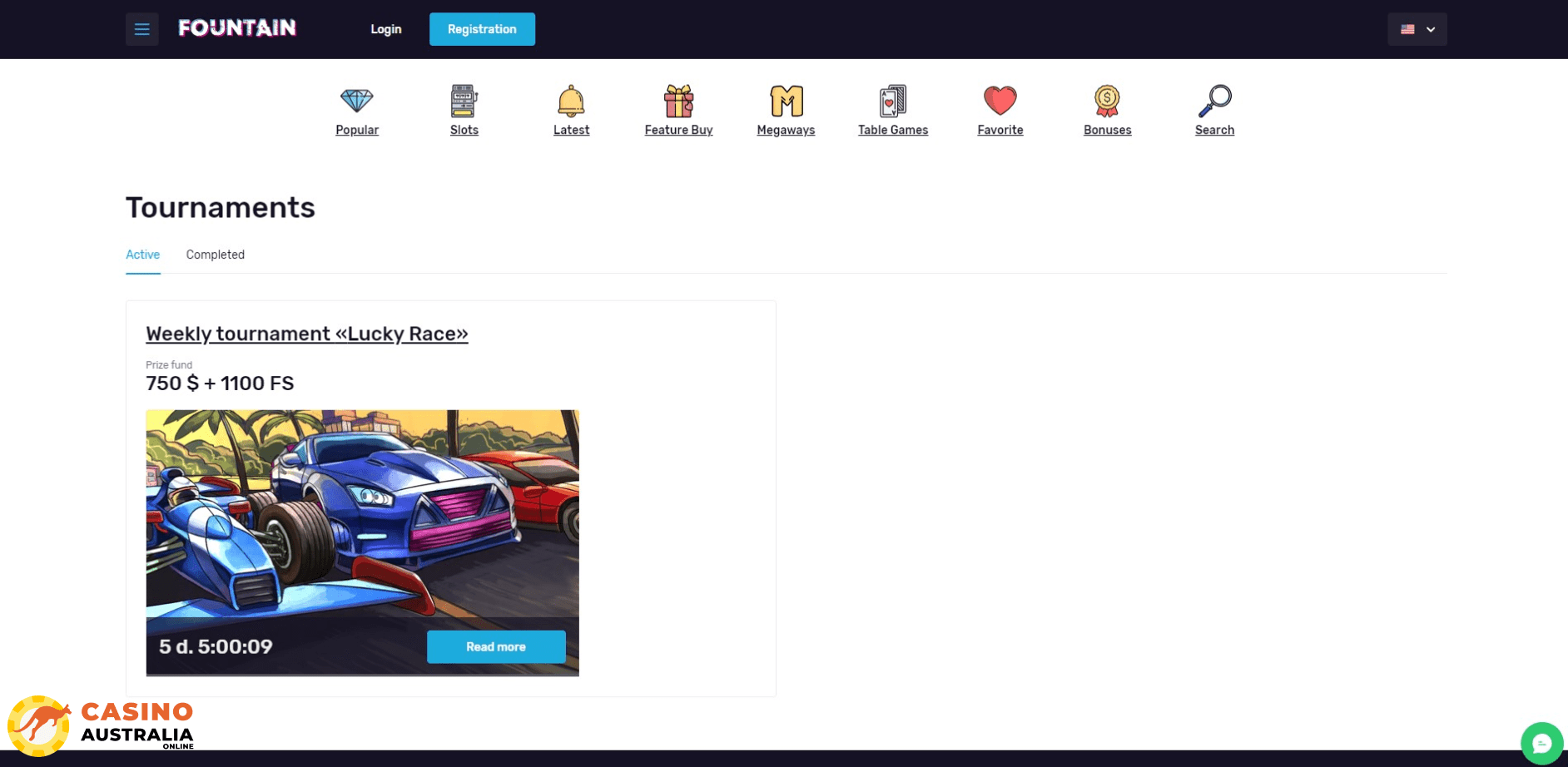 Verification
Normally, when you withdraw from an online casino for the first time, you'd have to get your identity verified. This scary-sounding process is actually rather simple, as all you'd need to do is send the support team a few simple documents (a proof of ID, proof of address, etc). It's a process that doesn't take more than 2 days at most casinos, and is required by law.
Fountain Casino is no exception to this, and before you can withdraw even a cent, you'll need to get yourself verified. As we mentioned, it's a simple enough process… But this casino throws a little curveball due to the nature of its customer support (the people who will be verifying you). We'll discuss this later in its appropriate section, but Fountain Casino's support team is very difficult to get a hold of, which means you may be left high and dry the moment you try to initiate the verification procedure.
Is Fountain Casino Legit & safe?
Ask 10 casino experts what makes an online casino safe, and they'll probably give you 10 different answers. However, there might be a few things that they'd all agree on, one of which being that the casino must be licensed by a regulatory body. Whether that's an independent body or, better yet, a government-affiliated association like the UK, a license is the best way to prove to players that you're committed to their safety.
Well, Fountain Casino don't seem awfully committed, as they're not actually licensed by anyone at all. While they display the logo of eCOGRA in their footer (a UK-based organization that verifies the fairness of online games), that logo is just an image that doesn't link to any certificate. As we investigated, we were unable to prove that Fountain Casino hold a valid license from any regulator, which should give you a few ideas about its safety.
Customer support
You'd be surprised by just how many things at Fountain Casino rely on its support. You'd need to not only reach out in order to get any issues fixed, but also to claim your birthday bonus, your cashback, and even to verify your account! Which is why it's so disheartening to see that the support feature deserves nothing but criticism.
While on paper the casino has a live chat client, we were not able to get that to work – no matter when we tried to contact them, or which device we used, it always resulted in a "Sorry, something went wrong" error. Is this a temporary outage or something more permanent? We were curious about it too, so we reached out to them via their e-mail, and have yet to hear anything back.
Does Fountain Casino even have a customer support team at this point? We're not too sure, but either way, we wouldn't rely on it for much if we were you… Which is a problem when the site itself tells you to rely on it for a number of things.
| | |
| --- | --- |
| Live Chat support | Broken |
| Phone support | NO |
| E-mail support | [email protected] |
| Ticketing system | NO |

Mobile casino
Nowadays, it's nearly inconceivable for an online casino to launch without at least some form of mobile support, given the fact that most players have long transitioned to playing on their phones rather than on laptops and desktop computers. And, well, a broken clock is right twice a day, because Fountain's mobile app isn't too bad.
Whether you're accessing the site on your handheld device or your gaming powerful, you'll be met with a very similar experience. You won't need to download a dedicated app, just opening the site's domain in your mobile browser will be enough to get you the full experience.
| | |
| --- | --- |
| Interface | |
| Mobile version | YES |
| iOS App | No |
| Android APP | No |