Fortune.st Casino Review
We all know that online casinos aren't truly anonymous – they can't be, just like any other financial institutions. You can't open a bank account without showing some ID, you can't accept money into an e-wallet like PayPal without first confirming your identity, and yes, you can't withdraw any casino winnings without a lengthy and annoying verification procedure.
So, when we came across Fortune.st – a casino advertising itself on true anonymity, we were curious, to say the least. How does this work? Does it work at all? What does it truly mean to be anonymous in a place that needs to confirm your identity to comply with the law? All of those questions made us very curious, which is why we decided to investigate Fortune.st Casino quite thoroughly! We checked its terms of services, bonuses, games, features and more, and then presented our findings to help you learn all there is to know about it!
So, is an anonymous online casino truly good fortune, or is it nothing but a recipe for misfortune?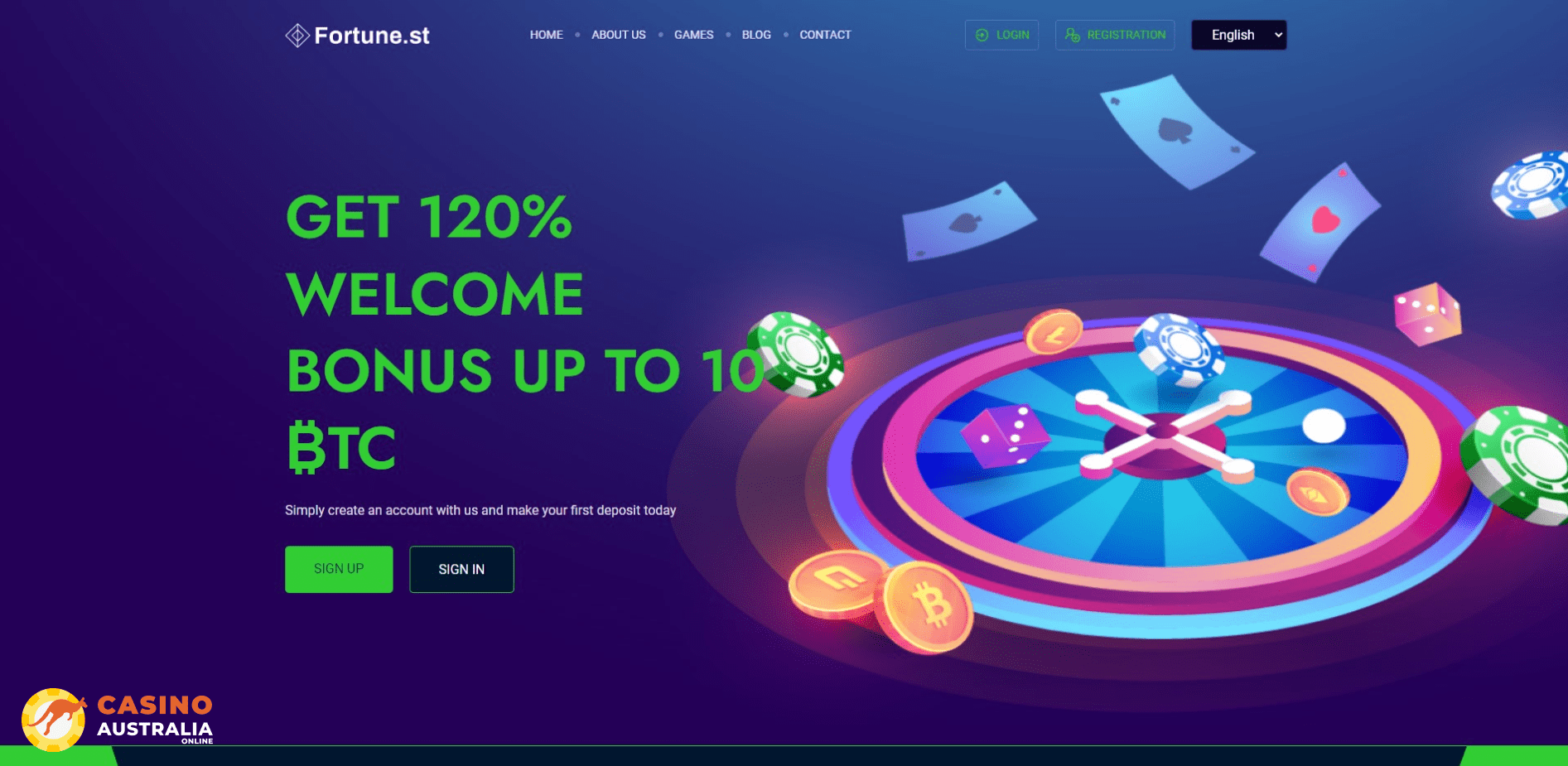 Bonuses
Welcome Bonus – 120% Match up to 10BTC
What's the first thing you do at an online casino after creating your account? You make a deposit, of course! That's why you see so many casinos offering their players a welcome bonus with their first deposit, to kind of make this (otherwise unpleasant) first step into a more positive experience that's going to help them out a bit with their bets going forward.
Fortune.st Casino is no exception, and it offers its new players two different bonuses to choose from. Perhaps the one that most players will gravitate towards will be a 120% match up to 10BTC, which is actually a pretty decent bonus. The maximum amount you can receive is extremely high (10BTC, as of the time of writing, comes out to about AU$320,000), although it's extremely unlikely that anyone will actually end up depositing that much not just here, but at any online casino. Not at once, at least.
The good news is that this bonus won't expire, and its wagering requirements are fairly reasonable. Every single deposit you place at Fortune.st Casino will need to be wagered x2 times (which is pretty bad, that's twice the wagering requirements for deposits at most other casinos), but to withdraw your first deposit, you'll need to wager it + your bonus x2 times. This, in essence, makes the bonus almost feel like free money, as it has the same requirements as your normal deposit. The catch, of course, being that now you need to wager a significantly bigger sum in order to withdraw anything at all.
High Roller Bonus – Deposit $200, Gain $300
While the other bonus has an extremely high limit (up to 10 whole Bitcoin), which makes it extremely good for high rollers, there is also a separate offer just for those who are ready to drop a few hundred dollars on their first deposit. This "VIP reward" will give players a 150% match if they deposit $200, for a total bonus + deposit amount of $500. Plenty to play whatever games you like!
The wagering requirements are the same, with the entire sum having to be played through twice (so, you'll need to place $1,000 worth of bets before you can withdraw whatever's left). While x2 isn't a particularly high requirement, especially considering that other casinos have requirements of x15 at the very least and up to x50 or x60, the very high amount you'll need to wager through nevertheless makes it unlikely you'll withdraw anything. Especially since pretty much all of the games available at the casino are themed around random chance rather than anything even resembling skill.
Games
The games at Fortune.st Casino aren't quite what you might expect. Here, you won't really find any pokies, or table games, or anything else that would resemble the offerings of most other online casinos. Instead, you'll only find a small selection of games that appear to be proprietary to Fortune.St and have been created specifically for it.
Before you get too excited, though, it's important to point out that most of those games are unbelievably simple. How simple? Well, how about "Heads or Tails", or "Rock Paper Scissors"? Yep, something you probably wouldn't even waste 5 minutes on in any other context is now made the defining feature of this particular casino.
That's not to say that every game is simple. There are a few with some limited interactivity, like "Guess the Number", and it even sports its own pokie, called "Number Slot" (reminiscent of a fruit machine more than a slot game, really). But if you're used to the spectacle of pokies or the strategy involved in blackjack, you really won't find much here to hold your interest.
The worst part about the Fortune.st Casino games is that there is no guarantee that any of them are fair. Regular casino games, such as those offered by providers like "Evolution Gaming" and "Pragmatic Play", have been audited by independent authorities to certify them as fair – you can actually find those documents on their sites. But none of the games available here have received the same scrutiny.
So, as a player, you will have no guarantee that a game of, say, heads or tails will be fair to you. For all you know, the game could be programmed to always flip the opposite of what you selected, especially when you've made a big bet. How can you know otherwise? Spoiler alert: you can't.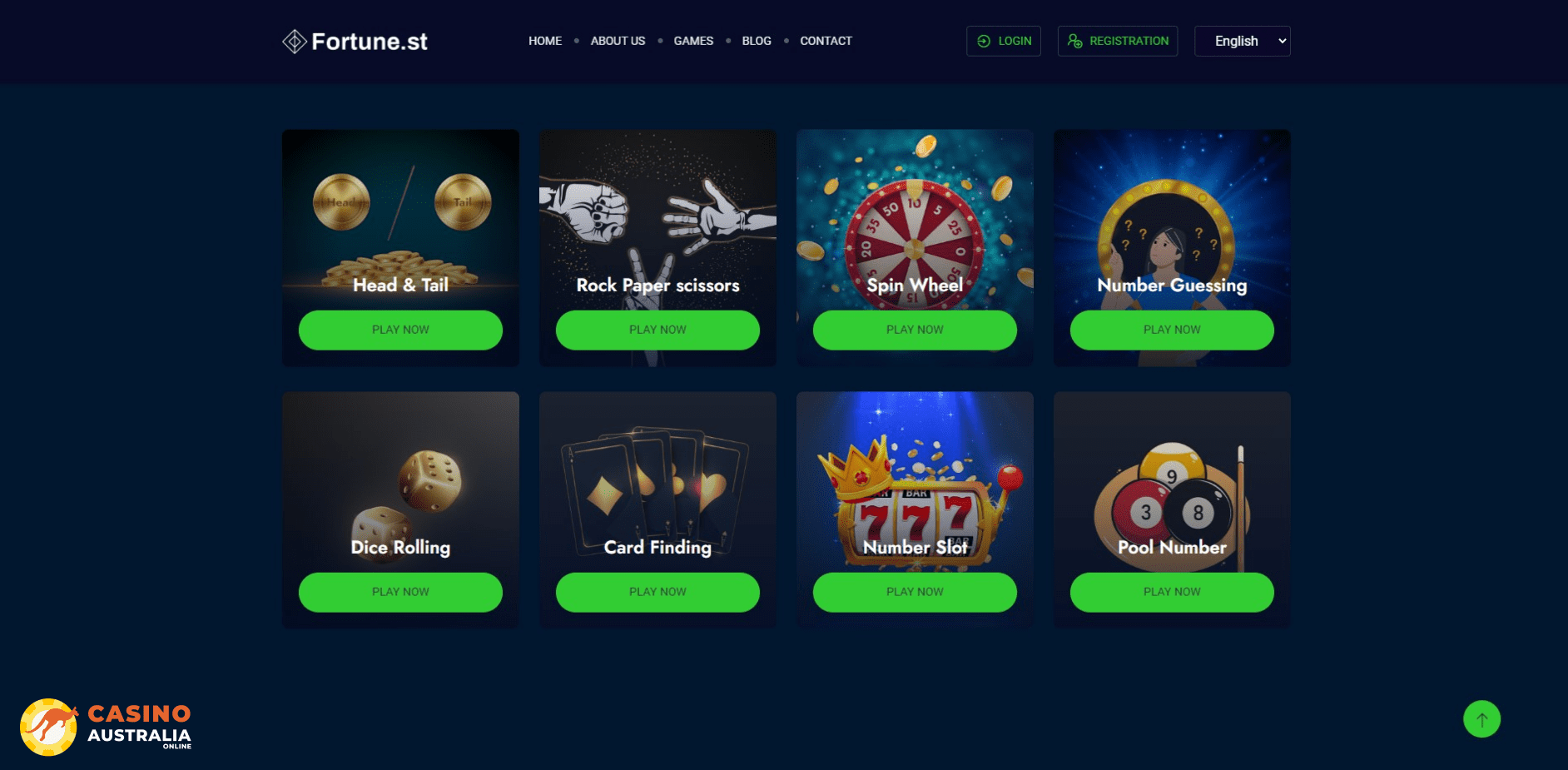 Deposits & Withdrawals
As you may have suspected, Fortune.st Casino only accepts deposits using cryptocurrency – it doesn't exactly shy away from informing you of this fact pretty consistently. If you were hoping to use your credit card or e-wallet to deposit using Australian dollars, or even to just be able to purchase bitcoin on the site itself, prepare to be disappointed. This place is only for people who have already invested in crypto.
To their credit, there is actually a fairly impressive selection of coins available for you to use. Sure, there's the ones everyone and their mother knows, such as Bitcoin, Ethereum and Litecoin, but there are also some much more obscure picks, like ApeCoin, ShibaCoin and Dai. While we don't believe that most, or even a lot of, players use these particular currencies, their mere inclusion alone is enough to leave an overall positive impression about the diversity of payment options available here.
| | |
| --- | --- |
| Payments | |
| Minimum deposit | $10 |
| Minimum withdrawal | $10 |
| Maximum withdrawal | Unlimited |
| Deposit methods | None |
| Crypto currencies accepted | BTC, LTC, APE, ETH, BCH, DAI, SHIB, USDC, DOGE, USDT |
| Australian Dollars accepted | No |
| Welcome bonus package | 10BTC |

Withdrawal time
Given that the casino only accepts deposits via cryptocurrencies, it stands to reason that it will only accept withdrawals via crypto as well – it's not possible to withdraw in dollars, or through your bank account. Luckily, this means that the withdrawal speeds will actually be pretty quick. Most crypto coins (such as Litecoin and BitcoinCash) have been designed specifically to have high transaction speeds, and currencies that are a bit slower (like Bitcoin or Dogecoin) won't take more than a day to end up in your wallet. At least, in theory.
In practice, however, it is highly unlikely that you will be able to withdraw anything. Fortune.st Casino has a requirement that mandates players to wager through their deposit x2 times before they can withdraw it. At most casinos, only bonuses have wagering requirements, while cash deposits need to be played through just once before you can withdraw your winnings. However, at Fortune.St Casino, this requirement means that, if you deposit AU$50, you will need to place AU$100 worth of bets for every AU$50 you can withdraw. As you can imagine, this ridiculous and baffling requirement means that, realistically, your withdrawal speed will be zero, because it will never happen.
VIP Program
Different online casinos choose to reward their players' loyalty in different ways. Some will offer reload bonuses, like, "deposit on Sunday and get 50 free spins" or something along those lines. Others will go a step further and will create an entire program where you can collect points as you play, level up, even exchange them for cash eventually!
As Fortune.st Casino doesn't have any reload bonuses available, it makes perfect sense that it would offer its players some kind of VIP program in order to incentivize player loyalty. Unfortunately, this doesn't currently appear to be the case, as the casino doesn't have anything that could be considered a VIP program. While it has what it refers to a "VIP reward", that's nothing more than a high roller first deposit bonus.
This absence is very unfortunate, because it means that players of the casino will not receive any reward for their loyalty. A brand new player who is taking advantage of the welcome offers will have more benefits than one who has remained loyal to the casino for years, which is admittedly a little unfortunate.
Tournaments
Thousands of players have rediscovered their love for pokies thanks to pokie tournaments, and many who weren't even interested in slot games in the first place only got into them when they could play them competitively. Tournaments have become such a big part of online casino culture that we know for a fact there are plenty of people who will refuse to play at a site that doesn't have them. And while we can't agree, we certainly get it!
But here's the thing about pokie tournaments – to host them, you need pokies (duh). This disqualifies Fortune.st Casino right out of the gate, since it only offers one very primitive fruit machine among its grand collection of eight whole games. But while we can forgive this (rather understandable) absence if it was replaced by something more interesting, the truth is that it really isn't.
True, Fortune.st Casino's games are extremely simplistic, but at the same time, there's still potential for great fun in, say, a PVP rock-paper-scissors tournament. So the fact that such features are completely absent strikes us as a huge missed opportunity.
Verification
Pretty much every online casino we've ever reviewed has a procedure known as KYC (Know Your Customer), where they will require players to submit documents proving their identity before permitting them to withdraw any funds. This isn't something that the casinos just do for the fun of it, though – it's a mandate from anti-money laundering legislation that has been in place since the 00s to keep terrorists and other bad guys from laundering their money at online casinos. Every casino that accepts flat currency (like dollars) and the vast majority of those who accept crypto only adheres to KYC procedure because it keeps both the site and the players safer.
Fortune.st Casino, however, is a very rare exception. From their own Terms of Service:
"Players can be fully anonymous. That means, No KYC both for players and affiliates. For any data you submit during registration, Fortune.st is taking effective measures to protect player's private data from any unauthorized use and is only making it available to parties involved in providing of gambling services through the website."
So yes, anonymity is highly valued here – you can even use a VPN to completely dodge your regional gambling restrictions, too! Sounds like a dream come true, right? Well… Until you realize that the KYC procedure is put into place not because casinos want to 'violate your privacy', but because there was actual money laundering taking place at them that needed to be curbed out for the sake of regular players like you.
To put it simply: Fortune.st Casino's lack of any verification procedures is not a good thing. At best, it means that the casino knows it can get away with lacking a KYC because it's never planning on letting anyone withdraw even a single cent. At worst, the site is actively being used for serious criminal activity. Either way, it's certainly best to stay away.
Is Fortune.st Casino Legit & safe?
One of the most important things you need to verify before you sign up at any online casino (even ones we've already reviewed and given a glowing recommendation to) is whether or not it holds a valid license. Yes, this is actually more important than bonuses, games and other features, because if an online casino is unlicensed, you're looking at a very high possibility that it's a fake one meant to scam players.
Unfortunately, this appears to be the case with Fortune.st Casino. The site doesn't have any kind of license, neither from the Curacao Gaming Authority (the most common one for Australian casinos) nor any other. That alone, in and of itself, is bad enough and more than enough reason to stay away, but there are so many more red flags.
The casino's owner is completely unknown, and it, similarly, affords anonymity to its players (in stark breach of money laundering regulations). On top of that, it accepts users with VPNs without verifying their address, which means that, technically, it is available in every country in the world regardless of its local laws on online casinos.
While this may sound like some kind of amazing utopia of freedom and anonymity, in reality, it is almost certainly a scam meant to prey on those who don't know any better. We at casinoaustraliaonline.com recommend that players stay away from it.
Customer support
If you're having trouble with your deposit, withdrawal, bonuses or any particular games, your best bet is usually to reach out to the casino's customer support team to see what they can do to help you out. Most casinos will provide you with a live chat option that connects you directly to a representative, or at least with a suitable alternative (like a phone number).
Fortune.st Casino goes against the grain on that one by only providing players with e-mail support. You can either write them directly from your e-mail client or submit a ticket through the casino, but either way, you'll be waiting a while for the response. However, what makes this baffling for us is that the casino is openly lying about having a live chat option.
We've checked. Live chat does not seem to be available whether you're a guest or a registered player, despite the fact that Fortune.st Casino's "contact us" page explicitly mentions it. Whether this is just an innocent holdover from a previous version or another blatant attempt at deceiving players, we'll let you decide.
| | |
| --- | --- |
| Live Chat support | No |
| Phone support | No |
| E-mail support | [email protected] |
| Ticketing system | Yes |

Mobile casino
Given that we still live neck-deep in the mobile revolution, it's only natural that any online casino that doesn't wish to immediately be left behind will also offer a mobile version. This, of course, also applies to Fortune.st Casino, which has given its players the opportunity to place bets not only on desktop, but on mobile via their phone's browser.
The interface of both versions is virtually identical. On mobile, some of the elements are a bit more blown-up to account for the smaller size of the screen, but beyond that, both the interface and functionality would feel very familiar to users moving across platforms. The same applies to the casino's games, all of which will work the same way whether you're playing them on your phone or on your computer.
While Fortune.st Casino seemes a tiny bit geared towards mobile users (as most online casinos are nowadays), in terms of functionality and interface, both versions generally have a lot of merit to them.
| | |
| --- | --- |
| Interface | |
| Mobile version | YES |
| iOS App | Yes/no |
| Android APP | Yes/no |