DuckDice Casino Review
Anatidaephobia is the fear that somewhere out there is a duck watching your every move. While many will consider this fear to be an irrational one, it's actually based on objective reality – whether you're aware of them or not, ducks are always out there watching your every move. You may choose to fear them… Or you may join their secret club and start winning!
True, we have no evidence that DuckDice Casino is secretly owned and operated by a cabal of all-seeing ducks, but there's no evidence that it isn't, so who's to say? Either way, it doesn't matter! What matters is whether it's able to provide players with great bonuses, decent games and a plethora of extra features. And that's what we're here to figure out!
So, is it worth to take a swim with the ducks, or are you better off seeing a therapist for your anatidaephobia?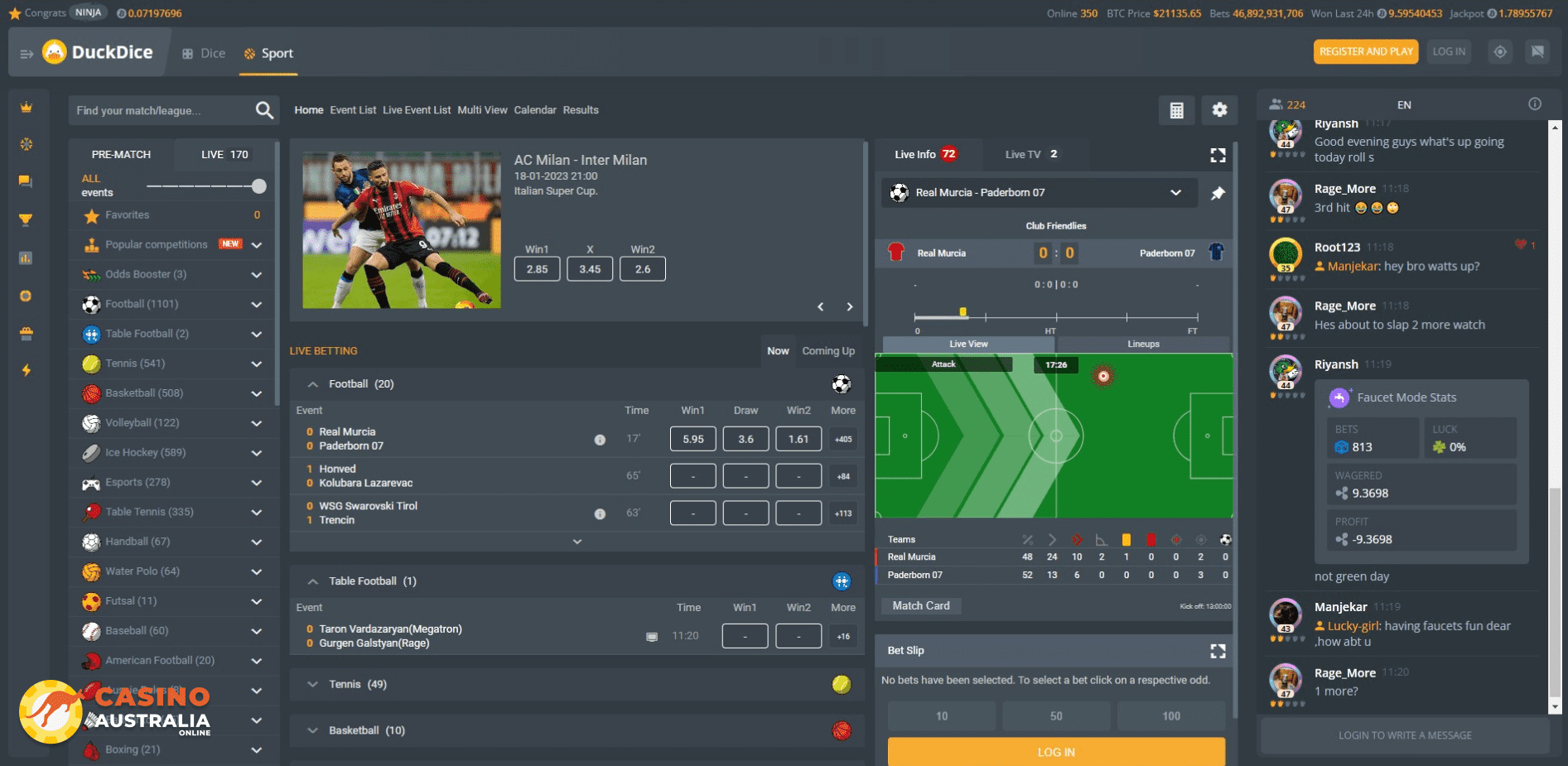 Bonuses
Deposit Bonus – Up to 2 BTC
There's no mincing words – the way DuckDice Casino goes about its deposit bonuses is… Weird. Not necessarily bad, but also certainly unlike anything we've seen in the online casino space. For one, there isn't any kind of welcome bonus available to players. Instead, all players will receive a bonus with every deposit they make.
That sounds great, right? So, how big is this bonus? 100%? 50%? Nope – it doesn't have a set percentage. Instead, when making your deposit, you'll need to specify "your share that will define the leverage", in a process that works similar to margin trading. Unfortunately, we're casino experts and not members of r/wallstreetbets, so we don't know much about trading, but the way we understand it, when you're making your deposit, you need to specify a certain percentage of it that will be converted into bonus funds rather than real money.
The bigger the percentage you specify, the bigger match bonus you'll get.
Complicated and confusing? It sure is. But it's also unique, and while many players will find the scheme quite confusing (as we did), we're also willing to bet that many will prefer it to traditional bonus schemes.
Dice Progressive Jackpot
Jackpots are typically reserved for pokies, but just because DuckDice Casino doesn't have those doesn't mean it's also lacking a big prize to bring home! Indeed, with each and every bet you place at the casino, you stand a small chance of winning a grand jackpot that (as of the time of this writing) is almost 1.8 BTC, or almost AU$54,000!
To win, you need to place a bet that ends in the numbers 77 (for example, 0.77 ETH), and you must roll the number 7777 while playing the Duck Game. If you somehow manage to fulfill those conditions, you'll automatically win the jackpot as real money, no wagering requirements attached.
While the odds of hitting this jackpot are extremely low, they're not zero, and you don't really need to do anything too special aside from adjust the size of your bets in order to qualify for it. And given how this is the highest prize you can score at DuckDice Casino, we can't help but feel like it's worth trying to go for it, despite the low chance.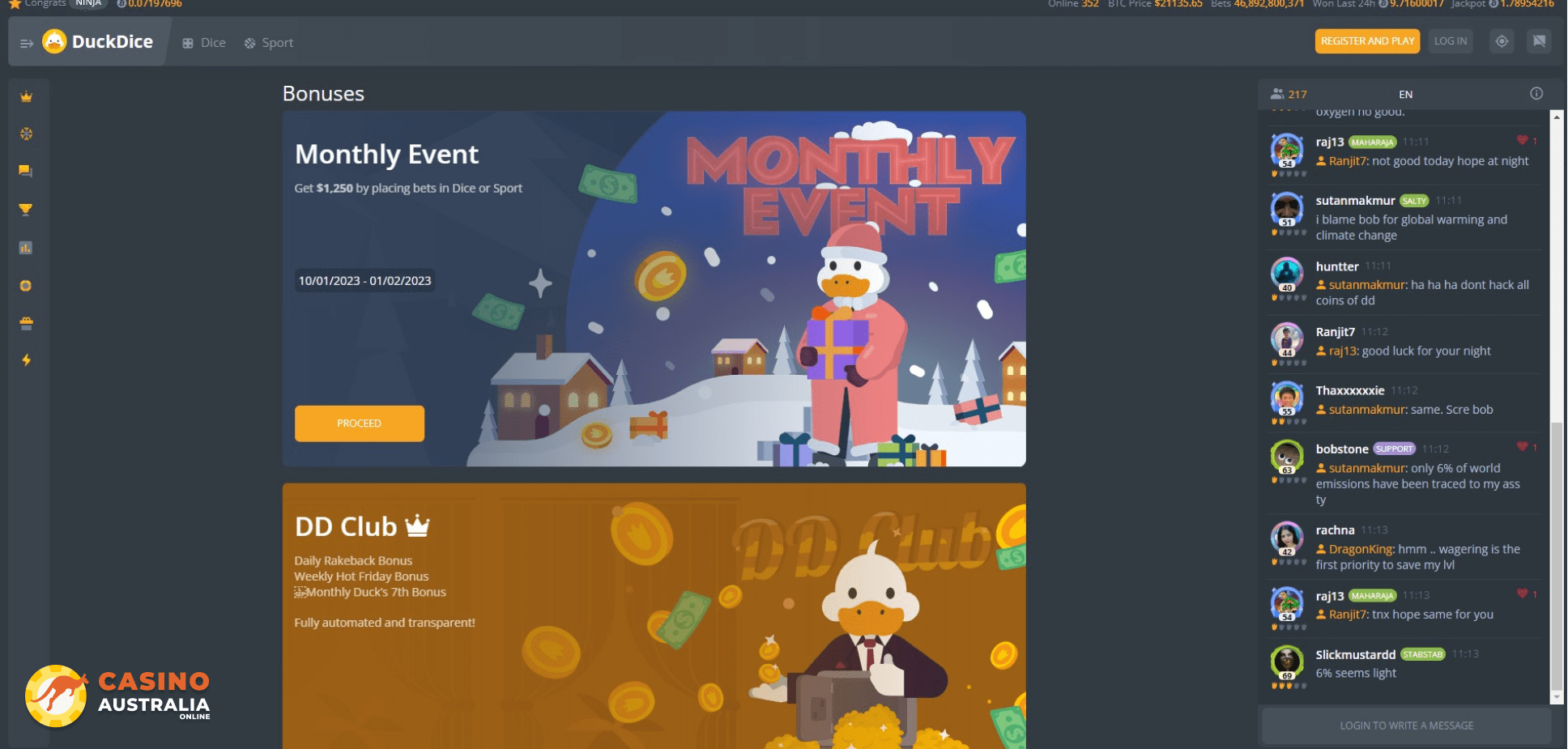 Games
Pretty much every online casino has a wide plethora of games available in it. Even the most barren and neglected ones will have at least a few dozen games on display, usually pokies, but also table games. The biggest casinos will have thousands of offerings, including stuff like bingo, poker and lottery tickets.
DuckDice Casino, however, does things very differently, in that they only offer… One game. Yep, that's right – this is a casino that doesn't have any pokies, any blackjack or poker, any live games or sports betting. Literally the only thing you can do at the casino is play this one, singular game.
On one hand, this is obviously not going to be for everyone – what's the point of signing up for an online casino if you can't play pokies or cards? But on the other, if you've made it here, you probably already know what the deal is, and aren't bothered. So, what's the deal with this game, anyway?
The Duck Game
The sole game available at the casino is simple to a fault. At its core, it's merely a game of over/under, where you need to guess whether a randomly generated 4-digit number will be under or over a certain value. It's a simple binary choice, at its default settings you can choose whether the selected number will be under 5,000 or over 4,999, giving you perfect 50/50 odds of winning.
But "default settings" is the key word here, because you can actually manipulate every aspect of the game in order to set it up just the way you like. Of course, every game will let you choose the size of your bet, or what currency you're betting with, but how many do you know that will let you dynamically select the odds of winning?
That's right – you can easily choose how likely you are to win, and your potential profits based on the bet you provided will be altered dynamically. This isn't a mere "behind the scenes" change either, changing the odds actually affects how the game plays. For example, if you choose to place the odds at 98% in your favor, the options for the 4-digit number will now change to "under 9800" and "over 199" – meaning that, no matter what 4-digit number you get, you're overwhelmingly likely to win no matter what you pick! But, in turn, you'll win a mere 1.01x your wager, making a pretty bum deal overall. At that percentage, even losing once will cost you more than you've accumulated over dozens of wins!
But it goes both ways. You can also turn the odds of winning way down, up to 1% if you're feeling extra lucky! This will grant you a win of x99 times your bet, which could be huge depending on how much you're wagering. But, just like before, your binary choice is also affected, and now your options will turn into "under 100" and "over 9899" – meaning that you're extremely likely to lose no matter what you pick!
While the game is very simple, we have to admit that there is plenty of depth here, and it's interesting trying to work out that perfect balance between acceptable risk and decent return on wager. While it definitely won't satisfy fans of blackjack or baccarat, the Duck Game might just become a pokie fan's new favorite!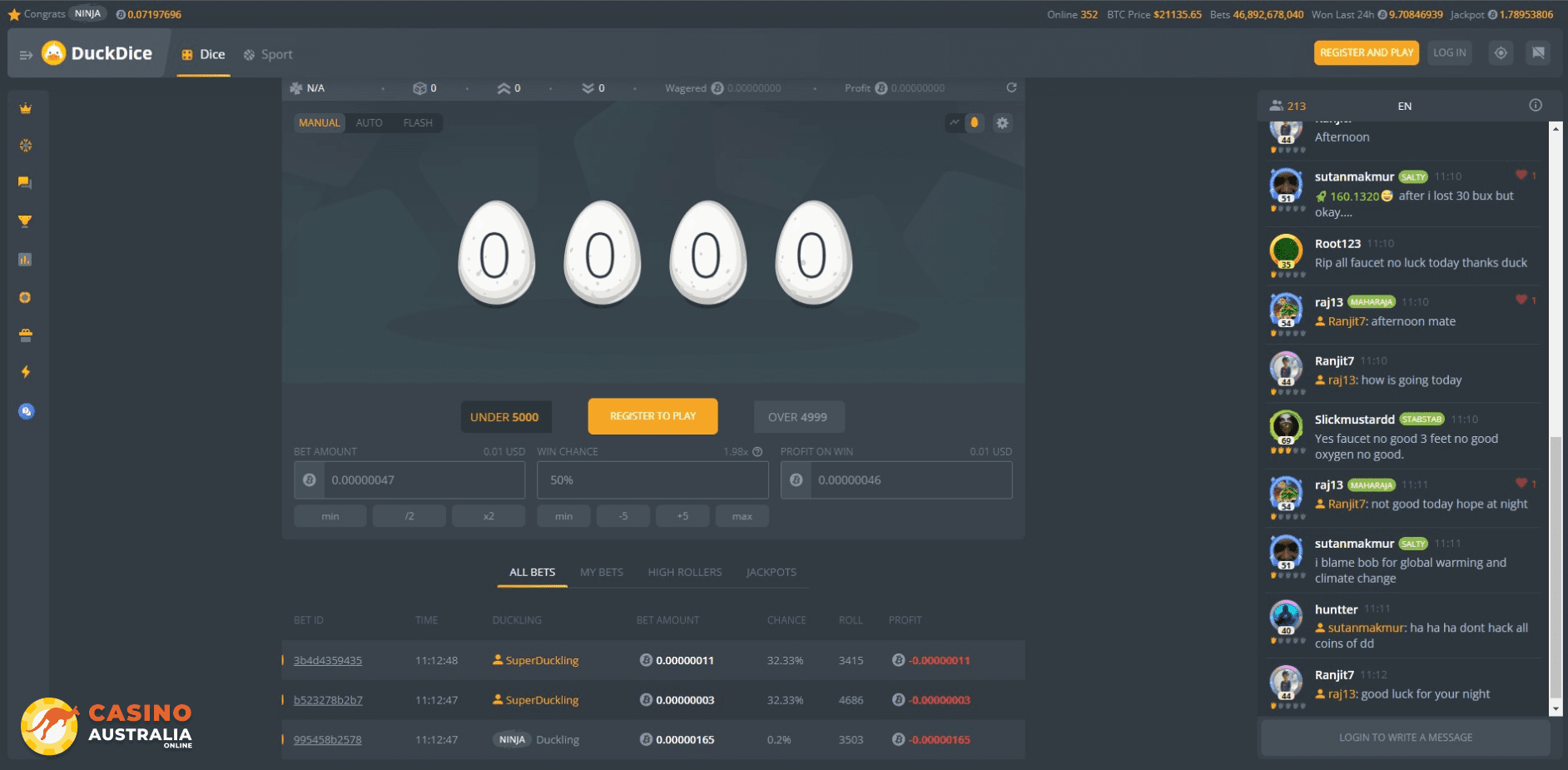 Deposits & Withdrawals
DuckDice Casino has proven itself to be very much unlike other online casinos – so it stands to reason that its payment options are also greatly different compared to what you'd find elsewhere. For one, there are no limits or minimum deposits or withdrawals. We scoured the whole site, even reached out to support, and we can verify that this is no oversight, they really have chosen not to limit their players in any way.
You can deposit however much you want, withdraw however much you want, whenever you want. Now that's something you don't see every day! And speaking of things you don't see every day, when was the last time you saw PayPal, Google or Apple being available as payment options? Ordinarily, using them for casino purposes is strictly against their rules, but perhaps DuckDice have found a loophole where you're technically using them to buy crypto (which you'll then wager at the casino), or maybe these companies don't consider DuckDice to be a casino site at all. Either way, players stand to benefit!
But let's face it, you're probably not very interested in depositing using boring old dollars, right? You're here for the crypto coins! DuckDice Casino claims to support over 100 different coins, and while we weren't able to see the full list, what we have seen definitely makes us believe it! Sure, you've got the classics, like Bitcoin, Ethereum and Dogecoin, but also less popular coins like Ripple or Shiba Coin, and then there's ones that we haven't even heard of! Has anyone reading this ever bought or mined Polygon, or Ravencoin? Well, you can now!
| | |
| --- | --- |
| Payments | |
| Minimum deposit | None |
| Minimum withdrawal | None |
| Maximum withdrawal | None |
| Deposit methods | Visa, MasterCard, PayPal, Google Pay, Apple Pay, Bank Transfer, WebMoney, G2A Pay & More |
| Crypto currencies accepted | BTC, ETH, LTC, DOGE, BCH, XMR, XRP, BTG, ZEC, ADA, USDT, DASH, ETC, BNB, DAI, USDC, BUSD, DOT, SHIB, SOL, LUNA, UST, MATIC, FTM, AVAX, NEAR & More |
| Australian Dollars accepted | No |
| Welcome bonus package | None |
Withdrawal time
The casino allows you to withdraw using a wide variety of payment methods, from crypto all the way to cards and e-wallets. As such, it stands to reason that the withdraw times for all of these methods will also be very different – so let's go over each 'group' and see how long it'll take before you get to enjoy your winnings from the Duck Game!
Crypto will generally be your best bet if you're looking for fast withdrawals. True, some crypto coins aren't particularly fast (such as Bitcoin and Dogecoin, which are notoriously slow to the point where other people have created faster alternatives). But most should have your money in your wallet by the end of the day, probably within a few hours – so that would be our recommendation.
And if you're not big into cryptocurrencies, no worries! E-wallets, like PayPal and Google Pay, will also be pretty quick. The downside here is that not all of them will be available for withdrawal, and pretty much all of them will incur additional taxes. If that doesn't bother you, they may be a good alternative to crypto. Still, we would recommend avoiding bank transfers and direct card withdrawals, as they can be very slow (up to 15 days for bank transfers, yikes) and may come with heavy taxes.
VIP Program
The Duck values its players – existing ones more so than the new ones, even! This can be seen not only in the structure of bonuses, but also in the presence of a VIP program that is aimed at players who are truly passionate about the Duck Game! In all honesty, we didn't expect to find such a feature in a casino that is focused on just one game, so this was a very welcome surprise!
Those who participate in the program will get to enjoy a daily rakeback bonus, a unique deposit bonus they can claim once a week, as well as a special bonus that will be offered to them once a month! Unlike other casinos, who will evaluate accounts on a case-by-case basis and then decide whether to invite you into the VIP club, DuckDice Casino will put you into the club automatically once you pass a certain threshold of bets. Which is pretty cool, as it places all players on equal footing.
Overall, while the system isn't anything special, it does provide objective benefits, and since it costs nothing to participate in it, we can't help but feel positively about it.
Tournaments
A lot of casinos tend to provide their players with some kind of tournament. Those can sometimes be more straightforward "player vs player" type affairs (such as poker tournaments), but most tend to gravitate more towards pokie tournaments. Those involve getting the players to score points on a leaderboard by spinning various pokies, and then rewarding them the higher they're able to place.
While similar tournaments might work well for something like DuckDice Casino, at the moment it doesn't seem to provide any of them at all. We looked! While it is possible that tournaments at the casino are seasonal/irregular, and as such we simply didn't catch them due to bad luck, we also haven't found any evidence that the casino has held tournaments in the past. As such, it is safe to conclude that it doesn't currently offer this feature, but don't fret – we'll keep a close eye on them and be sure to update our article if things end up changin!

Verification
There's no going around it – if you signed up for a casino, you have to get verified sooner or later! DuckDice Casino primarily offers cryptocurrencies as deposit and withdrawal options, but even if you wish to withdraw using Bitcoin, you still won't be able to dodge the verification process. Them's the breaks!
But don't worry, it's not particularly difficult. DuckDice Casino's process is actually fairly simple and straightforward. All they'll request from you are two documents: proof of identity and proof of address. Your proof of identity can be anything that has your name and face on it, such as your passport, ID card or driver's license. As for the proof of address, it needs to be any kind of document that shows your name and address, like a utility bill or a recent delivery receipt.
Depending on how you deposit, sometimes additional documents may be required – for example, a screenshot from your e-wallet interface (like PayPal). But those will be decided on a case by case basis, and even if you do happen to draw the short straw, it really wouldn't be too hard to procure them.
Is DuckDice Casino Legit & safe?
Worried about whether DuckDice casino is safe to play in as an Australian? Good! AU law is already pretty strict when it comes to online gambling, but it's particularly unforgiving when it comes to unlicensed, 'illegal' casinos. Furthermore, even if you don't care about the law, a lack of license means you're far more likely to get scammed! Who would you even report to if you are, after all?
Thankfully, there is nothing to worry about when it comes to DuckDice Casino. We at casinoaustraliaonline.com always take great effort to not only obtain a casino's license number and details, but also verify them to make sure that we only recommend legal casinos to our players. And this one passes with flying colors! If the Duck Game ends up catching your interest, then there's no need to worry, DuckDice Casino is perfectly legal!
| | |
| --- | --- |
| License | Curacao |
| License number | 8048/JAZ018-018 |
| Company address | Heelsumstraat 51, E-Commercepark Unit 102, Curacao |
Customer support
If something in the casino breaks (which, let's face it, it very well might), there's really no other choice but to contact support – bitterly swallowing the glitch isn't an option when money is involved! The good news is that you can actually contact DuckDice Casino's support team quite easily via their 24/7 live chat service. In our experience, it's pretty easy to get in contact with a support agent, so there's really no need to worry too much if something ends up breaking!
If live chat isn't quite your thing, and you'd prefer something just a tiny bit less personal, you can also e-mail them through your client (such as Gmail, or whatever mail service you're using). Unfortunately, it's not possible to contact them by submitting a ticket through the site itself, nor can you reach out to them by calling them over the phone. While we understand that these options aren't quite as popular as live chat and e-mail, their absence is still regrettable – especially when there are definitely players who'd be able to resolve their problem much faster just by calling the casino over the phone.
| | |
| --- | --- |
| Live Chat support | 24/7 |
| Phone support | No |
| E-mail support | [email protected] |
| Ticketing system | No |

Mobile casino
If you ended up falling in love with the Duck Game, then you probably would want to keep playing it even if you're away from the computer. Or perhaps you never wanted to start it on a PC anyway, and were just looking to waste time with it while commuting or otherwise having a moment to yourself. In that case, we're happy to say that DuckDice Casino is completely playable on mobile!
To access the mobile version, all you need to do is open it through your mobile browser – there is no need to download a specific app. While the interface has been slightly redesigned to fit on a smaller, mobile screen, personally we still found it a little bit cluttered, and believe that the site will work best on larger phones. Despite this, the Duck Game is perfectly playable, and all options (such as depositing, withdrawing and taking advantage of bonuses) are fully intact even if you're accessing them through your phone!
| | |
| --- | --- |
| Interface | |
| Mobile version | YES |
| iOS App | No |
| Android APP | No |