CrashOut Casino Review
New online casinos are debuting every day, and we at casinoaustraliaonline.com aim to provide you with all relevant information about them to help you determine which ones are actually worthwhile. In this review, we will be taking a deep dive into the realm of CrashOut Casino – a newly emerged gambling website that claims to bring an original approach to betting on the table. Whether that's true or not, we're about to see for ourselves.
The first impression CrashOut leaves is one of a betting hub with a lot of hustle and bustle going on – thousands of games, raffles, personalized rewards, and even future trading are at the forefront of the establishment. We can't help but notice that many traditional elements of the online casino are missing – there is no 'Promotions' section, the layout is vastly different, and licensing information is nowhere to be found along with any hints about who's the owner of the website. Overall, CrashOut looks like a challenge to figure out, and we will take up the task of making sure you're up to date with everything there is to know about the casino. Let's get started!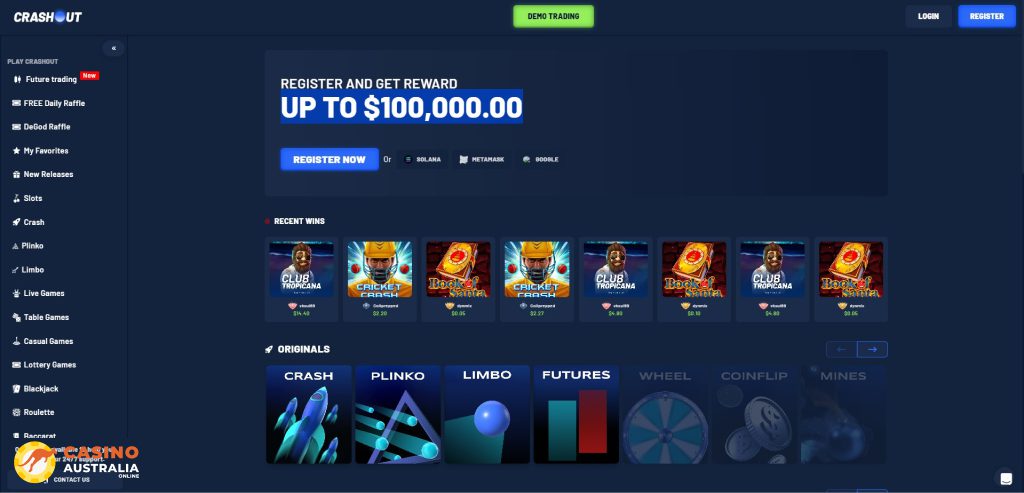 Bonuses
Bonuses are usually the first thing visitors check to see if they should make the jump and commit to becoming registered players at a given online casino. Whether the promotions look good, whether they seem generous, and most importantly – how fair their conditions are, can easily help determine how trustworthy a betting hub is. Knowing how fierce the competition between establishments is nowadays, it comes as no surprise that owners are constantly scrambling to invent new, attractive promotions that will lure in new players. Some opt for an abundance of offers, others stick to the essentials, but some casinos are trying to reinvent the wheel. Which one do you think applies to CrashOut?
CrashOut Casino seems to be set on reinventing the wheel, and we can't say that it's going too well, at least at the moment of our review. The establishment does not have a designated 'Promotions' section that visitors can check out. Instead, registered users are presented with a personalized rewards system based on their attendance, performance, and scores. Info on these rewards can only be found on the casino's blog, which doesn't leave the most professional impression if we need to evaluate. Let's explore what rewards CrashOut Casino has in store for you and how you can obtain them.
CrashOut Daily Rewards
CrashOut promises to make its players' days more exciting by giving away daily rewards to the ones who log in, play, and deposit regularly. Each consecutive day that you log in brings you a certain amount of bonus money that you can claim, wager, and turn into real money. While there isn't much information on how the system works, it's clear that the more days you enter the website, the more prizes you'll be getting.
CrashOut Weekly Bonus
As explained on the CrashOut blog, the Weekly Bonus is an individualized reward determined by your recent CrashOut activity. Your rank is stated to play a significant role in calculating this bonus. You have the option to schedule a Weekly Bonus in your calendar every 7 days.
After claiming the Weekly Bonus, 20% of the amount will be instantly added to your balance, while the remaining 80% will be distributed over the next 7 days and shown in your Rewards Calendar.
Many elements of how the promotion works remain unclear, but we're hoping to see the casino deliver the information in a more detailed manner.
CrashOut Rakeback and Rakeback Boost
CrashOut Rakeback is a benefit given to users depending on the house edge. CrashOut provides a 10% Rakeback on all bets, which can be collected every 30 minutes from the rewards page or dropdown menu. Upon claiming Rakeback, half of the amount is instantly credited to the user's balance, while the other half is credited to the Rewards Calendar, spread over a period of 3 days.
The other rakeback promo, Rakeback Boost, is allocated to users' accounts when they claim certain bonuses. Any extra rewards earned during the Rakeboost period are included in the Rakeback total. When you claim the Weekly Bonus, you receive a +50% Rakeback Boost for 60 minutes. Claiming the CashPrize Bonus also grants a +50% Rakeback Boost for 60 minutes. Additionally, each Daily Reward claim gives you a +50% Rakeback Boost for an hour.
CrashOut Rankup CashPrize
Rank-Up CashPrize rewards are offered to users upon achieving specific milestones of total wagers made on CrashOut, considering the difference in wager from their previous rank. As users progress to higher ranks, the rewards for rank-up will progressively increase.
Upon claiming the Rank-Up Bonus, 20% of the reward will be instantly added to the user's balance, while the remaining 80% will be distributed over 21 days and reflected in the Rewards Calendar.
Games
The success of an online casino largely depends on the quality and variety of games offered in its library. To compete in the current gaming landscape, all ambitious establishments put significant efforts into curating top-notch game selections for their players. The abundance of choice in terms of entertainment plays a crucial role in attracting and retaining visitors, influencing their decision to create an account and stay on the platform. Consequently, delivering a high-quality gaming experience has become a fundamental requirement for all gambling websites. Typically, a good game library should consist of at least one to two thousand titles, encompassing various genres. Now, let's assess CrashOut's game collection to determine if it meets these standards or if there is room for improvement.
At first glance, CrashOut looks like a casino that will have thousands of games to offer to its players. The truth, however, turned out to be the opposite – the establishment has a little over 600 titles combined. They are evenly distributed between pokies and live casino games, with a few table games and instant games added to the mix. Even if the game library is small, this doesn't mean that it can't be good, so let's examine it further to see if you can have some good fun at CrashOut.
| | |
| --- | --- |
| Games | |
| Software providers | Wazdan, Habanero, Thunderkick, etc.; |
| Pokies | 300+ |
| Live Casino | Yes |
| Sports betting | No |
| Table Games | Yes |
Pokies and Providers
Pokies typically comprise the largest portion, at least 50% of the game libraries in most online casinos, oftentimes even 80% to 90%. This popularity stems from the genre's enduring appeal, maintaining its top rank as a beloved choice within the global iGaming community. Given that a significant number of players prefer pokies and are more likely to remain engaged when presented with a diverse selection in a casino, operators prioritize offering a wide range of pokies to ensure an enjoyable and extended betting experience for their users. Let's see if this is the case with CrashOut as well.
CrashOut has a humble selection of a little over 300 pokies, but most of them are rather enjoyable. Our favorite ones turned out to be Sweet Bonanza, Gems Bonanza, Madam Destiny, Chicken Drop, Floating Dragon Megaways, Greedy Wolf, Bronco Spirit, Country Farming, Eye of The Storm, Great Rhino Deluxe, Buffalo King, African Elephant, Hot Pepper, Panda's Fortune 2, Queen of Atlantis, The Wild Machine, Towering Fortunes, Wisdom of Athena, and Wild Wild Bananas.
All collections of pokies are a result of dedicated efforts from various game suppliers. Both well-known big names and independent studios play a vital role in curating the casino's portfolio, each contributing significantly and deserving recognition for their contributions. The number of providers associated with a casino reflects the effort invested in its game library, and having a greater variety of providers is generally seen as a positive indicator of a casino's commitment to offering a diverse selection.
CrashOut doesn't shine with a long list of providers. It has games from Ezugi, PragmaticExternal, Thunderkick, Quickspin, Onlyplay, Endorphina, Gameart, Habanero, Wazdan, and Softswiss – 10 suppliers in total.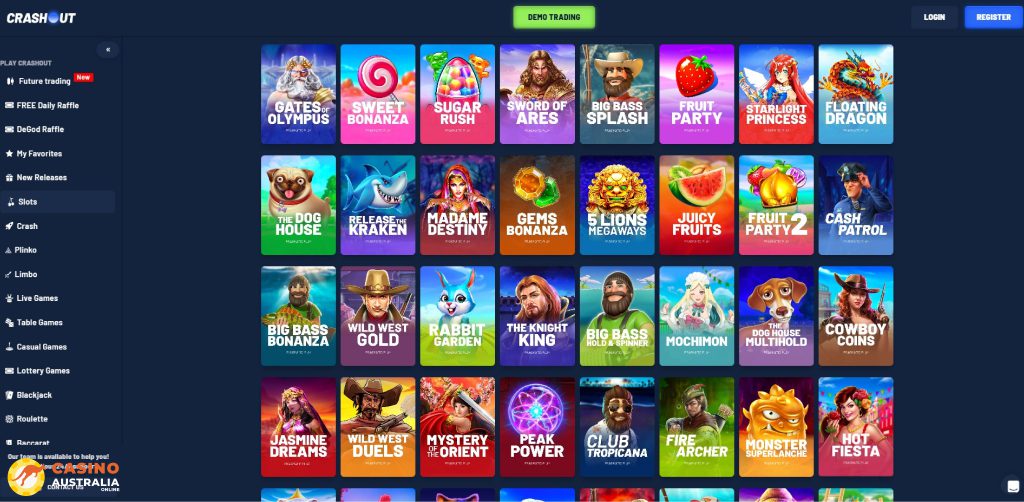 Live Casino
The presence of a live casino game section tends to fill the majority of players with excitement. Live casino games offer a thrilling twist to classic table games, creating a virtual lobby where real players can participate in an immersive gaming experience with live dealers. The success of this genre is attributed to the unique blend of comfort and excitement it provides. As the demand for live games continues to grow within the iGaming community, more casinos are actively working to expand their offerings in this direction. If the idea of experiencing the authentic casino atmosphere from the convenience of your chosen location appeals to you, live casino games might be an appealing option to explore.
CrashOut might not have many games overall, but its live casino game section is more impressive than those of some pretty big casinos out there. With a little over 300 titles, you can bet to your heart's content on games like dice, blackjack, keno, poker, baccarat, roulette, spin the wheel, and many more. This casino's live game section is guaranteed to provide a great deal of fun to players.
Deposits & Withdrawals
While online betting can be enjoyable, it is crucial to realize the utmost importance of financial security in order to avoid any unpleasant experiences during payouts. Even though most iGaming websites may appear legit, players should conduct a thorough examination of transaction policies, terms and conditions, and any fine print to assess the credibility of a specific online casino before investing time and money.
Being diligent and level-headed when evaluating the financial aspects of the casinos that catch your interest is essential. At casinoaustraliaonline.com, our objective is to provide Australian players with comprehensive information on deposits, withdrawals, transaction policies, payment methods, potential pitfalls, and other critical details that can significantly impact their experience at an online casino. In this context, we will explore the financial aspects of CrashOut Casino to give you a clear understanding of what to expect.
Deposits
CrashOut Casino is a crypto-only online establishment that allows you to bet and enjoy gambling backed by the extra security that cryptocurrencies provide. On the flip side, the high anonymity of said tokens is sometimes a recipe for financial troubles, but if you're well-versed on the topic, there's no need to fret.
You can deposit via Solana, Bitcoin, Ethereum, BNB, Matic, Dogecoin, Litecoin, and Tron. There are also other options for lesser-known cryptocurrencies such as BONK, USDC, PEPE, CAKE, and more.
Minimum deposit amounts at CrashOut depend on the payment method, but for example, the minimum deposit if you want to pay with Tron is AU$ 45. Quite a high amount that might be a little too intimidating for newer players who don't want to commit to big transactions from the get-go.
Withdrawals
Depositing funds in most casinos tends to be a smooth process, even in less reputable ones. However, withdrawals can become more challenging. It is essential to thoroughly review the terms and conditions before depositing to ensure the chosen establishment is reliable. Otherwise, there is a risk of having funds frozen due to reasons that may not be transparent to the player, as determined solely by the casino.
CrashOut's minimum withdrawal amount is AU$ 20, which isn't too much and wouldn't scare off newer players. The casino has a minimum rollover requirement of 1x – a fair requirement that used to be an industry standard, but is now more often 3x. There is a daily withdrawal limit of AU$ 800.
| | |
| --- | --- |
| Payments | |
| Minimum deposit | Depends on the deposit method |
| Minimum withdrawal | AU$ 20 |
| Deposit methods | Bitcoin, Tron, Solana, etc.; |
| Fiat currencies accepted | NO |
| Australian Dollars accepted  | NO (conversion upon transaction) |
| Cryptocurrencies accepted | YES |
Withdrawal time
CrashOut Casino does not state a withdrawal request processing time frame anywhere in its conditions at the moment of our review. This might prove to be a problem, as without knowing what to expect, you may end up participating in a waiting game unwillingly.
VIP Program
The casino doesn't have a VIP program per se, but most of its promotions are highly customized to fit each player's progress level and performance.
Tournaments
CrashOut has no ongoing tournaments on its premises at the moment of our review, but the casino has two lotteries you can participate in either by collecting free raffle tickets or by purchasing them.
Verification
To verify that you're you before playing out your winnings, the casino may request some additional documentation. Make sure to always have your valid, government-issued ID, proof of address, and proof of ownership of your payment method at hand. Such checks might take longer than expected, so muster up all of your patience just in case.
Is CrashOut Legit?
CrashOut doesn't seem like the most trustworthy betting site out there. From its lack of licensing and ownership information to its murky terms and conditions and crypto-exclusive payments, we would strongly suggest you pick another casino over this one. Nevertheless, if you're set on exploring CrashOut, make sure to always thoroughly check all applicable terms and conditions and use your best judgment.
| | |
| --- | --- |
| License | Undisclosed |
| License number | Undisclosed |
| Company address | Undisclosed |
Customer support
CrashOut has 24/7 customer support that you can contact via live chat or email. Unfortunately, while using the live chat we only managed to contact a bot that redirected us to the email address.
| | |
| --- | --- |
| Live Chat Support | Yes  |
| Phone Support | No |
| E-mail Support | Yes |
| Ticketing System | No |

Mobile Casino
CrashOut, just like any other online casino in our mobile era, has a fully optimized mobile browser version. You can play wherever you are thanks to it, just as long as you've made sure that you have sufficient mobile data to avoid any interruptions while wagering.
| | |
| --- | --- |
| Interface | |
| Mobile version | YES |
| iOS App | NO |
| Android APP | NO |