Casino Striker Review
We at casinoaustraliaonline.com fancy ourselves as sort of nerdy – we know, it's a shocker for people who review online casinos for a living, right? But it's true, we like not just casino games, but all sorts of gaming endeavors, and that includes Pokemon, an essential part of the childhoods of most of the team! So when we saw an online casino that boasts a lawyer-friendly, Photoshopped Pikachu as its mascot, how can we not review it? It's adorable!
Make no mistake, though: we're professional, and we won't let our nostalgia for Pokemon or unnatural love for bootleg mascots get in the way of our objective review! We're still going to thoroughly examine and evaluate Casino Striker, especially focusing on its games, features, payment options, bonuses and safety, and then will present our professional opinion 100% bias-free!
So, is Casino Striker good enough to make you the Pokemon – erm, we mean, Casino Master, or is it not worth it to try and catch'em all here?
Bonuses
No Deposit Bonus – 50 Free Spins
The art of the no-deposit bonus is, sadly, becoming a bit of a lost one – once upon a time it was very common for casinos to provide one as a sort of "free trial" before you have to commit to spending any real money, but alas, many casino sites realized that it's much more profitable to skip to the part where you give them money. Despite being fairly new, Casino Striker seems to still be interested in tradition, as you can get a bonus even without making a deposit.
That bonus is 50 free spins, which you'll receive as soon as your account has been confirmed (which will be done by text on your phone – not to be mistaken with the verification procedure that will happen later). Once you claim your spins, you'll have 24 hours to use them up on the qualifying games, so better get to it right away!
When your spins are no more and you're left with just some winnings, you'll have to wager them x40 times before you can withdraw them. Even if you succeed, however, the amount you'll ultimately be able to withdraw will be limited, but that's to be expected. Overall, as far as no deposit bonuses go, this one's not bad at all!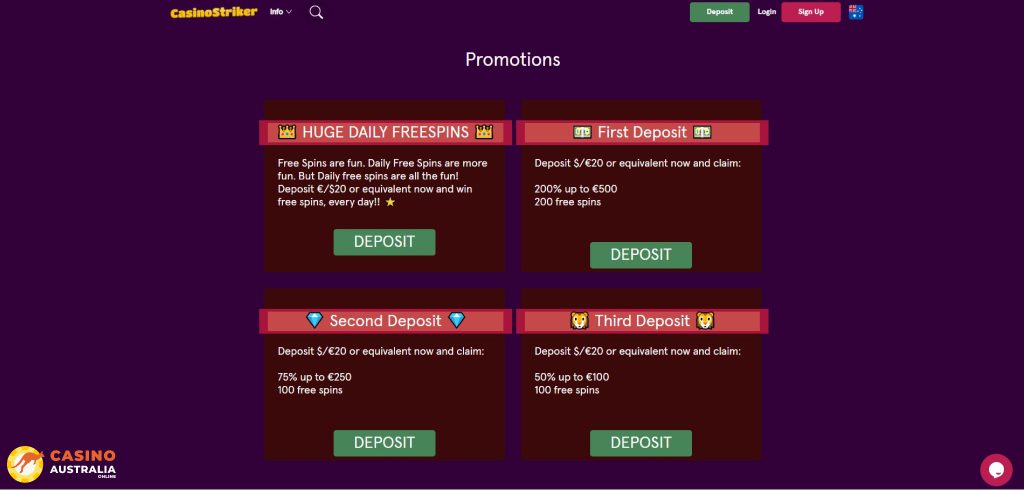 Welcome Bonus Package – Up to AU$850
While the no deposit bonus is nice, we all know that the meat and potatoes of any online casino's bonus section is its welcome package, and this one isn't bad at all – even if it's far from perfect. At Casino Striker, you'll receive three separate bonuses, one for each of your first three deposits. Here's what you'll claim from each one:
| | | | |
| --- | --- | --- | --- |
| Deposit | Match Percentage | Maximum Amount | Free Spins |
| First | 200% | AU$500 | 200 |
| Second | 75% | AU$250 | 100 |
| Third | 50% | AU$100 | 100 |
Admittedly, while the first deposit bonus is quite decent, the overall welcome package isn't anything special. The maximum amounts are too low for high rollers to enjoy, and the bonus percentages of the second and third bonus won't really satisfy average gamblers, either. Which leads us to ask: who is this bonus for?
If you answered "Me, me!" Then we should talk about the bonus requirements. Both your match bonus and the winnings of your free spins will need to be wagered x40 times, each. You'll have 24 hours to enjoy your spins, and after that, a week to complete the wagering requirement. Also, keep in mind that to claim these bonuses you'll need to deposit at least AU$20 each time.
Games
Even though our feelings on Casino Striker's bonuses are a bit mixed, there's absolutely nothing mixed about our opinion regarding their games – they suck. Yep, we're not usually this direct, because we believe that no matter how poor the selection, at least someone might find some enjoyment out of what's on offer. But we honestly can't think of what kind of player would find anything of value at this site.
For starters, the casino will only offer pokies, live casino games and table games (the latter two of which are grouped together, but we'll talk about that later). You won't find any sports betting, crash games or crypto games, so don't even think about it. Still, a lot of casinos are like this, that doesn't make them bad! But what would make them bad is what little content they have on offer being so scarce that the total amount of all games we could actually play totals to just double digits instead of quadruple like at most sites.
| | |
| --- | --- |
| Games | |
| Software providers | BGaming, Booming Games, Betsoft, Belatra, Wazdan, IGTech, Tom Horn & More |
| Pokies | 1200+ (allegedly) |
| Live casino | Yes (barely) |
| Sports betting | No |
| Table Games | Yes |
Pokies
The selection of pokies of Casino Striker is… Difficult to talk about. Parts of it don't appear to be functioning correctly, and we have identified some missing or incorrect information during our research (such as BGaming titles being offered at the casino even though they're not listed on the providers page).
As a result, we can't guarantee whether this section will look the same if you're reading our review months after we've published it – only how it looks right now. And right now, it's a mess and a half. The main "Slots" page will only display about 30 different pokies, and then give an error if you try to click on the "Show More" button too many times. The providers page gives a much more comprehensive list of games, but again, trying to select any of the individual companies only gave us an error.
As a result, what we've got on our hands is a site that claims to have well over a thousand different games, and yet only displays a tiny handful of them at once. We could lie to you and tell you that we saw that the site claims to have, and yet, that would not be good reviewing, would it? And while we can't discount the possibility that this is a technical glitch that will be fixed, we also need to acknowledge that it hasn't been over the few days we spent researching the site for this review.
Live casino
So, the pokies section was a mess and a half – but what about the live dealer titles? At least they're decent, right? Well, the operators page only lists one live casino company (LuckyStreak) and claims that it has 14 games available at Casino Striker. This would be considered quite poor, given the fact that most online casinos have dozens of different rooms. Funnily enough, the truth is actually even worse.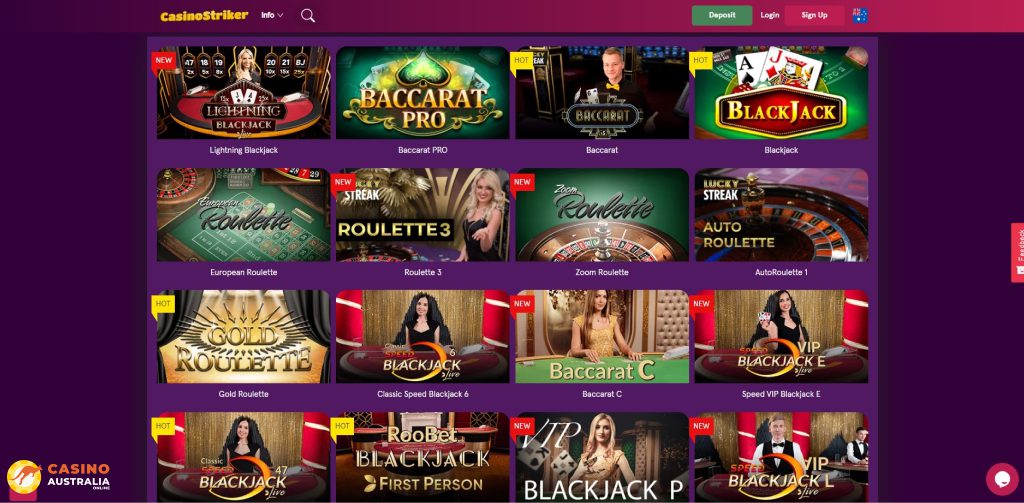 Opening up the live casino section, we were greeted to a grand total of… Eight games. What makes this even funnier is that, out of these eight, only some of them are actually live casino titles by LuckyStreak, and the rest are non-live table games. Would you like to guess how many were live? Maybe most of them, like six or seven, or just half, like four? Nope – it's just three!
This is absolutely ridiculous. You can't claim to have a live casino section and only offer two rooms for roulette and one for baccarat. Casino Striker doesn't even have a single blackjack room – probably the most popular live game besides roulette! It's downright pathetic!
Deposits & Withdrawals
Boy, oh boy, if you thought the games of Casino Striker are bad, just wait until you've seen its payment options. This has got to be some kind of comedy skit we've inadvertently landed ourselves into, because it's just ridiculous. The only good thing we can really say about them is that both the minimum deposit and minimum withdrawal are set fairly low (just AU$10 and AU$20 respectively).
However, this is where the compliments end, and our frustrations begin. For starters, the payment methods you can use to deposit at Casino Striker are extremely limited! Players in other countries can use many payment methods, such as Revolut, Google Pay or Apple Pay, but us Aussies need to content ourselves with just credit cards or crypto. Even the crypto options aren't that impressive, with several popular currencies completely missing (like Ripple and Dogecoin).
Another thing we absolutely need to bring up is the limited maximum wins. You'll be able to withdraw a maximum of AU$15,000 per month – however, if you actually reach that maximum, it won't be paid out to you, and the casino will transfer monthly installments of up to $4,000. What's the point of having an (already quite low) maximum monthly withdrawal if it won't be respected?!
Payments

Minimum deposit

AU$10

Minimum withdrawal

AU$20

Maximum withdrawal

Per day – AU$2,500

Per month – AU$15,000

Deposit methods

Visa, MasterCard

Crypto currencies accepted

BTC, ETH, BCH, LTC, USDT

Australian Dollars accepted

Yes

Welcome bonus package

AU$850
Withdrawal time
Given the limited payment options available at Casino Striker, you'll pretty much need to choose between two methods when withdrawing: crypto or bank card. If you're looking to get your paws on those sweet winnings as soon as possible, then you'll have no choice but to rely on crypto, since those transactions are much faster. Once dispatched, your money will make it to you within a few hours at the absolute most. You'll be waiting longer for it to be sent by the casino than for it to arrive in your wallet after the fact!
It's a different story when we're talking about bank card withdrawals. Unlike crypto, bank transactions go through many different verifications before reaching you. This can result in delays of about 3-5 days, potentially longer if something is actually caught during these verifications. Combine this with the few days it'll take the casino to dispatch the money, and you're looking at a pretty hefty wait time.
VIP Program
Many online casinos will offer some kind of VIP initiative in order to incentivize their players to stick around. Many casinos struggle with retaining player loyalty (you can't beat a juicy welcome bonus, after all), so they'll often give players reload promotions and extra perks for sticking around, just to show that they care.
However, if you've made it so far into our review, then you probably already figured out that Casino Striker does not care. They don't offer any bonuses and promotions for existing players, and yes, that includes a VIP program. We honestly can't comprehend their thought process, because all it'd lead to is a lot of players jumping ship not long after they've used up the welcome package. The course is certainly odd, but hey, it's their ship.
Tournaments
Since Casino Striker has a profound lack of features, it also shouldn't come as any surprise that it lacks any tournaments as well. Pokie tournaments have become a staple of the modern casino landscape, partially because they're so easy to implement, but mostly because players really like them and have gravitated towards them. We've even seen casinos completely dedicated to them!
However, despite being fairly recent, Casino Striker is stuck in the past in many ways. You won't find any tournaments here, not even any that are hosted by the pokie providers rather than the casino (like various "Drops & Wins" promotions). It's really quite unfortunate for fans of tournaments.
Verification
In order to get your no deposit bonus, all you need to do is confirm your account by getting a text on your phone – however, once you make it far enough into your casino adventure to withdraw, this won't be quite enough anymore. This means that, once you request a withdrawal, Casino Striker will temporarily lock your account until you can prove your identity with the help of a few documents.
So, what documents would those be? Well, for starters, you'll need some form of photo ID, ideally a passport, but an ID card or driver's license will work just fine. You'll also need something to prove your current address, like a bank statement, utility bill or delivery receipt, any document with your name and address on it.
If you deposited via bank card, you'll also need to confirm ownership of it by providing a picture (censored to remove a few of the details, to prevent misuse). If you deposited via crypto, you're in luck: crypto deposits are not verified, and you can skip this particular step.
Is Casino Striker Legit & safe?
So far, we've been extremely negative of Casino Striker – but make no mistake, it's because of the casino's lack of features and buggy design, not because we think it's particularly unsafe. As always, we can't offer any guarantees or promises about the site and whether or not you'll get scammed, all we're doing is making educated guesses based on the facts.
And, truth be told, the facts portray Striker in a positive light. The casino is fully licensed and regulated by Curacao, which is good to see (or rather, not seeing it is bad). On top of that, user feedback from it doesn't seem to indicate that the casino is a scam, and most of the complaints we've read focused on the bugs or limited withdrawal options rather than on any unpaid winnings that were rightfully owed.
| | |
| --- | --- |
| License | Curacao |
| License number | 365/JAZ |
| Company address | Zuikertuintjeweg Z/N, Zuikertuin Tower, Curacao |
Customer support
If you're experiencing any issues with an online casino, then usually your best bet would be to reach out to customer support and ask what they think about it. Sounds only reasonable, right? Well, as a matter of fact, we did actually encounter a lot of bugs and issues with the site that prevented us from viewing its games, so we contacted support to ask for advice.
Well, the advice we were given was hardly helpful. Over live chat, they couldn't identify the problem (even though we tried it from multiple different devices and the same bugs popped up on every one, so it was definitely an issue with the site as it displays in Australia and not with us). They advised us to write them an e-mail and escalate the problem, which we were happy to do… Except we didn't receive a reply.
So, if you have a problem at Casino Striker, suck it up. The support team probably won't help you out too much.
| | |
| --- | --- |
| Live Chat support | 24/7 |
| Phone support | NO |
| E-mail support | [email protected] |
| Ticketing system | No |

Mobile casino
Let's be real here – modern life is busy as all hell, isn't it? Most of us don't have time to sit behind a computer to spin some pokies, we want to do it on the go – and that's why a casino having a good mobile version is essential to its success. So, does Casino Striker fare well? Not particularly, but it's not awful, either.
The casino's website does display well on mobile, and it loads its pages quickly and efficiently. We were happy with the fact that the menu could be accessed more easily on mobile than it could on desktop, which made viewing the casino's various offerings a breeze. With that said, though, the site is just as buggy on mobile as it is on desktop. If anything, it's arguably buggier, as we often encountered errors or blank pages while browsing that we didn't find on desktop.
| | |
| --- | --- |
| Interface | |
| Mobile version | YES |
| iOS App | No |
| Android APP | No |