Casa Boonga Casino Review
Our world is so overly serious, don't you think? And that goes double for online casinos, with their gold and black color palettes, well-dressed dealers and overly convoluted language. That's all well and good, but sometimes, we just want some goo aliens to tell us how to win a jackpot, you know?
That's where Casa Boonga comes in – a casino that doesn't seem to take itself very seriously at all! But while its funky aesthetic is quite welcome, "a casino that doesn't take itself seriously" could also have some very unfortunate implications. To find out whether these concerns are warranted, we thoroughly tested the site's games, payment options and safety, then compiled our thoughts into this very review before your eyes!
So, are these alien creatures precisely what a weary casino player needs, or will you instead start wishing we'd never made first contact with them?
Bonuses
Welcome Package for Pokies – Up to AU$3,500 in Bonuses
Funky or serious, every online casino needs a really good welcome package in order to draw in players – and Casa Boonga has two! One is for people who primarily want to spin pokies, while the other is for those who would rather play table games. To start off, what does the pokie bonus package entail?
Well, Casa Boonga Casino claims that you'll be getting a 400% match bonus, but this isn't actually accurate. Instead, you'll be getting 3 separate bonuses, each with a certain percentage match that adds up to 400%. Confused? Maybe spreading it out in a table will help you make sense of it!
| | | | |
| --- | --- | --- | --- |
| Deposit | Percentage Match | Maximum Bonus | Bonus Code |
| First | 250% | AU$500 | BOONGO1ST |
| Second | 150% | AU$1,000 | BOONGO2ND |
| Third | 100% | AU$2,000 | BOONGO3RD |
See? Each of your first three deposits at Casa Boonga will net you a separate bonus. So, what's the catch? Well, there are two. The first is that you can only use this bonus amount on pokies, specifically those by GS, RubyPlay and BetSoft. The other catch is that, to claim them, you'll need to use a unique bonus code for each. So make sure not to forget that during deposit!
Welcome Package with Cashback
As mentioned earlier, if pokies aren't quite your forte, you'll be able to opt into a separate bonus entirely, one that will instead give you a cashback instead of a bonus match. Here's how it works: if you deposited with the appropriate bonus code, you'll be able to use your deposit as normal. However, if you run out of money within one week of the deposit, Casa Boonga will restore a certain amount of that deposit to keep you going!
After your first deposit you'll be able to claim a 10% cashback, after the second – 15%, and after the third – a whopping 20%. While this won't be everyone's cup of tea, it can certainly be very useful if you're not someone who likes bonuses very much, but would instead prefer a safety net under them.
The only thing to keep in mind is that each of your first three deposits will come with a bonus code you'll need to use to be eligible for the cashback – "CASH1ST", CASH2ND" and "CASH3RD" respectively. So, don't forget to add it during the deposit process!
Reload Promotions
Whichever of the two welcome packages you select, it's inevitable that you'll run out of bonuses once your third deposit has been made. So, what can you do next? Should you simply accept your bonus-less future? No way! Casa Boonga Casino will instead let you claim additional weekly bonuses that aren't as good as the welcome package, but can be redeemed as many times as you'd like.
While we won't go into each one here, we'd still like to mention a few examples, just to give you an idea of what to expect. Every Monday, depositing at least AU$20 with the bonus code "ZEN" will net you some free spins, 25 to start with. But the more you deposit, the more spins you'll get, up to 200 free spins for a deposit of AU$100.
The weekends aren't forgotten, either – every Saturday or Sunday, you'll be able to choose between a 100% match on your deposit (with the bonus code "WEEKEND100") or a 20% cashback ("WEEKEND20"). Obviously, you'll need to have completed all 3 deposits in the welcome package to be eligible for this one, but there aren't any limitations besides that, meaning that even if you chose the match bonus at first, you can claim the 20% cashback a week later!
Games
Before we start exploring the offerings of Casa Boonga Casino further, it's important to keep in mind that this site is very much focused on casino games. You might find this claim amusing – "Yeah, what else would it focus on?" But there are plenty of sites that mix in the pokies and cards with sports betting, bingo, scratch cards and skill-based games. This isn't one of them.
If this hasn't alienated you, then you'd probably be pretty happy with the selection of games available here. We were able to count quite a few different games in both the pokies and live dealer sections, both in terms of number and game types. The only negative that we can bring up is that, unfortunately, Casa Boonga Casino suffers from an issue that is plaguing many casinos in Australia: a lot of games are geo-locked.
Some providers, like NetEnt (for instance), have not made their games available to players from Australia. But you'll still see those games on Casa Boonga… You just won't be able to play them. This can get really annoying, especially when browsing through thousands of games to pick what you want to play, only to be met with "This game is not available in your region" at every step.
| | |
| --- | --- |
| Games | |
| Software providers | Betsoft, BGaming, Booming Games, Felix Gaming, Yggdrasil & More |
| Pokies | 1,500+ |
| Live casino | Yes |
| Sports betting | No |
| Table Games | Yes |
Pokies
As mentioned earlier, a lot of the pokie providers at Casa Boonga have not made their games available to us, which is a huge problem when you just want to try out some random games and see what you'll enjoy. But putting that aside, what is available? Well, the selection is decent, but nothing particularly mindblowing.
Many of the Australian heavy hitters, like Pragmatic Play, aren't available at Casa Boonga, which means you'll be stuck with (mostly) the B-rate providers like Yggdrasil or Felix Gaming. That's not to say that there aren't some fun and interesting titles among their ranks, but they certainly take some looking around to discover.
If you're someone who is interested in Casa Boonga primarily for pokies (as opposed to the overall package), then this might not be the best destination for you.
Live casino
We honestly can't complain about Casa Boonga Casino's live dealer section. You'll be able to enjoy the rooms of seven different providers, including Evolution Gaming, who are known for their high quality games and fun "live game shows".
It goes without saying that most of the rooms on display will be related to the most popular casino games out there – blackjack, roulette and baccarat. Though with that out of the way, you'll also find many smaller and more niche games represented with a couple of rooms all their own! If you're a fan of sic bo, dragon tiger, craps or keno (among others), you'll have a pretty great time here at Casa Boonga.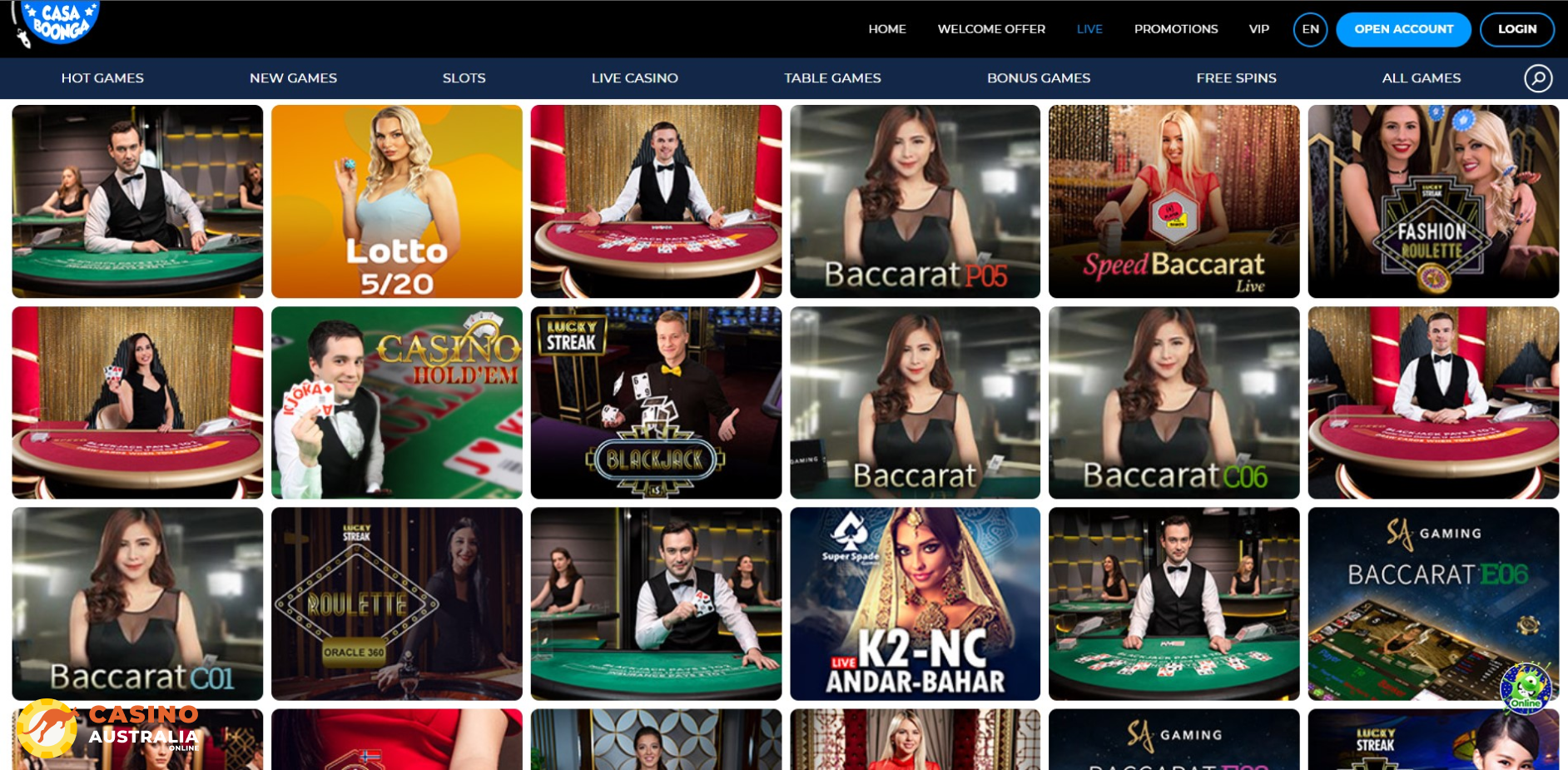 Deposits & Withdrawals
While we liked the bonuses of Casa Boonga and were receptive of its games, their payment options will, unfortunately, receive a big thumbs down from us. For starters, the casino will only let you deposit via your bank card. That's it! While players in other countries can also deposit via direct bank transfer, this option is not available to us. The casino doesn't even support any crypto deposits, which is very unfortunate.
On top of that, its withdrawals are crazy! You'll need to withdraw at least AU$100 at a time, which requires you to win quite a lot before you can enjoy your winnings… But not too much, since the maximum withdrawal is set to AU$5,000, a third of what it usually is at most other casinos. We don't know how things turned out this way, but it's safe to say that we aren't fans.
| | |
| --- | --- |
| Payments | |
| Minimum deposit | AU$20 |
| Minimum withdrawal | AU$100 |
| Maximum withdrawal | Per month – AU$5,000 |
| Deposit methods | Visa, MasterCard |
| Crypto currencies accepted | None |
| Australian Dollars accepted | Yes |
| Welcome bonus package | AU$3,500 |
Withdrawal time
There are only two ways to withdraw from Casa Boonga – via bank card (naturally, since you can only deposit with that) and via bank transfer. However, we would not recommend the bank transfer version, since this will incur additional fees and will be significantly slower than withdrawal via card – up to 10 business days. For comparison, withdrawal via debit card will not incur any fees and will only take about 3 days once the amount has been dispatched.
VIP Program
Much like most casinos that seek to not only win, but preserve their players' loyalty, Casa Boonga has its very own VIP program that will net you rewards and perks the more you play. While it's nothing special or unique, it's still presented with the site's signature charm, which makes it very endearing.
Every time you place a bet with real money, you'll earn some comp points to your name. The more you play, the more points you'll earn, and once you pass a certain threshold, you'll have completed a "mission" (essentially, you'll have leveled up). The more missions you pass, the better your rewards will get, including a weekly cashback, personal VIP manager and exclusive promotions.
However, one negative thing we certainly feel the need to bring up is that not all comp points are created equal. The site advertises that, at level 1, you'll get 1 point per AU$10 wagered, and that's true… If you play pokies. If you instead play virtually anything else, you'll be getting a point per AU$100 wagered, which is just ridiculous. Might as well forget the VIP program exists if you're not a fan of spinning reels!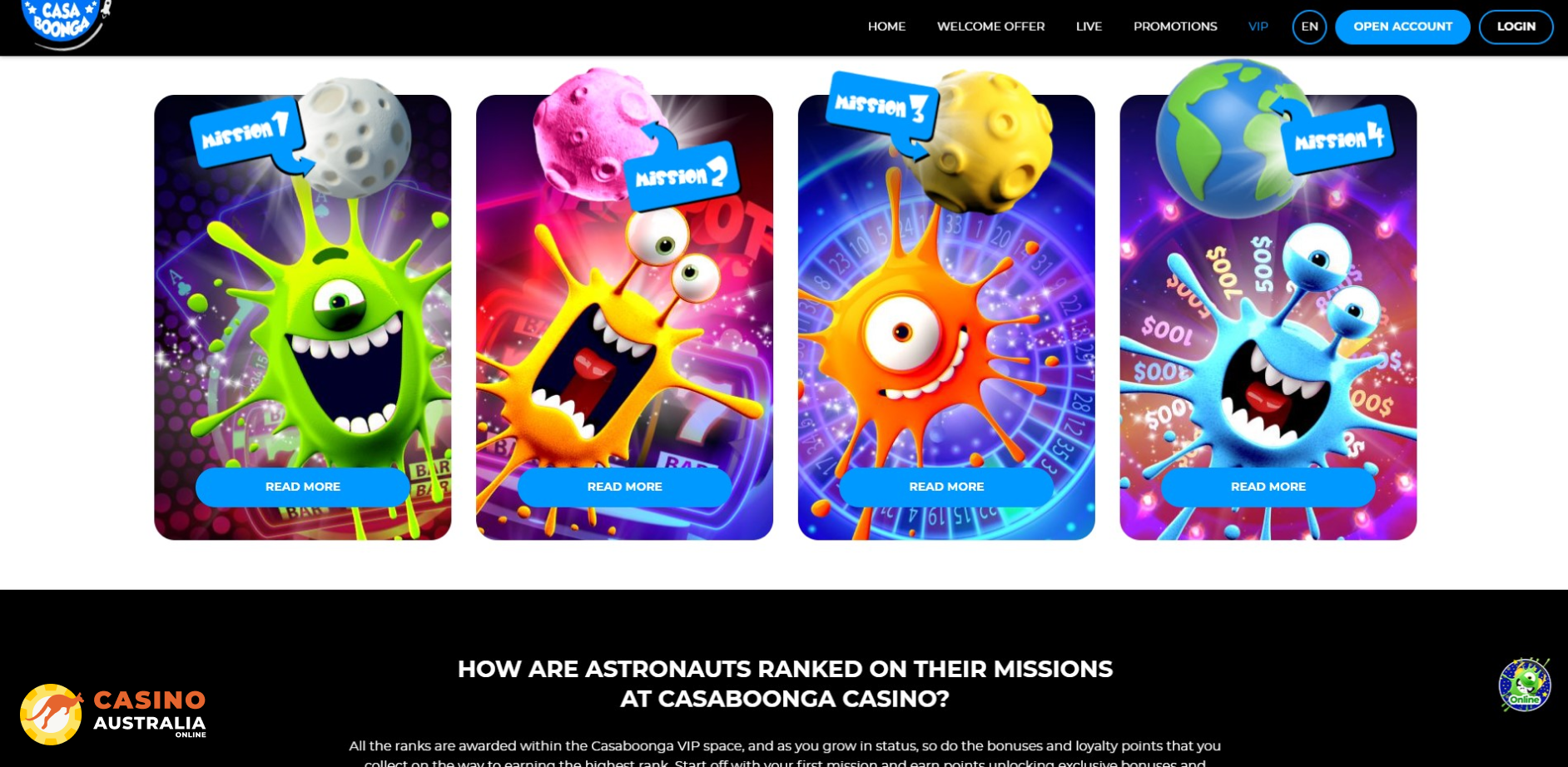 Tournaments
Unfortunately, we were not able to find any evidence of pokie tournaments being available at Casa Boonga Casino. This is odd because they tend to be a rather common feature at most modern casino sites, either as a permanent feature or as limited-time promotions. Neither is available at Casa Boonga.
If you're one of the many players that has fallen in love with climbing tournament leaderboards, then you might be best off looking for a different online casino.
Verification
If you wish to withdraw your winnings from Casa Boonga Casino, then you'll need to have your identity verified. This annoying and time-consuming process is, sadly, demanded by both the payment providers Casa Boonga works with and by international authorities, and nearly every single casino under the sun abides by them – and the ones that don't really should be!
So, what will you need to do to get verified? Well, you'll need to submit a number of documents, namely:
Proof of ID – This can be any official document with your name and photo, like your ID card, driver's license, passport, etc;
Proof of address – This can be anything that lists your name and current address, like a utility bill or delivery receipt (both no older than 6 months);
Proof of payment method – Photo of your bank card, with the middle digits and the security number on the back censored for safety reasons.
In addition, your phone will need to be confirmed via a phone call from the casino's staff. They also reserve the right to request additional documents, but it's rather rare for that to happen.
Is Casa Boonga Casino Legit & safe?
In order to be considered "legitimate", an online casino needs to be licensed by a certified gaming authority. This isn't written into law or anything (especially for us Aussies – our government thinks all casinos are evil whether they're safe or unsafe), but it's generally agreed upon to be the truth, as license holders serve as a badge of reliability that may be yanked away from a casino if it's caught in illicit activity.
Well, Casa Boonga does have a license… Kind of. Most casinos we reviewed are licensed by the Curacao Gaming Authority, which is a collection of several independent companies that each has the authority to license and regulate online casinos. They're considered the best offshore license, so it only makes sense that most sites will go to them.
Instead, Casa Boonga is licensed by the Mexican General Directorate of Games and Sweepstakes, which, in comparison, is considered a very weak license that primarily oversees activity in Mexico and doesn't much care for offshore gambling. And given the fact that we're not in Mexico, Casa Boonga might as well be unlicensed!
| | |
| --- | --- |
| License | Mexico |
| License number | DGAJS/SCEVF/P-08/2005 |
| Company address | Unknown |
Customer support
There are two different ways to reach out to Casa Boonga Casino's support team if you need a bit of help. The first, and probably easiest, is to contact them via live chat. You'll see a round icon in the bottom right corner of every page, and by selecting it, you'll be able to chat directly with a casino representative.
If your question or issue isn't that urgent, you'll be able to also send an e-mail via your client (like Gmail, or Outlook). This will obviously give you a slower response, but, in turn, you'll also have plenty of time to respond before your ticket is closed. Perfect for people with busy schedules!
| | |
| --- | --- |
| Live Chat support | 24/7 |
| Phone support | NO |
| E-mail support | [email protected] |
| Ticketing system | No |

Mobile casino
If you're a fan of spinning pokies on the go, then you'd be quite pleased to learn that Casa Boonga Casino has a fully functional mobile version that you can access simply by opening the site in your mobile browser. This version will have all of the games, features and bonuses that you have come to expect – they'd just be shrunk to fit in the palm of your hand.
The user interface of the mobile site is very similar compared to what it is on desktop, with only a few changes to make it fit into a vertical orientation (as opposed to the landscape look of a computer monitor or a laptop screen). Whether you're starting off with the mobile version and sticking with it or you're planning to use both the mobile and desktop casinos, we don't believe you'll have any issues!
| | |
| --- | --- |
| Interface | |
| Mobile version | YES |
| iOS App | No |
| Android APP | No |