Bucks Empire Casino Review
We've been reviewing games for quite a while now, and our many years of experience have taught us two things: One, pokies are more popular than ever, even in the face of newer and more interactive games; Two, a lot of casinos will deliberately exaggerate their features to stand out from their counterparts. As such, when we noticed a brand-new casino promising "Top Slot Games" to its players, these two things came together in a sign that we should investigate!
To do that, we signed up for this new site – Bucks Empire – and then spent a long time thoroughly evaluating its features. We looked into its bonus offers, special features, safety and legality, mobile version, and, what else, the games! Once we felt confident in knowing all there is to know, we went ahead and compiled the very review you're reading right now.
So, is Bucks Empire Casino truly like a million bucks, or did its promises just scatter like buckshot?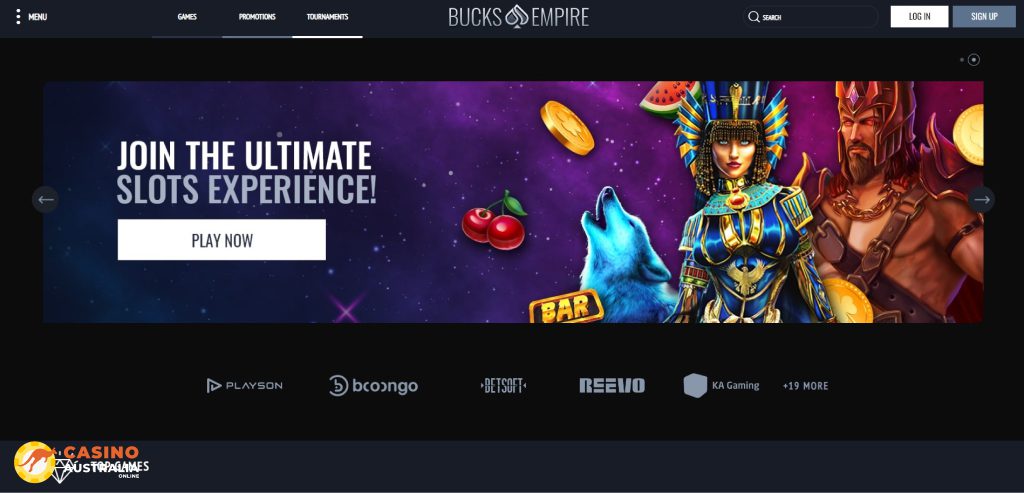 Bonuses
Welcome Bonus – x2 Unlimited 150% Match Bonuses
Welcome offers have been around for as long as online casinos have known that they're the best way to get new players through the door. While many of these important offers can get extreme heights, few can compare to those by Bucks Empire Casino, at least in terms of sheer bonus size. After all, it's literally impossible to beat infinity.
That's right: once you make your first deposit, you'll immediately receive a 150% match on it no matter how much you put down. You can deposit a million dollars and get an extra $1.5 mil into your bonus account, at least theoreitcally! What's more, this offer will apply to your first two deposits at Bucks Empire Casino, not just your first one!
So, have you finally discovered the secret to unlimited wealth? Alas, there are a few conditions that could prevent you from depositing huge amounts even if you wanted to. For starters, you can only withdraw a maximum of $5,000 – even if you were to deposit the million we described above and withdrawn it, only a small portion of that would've ended up in your winnings. On top of that, you'll need to wager the bonus amount you got x40 times to convert it into real money, which is above average and can be very difficult to achieve.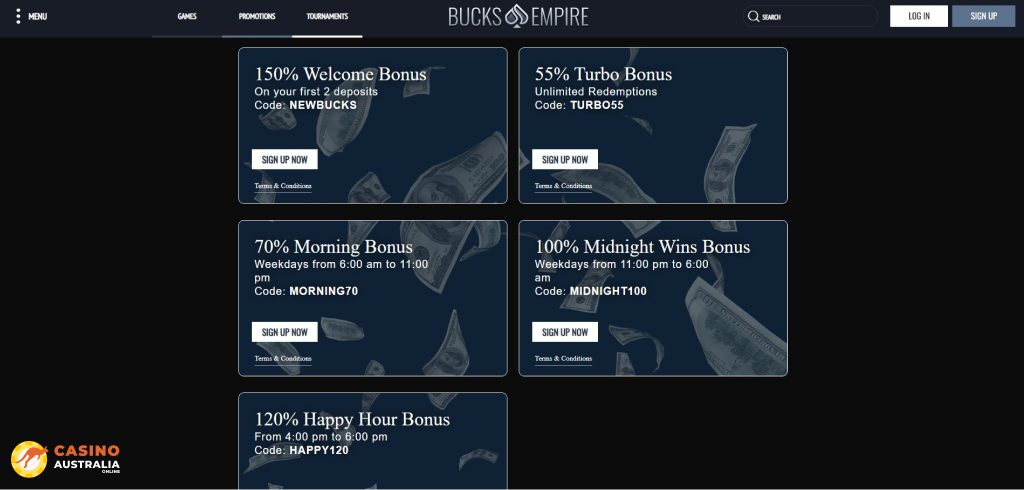 Reload Promotions at Bucks Empire Casino
So, you've claimed your two unlimited bonuses as part of your welcome package, and now you're finding out they don't feel so unlimited after all. What can you do? Well, first off, chin up! You'll still have access to a whole bunch of different reload promotions that you can claim as many times as you want! From a certain point of view, they were the true unlimited bonuses this whole time!
We won't go into detail about each and every one, but, it's worth pointing out that most can only be redeemed during certain times, or on certain days. For example, while you can claim the 55% daily match bonus at any point, the 120% match "happy hour" promo will only be active for two hours per day, meaning that you really need to watch the clock and be careful when you deposit… Even if it's no longer easy due to Aussie time zones.
Honestly, these promotions are quite good, and they will make pretty much every deposit at Bucks Empire Casino feel like it's a little bit bigger than what you put in! Just keep in mind that most of these offers have bonus codes tied to them, and if you don't input the correct one during deposit you won't claim the bonus!
Games
Before we dive deeper into the games section of Bucks Empire Casino, it's important to set expectations properly: This is one of those casinos that are very much centered around pokies rather than any other type of entertainment. If you don't like pokies, or even if you prefer to focus on other games, this might not be the site for you.
While there are alternate offerings (which we'll cover a bit below), it's mostly just pokies from top to bottom. You won't find any skill-based/crash games, or bingo, or sports betting, or anything of the sort. We're not trying to say that this is automatically bad, of course, because Bucks Empire Casino is clearly geared towards a certain demographic. We just want you to know that if you're not part of that demographic, you'll certainly feel let down by what's here.
| | |
| --- | --- |
| Games | |
| Software providers | Playson, Boongo, Betsoft, Reevo, Wazdan, Booming, KA Gaming, Redrake, Kalamba, BF-Games, Gaming Corps, Tom Horn, Redgenn, Fugaso, Dragon Gaming |
| Pokies | 3,000+ |
| Live casino | Yes |
| Sports betting | No |
| Table Games | Yes |
Pokies
Finally, the moment of truth! Does Bucks Empire Casino truly offer "top slot games", as advertised? Alas, we beg to differ with its self-assessment. While the games it offers aren't necessarily bad, they're also hardly what you'd call top quality.
Just look at the list of providers that have made their games available! Most of them are extremely small and unknown, such as Dragon Gaming or BF-Games, which we've hardly ever taken notice of before. Meanwhile, there are a lot of actual top-tier providers (like BGaming or Play'N GO) which aren't available.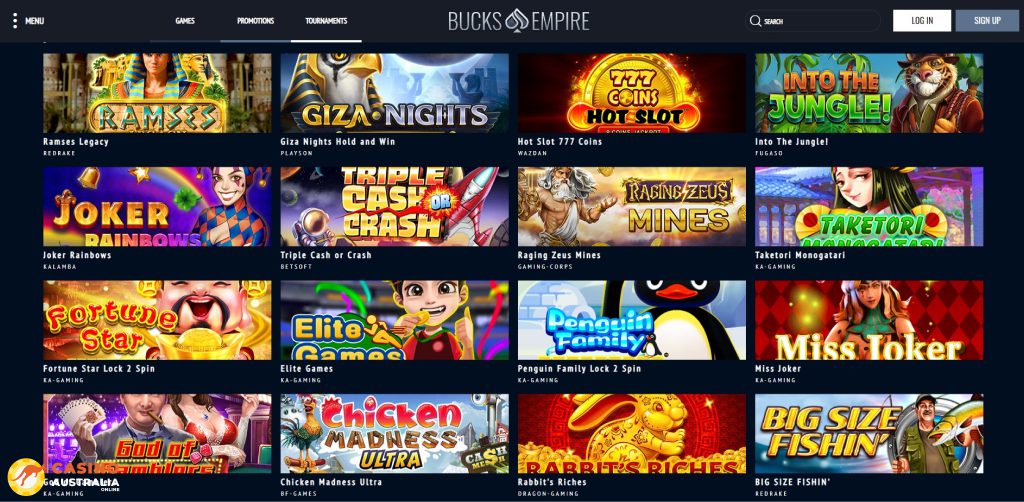 As far as we can tell, this is very much a case of quantity over quality, since whoever picked the pokies was more concerned with crafting a huge collection rather than being selective with what's added. However, when you openly advertise yourself as a site for "top slot games", you need to be a little pickier and actually include some, you know, top slot games!
Live casino
As previously mentioned, the focus of Bucks Empire Casino very much falls on the pokies, to the point where there isn't even a dedicated page for its live casino games! As such, you may be forgiven for assuming that there aren't any live games at all… But, surprisingly, there are! They're just mixed in with the pokies, so can be a bit of a pain to find.
What you'll need to do is look up the games that you want to play in the casino's search bar rather than rely on its interface to offer them for you. For example, if you type in "Baccarat", you'll instantly get a list of all live rooms for baccarat. This also works for more obscure games, like andar bahar or dragon tiger.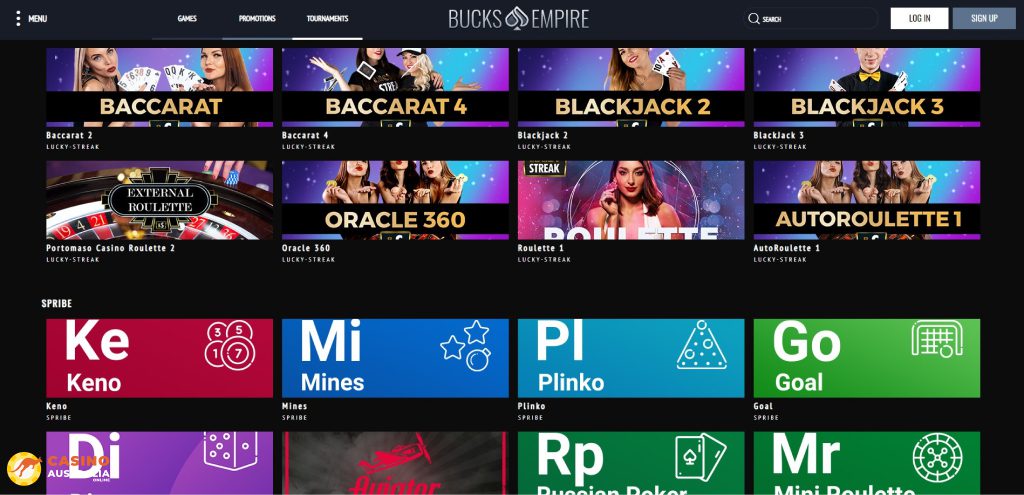 The selection is surprisingly good, and while it mostly stems from just a handful of providers (like LuckyStreak or Ezugi), we found out that most of the games we were itching to play were available. As such, our only criticism of this section is that it really should've received its own spotlight separately from the pokies.
Deposits & Withdrawals
The payment methods of Bucks Empire Casino are really the first area where we have a major bone to pick with them, and for many reasons! For starters, the minimum withdrawal amount is gigantic – you'll need to have at least $100 in your winnings before you can request a cash-out! Considering the fact that the minimum deposit amount is only $20, that means if you just deposit that much you'll have to win x5 times as much just to see any money back!
Not only that, but the payment options are extremely limited as well! Once you're ready to place a deposit, you'll only be able to do it via your credit card, direct bank transfer, or through a pre-paid card (namely Neosurf). There aren't any e-wallets available at all, and us Aussies can't even use cryptocurrency like Bitcoin! It's honestly quite odd to find an online casino so hesitant to provide its players with ways to give it money.
| | |
| --- | --- |
| Payments | |
| Minimum deposit | $20 |
| Minimum withdrawal | $100 |
| Maximum withdrawal | No maximum |
| Deposit methods | Visa, MasterCard, Bank Transfer, Neosurf |
| Crypto currencies accepted | None |
| Australian Dollars accepted | NO |
| Welcome bonus package | Unlimited 150% Match Bonus |

Withdrawal time
If you're the type of player who's always really anxious to get their casino winnings as much as possible, we've got some bad news – Bucks Empire Casino doesn't really have a lot methods available for withdrawal, and the ones that are present aren't particularly quick. You won't be able to withdraw via Neosurf (obviously – it's a prepaid solution), so that just leaves your credit card or bank transfer.
Out of those two options, withdrawals to a credit card are usually faster. At most online casinos, it doesn't really take more than 3-5 days at the very most for your winnings to make it to you (once they've been dispatched, of course). Direct bank transfer is much longer, and can take up to 10 days. That's why we would recommend that you withdraw via card if possible, as it's a quicker process for a very similar end result.
VIP Program
Bucks Empire Casino doesn't have a traditional VIP program – at least not one where, say, you'll be leveling up, or unlocking some special bonuses. However, not all is lost! The casino will still have a few special extras that loyal players can take advantage of in order to get a bit more out of their experience with the site.
We've already discussed the various reload promotions that the casino will let you claim, but one thing we haven't mentioned is the weekly cashback of up to $250 that can be paid on your losses. Here's how it works: the casino will be counting all of your deposits between Monday and Friday, and then subtracting any winnings from that amount.
Once your deposit is all played through, you can contact the support team and request a cashback that will consist of a percentage of that number (deposit – winnings). If you didn't win anything and lost your whole deposit you'll be able to get a portion of it back, up to $250. And while contacting support isn't always easy, this cashback feature itself is very good!
Tournaments
Bucks Empire Casino's focus is on pokies, and as such, it's only logical that it would have a page dedicated solely to pokie tournaments, right? Well, technically it does… But, practically speaking, it doesn't really work. Try as we might, we could not open that page, instead merely seeing an empty screen when we clicked the link no matter what device we used for testing.
So, that begs the question: does Bucks Empire Casino simply not offer any tournaments anymore? Were there simply no tournaments available right now? Did we, as Australians, not qualify for any? None of those things were communicated to us, so we decided to reach out to customer support… Which didn't really go well, as we'll explain a bit later in our review.
For now, it's only important to remember that while Bucks Empire Casino does have a page for tournaments, that page was empty when we researched it.
Verification
Bucks Empire Casino is working with some big financial institutions to process deposits or withdrawals (such as Visa, MasterCard or various banks). This means that it has to abide by their regulations and, in turn, make you abide by them. In short, you'll have to comply with money-laundering laws by providing a few details about yourself.
When you first sign up, you'll already be inputting information like your name, date of birth and current residence. Now it's time to back that information with facts! Luckily, if everything was correct, this shouldn't be difficult at all. All you'll need to do is send the casino photos of a few documents, such as your passport (or any other form of photo ID), bank statement (or another document with your name and address on it) and your credit card with the middle digits censored.
Once the casino's support team has all of these documents, the information on them will be compared to what you provided during sign-up. If no inconsistencies pop up, the verification procedure will be completed – but be aware that additional documents may be required.
Is Bucks Empire Casino Legit & safe?
We at casinoaustraliaonline.com always take casino safety extremely seriously. Unlike certain other sites, we've never hesitated to tell you when we feel like an online casino is just a scam. Unfortunately, that appears to be the case here at Bucks Empire. Of course, it's usually impossible to determine that for sure, but there are a few things that make us feel like that might be the case.
For starters: the casino is unlicensed and has an unknown owner. There is literally no reason why a company would create a product, only to then deny that they did… Unless, of course, they want to dodge accountability. Same goes for the license of the casino. Ordinarily, a gambling site would get licensed as a way to assure its players that it has some professional oversight over its activitities, even when it's not much. The lack of a license means that Bucks Empire Casino isn't even willing to do the base minimum.
Again – we can't say for certain that the site is a scam. But what we've discovered here certainly doesn't help matters, and we know we wouldn't risk putting money into it if we were just regular players.
Customer support
In many cases, an online casino's support team will be your last line of defense. Imagine if you're struggling with some kind of huge problem, like your bonuses not being added to your account, or worse, your deposits not reflecting despite being charged! Only the support representatives can help you at that point… Which is why it's so disappointing that this all too important feature simply isn't on the level.
For starters, we were not able to find an e-mail to reach out to anywhere (not for customer support purposes, anyway). While the site's "Contact Us" page urges players to send an e-mail, the address is not specified there. Your only other option is to reach out to live chat, which you can only do as a registered player (already a red mark – what if you can't log into your account?)
Well, we tried just that, and simply could not connect to any support agents. Perhaps they were on holiday? Whatever the case may be, we found the support feature to be completely unsatisfactory, which only further soured our overall impression of the casino.
| | |
| --- | --- |
| Live Chat support | 24/7 (registered users only) |
| Phone support | NO |
| E-mail support | Unspecified |
| Ticketing system | NO |
Mobile casino
In all honesty, we weren't awfully impressed by the Bucks Empire mobile site, either. We've already made it pretty clear in our review that the desktop version suffers from a number of different problems, like a non-functional tournaments section or unresponsive support team. Sadly, these problems translate to the mobile version as well.
You won't need to download an app in order to participate in Bucks Empire casino from the comfort of your phone, as simply opening the site through your mobile browser will work. With that said, maybe a dedicated, downloadable app would have been better if it meant something more stable and functional. It would be an exaggeration to call the mobile site "broken", but it would also be a lie to say it's good, too.
| | |
| --- | --- |
| Interface | |
| Mobile version | YES |
| iOS App | No |
| Android APP | No |