Avantgarde Casino Review
A casino's name is a promise. Sometimes it can be a simple promise – for example, the name may refer to the theme, or what games you might find within. Other times, however, it may give a certain sense of prestige, or notoriety. The word avantg-arde certainly does, as it's typically used to refer to things that are experimental, groundbreaking and innovative.
With that in mind, it's obvious why a site calling itself Avantgarde Casino would catch our eye – we can't even imagine what grand innovations can be found within if they're advertised so openly! As such, we decided to thoroughly evaluate the casino, exploring its selection of games, bonuses, features, payment methods and more!
So, is it worth dipping your toes into the avant-garde, or are you best off sticking with traditions?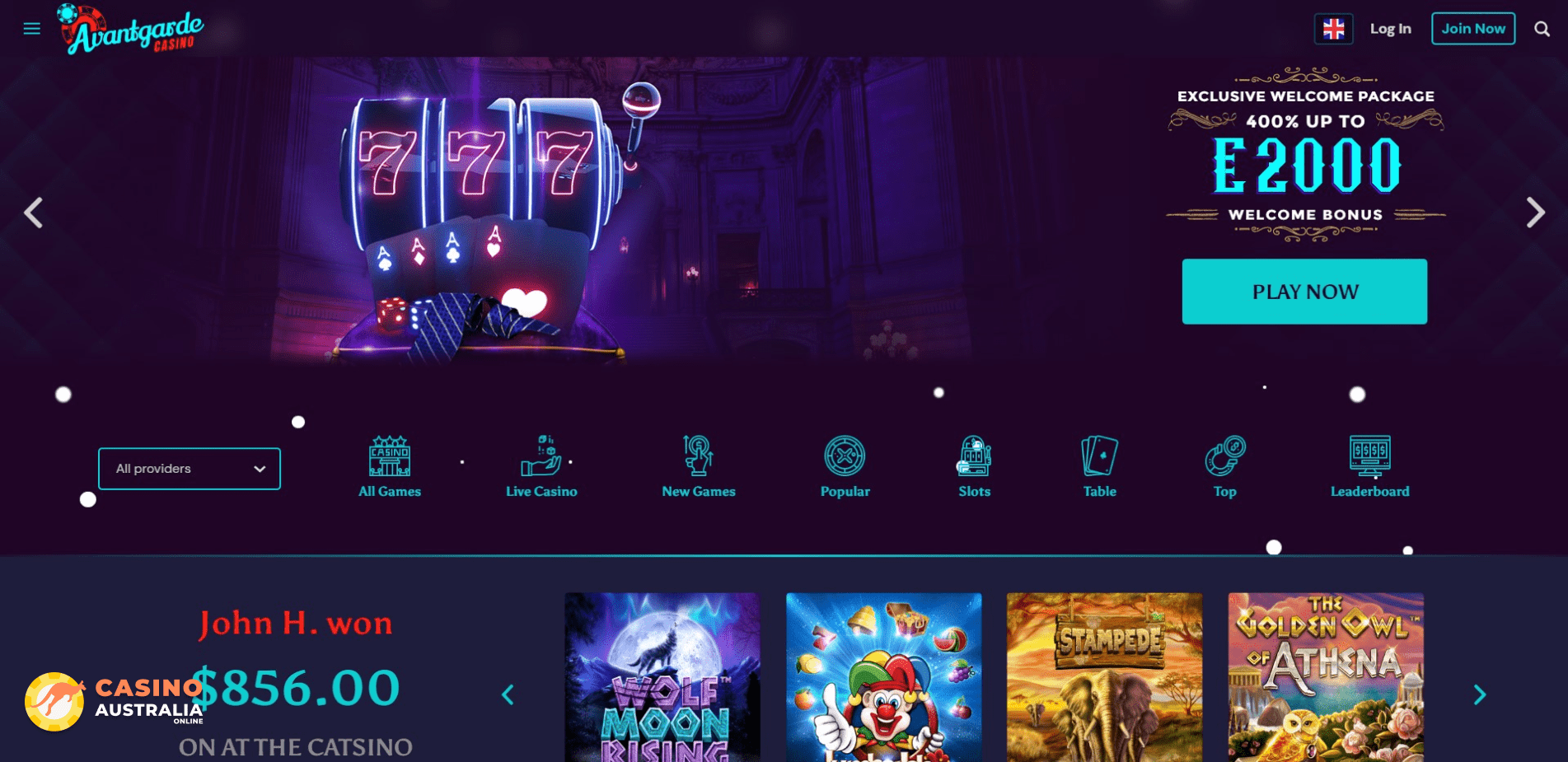 Bonuses
Welcome Bonus – 400% Match up to AU$6,000
We must admit – many of Avantgarde Casino's bonuses and promotions are extremely generous, at least on paper. Chief among them is the welcome bonus, which will quadruple your first deposit to give you a bit of a boost when it comes to testing out the games available at the casino. The bonus is capped at AU$6,000, meaning that you'll need to deposit at least AU$1,500 to claim it in full.
After it has been added to your account, you'll need to wager both the bonus and the deposit x35 times before you'll be able to withdraw either of them. This means that, if you did deposit AU$1,500 and claimed a total of AU$7,500 between deposit and bonus, you'll need to wager that sum x35 times before you can withdraw anything. Which, as you can imagine, is quite the ordeal.
Welcome Bonus – 100% Cashback Insurance
If you're not a fan of match bonuses, Avantgarde Casino offers you an alternate bonus, in the form of a safety net. If you placed a first deposit without claiming the aforementioned 400% match bonus alongside it, you'll be able to get a cashback should you happen to lose your money.
The process is a bit unintuitive, as you'll need to contact the casino's support team within 1 week of losing your first deposit and ask for a cashback. It will then be restored in the form of a "special bonus" which carries a 1x wagering requirement. After you wager it once, it'll be converted into regular cash that will sit in your account as if you never lost it at all!
Despite the convoluted process, this is certainly the option that would be far more useful to players, as it significantly reduces the risk of massive losses. Far better than a 400% match bonus you probably won't even be able to withdraw!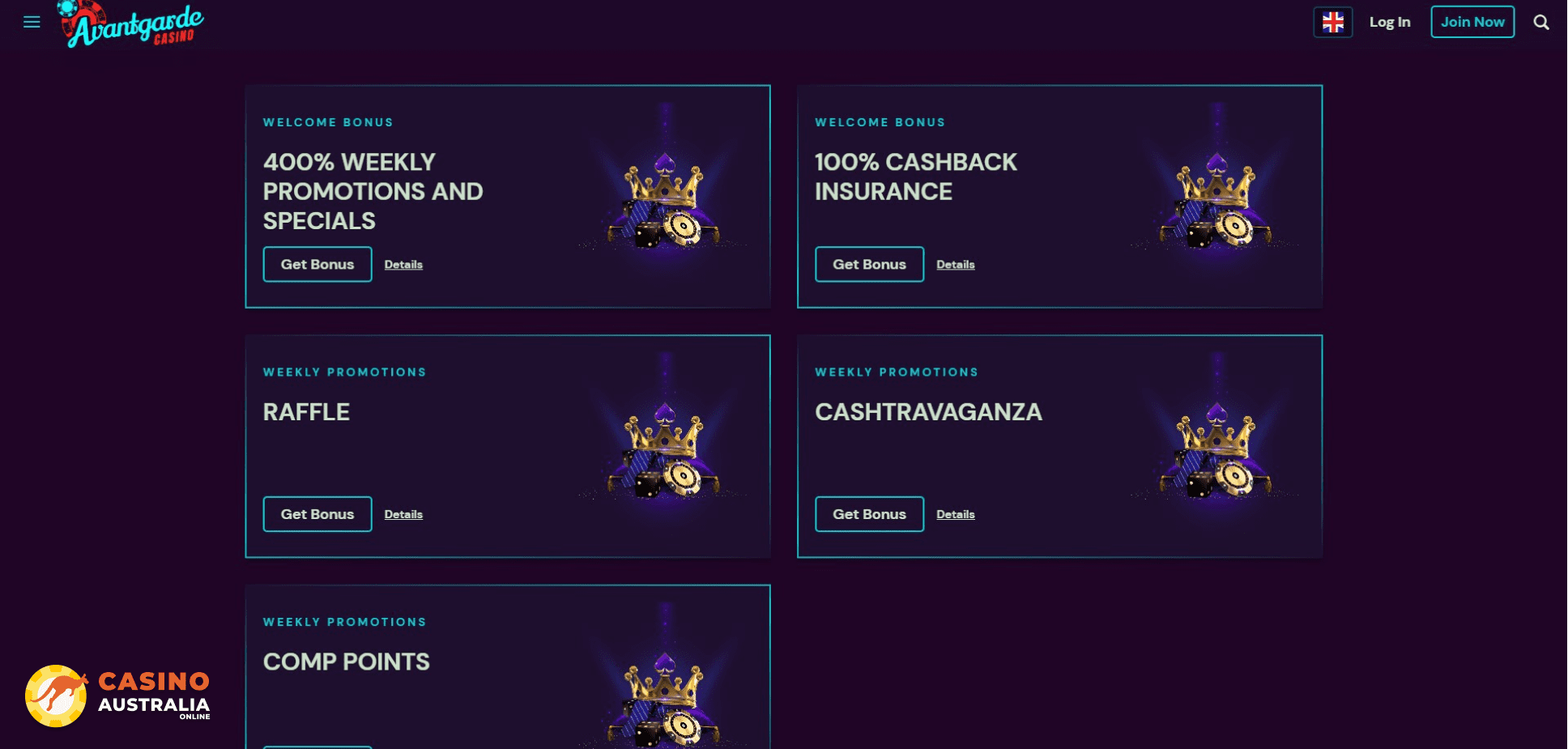 Games
People may come for the bonuses, but let's face it – they stay for the games! And if a casino just doesn't cut it when it comes to their games selection, well, you're going to become bored with it very quickly. Case in point: Avantgarde Casino, whose games selection we can only describe as utterly laughable.
First off, it offers only a very small selection of games, so few that we could count them ourselves: around 240 available to Aussies. This is ridiculously low, especially when you realize that most other casinos have literally thousands of games. This number includes table games, which are not only very new in number (less than 10), but also improperly indexed. During our research, we were finding table games like Keno in the Pokies section rather than in their own one!
| | |
| --- | --- |
| Games | |
| Software providers | Betsoft, Rival Games, Saucify, Tom Horn, Arrow's Edge, Fresh Deck Studios, Vivo Gaming |
| Pokies | 240+ |
| Live casino | No |
| Sports betting | No |
| Table Games | Yes |
Pokies
When it comes to the question of quantity over quality, while it's best to have a nice mix of both, obviously most players would prefer quality. As such, you might be tempted to presume that maybe Avantgarde Casino's mere 240ish pokies are a sign of unbelievable quality, that perhaps every game was thoroughly tested and only the best of the best were selected.
We urge you to dispel any such notions. We barely recognized any of the games on display while researching them, and with obscure providers like Fresh Deck Studios and Arrow's Edge, you can't exactly blame us. Under its 'Popular' tab, the casino rather proudly displays pokies like "10 Time Vegas", "Viking Victory" and ""Dr Acula", and if you've never heard of these before, then don't worry, neither have we.
That's not to say that the games are particularly bad… But we didn't find them very compelling either. And while taste in pokies is subjective, popularity is not, and it's definitely worth noting that Avantgarde Casino fails to provide any pokies that the average player would care to try.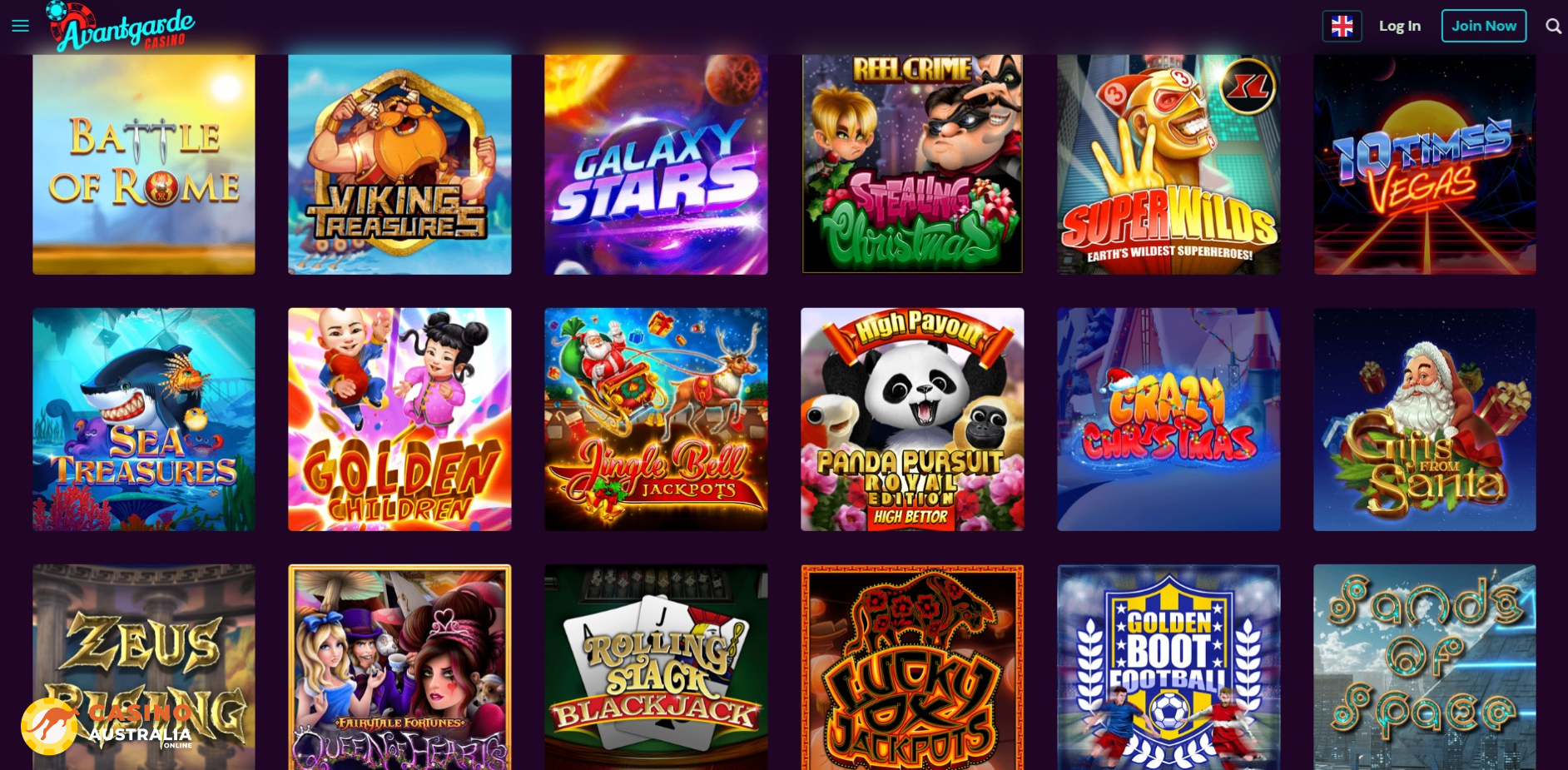 Live casino
If you're curious to learn more about Avantgarde Casino's live casino section, well… We're sorry to say that there isn't actually one. "But how can this be", you may be asking, "it's listed right there on their front page!" Well, upon selecting it, you won't actually encounter any live games. No keno, no baccarat, no sic bo, not even the most popular games of all, blackjack and roulette.
Instead, the only icon is called "Fresh Deck Studios", which doesn't really seem to do anything. We presume that it's supposed to be some kind of hub where you can find the actual games, but it just doesn't work, at least not for Australian players. While it's disappointing, we would understand if a casino doesn't have a live section – but Avantgarde Casino seem to straight up lie about having one, which is far worse.
We'll be sure to update our review if the situation changes, but at the same time, we're not exactly holding our breath that it will.
Deposits & Withdrawals
We can't mince words here – our impressions of Avantgarde Casino's payments system are hardly positive. At first glance, it may be difficult to gauge just why that is – after all, everything appears to be quite good. Sure, the minimum withdrawal is a little high, but there's plenty of payment methods available, and the casino proudly advertises no maximum withdrawal. So, what's the problem?
Well, the first issue is that most of these payment methods can only be used for deposit, not for withdrawal. While the casino will not tell you this outright, digging deeper into their terms of condition reveals that they're quite eager to take your money, but not so much when it's time to transfer what they owe. And if you prefer crypto to flat currency, you won't even be able to deposit with anything rather than Bitcoin, which is just odd in this day and age.
And while the deposit experience is fairly mediocre, prepare to enter the nine circles of hell should you ever be foolish enough to attempt a withdrawal.
| | |
| --- | --- |
| Payments | |
| Minimum deposit | AU$25 |
| Minimum withdrawal | AU$100 |
| Maximum withdrawal | 10x your deposit amount |
| Deposit methods | Visa, MasterCard, NeoSurf, Neteller, Skrill, EcoPayz, Jeton, Volt, Cashlib, Payecards, Bank Transfer |
| Crypto currencies accepted | BTC |
| Australian Dollars accepted | Yes |
| Welcome bonus package | AU$6,000 |

Withdrawal time
When you manage to hit it big at the blackjack table, or even just when you make a little bit of cash that'll really come in handy, you'd naturally want to claim and use those funds as soon as possible. Unfortunately, doing so at Avantgarde Casino will be anything but a quick and easy process – and it can take as long as a month to claim your winnings.
How can this be? Well, the casino will take between 15 and 18 days to even process your request, which is completely unprecedented. Most online casinos will not take more than a few days at most to fulfill your withdrawal request, 2-3 weeks is just way too long. On top of that, many withdrawal methods, such as bank cards or bank transfer, will take an additional 10-15 days to be processed before they arrive in your account.
And if you thought that's bad, get a load of this: all transfers, regardless of payment method, carry a fee of up to AU$40 – the bigger your win, the bigger the fee. Oh, but don't worry, your withdrawal won't be particularly big either, since you're only limited to withdraw up to 10 times your deposit. This means that if you deposit the minimum of AU$25, you'll only be allowed to withdraw AU$250 – if you won AU$500, the remaining AU$250 just goes poof.
VIP Program
In order to retain player loyalty, many online casinos will resort to some sort of VIP program which allows currently existing players to exact some sort of benefit from remaining at the casino. Many of them will make you go through extravagant programs featuring level-ups and bonus unlocks, many of which are more trouble than they're worth.
Avantgarde Casino, in stark contrast, have decided to keep things as simple as possible: for every dollar you wager, you'll get one comp point, or CP. When you get enough, you'll be able to exchange them for a cash prize of AU$100, which is directly added to your account without the need for any wagering requirements. Just play through it once (as you would any other deposit) and you can withdraw it!
Sounds great, right? Well, it does… Until you look at the CP to dollars exchange rate. To receive AU$100 in cash, you'll need to pay a gargantuan 100,000 CP. This means that you'll need to have made bets totaling AU$100,000 to get a meager AU$100 back. Doesn't sound like such a great deal when we put it that way, huh?
Tournaments
Who doesn't love a good pokie tournament? For those of you who don't know what that means, tournaments basically involve playing certain casino games with a similar theme (for example, pokies from the same provider, or based on a seasonal holiday like Christmas or Halloween), which earns you points. The more points you earn, the higher you climb up on the leaderboard, competing directly against other players' scores for a variety of prizes.
If that sounds like great fun to you… Well, we're sorry to disappoint, but Avantgarde Casino doesn't currently offer any tournaments. This will probably come as a big disappointment to many, as we know quite a few players prefer tournaments to playing pokies the 'traditional' way. Still, we'll be keeping a close eye on the casino and will update our review if anything changes.
Verification
Pretty much every online casino today requires its players to confirm their identities before they're able to withdraw any of their winnings – and Avantgarde Casino is no exception. This isn't done because casinos randomly decided to be mildly annoying to their players, but in compliance with international money laundering regulations dating back to 2009. There's just no way around it!
So, what does the process entail? The first time you attempt a withdrawal, you'll be automatically rejected. Don't get frightened, though – this happens to everyone, as you've just triggered the casino's verification. What this means is that you'll have to provide the casino with certain documents that prove you are who you say you are, and that the casino can store in case it needs to prove that you haven't used it for fraudulent means.
Luckily, most of these documents are fairly easy to obtain, such as:
A national ID card, or other form of photo ID (like a passport or a driver's license)
A recent utility bill with your name and address on it (or a delivery receipt with the same information)
A photo of your bank card with your name clearly visible (or a screenshot from your e-wallet interface)
After you've provided all the required documents, the casino will examine them and determine if additional documentation will be required. If you pass (which nearly all players do), you'll be able to request a withdrawal once again.
Is Avantgarde Casino Legit & safe?
For Australians, it is vitally important to make sure that the casino you're playing at is properly licensed and regulated by a recognized authority. Well, that's not quite true, you need to be sure of this regardless of nationality – but it's especially important for Aussies, as playing at unlicensed casinos is against the law. That's why we always take great care to confirm the validity of any casino we review.
Unfortunately, our investigation has determined that Avantgarde Casino is currently operating without a valid license. This should be a major red flag for any players, because it means that not only you'd be breaking the law by playing there, but also the casino faces no consequences for scamming you. Licensed casinos are regulated by an authority like Curacao or Malta that can pull their license the moment something is off – but unlicensed ones face no repercussions for anything.
As such, we would like to encourage all players from carefully considering whether they wish to sign up for Avantgarde Casino.
Customer support
Let's not kid ourselves – technology is so unreliable! One moment your phone works well, the next it has randomly deleted half your apps, or frozen on the start-up screen! Now imagine how much trouble you'd be in if something similar happened to your casino funds, or online casino account. That's what makes a great customer support team essential.
We wish we could say that Avantgarde Casino can definitely help you with issues like that, and you shouldn't worry at all… But, frankly, we're not convinced. While the live chat feature is usually the best way to reach out to the support representatives, it doesn't appear to be working, at least for us. We tried at several different times during the day thinking that it might be a working hours issue (despite the site claiming it works 24/7), but could never connect.
Instead, we tried to send an e-mail, which we have yet to receive a reply to. Maybe we will, but even if we do, it would only prove how slow the suppor team is. This isn't ideal at all when you're dealing with time-sensitive issues, like temporary promotions or withdrawal request rejections. The whole thing just paints a very unflattering picture of Avantgarde Casino's customer support feature.
| | |
| --- | --- |
| Live Chat support | 24/7 |
| Phone support | (+1) 718 732 0154 |
| E-mail support | [email protected] |
| Ticketing system | No |

Mobile casino
Even a broken clock is right twice a day, and we have to admit – Avantgarde Casino's mobile version is really good. It's not without its flaws, admittedly (like for example, you're unable to play any games in demo mode, or even browse them from your phone), but overall, our impressions were really good.
To start off, the mobile casino is fast – really, really fast. Instant, almost! You really won't be wasting much time navigating from game to game, especially since the menu has been completely redesigned to make everything very easy to find and intuitive to use on the smaller screen of the phone. When we tested the games, they also worked very well and loaded quite quickly, making the casino perfect for quick plays at the bus stop (for example).
You don't need to download an app to access it, just visit is as you normally would any other site from your phone's browser (such as Firefox, Chrome or Safari). This helps avoid clutter on your phone and helps you save space.
| | |
| --- | --- |
| Interface | |
| Mobile version | YES |
| iOS App | No |
| Android APP | No |