22AUD Casino Review
We have reviewed literally hundreds of Australian casinos over the years – thousands by now, probably! And yet, most of them have been offshore casinos that just so happen to accept Aussies rather than something that has been built from the ground up for us. That's not to say that there haven't been any exclusively AU casinos, but the ones we have reviewed haven't exactly been particularly impressive.
We held some hope that 22AUD Casino would be different, but quite frankly, just opening the site and being bombarded with pop-ups and flashing text as if we're back in the 00s left an extremely poor impression on us. Still, first impressions aren't everything, and we're going to give 22AUD Casino an honest shot to impress us with its games, bonuses and reputation.
So, will this be one of the few truly good Australian casinos, or were we right in judging the book by its cover?
Bonuses
Frankly, giving you any honest and accurate information about the bonuses of 22AUD Casino is extremely difficult. That is because the site doesn't actually have a dedicated page that's just for its bonuses and promotions, and instead flashes its offers to you in pop-ups and banners. You'd be forgiven for assuming you're bombarded with ads rather than actual casino bonuses!
As such, we're unable to view a comprehensive list of the offers available at 22AUD Casino, or familiarize ourselves with their details, such as wagering requirements or minimum deposit required. It almost feels like trying to solve a cryptic puzzle with most of its pieces missing.
For example, the casino advertises a "No deposit bonus" worth AU$5 (with no additional details provided), but at the same time, also offer AU$5 to anyone who invites 15 people to join their Telegram group, so… Is this the same bonus, or are they different? We tried to reach out to support, but due to reasons we'll get into later, that wasn't much help. Overall, an absolutely terrible introduction to the casino.
Games
At first glance, it appears that 22AUD Casino has quite a lot under its games selection – the buttons on its menu suggest the presence of table games, live casino titles, even a sports betting section! Hey, that's actually not too bad, right?
Don't buy into it. It's all lies. By pressing on these buttons, you would only be taken to ads for other casino domains which require separate sign-ups and deposits. Well, that's very fraudulent, isn't it? Thankfully, at least the games that are actually available at 22AUD proper are perfectly legitimate… Aren't they?
| | |
| --- | --- |
| Games | |
| Software providers | – |
| Pokies | 100+ |
| Live casino | No |
| Sports betting | No |
| Table Games | No |
Pokies
Entering the 22AUD Casino pokies section almost feels like stepping into a dollar store full of Chinese knock-offs. Yep, just like there are fake brands like "Adibas" and "Nicke", there are also fake casino providers that seek to imitate the works of actual, genuine game developers.
Take our word for it – this pokies section is a cornucopia of bizarro versions of some very popular games. NetEnt's "Starburst" has been re-imagined as "Dazzling Star", Microgaming's "Game of Thrones" pokie has several different fake versions of it, Belatra's "Buffalo" line has been imitated as "Buffalo Blaze", and so on and so forth. As far as we can tell, none of these pokies are genuine.
Maybe you don't care that they're knock-offs and would want to try them out anyway. Perhaps you might even be amused by just how hilariously bad they'd turn out to be. However, we would strongly advise you not to play them, as fake pokies have unknown RTPs, and as such very likely have extremely low win rates. They're untested, unfair, and, quite frankly, a waste of money.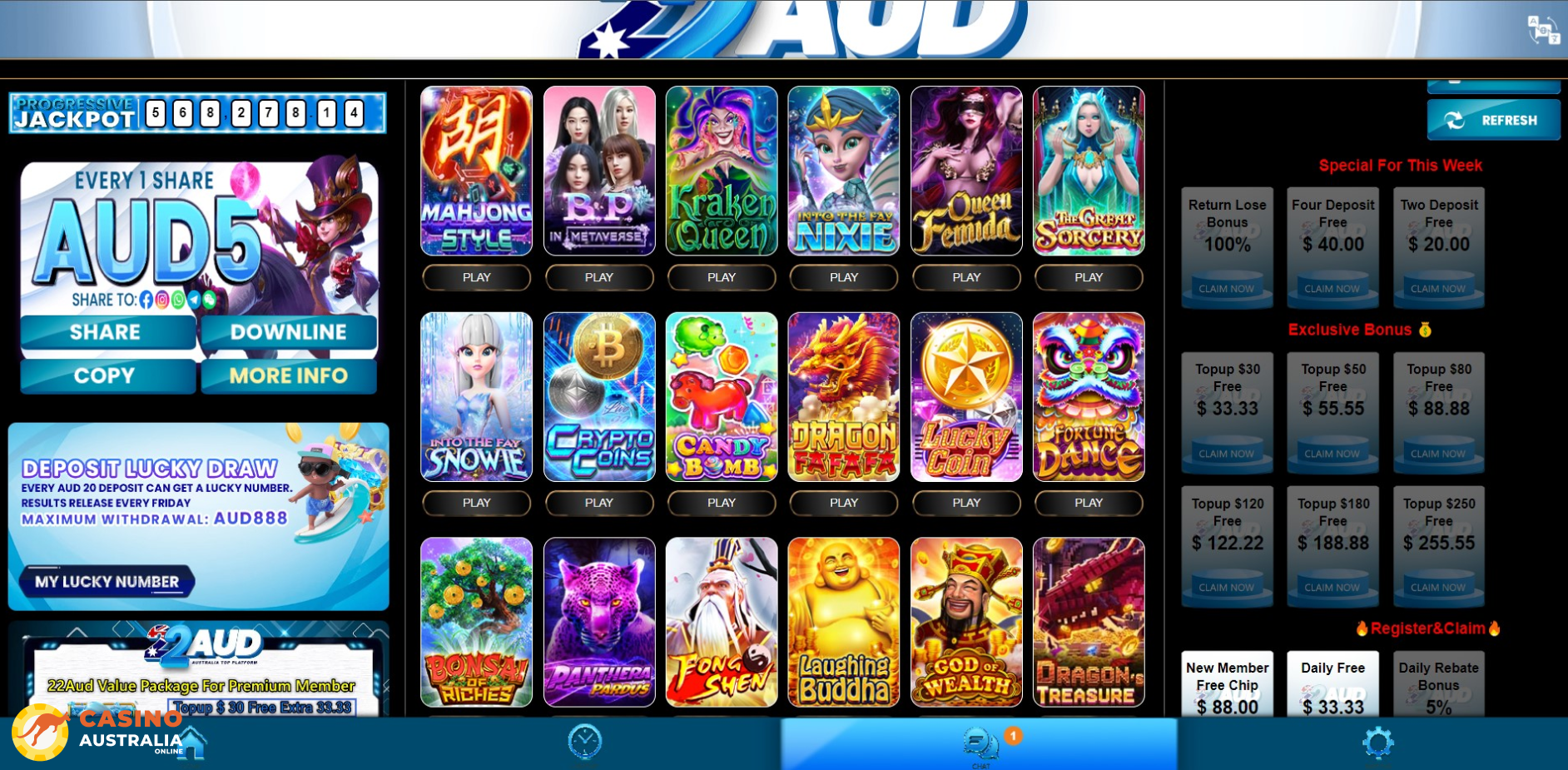 Live casino
As mentioned before, 22AUD Casino doesn't actually have a proper live casino section. Its "LIve Game" button will simply take you to other casinos where you can sign up, but if you have an account at 22AUD in particular, you really won't be able to play anything even resembling a live dealer game.
We could say that we're disappointed, but honestly, looking at the humorous state of the casino's pokies, there is a solid argument to be made that this is for the better. We don't even want to think about what fraudulent live games would look like.
Deposits & Withdrawals
If you're interested in playing not just at 22AUD Casino, but in any other, you'd first need to make a deposit. That's why it's important for every site to offer a wide and diverse range of payment options for both deposits and withdrawals. So, how many ways does 22AUD let you deposit in? Erm… Two.
That's right, you can use your bank card or crypto. That's it. No e-wallets, no pre-paid cards, nothing of the sort. And frankly, this would have been acceptable if the site offered a whole bunch of crypto options, but no! All you get is Bitcoin, Ethereum and Tether, the most basic coins. What if you want to deposit using Ripple or Dogecoin? Too bad.
| | |
| --- | --- |
| Payments | |
| Minimum deposit | AU$10 |
| Minimum withdrawal | AU$50 |
| Maximum withdrawal | No limits |
| Deposit methods | Visa, MasterCard |
| Crypto currencies accepted | BTC, ETH, USDT |
| Australian Dollars accepted | Yes |
| Welcome bonus package | None |
Withdrawal time
How quickly you'll be able to withdraw from 22AUD Casino will depend solely on the method that you'll be using for this – which will almost certainly be the one that you deposited with, so make sure to pick carefully!
If you're interested in speed, then using crypto is your best bet. Ethereum and Tether are both really fast coins that should arrive in your wallet instantly, and as for Bitcoin, you'd be waiting for a few hours at most. If you choose to deposit with your card instead, be prepared to wait for at least a few days.
With that said, though, all of this is purely theoreitcal. There is no evidence to suggest that 22AUD Casino will ever dispatch your winnings.
VIP Program
As of the time of writing, 22AUD Casino does not offer its players any kind of VIP program, or anything else to reward older players. Typically, the purpose of such initiatives is to keep existing players around and prevent them from jumping ship to another online casino that offers them a juicy bonus. By letting these players earn perks, they'll be far less likely to abandon the casino that has earned their loyalty.
This concept has either gone way above the head of whoever is managing 22AUD Casino, or they simply don't care much for it. You earn nothing by sticking around as a long-term player, but frankly, it's difficult to claim that you'd earn something from being a new player, too.
Tournaments
Just like with the VIP program, we haven't found any traces on 22AUD Casino's website to indicate that tournaments were ever part of its plan. Pokie tournaments have become incredibly common among modern online casinos not just because they're rather popular among casino gamers, but also because they're not too hard to implement, especially for casinos with a decent pokie collection.
However, it doesn't appear that 22AUD Casino is particularly concerned with even doing something that's fairly easy. Which… In all honesty, shouldn't surprise us at this point.
Verification
Every online casino is required by law to verify the identity of its players. These types of anti-money laundering regulations don't just extend to casinos, of course, they extend to all financial institutions that dispense money to people. You'd need to go through this even if you're opening, say, a bank account or a crypto wallet.
However, 22AUD don't seem to be particularly concerned about silly things like "laws" and "regulations". While they never specify that players don't need to be verified, they also have no information on their website whatsoever to indicate how the process works for them.
Is 22AUD Casino Legit & safe?
There isn't any kind of concrete way to tell whether an online casino is safe or not – much to our dismay, and to that of most casino players, we reckon. However, you can still make a very educated guess by looking for the red flags.
Does the casino have a license? If not, that's a red flag. Is its owner reputable? If not, that's a red flag, doubly so if the owner is just completely unknown. Does the site look more like an ad rather than a proper casino? That's a red flag. Is its customer support useless? You guessed it, red flag!
Now that you've learned about how to identify casino scams, can you tell how many of these red flags 22AUD Casino triggers? We won't spell the answer for you, but it's not difficult to figure out.
Customer support
Oh boy. We all knew where this was going, didn't we? With so much wrong in the casino, they couldn't just somehow magically have decent customer support, could they? No, of course not. The fact of the matter is that 22AUD Casino doesn't really have any customer support at all. They claim they do, and you can even access a live chat with them, but that's a lie.
Upon opening the live chat window, you'll be greeted to, what else, ads. Links to social media, promotions for roping more suckers into the site, all of the slimy stuff that you would expect to see. But if you actually try to message them, even with a simple "Hello", you won't actually receive a response. Judging by the interface, it appears that the 22AUD Casino support team is essentially just a private Telegram channel, but we couldn't get anyone to respond no matter what we tried.
Of course, our next attempt was to contact their e-mail, which was rather difficult do find on their website due to what a disorganized mess it is. Believe it or not, we actually did receive a response there, if you can consider it that – with no actual answers in sight, and full of broken English like "anythings else need i help". Australian, huh?
| | |
| --- | --- |
| Live Chat support | No |
| Phone support | NO |
| E-mail support | [email protected] |
| Ticketing system | NO |
Mobile casino
We told you already that on desktop the 22AUD Casino website is an absolute mess – so perhaps you were thinking that, on mobile, things will look a little better. It's not an unfair assumption – after all, there are plenty of casinos that prioritize their mobile version because that has more players.
Well, believe it or not, on mobile the site looks even worse. It doesn't appear to have been optimized for mobile at all, so many of the elements are hidden or misshapen. Some of the icons had visible backgrounds (which should have been transparent, as on desktop), and others were cropped or stretched. Of course, the pop-ups and flashing text is still here, and it's so much worse on mobile than it ever was on desktop.
Oh, and for the record, that big "App" button that you see on the homepage? It's a lie. The casino doesn't have an app, and if you select it, you just get ads for other casinos. Because of course you do.
| | |
| --- | --- |
| Interface | |
| Mobile version | YES |
| iOS App | No |
| Android APP | No |