Soccer Solo Striker
2.90/5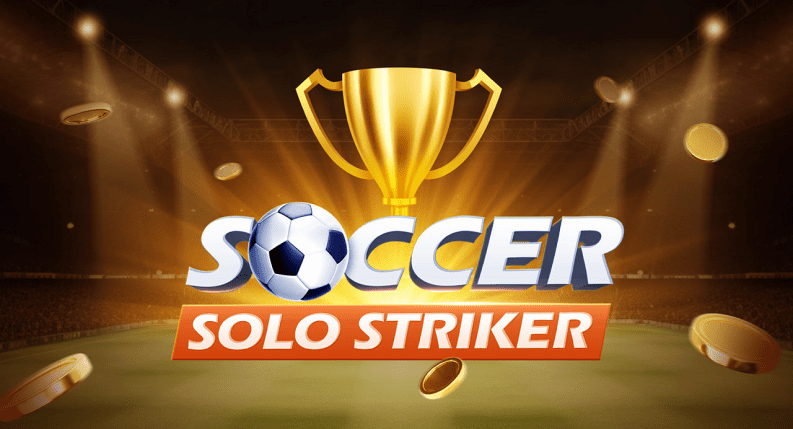 Soccer Solo Striker Free Demo Play
Soccer Solo Striker is the latest addition to the world of instant casino games from the renowned software creator Evoplay. This newcomer to the gambling scene debuted in May 2023, offering simple and captivating gaming entertainment.
Soccer Solo Striker Facts
| | |
| --- | --- |
| Software | Evoplay |
| Wild Symbol | No |
| Bonus buy feature | No |
| Autoplay feature | No |
| Multiplier | Yes |
| | |
| --- | --- |
| Progressive Jackpot | No |
| Free Spins Feature | No |
| Reels | 4 |
| Rows | 6 |
| | |
| --- | --- |
| Paylines | 0 |
| RTP | 96.00% |
| Min bet | AU$1 |
| Max bet | AU$500 |
| Volatility | Adjustable |
As the name suggests, Soccer Solo Striker is devoted to the most popular sport worldwide – football. Therefore, all gamers who prefer straightforward gameplay with a football theme will appreciate the new release by Evoplay.
Moreover, due to the simplicity of the gameplay, Soccer Solo Striker is appropriate for players of all skill levels, including beginners. In this comprehensive review, we will discuss the enticing characteristics of the Soccer Solo Striker. So, continue reading to uncover the features that await you in this football-themed instant game by Evoplay!
Soccer Solo Striker Review
If you prefer instant games with quick and straightforward gameplay, providing immediate results, you should try Soccer Solo Striker. This recent creation by Evoplay incorporates football-themed elements and aims to offer an enjoyable gaming experience.
As you step into Soccer Solo Striker, you will enter a football stadium representing the background. The game features a 4×6 playing grid with 24 tiles at the centre of the screen. Unlike traditional pokies, there are no complex pay lines or rules to navigate. Your objective is simple: uncover the winning icon of a ball, starting from the lowest row.
But that's not all! Each row in Soccer Solo Striker features enticing Multipliers that increase your rewards. Climb higher up the grid, and you will receive higher prizes.
Soccer Solo Striker also offers three levels of difficulty: Easy, Normal, and Hard. In addition, before placing your bets, Soccer Solo Striker lets you choose the country you want to represent. So get ready to showcase your football skills and aim for the top prizes in this engaging instant game.
Features
Game Rules
In Soccer Solo Striker, you'll encounter a 4×6 playing grid with 24 tiles, each depicting a ball or a whistle. The rules of the game are refreshingly straightforward. Your objective is to choose and reveal one tile from each row, starting from the bottom. Unveiling a ball icon will result in a win, with your bet multiplied by the corresponding multiplier. However, if you happen to open a whistle icon, you will lose your stake. As you progress through the rows, the multipliers and potential rewards will escalate, adding to the excitement of the game.
Difficulty Levels
You can choose your difficulty level before starting a game round at Soccer Solo Striker. The game offers three various levels of difficulty: Easy, Normal, and Hard. Each level provides different Multipliers. If you select a higher level, your winnings will be more valuable.
Multiplier Feature
Soccer Solo Striker has six rows included in its playing grid. Each row corresponds to a specific multiplier, which varies based on the difficulty level you select. The multipliers in the game can range from x2 to x192.
Cash Out Feature
The Cash Out feature allows players to collect their winnings after each successful round. When you've achieved a win and want to claim your rewards, simply click on the "Collect" button. Your accumulated winnings will then be credited to your balance.
Soccer Solo Striker Free Play
Soccer Solo Striker offers a demo mode, providing players with a risk-free opportunity. Playing the free version of this instant game allows you to decide whether to engage in real-money gameplay. Take advantage of the free-play mode in Soccer Solo Striker to sharpen your skills and maximise your chances of success when you're ready to play with real stakes.
Play for Real Money
Soccer Solo Striker presents an exciting real-money gaming experience for enthusiasts of football-themed instant casino games. With the chance to place actual bets, players can feel the thrill of competing for substantial rewards. In addition, this exciting casino game is available on various online platforms that accept Australian players. For a secure gaming experience, you can explore the recommended casino platforms mentioned on the web page.
Payout Symbols
Soccer Solo Striker offers a refreshingly simple gameplay experience without complex rules and symbol combinations. There are only two icons to encounter: a ball and a whistle. The ball represents a win, while the whistle signifies a loss. Each difficulty level supports a unique Multiplier for each row. You will find more detailed information in the table below.
| | | | |
| --- | --- | --- | --- |
| Row | Easy | Normal | Hard |
| 6 | x64 | x96 | x192 |
| 5 | x32 | x48 | x96 |
| 4 | x16 | x24 | x48 |
| 3 | x8 | x12 | x24 |
| 2 | x4 | x6 | x12 |
| 1 | x2 | x3 | x6 |
Mobile Usability
Soccer Solo Striker offers seamless mobile usability, providing players with a smooth and enjoyable gaming experience on their mobile devices. The game is optimised for mobile play, ensuring intuitive controls and a responsive interface for on-the-go excitement. Experience the thrill of Soccer Solo Striker anytime, anywhere, from your mobile device.
Soccer Solo Striker vs 2 Other Instant Games
| | | | |
| --- | --- | --- | --- |
| Game Name | Provider | RTP | Release |
| Soccer Solo Striker | Evoplay | 96.00% | 2023 |
| Mines | Spribe | 97.00% | 2021 |
| Plinko | Spribe | 97.00% | 2021 |
Pros
Straightforward and easy-to-navigate gameplay
Three levels of difficulty
Various Multipliers
Cons
Conclusion
In conclusion, Soccer Solo Striker by Evoplay presents an engaging and straightforward gaming experience for football enthusiasts and fans of instant casino games. Players of all skill levels can enjoy exciting gaming entertainment due to its football-themed design and simple gameplay mechanics.
Moreover, the choice of different difficulty levels and the increasing multipliers provide added thrill and potential for lucrative rewards. These multipliers allow players to secure significant wins ranging from 2 to 192 times their stake.
Soccer Solo Striker has successfully carved out its place among instant casino games. Whether playing for fun or seeking the exhilaration of real-money gaming, this football-themed game promises hours of entertainment and the chance to score big!
How do the Multipliers work in Soccer Solo Striker?
In Soccer Solo Striker, each row on the playing grid represents a different Multiplier. As you progress to higher rows, the Multipliers increase, offering the potential for higher rewards. The Multiplier values can range from x2 to x192.
Is Soccer Solo Striker available on mobile devices?
Yes. You can enjoy the game on your smartphone or tablet, as it is optimised for mobile play.
Can I play Soccer Solo Striker for free?
Yes. Soccer Solo Striker offers a demo mode that allows players to enjoy the game without any financial risk.
Australian Online Casinos to play Soccer Solo Striker for real money
Casino
Bonus
Minimum Deposit

Evoplay

Pokies
Available in Australia
Abo Casino
AU$10,000 or 3 BTC + 300 Free Spins
AU$30
YES
YES
Neospin Casino
AU$10,000 + 100 Free Spins
AU$20
YES
YES
LevelUp Casino
AU$2000 + 200 Free Spins
AU$10
YES
YES
Similar pokies
Amelia is huge fan of online casinos and Pokies. She was born in Sydney, Australia and spent last few years as an iGaming copywritter.
Casino of the Month