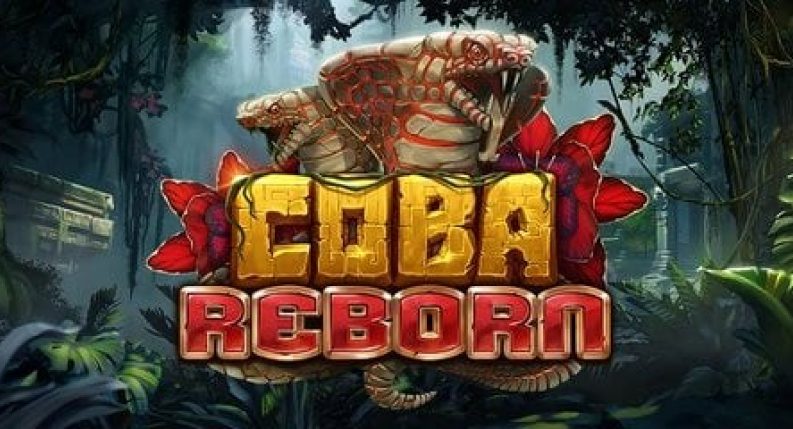 Coba Reborn Free Demo Play
Travel back in time and embark on a gaming adventure through the jungles of Indonesia with the new game title by ELK Studios, Coba Reborn. It entered casino lobbies on August 1st, 2023, and has already become popular among hundreds of players around the globe, including in Australia.
Coba Reborn Facts
| | |
| --- | --- |
| Software | Elk Studios |
| Wild Symbol | No |
| Bonus buy feature | Yes |
| Autoplay feature | Yes |
| Multiplier | Yes |
| | |
| --- | --- |
| Progressive Jackpot | No |
| Free Spins Feature | No |
| Reels | 7 |
| Rows | 7 |
| | |
| --- | --- |
| Paylines | Cluster Pays |
| RTP | 94.00% |
| Min bet | AU$0.20 |
| Max bet | AU$100 |
| Volatility | High |
Building upon the success of its predecessor, the renowned Coba pokie, Coba Reborn takes players on an even more exciting journey. The pokie introduces innovative features, including the Avalanche, Orchid, Snakes, and Crossing mechanics. In addition, this casino title offers Wild Multipliers, a Snake Meter with four levels, and many other lucrative options.
Let's discover all the hidden treasures of the snake temple at Coba Reborn! Join us on this adventure as we will explore all the pokie's features and characteristics in this detailed review!
Coba Reborn Pokie Review
Coba Reborn, one of the latest creations from ELK Studios, is an exceptional casino game that attracts players with its high-quality graphics and artwork. Moreover, the snake-themed pokie supports engaging and innovative bonus features, making the gameplay a unique adventure.
As you spin the reels at Coba Reborn, you will enjoy the backdrop of lush jungles and towering pyramids, where the large 7×7 playing grid offers numerous winning possibilities. Moreover, this enticing pokie supports a Cluster Pays mechanic for more thrilling payouts.
More importantly, players can collect multiple wins per spin due to the Avalanche feature. All winning symbols are collected in the Snake Meter, increasing your game level every time the Meter fills up. As you follow these levels, the pokie will award you more Wilds and Snakes on the screen.
Furthermore, when Snakes appear at Coba Reborn, they create more valuable clusters. In addition, two snakes crossing each other will double the multiplier. Let's not forget the Orchid icons that award more enticing prizes.
Coba Reborn offers a gameplay experience that goes beyond the typical slot game. The attractive pokie distinguishes itself with its exceptional gameplay and unique bonus features.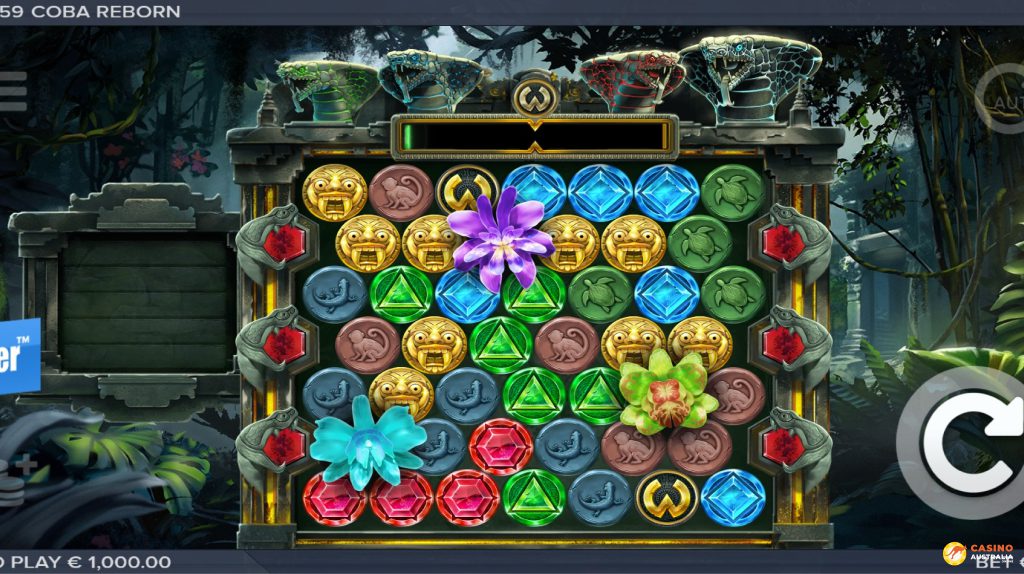 Features
Avalanche Feature
The Avalanche feature is triggered when a winning cluster hits the reels. All symbols of the successful combo will explode to make room for new icons. The Avalanche feature concludes when there are no more wins in view.
Snake Feature
Coba Reborn supports a unique Snake Meter at the top of the playing grid. This meter collects all the symbols that take part in winning clusters. In addition, when you fill the Snake Meter halfway, the pokie rewards a random number of Wilds on the playing grid. Filling the entire Snake Meter results in the player advancing through different levels, each with specific rewards in the form of snakes.
Level 1: Awards 1 snake.
Level 2: Awards 2 snakes.
Level 3: Awards 3 snakes.
Level 4: Awards 6 snakes.
Snakes present a cluster of at least five symbols. The Snakes move over the grid and collect their selected symbols, Wilds, and Orchid icons. As a result, Snakes create larger win clusters, offering more attractive payouts.
Furthermore, if two snakes cross each other, they create an x2 Multiplier Wild. When another snake passes through the Multiplier, it will double its value. Finally, when a Snake does not eat a symbol, Wild, Orchid, or bites itself, it will disappear from the playing field.
Orchid Feature
At Coba Reborn, players will encounter four Orchid icons featuring various modifiers if a Snake eats them.
Blood Orchid: Two Blood Orchids in a single spin spawn two snakes. Additionally, Blood Orchid receives energy from any other Orchid in view to spawn a Snake itself. When a Snake eats the Blood Orchid, a random number of additional snakes will appear on the playing grid.
Hydra Orchid: When a Snake eats a Hydra Orchid, the Snake will grow a new head and form a new snake with the same symbol.
Ouroboros Orchid: When a Snake eats an Ouroboros Orchid, it can bite itself to create Multiplier Wilds for one move.
Rebirth Orchid: When a Snake eats a Rebirth Orchid, it is revived from death.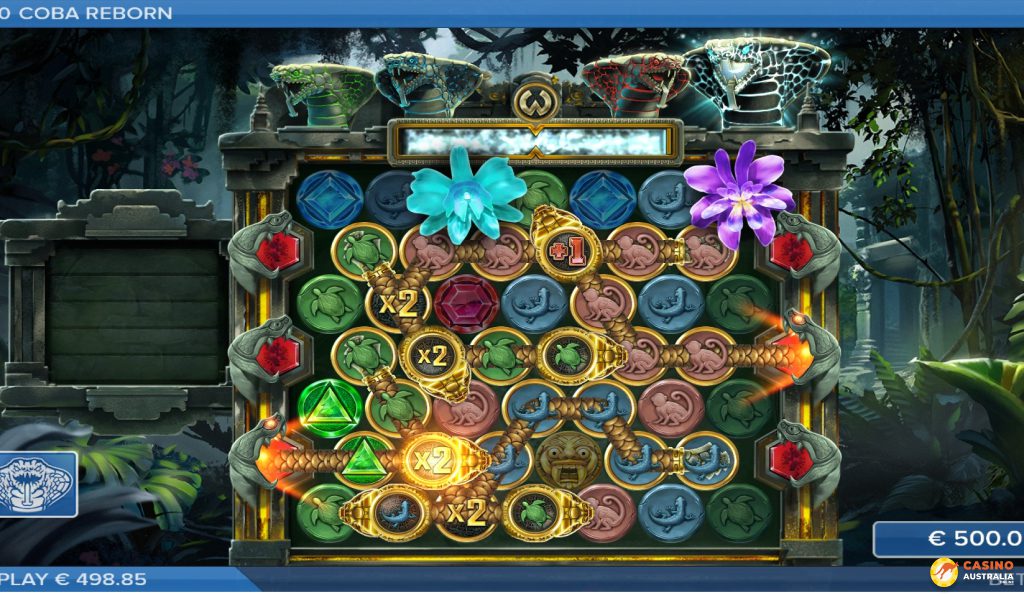 X-iter Feature
The X-iter feature offers more thrilling opportunities for all passionate players.
Boosted Chance: For 2x the bet, you receive a double chance to access Level 1 in Snake Meter.
Flower Power: For 10x the bet, you will be guaranteed one spin with at least 3 Orchids.
All Ouroboros: For 25x the bet, you will receive a spin with double Blood Orchids, where Snakes can cross and bite themselves.
Bali Boost: For 100x the bet, you are guaranteed to reach Level 1 at the Snake Meter.
Coba: For 500x the bet, you will receive one spin in Level 4 of the Snake Meter.
Free Play
Players who prefer to test the Coba Reborn pokie for free before placing real-money bets can visit the top of this page and load the pokie in demo mode. In free-play, you can familiarise yourself with the gameplay and decide if it meets your requirements.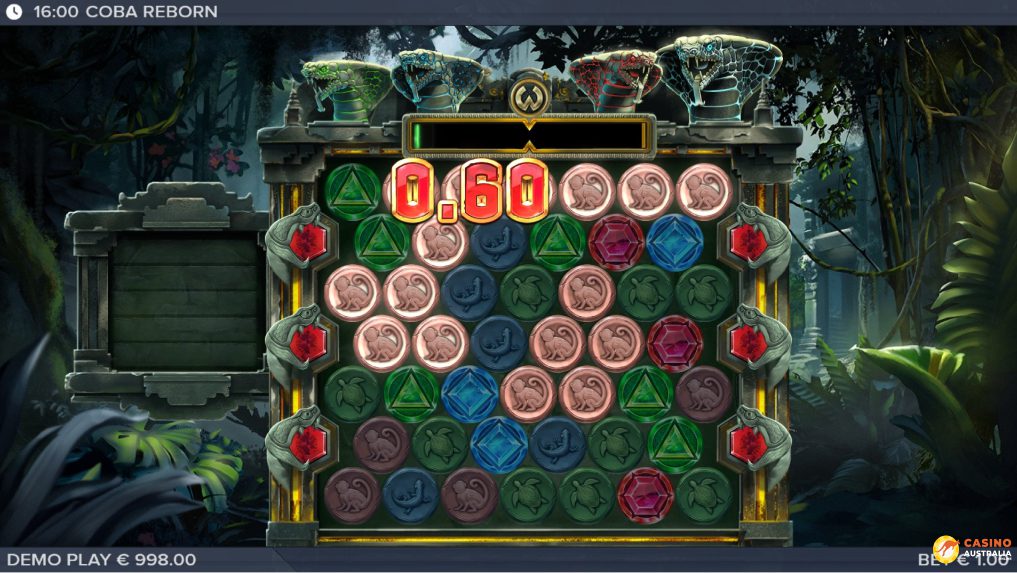 Play for Real Money
Real-money gameplay in casino games like Coba Reborn involves using actual currency to place bets and potentially win rewards. Therefore, gamers must choose carefully and select a reliable online platform.
All Australian casino fans can explore the selection of trusted online platforms that we have added at the bottom of the page. These platforms are Aussie-friendly casinos that provide a secure environment as you spin the reels at Coba Reborn.
Payout Symbols
At Coba Reborn, the regular-paying symbols create clusters of at least five identical icons to achieve payouts. The pokie offers seven standard icons, described in the table below.
Symbol Name
Symbol Payout

Golden Snake

15+   x50

  14   x25

  13   x20

  12   x15

  11   x10

  10   x7.5

    9   x5

    8   x4

    7   x3

    6   x2

    5   x1

Red Gemstone

15+   x10

  14   x7.5

  13   x5

  12   x3

  11   x2

  10   x1.5

    9   x1.2

    8   x1

    7   x0.8

    6   x0.6

    5   x0.4

Blue Gemstone

15+   x7.5

  14   x4

  13   x2

  12   x1.5

  11   x1.2

  10   x0.8

    9   x0.7

    8   x0.6

    7   x0.5

    6   x0.4

    5   x0.3

Green Gemstone

15+   x5

  14   x2.5

  13   x1.5

  12   x1.2

  11   x1

  10   x0.7

    9   x0.6

    8   x0.5

    7   x0.4

    6   x0.3

    5   x0.2

Monkey

15+   x2.5

  14   x1.5

  13   x1

  12   x0.8

  11   x0.6

  10   x0.5

    9   x0.4

    8   x0.3

    7   x0.25

    6   x0.2

    5   x0.15

Lizard

15+   x2

  14   x1.2

  13   x0.9

  12   x0.7

  11   x0.5

  10   x0.4

    9   x0.3

    8   x0.25

    7   x0.2

    6   x0.15

    5   x0.1

Turtle

15+   x1.5

  14   x1

  13   x0.8

  12   x0.6

  11   x0.4

  10   x0.3

    9   x0.25

    8   x0.2

    7   x0.15

    6   x0.1

    5   x0.05
Mobile Usability
Coba Reborn offers seamless mobile usability, allowing players to enjoy the game's exciting features and bonuses on the go. Its responsive design ensures a smooth gameplay experience across various mobile devices.
Coba Reborn vs 2 Other Cluster Pays Pokies
| | | | |
| --- | --- | --- | --- |
| Pokie Name | Provider | Max. Win | RTP |
| Coba Reborn | ELK Studios | 25,000x | 94.00% |
| Buffaloads | Massive Studios | 25,000x | 96.50% |
| Jewel Rush | Pragmatic Play | 5,000x | 96.47% |
Pros
Massive maximum win of 25,000 times the stake
Snake Meter with four levels
Orchid feature with various modifiers
Cons
Conclusion
Coba Reborn is the latest masterpiece by ELK Studios that promises a remarkable gaming experience deep in the ancient jungles of Indonesia. With a unique theme that provides hidden riches and exciting adventures, this enticing pokie will undoubtedly become one of your favourite game titles.
Moreover, spinning the reels at Coba Reborn is full of surprises. Lucrative Multiplier Wilds, attractive Orchid icons, and unique Snake symbols will enter your gameplay and increase the thrill of your gameplay. In addition, features like the Snake Meter, Avalanche, and Cluster Pays mechanic create an even more exceptional experience.
Embark on an exhilarating gambling journey with Coba Reborn, where the potential for big wins awaits. With an impressive maximum win of 25,000 times the bet, there is every reason to dive into this thrilling adventure without hesitation.
What is the RTP of Coba Reborn?
Coba Reborn has an RTP of 94.00%.
Can I play Coba Reborn on my mobile device?
Yes. Coba Reborn is fully compatible with mobile devices.
How volatile is Coba Reborn?
Coba Reborn is a highly volatile pokie.
Australian Online Casinos to play Coba Reborn for real money
Similar pokies
Amelia is huge fan of online casinos and Pokies. She was born in Sydney, Australia and spent last few years as an iGaming copywritter.
Casino of the Month